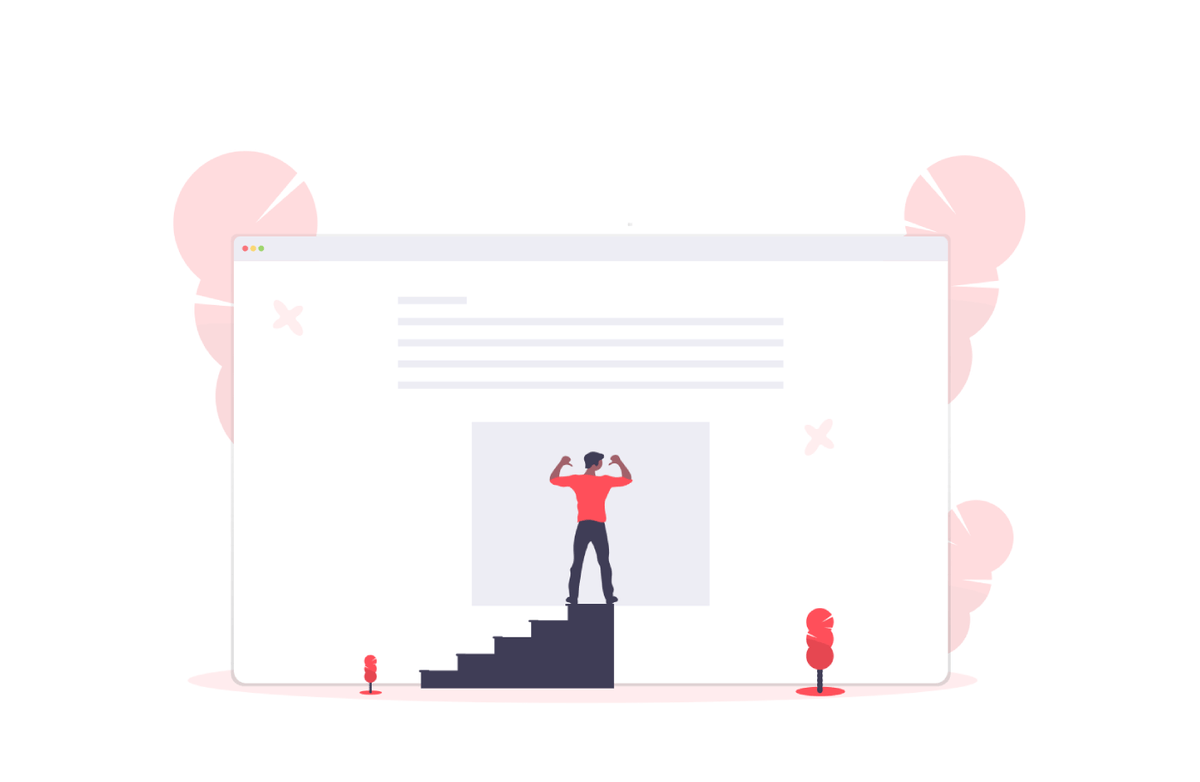 7 Best Email Marketing Blogs to Follow in 2020
Email marketing is constantly changing and evolving, as do all modern marketing practices. 
No wonder it's changing – nowadays people aren't just as easily thrilled as before, so to make your subscribers feel that dopamine surge at the sight of your emails is getting harder and harder.
It's actually common sense that marketers must keep up with the latest trends in order to do email marketing properly.
Don't get scared just yet, we have good news too. The very market for email marketing is growing each year and is expected to reach 4.147 billion email users by 2021, according to Radicati:
That's actually more than half the number of people living in the entire world.
To help you keep up with the latest industry standards, we compiled a list of the very best email marketing blogs you should follow.
Here at Sender.net, we compile the latest and most interesting news about email marketing, but if you wish to receive even more information on email marketing, here is your share of blogs that we recommend following.
EmailMonks
EmailMonks specialize in design and newsletter idea tips, but asides from regularly publishing informative and useful blog posts, EmailMonks can also design you templates that you can then import into an Email Marketing provider of your choice (hopefully, Sender.net).

If a new template is what you need, you can use our WYSIWYG editor to compose beautiful emails yourself – we've just created a new Design editor that we're really proud of!
Or you could just contact us at [email protected] so our team  team could design you a custom template that is tailored to your needs.
Mailfloss
Mailfloss is an email verification service that regularly writes awesome content about email marketing with an emphasis on the importance of email deliverability and list hygiene over on their blog. They are one of our top email verification tool picks and their email marketing content also includes interviews with top email marketers in the industry that offer unique insights you won't find anywhere else.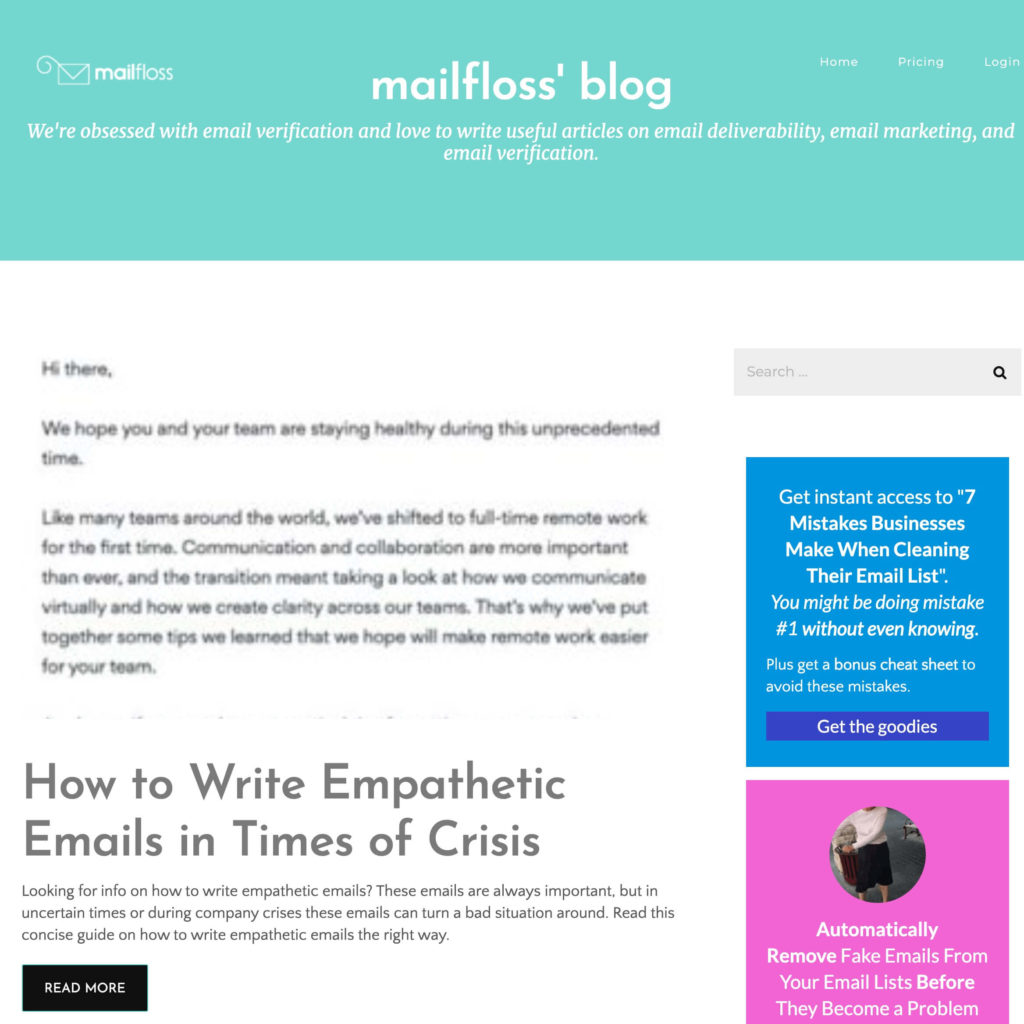 Litmus
Litmus as a tool allows you to put your current email marketing software to the test and track your emails with detailed analytics, so it has everything to do with email marketing.

The insights on email marketing they share in their blog will definitely provide you with new ideas and thoughts that will help you take your email marketing to a new level.
If you are looking for a blog that will help you get knowledge in email design and responsiveness, you will find that Litmus is a pretty solid place to start.
Webinars;
Q&A;
Alot of video content.
Infographs category.
Ebooks with market researches.
Hubspot
The Hubspot blog is one of the most useful resources on email marketing out there.
Hubspot has a range of tools – from CRM's to blogging software.

The blog has a wide array of useful content that will teach you how to implement the newest industry methods and strategies to bolster your email marketing results.
Added bonus: they constantly offer new Ebooks, case studies, extended guides and other free stuff to their subscribers, definitely check it out!
Email Monday
Email Monday is a site that is basically a platform for the owner, Jordie van Rijs to share his experience as an email marketer.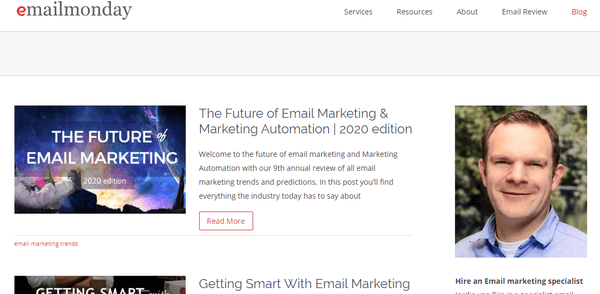 The blog certainly has a personal touch to it and there isn't anything quite like it. For example, here's one of his articles that we personally found very entertaining to read – The very embarrassing #fail I made with MY OWN newsletter. So what makes it stand out? It's personal, it's entertaining, it's down-to-earth.
G2
G2 is a business software review site. The G2 blog is one of the hottest marketing blogs out there currently. It's not strictly all about email marketing, but they cover tips on marketing in general, so they frequently address email marketing and its potential.

In essence, it's a great blog, make sure you keep tabs on what's new there, and make sure you subscribe to their newsletter.
Pure360
In their blog, Pure360 usually talks about the practical side of marketing. Most of their content is centered around real-life examples, for example, they recently talked about creating the most effective welcome emails, tweaking your email marketing automation and how to exploit customer retention strategies.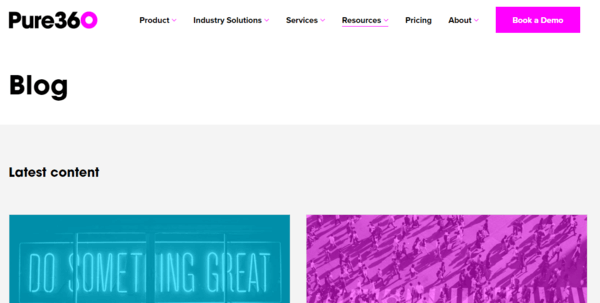 What we like the most is their ability to explain complex strategies and ideas in a simple manner, for everyone to understand.
Experian
Experian isn't specifically focused on email marketing, since it focuses in digital marketing in general, but since email marketing is vital to a hollistic digital marketing approach, you'll often find posts relevant to email marketing.

You'll also find posts that will help you think outside the box, and focus on things that are most effecctive. The main thing that differentiates Experian blog from the rest – Experian does excellent studies.
This article clearly shows that: Win back-to-school season by understanding how parents engage with social media. Though we find that the articles are somewhat short and new ones rarely appear.
The contemporary world requires you to never stop learning, thus keeping up with the latest industry news will definitely pay off.
Onward & Upward,
Sender.net Team