Like what you read?
Apply it in practice with Sender.net - the most cost-effective email marketing solution in the market.
Try Sender for free
Email copy, or email copywriting, is one of the digital marketing tools aimed at targeting prospective customers and ensuring a high level of persuasiveness that would compel them to take action.
To keep it very simple, the thing that catches your eye right when you open the message box is the work of email copywriters who want to open the message and read more.
The main goal of email copy is to determine unique qualities of goods or services and convert these benefits into an offer, particularly by putting it in the subject lines and body of the text.
How a well-designed email copy helps your business?
1. Less intrusive but more effective
Compared with other marketing announcements that appear in social networks or telephone messages, a copy of an email campaign does not bother readers that much.
An email box is a place associated with commercial communication, so the audience will rarely feel pressured with a bundle of welcome messages.
2. Less energy-consuming but more cost-effective
Email advertising is one of the cheapest promotion methods and demands very small advertising costs or media space fee.
Unlike social media marketing, this one does not require many skills meaning that you can do it yourself without asking for help from any marketers.
So, there is no need to outsource it.
3. Less spam-focused but more conversion-oriented
If choosing the relevant content for the targeted customers is your strength, then there is a low chance an email copy will be considered "spam".
Depending on how you design everything will make the most of your marketing performance. When an email newsletter is well-designed, be certain it will generate increasing leads and your email list will convert more than you could have ever imagined.
How to write a marketing email?
Here's an example with short instruction: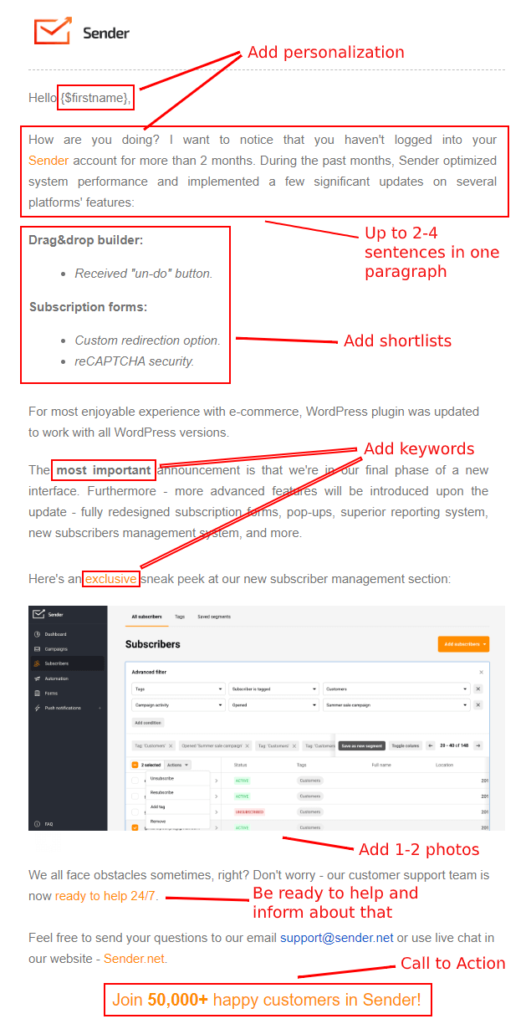 1. Nothing works better than a catchy subject line
The greatest way to introduce a reader to your email is through catchy email subject lines.
Usually, when we meet a person, a span of 5 seconds is enough to understand whether we want the communication to be going or not.
The same is here, right?
The receiver should immediately understand what he or she is dealing with. You are in a real outsider position if it is unclear from the start.
3 tips for the better subject line
Carefully choose the keywords outlining your value for a client and clarify the objectives and expectations.
Try to be very consistent and sound logical. Nobody will read the rest of the email if much uncertainty is complemented with vague statements.
Read our completed guide on the perfect email subject line.
Make your email preheader text stand out within the inbox.
2. Splitting texts really matters
Typically, by creating more space in a text with a delimiter or comma, people get more visual pleasure from enjoying what they see.
Consequently, when you split your content into various pieces and locate them properly, everyone feels captivated by it.
What can you do for better text copy readability?
Simply create a lot of white space between headlines and questions highlighting the most important things.
If you have much information to put out there, use pictures and graphics that would grab more attention and reach.
Additionally, your email copy will be even more effective when you keep it short, using brief sentences with bullet points that generate way more space.
3. Coming up with unique buzzwords is always a good idea
We feel increasingly overwhelmed with various buzzwords and acronyms circulating on the web daily.
However, when used properly, it can be a real bomb of sale. To encourage your readers to convert, you should use certain action words to evoke the urge to click. And your task is to find out what these magic words or verbs of action are.
What can you do?
Use simple, friendly language that would be comprehensible for any reader and make your email more outstanding.
Add words that are associated with the customers' benefits, for example, "free", "sale", "you've won," etc.
4. Personalization makes a good email copy
Nobody would intentionally admire being involved in some commercial talk unless you are dealing with other businessmen.
Generally, it does not work like this with the email copies that you send. Thus, you should connect with your readers in a way that will seem as if you are talking to them face-to-face.
How to do that?
Respect their individuality and make sure you treat them as people, not particularly a client base.
Create a sense of personal communication by utilizing "you", "me," and "us" in your content.
Break the ice by approaching them personally like friends that have not seen each other for donkey's years, and now they have a lot to share.
Use a professional email signature with your photo and contact information in every email you send. It helps you build trust and make your email more personal.
Read our definitive guide about best practices of email personalization.
5. Never forget about your readers
In the pursuit of finding the best email copy strategy, we usually neglect our customer's needs and wants.
We decide to overload them with a lot of information without really focusing on how they would benefit from this amount of content. In this respect, ask yourself a list of questions and try to find an unbiased answer from the reader's perspective.
Here are 3 key things:
Think in the way how a typical client does when he or she opens their email box. Give the genuine answers to come to grips with what you want from them and what they mean to you.
You should know your customer like the back of your hand, determine their interests, and show them how to make their objectives real.
Avoid promising many things and instead create the feeling of mystery.
How does a good email copy work?
It provides reliable communication between you and your customer by building an inextricable link of trust and respect.
It stimulates you to improve and build out new email copy strategies that you wouldn't have probably come to before.
It lets you magnify your value as an individual or a business entity.
It teaches you to be concise and express your good sides in a few words.
It motivates you to work for your and your readers' benefit.
Improve your Email Copy with Ease
Now you know the key email marketing tips to help you in a freelance project, private business strategy, or whatever. To sum it up, you know that understanding and respecting your readers will make them more compelled to take action. Working out the writing strategy and style isn't less important too.
However, knowing these 5 marketing hacks are not enough unless you use them in practice. Do not hesitate to try it, and be ready that not everything will work one hundred percent at first. Later on, once you develop the engagement rate with your audience, you will know how to adjust each tip to your particular marketing case.
You will see it is as easy as ABC right when you start sending the first email copies. Success is just around the corner!
---
About author
Jamie Fry – Purposeful and promising author. Currently, he is working in such a company as Writing Judge essay writing service reviews and enhancing his blogging skills. He confidently goes to his goal. He has a talent for writing original content. The main conviction in his life: "To be the best in the field in which you are developing". Always in search of fresh ideas.
We also recommend reading: