It is easy to send an email to your colleague or friend and get a response. But, sending emails by the thousands, that too for the purpose of outreach or cold emailing is a different story.
For most marketers, it can be intimidating.
Or should it be? Without an iota of doubt, we can agree that email marketing is challenging. But, it doesn't have to be intimidating.
With your basics in place, with a healthy email list, and the right mix of email marketing tools, you should be able to mint $$$ out of email marketing.
After all, email marketing is regarded to be the medium that can give an 41$ return for every $1 dollar spent.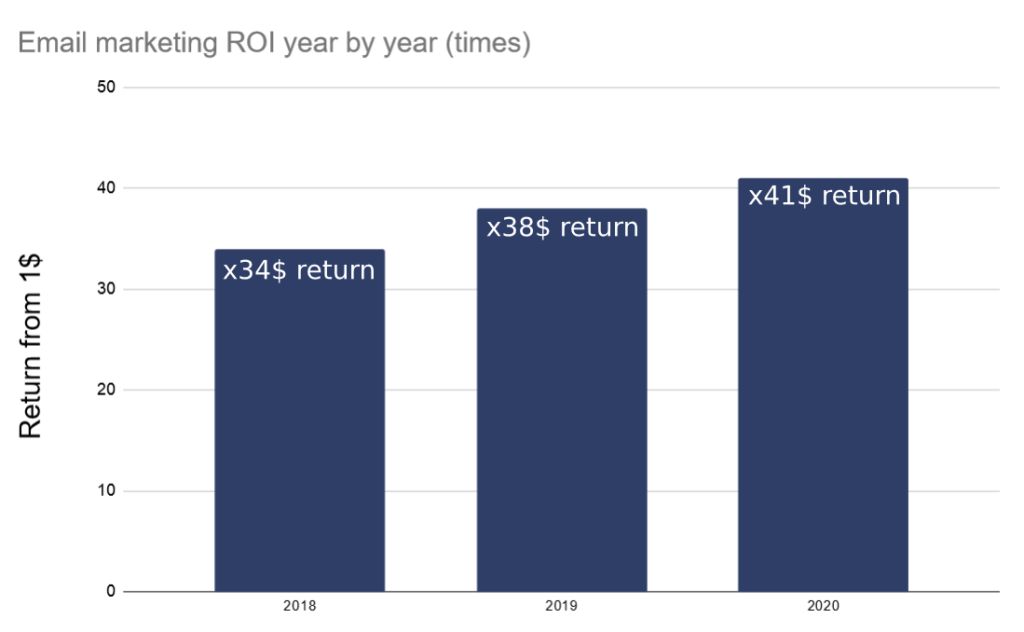 Source: Sender
In fact, the ROI has been steadily growing for the past 2 years. Needless to say, email marketing is a strong channel to consider for your future email marketing efforts.
Navigate this blog:
Planning an email strategy
Building the email list
Choosing the type of email
Writing subject lines & email body
Best practices to follow while designing marketing emails
Best time to send an email campaign
Leveraging email marketing automation
Data-driven email marketing
1. Planning an Email Strategy
Like with any other marketing activity, email marketing also requires deep thought and extensive planning. A strategy will ensure that you are making the best use of your resources and getting maximum returns as desired.
The strategy-setting process begins with identifying the purpose for which email marketing is going to be used.
For example, most businesses use email marketing to encourage new prospects to buy their products for the first time. Alternatively, they can also be used to turn your existing customers into repetitive buyers.
Invariably, the email marketing strategy will have to be structured depending on the result you are trying to achieve.
There is one key thing that you must bear in mind while planning the email marketing strategy. Set SMART goals.
SMART stands for:
S — Specific
M — Measurable
A — Attainable
R — Relevant
T — Time-based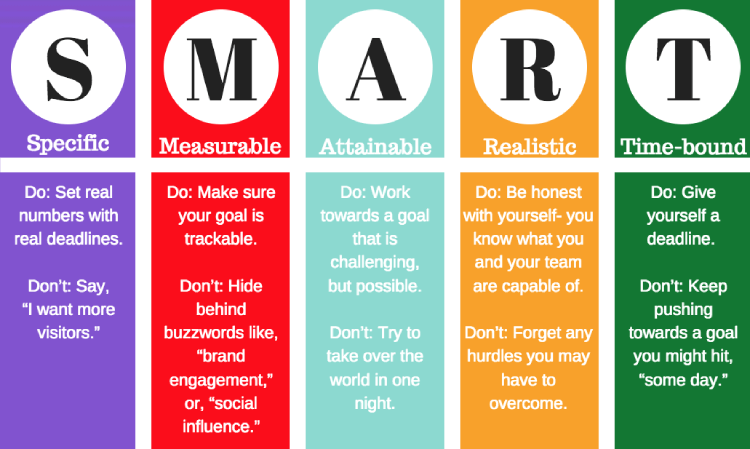 Source: Hydrate Marketing
Some SMART goals you can consider setting for your email marketing strategy include:
Growing your email subscriber list by 2x or 3x in one year.
Increasing your email Click-Through Rate (CTR) by 2% or 3%.
Decreasing unsubscribes by 10%.
Achieving 1,000 sessions to your website from a campaign.
These goals form the basis upon which you will create a broad email marketing strategy.
2. Building the Email List
No email marketing campaign can take off without an email list. If you do not have an email list, to whom do you send the emails?
Building the email list is perhaps the most crucial part of email marketing. If you are kickstarting email marketing for the first time, building an email list might seem like a Herculean task. However, you must start somewhere and sooner. These list-building strategies will help with that.
Lure your blog visitors into signing up for newsletters.
Use pop-ups and slide-ins in top-performing pages.
Use social media to create more awareness of your newsletters.
Use lead magnets to leverage maximum value out of your content.
Lure your blog visitors into signing up for newsletters
If you have a decent blog that is bringing new visitors and also a fair share of returning visitors, you already have a good start.
Identify the top-performing blog posts that are bringing in maximum traffic. Ideally, these should be top of the funnel blogs that are meant to drive awareness and consideration. The people who are visiting the blogs would be more interested in consuming the content that you will be sharing through your email newsletters. You can save the targeted email campaigns for the bottom of the funnel blog post visitors.
To make your blog visitors sign up for newsletters, insert a call-to-action (CTA) at strategic junctures. (refer image below). They will help increase your subscriber count as well.
Here's an example: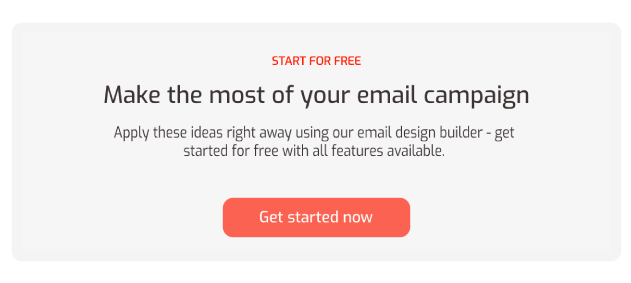 What should the CTA talk about? Well, asking the visitor to sign up for a newsletter to receive more content in their inbox.
Use pop-ups and slide-ins in top-performing pages
Pop-ups and slide-ins can grab your visitor's attention at the opportune moment. For example, you can use exit-intent popups to grab the attention of your visitors who are planning to exit the page.
Exit-intent popups work by tracking the user's mouse cursor movements. When the cursor moves outside the page boundary or moves towards the close button, the exit-intent popup is shown to the user.
The most commonly used exit-intent popups include:
Blog subscription popup.
Limited period offer.
Free shipping.
Free trial.
Slide-ins also work in the same fashion as popups, the distinction being their fashion of entering. They slide in from the left or right side of the window. Pop Ups on the other hand appear suddenly occupying the entire window or in its center.
Invariably, the popups and slide-ins contain an email form that is added to the email list.
Use social media to create more awareness of your newsletters
There is only one (free) way to maximize the awareness of your newsletters. It is through social media. Share tidbits, give exclusive access to content, create hype around periodic newsletters — they sure do work in increasing the subscriber count.
Use lead magnets to leverage maximum value out of your content
If your content is really good, readers might want to revisit it at their convenience. Sometimes, it is better to give them a downloadable version of your content. Here your content doubles up as a lead magnet. It helps increase brand recall and also ensures that they come back for more content.
3. Choosing the Type of Email
Broadly, there are two types of emails you can choose from. Text emails and HTML-based emails. HTML emails give you the liberty to design eye-catchy, graphically embellished email bodies. They can be made to look great on all devices as well.
The primary difference between both the email formats is the purpose to which they are put.
Text-based emails feel more personal. It feels like it is written by a person to another person. As a result, it is great for cold emailing, outreach, and opening conversations with prospects.
HTML-based emails, on the other hand, look and feel like they have been designed for the masses. Of course, you can use the first name in the email body to make it feel personal.
However, since HTML email templates are largely used for newsletters and broadcast emails that are sent in bulk, they do not have the personal touch that text-based emails have.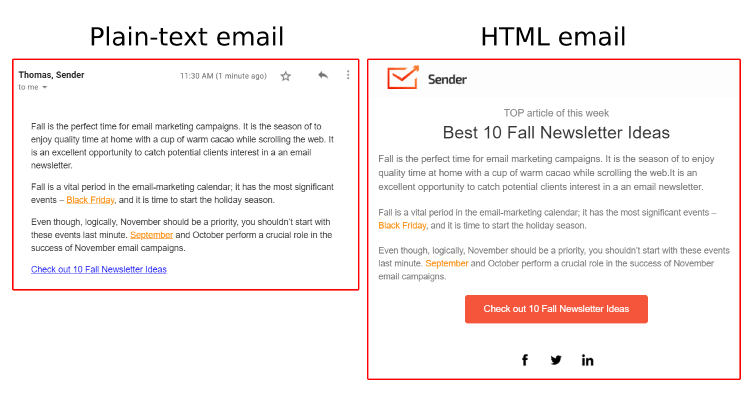 The response you get for each type of email would also be different. You can expect more personal replies (or total neglect) to your text-based emails.
HTML emails have a higher chance of being forwarded, shared on social media, and similar engagement actions.
In email marketing, it is necessary to choose the type of email based on the goal you are trying to achieve.
HTML emails reduce open rate by 25% compared to text letters. Also, adding GIF animation reduces this figure further by 37%. Furthermore, HTML blocks reduce the number of openings by another 25%. It's suggested to use plain text email over HTML templates.

Georgy Rysak, SEO manager at Develux
One more thing: Be it text or HTML, ensure that they are both mobile responsive in nature. Most of your readers will be checking your emails on mobile devices.
4. Writing Subject Lines and Email Body
Your email subject line will determine whether your email will be read or not. 47% of email recipients open emails because of catchy subject lines. In fact, subject lines that mention the recipient's name get higher CTR than those which do not.
That said, do not go for clickbait subject lines. They might get your emails opened, but, once the user finds that your email does not lack substance, they will be quick to delete it, or worse even mark you as spam or unsubscribe from future emails.
Writing an email subject line is a creative task. It is subjective and chances form person to person. However, there are some best practices or rather don'ts that you must follow while writing a subject line.
Avoid using CAPS. You don't want to yell with your subject line.
A string of punctuations does not make a subject line. Real words do.
Don't be vague. Don't write long subject lines. Keep it short and crisp.
Don't let typos and grammatical errors creep into a subject line.
Mention if you are referring to a meeting or discussion in person.
Don't fake an urgency with the subject line.
Show value but do not overpromise.
Don't write lengthy subject lines. They get truncated.
If you want inspiration, here are some good subject lines that various marketers have used:
CNNMoney Newsletter subject line – Amazon on fire; NAFTA progress; Emerging market plan
Litmus Live invite to event email subject line – What are you waiting for?
Dribble Christmas email subject line – ❤️🌲 A Good Time for Cozy Vibes
Filippo Loreti holiday email subject line – Reminding you of your outstanding gift 🎁
Revolut fundraising email subject line – Crowdfunding coming soon!
"Every email that I have sent, I started in lower case, has given a higher response rate." He reasons that it helps the email stand out and creates a conversational tone.

Neal Taparia, founder of word finding site Unscrambled Words
Once the subject line is taken care of, you can move to crafting the email body. Your subject line can only make the reader click and open the email.
It is up to the email body to make the reader take an action. It should persuade, provide value, and ultimately make the reader do what you want them to do.
For example:
Give a calendar meeting invite
Sign up for a demo
Giving a free lesson for an online course you've built
Introduce a referral, etc.
One common mistake that people make while writing the email body is this: they do not value the reader's time.
The ideal subject line should be short, crisp, and drive home the point as soon as possible. It should be free of filler terms and phrases that do not serve the purpose. According to Marketo, you can archive the best open rate with 4-5 words in subject line.




Also, the subject line should elaborate on what the subject line offered or promised. A disconnection between the subject line and the email body can make the reader discard your email.
Finally, keep an eye out for spam triggers. These are words which email service providers pick up to label your email as spam. Once spam labeled, your email will not land on the inbox, but in the spam bin.
The spam words change from industry to industry. Here are some of them to keep an eye out for:

5. Best practices to follow while designing marketing emails
Design is not just for artists. It is for email marketers as well. If you are designing your email template with HTML or drag&drop builder, it is necessary to keep some basic design principles in mind.
Ensure consistency in font choice.
Use colors that match brand presets.
Use visual elements for visual relief.
Include prominent call-to-actions.
Ensure mobile-friendliness.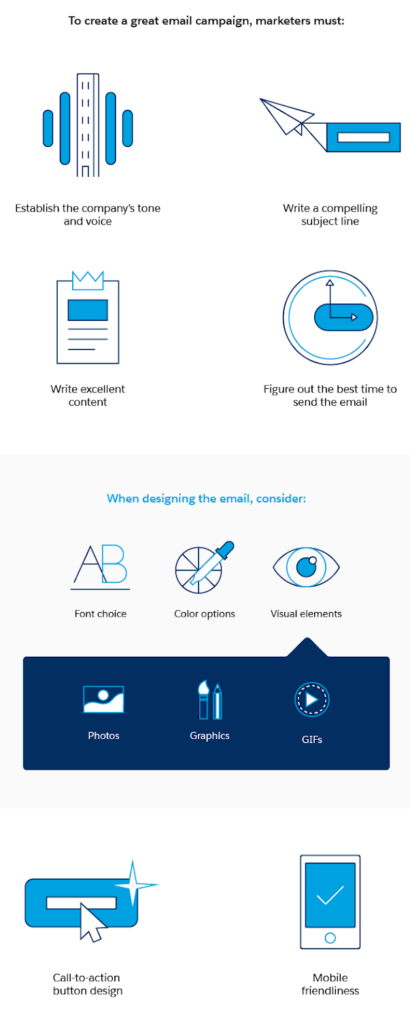 Source: Salesforce
Ensure consistency in font choice
Too many fonts can make your email look cluttered and illegible to read. Stick to a maximum of two fonts. One for headings and one for the sub-text or text-heavy content. Put in the effort to pick the best fonts that meet your brand's identity.
Use colors that match brand presets
Brand presets are pre-determined color codes and hues that best match what the brand is doing, stands for, and the identity that it wants to communicate to the world.
Use visual elements for visual relief
Like mentioned in the blog earlier, marketing emails should be captivating and hence need interactive elements in them. To make the email interactive, you need visual elements. They help in reducing the text-heaviness of the blog and making it easy to read and comprehend.
Include prominent call-to-actions
CTA buttons should ideally be integral to the HTML template but must also stand out to get noticed. They should be easily clickable and should contain a copy that makes users take immediate action.
Ensure mobile-friendliness
Mobile accounts for 53% of all email opens (Sender). Business owners to prospects, a wide majority of users use their mobile devices for checking emails. So, creating a mobile-friendly email is not only necessary but critical to achieving success in email marketing. If you ignore mobile-friendliness, your metrics are bound to see red.
6. Best time to send an email campaign
There is no perfect time to do the right thing. But, for email marketing timing matters. Your email will get seen, read, and responded to only if you send it at the right time.
That said, there are specific times and days you should definitely avoid sending your emails.
Mondays: the beginning of the day is the worst time to send a promotional email.
Weekends: Saturdays and Sundays, and perhaps Friday evenings also are times when people would prefer to disconnect from work than check a low-priority promotional email.
Holidays: Weekends have proven to have meagre email open rates, so it is better to avoid it like a plague.
So, what is an ideal day and time to send emails?
According to Sender data, Tuesday and Thursday 8 – 11 am is the ideal time to send out an email campaign. In the past 8 AM was considered to be too early to send out an email blast. Today, since most users have the habit of checking their emails on the phone before starting their day, 8 AM is not too early.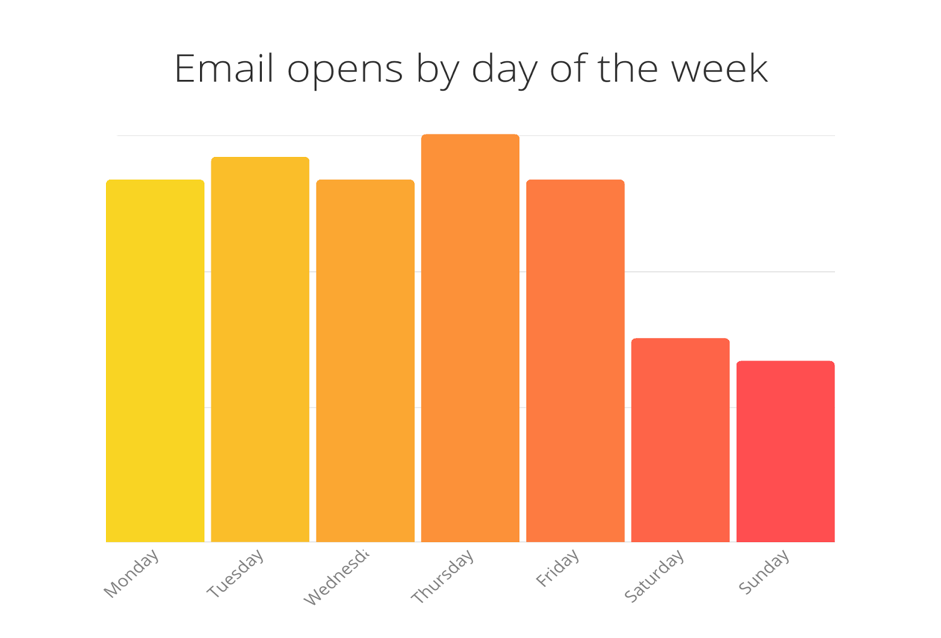 What if you have an event that is falling on a holiday or a day on which you cannot send the email?
To be on the safer side, it is ideal to send out the email at least 3 to 5 days prior to the event.
7. Leveraging email marketing automation
Automation in anything saves time and maximizes efficiency. Email marketing is no exception. Email automation helps you automate transactional emails, trigger emails, and even nurture emails.
Let's look at the example of a drip campaign. The typical email path of a drip campaign is depicted as below:
Now imagine the effort and time that a marketer will have to put in for replying to emails at each stage of the drip campaign. It is definitely not worth it and not possible at scale.
Automation ensures that all relevant replies to the emails are sent based on the prospect's journey in the campaign.
It also helps the marketing team to evaluate the worthiness of the lead before deciding to pitch a demo, a meeting, or an offer.
With email marketing you can automate:
Welcome emails.
Feedback surveys.
Blog newsletters.
Information emails.
Re-engagement emails.
Announcements.
8. Data-driven email marketing
Torture the day and it will confess to anything, said the renowned British Economist
Ronald H. Coase once. In email marketing, as with any other marketing medium, data holds the power to show us the truth. It can tell us which campaign is working, which is not, which campaign needs optimization, and which can be used as a benchmark.
These metrics give tell-tale signs of your email campaign's success. That said, there are specific email marketing metrics that one must track on a regular basis.
Open rate
Open rate is the fundamental email metric. It tells how many subscribers opened the email. Open rates can be used to validate the effectiveness of the subject line. The average email open rate across all industries is pegged to be around 24% (Smart Insights).
Click-through rate (CTR)
Click-through rate or CTR measures how many of your subscribers clicked on the links in your email. It is a sign whether the subject line and email body convey the same message and whether they are in tandem with the user's needs.
Conversion rate
Conversion rate measures the ultimate success of the email campaign. That is, of all the subscribers who opened, clicked, and responded to your email, how many completed the specific action as desired. Like, signing up for a demo, giving a calendar appointment, etc.
Bounce rate
All the email IDs in your mailing list may not be active. Some could have been deactivated, like employees leaving the company, or some could have been dormant for too long. Some could even be wrong addresses. A high percentage of bounce rate indicates that the mailing list needs some spring cleaning.
Number of unsubscribes
The number of unsubscribes aims to measure the number of subscribers who want to stop receiving emails from you in the future. A high number of unsubscribes is definitely a bad sign. It indicates that you are targeting the wrong audience or your content is not useful to them.
Spam complaints
Those users who mark your email as spam will get accounted for as spam complaints in your email marketing software's dashboard. Alternatively, the spam complaint might also be caused if the email service provider finds flaws in your email — your address, IP health, etc. due to which the email gets marked as spam.
Revenue per email
As the name suggests, revenue per email aims to measure the earnings that each email earns for your business. Once you identify the revenue per email, you can compare it with the cost incurred for the email marketing campaign and evaluate whether the ROI is positive or not.
Final Thoughts: Before hitting the 'Send' button
The first step to email marketing is identifying the goals you are trying to achieve. The goals will set the path for determining what kind of emails you should be sending, the frequency, and also how to track their success.
Of course, you cannot get the campaign started without an email list. The success rate of your campaign is dependent on the quality of your email list. So avoid resorting to unethical means to build a sizable email list. It is perfectly fine to have a small list, but one of the potent subscribers. Once your email marketing process is in place, you need the support of automation to enhance the efficiency of your email marketing operations.
How do you ensure your email marketing campaign is efficient or not? Take a deep dive into the numbers. There are a handful of key metrics that can tell whether your email marketing activities are headed in the right direction. Whether they are delivering positive results are expected. If not, you can take corrective actions that can steer your results towards greener pastures.
---
About author
Mehdi Hussen is the digital marketing manager at SalesHandy, a cold email outreach tool. He is passionate about helping B2B companies achieve organic growth and acquire new customers through data-driven content marketing. Mehdi writes about startup growth, digital marketing strategies, sales email productivity, and remote work. You can follow him on Twitter or connect on LinkedIn.
Like what you read?
Apply it in practice with Sender.net - the most cost-effective email marketing solution in the market.
Try Sender for free