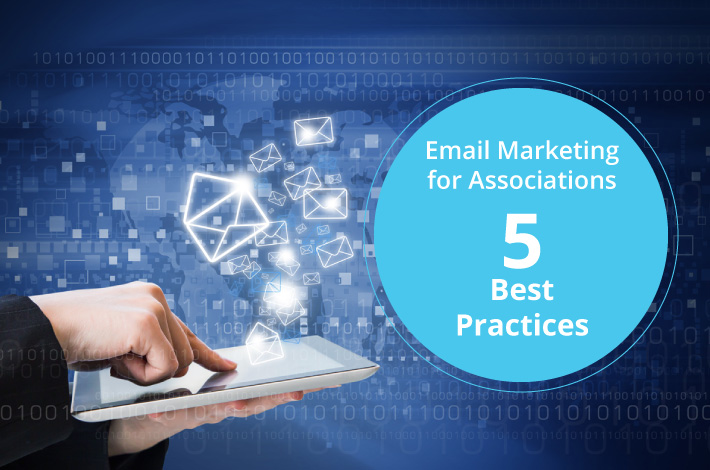 Email Marketing for Associations: 5 Best Practices
If your association has let your email marketing efforts fall by the wayside or settle into a routine recently, now is the time to revitalize them. Email marketing sticks around because it works!
Your members are sure to read and interact with the contents of emails that motivate them to participate in your association's offerings.

Improving your email marketing begins with developing content that will appeal to your members and their specific interests in belonging to your association. You'll also want to save your team time and energy by making your email delivery more efficient with the help of software solutions such as your association management system (AMS).

Let's take a look at some of the ways in which your association can take your email marketing strategy to the next level. We'll show you how you can:

Use your AMS to learn more about your members.
Automate recurring email communications to save time.
Provide member communities and committees with email marketing capabilities.
Increase event registration and eCommerce with email.
Use email to direct your members toward your website.
Your AMS is an incredibly valuable resource for learning the information about your members that you'll need to create the best emails. It's an ideal starting place to learn more about the aspects of your association that matter most to your members and their professional development.
1. Use your AMS to learn more about your members.
The most effective email communications are those that address your members' specific interests in your association, whether that's an upcoming conference near them or a newly available continuing education course that relates to their professional goals. Use your AMS to learn more about your members so that you can create effective email communications for each segment of your database.

If you're ready to learn more about your members ahead of your next email campaign, you can do so by consulting the information you have gathered in your AMS. The best association management software can help you by:

Integrating with your CRM. If your AMS is integrated with—or better yet, native to—your CRM, you'll be able to store and access large amounts of member data that you can use to inform your next email marketing approach. Integrated or native systems also mean that the transfer of information from your AMS to your CRM occurs automatically, so your team only needs to look within one system to find the information you need.
Integrating with your other software systems. Your association may want to offer your members the opportunity to purchase continuing education courses provided through an association learning management system (LMS), for instance. Integrating all of your software systems means that you'll have the most member information—the courses they've taken and the events they've attended, for instance—available whenever you need it.
Providing members with the opportunity to update their own information. Choose an AMS that facilitates the creation of robust member profiles and allows members to log in and make updates to their profiles as necessary. This way, your association will always know when members advance in their professional lives, change addresses, or otherwise grow and change.
The more updated information that is readily available through your AMS (and in your CRM if you're using one), the more your association will be able to personalize your email marketing campaigns. Your members will be eager to open, read, and interact with personalized emails.

Once you have the information you need to segment your member database according to the needs and interests of various groups, you can automate portions of your email process to make it more efficient.
2. Automate recurring email communications to save time.
While it's important to personalize aspects of your communications as much as possible, you want to make sure that your most important email communications reach all of your association's members. When your association automates the process of sending out emails, your team can spend more time creating engaging content.

Email marketing automation is especially useful for communications that concern routine aspects of association management as well as any messages that you want to be sent out to all of your members. With the help of your AMS and any other software systems you may be using, your association may want to automate emails relating to:

Dues collection. Automated communications can make this necessary process hassle-free, from reminding members when their dues need to be paid to collecting the payments and notifying those who are late.
Membership renewal. Because all of your members will have to renew their membership with your organization at some point, automated emails are an efficient way to ensure that they're aware of their membership expiration. The contents of your email can also provide information about upgrading memberships if this is a possibility within your association.
Association news. Has your association been recognized for great work in your field recently? Are you hosting a conference that you're encouraging all of your members to attend? Spread the word easily using an automated email that reaches all of your members.
When your association automates your email process, your team will be able to spend more time creating attention-getting content without having to worry about the logistics of getting that content to a large audience. You can check out Fonteva's guide to association management systems to learn more about how you can use your AMS to help you automate your communications.

While many of the automated communications your association sends out will be sent to all of your members, others may apply only to specific groups. Make the communications process even more efficient by providing smaller member communities with email marketing capabilities.
3. Provide member committees and communities with email marketing capabilities.
Especially for larger associations that have members spread out all over the country and even the world, managing and providing for all of them can be difficult when all aspects of the communications process are centralized. A more effective strategy is to use your AMS to create member committees, regional chapters, and other communities that have their own email marketing capabilities.

When your association's chapters, committees, and communities are able to create and distribute emails among their members, they'll be able to:

Invite and communicate with their members to boost engagement. Personal interaction with other members is likely one of the main reasons that many of your members chose to join your association. They're highly likely to open and interact with emails sent by other members of their smaller subgroups, as they know the contents will apply to them.
Share meeting documents and news. Committees, communities, and regional chapters can use email to make sure that all of their members are aware of the opportunities available to them and are caught up on the recent developments most pertinent to their membership.
Spread the word about special events. Regional chapters provide excellent opportunities for members to attend events and further their professional development through networking. Chapters can use email to ensure that the events they host are well-attended.
With the help of email and other communication features in your association's member database, member committees and communities can encourage greater involvement in events and other programming your association has to offer.

Email marketing for events doesn't have to be limited to regional chapters and other subgroups. You can use it to increase awareness of and registration for events and other opportunities that you want to make available for all of your association's members.
4. Increase event registration and eCommerce opportunities with email marketing.
Your members are eager to continue their professional development and are sure to want to make the most of their experiences within your association. You can use email marketing to alert them to the wide range of opportunities in which they can participate and share all of your offerings with them.

In addition to opportunities that are specific to members within certain committees or geographical regions, your association can spread the word via email about:

Association-wide conferences and other events. Maximize registration for your next conference or event by automating the email marketing process with the help of your AMS. This way, all of your members will know about the excellent opportunity available to them and will be directed to your registration page quickly and easily. You can check out Fonteva's guide to association management software to learn more about the ways in which your AMS can facilitate event registration.
Branded merchandise available through your eCommerce platform. Branded merch provides your members with the opportunity to demonstrate their pride in being a part of your association. It's especially popular before and after conferences and events, and you can maximize your sales of branded merchandise by sending the link to your eCommerce platform to your members via email.
Continuing education courses available through your association LMS. If you're using an LMS to offer your members opportunities to further their professional development by purchasing continuing education courses, let them know the options available to them via email.
When you use email to keep your members updated on everything that your association has to offer, they'll be eager to participate in your programming. Encourage them to stay connected with you by directing them to your website, where they can stay up-to-date and sign up to receive the latest communications from your association.
5. Use email to direct your members toward your website.
Your website is a central location for staying in touch with your members and helping them stay updated on your news and programming. Attention-getting emails are an excellent way to direct members toward your website. Once they arrive, make sure that your site is easily navigable so that visitors are inspired to engage with your association more fully.

If you think that your association's website could use a makeover to make it more user-friendly, don't forget to include the following features:

A clean and modern layout. Capture and keep site visitors' attention with a layout that puts your association's most important news front and center and easily directs members to the pages they're most likely to look for. Multimedia components such as images and videos can be highly effective as long as they aren't distracting.
Prominent links to your member-only content and login page. Members who want to access their profiles, communicate with colleagues, or register for events should be able to do so from your website within just a few clicks.
An easily accessible email signup location. Want to make sure that you stay in touch with all of your members and keep them updated? Direct website visitors toward a location on your website that they can use to sign up for your mailing list. With great content and the right timing, your emails are sure to encourage return visits and deeper engagement with your association.
When all of your association's technology—your AMS, LMS, website, and email marketing system—work together, you'll be better equipped to communicate effectively with members.

Your members are already checking their email on a daily basis, so your association is sure to benefit from an engaging email marketing campaign that uses your software systems to make distribution easy for your team. With email content that inspires members to participate in all that your association has to offer, you'll form stronger connections with all of them.
Onward & Upward,
Sender.net Team
Contributed by Jake Fabbri. Jake Fabbri is the Vice President of Marketing at Fonteva with over 18 years of experience working in marketing management. He has experience with lead generation, content marketing, marketing automation, and events.