Halloween is quickly rising in importance in recent years.
While about a decade ago it was just a small holiday, today Halloween marketing should be part of every marketer's arsenal. In fact, Statista predicts that consumers will spend upwards of USD$10 billion on Halloween products in the USA alone.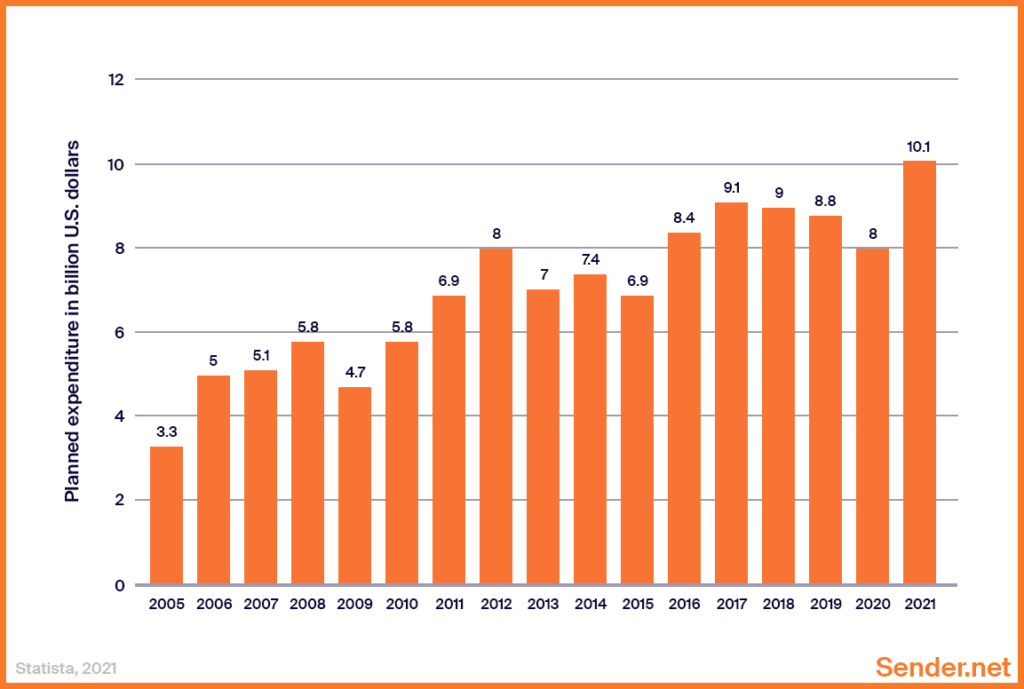 Not taking advantage of such a huge surge in October spending would be a little foolish. If it's your first time doing Halloween marketing, however, it might not be clear how to approach the process. While the holiday is not much different from others, it does have its own spooky theme.
In order to make things easier for you, we've decided to delve deeper into the best Halloween promotions, advertisements, and marketing ideas we've seen. By the end of the article, you should be able to take some content ideas and make your own spooky Halloween themed promotion.
Halloween Marketing Campaign Ideas
There are several routes any business can take when implementing Halloween advertisements. While physical stores used to have to invest a lot of time and effort into displaying the holiday theme, today, with the power of digital advertising, the process can be a lot simpler.
Marketing campaigns can be run through a multitude of channels. It isn't any different when a business intends to celebrate Halloween. Any successful marketing campaign will involve all of the channels in tandem.
As such, there are several key areas that need to be tweaked according to the Halloween theme:
Website. Add advertisements or visual changes ahead of time to signal the upcoming holiday.
Social media. Change the profile pictures, banners, and everything else. Write a post or two about the upcoming celebration.
Emails. Send a Halloween-themed newsletter. You should be hinting at the Halloween selling ideas you have for your business through emails.
SMS. Send HallAs such, there are several key areas that need to be tweaked according to the Halloween theme:oween marketing messages to support other channels, especially emails.
PPC. Set up online ads with Holiday-themed messages to drive clicks and conversions to your website.
While it's not mandatory to use all of these channels, implementing Halloween promotional ideas outlined in this article in at least some of them is highly recommended. For the best user experience, the Halloween marketing experience has to be thorough and congruent.
Also read: 19 Holiday Marketing Ideas [Campaign Examples]
Halloween Ads Ideas
PPC ads are probably the easiest way to implement Halloween marketing. Most physical and digital businesses run online ads through a multitude of sources. Adding in some spooky images and content is easy, simple, and effective.
One of the best ways to combine PPC ads with Halloween-themed marketing is to take advantage of retargeting. Since Halloween advertisements, with the proper retargeting, can "follow' users around, it's the perfect opportunity to tell them they're being "watched".
Of course, you can always start running Halloween advertisements on specific keywords. However, such a strategy might be limited for small businesses and those without a lot of products and services. It's a great strategy for e-commerce, but it shouldn't solely relied upon.
Additionally, you can change up the imagery displayed in the ads. Digital PPC is highly visual and, as a result, small tweaks to the design can truly put the Halloween marketing spirit into it. Remember to take into account the audience and think how spooky and how happy should the design be.
Finally, with the popularity of social media, it would be foolish to not take advantage of the channel. Running ads might seem like a no-brainer, however, that would be underutilizing the power of social media.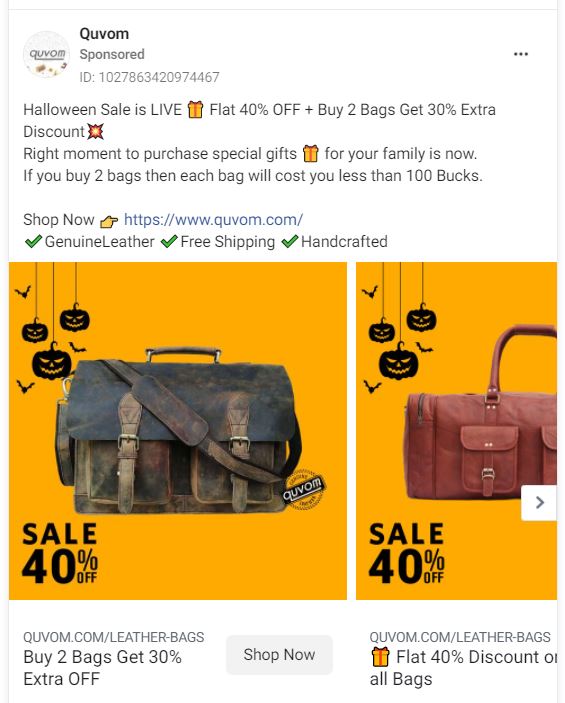 A lot of businesses run Halloween-themed marketing events on social media. Companies generally ask users to generate content with their products or services. In return, prizes, vouchers, or discounts can be offered. Additionally, these promo ideas can have an associated hashtag such as "#Halloween[brand]" to build up audiences quicker.
Each industry can take a slightly different spin when using social media or ads:
For e-commerce. Use social media to promote Halloween-themed products.
For restaurants. Create meals or drinks associated with the spooky holiday.
For real estate. Promote a Halloween-themed party and networking event.
These are just some Halloween ideas for businesses that can take advantage of the theme. Yet, the list is definitely not exhaustive and every type of business can create a unique and compelling ad.
Halloween Email Marketing Ideas
Everyone gets a ton of emails with Halloween marketing messages. While they do work and it's definitely a strategy you can take, usually standing out from the crowd is a little better. Instead of sending simple promotions and advertisements, add a couple of valuable tips.
For example, e-commerce businesses might share the most popular combinations when creating Halloween decorations. Restaurants might share a cooking tip or recipe that is Halloween-themed.
Of course, regular email marketing campaigns work as well. It is important to note, however, that you shouldn't tweak frequency too much. Sending one more email than usual might not be the end of the world, spamming your customers isn't going to be very effective.
As such, emails should be used to deliver valuable content-driven messages rather than only promotions. While they should be included into the mix, they shouldn't be the primary message. After all, every business in your industry sends these emails and most of them will seem boring to your customers.
Additionally, if you take advantage of SMS marketing, emails can be less focused on sales and promotions. SMS messages have a lot more immediacy and are better at generating click-throughs.
To create powerful Halloween email marketing campaigns you need to use an email marketing tool like Sender, which has already premade Halloween email templates. Only one thing you need to do – insert your content: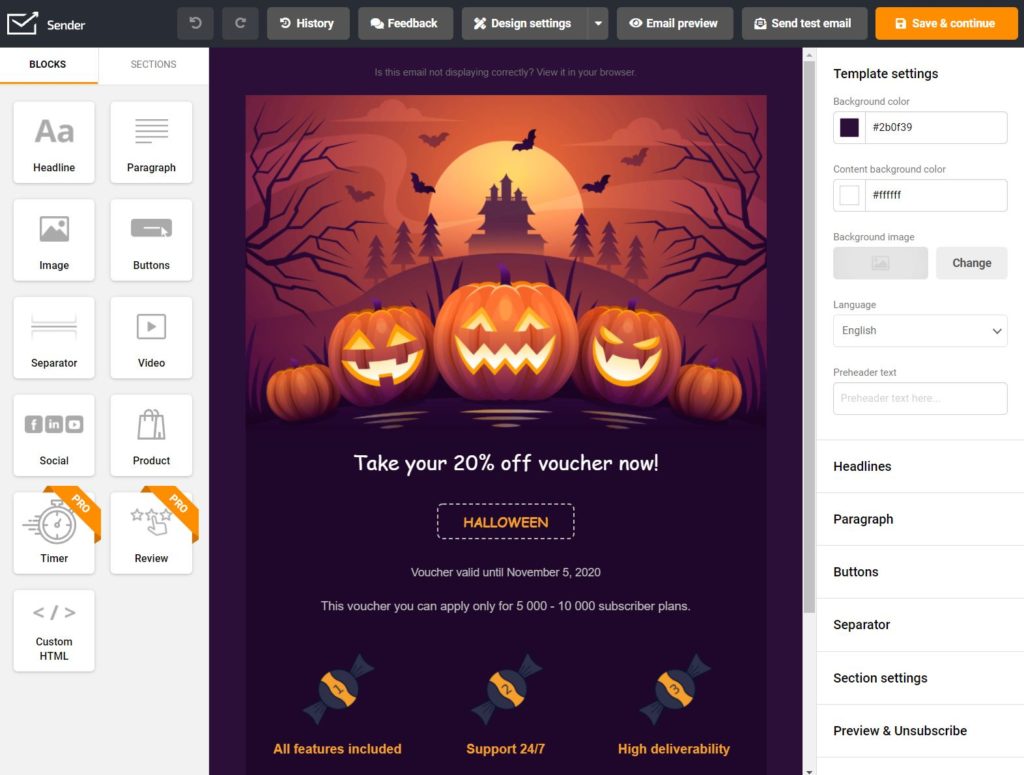 This email can be sent to the whole subscribers' list in a few clicks using the same tool.
Halloween SMS Marketing Ideas
SMS marketing isn't as widely used by companies, however, it can be extremely useful for those who do holiday promotions. As we've outlined in our previous articles, SMS messages have an insanely good read, open, and click-through rates, beating out pretty much every other channel.
As a result, it can be utilized to send promotional materials. As SMS messages are relatively simple (limited character space, no images), there aren't many unique spins you can do. That means they are best utilized at driving conversions upwards.
There are two ways to go about it. One is to send a Halloween-themed SMS message with a discount code, special link, or sale. Another way is to use SMS messages as an additional retargeting tool for those who haven't been reached by other channels such as email.
Nevertheless, SMS marketing Halloween ideas will generally revolve around either sending discounts and sales or pushing your customers that one final time. Since they are a relatively cheap channel with great effectiveness, we can't recommend it enough.
Also read: SMS Marketing Campaigns [Completed Guide]
Halloween Sale Ideas for Businesses
Holiday-themed products, sales, and promotions are the bread-and-butter of many businesses. Halloween marketing is no different in this regard.
Of course, creating a Halloween-themed product or service is the most obvious marketing route. It is, however, anything, but easy. Recreating an old one or creating an entirely new product is extremely time and resource-intensive, especially if it will be available for a limited time.
As a result, there are better Halloween sale ideas for small businesses. A simple and efficient strategy is to pick out Autumn-themed products and market them more extensively. In fact, Starbucks have been using such an approach for the longest time. Their famed Pumpkin Spice Latte is essentially a limited-time product that is supposed to be associated with Autumn and Halloween. Nowadays it pretty much markets itself.
Additionally, historical sales data is a great source of inspiration for discounts and promotions. Sometimes customers will be buying up a product that is not necessarily tied to Halloween. As such, it can only be discovered by digging through data.
Finally, you can set up sales that are tied to some horror trope. For example, arts and crafts stores can bundle up a set of items with a tutorial on how to produce a Halloween costume. Hardware stores, on the other hand, can create sales for items that could be used to build awesome decorations.
Halloween Marketing Can Be Simple
Halloween marketing can be quite simple. While it's possible to go through the difficult marketing routes by producing unique products, even small touches like a couple of website updates and several new ads will go a long way.
With the Halloween marketing ideas outlined above, you should be able to take them and give them a unique twist. Include at least email or SMS marketing into your campaign and carefully track metrics. You will discover just how effective simple tweaks can be!
Want to ease into Halloween marketing with simple and affordable software? Try our email and SMS marketing platform! With Sender, you'll be able to quickly create beautiful and spooky campaigns even if you don't have any coding experience.
Also read:
Like what you read?
Apply it in practice with Sender.net - the most cost-effective email marketing solution in the market.
Try Sender for free