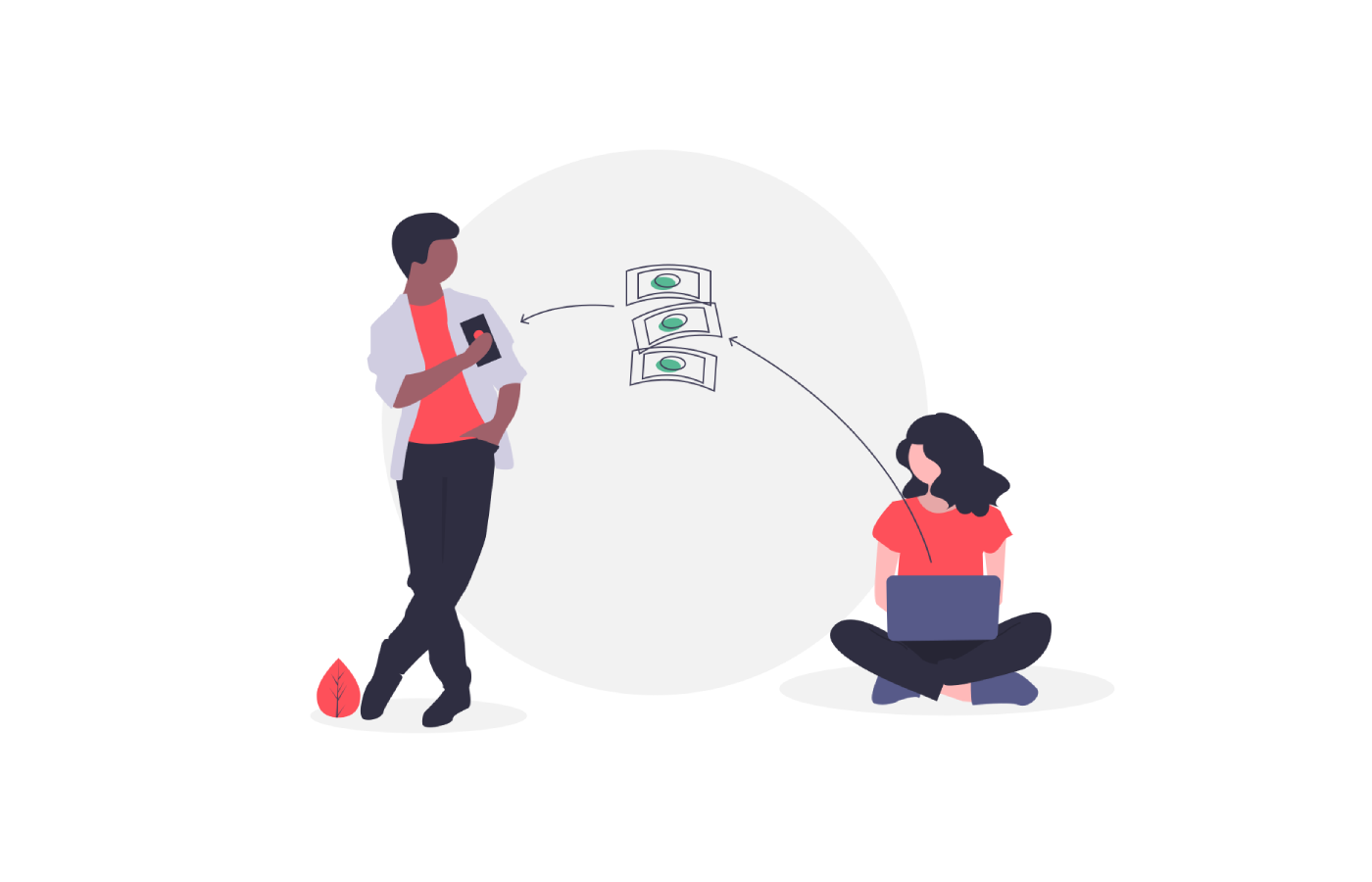 Online Fundraising: 3 Techniques to Make a Lasting Impression
Nonprofits have hosted virtual fundraisers for quite some time now.
Many organizations were already taking an approach that combined traditional efforts with digital tactics, like communicating with donors and promoting in-person fundraisers via email and social media.
The COVID-19 pandemic accelerated the shift, forcing nonprofits to suddenly move entirely to the virtual space.
Less-tech-savvy fundraising professionals found themselves in a sticky situation because the digital fundraising sphere can be quite confusing and difficult to navigate when you have little-to-no experience.
However, it turns out that virtual fundraising is actually quite simple if you invest a little time and give it a valiant effort — even if you're not digitally inclined.
When you pair effective online fundraising ideas with the right tools, you'll master it in no time!
To help launch your efforts forward, we've compiled a few actionable tips for redefining your approach to digital fundraising that anyone can pull off. We'll explore the following key tactics so you can get up and running ASAP:
Spend time perfecting your digital marketing strategy.
Harness the power of peer-to-peer fundraising.
Express appreciation to everyone involved.
Online fundraising for nonprofits doesn't have to be challenging. Ready to make the most of your campaigns and learn some actionable tips for connecting with supporters online? Let's dive in!

1. Spend time perfecting your digital marketing strategy.
These days, your nonprofit needs a solid web presence and digital outreach plan if you expect to gain any traction in the digital space. When perfected, your digital strategy can help you raise a substantial amount of support to drive your mission.
Before diving straight into online outreach, you'll need to define your brand and ensure it's conveyed across all of your marketing materials.

Andrew Berry
Think of it as a way to communicate your cause and tell your mission's story using both visuals and words. Ultimately, your nonprofit's brand is what will resonate with supporters and will drive your organization's progress.
Once you've defined that, you can begin conducting outreach and solidifying your online presence.
Here are some key platforms that will serve as the foundation of your virtual strategy:
Serve foundation via emails
Emailing is one of the most-used digital marketing platforms available. It enables you to connect with a wide range of supporters and spread the word about digital fundraising opportunities.
You may consider developing a monthly newsletter, using it to disseminate important updates, and setting up automated thank-you emails that are triggered by individual donations.
As you get settled in, analyze key metrics and refine your approach so that more people interact with your messages.
Serve foundation on your website
Your website is the hub of all things related to your nonprofit. It's where prospects go to learn more about your cause, where donors go to contribute, and where businesses go to determine if they want to sponsor your organization.
You'll want to design it in such a way that visitors can find exactly what they need. This guide exemplifies some best practices in action. Read through it so that you can be well-equipped to design an effective website.
Serve foundation via text massage
Communicating via text message is a great way to get ahead with your online fundraising ideas and tactics. It helps you spread the word about your online campaigns and reach younger supporters.
Whether you're experimenting with text-to-donate or simply making announcements, texting is an innovative, modern way to connect with mission advocates.
Related article: Best 10 SMS marketing platforms + softwares.
There's a lot that goes into perfecting an effective digital marketing plan, but the end results are undoubtedly worth it.

2. Harness the power of peer-to-peer fundraising
Not only is peer-to-peer fundraising a great way to generate revenue, but it also calls on your supporters to take charge and fundraise on your behalf, which makes it a fantastic way to deepen supporters' engagement with your organization.
Before kicking off your virtual campaign, you'll need to recruit a team of enthusiastic volunteers to fundraise on your behalf.

Andrew Berry
Analyze your donor database to determine who your most passionate supporters are, whether they're volunteers, donors, or board members.
These individuals will be excited to share their connection to your cause, and this will shine through as they promote your campaign!
Leading up to your online fundraiser, your team creates its main campaign page, which will serve as a template for volunteer fundraisers to use to create their personal pages.
This will ensure that your brand is conveyed across all pages as your volunteers share them with friends and family.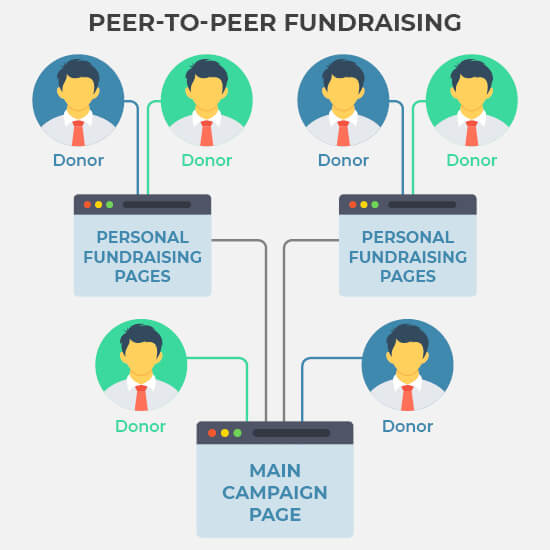 So that your volunteer fundraisers are well prepared, you'll need to arm them with some best practices and ensure they're excited to participate. Here's what we suggest to amp up support and secure the most donation revenue possible through peer-to-peer fundraising:
1 step. Add your own visuals
Imagery is a powerful tool for storytelling. Encourage your fundraisers to share their personal photos and videos to express their connection to your cause. This is a great way to heighten interest in your virtual fundraiser.
2 step. Incorporate word-of-mouth marketing
While these campaigns rely heavily on social media and email outreach, that doesn't mean you have to stick solely to these platforms.
Encourage participants to spread the word when talking to friends and family to expand your audience.
3 step. Motivate participants with friendly competition
Gamification is an effective tool when it comes to creating and developing strong online fundraising ideas.
Use leaderboards or call out top fundraisers with social media shoutouts.
Others will enjoy competing for the top spot!
Peer-to-peer campaigns are a great virtual fundraising idea sure to raise awareness for your cause, fund your work, and help donors connect with your mission. Now that you know the fundamentals, expand your knowledge and learn some more actionable tips with this peer-to-peer fundraising guide by Donately.

3. Express appreciation to everyone involved
Sometimes, organizations fall into the bad habit of not completing the correct next steps once a campaign wraps up.
Just because the fundraiser itself is over doesn't mean your work is quite done. Rather, you need to follow up to show your appreciation for those who have contributed to your campaign, especially if you expect them to contribute again in the future.
Whether they're a volunteer fundraiser or an avid donor, a simple "thank you" can go a long way.

Andrew Berry
Further, if your "thank you" is personalized to each supporter (or at least to different groups of supporters), they'll remember your extra effort down the line when it comes time to give again.
There are several approaches you can take, and it all depends on your organization and each supporter's preferences.
Whether you'd prefer to stick to traditional methods or go all out, we're sure you'll find use in some of the tactics listed below:
1 Tactic. Digital shoutouts
Have a donor who made a substantial contribution or a peer-to-peer fundraiser who raised a lot of funds?
Showcase their generosity with a social media shoutout! Alternatively, you may put a special thank you in your next email newsletter.
2 Tactic. Thank you emails
You likely already know this tactic, but it bears repeating. When a donor gives to your cause, they expect some sort of confirmation, but simply sending a tax receipt won't cut it.
Instead, send a personalized email expressing your appreciation in addition to the tax receipt. The right software will allow you to personalize a template and use automation to ensure your donors receive this follow-up instantly.
3 Tactic. Personal phone call
Phone calls are a deeply personal form of communication because they help to establish authentic connections. Especially when limited on time, stick to calling your major donors instead of every single supporter.
Establish a minimum threshold requirement, so you can be sure to thank your most generous donors on this personal level.
Thanking your supporters is a critical consideration for any virtual campaign, especially with individuals who are new to your cause.
The best online fundraising campaigns have a straightforward plan for proactively following up with participants, so make sure you're taking the right steps to ensure your supporters feel valued and pertinent to your cause.
---
Online fundraising for nonprofits can seem daunting at first — especially to those who aren't all that tech-savvy. So long as you're backed by the right tools and best practices, digital fundraising is a breeze.
Once you get the hang of things, the process will be seamless, and you'll be able to set up, promote, and carry out multiple online fundraising ideas and events.
---
About author
Andrew Berry is the head of marketing and customer success for Donately. After getting involved with nonprofits at a young age, he discovered a passion for helping the organizations that are making the world a better place. Knowing how vital online fundraising has become, his goal is to help nonprofits raise more money online each year! In his spare time, you will find him cooking up dinner, playing with his dog or cheering on Boston sports teams.