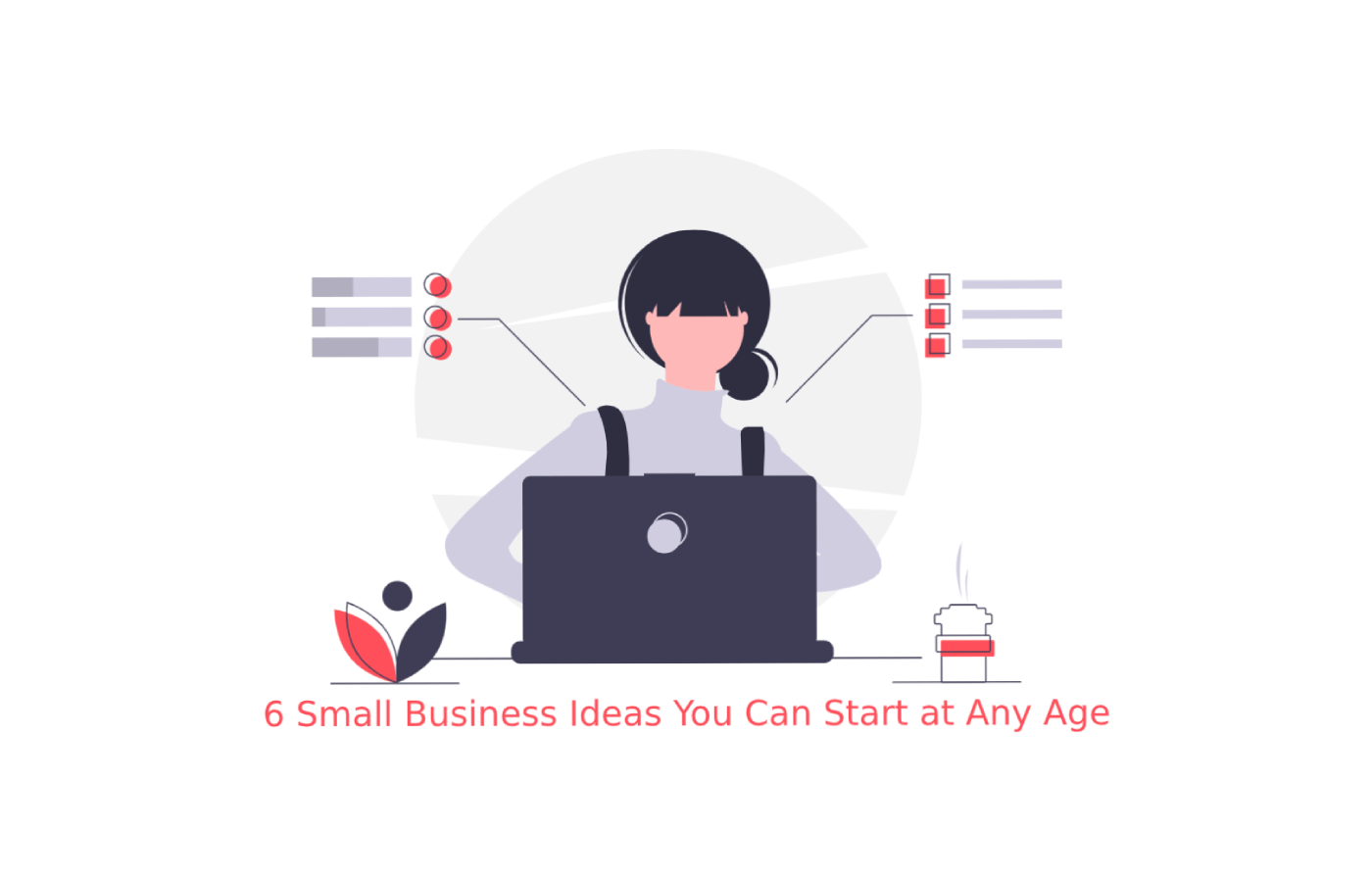 6 Best Small Business Ideas You Can Start at Any Age
The 9-5 routine is rapidly falling out of favor among working-class citizens of all ages, and it's effectively driving people to carve out their own career path that offers increased flexibility and higher levels of gratification.
More and more professionals are beginning to realize that spending 40 hours chipping away at a corporate job doesn't necessarily bring them the fulfillment they desire.
And for most, simply accepting that constant, day to day lack of joy is a harsh reality to live with.
So, why not forge your own path?
Whether you're in your early twenties or just years away from retirement, a genius business idea can go a long way.
If you're looking to escape the peril and plight of your traditional job and start making money on your own terms, there's no time like the present to pursue that dream.
With the right business idea, you can make and save more money while tapping into a career path that excites you.
Using this guide, we'll give you the rundown on six rewarding small business ideas you can start at any age.
1. Reselling Clearance Items
Although selling old household appliances, memorabilia, and clothing may seem like an age-old hustle, it's a bustling industry to be in right about now.
Believe it or not, buying and reselling forgotten-about goods online is an incredibly easy and fun way to start up your own resale business.
Whether that means hunting around your home for rare baseball cards or scouring the depths of your local thrift stores for luxurious hidden gems, selling clothes from home and building your own online resale store can be made possible in a number of clever ways.
Once you've got a decent inventory to work with, list your items on an online resale platform to begin connecting with interested buyers.
Although juggling and maintaining a store on several platforms may be difficult to manage, it's a great way to cast the widest net and quickly grow your following and clientele.
Check out these popular resale sites and app platforms to get your business rolling:
Depop.
eBay.
Mercari.
OfferUp.
Poshmark.
Vesitaire Collective.
Gazelle.
Vinted.
2. Online Assistant Jobs
Are you a master of numbers? Do you have a keen understanding of people and an eye for organization?
All of these qualities serve as the perfect trio of characteristics for outstanding virtual assistants.
Amid the COVID-19 pandemic, the vast majority of businesses are carrying on their day-to-day dealings completely remotely, which means the demand for virtual assistants is high.
And as long as there are companies and businesses with executives who need an extra helping hand in managing their companies, the virtual assistant market will boom.
What's more, virtual assisting belongs to no single industry— you can easily find a job in marketing, engineering, hospitality, and more with the right search and connections.
As for administrative assistant online jobs go, your responsibilities range from expected office admin work to meeting scheduling and more.
A virtual assisting career is a perfect solution for someone looking for a remote job that pays well and plays to their organizational and people skills.
3. Etsy Shop
Although it may seem very hard to imagine making a full-time career out of jewelry-making or canvas-painting, seriously pursuing your work while using a platform like Etsy may be the answer you're looking for.
During the digital age, it's never been easier to make money out of your artful expertise using online marketplaces.
Artists from all across the globe gather on Etsy to advertise and sell their art, jewelry, home goods, textiles, and more.
In turn, Etsy's connects sellers to buyers all over who are looking for unique additions to their home or closet or gifts for loved ones.
With a brilliant product, a drive to supply your demand, and apt delivery, your Etsy business could easily replace your traditional job.
Also we recommend to read:
4. Dog Walking Jobs
Pet ownership is at a record-breaking high and with the ongoing COVID-19 pandemic keeping most people at home, an increasing number of people are becoming pet owners.
This all plainly concludes that the demand for pet care is equally high, and as restrictions soften and people start getting back to work, dog walkers and sitters will be of the essence.
Get in on the tail-wagging fun by signing up for a dog-walking service that connects you to pet owners in need of a regular walker or sitter.
These services are easy to join and require little experience to get started— a love for animals and understanding of proper care are all you need (and a firm grip for as many a half-dozen leashes!).
Check out these petcare apps and sites to get started:
Rover
Wag
PetBacker
Care.com
Petsitter.com
5. Blogging for Dummies
The blogging community is one of the most accessible career avenues for those who have a remarkable way of sharing stories, experiences, advice, christmas blogging and more.
Ambitious and articulate creators trying to earn a living out of their prose can make their dreams a reality by putting together a blog.
Ambitious and articulate creators trying to earn a living out of their prose can make their dreams a putting together a blog.
While a good blog will reach readers from all over the world, a great blog can earn you an incredible annual salary.
It's worth noting that the road to successful, money-making blogging is a long one and takes a lot of dedication and hard work.
But if you play your cards right, learn the art of affiliate marketing, and educate or entertain your audience well, you will start raking in money in no time at all.
6. Airbnb Hosting Guide
Airbnb has become the most mainstream alternatives to conventional travel accommodations, offering travelers a place to temporarily call home that feels vastly cozier than your average hotel room.
Business is booming for Airbnb, especially as most hotels remain closed during the COVID-19 pandemic.
As a host, you could generate thousands in income every month if your home, condo, or space is ideally situated in a hot spot city or destination.
Whether you're looking to save for retirement, capitalize on the equity in your home, or simply get out of your 9-5 job, Airbnb hosting is a great way to pad your wallet, meet new people, and start your own little at-home business.
Check out the list of Airbnb-booming cities below to see if hosting could be a lucrative business idea for you:
Los Angeles
New York City
Atlanta
San Diego
Miami
Austin
Las Vegas
Wrapping Up
Whatever it is that ignites your fiery passion for a lifelong (or years-long) career, there's no time like the present to pursue it. Whether it's walking dogs around the neighborhood, hosting weary travelers, or writing all about your favorite beauty tips, creating a career for yourself is a simple matter of chasing your dreams.
Also we highly recommend to read these guide to improve your sales performance:
---
About author
Samantha Rupp holds a Bachelor of Science in Business Administration and is the managing editor for 365businesstips.com. She lives in San Diego, California and enjoys spending time on the beach, reading up on current industry trends, and traveling.