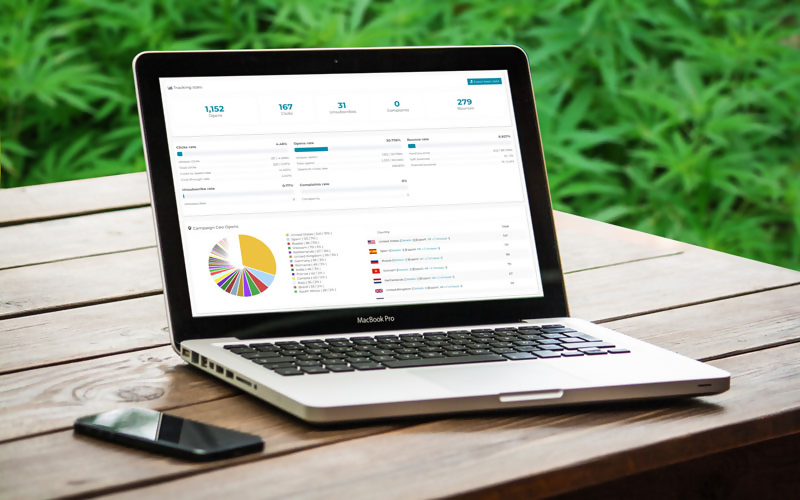 Email Marketing In the Cannabis Industry
When it comes to cannabis business, SEO, ads and email have the most noticeable impact on sales.
Email has always been an easy way to connect with customers and an opportunity to grow. It's also the best way to reach a mobile audience.

How?

Well, if you think about it, we're always on our phones. Where SMS could be a bit intrusive, emails are stored in our inbox until we're ready to open them. So the odds of reading an email is more than that of an SMS.

That said, below are six best email marketing methods you can use in your cannabis business.
Start Fresh
First, sign up at Sender.net for the free account, and upload your subscriber list.

Next, create your first campaign.

Remember, the first email you send should be simple. It can be about welcoming prospects to your newsletter and informing them about the emails they'll be receiving from you. Also, let them know what type of information they can expect to gain. You can even include a gift like a discount coupon.

Make sure you keep them informed. You can set up this initial email as an automated email to all your future prospects who might sign up to your list. This way, it's easy to establish a connection instantly
Design Your Emails
Design matters.

You can either do it yourself or hire a professional who can create your templates. We recommend you to browse our template gallery before wasting your money and hiring someone, but feel free to hire a freelancer to help create emails that match that of your cannabis brand.

If your emails are designed beautifully, you can expect readers to be more excited to read what you have to offer.
Your arsenal
Well, if you're new to this, here are a couple of ideas we brainstormed:

Product release—Announce your new stock. Send these emails as soon as you've got new products to offer, but try doing it regularly.
Special offer or discount—send these kinds of emails occasionally. Make sure you don't overdo it, people begin to expect discounts.
Releasing a video or blog post with information—well, as far as SEO goes, you can try releasing a new one each week.
Special message—this can be anything from a special event to running a survey. Send them as necessary.
Tips and tricks—send out tips related to health and cannabis, such as how to stay active, side-effects of certain cannabis products, tips on How to detox from THC, etc. This is the type of email you should send more frequently, than the promotional one.
Enhance Your Writing Skills
The goal is to talk to your clients about the things they want to learn, not the other way around.

Pay close attention to your writing tone. If you have a younger audience, then feel free to use internet slang. On the other hand, if you have a more mature audience, it would be better to take a more toned-down approach.

Also, make it personal and be completely honest with your emails. Think of yourself as one of your members and read each email you send carefully.

Remember, most people don't read emails that deeply; they simply scan and scroll down to get the idea. So, you need to keep your emails short with minimal text. Also, make them readable. It's better to include a photo of the product and add a short description explaining the features, price, and how to buy it.
Make Your Emails Stand Out
Imagine 50 emails in one of your subscribers' inbox. Now, how do you plan to make your email stand out against them?

Well, the first thing you should do is be more creative with your headline. You can add emojis to attract the reader's attention or keep them hanging with a teaser.

Below are a few examples that may work for you:

Urgency—"Our big event, this weekend only!"
Mystery—"The power Indica is back and now it's better than ever!"
Teach—"Don't make this mistake when picking up your edibles"
Reverse Psychology—"Don't Open This EMAIL!"
Curiosity—"Our strongest cannabis is finally here"
Grow Your Email List
Every time a new user signs up, your list grows. Your job is to make sure it stays that way. He already said yes, it's your job not to mess it up.

Look for different ways and places where you can potentially grow your email list by providing value. You can entice non-members to join your list by offering a discount—perhaps 10% on their first order? Gifts usually raise subscription rates significantly.

Remember, if you're not growing your email list, you're growing smaller. The practice of building your list and growing it is one of the most profitable ways to shape your cannabis business.
Wrapping Up
So these were some of the best methods of using email marketing in the cannabis industry.

Our lives revolve around our phones. If you're able to reach out to your customers when they're busy carrying out their daily jobs, they will likely stop and take a moment to come and pick up the product of your choice.
Onward & Upward,
Sender.net Team
Contributed by Mary Walton who is a professional editor, content strategist and a part of NCSM team. Apart from writing, Mary is passionate about hiking and gaming. Feel free to contact her via Facebook.