Profit from your knowledge
Apply email and SMS marketing strategies you already know to see the best results with Sender. It's free. It's easy.
Get Started For Free
But unfortunately, human beings are infinitely more complex, and so are their decision-making processes. This impacts buying decisions and, therefore, directly marketing too. Especially email marketing.
In this article, we lay out the fundamentals of targeted email marketing, its need, and how you can efficiently implement targeted marketing campaigns for your business.
What is Targeted Email Marketing? How it's Different from Traditional Email Marketing?
Your standard weekly or monthly newsletter is essentially a broadcast to everyone in your email database. Akin to you taking the stage in front of the crowd. Not everyone's listening, and definitely, not everyone's interested in hearing what you have to say.
On the other hand, targeted email marketing is like talking to one table full of highly interested prospects and you telling them exactly what they want to hear.
Any guesses on which approach is more persuasive and will rake in more moolah? "Batch and blast" to your direct mailing lists or Targeted to a small set of them with common characteristics?
Without a doubt, targeted email marketing.
Targeted email marketing is the process of sending highly targeted and personalized emails to subscribers based on something about them or their behavior and habits.
The term 'targeted' indicates that not everyone sees the same email. And by 'personalized,' we mean that our marketing communication is based on something relevant to them.
Is Targeted Email Marketing Effective?
A resounding yes! But we know you are looking for data to support this claim. So here goes.
Marketers can enjoy ROI increases of up to 760% when they send targeted, segmented campaigns. (DMA)
Compared to non-segmented campaigns, segmented campaigns have significantly higher open and click-through rates.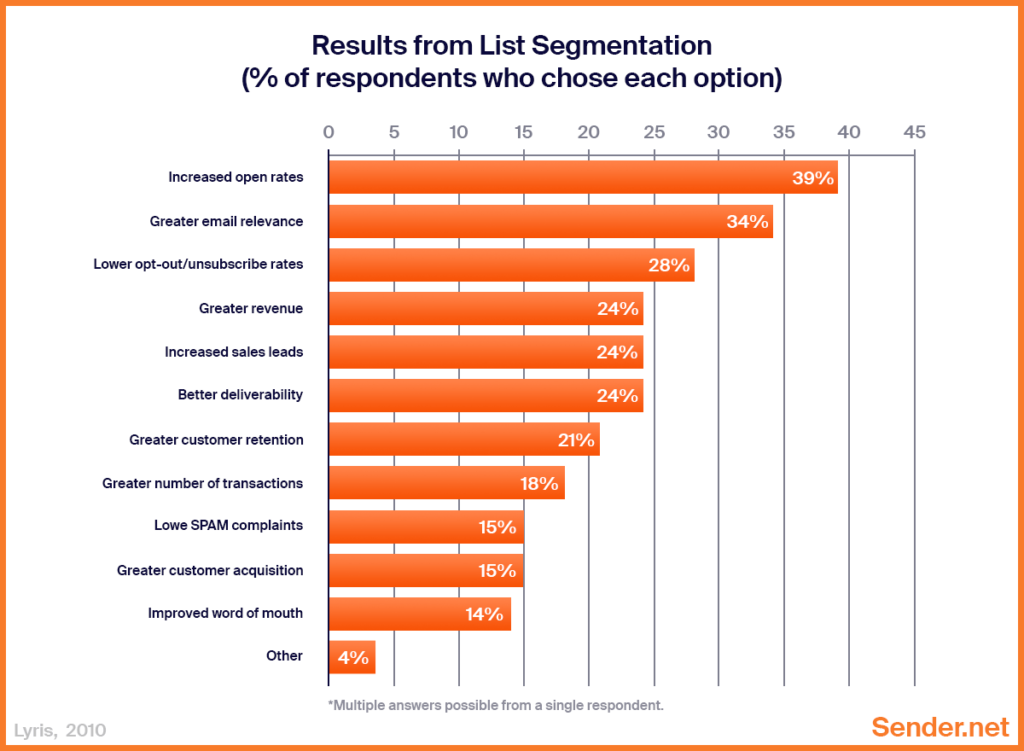 Benefits of Targeted Email Marketing
Because targeted email marketing campaigns are highly personalized and targeted at specific segments for whom it's intensely relevant, it's not surprising to see this turn into a highly interactive conversation and witness engagement hit the roof.
This, in turn, leads to better leads and better sales because prospects now see reasons to stay both associated with and interested in your business.
Targeted email marketing gives you the following advantages:
Enhances Brand awareness.
Drives engagement.
Improves quantity and quality of lead generation
Increases sales and, therefore, business revenue.
Reduce revenue leakage by reducing customer churn.
Increases ROI (Return on Investment) from your email marketing campaigns.
And all of the above at rock bottom operational costs that Facebook, Twitter, and LinkedIn advertising can't even touch!
This form of targeting mail marketing relies heavily upon segmentation and how well it is done.
What is Email Segmentation?
Segmentation is the process of grouping email subscribers together based on characteristics such as demographics, location, interests, and purchase history.
It's used as a personalization tactic to ensure that each segment is emailed with maximum relevance.
Because not everyone is at the same point in their buying journey as a customer, they will likely not respond equally well to the same message or email, for that matter.
Segmentation solves this significant problem for us.
Segmented, Targeted, and Personalized emails generate 58% of all revenue. (DMA)
What Are the Different Types of Segmentation?
Some of the most common ways you can choose to segment your email list:
Demographic: segment based on age, gender, education, income, nationality.
Geographic: segment based on your prospect's location, i.e., geo characteristics.
Psychographic: segment based on interests, beliefs, lifestyles.
Behavioral: segment based on website pages they visited, emails opened or not opened, purchase history, etc.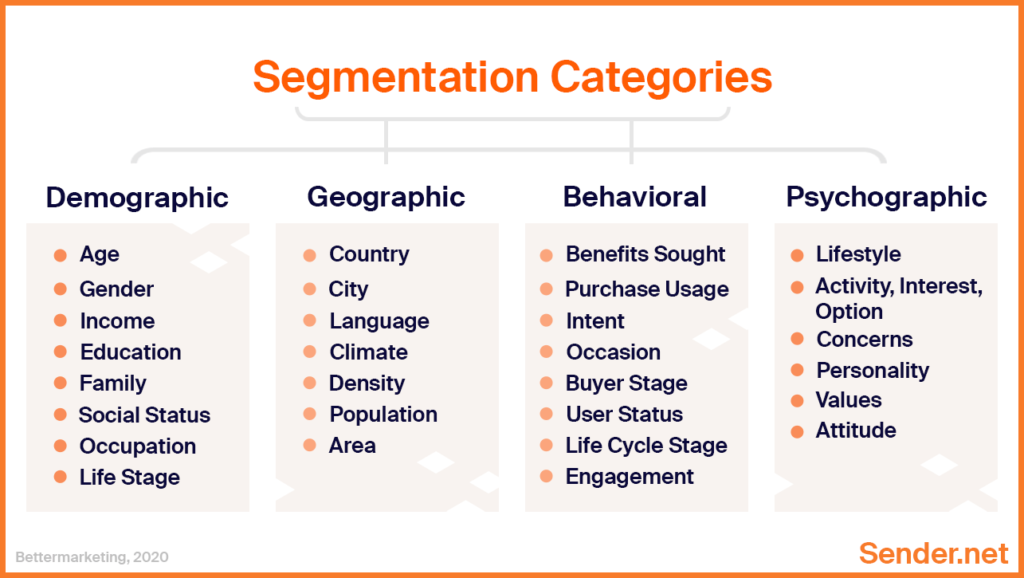 What type of segmentation works for your business is something that you will best understand by constructing detailed Buyer Personas of your prospects.
Also read: STP Marketing: Segmentation, Targeting, Positioning
Creating an Effective Targeted Email Marketing Campaign
Follow this step-by-step approach to design targeted email campaigns that actually work.
1. Define detailed Buyer Personas
You probably have an excellent idea of what problems your product solves. Now lean back for a second and think about who all might be having this problem and how many of them would benefit from your offering? Those right there are your Buyer Personas.
Your Customer Persona will detail your ideal customer's demographics (age, gender, location, education, income), socials (where do they hang out online), and emotional triggers (desires, aspirations, dreams, pain points, frustrations).
2. Optimize Content
All of your website and landing page content will be tailored to your particular audience sets.
3. Optimize Subscription forms and Popups
Your subscription forms and popups will have a clear and crisp copy that not only welcomes your Buyer Persona in but also weeds out others who are not. It will also ask for information.
4. Jot down campaign goals
Is it to push maximum ebook downloads (engagement) or simply more sales? Being clear about that one thing can change how you look at everything else.
5. Segment subscribers
It is generally good to start with demographics-based segmentation and then move on to behavioral segmentation. But it helps to see your Buyer Personas in-depth and tie them down to the campaign goals.
6. Keep collecting information from your subscribers
Do this via feedback forms emailed from time to time. Alternatively, you could provide them an option to update their preferences, so they control how much and what you get to communicate with them.
7. Write tailored email content for your specific segment audiences
Just remember that you have segmented them for a reason. Even when selling the same product across different demographics, how you talk about it could be vastly different.
8. Tie it all up to your ecommerce store
Tie up your email marketing tool and CRM to your Shopify, Woocommerce, or WordPress based online store. This ensures that you take advantage of true automation. For example, a customer buys a product off your ecommerce store, the email marketing tool makes notes, adds him to a particular list (and segment), and automatically sends out a transactional or welcome email sequence.
9. Give the campaign legs. Launch it.
Often your most significant learnings from an email campaign will be on the battlefield and not in the boardroom. So be prepared to do that.
10. Test, Test, Test
Everything—subject line, snippet text, resending to non-opens with a different subject line, copy, Sending schedules, CTA.
Choosing the Right Targeted Email Marketing Services
Choosing the best target email marketing services often ends up being all about selecting an email marketing tool that's just right for your business.
It should ideally:
Be Simple to set up one-time and easy to use daily.
Support extensive segmentation possibilities.
Offer support for complex and simple automation workflows to enable you to set up high-converting email campaigns.
Provide the ability to send out emails and SMS messages from a single dashboard.
Have an excellent support team that steps in when you get stuck.
Rated as one of 2021's Top Email Marketing and Automation Tool by Capterra, Sender offers all of the above and more in highly affordable monthly packages (including FREE SMSes for higher plans).
If you are someone who wants to take it for a spin before shifting over from your existing email tool or want to start with zero financial commitment, the FREE Forever plan can help you do just that. Send up to 15,000 emails a month to up to 2,500 contacts absolutely free of cost!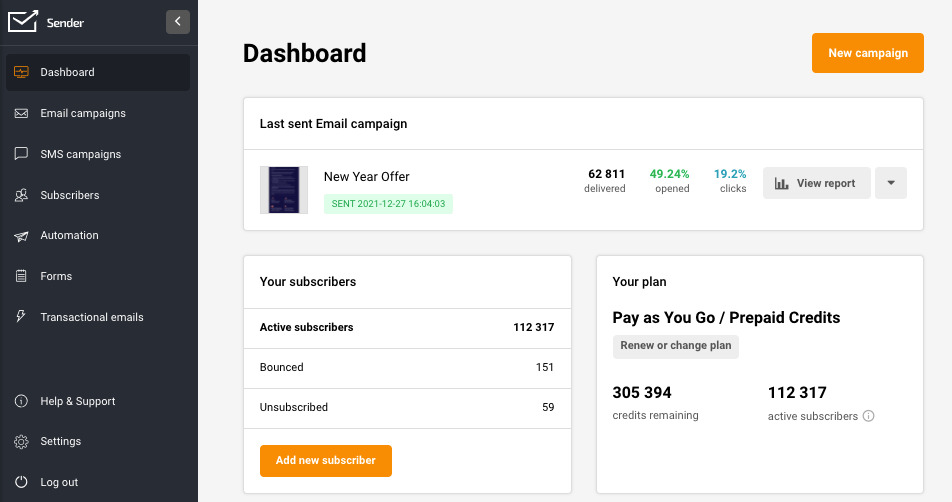 Unlock Mighty Targeted Emails
Targeted email marketing should be a part of every business's email marketing strategy. If you are serious about getting ROI from email marketing efforts, it's essential to leverage personalization and automation equally. And exact target email marketing helps you get it just right.
Also read: Defining & Reaching Your Target Audience in 2023
Content Contributor – Santosh Balakrishnan