Like what you read?
Apply it in practice with Sender.net - the most cost-effective email marketing solution in the market.
Try Sender for free
In this article, we have outlined several providers with free or paid (or both!) versions of template builders with all of the most important features.
Building an email template for future use can make or break many campaigns. Customers nowadays are used to absolutely perfect emails.
Even a tiny mistake here or uneven alignment there can reduce the overall open or reply rates. However, only some have the knowledge, skill, or resources to create email templates from scratch.
Many businesses now turn to service providers with a drag-and-drop editor for building email templates. These editors greatly ease the process and allow everyone to create beautiful emails regardless of tech-savviness.
We decided to review different email marketing service providers that have template builders. In this article, we have outlined several providers with free or paid (or both!) versions of template builders with all of the most important features.
What Defines a Good Email Template Builder?
Good email template builders help you design good-looking email templates. This ensures that your message appears professional and you create a good impression.
With modern email builders, you can build a professional email template in less than 5 minutes using the drag-and-drop email editor. All you need to do is select a template and customize it using available blocks, and it's good to use for your email campaigns.
Here are some characteristics that define a good email template maker:
Easy to Use: Your template builder should have an intuitive user interface. You should be able to quickly drag and drop blocks to create an engaging email template.
Supports Responsive Design: Email template creator should allow you to create responsive designs that look great on any device, including desktop computers, smartphones, and tablets. An in-built preview feature will be handy.
Customizable: The email template maker should allow you to customize the emails based on your branding guidelines. You should be able to add logos and images in different sizes and positions.
Free Email Template Builders — Full Overview
While searching for a great email template builder, you will encounter several 'free' builders that will promise the world. It's good to try them, at least initially, as it will help you set the right process to build your templates. Here are three great email template builders that you can use for free:
1. Sender – Best Drag & Drop + HTML Email Builder
Sender is a robust marketing automation solution with a powerful email template builder. It offers several useful tools and features to maximize your email campaign performance, including a drag-and-drop template editor.
Drag-and-Drop Email Template Builder
Sender's responsive email template software is user-friendly – everyone can use it – from the complete beginner to an HTML expert. You can create beautiful emails using the drag-and-drop interface with fully customizable templates and flexible design elements.
The editor helps you add different design blocks, including product blocks, timers, reviews, images, GIFs, or a customizable section.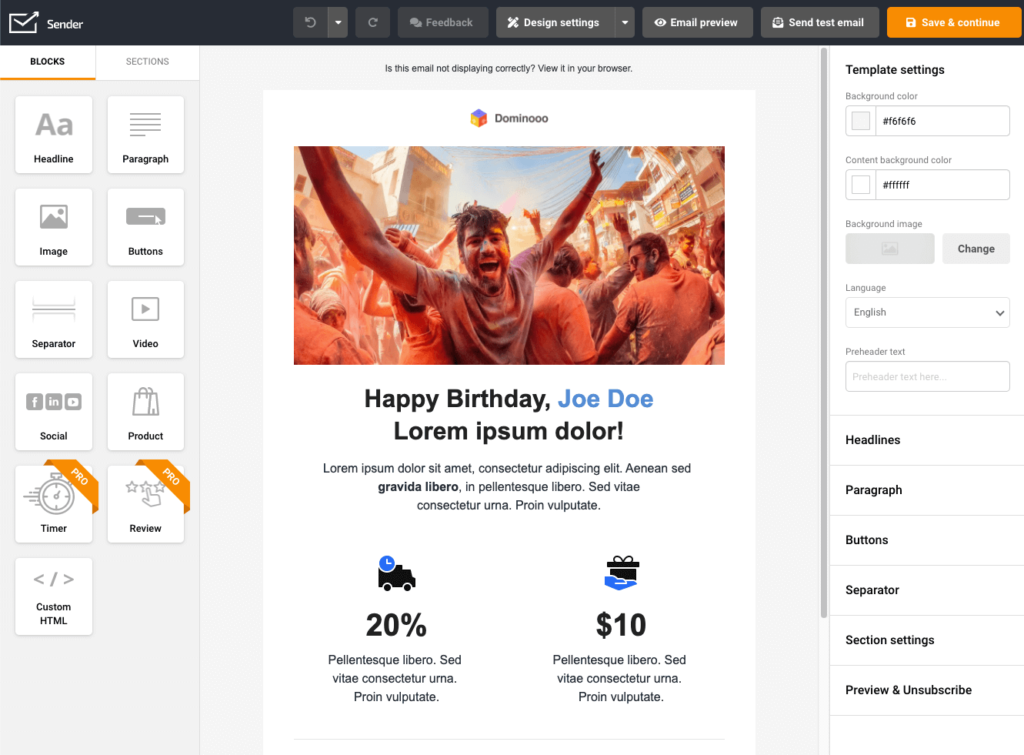 Sender's user-friendly interface helps you create a responsive, mobile-friendly design without much fuss. You can further customize your email by even adding your HTML code.
Responsive Email Templates
Ever had a problem with how email doesn't look good on mobile? Forget it! Sender has a great library of premade mobile responsive templates that you can use. There are templates for businesses and use cases, including abandoned cart emails, holiday campaign emails, newsletter templates, and more.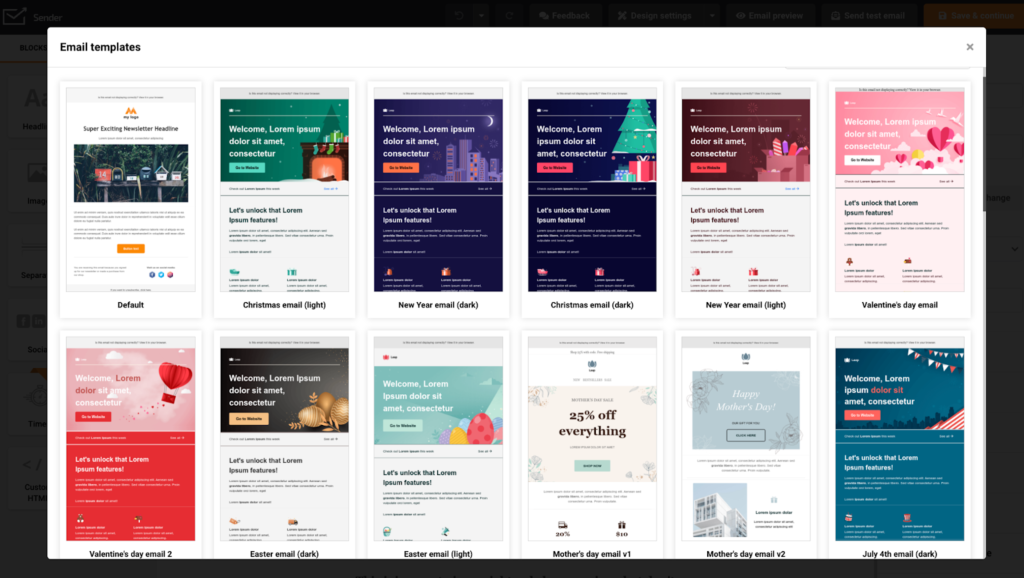 Simply pick a template and use the drag-and-drop email editor to customize it according to your brand style and design guidelines.
Sender's Features
Sender has a long list of user-friendly features that makes it easy for anyone to create stunning email campaigns. Here are some amazing features:
Drag & Drop Email Designer: User-friendly drag-and-drop email builder and editor with powerful design blocks like a countdown timer, product blocks, and reviews to engage your subscribers.
Omnichannel Platform: Create and manage text messages and email marketing campaigns from a single dashboard.
Marketing Automation: Nurture and delight your audience via targeted email & SMS campaigns using automated sequences and workflows.
Popup & Form Builder: Build intuitive signup forms and popups to generate leads from visitors to your website
Customer Segmentation: Nurture your subscribers by delivering personalized content through powerful segmentation features.
Reporting and Analytics: Capture critical metrics in real-time, like open rates, click rates, etc., to measure your marketing effectiveness.
Integrations: Integrations with all major web platforms like WordPress, including popular eCommerce systems like Shopify, Magento, WooCommerce, etc.
Pros of Email Builder
Sender's drag-and-drop email template builder comes with a lot of useful features and design elements:
Timer: You can add countdown timers to your email templates without any add-ons;
Review Block: Embed customer reviews directly in your email templates;
HTML Block: Add a custom HTML block in your email template within seconds.
Sender's Pricing
Sender is truly a free platform that allows you to test its limits and capabilities even as a free user. Here are Sender's pricing options:
Free for up to 2500 subscribers and 15000 emails per month with no feature restrictions for free users.
Paid plan starts at $8 per month.
---
2. YayMail – WooCommerce Email Customizer
YayMail by YayCommerce is a code-free email framework for WooCommerce that lets you customize transactional and marketing email templates.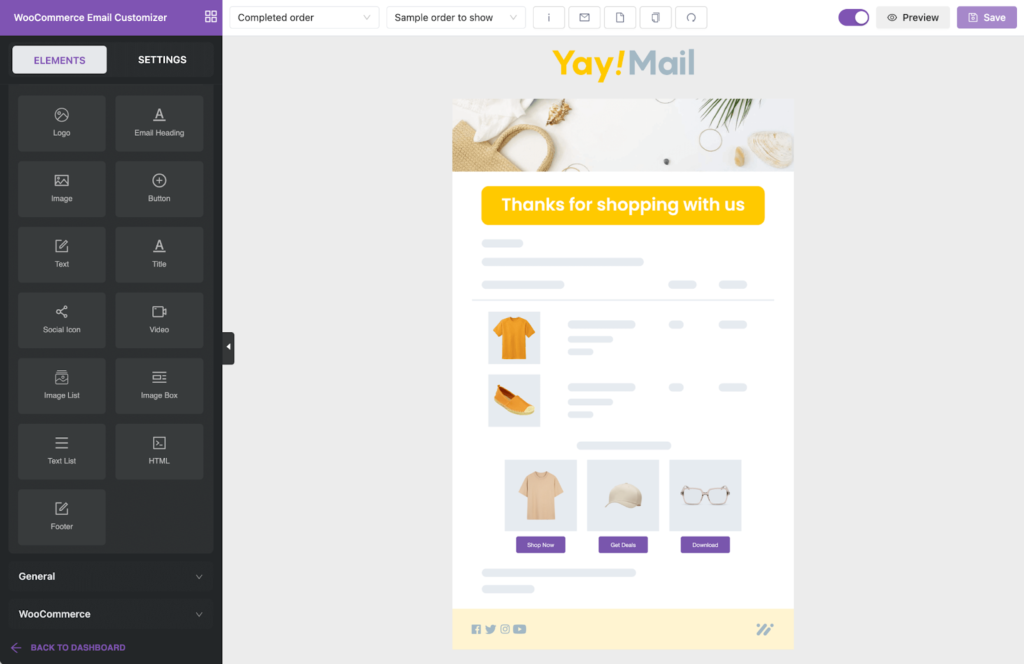 This WooCommerce email customizer plugin enables you to easily customize the default WooCommerce email templates and turn them into appealing, eye-catching emails with its user-friendly drag-and-drop interface.
You can use a variety of tactics to make tailored content within a WooCommerce email stand out, as well as apply colors to text and banners to backgrounds. You will be able to embed YouTube video links and thumbnails within an email for your readers to click on or change the font style and font size to appeal to your readership.
YayMail features
Drag-and-drop WooCommerce email builder with design HTML email and the live preview on the same screen.
Fully customize 11+ WooCommerce order email templates.
A variety of placeholders for order details, customer details, billing info, shipping, payment, new user info, additional order metadata, etc.
50+ add-ons to enable a huge amount of flexibility to what can be put in your email templates and email campaigns (conditional logic, recover abandoned cart, multi-vendor marketplace, etc.)
Smart elements such as predesigned blocks, order details, Woo orders tracking, smart coupon, social interaction, B2B payment, etc.
Seamlessly displayed on various email clients such as Gmail, Apple Mail, Microsoft Outlook, Spark, and so many more.
Pricing
Free Plan with 11 standard WooCommerce emails & full customizability.
Paid Plan starts from $59 for a single site with unlimited email templates and 1-1 Live Chat VIP Support.
---
3. BEE – Online Email Template Builder
BEE is termed the best email template builder & editor in many online communities and forums. The platform intends to be the 'be-all-end-all' solution in the email template builder category.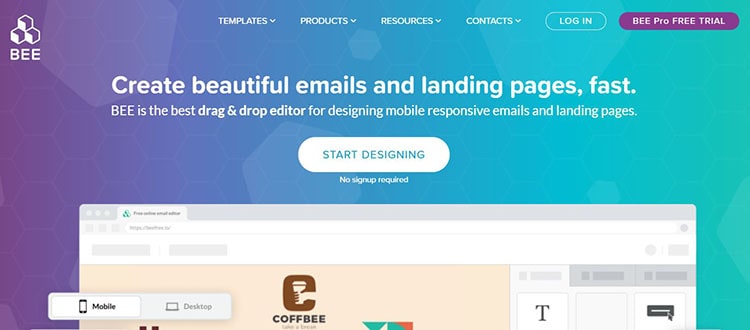 BEE offers many pre-built templates which can be customized according to your desires. As with most email template makers, BEE features a drag-and-drop system to help you build faster. No coding experience is required to create beautiful emails using Bee.
BEE Features
BEE offers everything you need to create your email templates with ease and efficiency. Here are the top features that will help you speed up the process:
Extensive template library consisting of templates for all industries and use cases, including eCommerce, non-profit, wellness, and real estate;
Smart integrations with all major email marketing solutions like MailChimp, Constant Contact, ActiveCampaign, SalesForce, Amazon SES, etc.
Responsive landing page designer with complete design flexibility;
Design once, use forever functionality to reuse design assets across different email templates.
Pros & Cons of BEE Online Email Builder
Bee has many interesting features but has some disadvantages when compared to others on this list. Here are the pros and cons of using BEE email builder:
| | |
| --- | --- |
| Pros | Cons |
| Separate folders (Projects) to organize templates better. | Confusing navigation in and out of the email builder for checking preview text. |
| One-click integrations with other email marketing suites and solutions. | Steep pricing plan, considering the functionality available. |
| In-built landing page builder. | Slow customer support (international) |
Pricing
Bee has a generous free plan, but if you want to use it regularly, you might have to sign up for a pro plan. Here are the details:
Free plan available with limits on the number of email templates created and feature restrictions;
Pro plan available for $30 per month that offers unlimited email designs and all features.
3. Campaign Monitor – Responsive Email Template Maker
Campaign Monitor is a popular email marketing tool with a nifty email template creator that you can use to create responsive email campaigns.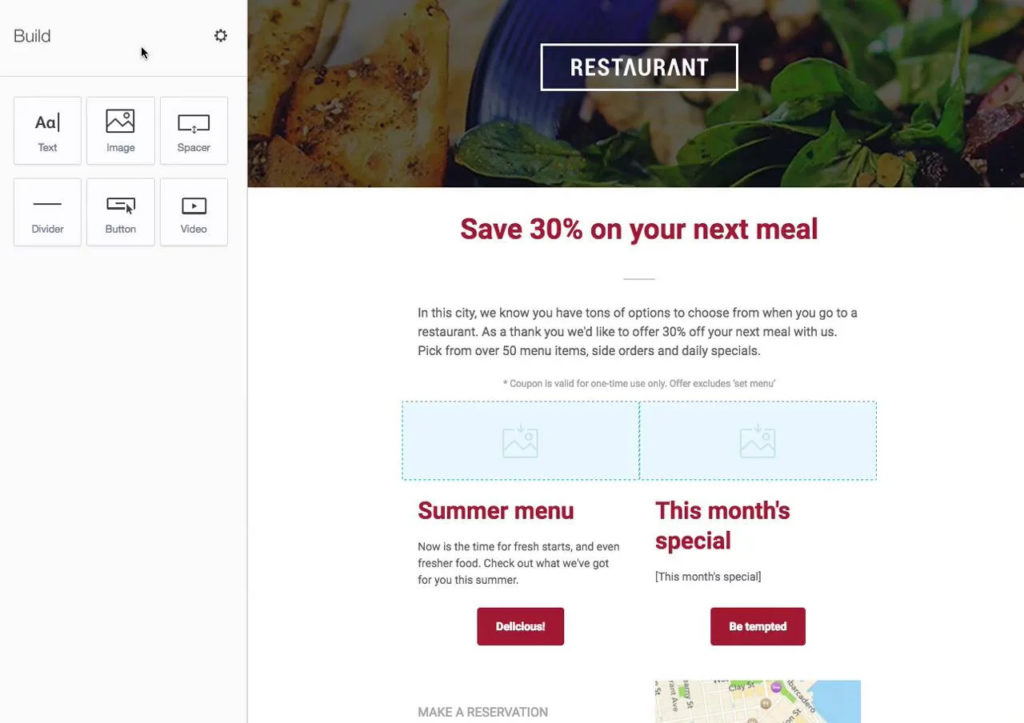 The email template builder has all the standard features you seek, with a neat integration with Unsplash to help you find stock images for your email campaigns. You can customize the email according to your brand style, logo, and website theme in one click, too.
Campaign Monitor Features
You must know about the different features before picking Campaign Monitor as your email template builder. Here's a brief list to help you make an informed decision:
Drag and drop & HTML email template generator that supports no-code and custom email creation;
Automated customization based on the logo, brand colors, or website URL;
Free image gallery powered by Unsplash right within the email builder;
Extensive email template library.
Pros & Cons of Campaign Monitor Online Email Builder
If you're curious about what you'll get at that price, here is a brief list of the pros and cons of choosing Campaign Monitor as your online email builder:
| | |
| --- | --- |
| Pros | Cons |
| Amazing email template testing and dummy campaign capabilities | Costly, in case you have a large email list |
| Large and flexible template library | Obsolete UI and functionalities at places |
| Responsive design blocks | Lack of deep reporting integrations with CRM suites |
Pricing
Campaign Monitor has a pretty limited free plan, so you will have to buy a paid plan. Here are the details:
Paid plan starts at $9 per month, supports 500 subscribers, and allows sending 2500 emails a month;
Free plan with a restriction of sending email campaigns to just 5 subscribers.
4. Postcards – Simple Email Template Software
Postcards is built by Designmodo to help business owners create emails with ease and efficiency. The online email template software offers an extensive library of templates and is compatible with all major email marketing tools.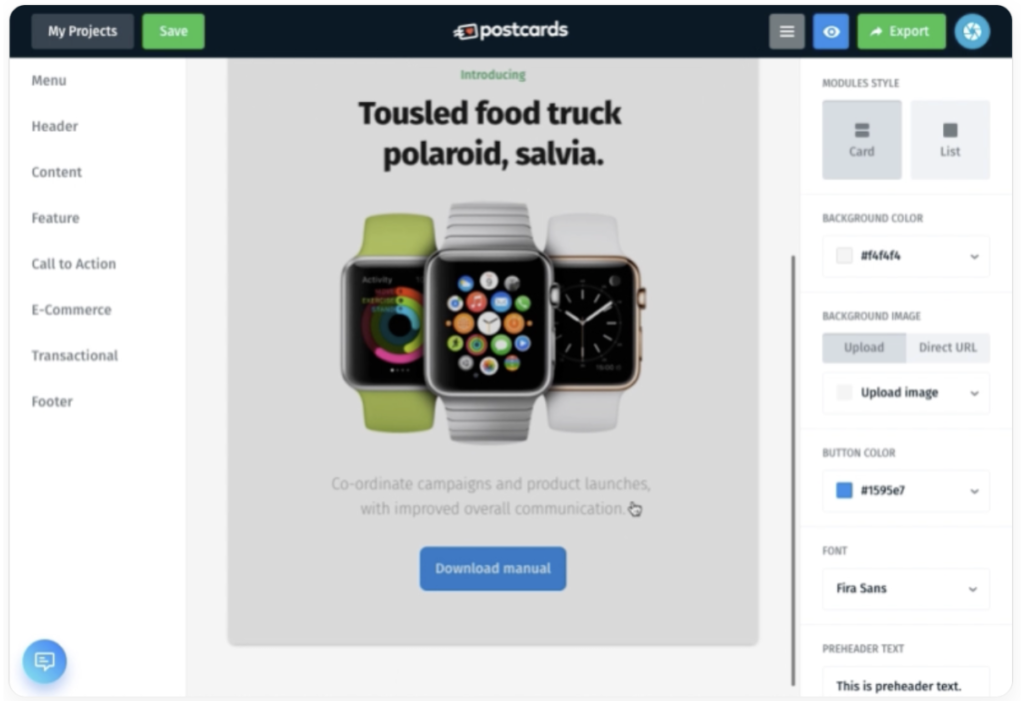 The great thing about using Postcards is its support for all major email tools. So, you can directly export your email template to Sender or other tools in the market.
Unfortunately, the huge block libraries used in this WYSIWYG editor are behind a paywall. The free plan has a limited array of template blocks (one for each email element). That will severely limit the email creation possibilities. However, you do get unlimited exports in the free version.
Postcards Features
Postcards is a powerful email builder with many useful features like one-click export, a large library, and more. Here's a glimpse of the features:
Drag-and-drop email builder that allows you to customize emails quickly without coding;
One-click export system to email tools using plain HTML generation for each email template;
Version history feature to ensure quick collaboration and faster tracking;
Cloud image hosting and retina-ready support for adding high-quality images to your emails.
Pros & Cons of Postcards Online Email Builder
Postcards is pretty responsive as an email builder but has some limitations and shortcomings. Here's a brief list of the pros and cons of picking Postcards:
| | |
| --- | --- |
| Pros | Cons |
| Modular design system; unique design blocks and layouts for templates | Costly when you want to use it for unlimited templates |
| Project backup and management among large teams | Design and template library is restrictive to only higher paid plans (or behind a paywall) |
| Supports Retina ready images + 900+ Google Fonts | Dependent on other ESPs for full marketing functionality |
Pricing
The pricing plans allow you to test out everything, as there's a free trial plan. But the paid plan is recommended if you want full functionality:
Free trial plan with limited features and projects;
Paid plan starts at $17 per month with full features and functionality for one brand/business.
---
5. Stripo – Mighty Email HTML Editor
Stripo is a popular email builder that even supports dynamic AMP email features for creating interactive emailers for your audience. The application has a powerful drag-and-drop editor and hundreds of email templates.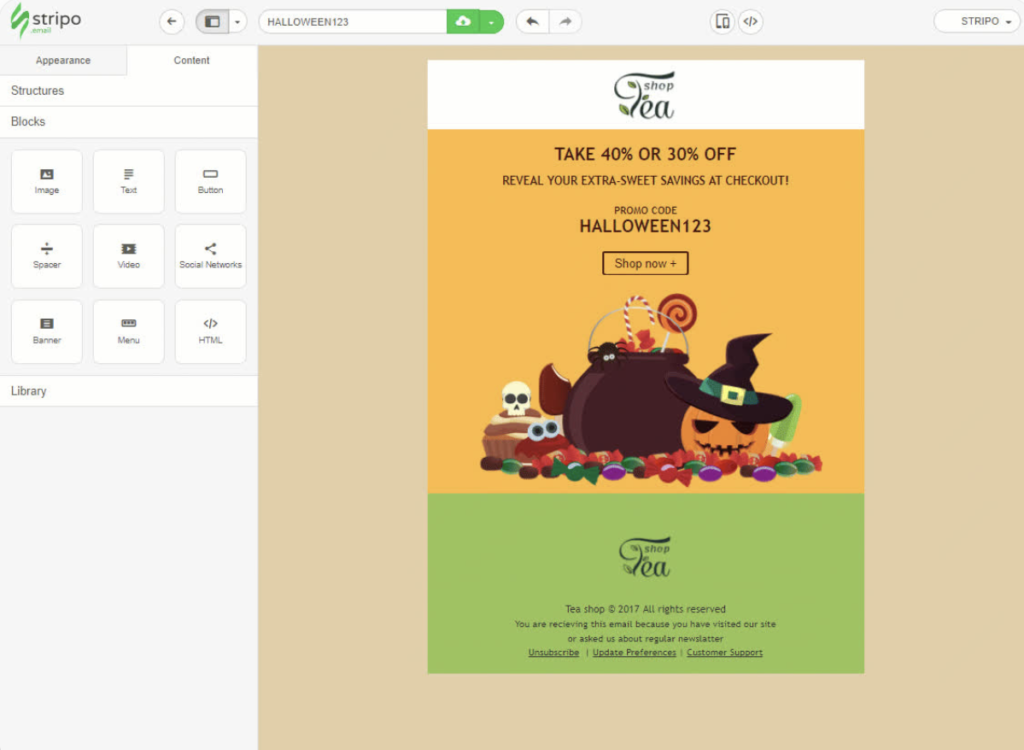 Stripo's free email template maker has most of the useful features you need as a small business. However, some features, like testing on email clients and premium templates, are locked for paid users. You can even request a custom email template from professionals on the platform.
Stripo Features
Stripo has several useful features, like AMP support, that can help you improve your email marketing effectiveness. Here's a brief glimpse of the features:
Use drag and drop editor & custom HTML simultaneously without switching screens (or adding modules);
Extensive template library with 1100+ free email templates;
Create interactive emails powered by AMP technology that engages users, just like a website across any email client like Gmail, Outlook, Yahoo, etc.;
Powerful brand kit generator to standardize your email template designs.
Pros & Cons of Stripo Online Email Builder
Stripo is an amazing solution for building email templates, but it comes with cons, too. Here are the pros and cons of picking Stripo:
| | |
| --- | --- |
| Pros | Cons |
| Two-in-one Builder (Custom HTML + Visual), which can be switched easily. | Lack of project management and collaboration features like comment, chat, etc. |
| Quick and responsive customer support. | Some level of learning is required to speed up your template creation process. |
| Amazing UI with a unique constructor mode to replicate design elements and templates. | Lack of advanced design customization features. |
Pricing
If you're considering Stripo for creating templates, here's what you need to know about their pricing plans:
Free plan that supports 4 email exports and 5 test emails per day;
$15 monthly for up to 50 email exports, sharing email previews, and all other premium features.
---
6. Unlayer – Free Email Template Builder
Unlayer is another powerful drag-and-drop email template builder with several advanced features for eCommerce store owners and small businesses.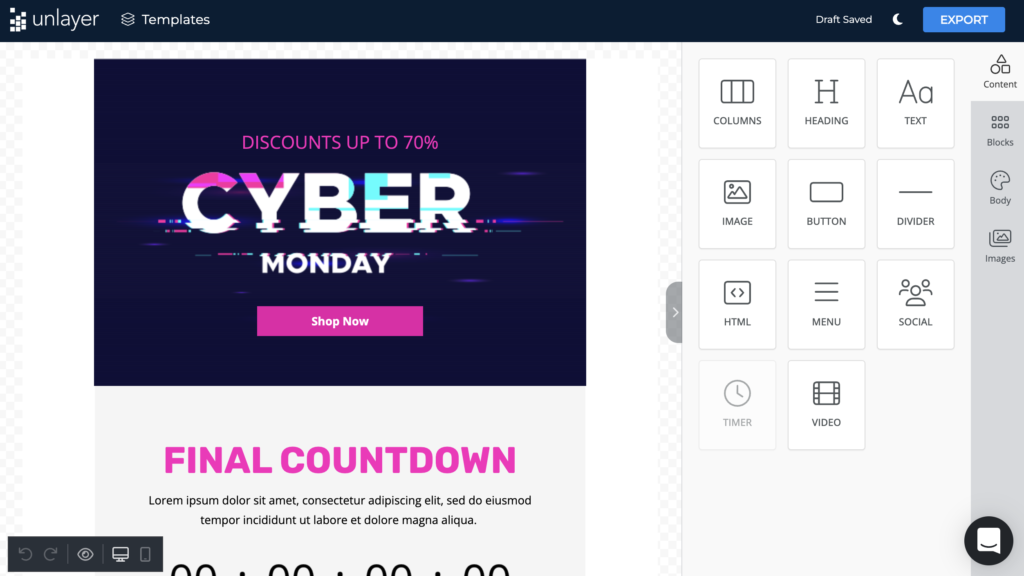 The drag-and-drop + HTML email builder offers several beautiful templates for emails and landing pages that you can use without paying a penny. However, advanced features like reusable custom blocks, dynamic exports to email providers, and essential functions like saving your work are only available on a paid plan.
Unlayer Features
Unlayer is amazing when it comes to drag-and-drop functionality. But there's even more. Here's a list of the most useful features of Unlayer:
Custom file storage, unique design blocks, and undo-redo functionality within the drag-and-drop editor;
Collaboration and sharing of templates among teammates;
Merge tag features to capture/pull dynamic info for personalizing emails;
Drag and drop your online store products within your emails;
Pros & Cons of Unlayer Online Email Builder
Unlayer comes with many useful features for a decent pricing plan. But every good thing comes with its own share of problems too. Here are the pros and cons:
| | |
| --- | --- |
| Pros | Cons |
| Easy to use with lots of useful features for template building | Lack of analytics and tracking features |
| Great team collaboration features | No A/B testing feature |
Pricing
Wondering how much will Unlayer cost you to create email templates? Here's a brief overview of their pricing plans.
Free plan available with limited functionality and feature restrictions on standard features;
Paid plan starts at $15 per month for unlimited email template generations.
---
7. Topol.io – Adaptable Free Newsletter Builder
Topol is yet another free newsletter builder designed to help you save time as an email newsletter templates creator, marketer, or design professional.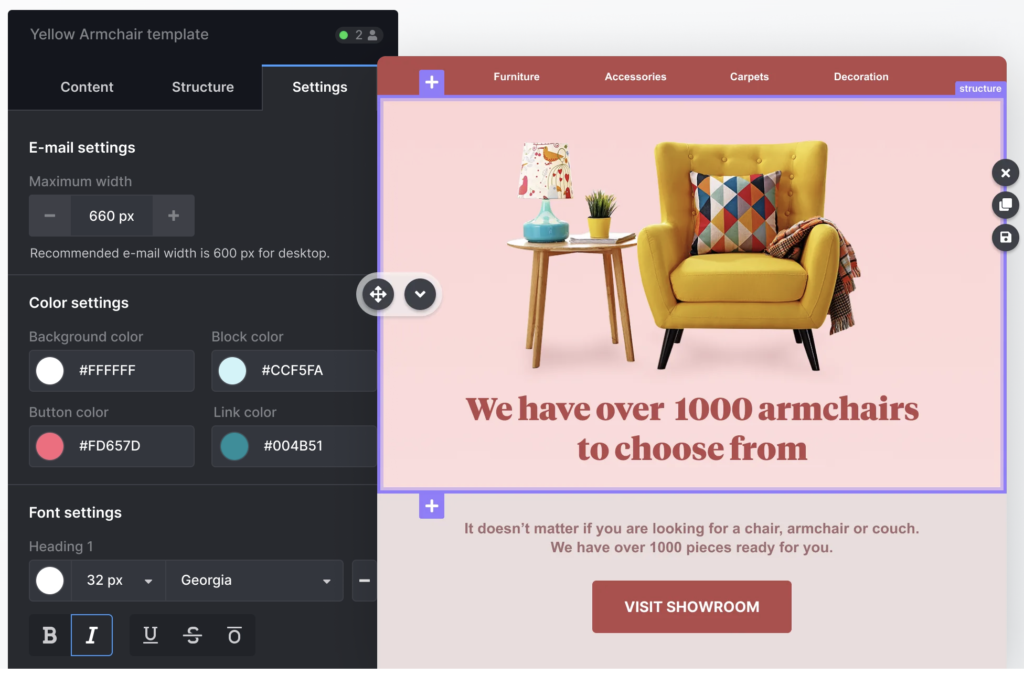 The drag-and-drop email generator can be used as a standalone system or be integrated into your existing tool/SaaS platform as a plugin.
You get all the features and functionalities you'd find in any other visual email builder on this list. Its interface is as intuitive as any other and supports different design blocks, making it suitable for beginners and newsletter creators.
Topol's Features
Topol is a full-fledged email builder with many useful features that can make your life easier as a marketer or business owner. Some features include:
Drag and drop builder with pre-made blocks and design template library;
Custom HTML code builder for full flexibility and control over design;
Add product information directly to email with XML imports/exports;
Personalize design blocks and emails using merge tags.
Pros & Cons of Topol Online Email Builder
Topol is a good tool, especially considering the price point, but its rudimentary layout sometimes can feel a bit 'basic'. Here are some other pros and cons of choosing Topol:
| | |
| --- | --- |
| Pros | Cons |
| Easy and intuitive to use, even for beginners | Limited design customization capabilities. |
| Great library of readymade templates and design elements | Limited design library. |
| Amazing developer panel and integrations | Differences in the layout of test emails and actual email campaigns sometimes. |
Pricing
Knowing details about the pricing plans is an important step when choosing a tool for your growth. Here's what it will cost you if you choose Topol for creating email templates:
Free plan with limited features, exports, and access;
Paid plan starts at $10 per month for generating unlimited templates.
---
8. Mailchimp – Compelling Email Template Creator
You would already have tried or known MailChimp before. It's a beginner-friendly email marketing solution with a great template builder with all the essential features you need.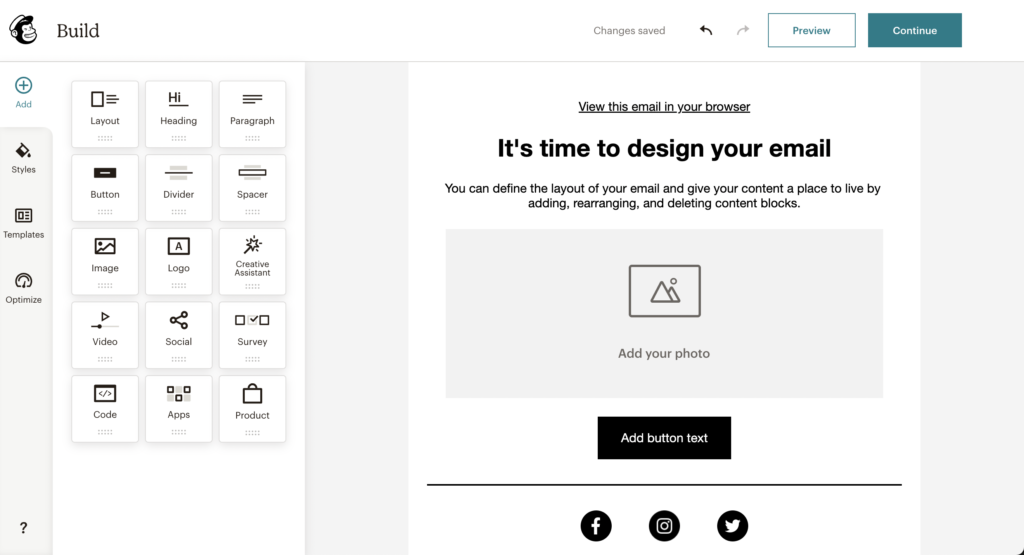 MailChimp's email newsletter builder is a drag-and-drop style system that helps you create visually appealing email newsletters for your campaigns. You can add different design blocks, customize the style, or choose from a library of templates based on your requirement.
MailChimp Features
MailChimp has all the standard features you expect from an email solution. Here are some of the most-loved features of MailChimp:
Drag and drop email builder with support for pre-made templates and design blocks;
Preview and test your email design template;
Customize the email template based on your email subscriber information (or list tags);
Auto-optimize options to improve your email templates based on email best practices.
Pros & Cons of Mailchimp Online Email Builder
MailChimp is loved and hated by the community at the same time — primarily hated more after their steep price bumps. Here are some other pros and cons of MailChimp's email builder, specifically:
| | |
| --- | --- |
| Pros | Cons |
| Vast template library | Predatory pricing plan |
| Deep integration capabilities | Limited features and options on starter plans |
| Drag and drop interface | Outdated UI/UX of the builder |
Pricing
MailChimp is not exactly pocket-friendly when it comes to email marketing. But anyway, here is a glimpse of what it will cost you to pick Mailchimp:
Free plan that can be used to manage 500 subscribers and send 1000 emails per month;
Paid plans start at $13 monthly for up to 500 subscribers and send 5000 emails monthly.
---
9. Litmus — Powerful Email Template Software
Litmus is a professional email template software that allows you the convenience of a drag-and-drop editor and the sophistication of a complex marketing automation tool. It has powerful features to design, test, optimize, personalize, and improve all your email templates.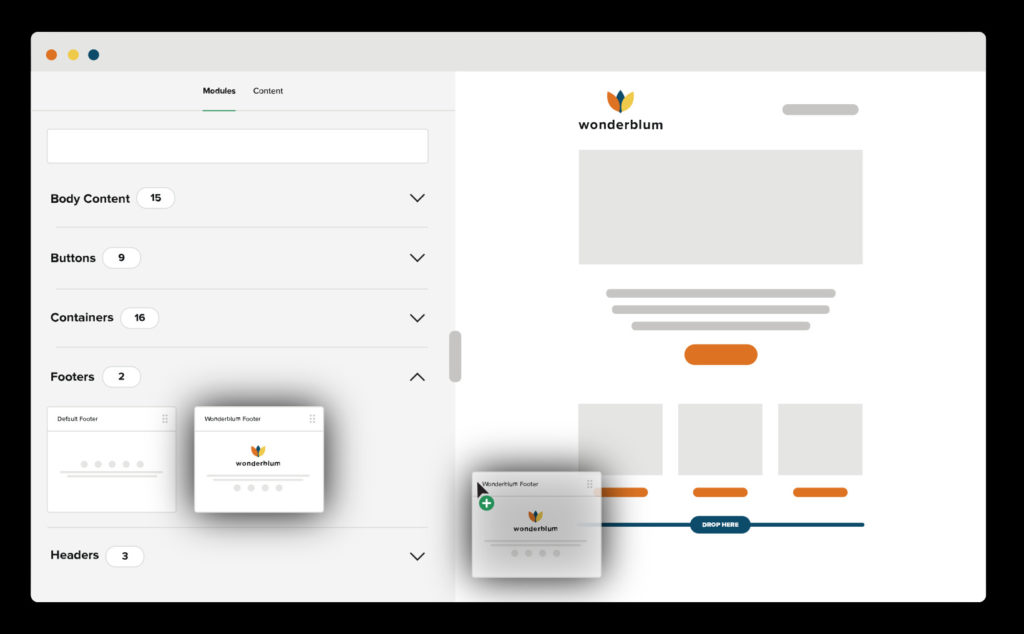 Litmus supports an HTML code editor and a visual drag-and-drop editor, so you can create any way you like. The template library helps you get started quickly, and you can use the in-built design library to add brand guidelines and create reusable blocks and templates quickly. The in-built email preview feature that supports 100+ email clients is also an excellent add-on for marketers and entrepreneurs who love perfection and responsiveness.
Litmus Features
Litmus has a standard feature list, but its personalization features are an amazing add-on. Here's everything you should test out if you want to make the most of Litmus:
Drag and drop + HTML email template builder with modular design blocks;
Compatibility testing and preview feature across multiple email clients and devices;
Email personalization at scale using in-built blocks, live email content, AI capabilities, and custom targeting.
Pros & Cons of Litmus Online Email Builder
Litmus has its own share of benefits and disadvantages. If you want to glance over those quickly, here's a small list of pros and cons:
| | |
| --- | --- |
| Pros | Cons |
| Spam check feature while designing emails | Costly pricing plans |
| Simple and intuitive UI | Lack of preview header/subject line testing features |
| Test responsiveness across platforms/email clients on a single screen | Lack of adequate collaboration features |
Pricing
Litmus has a steep pricing model and just has a 7-day trial if you want to test out its capabilities. Here's the pricing model of Litmus:
Free 7-day trial plan available for new users;
Paid plans start at $79 monthly for one user and 1000 email previews monthly.
---
10. Dyspatch — Easy-to-use Email Template Creator
Dyspatch is a popular no-code email creator that allows users to speed up the email template-building process.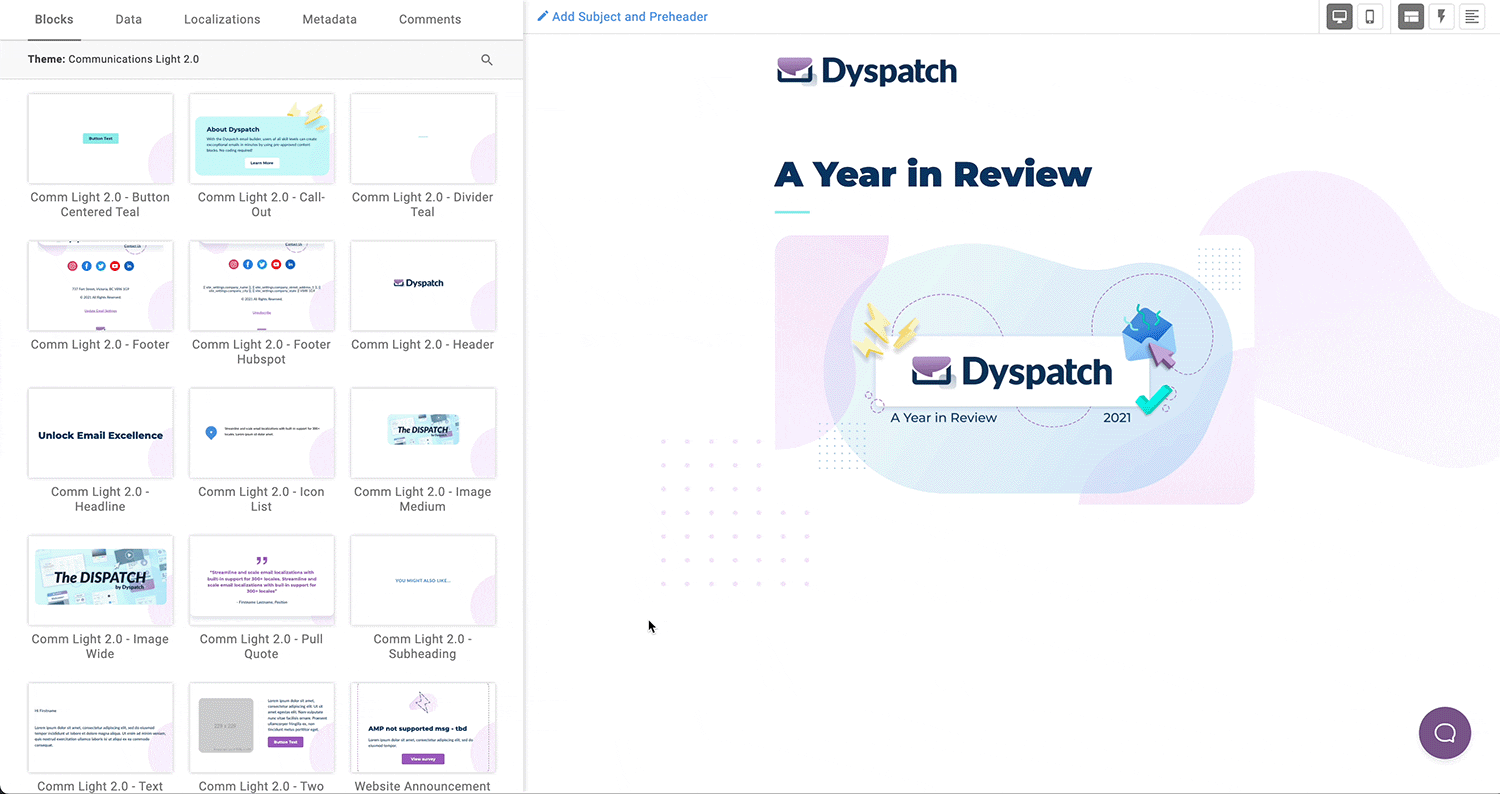 You can use its free email template designs that it offers as HTML files to be used anywhere. You can use the drag-and-drop builder within Dyspatch or export the templates to your existing ESP to make the most out of these templates.
The drag-and-drop builder by Dyspatch is an advanced template builder that can add interactive content blocks like email surveys, lie product data, and more.
Dyspatch Features
Dyspatch has all the essential email-building features you need for your daily marketing activities. Some useful features include
Advanced template builder with interactive content blocks;
Export email templates to use with other email service providers;
Template localization and AMP capabilities.
Pros & Cons of Dyspatch Online Email Builder
Dyspatch has a pretty steep pricing model, especially for small business owners and solopreneurs. But it doesn't mean it is not useful. Here's a list of pros and cons:
| | |
| --- | --- |
| Pros | Cons |
| Easy to integrate for large-scale email template designs | Not many public reviews or a support community |
| Supports AMP for interactive campaign | Costly pricing plan |
| Template localization and standardization capabilities | Steep learning curve |
Pricing
Dyspatch's pricing model has something for everyone — from solopreneurs to large teams. Here's what you can expect:
Free trial plan with limited capabilities;
Paid plan starts at $149/month for 10 email templates.
---
11. Mosaico — Free Open Source Email Template Builder
Mosaico is free to use under General Public License and has several unique email template designs to help you get started. The drag-and-drop email editor within Mosaico allows you completely customize an email design. The best thing about this free email editor is that it automatically resizes all your images to promise responsive email designs.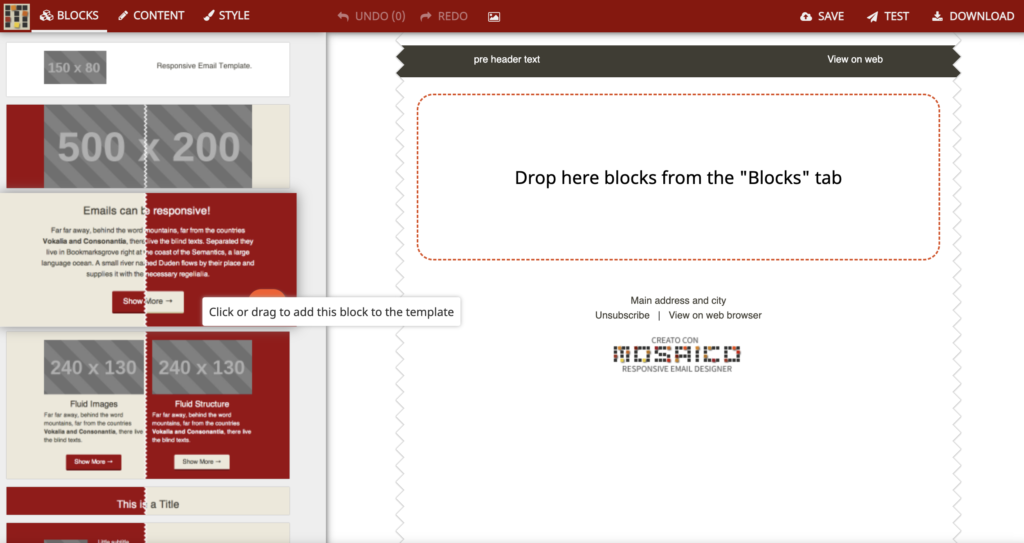 You can try it for free and even download its code to self-host it on your server to get complete control of your data.
Mosaico Features
Mosaico has all the basic drag-and-drop features you would need from a basic free email template builder, like:
A no-code editor that supports HTML and visual drag-and-drop workflow;
Download the HTML code to use with your self-hosted solution or email service provider;
Basic email templates and design blocks to speed up email template design.
Pros & Cons of Mosaico Online Email Builder
Mosaico is great if you are a novice or need to email every once in a blue moon. But it has its own disadvantages, too. Here's a brief list of pros and cons:
| | |
| --- | --- |
| Pros | Cons |
| Fast and easy to use with minimum dependencies | Basic layout bugs (alignment issues with templates) |
| Minimalist approach to template designs | Limited customization capabilities |
| Completely free (no paid plans or limits) | As-is usage (no prompt support) |
Mosaico Pricing
Mosaico is available under a public license which means it is completely free to use this solution for your business. But it also has a commercial plan.
Free to use for any business or brand;
Commercial plan that's available for usage based on monthly active users.
---
12. Salesforce – Email WYSIWYG Editor
Enterprise clients primarily use Salesforce for managing and automating several tasks. One of its modules features a fully-functional WYSIWYG (what you see is what you get) editor for emails.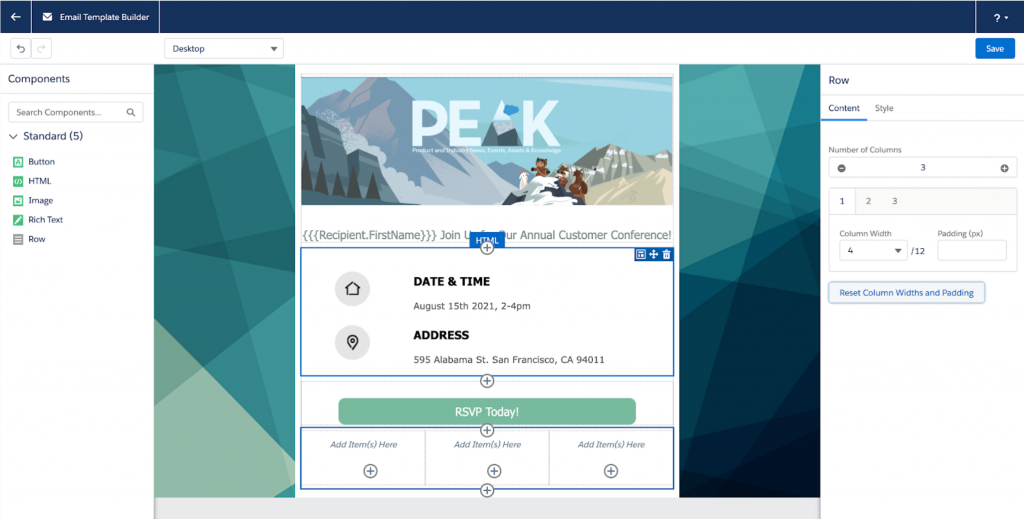 Salesforce email template editor has all the essential features you need for email templates. Plus, as it's on the Salesforce platform, it has integrations with almost all leading marketing suites, platforms, and CMS solutions, making it a powerhouse if you're a marketing automation practitioner.
Salesforce Features
Salesforce is known to be feature-packed. Here's a small list of features you can use on its drag-and-drop email builder:
No-code builder with an email template library to suit every business need;
Customizable components to change the look and feel of an email template;
Native integrations with email clients like Gmail to use the templates right from compose window;
Cross-channel content management to access/use content assets from other sources within the email builder.
Pros & Cons of SalesForce Online Email Builder
SalesForce is a powerful suite but has its own share of troubles and shortcomings. Here's a brief glimpse of all the pros and cons of using SalesForce online email builder:
| | |
| --- | --- |
| Pros | Cons |
| Deep integrations and analytics capabilities | High price makes it suitable for enterprises strictly |
| Cross-channel content management | No free trial to test out capabilities |
| Advanced design components and layouts | More useful for companies with Salesforce-first workflows |
Pricing
Primarily designed for enterprise clients, Salesforce pricing can be restrictive for small business owners. Here's why:
Paid plan starts at $400 per month for email, mobile, and web marketing features.
No free plan or trial is available.
Best Free HTML Email Builders
HTML template builders like the ones above can help you save a lot of time in everyday operations. Also, you will not be at the mercy of designers as a marketer or business owner. All modern template builders support HTML, and you can import/export HTML-based templates into a drag-and-drop creator.
If you have an existing HTML email template design but don't know how to code, don't worry, you can use one of the following best email template builders and HTML editors for your next email marketing campaign:
You can use any of the above email template builders to help you take your email marketing strategy forward, even when all you know is drag-and-drop. These support both HTML and visual email templates so you can edit, improve, and rethink the design as your email marketing ambitions grow.
Start Using the Best Email Template Builder In The Market
Take advantage of custom templates and design blocks while designing responsive email templates;
Pick an email marketing platform that offers both — design + marketing automation capabilities in a single package;
Always test and try email template builders by signing up for a free plan before committing to a paid plan.
Also read:
---
Author Bio
Anmol Ratan Sachdeva is a content marketer and small business consultant who has a strong grip on topics like marketing automation, research, email marketing, and content marketing. He loves to write about starting, improving, and growing a business.