Like what you read?
Apply it in practice with Sender.net - the most cost-effective email marketing solution in the market.
Try Sender for free
SMS marketing is returning into the fold as an effective way to reach out to customers.
Some years ago, most marketers had shelved SMS marketing campaigns as something only useful to very specific audiences or industries.
However, as we have previously outlined in our SMS marketing statistics post, this channel is incredibly effective across all industries and age brackets.
Think about your personal phone use. Most people will check their phones first thing in the morning. Additionally, they will often keep it around throughout the entire day.
That alone provides a strong incentive to create powerful SMS marketing campaigns as you will always be able to reach your customer with promotional material.
Of course, you should always apply a well-built strategy for SMS marketing campaigns to maximize your ROI. So, let's dive into the different types of SMS marketing campaigns, their benefits, and associated costs!
What is an SMS Campaign?
SMS campaigns are a lot like email marketing as the content will often be almost identical. You will always want to have something promotional, or a general reminder included. There should always be a call-to-action. And they should be short and sweet.
An important difference, though, is that SMS messages are even shorter, and there's no visual content included. Other than that, everything else is mostly the same, except for the delivery method.
SMS Campaign Benefits and Costs
SMS marketing benefits are clear. They offer an extremely responsive and receptive channel for all marketing purposes. Due to their incredibly high open rate (up to 98%) and impressive click-through rate (up to 36%), SMS marketing is often used in various scenarios. A common application is for promotional offers, CPA marketing, important updates, scheduling, etc.
However, SMS marketing does have its associated costs. These are generally two-fold. One is quite obvious – you will have to pay some rate for each SMS message.
Additionally, you will most likely have to rent keywords to maximize effectiveness. Renting keywords means having a shared number where customers can text a word (say, "COFFEE") to get promotional offers, updates, or opt-in. Of course, SMS marketing vendors might have other costs for using their software.
Here are some benefits of SMS promotional campaigns:
Extraordinary Open Rates
One of the most significant advantages of text messaging campaigns is that text messages have the highest open rates compared to emails or phone calls. 98% of sent messages are opened, making SMS marketing a huge asset to businesses looking for quick and effective customer service.
Also read: 18 SMS Marketing Statistics You Must Know 
Drives Customers to Take Action
SMS campaigns have a better conversion rate than all their new-age counterparts. People are more likely to visit your company and take action on offers or promotions shared via SMS than through any other marketing service.
Easy and Instant
There's virtually no wait time when sending text messages. You can be sure that your customers will receive your SMS as soon as you press the send button.
SMS advertising requires little prep time. You don't have materials to gather or printings to wait for. There are no people to contact or designs to complete. All you need to do is create your message and send it to your customers.
Multifunctional
Marketing through SMS opens up a world of possibilities for all kinds of businesses. For example, you can use SMS campaigns to inform customers about new services or products and entice them with exclusive sales and offers. You can also use text messages to send updates and notifications or remind clients about their appointments.
Work Well With Other Marketing Channels
You can use SMS marketing with all other marketing channels for your business. Customers may find it quick and straightforward to connect with your message.
For example, you can use text messages to offer discounts to anyone who purchases from your online store. Or reach out to people who didn't open a promotional email.
Promotional SMS Campaigns for Marketing
Outside of bulk, there are other promotional SMS campaigns. These can widely vary between industries and business types but generally will be used to promote some limited time or otherwise desirable offer.
Real Estate SMS Marketing
As mentioned previously, these are generally used to promote newly acquired plots and buildings. However, there are other ways to use SMS marketing.
A powerful way to utilize SMS marketing is to reserve a keyword for each property and then set up a short explanation with essential measurements.
That way, potential buyers can text the keyword if they are interested in the property, which essentially prospects leads for you.
For Restaurants
Restaurants and fast-food chains like Subway, Pizza Hut, and others have historically used SMS marketing to great effect. Since they sell mostly small-ticket items (e.g., foods), it's easy to get users to opted-in by offering one free item. Then SMS marketing for restaurants and takeaways will heavily rely on sending promotional offers to keep the clients coming.
For Retail
Retail SMS marketing can be utilized to drive shopping. The premise is simple – they get people to opt-in and send SMS bulk campaigns for both special offers and brand awareness. Since retail has strong affluence on brand-based marketing, SMS messages can be used to expand the omnichannel strategy and maintain consumer attention to the brand.
Also read: SMS Marketing for Ecommerce: Strategies, Templates
For Fundraising
An infrequent use case for SMS marketing is for fundraising. Basically, since SMS messages have such high engagement rates for very little investment, they are the perfect choice for fundraising. They can also be utilized to increase fundraising event attendance by sending out reminders.
For Events
As mentioned above, it has been shown that sending reminders about appointments and events can increase attendance by nearly 67%!
Therefore, simply sending out reminders makes SMS marketing in this sphere more effective.
SMS Campaign Advertising Examples
Many companies delegate their SMS campaigns for specific dates or events. These will often include well-known holidays like Halloween, New Year's Eve, Christmas, Valentine's Day, etc. Generally, marketing through holidays might be pretty easy and provides great returns.
However, businesses shouldn't limit themselves to holidays for SMS marketing campaigns. Any opportunity is as good as any other for SMS marketing as it combines incredibly well with all other channels.
Basically, if you can use SMS campaigns to enhance your other channels, it's a good enough reason to be sending text messages.
Here are some advertising SMS marketing examples from Starbucks and Old Navy:
Starbucks
Starbucks is no stranger to using SMS campaigns to engage its loyal customers. Check out the SMS trivia question below asking subscribers to respond with the year Starbucks introduced the Frappuccino for a chance to win a copy of The Great Gatsby soundtrack.
Starbucks has incorporated SMS trivia into their broadcast messaging campaign, setting them up for at least a 50% response rate from their subscribers.
Old Navy
Old Navy's message focuses on a specific offer like PJ faves with a conversational voice that sounds similar to a normal SMS. For example, "HO HO HO!"
The brand takes advantage of this promotional SMS message and includes a link and CTA to let customers know that the PJ faves are 75% off storewide.
SMS Campaign Metrics
As with any other marketing channel, tracking SMS campaign metrics to optimize performance is key. Since the read rate is so high by default (up to 97%), doing an in-depth analysis of the open rates of each campaign isn't likely to bring many benefits.
The most important metrics to keep track of are:
Interaction rate. Tracking this metric will allow you to gauge how interested your audience is. It might not have anything to do with content, though, but rather the accuracy of your targeting.
Unsubscribe rate. Tracking large changes in average unsubscribe rates can indicate you are spamming people with low quality or too much content.
Delivery rate. Points to general failure to deliver. While there may be carrier errors, finding out how many "dead" numbers you have and if you trip up spam filters will be key to continual SMS marketing success.
Conversion rate. Well, this one is obvious. Measure conversion rates to understand how effective your campaigns are.
Customer acquisition costs. Tracking customer acquisition costs will allow you to get a more accurate pointer on long-term channel performance.
Growth rate. This metric should always (optimally) exceed the unsubscribe rate. Otherwise, you are bleeding money over time as less active subscribers mean less bang for your buck from each SMS.
How To Track SMS Campaigns?
When tracking your SMS campaigns on Sender, go to SMS campaign report behind the View report button on the SMS campaign section:
Then go to the Overview tab.
Just below the Overview, there are five different counters:
Sent (the amount of sent SMS campaigns);
Delivered (the amount of successfully delivered SMS campaigns);
Click rate (if there's a used link);
Unsubscribed;
Failed deliveries.
Click to view individual reports, then Print and Export any of the specified reports.
How To Do a Text Campaign
When you send a text message, you're working with a limited number of characters. An SMS can be up to 160 characters without an attached file. A text message that includes a file — like a video, photo, emoji, or a website link — or is longer than 160 characters automatically becomes an MMS message.
As you think about your SMS campaigns, prioritize what you can do to convey your message successfully and create a positive result for your business.
That said, creating an SMS campaign with Sender is easy. Every feature you need is conveniently placed and easily manageable. Create an account and compose SMS campaigns or start drip text messaging automation. Also, you can add personalization elements such as name and order ID, then send bulk SMS campaigns to your subscribers.
Also read: What's the Difference Between SMS vs MMS?
SMS Campaign Tools & Features
Here are some tools and features of effective SMS marketing messages:
Segmentation
Segmenting SMS lists into well-defined target audience groups makes it easier to evaluate SMS marketing ROI and performance at the audience level.
This level of campaign evaluation can be challenging in many other channels, but SMS and email are the most easily evaluated and trackable options for marketers.
Scheduled Campaigns
One of the most significant advantages of SMS campaigns is the control you have over message delivery. While you can't control when a recipient opens a text message, you can control when it reaches their inbox.
The immediacy of SMS delivery and shorter response window is a huge benefit for marketers who want more control over the timing of message delivery.
Automated SMS Drip Campaign
SMS drip campaigns are just like email drip campaigns – event-based setups that continually send marketing materials to your clients.
Drip marketing campaign automation has to be done through a dedicated SMS campaign provider. Smaller businesses might be able to get other campaigns running through simpler solutions that allow mass SMS marketing.
However, drip campaigns need to have a wide variety of content delivered to a dedicated audience over a set amount of time. And that'll be impossible without a reliable SMS marketing provider that supports drip campaigns.
What if you have a tool that finally gives you the superpowers to compose and send SMS marketing campaigns (and much more!) at affordable prices?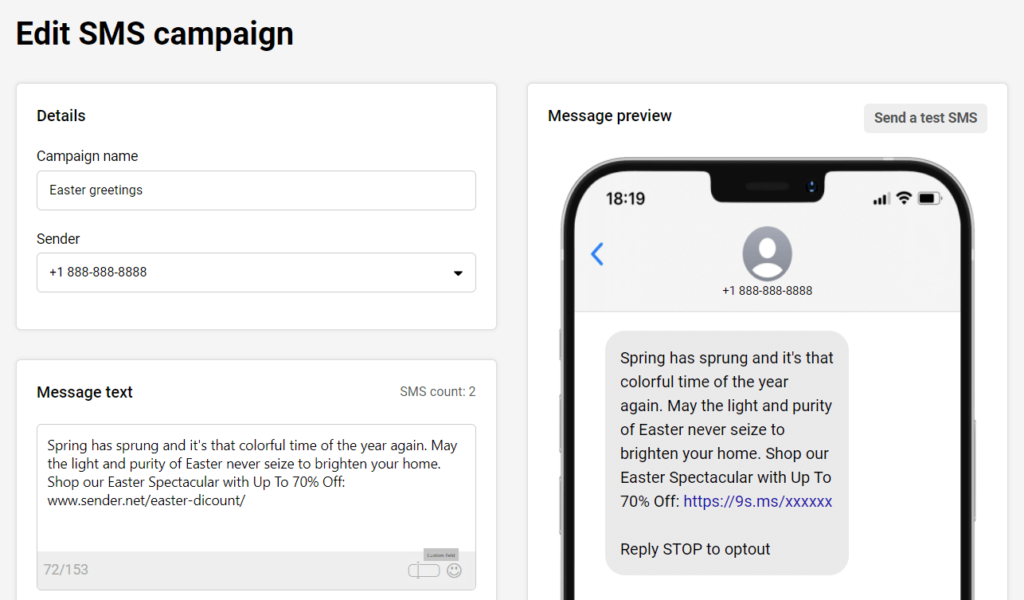 Also read: 13 Triggered SMS Message Strategies + Examples
Works Well As a Secondary Channel for Email Marketing
SMS and Email marketing are both very direct response-focused channels. From a tracking standpoint, each channel delivers very similar metrics you can use to compare and combine results to offer a clear picture of a campaign's success (open rates, messages delivered, unsubscribes, clicks/engagements with links, and spam complaints).
The metrics make it easier for marketers to evaluate the performance of each channel separately and put them together to tell a complete story about audience response and engagement with the overall campaign.
SMS Campaign Best Practices and Tips
Here are four SMS campaign best practices to follow when sending text messages to your customers:
1. Time Your Messages Well
Keep your customers' time zones in mind when sending SMS marketing messages. You'll have a better chance of increasing brand awareness if you ensure updates arrive on your users' smartphones while awake.
You can still use bulk SMS tactics, but use software that can search contact lists to ensure you send batches of texts at appropriate times. Generally, a steady drip campaign over a long period is better than one where you bombard customers with promotions and updates daily.
2. Offer an Opportunity To Unsubscribe
Just as potential customers must be able to opt in to receive text messages, current SMS subscribers should also be able to opt out anytime. Marketing automation tools like Sender make unsubscribing easy for both businesses and customers.
Sender can automatically log new and canceled subscriptions, streamlining the overall workflow.
3. Bulk SMS Campaign
Bulk (or mass) SMS campaigns are one of the simplest and most well-known strategies. Essentially, it's simply sending the same message to as large an audience as possible. As laws regulate SMS marketing, usually, the audience is limited to your client list or those who have opted-in to receive marketing offers.
Sending a bulk SMS campaign is quite simple. All you need to do is prepare the copy for the message. Then use your preferred automated SMS marketing vendor to set up a bulk message to the selected client list.
Mass SMS campaigns will blast the list with a single SMS message. Therefore, you should always pick the most suitable thing to market. For example, ecommerce businesses use this strategy to market new offers, travel agencies use it to show off new trips, and real estate companies use it to update potential buyers on new plots and buildings.
4. Be Consistent With the Number of Texts You Send
One of the most common mistakes businesses make when using SMS is failing to send messages regularly because they want to avoid spamming customers.
But people will forget why they signed up in the first place when you send very few messages. When they hear from you, it'll seem unexpected and potentially unwelcome.
Consumers respond well to consistent messaging. Maintain a consistent and regular schedule to have successful SMS campaigns.
Start with Powerful Text Message Campaigns
All the details we have outlined above should be more than enough for you to get started on your text marketing journey. Track the metrics, use the strategies, and you are on the path to successful text marketing campaigns.
If you are looking for more information about optimizing SMS marketing or other channels, read our other blog posts. We have plenty of posts on all types of marketing that will allow you to squeeze the most out of each and every campaign!
Also read:
What is an SMS Notification? Definition, Examples, Services
What is A2P & P2P SMS messaging?