Rocket-fuel your sales with SMS
Supercharge conversions with this marketing duo — the best combo you've ever seen. It's easy with Sender.
Boost Your Sales Now
SMS marketing is returning into the fold as an effective way to reach customers.
Some years ago, most marketers shelved SMS marketing campaigns as something only valuable for particular audiences or industries.
However, as we have previously outlined in our SMS marketing statistics article, mobile messaging campaigns are incredibly effective across all industries and age brackets.
Think about your personal phone use. Most people will check their phones first thing in the morning. Additionally, they will often keep it around throughout the entire day.
That alone provides a strong incentive to create powerful text marketing campaigns, as you will always be able to reach your customer with promotional material.
Of course, you should always apply a well-built strategy for SMS marketing campaigns to maximize your ROI. So, let's dive into the different types of SMS marketing campaigns, their benefits, and their associated costs!
What is an SMS Campaign?
SMS campaigns are like email marketing, just delivered as an SMS on your audience's smartphone. A significant difference is that SMS messages are shorter, and there's no visual content included.
Besides that, everything else is mostly the same, except for the medium, which is a high-converting channel. To illustrate this fact, here are a few statistics on SMS marketing:
75% of consumers are open to receiving promotional offers via SMS;
SMS promises a 9.18% higher CTR rate than any other digital marketing channel;
60% of customers read an SMS within 1-5 minutes of receiving them on their phones.
These statistics should motivate you to start an SMS marketing campaign. If you're still confused, let's examine the benefits in detail.
SMS Campaign Benefits and Costs
SMS marketing benefits are clear from the statistics above. It's a highly responsive and receptive channel business.
The most common SMS uses include sending promotional offers, CPA marketing, providing essential updates, scheduling, etc. That's the reason why SMS is making a comeback. But are SMS campaigns effective? Here are some of the specific benefits that you should leverage:
Extraordinary Open Rates
SMS has the edge over emails regarding open rates — one of the most significant advantages of text messaging campaigns compared to emails or phone calls.
The latest data shows that SMS has a 99% open rate compared to 33% for emails.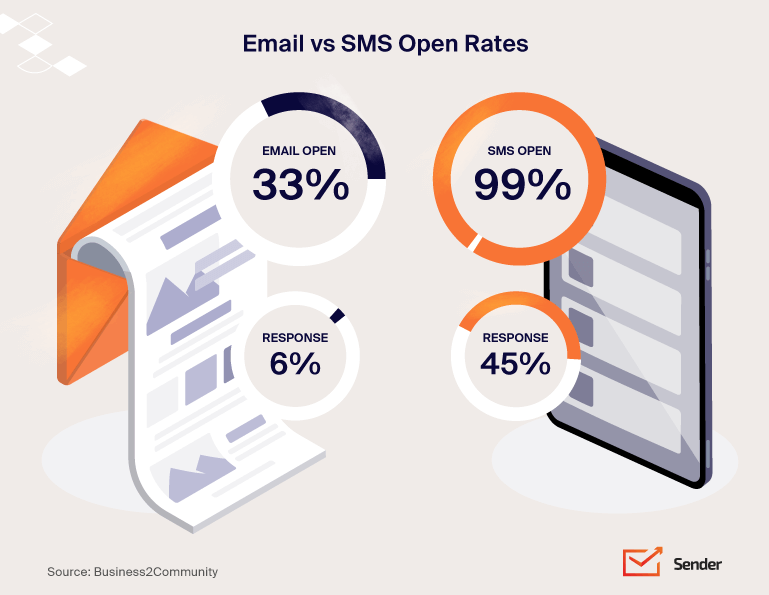 Drives Customers to Take Action
SMS campaigns have a better CTR and conversion rate than all their new-age counterparts. People are more likely to visit your company and take action on offers or promotions shared via SMS than through any other marketing service.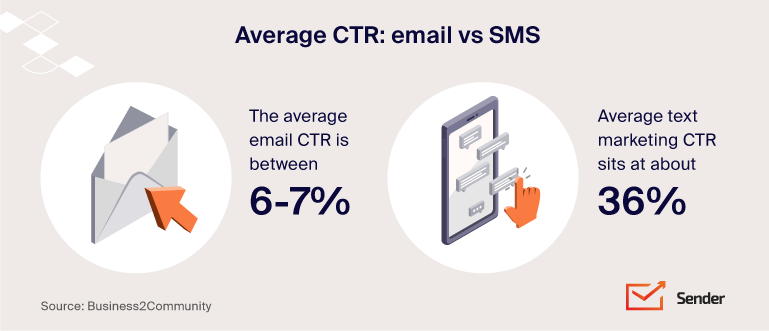 Easy and Instant
There's virtually no wait time when sending text messages. You can be sure that your customers will receive your SMS as soon as you press the send button.
SMS advertisement requires little prep time. You don't have materials to gather or printings to wait for. There are no people to contact or designs to complete. All you need to do is create your message and send it to your customers.
Multifunctional
Marketing through SMS opens up a world of possibilities for all kinds of businesses. For example, you can use SMS campaigns to inform customers about new services or products and entice them with exclusive sales and offers. You can also use text messages to send updates and notifications or remind clients about their appointments.
Work Well With Other Marketing Channels
You can use SMS marketing along with other mediums to offer an omnichannel experience to customers. Customers will be delighted with your multichannel marketing approach and quickly relate to your message.
For example, you can use SMS marketing as a complementary solution to offer discounts to anyone who purchases from your online store. Or reach out to people who didn't open a promotional email using an SMS integration or omnichannel marketing tool.
Now that you know all its benefits, let's look at the cost of SMS marketing, too. The costs associated with SMS campaigns are generally two-fold. One is quite obvious – you'll have to pay some rate for each SMS message. Additionally, you will most likely have to rent keywords to maximize effectiveness. Renting keywords means having a shared number where customers can text a word (say, "COFFEE") to get promotional offers, updates, or opt-in. Of course, SMS marketing vendors might have other costs for using their software.
How to Start a Text Campaign?
Creating an SMS campaign is easy, but you should know what you want to convey in advance. As SMS campaigns allow you to play with a limited number of characters, you must play with words and use creative copywriting tactics.
You can start SMS marketing with a tool like Sender. Sender allows you to run omnichannel campaigns across email and SMS and manage everything from a single dashboard.
Create an account, compose SMS campaigns, or start drip text messaging automation.
Also, you can add personalization elements such as name and order ID, then send bulk SMS campaigns to your subscribers with a few clicks.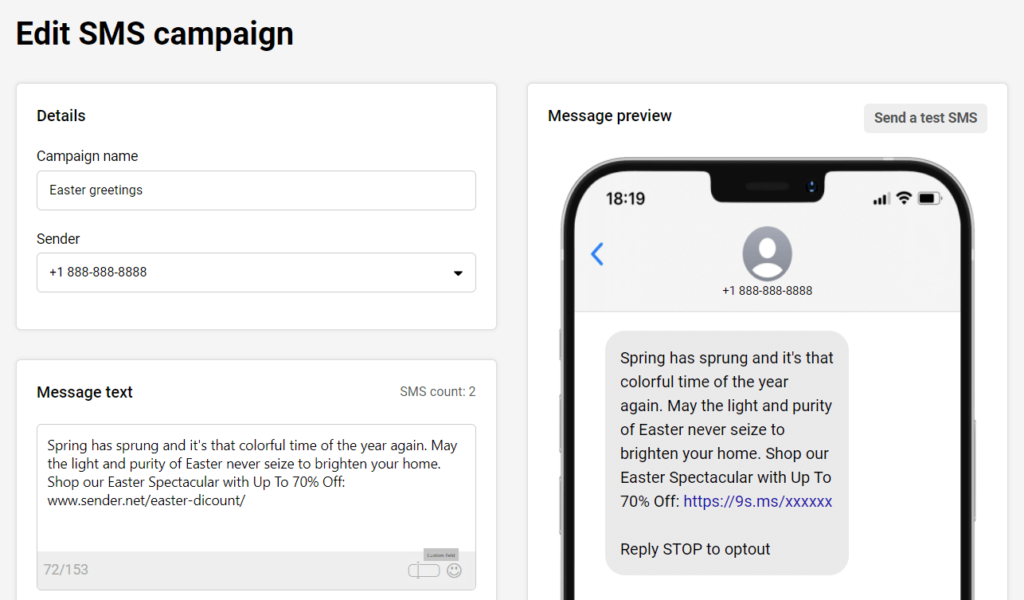 Also read: What is Omnichannel Marketing? Definition, Tips & Examples
SMS Campaign Metrics You Should Track
Like any other marketing channel, tracking SMS campaign metrics to optimize performance is key. Since the open rates with SMS campaigns are high by default, just looking at the open rates of each campaign isn't likely to give you any deep insight.
Instead, you should track and analyze the following SMS campaign metrics:
Interaction rate. Tracking this metric will allow you to gauge how interested your audience is. It does not have anything to do with content but rather the accuracy of your targeting.
Unsubscribe rate. Tracking large changes in average unsubscribe rates can indicate you're spamming people with low-quality or too much content.
Delivery rate. Points to a general failure to deliver. While there may be carrier errors, finding out how many "dead" numbers you have and if you trip up spam filters will be key to continual SMS marketing success.
Conversion rate. Well, this one is obvious. Measure conversion rates to understand how effective your campaigns are.
Customer acquisition costs. Tracking customer acquisition costs will give you a more accurate pointer on long-term channel performance.
Growth rate. This metric should always (optimally) exceed the unsubscribe rate. Otherwise, you're bleeding money over time, as fewer active subscribers mean less bang for your buck from each SMS.
How to Track SMS Campaigns?
Almost all modern automation tools can track important SMS campaign metrics through an in-built reporting and analytics dashboard.
You can easily track your SMS campaign results within your marketing tool. Every tool has its interface, though the basic steps are the same. Here's how you can track your SMS campaign's effectiveness within Sender:
Go to the SMS campaign report behind the View report button on the SMS campaign section:

Click on the Overview tab.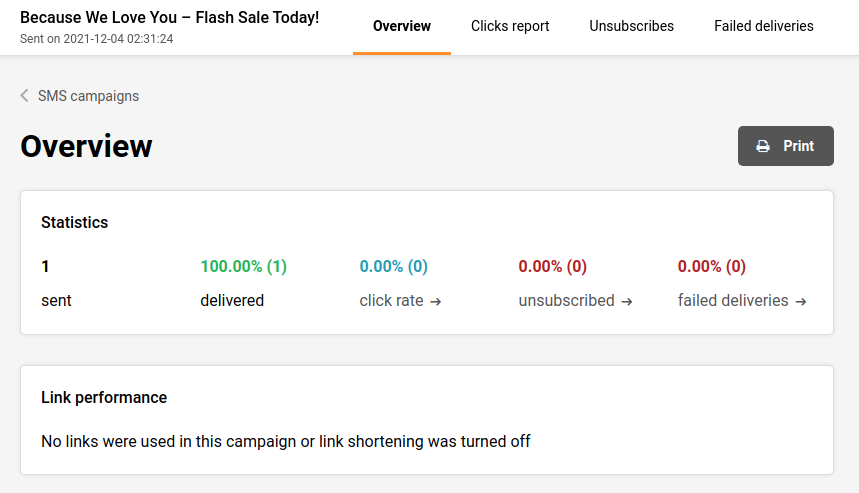 Look at the five important metrics on the screen:
Sent (the amount of sent SMS campaigns);
Delivered (the amount of successfully delivered SMS campaigns);
Click rate (if there's a used link);
Unsubscribed;
Failed deliveries.
If you don't have a dedicated SMS marketing tool (which you should have), don't worry. You can also use Google Analytics SMS tracking feature to get all the insights within your GA dashboard.
A quick way to do that is to add UTM parameters or tags to your campaign URL (which you'll use in your SMS). This will help you track who clicked the link in your SMS and visited your website or landing page. You can even compare multiple links and see how each campaign is performing. Check out this link for detailed information on how to set up & track UTM links using GA.
SMS Campaign Tools & Features
To leverage SMS campaigns, you should pick a powerful marketing automation solution that helps you run and manage these campaigns. Here are a few must-have features you should look for in an SMS campaign tool:
Segmentation Capabilities
Segmenting SMS lists into well-defined target audience groups helps you send personalized messages and makes it easier to evaluate SMS marketing ROI. You should pick a solution that simplifies customer segmentation. This enables you to evaluate your campaigns and improve your marketing effectiveness in the long run.
Scheduled Campaigns
One of the most significant advantages of SMS campaigns is the control you have over message delivery. While you can't control when a recipient opens a text message, you can control when it reaches their inbox.
Always pick a solution that helps you schedule your SMS campaigns in advance. As SMS delivery is immediate and these campaigns enjoy a shorter response window, you can control the timing of message delivery to the second, helping you plan the entire funnel accurately.
Automated SMS Drip Campaign
SMS drip campaigns are like email drip campaigns – event-based setups that continually send marketing materials to your clients. Drip marketing campaign automation has to be done through a dedicated SMS campaign provider.
Smaller businesses might be able to get other campaigns running through more straightforward solutions that allow mass SMS marketing. However, drip campaigns need to have a wide variety of content delivered to a dedicated audience over a set amount of time. And that'll only be possible with a reliable SMS marketing provider that supports drip campaigns.
Always pick a tool that gives you the superpowers to compose, schedule and send automated SMS marketing campaigns for nurturing your leads.
Sender is a great option if you're looking to do all this (and more) without breaking the bank.
Also read: 13 Triggered SMS Message Strategies + Examples
Promotional SMS Campaigns for Marketing
Texting is a great way to send promotional SMS to your audience. In fact, it can be the best, as test marketing campaigns promise the highest open rates and CTR. Text messages can be used in different ways across industries, but generally, they are used to promote some limited-time offer or urgent info. Here are a few examples of promotional SMS campaigns:
Real Estate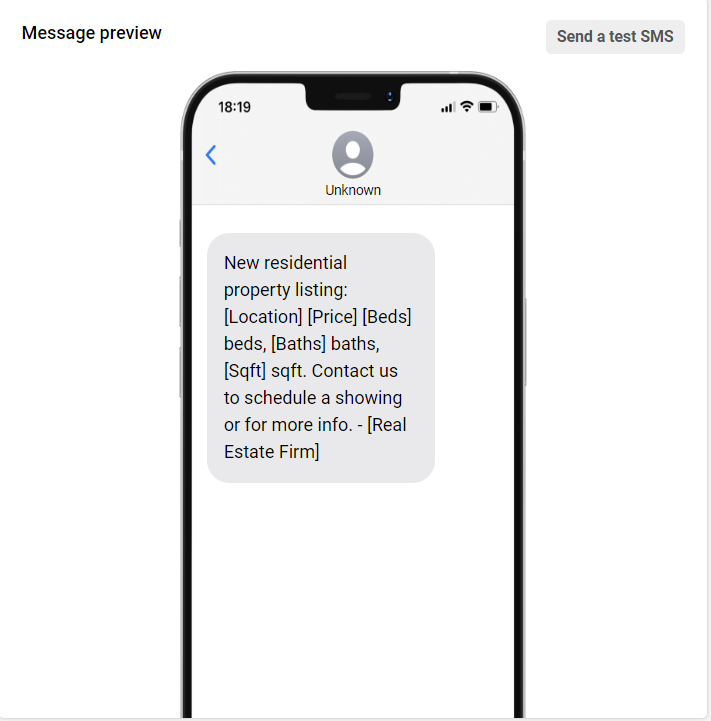 SMS marketing is generally used to promote newly acquired plots and buildings in real estate. However, there are other ways to use SMS marketing. A great way to utilize SMS marketing is to reserve a keyword for each property and then write a short explanation with measurements and features that can be automatically sent. Potential buyers can text the keyword if they are interested in the property, which essentially prospects leads for you. Here's an SMS campaign example from a real estate firm:
Restaurants
Restaurants and fast-food chains like Subway, Pizza Hut, and others have historically used SMS marketing to great effect. SMS marketing for restaurants and takeaway joints involves sending periodic promotional offers to improve brand recall and ensure that the customers keep coming.
Since they sell mostly small-ticket items (e.g., foods), it's easy to get users to opted-in by offering one free item. Take the example of Domino's promotional SMS below:
Retail
Retail SMS marketing can be utilized to drive shopping behaviors. The premise is simple – they get people to opt-in and send bulk SMS campaigns for special offers and brand awareness.
Since retail has strong affluence on brand-based marketing, SMS messages can be used to expand the omnichannel strategy and maintain consumer attention to the brand, as Best Buy does with its 'deals today' SMS campaign: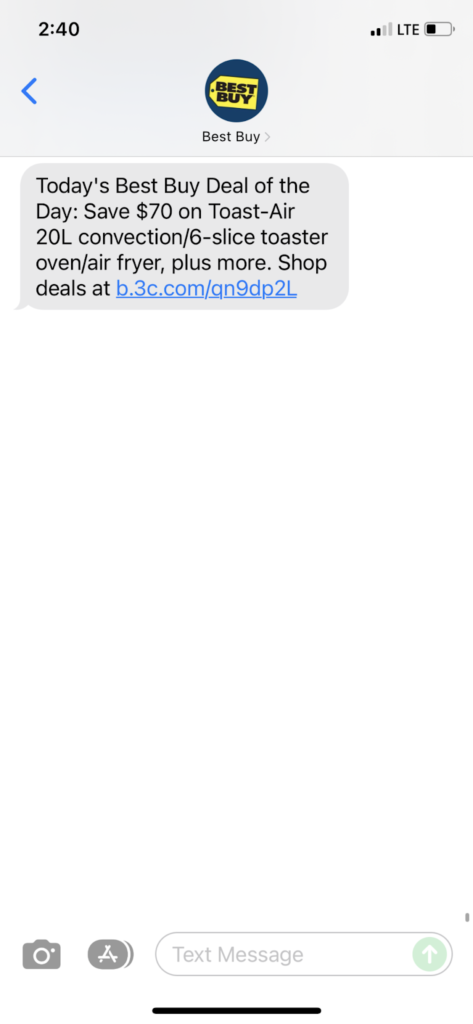 Fundraising
A potential use case for SMS marketing is fundraising. Since SMS messages have such high engagement rates for very little investment, they are the perfect choice for raising funds for a cause. For example, check this campaign by the Humane Society of America: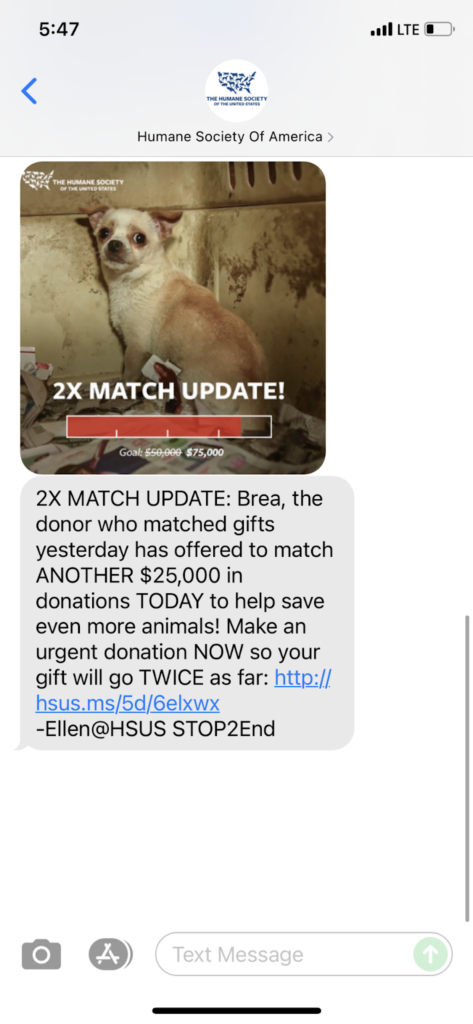 Apart from fundraising, SMS campaigns can also be utilized to increase fundraising event attendance by sending out reminders.
Events
As mentioned above, it has been shown that sending reminders about appointments and events can increase attendance.
Therefore, simply sending out reminders makes SMS marketing more effective.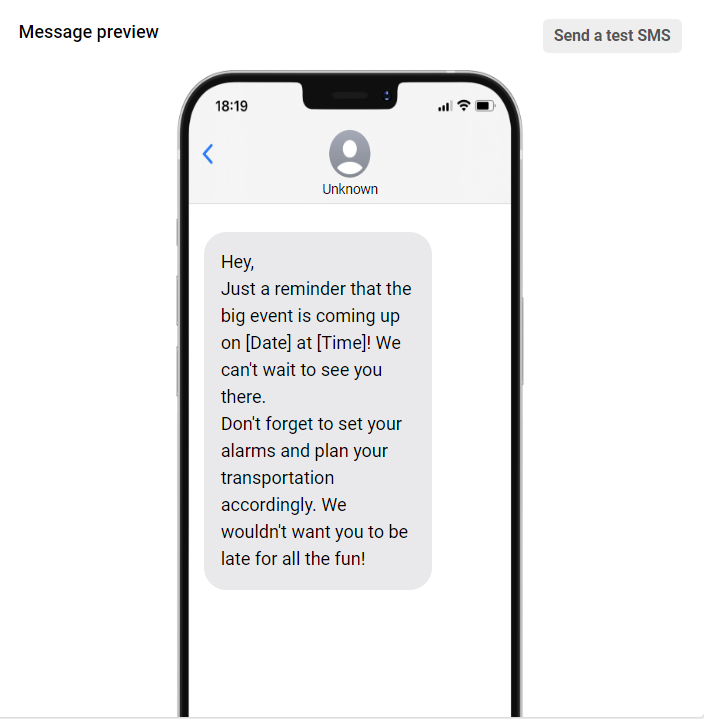 For Fundraising
An infrequent use case for SMS marketing is for fundraising. Basically, since SMS messages have such high engagement rates for very little investment, they are the perfect choice for fundraising. They can also be utilized to increase fundraising event attendance by sending out reminders.
For Events
As mentioned above, it has been shown that sending reminders about appointments and events can increase attendance by nearly 67%!
Therefore, simply sending out reminders makes SMS marketing in this sphere more effective.
Text Message Campaigns Examples
If you plan to use SMS or texting to engage with your audiences, let me tell you a secret.
Many companies delegate their SMS campaigns for dates or events like Halloween, New Year's Eve, Christmas, Valentine's Day, etc.
Generally, promotion and advertising during holidays
offer great benefits as everyone's on a spending spree. However, businesses shouldn't just limit SMS marketing campaigns to holidays alone. Any opportunity is as good as any other for SMS marketing as it combines incredibly well with all other channels.
Here are a few messaging and texting ideas for starting with SMS marketing:
Welcome Message
A welcome SMS is a delightful surprise for your new customer or subscriber. In a world where everyone sends a welcome mail, you can stand out of the crowd by scheduling a welcome message for everyone who signs up or buys anything on your website. Here's an example of a welcome message by Micheal Stars.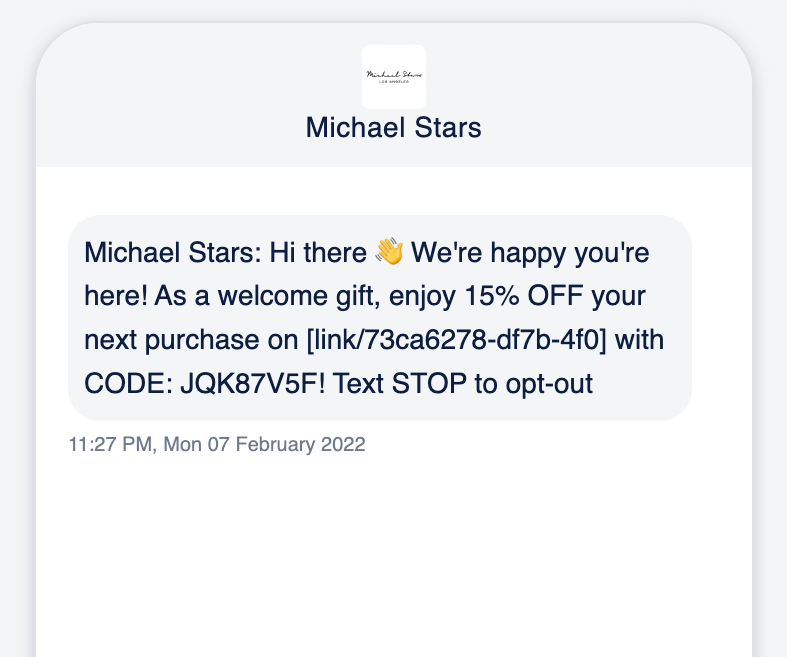 The straightforward message with a direct benefit (coupon code) is definitely going to make your brand memorable. You can also set up a welcome landing page and add a link in the SMS to make them feel more special.
Key Takeaways
Keep it simple;
Provide value (or offer) upfront;
Try personalizing with a first name (using data from your email list/orders).
Promotional SMS
Sending a promotional SMS can feel 'spammy', but in reality, promo SMS campaigns are the best-performing ones primarily because everyone likes a special offer or coupon codes. Here's an example of a promotional SMS by Avenue: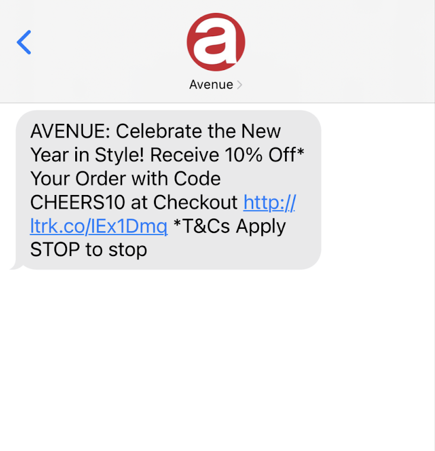 The SMS offers a promo coupon code + a direct checkout link — a great way to improve clickthrough rates. Some FOMO or urgency would have done wonders for this campaign, though.
Key Takeaways
Share a personal coupon code instead of a generic offer;
Always add a CTA link to help recipients check out faster;
Announce the reason for the promotion, like a new year's offer.
Confirmation SMS Campaigns
Sending a confirmation email is good. But do you know what's even better? Confirming the details via SMS. As most set up an appointment or schedule a call using mobile, isn't it better (and logical) to send an SMS? Look at this SMS from UFC Gym: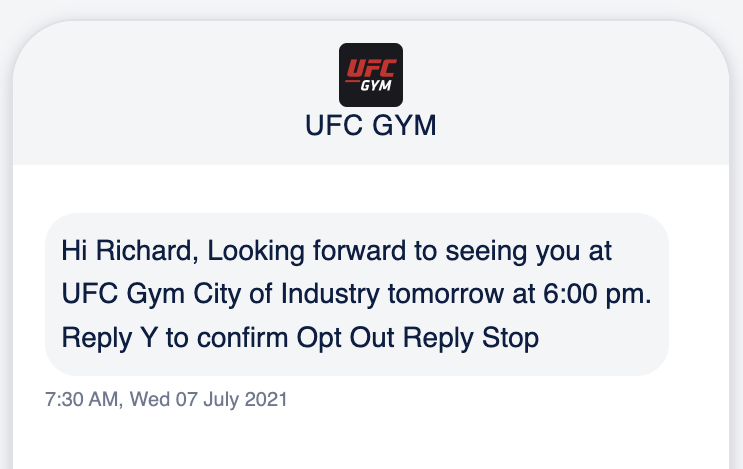 The SMS campaign is triggered every time someone books a slot for a workout at the gym. The confirmation is a reassurance and a quick note for anyone who loves all the information at their fingertips — time and place.
Key Takeaways
Always personalize a confirmation message;
Share essential details (related to what you're confirming) in the SMS;
Keep it simple and straightforward. No fuss or confusing terms.
Alerts SMS
Alerts are better served in real-time. What's more 'current' than sending an alert on smartphones? Take the following example by a cryptocurrency exchange, CoinDCX: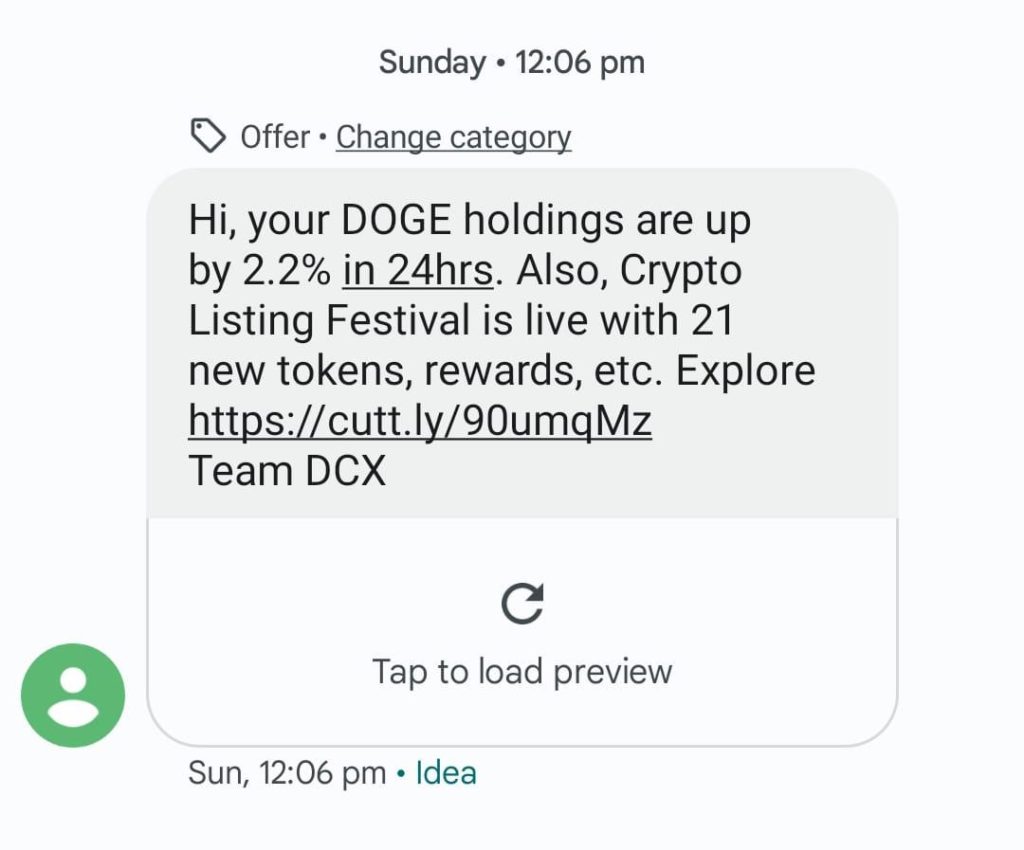 The SMS alerts the user about an increase in the price of one of their holdings — something very relevant and vital to the user. You can set up an alert about order confirmation, shipping details, and more. You can even alert users of suspicious activity via SMS.
Key Takeaways
Share essential and relevant updates via SMS alerts;
Make sure to share who you're (add an introduction within SMS, like your brand name);
Give them the following steps (as a link within SMS).
Appointment Reminders
If you run an online business, coaching business, or any form of business requiring public interaction, you know how important appointment and meeting reminders can be. You can send these reminders via SMS. Take the example of the following SMS by a wellness company, Thyrocare: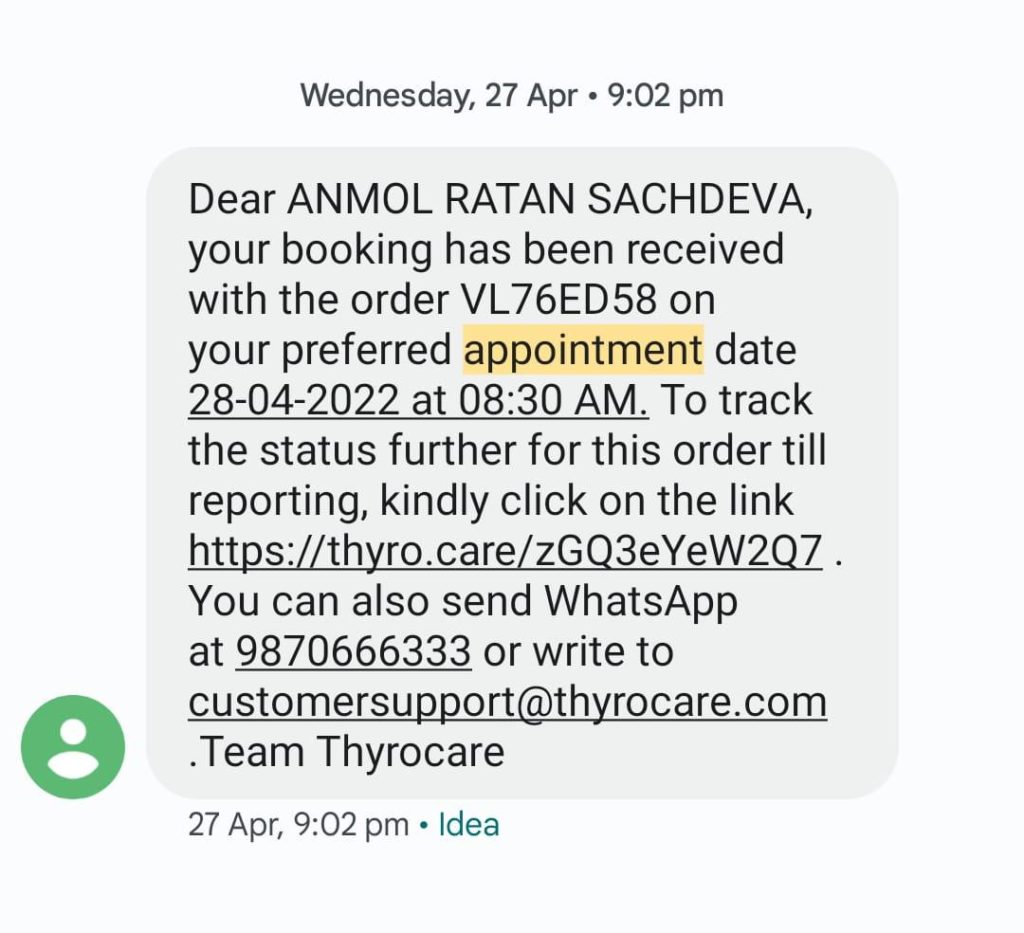 The SMS informs the user about their upcoming appointment and confirms the details. The level of detail and the supporting link is very useful for users who appreciate the clarity. Such SMS campaigns are crucial to reinstate faith in your brand.
Key Takeaways
Share all important details about the appointment;
Give a link/info on how to reschedule/track the appointment status;
Provide customer support information whenever possible.
Text Message DRIP Campaign Example
A text drip campaign is a series of texts sent over time to nurture your leads and make them respond to your offer. It's a strategy that involves sending SMSs, one after the another, usually as an automated text in a sequence.
There are a few different ways to set up a text drip campaign, like using a marketing automation solution to set up an automated workflow. Such an approach helps you save time and target users across different scenarios, like:
Create a FOMO effect among your subscribers about the upcoming sale;
Send a time-sensitive announcement to an extensive list of subscribers, customers, or users;
Promote an event
Announce a new product or service
Make a request for donations over a period of 3-5 days
The best way to set up a text drip campaign is to use a marketing automation tool like Sender. You can automate the sending of texts based on a period, time, date, or other criteria.
Such drip texting campaigns will allow you to kickstart marketing, grow your brand recall, nurture leads, and improve your overall sales revenue. You can set automated triggers such as an abandoned cart or whenever someone visits a page to ensure they feel special, loved, and cared for.
Take the following example from Casper — an eCommerce brand. The following text is automatically triggered a few hours after someone abandons their cart without checking out.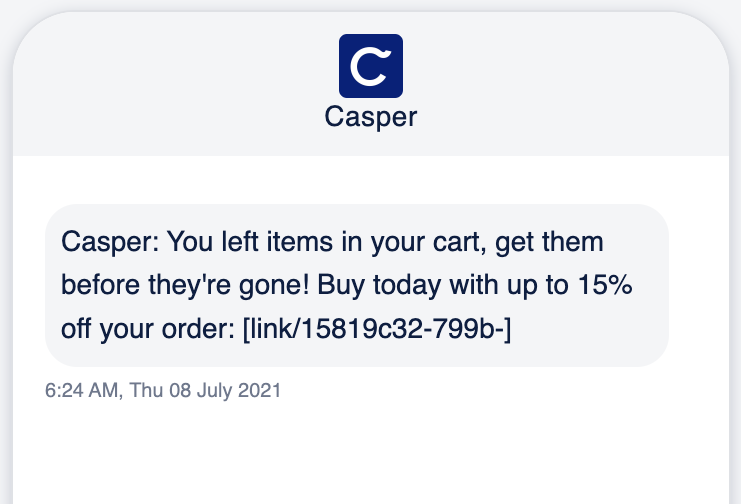 This is an excellent example of how to automate SMS marketing to improve your sales revenue. You can schedule multiple reminders or SMS campaigns to the same list after segmenting such abandoners in a separate list and using an automated SMS workflow.
SMS Campaign Best Practices and Tips
Here are four SMS campaign best practices to follow when sending text messages to your customers:
1. Time Your Messages Well
Keep your customers' time zones in mind when sending SMS marketing messages. You'll have a better chance of increasing brand awareness if you ensure updates arrive on your users' smartphones while awake.
You can still use bulk SMS tactics, but use software that can search contact lists to ensure you send batches of texts at appropriate times. Generally, a steady drip campaign over a long period is better than one where you bombard customers with promotions and updates daily.
2. Offer an Opportunity To Unsubscribe
Just as potential customers must be able to opt-in to receive text messages, current SMS subscribers should also be able to opt-out anytime. Marketing automation tools like Sender make unsubscribing easy for both businesses and customers.
Sender can automatically log new and canceled subscriptions, streamlining the overall workflow.
3. Bulk SMS Campaign
Bulk (or mass) SMS campaigns are one of the simplest and most well-known strategies. Essentially, it's simply sending the same message to as large an audience as possible. As laws regulate SMS marketing, usually, the audience is limited to your client list or those who have opted-in to receive marketing offers.
Sending a bulk SMS campaign is quite simple. All you need to do is prepare a copy of the message. Then use your preferred automated SMS marketing vendor to set up a bulk message to the selected client list.
Mass SMS campaigns will blast the list with a single SMS message. Therefore, you should always pick the most suitable thing to market. For example, ecommerce businesses use this strategy to market new offers, travel agencies use it to show off new trips, and real estate companies use it to update potential buyers on new plots and buildings.
4. Be Consistent With the Number of Texts You Send
One of the most common mistakes businesses make when using SMS is failing to send messages regularly because they want to avoid spamming customers.
But people will forget why they signed up in the first place when you send very few messages. When they hear from you, it'll seem unexpected and potentially unwelcome.
Consumers respond well to consistent messaging. Maintain a consistent and regular schedule to have successful SMS campaigns.
Start with Powerful Text Message Campaigns
Send a welcome message, promotional SMS, or confirmation via SMS to engage your customers;
Use an SMS automation tool to schedule SMS campaigns based on your goals;
Always track essential metrics and follow best practices to succeed at SMS marketing.
Also read:
What is an SMS Notification? Definition, Examples, Services
What is A2P & P2P SMS messaging?