Employ your powerful emails
Increase sales and engagement by sending your well-designed emails with Sender.
Get Started For Free
Running a successful promotional email campaign takes a lot of planning. Crowded email inboxes can dampen your promotion efforts, diminishing your entire email strategy.
Thankfully, there's a lot you can do to improve your odds of grabbing your audience's attention. For starters, it's sensible to research your audience, get inspired by best-performing campaigns, and design your promotional emails accordingly.
In this guide, we'll cover effective promotional email examples and share valuable takeaways to help you create your own.
What are Promotion Emails?
Promotion emails are designed to promote a product or service on your online store. These emails include special offers, events, discounts, sales, and other promotional material to entice subscribers to open your email and buy your product.
Promo emails are used for brand awareness and increasing website traffic and conversions. Promotional email campaigns involve sending information about:
Limited-time offers;
Subscriber or customer-exclusive deals;
Seasonal or holiday promotions;
Flash sale offers;
New product launch offers, etc.
Want to build and send promotional emails without a hassle and get more sales? You need an email marketing tool that'll help you achieve that.
With Sender, you can create a high-converting promotional email within a few minutes and easily set up an email campaign or triggered automation. The best part — you can do all that with Free Forever plan.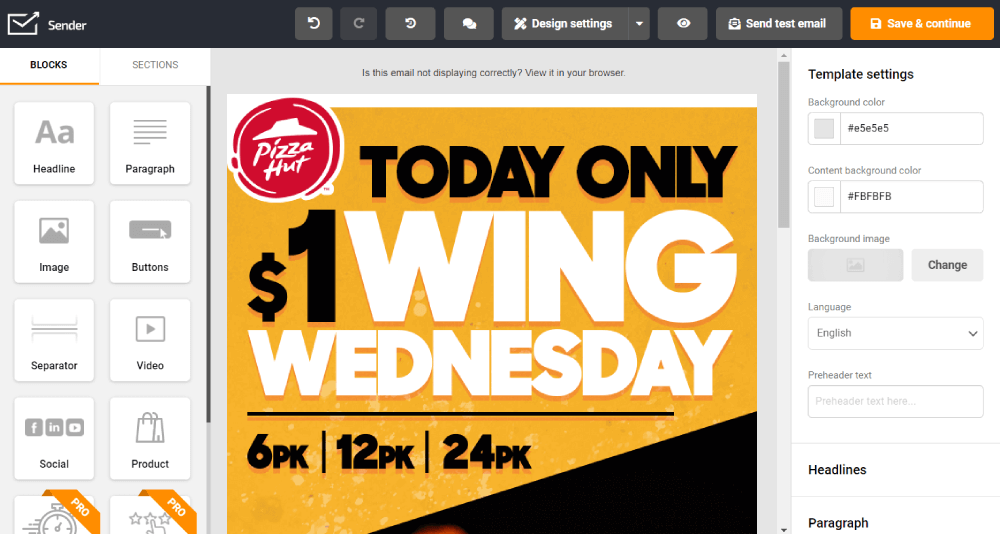 Promotional Email Examples
If you came here searching for real-world examples of effective email marketing campaigns, you got lucky today. We've curated some very informative promotional emails and promotional email templates for you to get inspired.
New Offer Promotional Email
If you've been trying to nail the perfect promotional email template to announce a new offer, you must look at the example below. The email by City Beach Australia reveals their new 'Spend and Save' offer to their email audience:
Subject Line: Up to 20% Off* 📣 Spend & Save on NOW!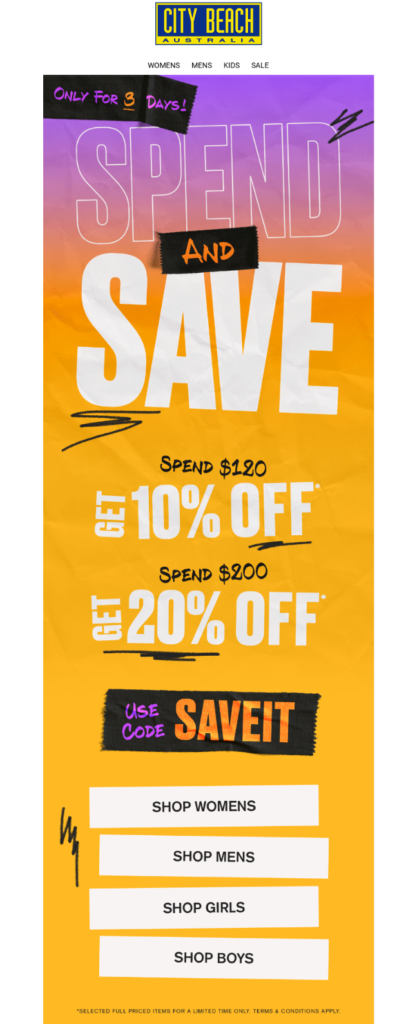 The promotional email example highlights how a bright color scheme grabs attention. The emailer has a bold and prominent header announcing their special offer, followed by the coupon code and links to the collections. The subject line for this email is equally compelling as it clears out the offer upfront.
Key Takeaways
Create a detailed promo email that clarifies every aspect of your special offer;
Always use a bold and beautiful color theme in your promotional emails;
Add contextual CTAs taking readers to relevant collections or sections on your website.
Flash Sale Promotional Email
Scheduling a time-sensitive flash sale promotional email is a great tactic to appeal to your audience's FOMO. Here's an example of a promotional email by Swati Cosmetics announcing their site-wide flash sale:
Subject Line: Flash Sale ⚡30% Off Cosmetics

The email is sent to existing customers and newsletter subscribers who know the brand, have used its products, and are eager to hop onto a special discount. The email design and bold use of colors in CTA definitely stop users from scrolling. The use of ⚡ emoji in the subject line is a great tactic to attract attention in a crowded inbox.
Key Takeaways
Use emojis in subject lines;
Create a flashy emailer with a countdown timer, bold colors, and design patterns that make the user stop scrolling away;
Use contextual CTAs within your emailer.
Free Resource Promotional Email
Sending lead magnets and free resources is an integral part of a comprehensive email marketing strategy. Promotional emails delivering free resources are appreciated by the readers as they've requested the resource in the first place. Here's an example of a free resource promotional email by Design Better:
Subject Line: The Design Better library of books available for free

Honestly, this might not visually look like a great promotional email example, but it does its job — delivering free resources to the email audience. The block layout sharing all the books to download looks neat, and the contextual CTAs prompting users to download would have attracted clicks. They could have worked more on the subject line and the intro text, though.
Key Takeaways
Divide your promotional emails into dedicated design blocks;
Always pay double attention to your subject lines;
Keep the design simple and minimalist.
Limited-Time Promotional Email
Sending limited-period offers and product collection announcement emails is a great strategy to keep users hooked to your brand. Limited-period promotions add freshness to your email strategy and keep users excited. Here's an example of a limited-period promotional email by quip:
Subject Line: 🪥 Meet the Limited Edition Birthday Brush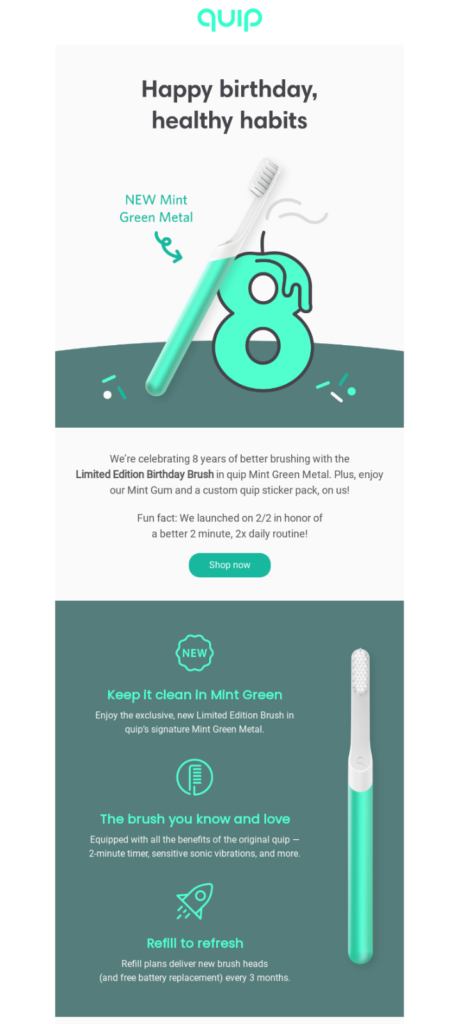 The email is sent to customers who've been a part of the brand journey since the beginning. To celebrate the 8-year milestone, quip launched a limited-edition brush and offered customers to buy it through a promotional email. The email has a very refreshing tone and design and conveys the brand narrative perfectly.
Key Takeaways
Share the reason for the limited-period offer or promotion;
Add a last date/countdown timer to the email;
Create a strategic CTA that compels users to check the offer/product on the website.
New Offering Announcement Email
Sharing news about your latest launch or a new collection with loyal customers is a great way to show that you crave their attention. You should plan a promotional campaign as an announcement email like Valentino Beauty does in the following emailer:
Subject Line: Our New Collection Is Finally Here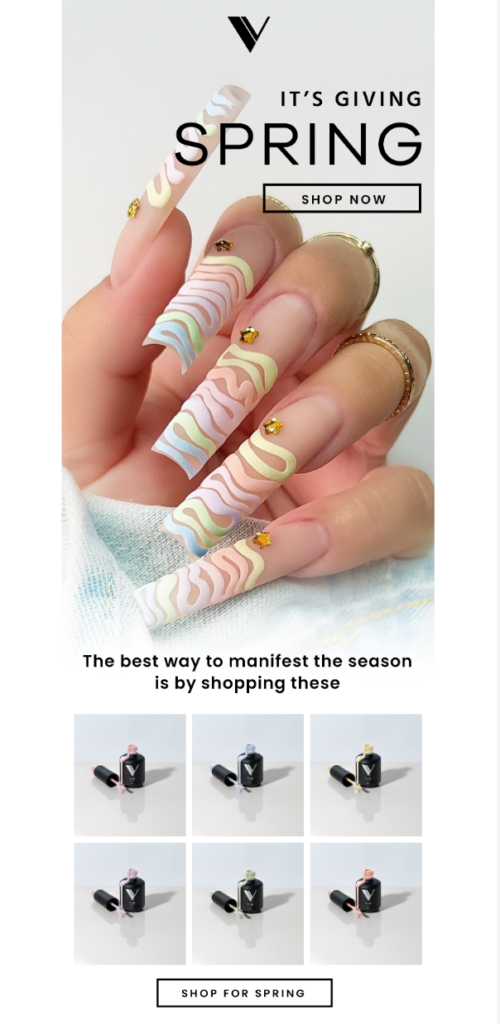 The email announces their new spring collection and invokes the desire to try new nail polish colors among the reader. The contextual CTA that asks users to shop for spring is placed strategically below a product collection block to compel users to at least check out the new collection on the website.
Key Takeaways
Invoke nostalgia, curiosity, or FOMO in announcement emails;
Add relevant product blocks to announcement emails;
Add large product header images.
Content Promotion Email
Using email to promote your content on blogs or your website is an age-old email marketing tactic. Marketers have been using email lists to drive traffic to their websites. You can also plan a content promotion email with links to your latest blogs or informative content. Here's how Apple does it:
Subject Line: Why Is Renting a Car So Chaotic?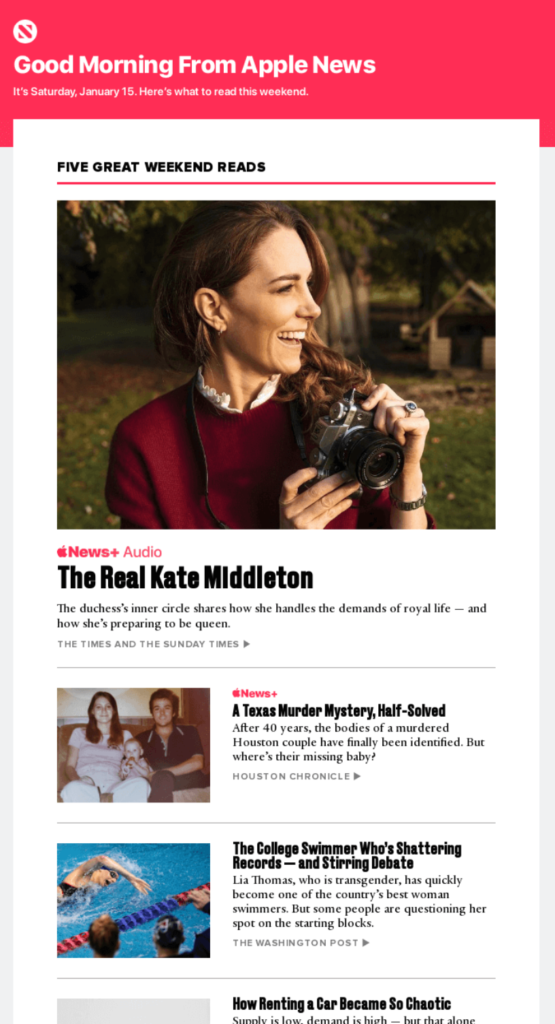 The email is sent to email subscribers who wish to read the latest news from Apple News. The email contains links to blogs and news articles of their interest. This promotional email is very informative and gets automatically generated using an email marketing tool. You can plan the same promotional email by adding your RSS (Really Simple Syndication) feed to your email marketing tool to create automated content promotion campaigns.
Key Takeaways
Personalize content recommendations based on user interests;
Add direct links to blogs and articles for users to navigate easily;
Keep your subject lines interesting and intriguing.
Customer-Exclusive Deal Announcement Email
Rewarding your customers for loyalty and patronage is a great practice for building long-term relationships. You can run a customer-only deal on your website and announce the same via a promotional email. Here's an example by boohoo USA:
Subject Line: Last Chance To Use Your Discount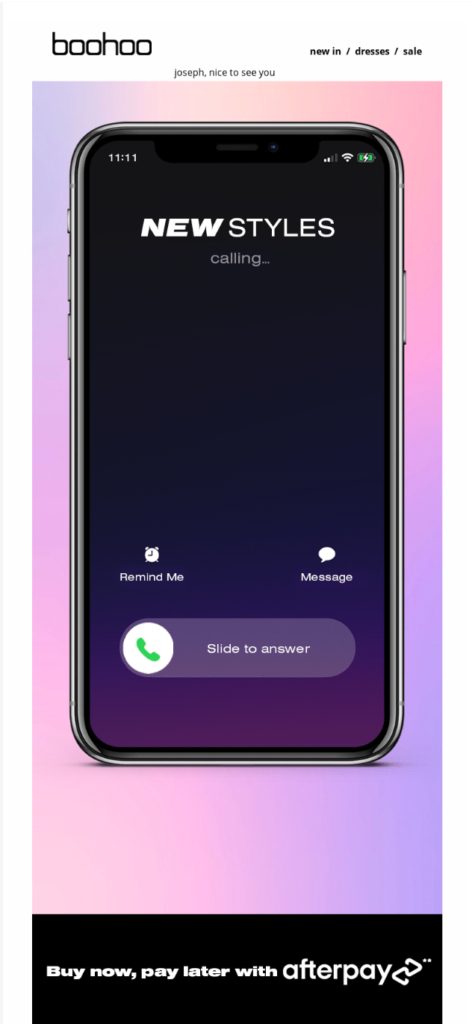 The unique layout with a call from 'new styles' is definitely an attention-grabbing tactic. Combined with the subject line and the buy now pay later messaging at the end of the email, this promotion feels so on-point for existing customers. They'll definitely want to have a look and even check out with a few products in their cart. They could've added a CTA button, though.
Key Takeaways
Use unique design elements and layout in your emailer;
Announce the benefits upfront within the email and subject line;
Don't forget to add a CTA in your promotional emails.
Seasonal or Holiday Promotion Email
Sending an end-of-season or holiday promotion email is a good way to remind users about you and tinker with their holiday shopping spirit. Many brands plan elaborate holiday campaigns over weeks to grab a slice of the holiday revenue pie. Here's a holiday promotion email example by M&Ms:
Subject Line: Last Chance for Easter Delivery 🐇

The refreshing color theme with real-world social proof (testimonials) compels a reader to fill their Easter basket with their product. The last-minute reminder with shipping promise works wonders to appeal to subscribers' FOMO and drive impulsive purchases.
Key Takeaways
Create a holiday-themed emailer design;
Add elements that invoke FOMO;
Add social proof or testimonials to make your offer more appealing.
Also read: 10 Holiday Email Marketing Tips & Email Campaign Examples
Product Launch Promotional Email
Using promotional email campaigns to announce new products can entice your subscribers to check out your new product range on the website. Take the example of this elegant product launch email by Pandora Jewelry:
Subject Line: Shayla, NEW! Collect our second enchanting Disney 100 charm ✨

The email announces their special range in collaboration with Disney and showcases elegant charms that one can buy online. The personalized subject line with a small note in the email is a great hook for anyone who loves charms and Disney characters. High-quality product images are an additional factor for stopping scrolls and promoting clicks.
Key Takeaways
Add high-quality product images to your promotional emails;
Personalize your subject line with the first name;
Share a personal note about the announcement of the new product range.
Useful Promotional Email Campaign Creation Tips
When you want to get the maximum benefit from email campaigns, you need to follow some best practices and tips. Here's a small checklist to help you set the right foundation for your promotional email campaigns:
1. Focus on The Benefit or Value
Whenever you plan an email campaign for promotions or marketing, always think about the end customer. You need to promote your product but think of what's of value for your prospect in your promotion. Is it an extra discount, special offer, or any other benefit?
Create your email to show your subscribers how the promotion can benefit them. And keep emphasizing the value they'll derive from the promotions you're running. You can add limited-time offers, write compelling copy, add relevant product images, or ask them to check out the benefits on your website.
2. Craft an Attention-Grabbing Subject Line & Preview Text
Subject lines are the doorway to your campaign's success. So, spend a lot of time creating scroll-stopping subject lines. Your subject line should:
Stand out in a crowded inbox;
Attract the reader to click on your email;
Make them curious about the promotional offer.
Ideally, your subject line should be accompanied by a contextual preview text (the small one-liner that acts as a preview for your email), and both should be:
Short, contextual, and attention-grabbing;
Personalized;
Reflect on your value proposition.
You can even try with a few variations, conduct A/B tests, and find a winning subject line to get the most out of your promotional emails.
3. Use a No-Code Email Builder
The first step to crafting an effective promotional email campaign is to use an intuitive email builder. A drag-and-drop builder will help you create immersive promo campaigns with unique design elements to engage your audience.
Use a no-code builder to create, optimize, analyze, and personalize your email campaigns without any technical or design expertise to save time and get the best email design.
4. Personalize Your Email Copy and Design
96% of businesses accept that personalization improves email marketing success. It helps drive positive customer behavior and improves the chances of a sale.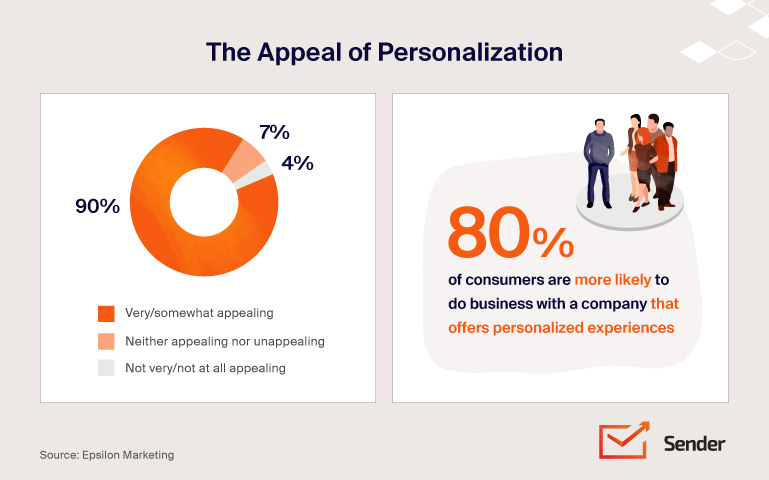 Personalization makes your customers feel valued and appeals to your prospects. So, you should always personalize your promotional campaigns. Use custom field tags to personalize email copy, design elements, and email subject lines.
5. Don't Forget to Include a Call-to-Action
A call-to-action (CTA) is the most important element of any email campaign. It drives engagement, website traffic, and sales from an existing email list.
Always add a strategic CTA that compels readers to check out your promotional offer. For example, if you're running a limited-period offer on your latest products, the CTA should prompt users to check the offers on your website.
Forgetting to add a contextual CTA is a blunder and can potentially cost you hundreds of dollars in incremental sales.
6. Make Your Emails Responsive
Promotional marketing campaigns must be designed for cross-platform responsiveness. They should look beautiful across desktops, tablets, and mobiles. Always pick a responsive email template that offers an engaging experience to your email subscribers.
7. Know Your Target Audience
Depending on what you're promoting, your subscribers will expect different things from your email newsletter. It's essential to have a clear understanding of audience expectations and use the insights in your campaigns. 
Here are some take-home points that can help you craft an email that suits well with your target audience:
Know your audience and segment your email lists for personalization;
Have a clear thought about what you want to say in your promotional email;
Create email copy and design based on the audience's expectations;
Personalize your email campaign and send it to a segmented list.
Key Takeaways
Know your audience's expectations before planning a promotional email campaign;
Add relevant offers, deals, and valuable information for your audience in your marketing emails;
Personalize your email marketing campaign by segmenting your audience for better results;
Use marketing automation tools to automate promotional email campaigns. 
---
Author Bio
Anmol Ratan Sachdeva is a content marketer and small business consultant who has a strong grip on topics like marketing automation, email marketing, and content marketing. He loves to write about building, improving, and growing a business.