Like what you read?
Apply it in practice with Sender.net - the most cost-effective email marketing solution in the market.
Try Sender for free
It's not always easy to know how to get your clients excited about your email promotion; that's why we created this shortcut for you.
There's no one template that everybody could follow to confirm your promotional email's quality, but many parts make your offer complete.
In this full guide, we'll look at different categories of great promotional email examples and give you essential takeaways that will help you create emails that will please your recipients and drive more revenue for your company.
The main things for promotional email creating
Use a comprehensive email builder
The first step to crafting an effective email marketing campaign is to use the best email builder that will deliver your emails.
With a comprehensive email builder, you can create, optimize, analyze, and personalize your email campaigns without needing technical or graphic design knowledge.
Add personalization elements in the copy and imagery
Promotional emails need to be personalized to the subscribers and filled with attractive graphics. Great visuals help your recipients immediately understand the point of the email.
Include a call-to-action
When you've added personalization elements and included your copy and images, it's time to add a call-to-action.
Above all, outstanding marketing emails must contain a meaningful CTA.
After all, if brands are taking up subscribers' time with another email, every message must have a point to it.
Make sure it suits all devices
Powerful email promotional marketing campaigns are designed for all devices to read their emails – desktop, tablet, and mobile.
Promotional Emails Examples for different goals
1. Emails that build positive relationships
Congratulations! You got a new email subscriber and a potential client. Now it's time to build a relationship with them.
And what is every great relationship built on?
Trust.
It should be one of your main goals when crafting your promotional emails.
Here are a few ways you can improve your relationship:
Thank your subscribers for their time.
Set expectations and hold to them.
Only make promises you can fulfill.
Offer value to your client early and often, showing the benefit they can expect to get from this new connection.
Using your personal name, if it's appropriate for your business, can add a personal touch to your emails.
2. Emails that offer readers something valuable
Giving your audience something that will be relevant to them does a few things:
Catches their attention.
Charms them to your brand.
Urges them to purchase/interact with your products.
Since you have a product or service offering your readers, something of value should be easy to achieve. Offer discounts on your merchandise or services, or promote some of your educational content.
Here are a few things you can do to your promotional emails to make them more valuable for your reader:
Don't merely try to sell; instead, share useful content you've created.
Explain how your content will benefit your potential clients by solving their problem.
Offer your reader valuable discounts.
Although be careful with special offer emails, people can get irritated with it's the kind of stuff.
When you send a special offer, segment your target audience and use personalization to guarantee the offer is relevant to them.
You don't want to send a discount code to someone who just paid full price a day before.
When there is real value for the client, there can be real value for the company too. As long as you maintain this balance, special offers can be a win-win.
In this Disney+ promotional email example you can see that the company uses a limited time strategy.
They create a healthy urgency that the offer is "one week only" and reader's shouldn't miss out on this great option.
This strategy work if it's done correctly and you are not overdoing it.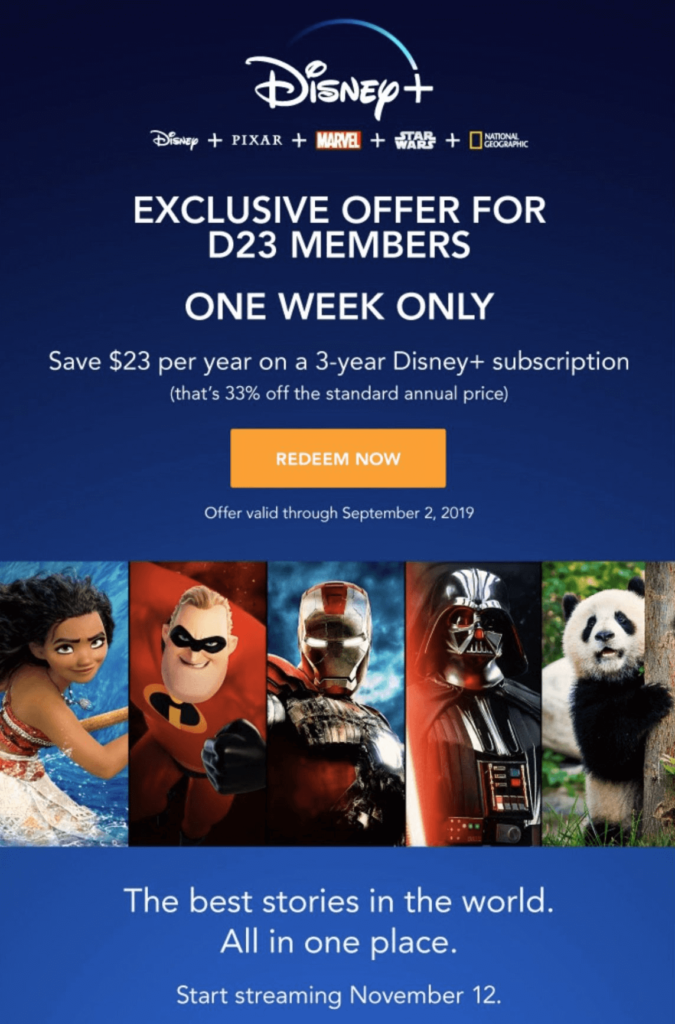 3. Emails that capture the audience's attention
You have a restricted number of characters to catch your subscribers' attention and persuade them to open your email, so make them count!
Just because your target audience has already shown interest in what you have to say by subscribing to your list, you can't become contented.
With each new email you send, you need to recover their attention and lure them to stay engaged with you.
Some points that you can use to improve your chances of readers opening your promotional emails:
Present a problem you seek to solve.
Make the subject line short and impactful.
Lead with the value you are offering your subscriber.
Use persuasive language.
Concisely state the value of your content.
Avoid fluff.
This is a very minimalistic and straight to the point email. Subscribers expect to get big discounts on Cyber Monday and the email focuses only on that. No need to add any fluff and unnecessary noise if you have a clear goal for the newsletter.
Here's an example of Taylor Stitch Cyber Monday promo email: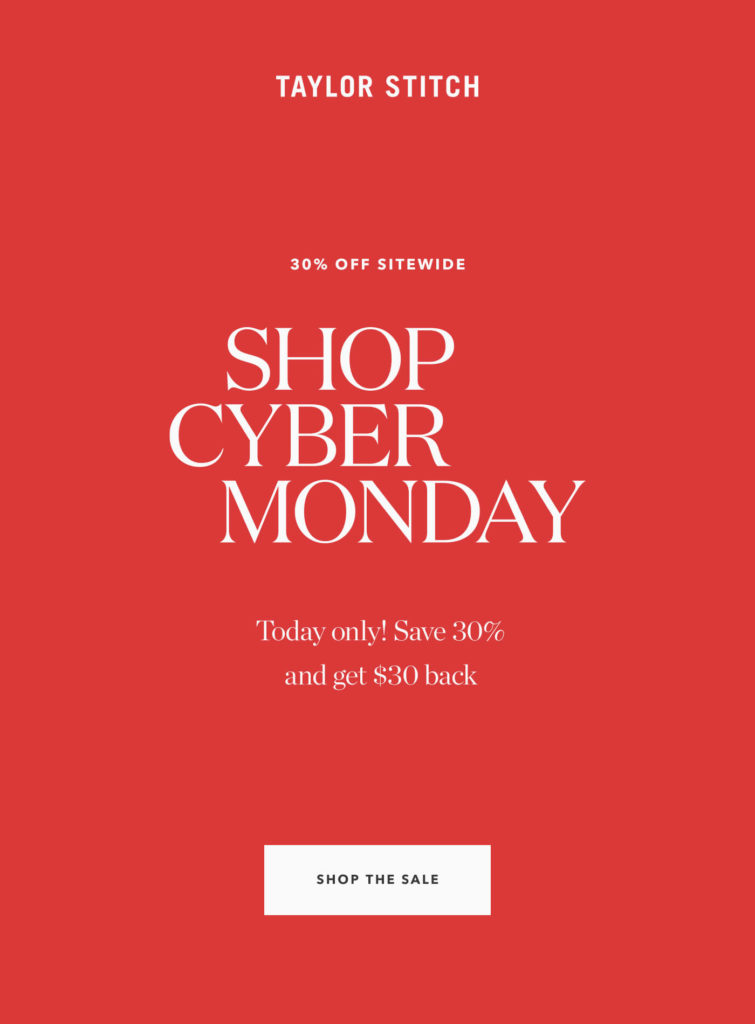 4. Emails that know its target audience
Depending on what you're promoting, your subscribers will expect different things from your newsletters.
It's essential to have a clear goal for what sort of image you want to present so that you can make sure it is coming across in your emails.
Here are some take-home points that can help you craft an email that suits well with your target audience:
Have a strong thought of the image you want to present for your business.
Guide your promotional email choices by what you've established are the expectations for your brand.
Be consistent, so you don't divide your audience.
In this Nike promotional email, the company uses data that they collect about subscribers. Birthday promotional newsletters are one of the most popular because people tend to react positively when you congratulate them on their special day.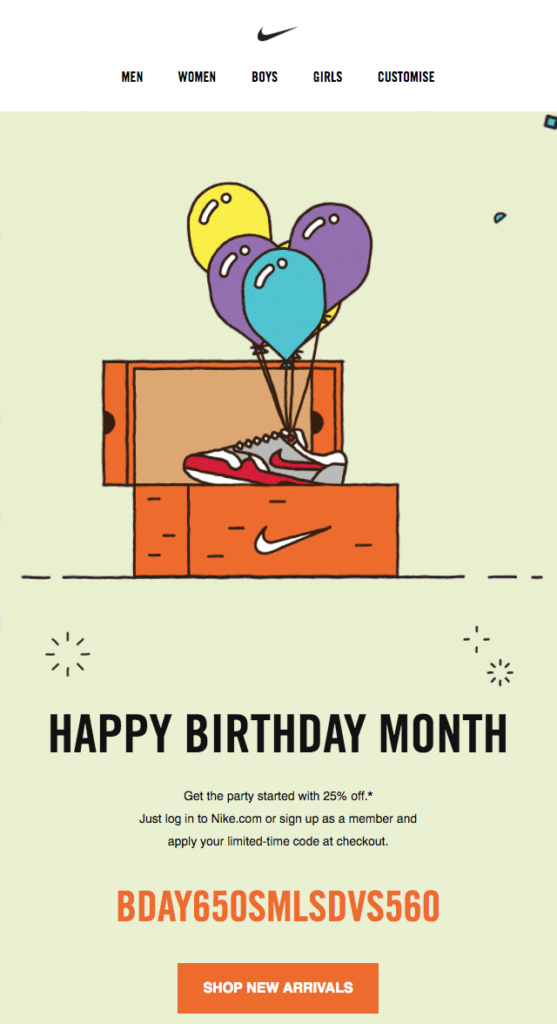 5. Emails that are easy to read
Many readers scan emails looking for exciting and relevant information.
If your email is hard to read, confused or doesn't enforce them to read further, your email is dead on arrival.
The email should be enough to stimulate the reader's interest while still leaving much to examine the company's website.
Call-to-action buttons direct the reader to click through for more info.
Here are a few ways how to make your emails more compelling:
Make emails easy to scan.
Ensure the points you most want to drive home are emphasized.
Break emails up with pictures, sections, or paragraphs. To keep the email looking clean and easy to manage.
Tempt your viewer to click through by keeping some information on your site and not in the email.
Make your call-to-action links and buttons clear and easy to find.
This McDonalds APP promotional email example is easy to read with clear text and illustrations. Readers intentionally can scan the email and know what is the most important part in it. It's clean, has clear sections and has visible call-to-action buttons.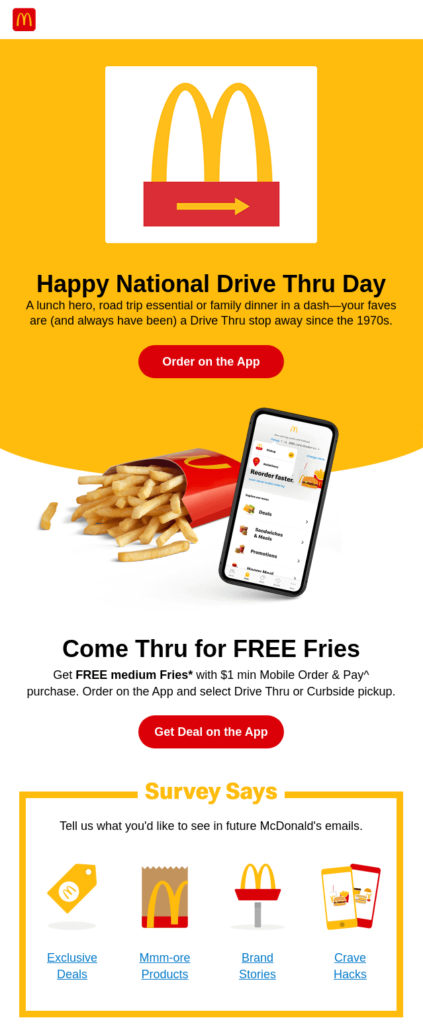 Here your can find more app and new product launch email template examples.
Also we recommend to read more about:
Frequently asked questions about promotional emails
What is a promotional email?
Promotional emails are a simple yet important way to spread information about your business. The purpose of promotional emails is to improve awareness, generate revenue, or increase customer loyalty.
How to create a promotional email marketing campaign?
Effective promotional marketing campaigns need to be cleverly crafted to attract customers' attention in their busy inboxes. Here are four steps you should follow to build an effective email campaign.