What is an email newsletter? Do I even need one for my business? What are some inspiring examples of businesses getting it right with email engagement?
So you can stop wasting time thinking and start sending out well-thought-out and beautifully designed email content that wow your subscriber list and establish your business as a brand that cares and communicates that well.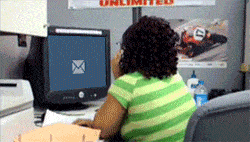 What is an Email Newsletter?
At its simplest, an email newsletter is nothing but sharing information and updates with interested prospects and customers using the simple medium of email.
To get this communication, prospects and customers must typically "opt-in" with their email address, indicating a willingness to accept email communications from your business from that point forward.
At this moment, they are said to have "subscribed" to your email list, and they are referred to as subscribers or contacts.
Subscribers could be prospects (non-paying but interested in your product or services) or customers (paying).
Depending on whether you are emailing prospects or subscribers or, in many cases, both, you could be sending out:
Company news and announcements
Industry news
Product or service updates
Sales offers
Content round-up (e.g., Youtube or Podcast links, Blog post updates)
Tips & tricks
Weekly digests
New arrivals
and more.
Once you set your goals on what you would like to achieve from a particular mail campaign, you will have no dearth of ideas on what type of emails to send to make the overall effort successful.
The whole point of an email newsletter is to keep your subscribers engaged and informed about whatever is relevant that they signed up for in the first place.
Why Do you Need an Email Newsletter?
In today's digital day and age, it isn't easy to think of a business that is not customer-driven. Therefore, regular customer communication is an absolute must for customer relationship management. And email is the cheapest way to do that.
So yes, if you've not been sending out email communication regularly to people interested or invested in your business, you are missing out. Do it before your competitor does. 81% of B2B marketers use email newsletters to distribute their content pieces.
But remember that an email newsletter is only as good as executed.
Email Newsletter – Exclusive Benefits
Excellent Source of traffic—increase traffic to your website, blog, or landing pages.
Owned Media—the poor organic reach doesn't hit you on Facebook, the high CPM for paid email advertising, or the crazy algorithm updates of Instagram. This is your list and your people who go where you want them to.
Increased Sales—adding constant value over time can only help your business grow. Simply put, your email newsletters need to be educational, entertaining, or best both!
Increased Engagement—they provide your subscribers with relevant information and updates to keep them engaged with your brand.
Enhanced Customer Delight—customers and prospects are excited to hear from your business. Especially if it's something, they have subscribed to.
Brand Authority & Deep Loyalty—staying top-of-mind makes it easier for subscribers to synonymously associate the solution you provide with your brand and create extreme loyalty.
Improved Brand Thought Leadership & Readership—email newsletters improve your authority and credibility in the eyes of your subscriber base. Having your brand looked up as a thought leader can be a big deal.
Easy to Implement, Low-Cost to Operate—paid ads are expensive, influencer marketing is unpredictable, SEO takes time, and you have little to no control over it. Email marketing crushes low-cost, high ROI marketing.
Easy to Track Metrics—simpler to track critical parameters such as Open & Click rates to help you compute accurate ROI and improve and make your email marketing more effective.
How to Create an Email Newsletter Design
There are tons of email marketing services out there, each with its own sets of pros and cons.
Use existing editable templates or use the fluid drag-and-drop email design tool to build and publish emails that genuinely wow your audience by showcasing your brand in the best way possible. All without having to learn to write a single line of HTML code!
Newsletter Header
The newsletter header occupies the most valuable real estate in an email. Therefore, any clicks or profitable actions will determine how effective the header section is.
Some recommendations:
Include a business name & logo which stand out against a complementary background. Use GIF or animated logos if needed but ensure their size is small.
Include a regular or interactive menu so subscribers can guide themselves to the resource they are interested in.
Add the "View in Browser" or "View Web Version" option for subscribers to view the email as a web page. Very useful when your email may contain GIFs or images or other interactive or gamified elements, which may not always render fine on all email clients or platforms for everyone.
Mention your offer if possible. E.g., "FREE Standard Shipping on orders worth $100 and above"!
Add a "My Account" button for subscribers to simply log in to their account quickly.
Choose a Typography that is contextual to your brand or the occasion. For example, choose a more relaxed and cursive font for your beachwear line of products.
Newsletter Footer
The email newsletter footer also called the email signature section, is vastly underrated. Optimize this portion to avoid most other email marketers who won't.
Leading practices include:
Provide an Unsubscribe (or Manage preference) option. If you don't allow disengaged and uninterested viewers a way out, it will affect your open and click-through rates. Besides, do you even want them reporting your email as spam, which in turn will hurt the deliverability score for even the "good" subscribers? Not to forget, this is mandated by compliances such as GDPR. Their ePrivacy Directive Article 13, Part 2 mandates that you provide a clear option for subscribers to unsubscribe or opt-out in every email.
Include any legal and mandated information following anti-spam laws and regulations, e.g., Registered address, Privacy policy, Terms & Conditions, etc.
Flaunt Social Proof to make a lingering statement.
Social profile links – inform your subscribers about your favorite social sites. It helps amplify your social media footprint.
Creating Stunning Email Newsletter: Step-by-Step Guide
Designing and scheduling eye-catching newsletters with Sender is as simple as a walk in the park, whether you choose an automated welcome sequence or deliver a regular email campaign.
Step 1 – First things first, to begin creating an email newsletter, you must have an account; in this case, start by creating an account at Sender. The signup process is straightforward and usually takes a few minutes.
Step 2 – Next, when the account is created, continue by clicking Email Campaigns and filling in the required information, such as email subject line, reply-to address, etc. When finished, proceed by press continues and move to the next step.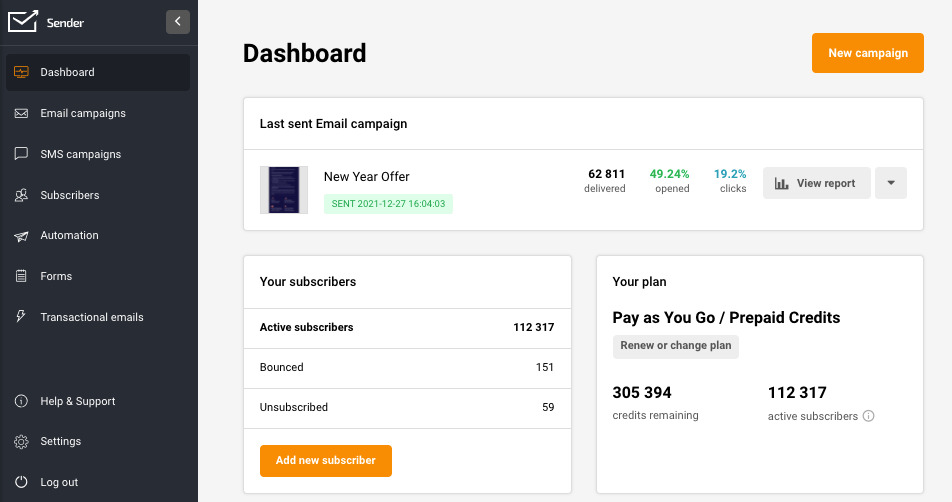 Step 3 – After the initial step, you will be asked to pick the preferred predesigned email template or start from scratch. At this point, it's up to your preferences, though we advise picking the favored template and building your newsletter design on its customizing template.
The portion of predesigned newsletter designs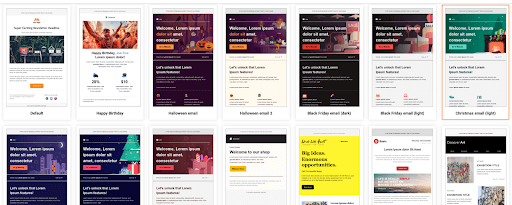 Step 4 – Alright, the most pleasant part of the newsletter's creation process is the actual design phase. As you can see, you got a toolbar on the left side of the builder. Start by dragging the required elements called "blocks" into the newsletter's body and modify accordingly.
Sender's email newsletter builder got neat elements such as Timer, Review block, and custom HTML email newsletter block. It's a necessary feature for creating effective marketing campaigns, creating urgency, gathering customer reviews, and adding custom newsletter components.
Step 5 – Finally, you are happy with the end results and ready to move forth. Continue by hitting Save & Continue button on the top and move to the next step. Now, pick the subscriber's list which will receive the email newsletter. It could not be easier.

If you're new to email marketing and have not yet collected any subscribers – no worries, Sender got you covered. Start collecting contact with our popup or sign-up forms by selecting forms section on the main dashboard.
What's more, our email marketing tool offers a larger-than-life FREE plan that allows you to keep sending 15,000 emails every month for up to 2,500 contacts for a lifetime, there's really no reason for you not to jump in and enjoy top-tier features, like email automation even as a free user. No hidden fees, no strings attached.
Email Newsletter Examples by Popular Brands
Sometimes the best way to create your excellent form of work is by getting inspired by others. So here are some of the top email newsletter template ideas that we're impressed with.
Macy's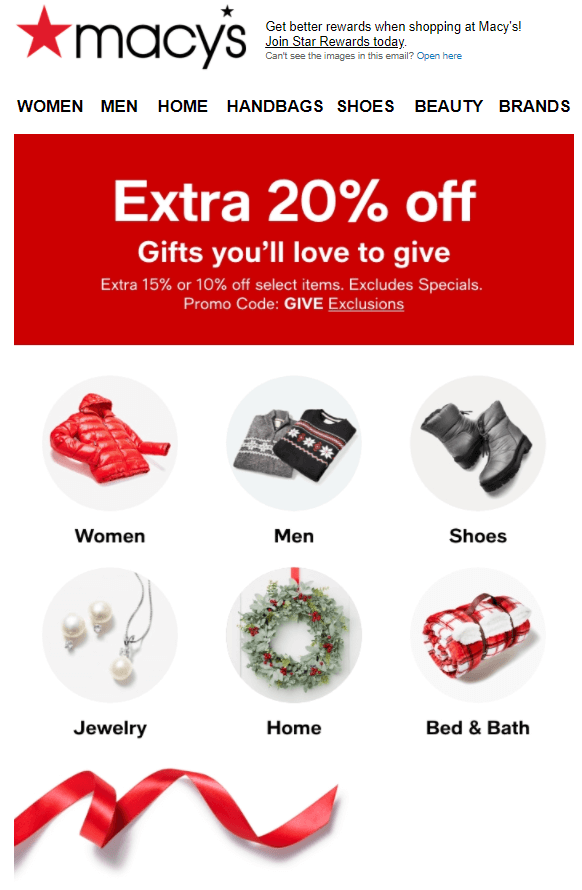 What we love about this newsletter is the clearly worded offer (20% OFF) and an eye-catching neat design featuring cherry red against a white background. Perfect contrast!
Source: Original Macy's email
ClickUp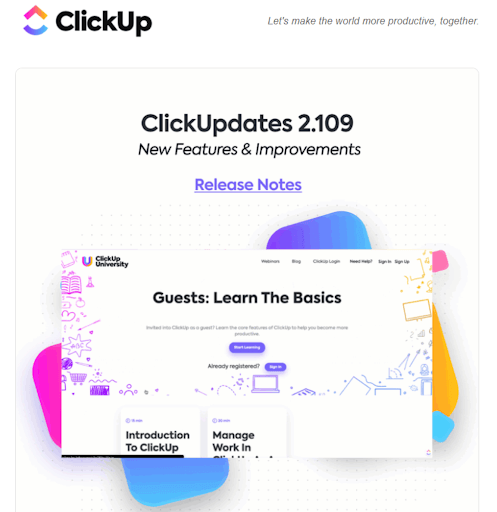 Source: Original ClickUp email
Now you see this beautifully designed technical updates newsletter sent out by project management tool ClickUp to its customer list. The clean and minimalistic design sets up nicely against plenty of pure whitespaces. A bold headline highlighting the main story completes it.
MedLab International Inc
Check out this referral program newsletter by a company called MedLab International Inc.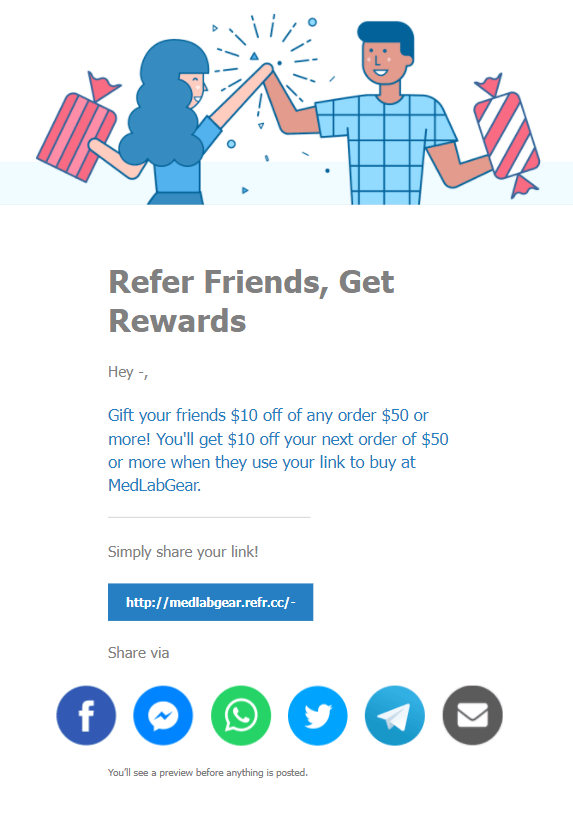 Source: Original MedLab International Inc. email
The best way to ruin a referral campaign is to have a complicated one, to begin with, or spoil a decent one with poorly constructed communication.
The copy, in this case, has been kept deliberately simple (including the headline) to ensure effective communication, and with a contextual graphic to boot, we cannot help but think that the newsletter must have had a successful run.
Great HTML Email Newsletter Template
Distributing your latest content pieces to your existing lists is, by far, the cheapest way to get quality traffic. For example, see this blog post-round-up example from Thinco, a health and fitness company offering weight loss programs for women.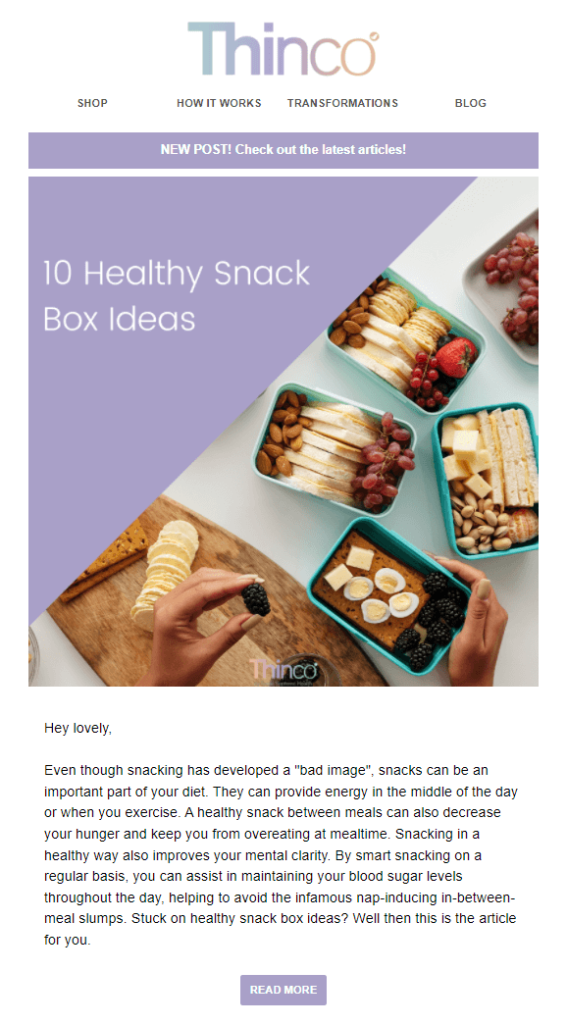 Source: Original Thinco email
An attractive design backed up by a highly relevant featured image gets the reader started on the right note. Summary text that sums up the listicle content is neatly written, maintaining high-interest levels.
A mini promotional video towards the bottom acts as social proof for the brand. A small element of gamification (to induce virality) is also neatly placed at the bottom—all in all, a fabulous newsletter.
TOP Seasonal Email Newsletter
A seasonal newsletters campaigns are one that you strategize around key seasonal events. E.g., Christmas email newsletters.
St.Frock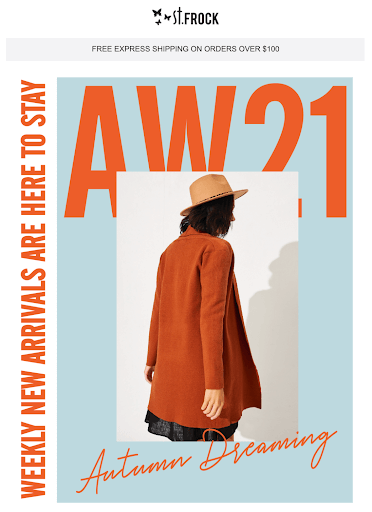 Source: Original St. Frock Email
Take a look at this awesome April newsletter by St. Frock, a Women's Online Dress Shop & Clothing Boutique based in Australia.
Excellent product photography enhances the desirability of the product. And when combined with a great color palette with minimalistic text, it can end up as a high converting email newsletter template. That's precisely what St. Frock got right here.
Left to us, we would have loved to highlight the CTA (Call to Action) buttons some more so they stand out, leaving the reader no option but to click.
SpaWeek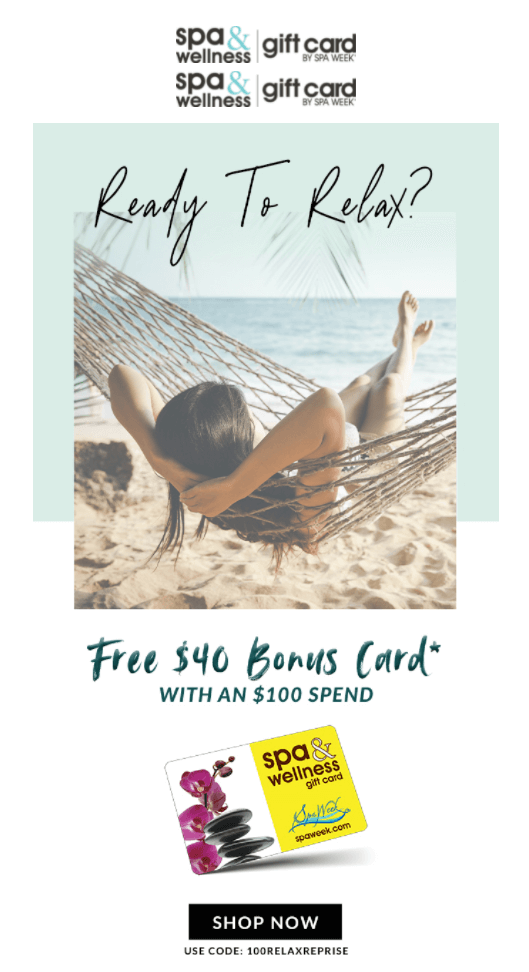 Source: Original SpaWeek email
Consider this newsletter from SpaWeek, which is a business that helps you get great deals on Massages, facials, salons, manicures & even online beauty purchases through tie-ups with
9,000+ Spa Partner locations countrywide in the US.
The creative is a perfect fit for this summer campaign, and we love the typography, which enhances the feeling of relaxation they are probably trying to convey.
However, the offer (FREE $40 Bonus Card over a $100 spend) is what takes the cake! They say to make it irresistible, and SpaWeek has definitely done that here!
Ready.Set.Food

Source: Original Ready.Set.Food email
Ready Set Food is a unique concept of kids' supplementation that claims to solve more severe allergy problems moving forward. This creative newsletter design is beautiful and modern.
The creative showing a joyful child sampling their product is spot-on, the CTA clear and compelling, and the offer that this will cost you less than $1 a day is outstanding. All in all, a winning proposition.
Carter's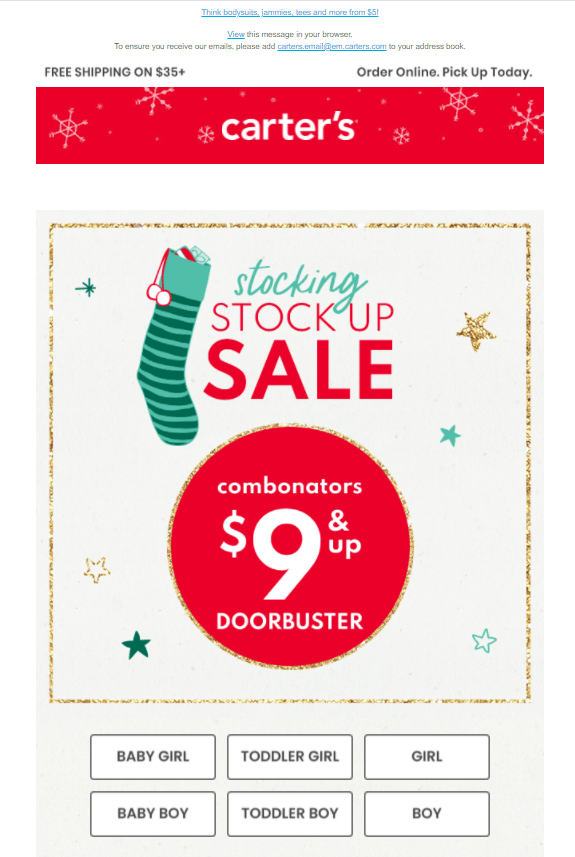 Source: Original Carter's email
Carters is an American brand that sells children's apparel. This newsletter is a winter (Christmas) special that combines a simple and minimalistic design with an excellent offer for compelling viewing.
Using a GIF instead of a static image for the featured (hero) image allows them to show multiple offers or feature sets of their products. And we love the copy, too; it's so much in tune with what their brand says they are about. It's easy to google and find sites that offer sample newsletter templates for free.
Also read: 5+ Welcome Email Template to New Customer
Practical Email Newsletter Campaign Examples
As an email creator, if you are wondering how to write a newsletter that will wow your audience, here is some good advice.
Welcome Sequences
A welcome sequence is a set of automated emails subscribers get when they first sign up with their email address. It could be a single email newsletter introducing the brand or, in many cases, a 3, 5, 7, or even 15-part sequence of emails that are programmed to keep firing on complete automation.
The first email of the welcome sequence is about meeting the expectations you initially set up during sign-up and giving what the subscriber signed up for. For example, did you promise them a FREE resource download if they signed up? Well, time to do that, buddy!
The remaining emails of the welcome sequence are aimed at nurturing the subscriber by drip-flowing relevant and targeted content (blog posts, videos, podcasts), social proof, case studies, or even simple and plain emails, for that matter.
Basically, anything and everything about the problem you claim to solve and how you do that
Newsletter Signup & Confirmation
Users only need to subscribe once with a single opt-in, and they'll start receiving your awesome emails. However, double opt-in requires users to subscribe and confirm their email by clicking another link.
To build a higher quality email list of serious subscribers, it's always recommended to go with double opt-ins.
Monthly Email Newsletter
As the name suggests, this is the type of newsletter you send out to your subscribers every month. Some examples and use cases of monthly newsletters are as follows.
Also read: 50+ Email Newsletter Subject Line Examples
Pick the Proper Email Newsletter Builder
If you are looking for a refined email marketing service for your email campaigns to send out visually stunning newsletters that are not only easy to design using a smooth-as-butter drag and drop email editor-cum-builder, but also something that will not cost an arm and a leg to keep using, you are in the right place!
When it comes to free products, it usually means users are getting a free trial or minimal experience. Yeah, unfortunately, that's the common practice, nevertheless, from now and then, we stumble across something precious, and I believe Sender is one of that slips. Sender's FREE FOREVER plan provides users with:
Complete access to top-tier features ( email automation, etc)

Multifunctional platform with necessary features ( popup builder, eCommerce plugins)

Up to 15 000 monthly emails
24/7 Customer support
Unbeatable deliverability
and best of all, pleasant user-experience
We do not require credit card information upon signing up, nor have any hidden fees. Take Sender for a spin, and you'll be happily surprised.
Start Creating an Email Newsletter Your Readers Enjoy
Organizations are losing both leads and customers every day without an email newsletter.
With over 4 billion email users worldwide, most checking email inboxes several times a day, and increasing usage of mobile devices with notifications turned on for emails, there is no reason for you not to send out those emails, starting today!
So stop obsessing over the definition and deeper meaning behind the metrics for your email marketing campaigns and start having fun communicating with your list in a meaningful way to your business and relevant to them.
Content Contributor – Santosh Balakrishnan
Like what you read?
Apply it in practice with Sender.net - the most cost-effective email marketing solution in the market.
Try Sender for free