Employ your powerful emails
Increase sales and engagement by sending your well-designed emails with Sender.
Get Started For Free
Email newsletters are a hit among your prospects and online audiences. If you don't have one, you're missing out on an ample opportunity.
But what is an email newsletter? Do I even need one for my business? What are some inspiring examples of companies getting it right with email engagement? How to write a newsletter? How to send an email newsletter? Do you often have similar questions?
Stop wasting time thinking and Googling these questions. Instead, read this blog till the end to learn how to start an email newsletter and send out email content to engage your subscribers.
So, let's begin.
What is an Email Newsletter?
In the simplest form, an email newsletter is information and updates shared with interested prospects and customers via email. An email newsletter shares:
Company news and announcements;
Industry news;
Product or service updates;
Sales offers;
Content round-up (e.g., Youtube or Podcast links, Blog post updates);
Educational tips & tricks;
Weekly or daily newsletter digests;
New arrivals, and more.
Newsletters are sent periodically — daily, weekly, bi-weekly, or monthly- so an email newsletter should be a regular feature of your email marketing strategy.
To receive a newsletter, prospects and customers must typically "opt-in" with their email address, indicating a willingness to accept email newsletters from your business from that point forward.
Once they consent to receive communications, they are said to have "subscribed" to your email list and referred to as your subscribers or contacts. Subscribers could be prospects (non-paying but interested in your product or services) or customers (paying).
The whole point of an email newsletter is to keep your subscribers engaged and informed about your business and entice them to try out your product or services. There can be other goals, like increasing your following and website traffic, building a personal brand, etc., for starting a newsletter.
Why You Need an Email Newsletter?
In today's day and age, it isn't easy to become successful without being customer-centric. Regular communication is the key to customer delight, and an email newsletter is the best way to interact.
81% of B2B marketers use email newsletters to distribute their content pieces. A newsletter allows them to reach out actively, create a brand recall, and stay in the minds of prospective customers.
Also, running an active newsletter makes you an authority in your niche. Your customers start trusting you for the insights and valuable info you share via your newsletter.
If that's not enough, here are nine reasons to create a newsletter:
Excellent Source of Traffic. Sending periodic newsletters with internal links increases traffic to your website, blog, or landing pages.
Owned Media. Newsletters save you from falling prey to algorithmic feeds. The poor organic reach doesn't hit you on Meta, the high CPM for paid email advertising, or the crazy algorithm updates of Instagram. This is your list and your people who go where you want them to.
Increased Sales. Adding constant value over time will only help your business grow. Simply put, your email newsletters educate, entertain, and delight users, prompting them to remember you when they need to buy something.
Increased Engagement. Newsletters provide your subscribers with relevant information and updates to keep them engaged with your brand.
Enhanced Customer Delight. Customers and prospects love to hear relevant information about what they care about. Newsletters allow you to share relevant stuff regularly, improving your relationship with them.
Brand Authority & Deep Loyalty. Staying top-of-mind makes it easier for subscribers to synonymously associate the solution you provide with your brand and create extreme loyalty.
Improved Brand Thought Leadership & Readership. Email newsletters improve your authority and credibility in the eyes of your subscriber base. Having your brand looked up as a thought leader can be a big deal.
Easy to Implement, Low-Cost to Operate. Paid ads are expensive, influencer marketing is unpredictable, SEO takes time, and you have little to no control over it. Email marketing via newsletters can offer significant benefits, such as an increase in ROI and a boost in your overall marketing effectiveness.
Easy to Track Metrics. Simpler to track critical parameters such as Open & Click rates to help you compute accurate ROI and improve and make your email marketing more effective.
How to Create an Email Newsletter
Newsletters are an interesting addition to any email marketing strategy as it enhances your brand recall in the minds of prospects and subscribers. If you've been thinking about launching your newsletter, here's how to send a newsletter email with ease in five simple steps using Sender as email service provider:
1. Create a Free Account
Designing and scheduling eye-catchy newsletters using email newsletter software tools like Sender is as simple as a walk in the park. All you need to do is create a free account. The signup process is straightforward and usually takes a few minutes.
Sender offers a generous FREE plan that allows you to set up, launch, and manage an email newsletter that you can send to 2500 subscribers for free. You can send up to 15,000 emails a month and even enjoy all the advanced features like automated campaigns, custom segmentation, and more.
2. Start by Creating an Email Campaign
Once you've signed up for Sender, you'll be greeted by an intuitive dashboard. The dashboard will give you everything you need to get started. First, complete the pre-requisites:
Next, click on 'Campaigns' on the left pane when you're done.

Create a new campaign and fill in all the required details — subject line, reply-to address, preview text, name, and email address. You'll be able to see a preview that will tell you how your email will appear in your subscriber's inbox.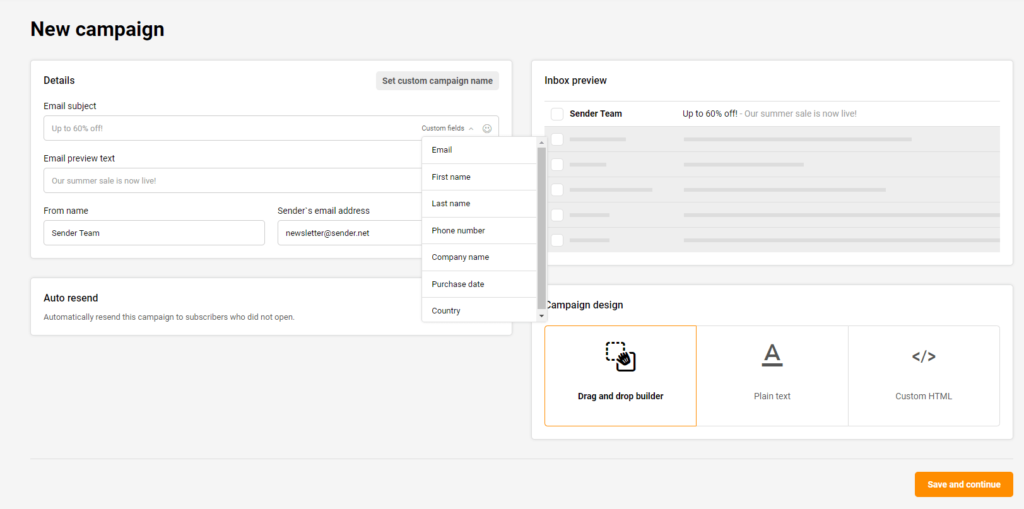 Importance of Subject Line and Preheader
Subject line: Your email subject line is the only thing visible to a reader even before he opens your email. So, be clear and intriguing at the same time. You don't have a chance to be heard if you write a boring subject line.
Preview text/preheader: Preview text or the preheader is the line exactly after your subject line. So, it should be equally intriguing as well as tempting. The user should feel compelled to click on the email after reading the preview text. Here are some ideas for writing the perfect preheader:


Tease them about the contents of the email;
If there's an offer inside, you can give a glimpse in the preheader;
Personalize the subject line or preheader to make them click on the email.
3. Select Pre-Built Email Newsletter Templates
Once you're done setting up the basics of the email campaign, it's time to start designing the newsletter. Sender has an extensive library of pre-made email templates that you can use.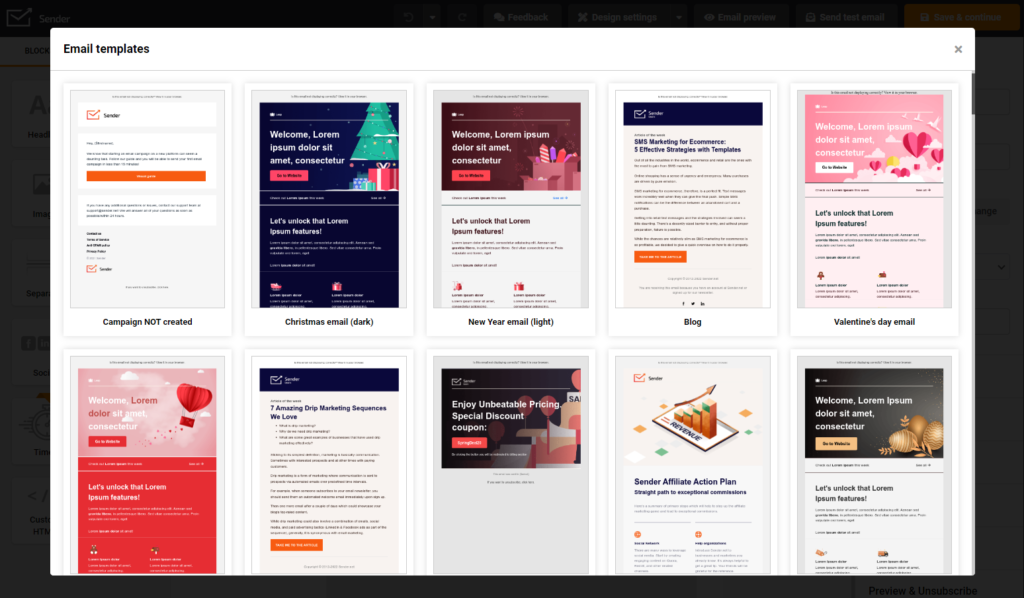 These email templates suit every business, service, and industry and can be customized according to your brand guidelines.
You can even start designing the email newsletter layout from scratch, but it's suggested that you pick a template or mockup and then use the drag & drop email builder to customize the design according to your preferences.
4. Customize Your Email Newsletter Design
The most enjoyable part of the newsletter's creation process is the actual design phase.
Sender comes with a powerful drag-and-drop editor that you can use to edit & customize the newsletter template. Drag the different design blocks to start customizing your email newsletter.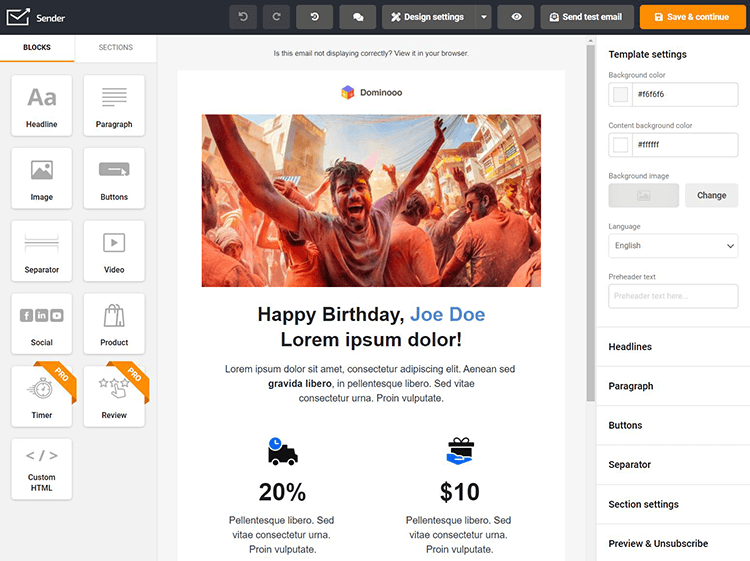 You can change the entire format or use the available blocks, like an image block, to add pictures/GIFs. You can also add different elements, such as timers, reviews, etc., by dragging the different blocks. If you've got a unique idea, you can use the custom HTML components to customize the look and feel further.
Make sure to make an engaging newsletter design with unique sections and make it responsive. With the preview button, you can check how it will look in your inbox on desktop or mobile. Always check the layout by sending a test mail before sending the email to your email list.
5. Schedule or Send Your Email Newsletter
Once you're happy with the end results, click on the 'Save & Continue" button on the top and move to the next step. You can now start picking your subscriber list for the one you designed for the newsletter.
If you're new to email marketing and have not yet collected any subscribers – no worries; Sender's got you covered. Start collecting email contacts with our popup or signup forms by selecting the forms section on the main dashboard.
Use the signup forms template library to create a sign-up form quickly and link the newly created form to a new email list. Then publish or schedule your designed email to be sent to this new email list. Alternatively, you can import your existing subscribers and schedule the email to be sent to your imported subscriber list.
9 Email Newsletter Examples
Every brand or business has a different take on newsletters. Some run a periodical that shares company news. Others use newsletter audiences to promote their latest offers. While you can look around the internet for newsletter ideas, here are some interesting email newsletter examples for you to be inspired from:
1. Weekly Newsletter Example by Taylor Stitch
Weekly newsletters are a great way to stay on top of your subscriber's minds. Brands plan weekly newsletters to share new blog posts, the latest brand news, collections, product launch news, and exciting things planned for the week ahead. Here's an example of a weekly newsletter by Taylor Stitch: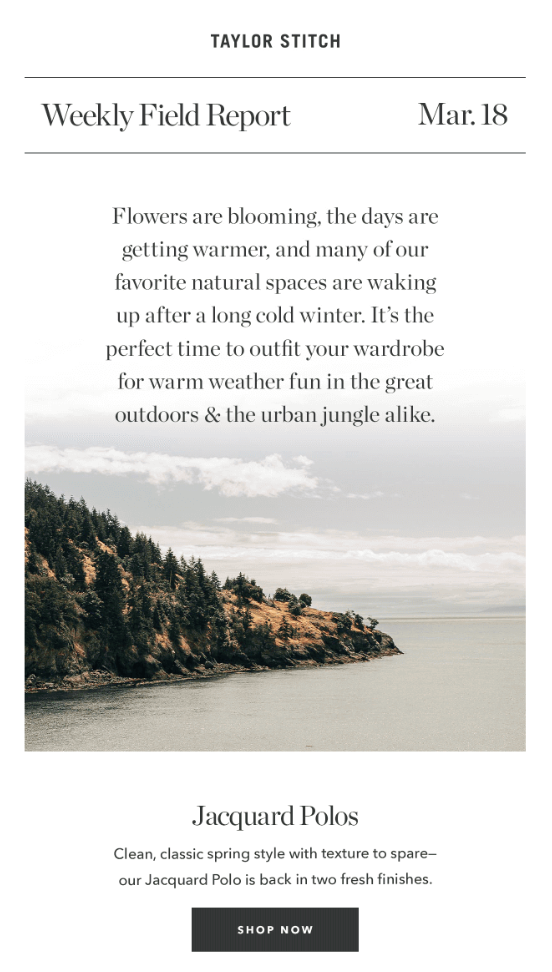 The newsletter reminds users about the upcoming summer season — warm weather and preparing for a wardrobe upgrade. The next section shares some outfit ideas for summer with a CTA to shop the products from the brand's store.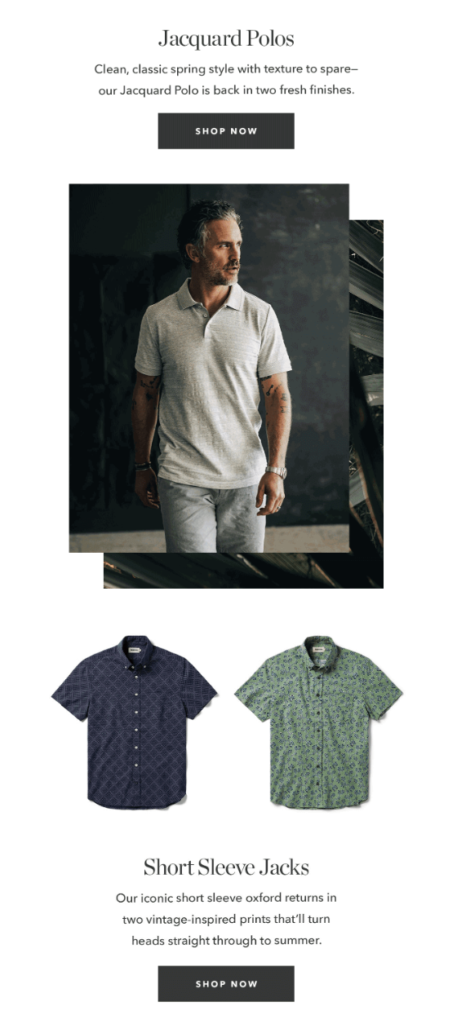 The contextual discussion about changing weather and summer collection fits the right image in the reader's mind — they need something for summer, and the CTA entices them to check out the summer collection.
Key Takeaways
Use a common theme for the weekly newsletter;
Add contextual product links and CTAs to drive the discussion toward buying something.
2. Discount Email by Macy's
Macy's sends engaging email campaigns and useful newsletters to its subscribers yearly. Here's a discount email newsletter sent by the brand: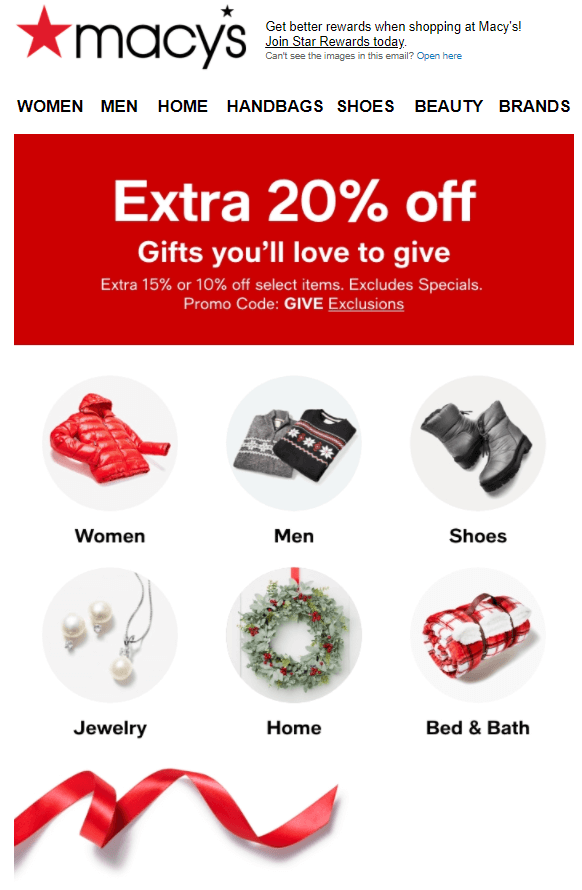 What we love about this newsletter is the clearly worded offer (20% OFF) and an eye-catching neat design featuring cherry red against a white background. Perfect contrast!
Key Takeaways
Pick an eye-catchy color theme for your email newsletter;
Mention the latest offers and discounts, if any, in your outgoing newsletters.
3. Announcement Email by ClickUp
Now see this beautifully designed technical updates newsletter sent out by project management software ClickUp to its customer list: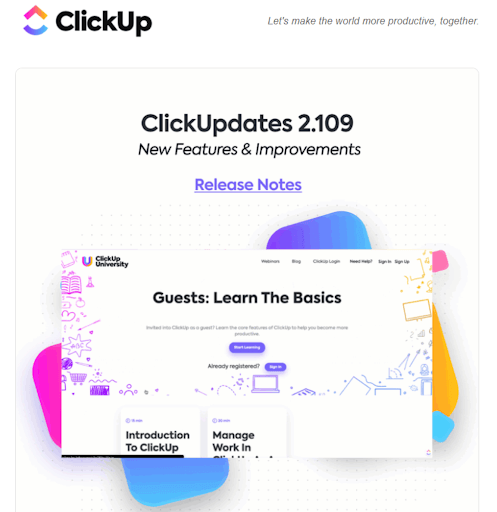 The clean and minimalistic design sets up nicely against plenty of pure whitespaces. A bold headline highlighting the main story completes the look and feel.
Key Takeaways
Keep your newsletters really simple and straightforward with one single theme per newsletter;
Add relevant CTA and links to drive traffic to your website or blog.
4. Referral Email by MedLab International Inc
The best way to ruin a referral campaign is to have a complicated one or spoil a decent one with poorly constructed communication. Check out this simple yet powerful referral program newsletter by a company called MedLab International Inc.: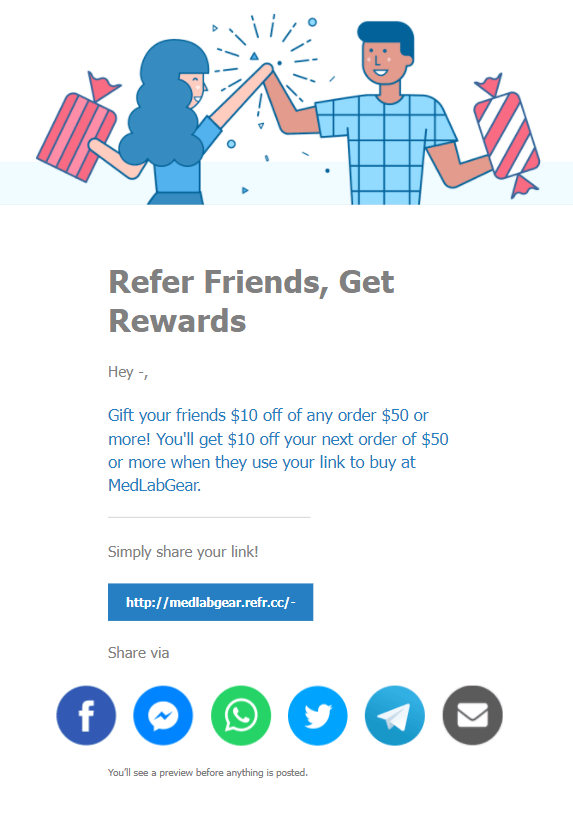 The copy, in this case, has been kept simple (including the headline) to ensure effective communication, and with a contextual graphic to boot, we cannot think that the newsletter must have had a successful run.
Key Takeaways
Create a simple yet compelling email copy for your target audience;
Add your social media links to the newsletter footer.
5. HTML Email Newsletter Template by Thinco
By far, distributing your latest content pieces to your existing lists is the cheapest way to get quality traffic via the best email newsletter designs. For example, see this blog post-round-up newsletter example from Thinco, a health and fitness company offering weight loss programs for women.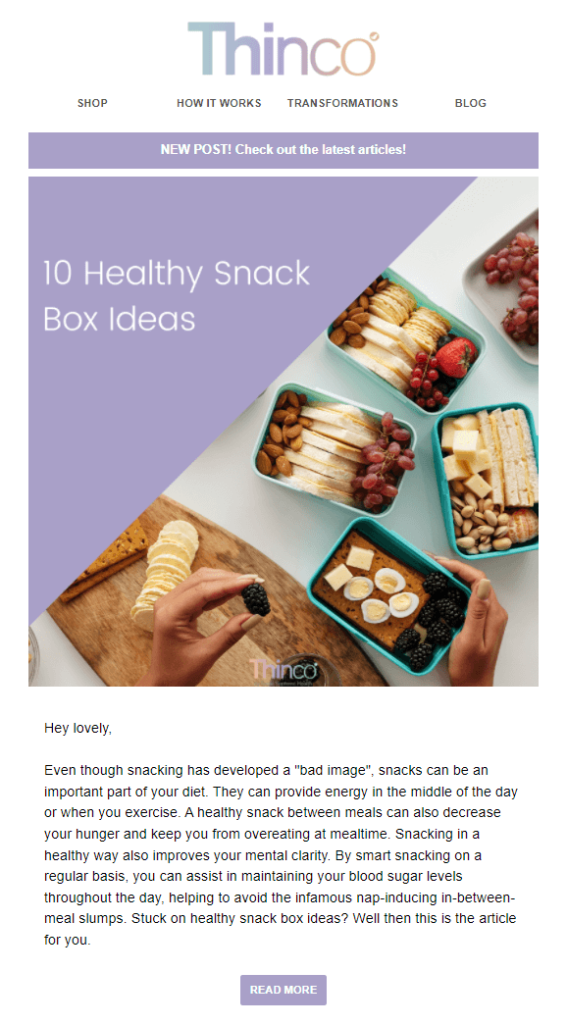 An attractive design backed up by a highly relevant featured image gets the reader started on the right note. The email text body summarizes the listicle content, is neatly written, and intrigues the reader to click the CTA button.
Key Takeaways:
Be crisp, concise, and on-point with your newsletter communication;
Mix and match different media types, like images and videos, to engage users.
6. Promotional Newsletter by SpaWeek
SpaWeek helps you get great deals on massages, facials, salons, manicures & even online beauty purchases through tie-ups with 9,000+ Spa Partner locations countrywide in the US. Look at their promotional email newsletter:
The creative is a perfect fit for this summer campaign, and we love the typography, which enhances the feeling of relaxation they are probably trying to convey. However, the offer (FREE $40 Bonus Card over a $100 spend) takes the cake! They say to make it irresistible, and SpaWeek has done that here!
Key Takeaways
Add a large, eye-catchy and thematic primary image;
Include a useful and tempting deal/offer whenever possible;
Use a soothing color tone that matches the theme of the newsletter.
7. Reactivation Email by Ready.Set.Food
Ready Set Food is a unique concept of kids' supplementation that claims to solve more severe allergy problems moving forward. They use a modern design theme for their newsletters. Have a look:

The creative image of a joyful child sampling their product is spot-on, the CTA clear and compelling, and the offer that this will cost you less than $1 a day is outstanding. All in all, a winning proposition.
Key Takeaways
Highlight your offer, deal, or takeaway clearly;
Add social proof, reviews, or studies to influence the reader to check out your offer/product;
Use contextual images or pictures.
8. Sales Email by Carter's
Carter's is an American brand that sells children's apparel. This company's newsletter is a winter (Christmas) special that combines a simple and minimalistic design with an excellent offer:
Using a GIF instead of a static image for the featured (hero) image allows them to show multiple offers or feature sets of their products. And we love the copy, too; it's so much in tune with what their brand says they are about.
Key Takeaways
Use GIFs in emails, wherever possible;
Add a holiday vibe in case you're sending a seasonal campaign.
Also read: 5+ Welcome Email Template to New Customer
9. Welcome Email Newsletter Sequence
A welcome sequence is a set of automated emails subscribers get when they first sign up with their email addresses. It could be a single email newsletter introducing the brand or, in many cases, a 3, 5, 7, or even 15-part sequence of emails that are programmed to keep firing on complete automation.
The first email of the welcome sequence is about meeting the expectations you initially set up during signup and giving what the subscriber signed up for. For example, did you promise them a FREE resource download if they signed up? Well, time to do that, buddy!
The remaining emails of the welcome sequence are aimed at nurturing the subscriber by drip-flowing relevant and targeted content (blog posts, videos, podcasts), social proof, case studies, or even simple and plain emails, for that matter. Basically, anything and everything about the problem you claim to solve and how you do that.
You can set up an automatic welcome sequence newsletter using an email automation feature within Sender. Here's an example of an automated sequence: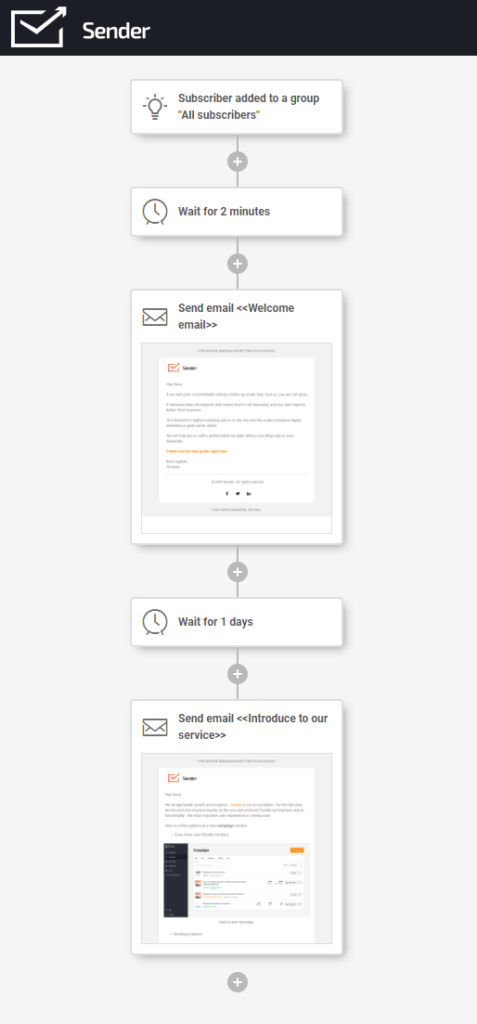 Start automating your newsletter campaigns with Sender It's Fast. It's Free. It's Easy.
Crafting a Winning Email Newsletter Campaign
Email newsletters have become an integral part of the digital marketing mix, and it's a great way to connect with the target audience and stay top-of-mind. They also provide you the opportunity to build relationships with the customers. Here are some basic concepts to create newsletters for your audience:
Establish Your Goals & Objectives
One of the most important aspects of creating an effective email newsletter campaign is setting goals and objectives for the same. Defining your goal and objective will help you develop the right content strategy and action plan.
Before you design your email template, you must establish what you're trying to achieve with this campaign. Ideally, the email newsletter builds a bridge between your company and your customers. But you can set goals like increased traffic, more conversions, or something else that suits your business goals.
Set a goal for the newsletter first and then move on to other things.
Define Your Target Audience & Subscriber List
Once you've set your goal and objective, next comes the task of identifying your target audience and subscriber list. This helps you come up with the best ideas about your newsletter content.
Make sure to segment your list based on interests, age, or any other attributes. You can use your Google Analytics or social following to gather insights about your audience's interests and start thinking about your newsletter accordingly.
Design an Effective Newsletter Template
Creating an effective email newsletter template involves understanding the audience's needs and picking design elements that resonate with the audience. Your template must have an image-based header, footer, valuable content, and contextual CTAs.
A responsive, engaging, and beautiful newsletter will compel your subscribers to read newsletters to the end and convert to your offer. Also, having a standard template will create a strong brand recall in the long run.
Create Engaging & Relevant Content
Now that you have a good newsletter template ready, it's time to focus on the content.
Create informative and valuable content that makes your audience feel 'wiser' and tempts them to return for more. Remember, content is not just about text within your newsletter. You can add images, video, etc. but don't overdo it, as this could actually deter your audience.
Incorporate Visuals and Media
Every edition of your newsletter should have unique visuals to support the discussion within the newsletter. Use high-quality, engaging images and videos to grab your reader's attention toward your newsletter. Don't forget to brand your newsletter with a company logo and brand design guidelines. Also, test your email newsletter on different devices and platforms to ensure it looks visually appealing.
Optimize for Mobile Devices
Another aspect of designing an effective email newsletter is optimizing it for mobile devices. Users will access your email newsletters majorly from their smartphones. So, make sure to test out your content and design across mobile devices.
Email Newsletter Best Practices
Before you rush to add newsletters to your email marketing strategy, here are a few best practices to help you create compelling newsletters. Use these tactics and strategies to engage existing subscribers with valuable content and attract new subscribers to your newsletters:
1. Craft Attention-Grabbing Subject Line
The subject line is the best way to capture the reader's attention and is one of the main reasons why one opens an email.
Here are a few tips to craft compelling subject lines:
Use action verbs to capture a reader's attention;
Keep your subject lines short and sweet;
Avoid generic subject lines with words like "New Product" or "Special Offer";
Personalize your subject line using the reader's first name or another data point;
A/B test your newsletter campaigns to find winning subject lines;
Use a subject line generator or tool to create a compelling subject line;
Add emojis to your subject line to grab attention instantly.
2. Segment Your Audience & Personalize Newsletter Content
Customer segmentation helps you personalize your emails, making them more effective and relevant to your prospects. When you send personalized emails based on thoughtful segments, it tends to increase your chances of sales.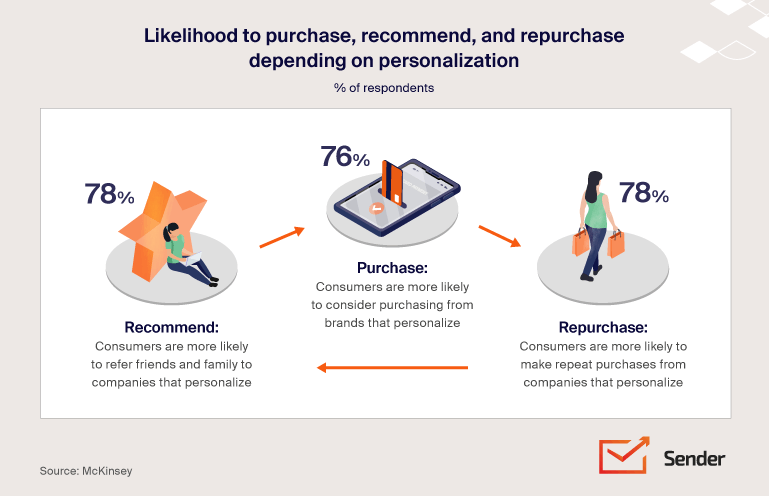 Segmenting your contact list will give you the power to create more relevant newsletters and email campaigns. You can segment your contact list based on age, location, gender, interests, purchase history, online history, and other factors using email marketing software.
Segmentation will help you to:
Send personalized and customized messages to every subscriber;
Maximize the chance of someone opening and responding to your email;
Increase open and click-through rates;
Boost your marketing effectiveness.
3. Add a Clear and Effective Call-to-Action
A powerful call-to-action (CTA) button has the potential to blow up your traffic, sales revenue, and conversion rates. Make sure to add a valuable and contextual CTA that moves the newsletter reader further into the buyer's journey.
A good CTA guides the reader through the entire conversion process. They know what to do next with a CTA (buying the product, visiting a page, or signing up for the service).
For example, if your newsletter is about a product update, you can add a CTA asking the user to try the product themselves or prompting them to check out a video demo on YouTube. This will surely make them want to check the product out.
4. Maintain Consistency in Frequency and Format
Newsletters are sent to your audience periodically, which means readers expect to hear from you in a similar format at a specific time. They expect a newsletter edition from you every week or month, as you told them in your welcome email or landing page.
Always stick to a schedule and have a clear format or template. You can use an email marketing platform with a drag-and-drop builder, template library, and automation capabilities to standardize your newsletter template.
Also, such an email marketing service help emails, so you need not worry about losing pace (or disappointing your audience) week after week.
5. Keep an Eye On Email Metrics
You must track each email newsletter's effectiveness and optimize your future campaigns based on the results. Essentially, you need to keep an eye on the open rates and click rates. Now, what are these?
Email marketing's effectiveness is measured based on these important metrics. Open rate refers to how many people open the email. It's usually used as a measure of a campaign's effectiveness. The click-through rate measures the number of people who click on a link in an email.
Then there is an unsubscribe rate. It's the percentage of people who unsubscribe after you send an email. It's a metric you should monitor closely because you want to retain your audience.
Optimize your newsletter campaigns based on the data generated by these metrics.
Start Creating an Email Newsletter Your Readers Enjoy
Choose an email newsletter service that allows you to create and schedule emails quickly;
Pick an interesting and on-point email newsletter template that fits with your brand style guide;
Never ignore the power of a compelling subject line, preheader text, and email copy;
Stay consistent while sending email newsletters.
Also read:
---
Author Bio
Anmol Ratan Sachdeva is a content marketer and small business consultant who has a strong grip on topics like marketing automation, email marketing, and content marketing. He loves to write about starting, improving, and growing a business.