Employ your powerful emails
Increase sales and engagement by sending your well-designed emails with Sender.
Get Started For Free
When it comes to a marketing campaign, awareness is everything.
Even if your product is an industry game-changer, it will have little impact if no one knows about it. In fact, every year, over 30,000 new consumer products are launched, but 80% of them fail.
According to Harvard Business Review, the products fail because businesses concentrate on designing and manufacturing processes, and they postpone the hard work of preparing the products for the market until it's too late.
People subscribe to your email newsletters because they want to know about upcoming events. Therefore, you should send them announcement emails whenever there are new events, future sales, or personnel changes.
For that reason, we'll explain what an announcement email is, how to write one, and show you some announcement email examples so you can see what they look like in action.
What is an Announcement Email?
An announcement email is a marketing message that a company sends to its contacts to inform them of recent updates, new product releases, policy changes, or upcoming events.
For example, if a home and office furniture shop is selling new chairs with a bonus for a limited time, they may send a promotion announcement to their customers to let them know. That can drive customers to the shop to check out the new chairs.
How to Write an Announcement Email
Here are some tips to follow when creating an announcement email:
Start with a clear subject line: A clear subject line increases the likelihood of recipients opening your email. It not only informs them of the email content, but you can also use it to grab their attention.
Write a catchy introduction: Greet your recipients and say what the announcement is about in the first two sentences of the email.
Show the recipients why the email is important to them: Consider how your announcement email will affect readers when explaining its relevance. Use rhetorical questions to engage your recipients and persuade them to keep reading.
Add a call to action: Encourage readers to take a specific step. For example, you could nudge them to click a link or visit your store.
It's never been easier to compose such an email. You simply need a simple yet powerful email marketing platform to help you with creating a responsive design, setting the automation up, and checking how well it performs. Sender helps you with all that and much more!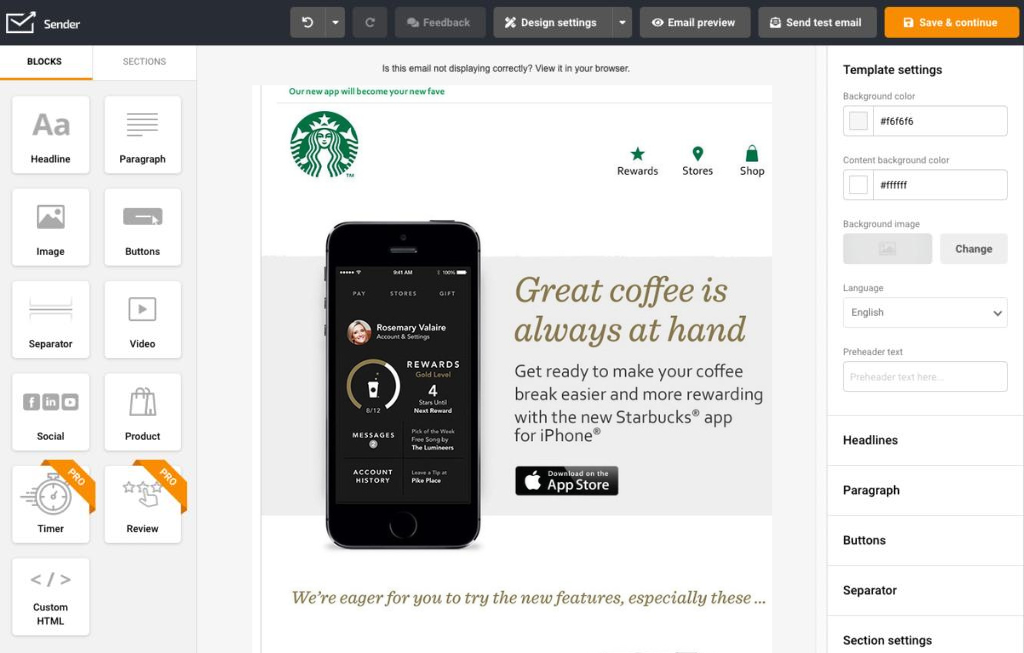 Tips for Writing Email Announcements
Follow the tips below to write a captivating and compelling announcement email:
Create clear, concise, and communicative content: Avoid adding elements that can compete for attention with your email's main point.
Use graphics to make your email more engaging: For example, if your dog food company is launching a new product, you can add the product's image to generate excitement.
Offer an incentive to encourage your readers to take action: For example, if you're launching a new drilling company, you can offer a discount if customers buy drill bits during the next few weeks.
Do market research to help you learn more about your target audience: For example, if you have customers living in different areas, they may be interested in various incentives. You can segment them and send customized emails.
Also read: 7 Effective Email Newsletter Templates and Design Examples
Announcement Email Examples
Now that we've looked at some announcement email templates let's look at real-life examples for inspiration.
Domino's Italiano Range of Pizzas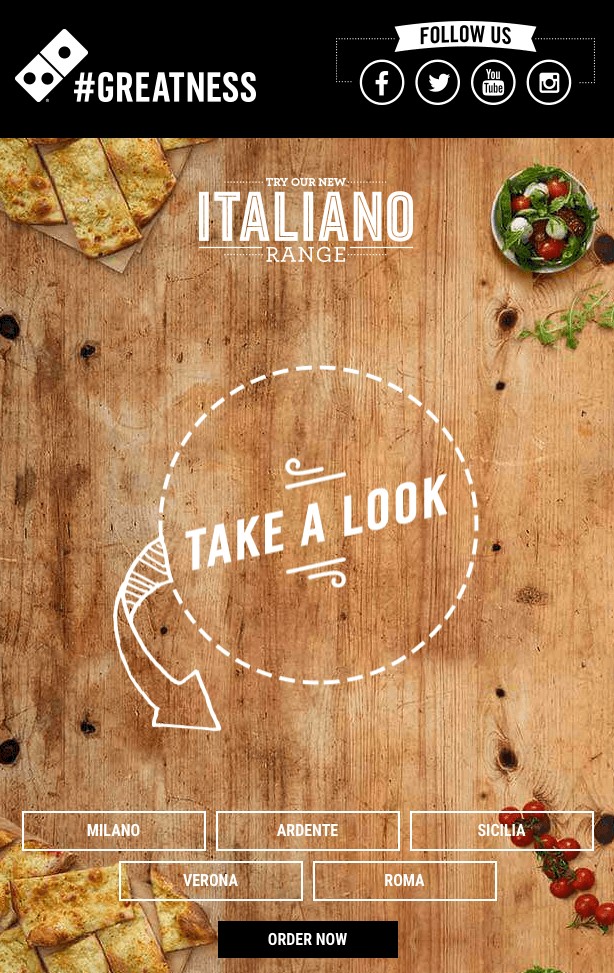 Why we like this announcement email: The '#Greatness' and social network icons seamlessly integrate social media marketing with an email campaign.
Trello's Inspiration Gallery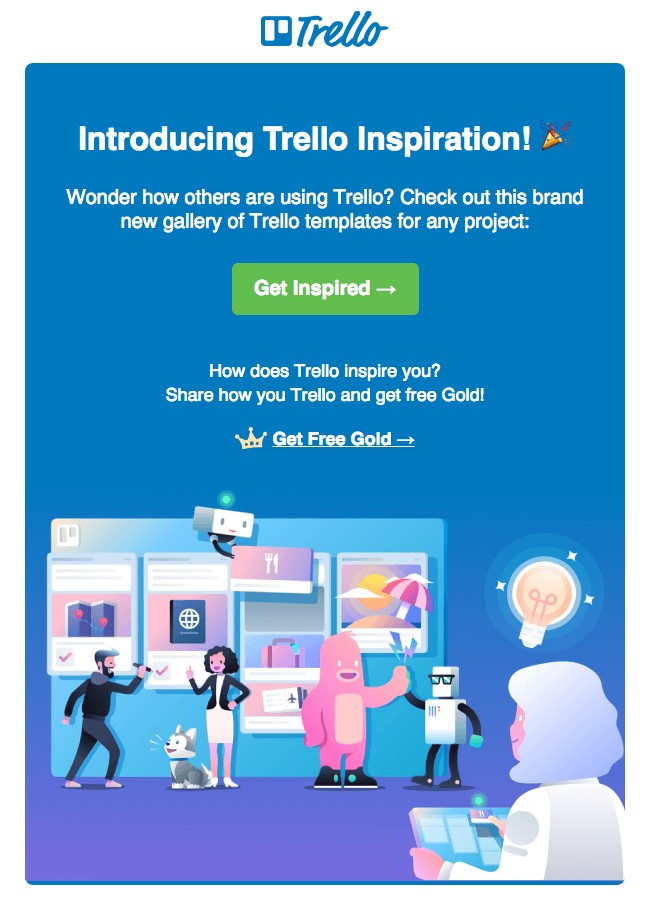 Why we like this announcement email: The concept of a Trello board coming to life appears to have been created specifically for this announcement. The green CTA button is eye-catching as well.
Trello also manages to slip in a teaser of their referral program in the final line of the main email body, 'Get Free Gold.'
Casper Dog Mattress
Why we like this announcement email: Casper highlights the time and effort they put into their soft dog bed. They've also used the power of a cute pet (or baby) to attract the readers.
Fenty Beauty New Stunna Lip Paint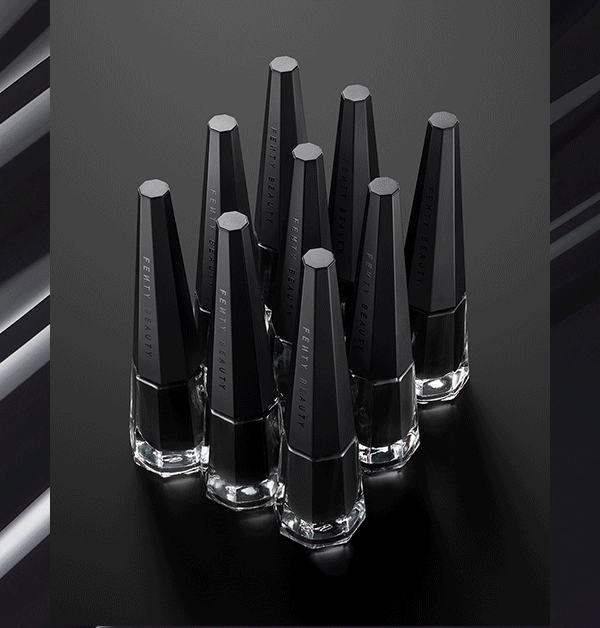 Why we like this announcement email: Fenty Beauty uses beautiful visuals and adds the word 'hyper-limited' to trigger the fear of missing out.
Also, Fenty Beauty's tagline is "Beauty for all," representing inclusiveness, which a target audience might want to see — especially in a market as competitive as cosmetics.
Starbucks New App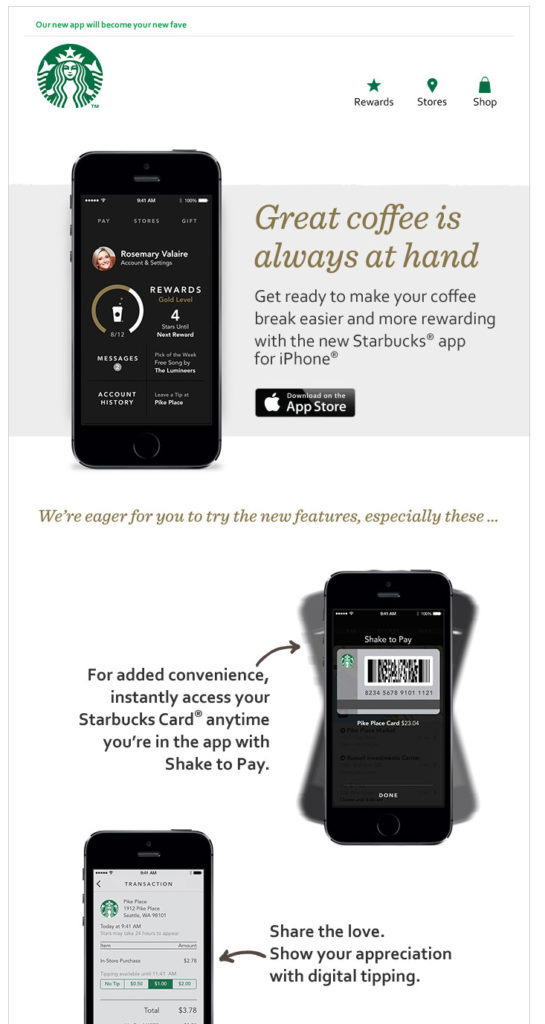 Why we like this announcement email: Starbucks updated its app with new features, and the company wanted to encourage customers to use it. They demonstrated the new features with screenshots and invited them to leave a tip using the app.
The tool also makes tracking customer loyalty rewards easier.
Announcement Email Templates
Here are five examples of different email templates you can reference when drafting your announcement emails:
New Business Announcement Email
New business announcement emails allow you to reach out to your existing customer base quickly instead of going live on media sources such as TV ads.
Here's an example of a new business announcement newsletter:
Dear [name],

We are pleased to announce that we're expanding due to our remarkable growth and success over the last five years.

We'll be partnering with organizations that offer death & funeral, birth & maternity, wedding, graduation, and vacation services.

We're moving to a new center on 16th Street Mall in Denver, Colorado.

We invite you to celebrate with us when opening the shop on 3rd March 2022. We'll be having a contest that will award the winner's scholarship and training partnership opportunities. The event will kick off at 2 pm.

If you want to enroll in this contest, click on the button below, and we'll email you the promo code.

[Add CTA button]

See you soon.

Events Organizers Group
Product Launch Announcement Email
We send product launch announcement emails to announce the launch of a new product, rebranding, or upcoming product-related event.
Here's an example of a product launch announcement email:
Dear [name]

The new [product name] has arrived!

What differentiates [product name] is [explain its unique quality and why people might want to buy it].

You can purchase [product name] from our online store or Amazon.

You can also visit our blog or listen to our next week's podcast to learn more about [product name]. Our keynote speaker will be talking about it in detail.

The first 40 people to place an order will receive free shipping.

[Add CTA button]
New Software Release Announcement Email
We use software release announcement emails to inform subscribers of a new app or software system release.
Here's an example of a new software release announcement email:
Hey [name],

We're pleased to announce the launch of our new app, [app's name].

[Introduce your app and its function in one sentence]

Over the last few months, we've worked hard to improve our products, and we believe that [app's name] will give you a better experience with [brand name].

Now, what is [app's name] all about?

[Explain your app's purpose in detail with visuals, focusing on the features and benefits].

You can get our app from Google Play and App Store.

[add a CTA download button for the app]
New Feature Release Announcement Email
Releasing a new feature calls for a great announcement email informing your fans and users of its benefits.
Here's an example of a new feature release announcement email:
Hey [name]

Our new, improved version of [product name] is now available!

We made sure to [provide a brief explanation of how the updated version is unique].

Ready to get the upgraded version?

Click the button below to download it!

[Add CTA]
Promotion Announcement Email
In some cases, it can be challenging to address leadership changes with all company staff on the spot. The changes might be caused by resignation, internal transfer, layoff, retirement, or an employee leaving to join another firm.
During such a transition period, you can send promotion announcement emails to employees to share pertinent details.
Here's an example of a promotion announcement email:
Dear fellow staff,

We have some exciting news! [name] has been promoted to [new job title].

His new role will be [full job description].

[name] has been with [company name] for [length of time] and has been instrumental in [state some significant achievement].

Besides working long hours and taking on extra tasks, [name] demonstrated his team spirit by assisting others to improve their performance. After our appraisal, we're delighted to reward such dedication and hard work.

Please, help me welcome and congratulate [name] on his new role.

Best regards,

[Supervisor's signature]

[company's name]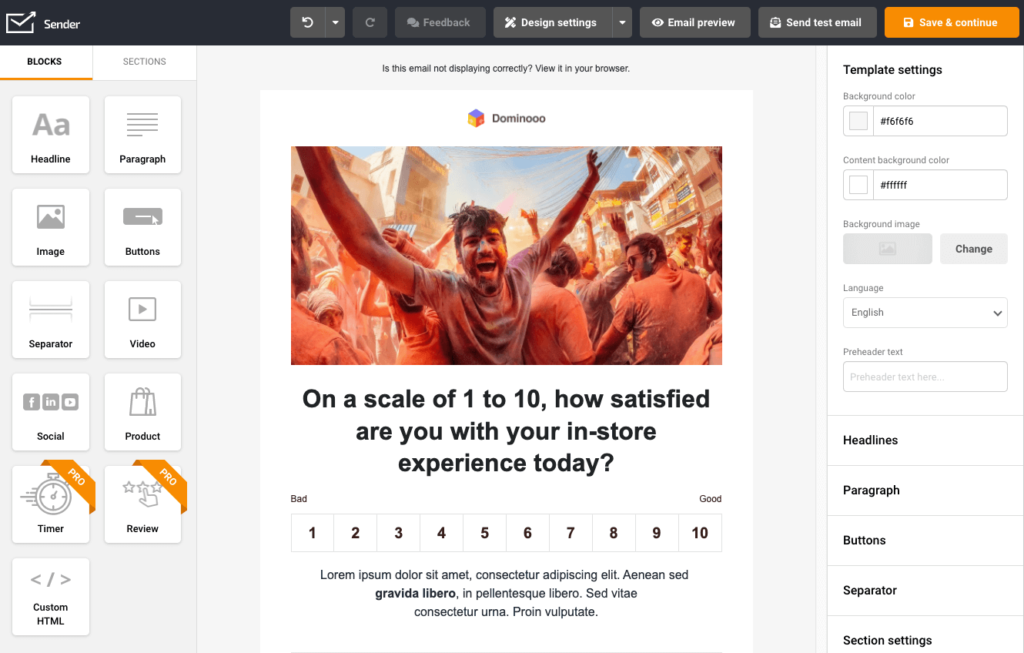 With Sender, Sending emails is easy. Our simple drag-and-drop editor allows you to create announcement emails without HTML knowledge and automate the whole process by pushing aside manual tasks. So whether you're just starting or have an established business, we've got you covered.
Announcement Emails: Key Takeaways
It's important to write clear and concise subject lines for announcement emails.
Don't forget to personalize and segment the audience.
Include attention-grabbing elements, such as images, graphics; they increase engagement.
Keep your announcement emails brief and go straight to the point.
Make sure to add a clear call-to-action (CTA).