Everyone loves a successful marketing campaign and its resultant engagement, sales, profits, and ROI.
Makes you wonder out loud if there was actually a science to repeat the success of your best marketing campaigns, to designing winners every single time.
Maybe not. But looking at some incredible examples of successful campaigns in action and strategies at play will likely pique your creativity and get those creative juices flowing.
Before we showcase some incredible examples of the best marketing campaigns that could inspire your next wins, time to get a couple of basics out of the way.
What Is A Marketing Campaign?
Marketing campaigns are a set of related organized, strategic, and intentional activities aimed at understanding and meeting specific business objectives, usually related to customer communication or sales.
Marketing campaigns go hand-in-hand with sales efforts by enabling clear communication about your business and its offerings to specific target audiences who have been identified as potential customers.
Why Do Marketing Campaigns Matter So much?
Marketing campaigns are super-important in today's world, not just for businesses aiming to make more profits but even for non-governmental organizations.
Let's look at some practical examples of business objectives met with marketing campaigns:
Building your branding and business reputation;
Increasing awareness among new customers or in new markets;
New product or service launches;
Enabling and getting more sales;
Improving the ROI or profitability;
Attracting newer prospects;
Converting prospects into paying customers;
Retaining existing customers.
An example of marketing objectives met by one of the most popular advertising tools—is the Facebook ad.
Image Source: Facebook Ad Campaign Objective
Marketing Campaign Types
Unless you are a business that relies solely on selling online, most businesses already use some mix of online and offline marketing mechanisms.
Online marketing activities examples:
Blogs;
Search engines;
PPC ads;
Organic social media;
Paid social media ads;
Cold emails.
Offline marketing activities examples:
Trade shows;
Print ads;
In-person networking events;
Direct mail;
TV ads.
Marketing vs Advertising – What's The Difference?
Advertising strategy is promoting a specific action toward your product, service, or business using paid advertisements. You can create and run your set of successful ad campaigns across various platforms, including PPC, Facebook, Instagram, TikTok, and Twitter.
On the other hand, marketing is the overarching mother domain that includes every aspect of communication, sales, or promotion, and as such, it includes advertising campaign in its fold.
Let's quickly jump onto the examples we loved so much we had to curate them for you for easy reading.
17 Best Advertising Campaign Examples Everyone Must See
There are the best advertising campaigns you can get inspiration from.
Digital Marketing
Let's take a look at some of the best marketing campaigns that went the digital route to launch, grow and scale.
Email Marketing
Email marketing is one of the cheapest ways to advertise with even ROI $38 per $1 spent, hence, it's super crucial for your marketing campaigns.
Don't forget to use the great tool to ease your marketing efforts and create beautiful, high-converting email designs, leverage SMS marketing, automate workflows and see your business grow! This is how cart abandonment automation looks within Sender tool: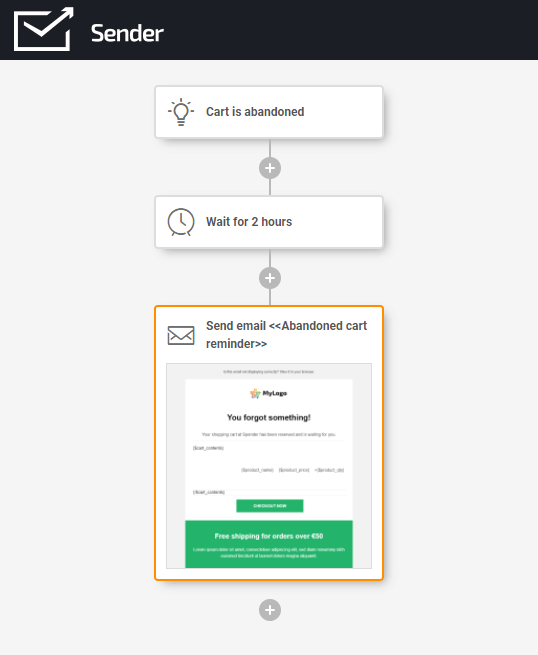 Brentwood Home
Brentwood Home is an environment-friendly, made-in-the-USA brand using natural, recycled, and non-toxic materials to produce luxury mattresses, pillows, and bedding.
Check out their promotional email below.
Subject line: Take 10% off our Yoga Collection.
Preview text: Skip the Black Friday rush, save early this year.
Image Source: Brentwood Home
What we loved about it?
Prominently displayed benefit ("10% OFF");
Eye-catching creative that's on point with their sustainability-oriented branding;
A headline that captures the vibe ("Find your flow and feel supported");
Wallet-friendly payment plans with great supporting copy ("Catch Some Z's Now, Pay Later…");
What could improve?
A more contextual CTA – Instead of the cliched "Shop Now", go with "Shop Comfort";
Michael Kors
Michael Kors, popularly abbreviated as MK, is an award-winning American luxury fashion brand featuring premium designer handbags, watches, shoes, clothing & more.
Their promotional email below deserves a worthy mention on this list.
Subject line: Up To 50% Off Handbags That Go With Everything.

Image Source: Michael Kors
What we loved about it?
A smartly crafted catchy subject line that likely resulted in tons of opens;
The "FREE Ground Shipping" banner right at the top encourages purchases;
A Benefit-driven headline ("Enjoy up to 50% OFF");
Creatives that showcase the premium nature of the brand and multiply desire;
Simple Call to Action (CTA);
What could improve?
Pier 1
Online retailer Pier 1 specializes in imported home furnishings and decor, including furniture, tabletop items, decorative accessories, and seasonal decor.
Their early Black Friday email below impressed us.
Subject line: Early Black Friday Deals 😍🎄
Preview text: Up to 80% OFF Christmas trees & decor. It's still not Christmas…

Image Source: Pier 1
What we loved about it?
Headline with a Clear and loud "Up to 80% Off" offer;
Main creative with the "FREE Shipping" offer and highlighting potential savings should the reader buy the product;
Super-optimized CTAs ("Save Up To 80%");
Highly readable, non-generic copy that's been optimized for each creative;
What do we think could improve?
Unless their "Sender Name" is super familiar to subscribers, it is hard to stand out and get opens with a generic subject line like this;
Chubbies
Casual, swim and premium outerwear specialist Chubbies packs a refreshing look in their pre-Christmas promotional email below.
Subject line: WE ROBBED SANTA
Preview text: AND TOOK HIS CLOTHES
Image Source: Chubbies
What we loved about it?
One of those must-open emails because of the funny subject line;
Clearly stated benefit ("25% OFF");
Relevant creative with smart copy to go with it;
What could improve?
The main CTA looks more clever than clear;
Also, it Looks like there is a little too much text everywhere;
Food52
Food52 is an online community-driven business that helps members trade recipes, shop cooking gear and dinnerware, watch food videos and cooking tutorials, and more.
Their email definitely stands out for more than one reason…
Subject line: One-of-a-Kind Handmade: Gravy Boats
Preview text: Round and round the table they'll go
Image Source: Food52
What we loved about it?
Attractively crafted creative with high-resolution product visuals accentuated by smart whitespace management;
Authentic communication of scarcity, making it high-value ("Limited Edition" since they are handmade);
Including pictures of the artists at work touches you personally, and we're sure this appealed greatly to the community as a whole.
What could improve?
The subject line looks hard to read. We'd like to change it to something like "Limited Edition – Handmade gravy boats";
Underoptimized preview text that looks like a filler.
Next up, let's take a look at some examples of text messaging done right that managed to squeeze their way into our list.
SMS Marketing
Text marketing is extremely high-engagement because text messages are personal. Let's take a look at how some businesses are doing it right in this space.
Maud's Coffee and Tea
Maud's Coffee and Tea provides gourmet coffee and tea drinkers with a variety of options, including cold brew, ground, and recyclable pods.
Their text message below is part of their Black Friday Cyber Monday (BFCM) marketing strategy.
Image Source: Maud's Coffee and Tea
What we loved about it?
Aptly chosen sender SMS ID;
Effective use of urgency to drive sales;
Concise, persuasive promotional copy;
Mention of the coupon code in case someone wants to buy through their laptop or desktop;
What could improve?
Lack of personalization makes the message seem generic;
Domino's Pizza
We may not all be in the same boat regarding showing love to Domino's Pizza, but that is no reason not to look closely at their SMS campaign.
What we loved about it?
Simple and uncomplicated messaging;
An amazing offer (as always);
TCPA-compliant SMS message offering an easy opt-out option to subscribers;
What could improve?
Using first name personalization could massively help make the above sound like a custom offer made just to the subscriber, and in turn, up the conversions;
Red Robin
Red Robin, the famous gourmet burger chain of casual restaurants, sent the following promotional message to its opted-in list of SMS subscribers to encourage menu browsing and online ordering.
Image Source: Red Robin
What we loved about it?
Straightforward, no-brainer offer to encourage online ordering;
Urgency has been induced by keeping the offer time-limited;
Attractive copy that loads the FREE delivery offer to the front portion of the message;
Subscribers can opt-out easily with this TCPA-compliant message;
What could improve?
Lack of first name personalization;
No use of the 🍔 emoji as a top burger brand;
Sakara
Environment-friendly brand Sakara delivers fresh, organic, perfectly portioned meals directly to your home or office while striving for sustainability and minimizing toxic food waste.
Their SMS message below is a must-read.
Image Source: Sakara
What we loved about it?
Inducing a feeling of belonging and self-identity by addressing the reader as a community member using the term "Sakaralite";
Informing the reader that they are among the first to know, giving this message a privileged status;
An inviting message that's non-aggressive and non-salesy – who wouldn't want to learn more by clicking on the link above?
What could improve?
Use of a URL shortener, so the message looks cleaner (Don't forget that when you use Sender as your SMS marketing platform, all of your URLs get shortened automatically, for FREE).
Content Marketing
Content marketing is a long-term strategy aimed at educating or entertaining your target audience by giving them ready and easy access to high-quality content that is relevant and useful to them.
Twitter Thread on Fire
Consider the below example of an email marketer building an audience by posting Twitter threads.
Image Source: Twitter
What we loved about it?
Posted as a Twitter thread, thereby promising more organic reach and growth;
A great hook that uses specificity and numbers to reel the scrolling users right in;
Quantification of benefits in monetary terms, thereby convincing the audience that what they are about to learn is extremely valuable;
Attractive creative showcasing what is in store.
What could improve?
Use of emojis in the opening Tweet of the thread for better engagement;
Food52 Blog
Food52 is one of those rare examples of a passion business done and scaled right.
Founded in 2009 as a simple website by two aspiring foodpreneurs, Amanda and Merrill, it has seen investments from keen investors and is valued at a healthy $100 million today.
Image Source: Food52 Blog
Where Food52 gets its content marketing right:
Strong social media presence with over 400,000 YouTube subscribers and 3.5 Million Instagram followers, all driving tons of traffic organically to the blog;
Extremely community-driven with recipes crowdsourced from the audience using contests and invitations, and the winning recipes with top upvotes getting videographed and featured, etc;
Perfectly and smoothly blends content with ecommerce using its in-built ecommerce marketplace showcasing cookware, appliances, kitchen accessories, and more to convert devoted readership into shoppers;
Salt In Our Hair
Hannah and Nick from the Netherlands run this incredible travel and photography blog with tons of valuable content for travel-happy readers.
Image Source: SaltInOurHair
How the passion of two travelpreneurs is kept profitable with content marketing:
Sale of Adobe Lightroom Phone and Desktop presets;
Affiliate marketing sale campaign on YouTube channel and blog;
Brand promotion deals on Instagram;
Custom paid photo and videography creation requirements for Hotels and Tourism boards;
Sponsored stays and trips.
Next on to some awesome social media marketing examples of marketing
campaigns that kept us interested.
Social Media Marketing
Social media marketing helps your business leverage the power of widespread social media networks, such as Facebook, Instagram, TikTok, and more, to achieve your marketing objectives.
Semrush
A leading all-in-one SEO audit and keyword research tool, Semrush is a well-known brand in itself.
Its target audience is primarily other businesses, such as digital marketing agencies, and firms with in-house digital marketing personnel who need access to the latest SEO intelligence and support to rank higher on search engines such as Google and Bing.
The below example is one of its Facebook ads where it is trying to attract B2B prospects with a successful case study of a firm called Honeybook.
Image Source: Semrush
What's great about this Facebook ad campaign?
An attractive benefit-driven headline that actually quantifies the case study gain;
Simple and effective CTA that's congruent with a case study approach to conversion;
Standout, scroll-stopping video thumbnail to attract attention
What could make it even better?
Calling out the specific audience the ad is meant for in the first line of your ad text;
Ads for B2B Marketing
Compared to marketing for B2C businesses, B2B marketing campaigns present very different challenges—more decision makers, longer sales cycles, and multiple stages of sales and negotiation.
Let's look at a few B2B marketing campaigns that looked like they were crushing it!
Microsoft
Below is the ad Microsoft ran over its own LinkedIn platform promoting its world-class Azure cloud service targeting other businesses with IT computing and storage requirements.
Image Source: Microsoft
What we liked about the ad:
Put out as a short video ad, thereby increasing chances of engagement;
Spits out all possible considerations for the target audience in an attractive infographic (bar-chart) format;
Includes an optimized call to action (CTA).
Slack
Here's a LinkedIn ad from Slack, the instant messaging app of choice for businesses.
Image Source: Slack
What we liked about the ad:
Attacks a primary pain point faced by software companies, that of longer software development times;
Supports the argument with a statistic;
Points out a clear benefit to how downloading the specified ebook could help software companies move in the direction of solving their problem.
Offline Marketing
No decent discussion is ever complete without a quick mention of offline marketing, which is still as relevant, even in today's date and time.
Offline marketing campaigns can help:
Generate increased brand geo-awareness for your brick-and-mortar store or office;
Get your product into the hands of more customers;
Get more walk-ins, footfall, inquiries, demo requests, and sales face-to-face;
And more!
Integrated Marketing Campaigns
Integrated marketing campaigns are where your business gets the greatest of both worlds, online and offline, and generally allow them to cross-play in beneficial ways.
A great example of an integrated marketing campaign is Dove's "Campaign for Real Beauty" billboard campaign below featuring different creatives with a common underlying theme aimed at getting people to have thought-provoking discussions on what beauty meant to them.
Image Source: Dove
Image Source: Dove
Image Source: Dove
What was great about the campaign?
Positioned "Dove" as a cut above the other brands because they spoke about something that people cared about;
Discussions spilled over from the billboard onto social media, where more and more people participated in highly-engaging discussions;
In the first ten years of the campaign, Dove's sales jumped from $2.5 billion to $4 billion;
Dove bar became the number one preferred soap brand in the U.S. and Unilever's best-selling product.
Integrated campaigns can be designed to flow into each other, giving your business unparalleled ROI and customer mix.
8 Super Successful Email Marketing Campaigns
Now, even the most famous advertisements, best branding campaigns, and creative ad campaigns can only bring in traffic, but most of these visitors aren't quite ready to buy yet at the first instance.
This is where mail marketing steps in.
Email marketing not only converts potential customers into paying ones but also helps you unlock your existing customers' true Lifetime Value (LTV), thereby giving you an unmatchable return on investment on product campaigns driven by them.
Here are some recent examples of successful emails from which your next marketing campaign can draw inspiration.
Creative Marketing Campaigns by Bonobos
A New York City-based ecommerce apparel subsidiary of Walmart, Bonobos, provides suits, trousers, denim, shirts, shorts, swimwear, outerwear, and accessories for men.
Check out their promotional email below.
Subject line: Nick's Newest Favorite Pants
Preview text: Get them with free shipping in the U.S.
Image Source: Bonobos
What we loved about it?
A great curiosity-driven subject line;
FREE shipping and returns offer banner prominently displayed at the top;
Amazing headline and sub-headline copy that just makes you want more;
Super creatives that generate desire and longing;
Use of a GIF for entertainment and engagement;
Super optimized CTA;
What could improve?
Frankly, this is a classic best practices email, so nothing!
Inspiring Marketing Campaigns By J. Crew
New York City-based J. Crew Group sells apparel, accessories, and personal care products for men and women through retail and factory stores, catalogs, and online.
Here's the email that caught our attention.
Subject line: Psst, you left this Petite full-length Kate straight-leg pant in stretch velvet in your bag
Preview text: Decisions, decisions…
Image Source: J. Crew
What we loved about it?
A simple abandoned cart email with great messaging;
Simple, no-frills personalized creative that shows you what you left behind;
Subtle mention of their loyalty program in the footer.
What could improve?
The subject line is super long and looks like it could use some mobile optimization. But then again, it's likely personalized, so we'd be happy to run some A/B tests and determine if this subject line gets us more opens or a shorter one;
Include first-name personalization in the subject line or the body at least once;
Footer looks unnecessarily long and stretched.
Brilliant Marketing Campaigns By 5.11 Tactical
5.11 Tactical manufactures and sells outdoor clothing, footwear, uniforms, and tactical equipment for military, law enforcement, and public safety personnel from its online store and over 96 offline locations.
Below is one of their nice-looking emails we couldn't resist sharing.
Subject line: LAST CHANCE! 40% off select women's gear
Preview text: Women's sale going on now in 5.11 retail store locations and
Image Source: 5.11 Tactical
What we loved about it?
Urgency-driven email subject line with benefit;
Use of an animated countdown timer in the email body to inject a sense of urgency into the sale;
Clear and crisp communication of offer through amazing creatives;
Well-optimized CTAs.
What could improve?
Preview text length and content matter could be optimized better.
Promotional Campaigns By Ashley Stewart
An affordable clothing company and lifestyle brand, Ashley Stewart, provides plus-size women clothes such as trendy tops, bottoms, accessories, shoes, and more, both in-store and online.
Their flash sale email below makes for easy reading.
Subject line: The NEW NEW: 50% OFF! USE CODE: FRIEND50
Preview text: happy shopping!
Image Source: Ashley Stewart
What we loved about it?
A clear subject line showing the sale offer upfront;
Smart move to ask people to share it with others they know;
Nice looking color-coordinated visuals;
Use of the term "email exclusive offer" making it high value since the reader now knows that only subscribers are seeing this email;
What could improve?
The use of the phrase "some items may not be available at this time" conveys a negative feeling. Instead, replace it with something like "We are running out of stock fast. Be the first to check out! "
Inspirational Marketing Campaigns by Happy Socks
Happy Socks is a Swedish lifestyle brand and retailer of designer socks, underwear, and swimwear for women, men, and children.
Their promotional email below is designed to fit the sustainability narrative surrounding WWF.
Subject line: Our more sustainable WWF collection
Preview text: Support WWF & wear more sustainable socks.
Image Source: Happy Socks
What we loved about it?
Incredibly eye-catching once opened;
Appropriate typography, given the brand positioning and the fact that this is a sustainability campaign;
An innovative WWF-themed campaign, which is a splendid idea;
What could improve?
Would've preferred a more curiosity-based subject line for more opens. For e.g. WWF – Nature Fights Back!;
The CTA button could be better styled in terms of font color choices to make them more prominent.
Latest SMS Marketing Campaigns
Texting or SMSing your prospects and customers can be a highly engaging way to stay top of mind and monetize the relationship.
Check out some of the most successful text messaging campaigns for some inspiration on your next set of business texts.
Pottery Barn
Pottery Barn is an American upscale home furnishing retail chain and online commerce company that deals in everything you need to decorate homes, including indoor and outdoor furniture, decor, bedding, bath, lighting, and storage accessories.
Their promotional SMS message below is on point.
Image Source: Pottery Barn
What we loved about it?
Short and sweet sale announcement SMS (not a lot of time spent typing it);
Writing the big benefit ("up to 70% Off") upfront;
Urgency injected with the mention of a deadline;
What do we think could improve?
Lack of any type of personalization, especially using the subscribers' first names;
Include an emoji to make it sound more fun;
Instead of mentioning "1000s of items" mention a couple to help the reader picture it inside their head.
Red Lobster
Casual dining restaurant chain headquartered in Orlando, Florida. Wikipedia
Image Source: Red Lobster
What we loved about it?
Well-timed Father's Day SMS campaign aimed at improving footfall;
The opening line is emotionally charged;
Specific offer, laid out well by simple messaging.
What could improve?
Include a ❤️, 👨‍👨‍👦 or 🦞 emoji to make it sound more fun;
Instead of mentioning "1000s of items" mention a couple of specific top selling products to help the reader picture it inside their head.
Iconic Social Media Marketing Campaigns
Contrary to popular grapevine, social media marketing is far from dead, and here are some examples of social media marketing campaigns to prove it.
Ultrahuman's Paid Twitter Advertisement
Ultrahuman Ring is a smart wearable that helps users monitor key health and wellness-related data points relating to movement, heart rate, body temperature, and sleep.
Their Twitter ad below tries to introduce, if not sell, this product to what seems to be a cold audience.
Image Source: Ultrahuman
What we loved about it?
Eye-catching video creative that captures your attention, even if only for a split second;
The mention of the word "PreOrder" makes it sound like an exclusive product with limited availability;
Copy is concise but states the most important benefits well.
What could improve?
Twitter is big on emojis. Include one to get even better engagement.
Justin Welsh's Powerful Personal Brand
We've been talking about businesses so much, personal brands seem to have almost taken a backseat.
As a one-man creator business (also called a "Solopreneur") selling courses and consultation, Justin Welsh operates solely via Twitter.
Image Source: Twitter
Take a look at his latest Twitter thread that raked in thousands of likes and, quite likely many times over that in revenue from selling his information products to his old and new followers.
Image Source: Twitter
What we loved about it?
Quantification of his own success in terms of the revenue made makes for a compelling hook;
People likely don't want to spend money to grow on Twitter which is why the mention of "zero ad spend" is another interesting reason for his readers to want to check the entire thread out;
Great formatting and short sentences make for amazing readability.
For B2B businesses wondering if we forgot about you, next up are some amazing B2B commercial marketing campaigns you must see.
Effective B2B Marketing Campaigns
Every possible business ranging from healthcare, real estate, and realtors, SaaS, all the way to digital and content marketing agencies, can be classified as either B2C (serving a customer) or B2B (serving another business or company).
A few current examples of effective marketing campaigns examples are as under:
Zoom
Zoom, arguably the best video conferencing, webinar, and meeting software in the world, runs an annual user conference called Zoomtopia aimed at providing interactive and engaging sessions, customer panels, and expert guest speakers to provide value and insights.
Not surprisingly, they chose LinkedIn as their platform of choice to reach out to other existing and potential customers to spread the word about the conference and hopefully to take in some registrations as well.
Image Source: Zoom
What we loved about it?
Great choice of social media platform in LinkedIn, thereby targeting maximum businesses;
Informative, creative image with a mock CTA button on it;
Simple copy helping the reader understand the benefits of attending the conference;
Interesting use of emojis in place of bullets to color up the ad post.

Lemlist
Lemlist is one of the best cold email software platforms out there, and it is prospecting to get newer users under its fold using semi-educative, content-driven LinkedIn ad, such as below.
Image Source: Lemlist
What we loved about it?
Calls out the target audience (i.e. Sales teams) at the onset;
Laser-targeted headline with an irresistible offer ("Book meetings with 30% of your Prospects in 30 days or less);
A short and interesting video creative that highlights the reason for the prospects' challenges;
Promises a FREE 20-minute training video that provides a concrete solution to the mentioned pain points;
A couple of content marketing campaigns up next that're doing great!
Winning Content Marketing Campaigns
Below are some online business examples of the perfect play of digital marketing thought and strategy as applied to real businesses.
Mr. Beast's YouTube Channel
By definition, not all content marketing is about your website or blog post alone.
With over 110M YouTube subscribers and averaging about 38M views per video on the platform, Jimmy Donaldson, also popularly known as Mr. Beast, is rightfully credited with having taken the art of effective content marketing to another level.
Image Source: Mr. Beast's YouTube Channel
What did Mr. Beast get right?
Content initially centered around fascinating challenges that he undertook himself. For e.g., he took ​​a challenge where he counted to 100,000 in about 44 hours. This generated tremendous awareness and interest among YouTube users;
High-engagement offline and online challenges with YouTube subscribers with expensive giveaways to winners. For e.g. video content surrounding "$456,000 Squid Game In Real Life" and "I Gave My 100,000,000th Subscriber An Island".
Today his YouTube channel has become his personal brand and vice-versa.
What could improve?
Nothing. What is it that you can teach a guy who makes anywhere between three and five million dollars per month doing what he loves.
Neil Patel's Blog
Co-founder of digital marketing SaaS software like Crazy Egg, Hello Bar, and KISSmetrics, Neil Patel is among the world's foremost entrepreneurs, also running businesses that help companies like Amazon, GM, and NBC grow.
His blog is one of the best examples of content marketing done right.
Image Source: Neil Patel
What did Neil Patel's blog get right?
High-quality blog articles that are super-optimized for SEO, so they rank on the 1st page of Google for most common digital marketing queries and questions posed by users;
Blog articles are in-depth content hubs, averaging between 3000 to 5000 words each;
Provided free access to his very own SEO keyword research tool, "Ubersuggest" all the while building authority, attracting prospects & fans, and generating leads;
Consistently posted on his YouTube channel approximately 3 times a week for over 4 years directing traffic to his blog and other web assets.
With over 33 million video views, 802,000+ YouTube subscribers, 1+ million Facebook fans, 377,000 Twitter followers, and 4 million blog visitors, Neil Patel is definitely a case study for anyone who wants to understand how content marketing campaigns work and scale.
Marketing Campaign Trends for 2023
From whatever we've seen of 2022 so far, it seems that change is the only constant when it comes to all things marketing. In light of this, it's no surprise that 2023 promises to ring in some big and dynamic changes too.
Here are some of the top marketing campaign trends that will likely dominate the marketing landscape over the next year.
Expect to see increased focus and publicity on customer experience factors and making it better. For e.g. taking their direct feedback and suggestions for improvement.
Increase in both personalized and targeted marketing and less of the spray and pray approach;
Anticipate small and medium businesses to spend less on advertising and more on local, national, and international influencer and micro-influencer marketing (even if the business is not in the movie, sports, or music niches);
Growth of highly shareable, easy-to-consume visual content-driven marketing. For e.g. infographics;
Increased use of AI chatbots for more conversational marketing requirements;
The slowdown of Meta and the increase in adoption of other social media platforms such as Twitter and Reddit;
Given the concerns surrounding privacy, expect increased zero-party (data obtained directly from customers) data collection by businesses using technology such as popups and sign-up forms;
Increased use of email marketing to prospect, launch, grow and scale online businesses across niches and industries;
While it is nice to want to stay on top of every marketing trend that comes your way, it's more important to keep your marketing clear, clean, and easy to operate day in, day out.
Best Marketing Campaign Of All Time
While every successful marketing campaign has its own legendary narratives surrounding itself, one of them that inarguably comes close to being among the best marketing campaigns is Nike's "Just do it".
Source: Nike
What was great about this marketing campaign?
The campaign featured both professional as well as amateur athletes sharing their stories and accomplishments and inspiring viewers to do the same;
80-year-old marathon runner Walt Stack, who runs 17 miles every morning, was among the first to get featured;
It generated an emotional response, so much so that people submitted their own personal stories in droves;
All of this being a 100% match with Nike's core values of motivation, inspiration, and healthy living, it is no surprise that this campaign went viral the way it did and still continues to inspire marketers with ideas today.
Using the Right Marketing Platform
Your marketing strategy is only as good as its execution. Therefore, using the right tool is key to successful marketing campaigns.
Given the rising popularity of email marketing of late, and predictably so in the future, have you considered using email automation to set up fully automated email sequences that grow your business revenue on complete autopilot?
How about a platform that not only provides fully conversion-optimized email automation but also supports SMS marketing and lead generation using popups and sign-up forms.
What if we told you could get started in minutes and get lifetime FREE subscription to:
2,500 subscribers;
15K monthly emails;
Unlimited email automation, popups and forms.
Stop waiting and get started with our very own all-in-one marketing automation platform Sender and watch your business grow to its true potential.
Key Takeaways Of The Best Marketing Campaigns
The best marketing campaigns are always based upon strong fundamentals and are experiential and your overall marketing efforts rather than being bound to rigid best practices.
Again this, in turn, arises from a deeper understanding of the below key concepts:
Market – Whom will you be selling to?
Message – What will you be telling them?
Medium – How will your message be delivered?
All of the marketing campaign examples above are crystal clear on the above three, so it is no surprise that they were successful and that we love deriving insights and wisdom from them.
Here's more power to your marketing campaigns, and hope they help you crush your marketing goals for the upcoming quarters.
Like what you read?
Apply it in practice with Sender.net - the most cost-effective email marketing solution in the market.
Try Sender for free