Employ your powerful emails
Increase sales and engagement by sending your well-designed emails with Sender.
Get Started For Free
Customers love personal attention and appreciation; therefore, personalization is the way to maximize your ROI in 2023.
Recent studies and surveys reveal that personalization impacts buying behavior positively.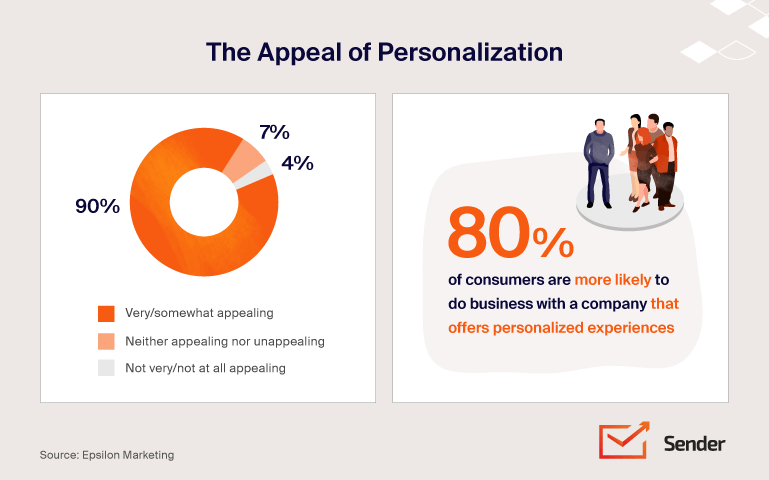 80% of consumers are most likely to purchase from you if you engage in personalized advertising or marketing. And one of the best mediums to send personalized communication is via email.
In this blog, we'll share some fundamentals of email personalization, examples, and best practices to help you get started.
What is Email Personalization?
Email personalization is the process of making each email more relevant to a specific person based on data like name, location, age, gender, preferences, behaviors, and more.
Personalization helps contextualize your emails to cater to specific pain points and send relevant communications for maximum engagement and results.
Personalization requires making the right decision at every stage of the customer journey. This means delivering the right content at the right time to the right audience.
Email personalization involves using available customer data to send contextual emails at every stage of the buying journey — sending relevant content and offers that resonate with the audience. For example, if you know that someone is looking to sell their home soon, you can send an email sharing the benefits of hiring a real estate agent who can streamline the entire process.
Email Personalization Statistics
Personalization is a powerful marketing tactic that significantly benefits a business owner.
Here are some statistics in support of email personalization:
Personalizing email is a winning tactic for anyone trying to engage more customers, grow their revenue, and succeed with email marketing. Let's look at some concepts to help you set up your email personalization strategy. 
The Significance of Email Personalization
Successful marketing strategies are rarely imagined without personalized email marketing. There's more than one reason for that:
Improved Open Rates. Personalized subject lines allow you to stand out in an inbox filled with generic subject lines. In fact, it's 50% more likely that your email will be opened if the subject line includes the recipient's name, job title, recent purchase, or any other kind of personalization.
Enhanced Customer Engagement. Recipients perceive email personalized to their likings, needs, or characteristics as much more intriguing. Thus, they're more likely to engage with the content, which might result in a purchase.
Increased ROI. Such simple things as personalization can offer ROI significantly higher than compared to generic emails. In other words, it costs almost nothing to include personalized elements but earns a lot more.
Improved Conversion Rates. Email subscribers are much more likely to take action when it's wrapped in the right message meant to the said subscriber. Personalized offers are especially effective as they are hard to resist by individuals.
3 Tiers of Email Personalization
If you want to start personalizing your emails, you need to know the basic concepts and some advanced tactics to implement personalization. These involve adding some 'standard' personalization tags to setting up complex triggers and creating dynamic content. Let's look at all of this, one by one:
1. The Basics
There are three places where you can leverage personalization in your emails. These places are:
"From" name
Subject line
preview text
'From Name' is your business name. Subject lines are the opening lines that customers see in their inboxes, and preview text is the short one-liner continuing from the subject line.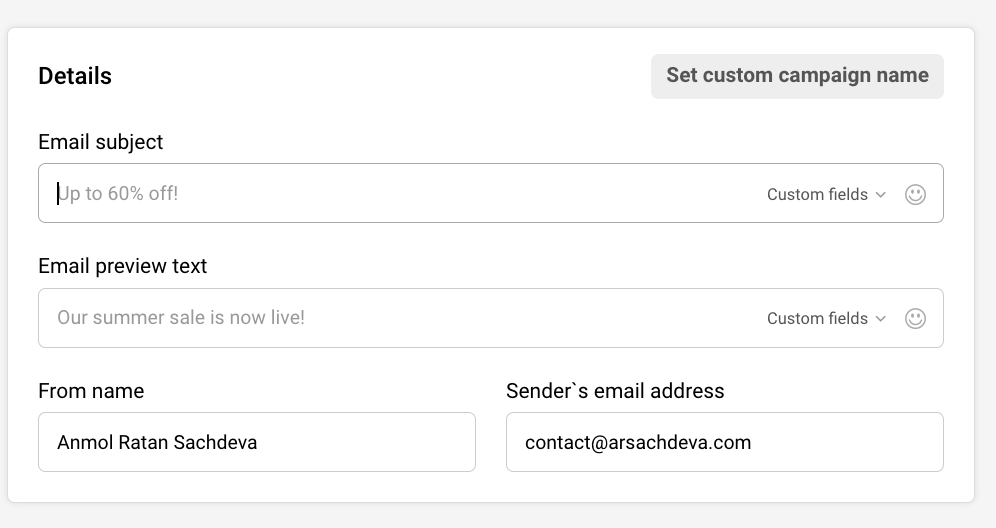 Personalization at the first step involves strategically adding information such as your contact's first name (or their attributes) at these places. Take the following for an example:

You can add their location, job title, city, or other elements based on your audience data.
Sender allows you to automate personalization using custom tags and fields when creating a new email campaign.
Email personalization is as simple as counting to three. Start creating a personalized email campaign with a forever free plan that you can use to send emails to up to 2500 subscribers. No restrictions, limits, or hidden conditions.
2. Segmentation
Once you set up the basics, the next step is categorizing your email list into dedicated segments. A segment is a group within your audience that clubs subscribers with common attributes under a single tag. For example, everyone in the age group of 25-30 is a single segment. You need to segment your subscribers to create personalized emails and send relevant offers/content to them.
Customer segmentation is the first step towards high-end personalization, as it will allow you to learn more about your audience and use the information to categorize people who behave similarly.
You can use data from a single segment to create a deep personalization experience and send a highly-targeted email. This is better than a standard email with their first names in the subject line. For example, if you run a beauty eCommerce store, people who download a free guide on 'nail care' can be sent special offers from your nail care collection.
Personalization based on specific segmentation attributes can make your marketing more relevant, relatable, and highly converting.
3. Advanced Email Personalization
Personalization doesn't just end at first names and some basic attributes. You can completely mesmerize your audience through advanced personalization tactics.
Some advanced strategies include using customer data to weave elaborate personalized experiences through triggered emails or dynamic content. For example, sending a special offer a few hours after a customer abandons a cart on your website. Or sending a 'refill reminder' a week before your customer's supply of 'ink' is about to be exhausted if you run a printing eCommerce store. The possibilities are endless.
Trigger Emails and Personalization
Email triggers are based on the user's activity or behavior on your website. The activity is captured and used to configure triggered behavioral emails.
You can personalize the customer experience and interactions via email based on several behavioral triggers — purchase of a product, abandoning the cart, time spent on the website, browsing a particular page, etc.
Use a personalized email that triggers based on their behavior to deliver a personalized experience and move the user further into the buyer's journey.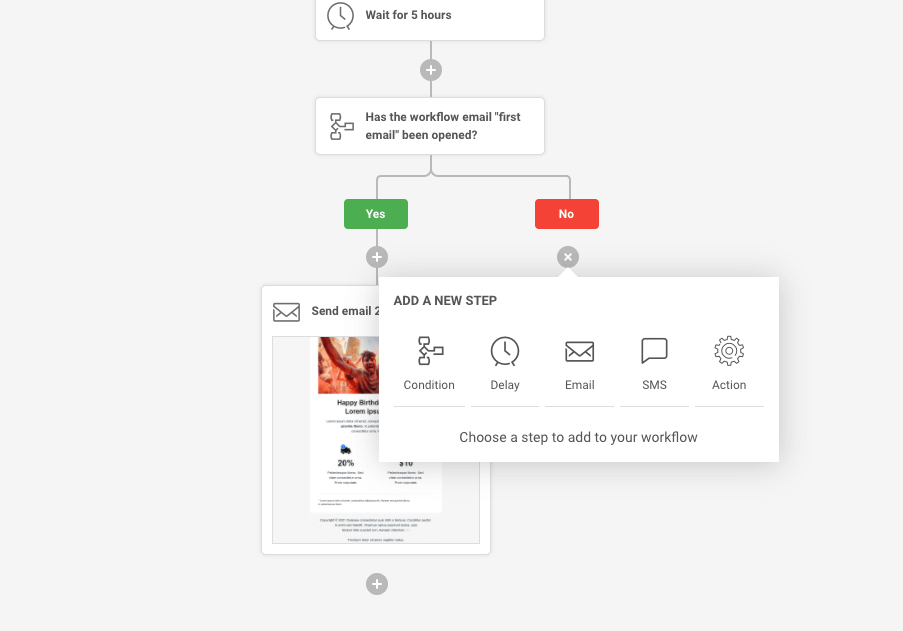 Dynamic Content in Personalized Emails
Using dynamic content is another great tactic to personalize your email. Dynamic content refers to automatically updating content within an email that offers real-time information to a customer every time an email is opened.
For example, a countdown timer in a special offer email that tells them how many hours remain till the deal is live, the live location of their shipment, or the in-stock status of their wishlist products.
You can easily create dynamic content elements like product blocks that get updated in real-time, countdown timers, etc., within Sender's email builder.
10 Best Email Personalization Strategies
You must respect some accepted best practices when you want to get good email marketing results. Here are seven best practices to implement in your email marketing campaigns to get the benefits of personalization:
1. Craft Personalized Subject Lines
Subject lines are powerful attention-grabbers that help you stand out in a crowded inbox. It plays a huge role in whether someone opens your email, clicks the link, or even gets past the spam filter. So, craft subject lines that are customized to each recipient.
You can include the recipient's name or the product/service you promote to personalize a subject line. Or you can use the following tactics to maximize the impact:
Use a personalized greeting: Use the first name of your subscriber instead of "Dear Friend."
Create a personalized offer: Use a phrase related to the offer being promoted, like "Your next purchase will be on us!"
Add personalized call-to-action: Instead of "Click here to buy now," use "Get the latest deals now."
2. Use an Individual's Name as the Sender's Name
Your name makes you human. And that's what people appreciate – getting information from a human. Customers feel more connected when they talk to a human than a company account.
So, make sure that your sender name is not your company name. It's always better to send an email in your own name. This helps build a good rapport with your subscribers and create a more personal connection.
For example, an email from 'John' or 'John@company.com' would have a better chance of being read and answered compared to a company email sent from a generic address like 'promotions@company.com.'
3. Use Segmentation
You should always segment your list based on personal attributes like location, gender, age, and interests. This helps you create more focused and targeted campaigns that give better results. For example, sending a targeted deal or offer right after someone abandons their cart has a better chance of converting than a generic email.
Make sure to have a marketing automation solution like Sender that helps you set up automation triggers and segment your email list easily.
4. Employ Triggered Emails
Sometimes when an email is sent is as much important as what's inside. Leverage the power of personalized emails to stay with your customers long after interacting with your brand, i.e., buying a product or using a service. Even better if the interaction is a joyous moment for the customer.
Let's say you offer online yoga classes. After one month, you can congratulate your customer on a successful start and thus motivate him to continue. As well as to create a supporting and friendly brand image.
5. Use Dynamic Content
Using dynamic content is another great tactic to personalize your email. Dynamic content refers to automatically updating content within an email that offers real-time information to a customer every time an email is opened. For example, a countdown timer in a special offer email tells them how many hours remain until the deal isn't available anymore, the live location of their shipment, or the in-stock status of their wishlist products. You can easily create dynamic content elements like product blocks that get updated in real-time, countdown timers, etc., within Sender's email builder.
6. Consider Browsing History
Another great way to better understand your customers' needs and offer a solution is by looking at their browsing history. Show them again an item they've viewed on your ecommerce store and consider an accompanying discount. Or if they've recently searched for a particular product (e.g., swimwear), inform them about new arrivals.
For example, Amazon is ingenious in using these tactics. Most of their emails include suggestions based on the customer's recent browsing history, often resulting in a sale increase.
7. Use Important Anniversaries
Anniversary emails highlight a particular date significant to the brand, the customer, or both. The most common ones are:
The company's founding date;
The recipient's birthday;
A considerable time since the customer made the first purchase.
The aim of anniversary emails is foremost to express gratitude to the customer or joy about the occasion. Often these types of emails also carry a related promotion: an offer or discount code — for example, 25% off as part of the 25th company's birthday celebration.
8. Incorporate Personalized Images Into Your Emails
Creating a visually appealing email template is always recommended when personalizing your email campaigns. Images help grab attention faster and make the reader completely read the email.
You can create and embed personalized images into your email using dynamic content tags. For example, use the product blocks inside the Sender drag-and-drop builder to add product images and descriptions based on the user's browsing history.
You can even add images based on a special attribute like the recipient's interest and send them to the entire segment easily.
9. Send Email at Optimal Times
Your emails reach your target audience at the right moment for maximum impact. If you're in a different time zone than your audience, you must ensure you send emails according to their preferences and schedule.
If you send an email too early, the recipient might be unable to answer it. If the email reaches the recipient at the wrong time, they might miss it completely.
Use a marketing automation tool to schedule your campaigns at the best time. Use analytics from the dashboard to see the open rates across different times to find a winning time.
Based on the email history of your subscribers, you should be able to determine when emails get maximum engagement. For example, if your audience doesn't open emails in the morning, you can try sending an email in the afternoon or evening.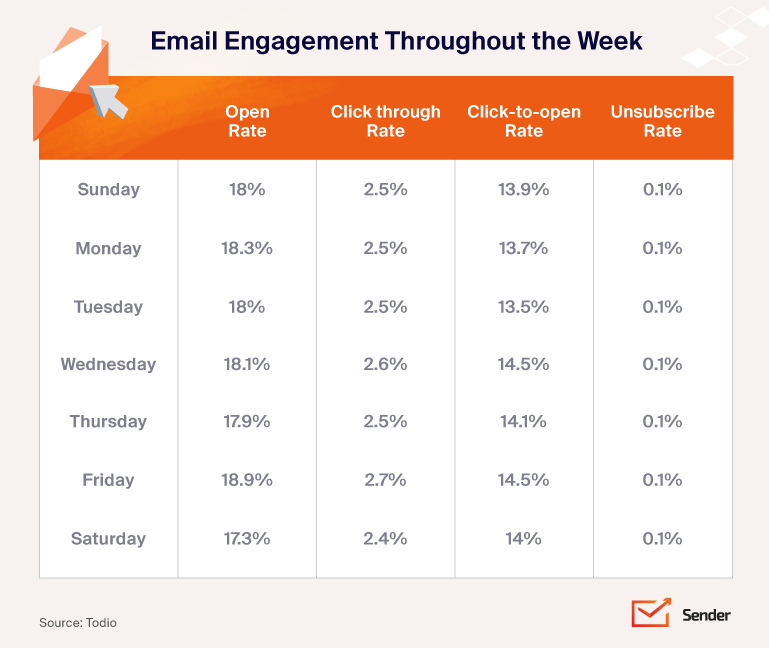 Learn how to send emails at the best time: Best Time to Send Emails in 2023
10. A/B Test to Determine What Resonates Best with Your Audience
A/B testing is the perfect method to determine which part of your campaign works best per your goal. A/B testing involves splitting your email recipients into two segments and using A and B variants of the same email copy.
For instance, you can send one variation that features an image and another that doesn't. This will help you determine which email design generates more opens and clicks.
Experimentation helps to optimize future campaigns for better results like higher open rates, click-throughs, etc., and prevent human bias. Also, it helps you understand what works best to engage your audience.
How to Create a Personalized Email?
If you want to create personalized email campaigns, you should start using an email marketing tool like Sender.
Sender supports custom fields like first name, surname, location, preferences, etc., allowing you to personalize subject lines, email copy, and other email campaign elements. Here's how you can create your first personalized email:
Step 1: Personalize the Subject Line
Click on email campaigns on the left panel. Start personalizing the subject line of your email by clicking on the custom fields tag in the subject line or preview text column.
You can personalize the subject line based on first name, last name, and birthdate, or even create your own custom field within the Sender's email list management tools.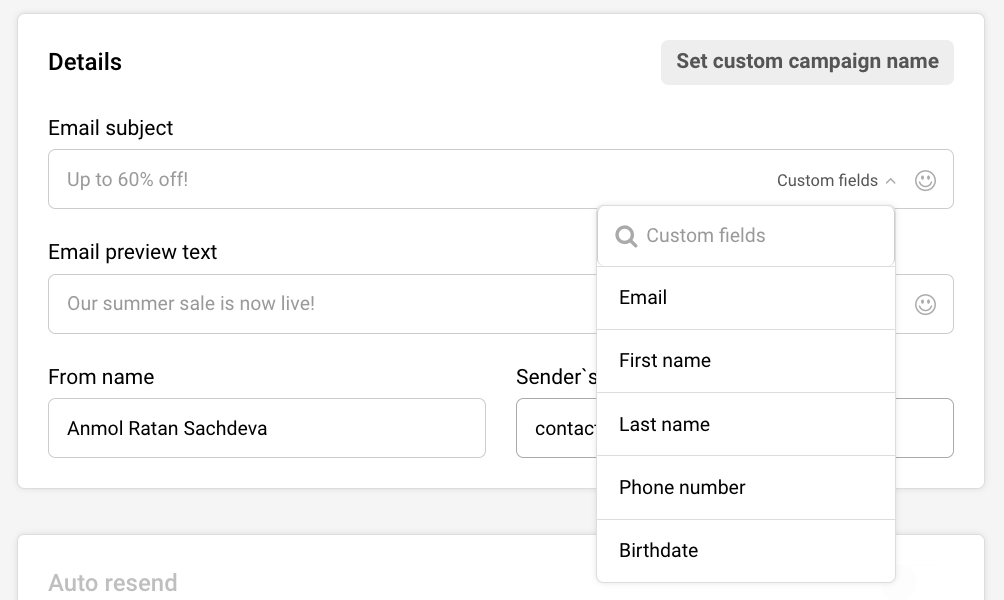 Step 2: Choose a Template and Add Custom Dynamic Texts
Now use the drag-and-drop email editor within Sender to start creating your email. Sender also offers many free premade templates.
To add a touch of personalization, you can use custom fields within the email body. Here's how it looks:
You can add any custom field to your email copy — first name, surname, order number, location, etc. to power unique personalization strategies for email campaigns. Here's how to do it:
Step 3: Send to Your Email List
Once you're happy with the personalization, email design, and content, just click save and send it to your email list. You will see Sender will auto-populate the personalization information from your email list and send super-personalized emails to your list.
8 Examples of Personalized Email Campaigns
Your brain must be brimming with email campaign personalization ideas by now. We've gathered some great examples of personalized email campaigns if you need some inspiration. Let's have a look at how brands are using different types of personalized email campaigns:
1. Personalized Welcome Emails
Welcome emails are among the most important emails you send to a subscriber. Starting the relationship on the right foot is critical to creating a positive first impression. So, brands use personalized welcome emails to show how valuable they are to the brand. Take the following example from Sonic:
Subject Line: robert,🎉 Welcome to All Things Sonic 🎉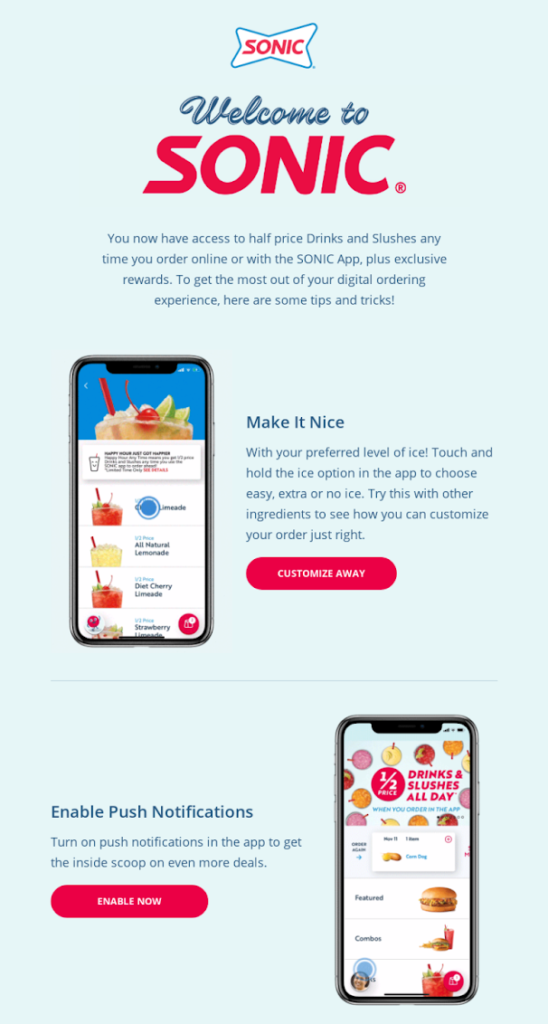 The subscriber's first name personalizes the email's subject line. Though the email initially looks like a standard welcome email, the basic email personalization tactic of using the first name makes the whole campaign much more effective. You can take note and use the subscriber's first name throughout the email copy to create a much more personalized welcome email.
Key Takeaways
Use the first name to personalize your subject line;
Send the welcome email immediately after someone signs up;
Personalize the email copy by adding custom fields or dynamic content tags.
2. Order Confirmation Emails
Sending order confirmation email once someone places an order is the most important transactional email in eCommerce. You may feel it's ignored, but it's the most awaited email in the user's journey. And you can delight users by personalizing the order confirmation email as Dinnerly did:
Subject Line: Let's Get Ready to Cook, Brian 🎉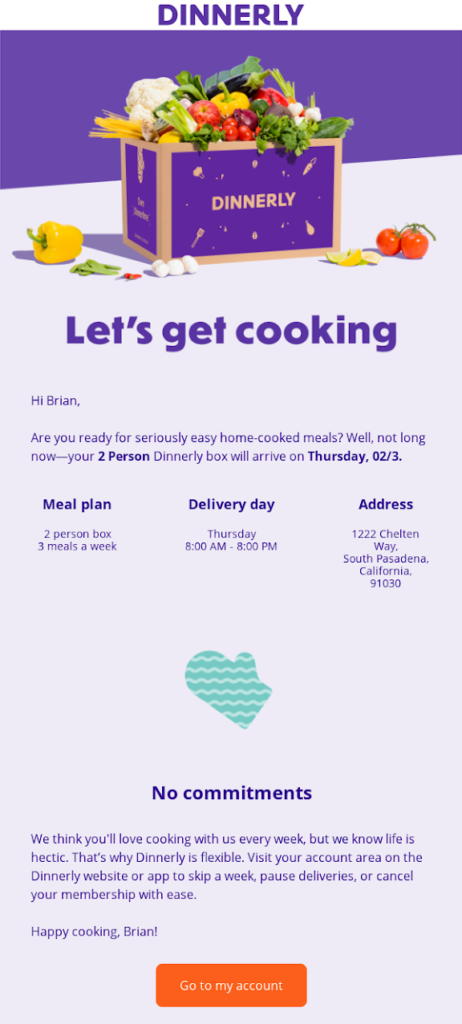 The email's subject line plus greeting are personalized. Plus, the personal information about the customer's order is indeed very useful for the reader. This email is hard to miss, even in a crowded inbox. So, if you're planning to improve your order confirmation email, use this as inspiration.
Key Takeaways
Avoid clutter and add the most important information at the top;
Use a conversational tone in the email with personalizations like the first name;
Don't forget to wish the customer a good day or a great experience towards the end of the email.
3. Onboarding Emails
Sending a personalized onboarding email is one of the best email personalization techniques you can implement. It makes your user feel valued and make them feel confident about their choice (of buying from you). Here's an example of a personalized onboarding email by Chico's:
Subject Line: Thank you, Renee! You're official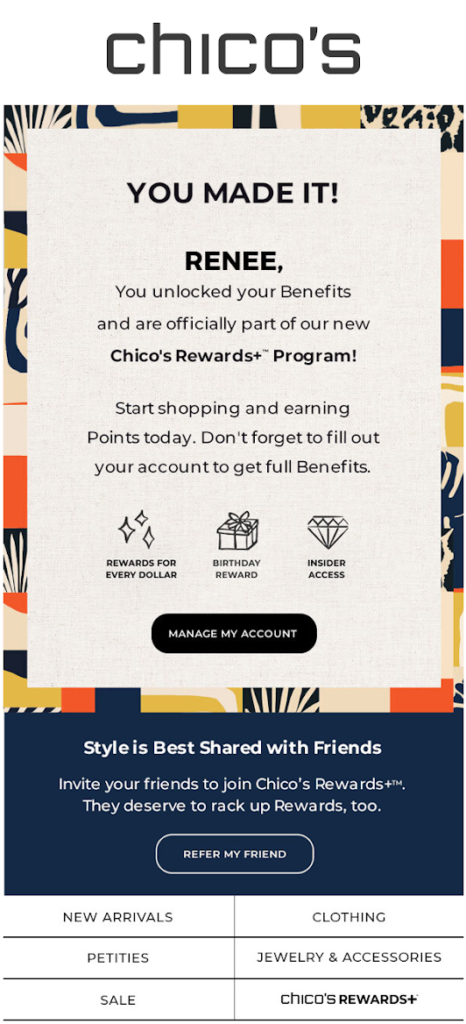 The email has a reassuring and encouraging copy with a first name personalization in the subject line and at the beginning of the email. This makes the email sound like a friend rather than a brand. If you're considering onboarding new users, you can even use other attributes to personalize different email elements too.
Key Takeaways
Add the first name in the subject line and salutation;
Use a welcoming and encouraging tone;
Place contextual CTA at the end of the email.
4. Personalized Product Recommendation Email
Sending personalized recommendations to buy from you is a great email marketing tactic. Everyone from Amazon to Netflix sends personalized recommendations to their customers. It helps them improve bottom lines by reaching out with something based on user behavior. Take the following product recommendation email from Air New Zealand:
Subject Line: Lisa, The Islands are Calling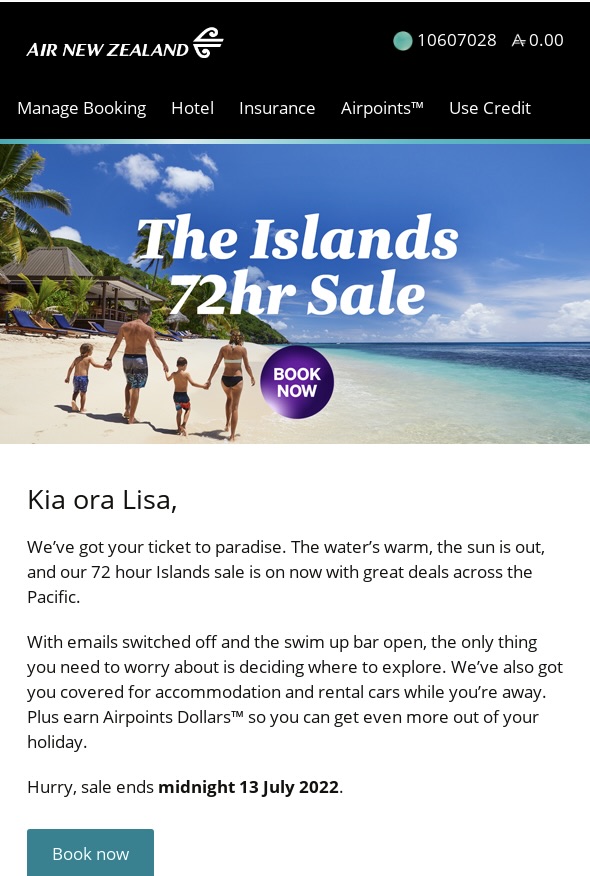 The email starts with a personal salutation to announce their special 72-hour sale. But the interesting thing about the email — it's sent to customers who have been browsing for an island trip or airfare between select destinations. The personal note sounds like an appealing invitation.
The next part of the email shares some personalized recommendations and special deals based on the online behavior of the recipient. Have a look:

With special offers and deals that are tactically targeted based on the user's online history, this email is sure to convert many prospects into customers for the airline. The emailer format and product blocks are placed strategically to make users check out the offers on the website.
Key Takeaways
Personalize the email suggestions based on online behavior or browsing history;
Add attractive product blocks and deals;
Create a personalized note to start your recommendations email with.
5. Personalized Content Recommendation Emails
To maximize your blog traffic or engagement, sending an email with personalized recommendations from favorite reads or your latest blogs is a great idea. You can use your audience's online behavior for personalized recommendations and create an automated email newsletter. Take the following emailer by Food Network, for example: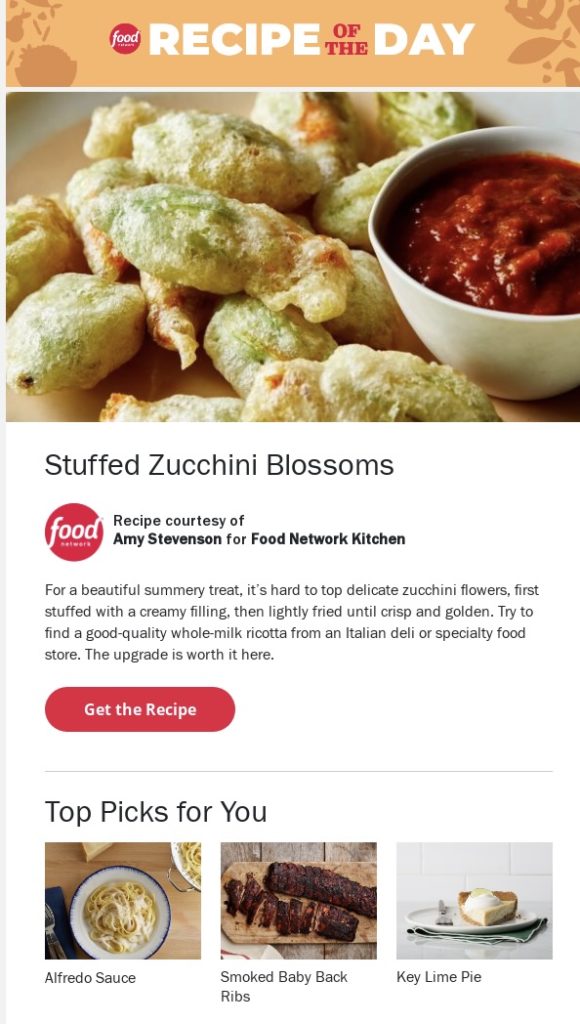 The email header has a content piece along with 'top picks' that are selected based on the user's history on the website. Users will surely love to try out the different recipes shared based on their liking, and it will bring traffic to the blog. You can even further personalize such an email by adding custom field tags and dynamic content to the email copy.
Key Takeaways
Add content recommendations based on customer's interests, preferences, or online browsing history;
Create different sections within the emailer for personalized reading recommendations.
6. Rewards & Loyalty Program Emails
Running a rewards and loyalty program is a 'standard best practice' for many retainers and even eCommerce stores. But did you know you can personalize rewards emails for your customers? Take inspiration from this emailer by Lowe's:
Subject Line: DAVID, your May 2022 MVPs Pro Rewards Statement is here.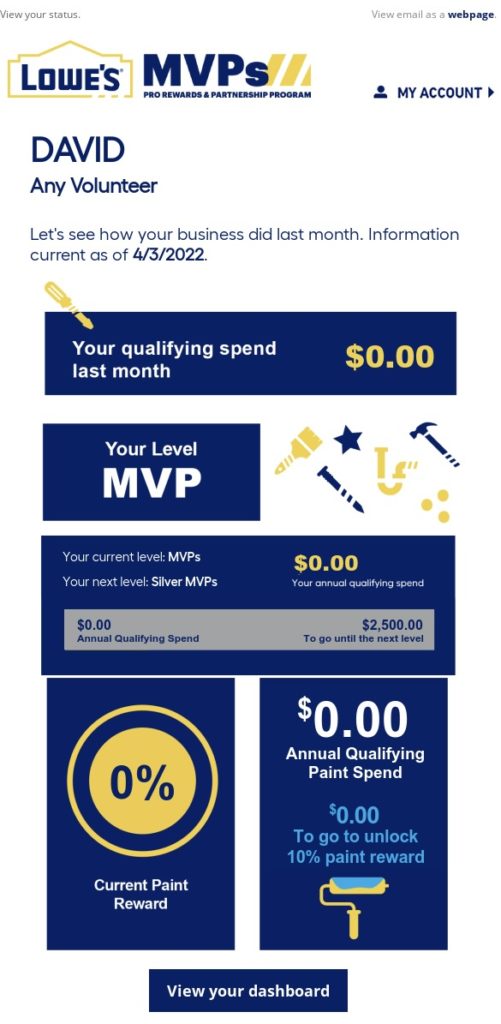 This email is sent to the customer at the end of every month. The layout, which appears as a personalized dashboard, has all the information the recipient might want. Such a rewards/loyalty emailer makes customers feel confident about a brand's transparency and eagerness to share loyalty benefits.
Key Takeaways
Add details about spends/points earned in the email body;
Personalize the subject line with first name and current month;
Don't forget to add a CTA that takes them to the loyalty and rewards dashboard.
7. Birthday and Anniversary Emails
Sending personalized birthday or anniversary emails can strengthen your customer relationship. It makes them feel loved (and gifted) on a special day. You can personalize an email by adding a special offer based on the customer's preferences or shopping history. Look at how Talbots send a personalized anniversary greeting to their customers:
Subject Line: Your Anniversary Gift. Use it All June.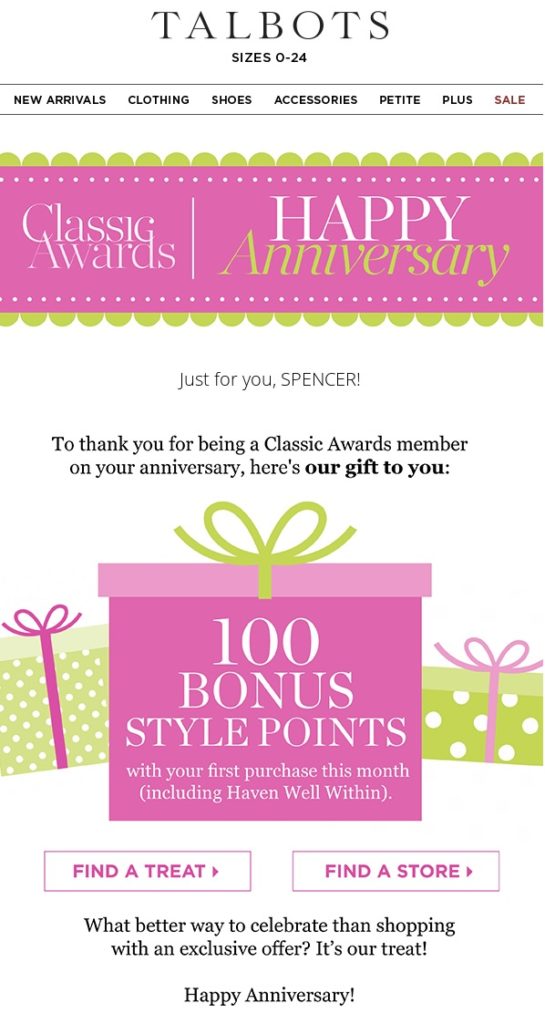 The email is not the best on the design front, but it has an attention-grabbing subject line (despite not being personalized). It's definitely better than a generic 'happy anniversary' subject. When the reader opens the email, he is greeted by a personalized salutation + rewards on a special day. Something a greeting email by a brand should do — is value their subscriber's time. They could have added a personalized greeting note to the emailer, though.
Key Takeaways
With the user with a personal note on their special day;
Add a special offer or gift they can redeem in a single click;
Add a personalized note to the anniversary or birthday email.
8. Reactivation Emails
Reactivation emails are sent to inactive subscribers who might have been stuck with life and forgotten about you. Scheduling reactivation emails brings back old customers (and prospects) and even helps you maintain a clean email list. Here's how Mountain Hardwear uses personalization in their reactivation emails:
Subject Line: Just checking in with you, Lori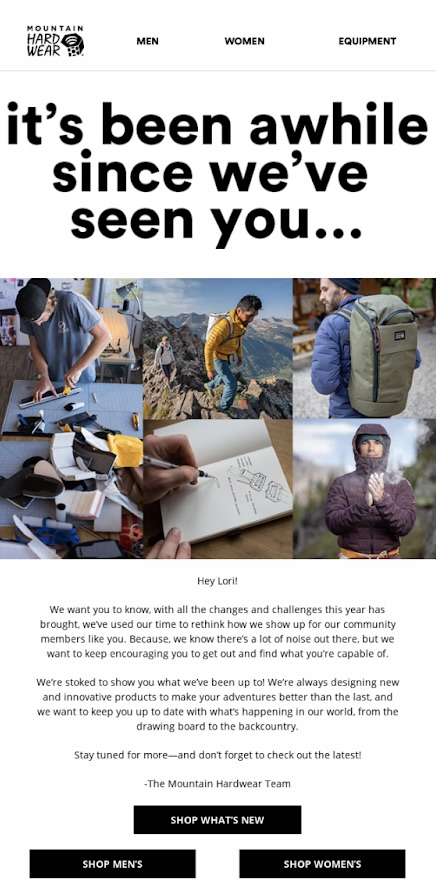 A reactivation email has one job — to bring back the prospect's interest in the website. This email does a good job of that. First, the personalized subject line and then a personal note inside give a reassuring feeling to the reader. The contextual CTAs, along with the imagery, are all on-point and would have interested a reader in what the brand offers.
Key Takeaways
Create a personalized note for every recipient you wish to reactivate;
Add an emotional email headline to the emailer;
Add multiple contextual CTAs toward the end of the email.
Key Takeaways
Know your customers and segment them before starting a personalized email marketing campaign;
Use an email marketing platform with strong marketing automation features;
Create a personalized subject line for all your email marketing campaigns;
Keep revisiting your email marketing strategy periodically to explore new opportunities for email marketing personalization
Also read:
---
Author Bio
Anmol Ratan Sachdeva is a content marketer and small business consultant who has a strong grip on topics like marketing automation, research, email marketing, and content marketing. He loves to write about starting, improving, and growing a business.