Like what you read?
Apply it in practice with Sender.net - the most cost-effective email marketing solution in the market.
Try Sender for free
The changing consumer demands dictate new rules for email marketing.
It is no longer enough to send the same email to all your subscribers and expect excellent results.
Personalized email marketing gained huge popularity due to the ability to customize the content in order to benefit consumers and bring a spectacular ROI.
When implying the best techniques, your business can reward customers with new experiences and improve relationships. Besides, the growth of sales and revenue is remarkable if email personalization is done right.
Stick around as we are about to give you more tips, guidance, and best practices on email personalization.
Quick meniu:
What is Email Personalization?
Email Personalization Stats
Top Email Personalization Practices and Content Ideas
More Tips and Techniques for Better Email Personalization
What is Email Personalization?
Personalization is an email marketing strategy that gathers your customers' personal data and uses it to approach them with individually prepared content.
Email [ersonalization can vary from basic to well advanced. You can use your customers' name, location, age, gender, preferences, behaviors, and more to send targeted emails and give individual attention to all the recipients.
Email Personalization Stats
There is no denying that email personalization brings multiple advantages as the results speak for themselves.
Let's look at some facts and stats to prove these benefits:
If you haven't personalized your emails before, now is the best time to start.
Also, once you collect the data, you will need to segment your audience into groups to ensure maximum success with your customization.
To do that, Sender can help you out as it provides an excellent segmentation feature to help you categorize your audience and achieve the best results!
Top Email Personalization Practices and Content Ideas
There are many different ways on how you can personalize your emails.
Below, you can find some top techniques to boost your email personalization game!
Personalize the Subject Line
As we mentioned before – subject line personalization is beneficial (it increases the opening rate by 26%).
Customize your email's subject line by using a trigger word or a person's name to target him/her directly. If you know your customers well and have some extra data gathered, you can develop personalized messages based on their preferences and behaviors.

Here are few personalized subject line examples:
[First_name], Claim Your Free Access
[First_name], Your Personalized Recommendations
Attention [First_name]
Hi [First_name], come place your order!
[First_name], nice to meet you 👋
Happy birthday [First_name]!
[First_name] use promo code 10%OFF
Hey [First_name] take your 10% discount for the next order!
Abandoned Cart Email Personalization
Personalized abandoned cart email is a great revenue maker. If you remind your customers about what they left in the cart, it can help you return the lost money.
Invite your customers to return to their shopping cart, and don't forget to include the photos of the items left there. If you want to push your clients further, you can offer a special discount on their selected items to increase their intention to purchase.
Personalized abandoned carts are highly effective for e-commerce businesses that sell physical products.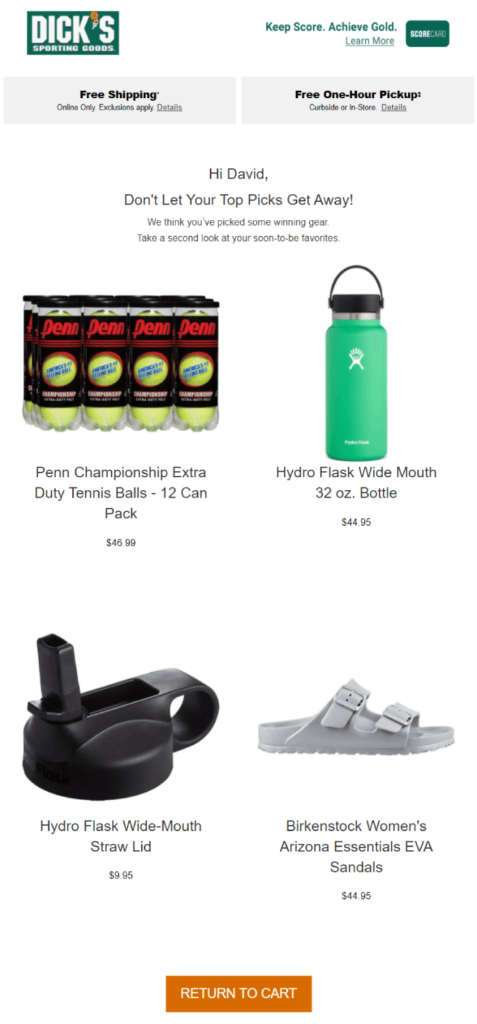 Also read: 10 Abandoned Cart Email Template Examples
Personalization in Automated Welcome, Onboarding, Order Confirmation Emails
Send trigger emails to your clients each time they click or take action on something you are monitoring. It can be welcome emails, order confirmation emails, or anything else you can use for multiple recipients by preparing a personalized mass email.
An automation feature will be extremely helpful here as you will be able to set a trigger event, after which the email will be sent to your preferred recipient in a matter of minutes.
Example of personalized welcome email from Bloom&Wild: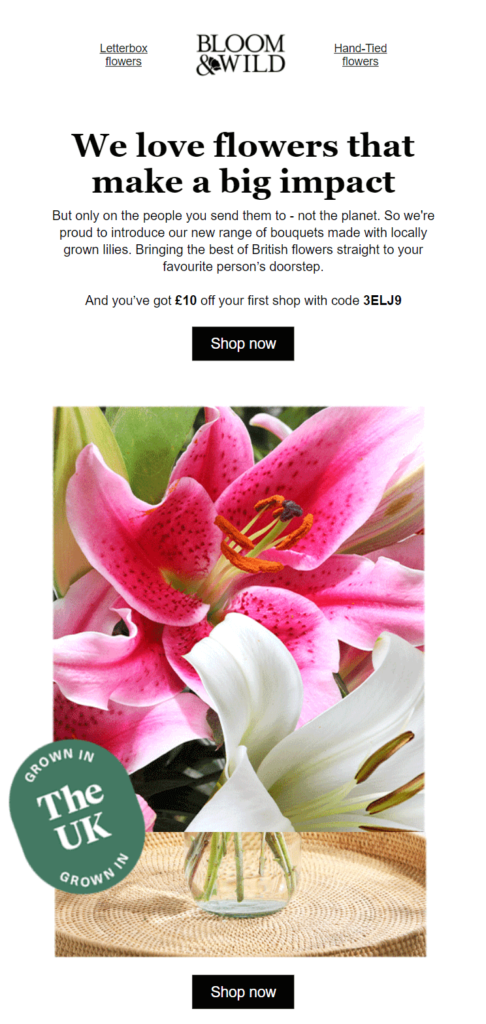 You can create your own email design and it to your customers using Sender tool. Here you can read more about that design builder features and advantages.
Also read: 5+ Welcome Email Template to New Customer (Examples)
Send Personalized Product Recommendations
You can track your customers' purchasing or browsing history and use this data to create offers and promotions. Send personalized product recommendations based on previous choices and purchases by creating an email where you put the suggestion which matches the person's preferences really well.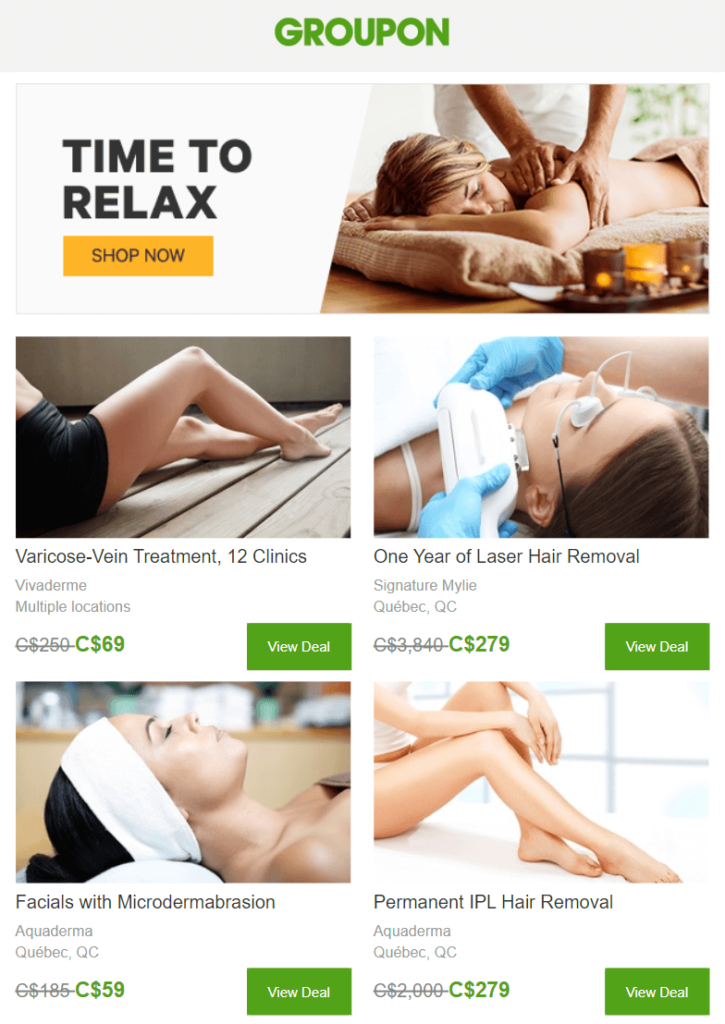 Personalized Promotional Sales Email
People receive hundreds of emails daily and barely read half of them, especially if there are any relations to sales.
However, these emails can be personalized, too, so the content would be formatted exactly right for the recipient to open it.
Based on the data you have on your audience, you can approach them with the sales emails, which would not be denied or sent to spam.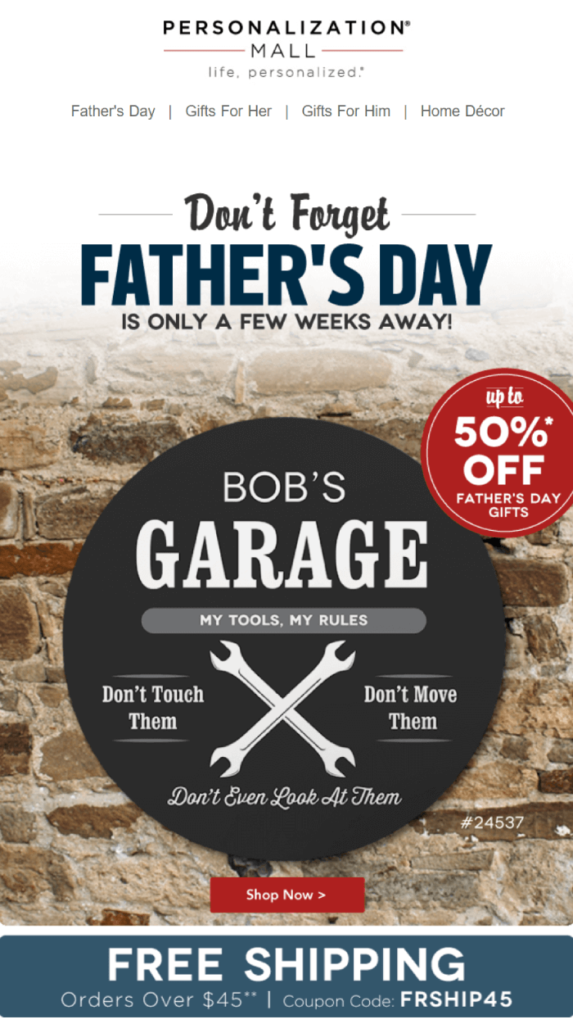 Also read: 5 Powerful Promotional Email Examples
More Tips and Techniques for Better Email Personalization
There are a few more things to consider before you dive deep into email personalization.
Let's have a look at them:
Identify the Goals and Objectives
Make sure your aims are clearly defined. Decide on the customization method, create a plan, and produce personalized email campaigns that will bring results.
However, don't forget about good old testing, which will enable you to evaluate and analyze the effectiveness of your emails and produce even better content for further success.
Data Collection
Gather as much data as possible to get a clear view of your audience; otherwise, you cannot start email personalization:
Collect names;
Locations;
Gender;
Date of birth;
Purchase;
Browsing history;
Behaviors.
Anything else that might come in handy when producing the targeted emails to each individual.
Once your data collection is complete, it is time to segment your audience and approach them based on your gathered information.
Read more: Email List Segmentation: The Definitive Guide
Ensure You Have a Clear CTA
Call to action is a must in every email you send. Tell your customers what you want them to do: visit your website, check out the new arrivals, claim that 20% off, or fill in the survey. You might also want to consider urgency in your CTA buttons.
Call to action is a must in every email you send. Tell your customers what you want them to do: visit your website, check out the new arrivals, claim that 20% off, or fill in the survey. You might also want to consider urgency in your CTA buttons. Adding a specific date and time will drive the engagement and sales as the customers will need to take urgent action to get the promotion.
Your Turn to Personalize
We have given you many tips, practices, and techniques to consider before starting your email personalization. Some examples were also presented for a better understanding of how to use personalization in the content.
Remember, the more personalized your email is, the better results it will bring, as the recipient will relate to your content more.
Customize your emails and enjoy endless benefits and success in your business!
Also read: How to Send Mass Emails with High Deliverability?
---
Article contributor – Erika Klisonyte