Profit from your knowledge
Apply email and SMS marketing strategies you already know to see the best results with Sender. It's free. It's easy.
Get Started For Free
The holiday season is a great opportunity for large and small businesses to boost sales and drive new customers.
Shoppers spend significantly during this time of the year, and brands can use this to their advantage.
However, with all the competition and clutter of the holiday season, it is not easy for marketers to make their voice heard and gain potential customers. It is, therefore, necessary to invest in modern marketing tactics to get the most out of their online marketing activities.
For email marketers, constructing lucrative and engaging email campaigns for the holiday season can get too overwhelming.
If you are new to email marketing and not sure how to beat the competition to gauge your customers' attention and drive maximum conversions this holiday season, here are a few tips and best practices for you to consider.
Holiday & Seasonal Email Campaign Ideas
The holiday shopping season is very significant for both brick-and-mortar and ecommerce stores.
Email is a popular channel for holiday marketing campaigns because of its strong ROI. So it's critical to think strategically about how your holiday email campaigns can stand out in the sea of holiday messaging.
Send a Holiday Sale Announcement
Who doesn't love a good discount? Most consumers go through their emails to find relevant discounts. So give your customers what they want — a sweet deal wrapped in a fun email they can't resist.
Be clear and concise with your email campaign — list the discount in the subject line. You'll get better open rates if you highlight the deal immediately. Choose a simple illustration in the email body that doesn't distract readers from the offer.
Create Pre-Sale Announcements To Generate Hype Around Your Products
Pre-sale announcements are ideal for building excitement around your products. It allows you to give your customers more time to shop for the deals featured in the email campaign.
Many retailers focus most of their holiday marketing efforts on the actual day of the holiday. So, send out a pre-holiday email campaign to stand out from your competitors. It'll get your brand more exposure in your recipients' inboxes.
Offer Free Shipping
Free shipping is the most popular promotion for online stores. It's also one of the most powerful motivators for customers to purchase.
Here are some ideas on incorporating free shipping into your holiday email marketing campaigns.
Offer free shipping:
On specific items
With a certain expiry date or time
On orders over a certain amount
Alternatively, you can provide a free shipping promo code with no order minimums.
Share a Christmas Gift Guide With Your Customers
Send a Christmas gift guide to your customers to help them through their gift-giving dilemma. It's a way to get your products in front of customers so they can buy and be done with their Christmas shopping.
You can create two types of email gift guides: those with displayed products and those without products but only linking to the store.
The product guide works well to provide an instant product browsing experience. The gift guide with no products creates mystery and may drive more traffic to your store.
Give Shoppers Relevant New Year's Shopping Suggestions
"New year, new me," is the attitude that most people adopt as the New Year approaches. So it's an ideal time to reach out to consumers with relevant shopping suggestions.
There are numerous content ideas you can use in your New Year emails. For example, you can send a greeting message, announce a new product launch, or host a themed New Year's Eve sale.
Send a Thank You Letter With a Referral Code on Thanksgiving Day
Thanksgiving is a family holiday to give thanks, feast, and shop.
As a result, it's the perfect time to swoop into your recipients' inboxes to thank them for their support and offer a sweet referral deal.
Holiday Email Marketing Examples
Christmas Email Example
Puma's Christmas email marketing promotion has all the traditional promotional offers and season's greetings.
Besides that, it has Free overnight shipping, which is an excellent way to increase sales, especially during the busy holiday season.
It also has a standard 50% off holiday sale and a section with secondary offers like gift cards that shoppers can easily purchase if running late.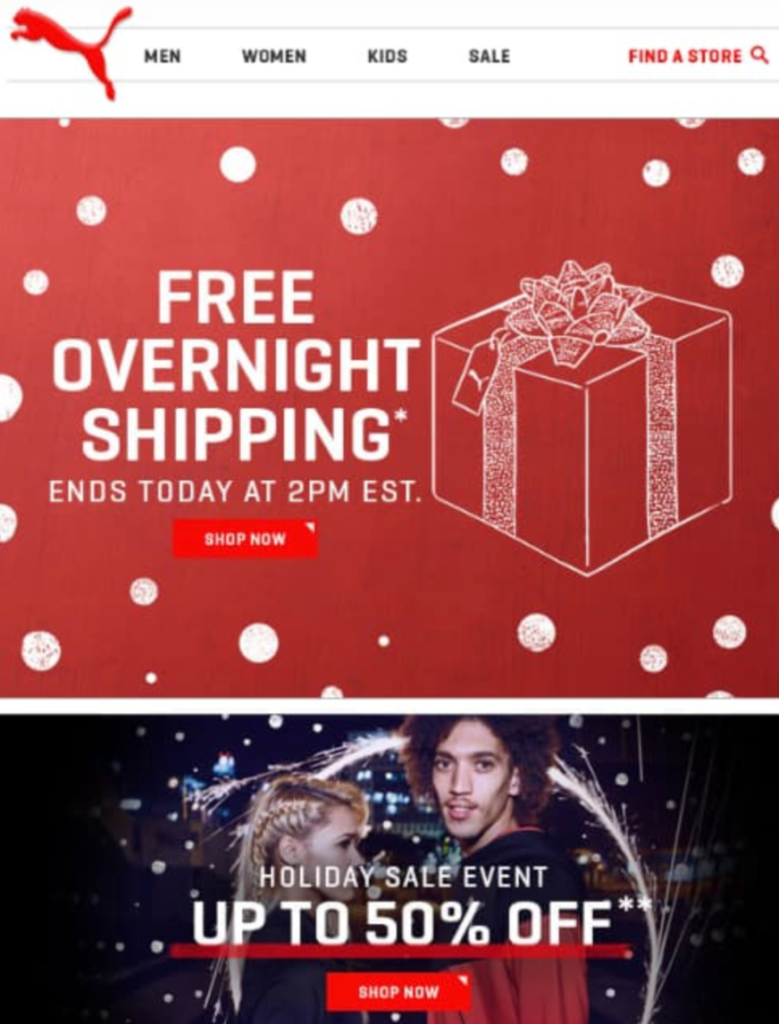 Valentine's Day Email Example
Starbucks promotes its coffee as something you might consider giving to your romantic partner instead of flowers or chocolates.
They also have additional offers to entice the customer as they scroll down.
Cyber Monday Email Example
This Cyber Monday email creates the fear of missing out (FOMO) while informing the customer about the pricing discount they'll get at checkout.
Instead of inviting them to the website for more information, it capitalizes on the customer's brand knowledge without clearly indicating what to buy.

Pro Tip: Use an email marketing tool like Sender, creating stunning emails is even easier than you think. Sender's in-built email design tool makes it a breeze to build emails quickly and efficiently using simple drag and drop editing. Also included are responsive and high-converting pre-designed email newsletter templates that make it extremely easy for you to send emails.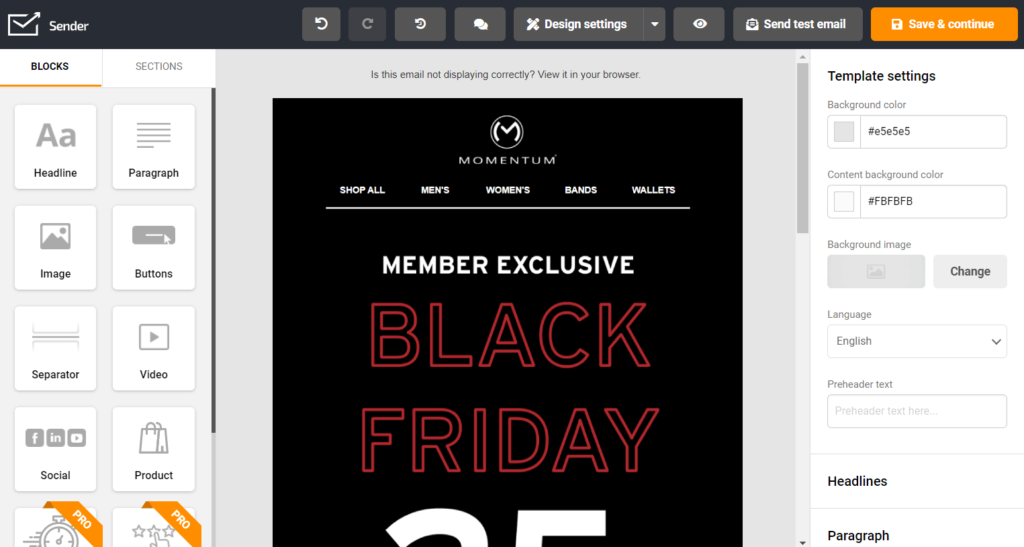 Holiday Email Templates Examples
Here are some holiday email templates you can implement during the holiday campaign:
Black Friday Email Template
Hello [Name],
The wait is finally over, and it's that time of year again.

Start shopping and don't miss out on this once-a-year opportunity to save 50% on all our [Products and Services] until Saturday morning.

Here are more products you might like: [Include a section with product ideas for special discounts]
Thanks for shopping at [Business name].
Christmas Email Template
Hello [Name].
We know you have a lot going on today, but we wanted to wish you and your loved ones a Merry Christmas and Happy Holidays.

We feel honored to have served you over the past year and can't wait for greater success in the new year.

Best wishes to you and your family.
[Your name]
[Business name].
Valentine's Day Email Template
Dear [Name],
Love is all you need, but giving a gift from our collection inspires smiles and kisses.
Browse our offers to find a gift that'll delight your significant other.

With Love,
[Your name]
[Business name].
10 Tips for Your Holiday Email Marketing
1. Segment your list
The key to making an impact with your emails is to send it to the right audience. Inboxes are already too overcrowded during the holidays, and hence there is no point in sending your email to those who are not interested in hearing from your brand.
Segmenting your email lists will help you send more targeted and relevant emails to users who are truly interested in knowing what you have to offer.
Create various segments based on the subscribers' geographies, demographics, shopping behavior, interests, etc. and send them appropriate offers and deals.
Email segmentation helps in improving lead generation and eventually boosts sales.
2. Create holiday-themed emails
Changing the colors and themes of your email campaigns as per various holidays is a great way to grab the attention of users. If your emails look the same throughout the year, your subscribers will soon get bored.
Experiment with various themes, not just for your emails but also for your website, social media platforms and all other promotional campaigns.
To begin with, you can download free HTML email templates for various holidays and customize them as per your brand's offerings and goals.
Check out this Halloween themed email from DesignModo. The brand has included emojis and highlighted the offer in the subject line, which would encourage the users to open the email.
Subject line: 👾 🎃 👻 Happy Halloween! Get 30% off Designmodo Shop and Market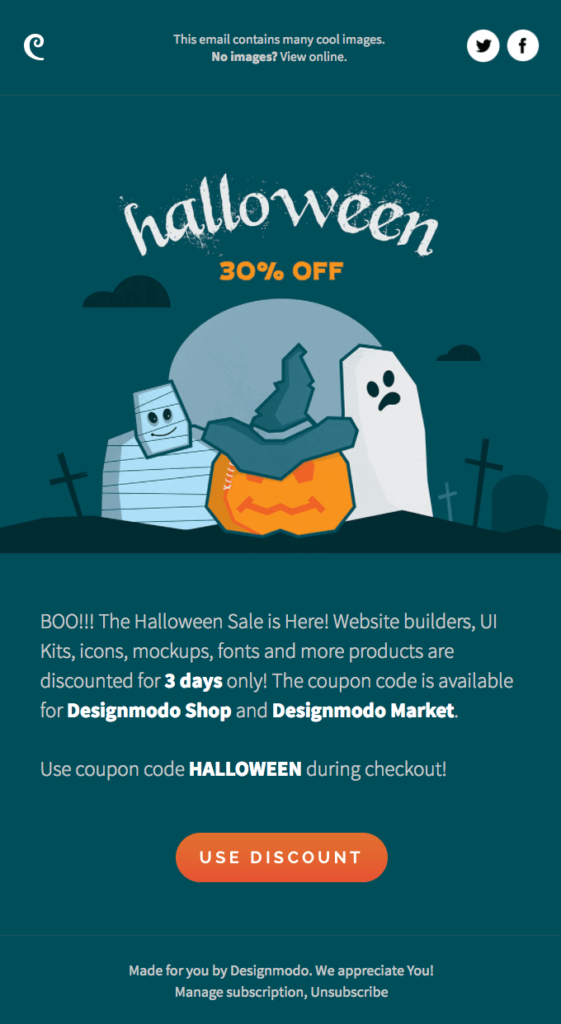 Source: Really Good Emails
3. Launch exclusive holiday sales
Offering a sneak-peek of the products that you are going to list on sale is a great way to encourage your subscribers to buy from you.
Let your subscribers know about the new products that are going to launch and the holiday offers on various products to promote your sale.
Don't forget to promote your exclusive offers on your blog. This will increase the awareness of your discount to your target audience.

Pro Tip: Also, provide free shipping and early-bird offers to drive more orders.
4. Give discounts and offers
The holiday season is a great chance to wow your subscribers with campaigns that contain tempting offers.
Keep your subscribers engaged throughout the holiday season using exciting deals.
Giving your regular customers early access to your sale or offering exclusive discounts to them can persuade them to buy and drive more sales.
You can also give new subscribers incentives or discounts for their first order to boost conversions.
The Black Friday email from Great Simple Studio highlights their holiday offer throughout the email to drive conversions.
They have mentioned 60% off in the subject line, email design and the copy.
Take a look!
Subject Line: ⚫ Black Friday! 60% off on all products

Source: Really Good Emails
5. Use urgency or scarcity marketing strategies
Phrases such as 'Last chance', 'Only few left' or 'Limited stocks' make the online shoppers' heart pound.
Using scarcity or creating urgency triggers the customers' fear of missing out on exciting deals and exclusive products. It is, therefore, a great tactic to boost sales.
Include elements such as countdown timers or add trigger words to the subject lines of your emails to create urgency and get your subscribers to place the order.
6. Create theme-based catchy subject lines
Your email subject lines need to be eye-catchy and enticing enough for your subscribers to open the emails.
The subject lines should tap into the holiday feel and grab attention.
Emojis in subject lines play a huge role in piquing user interest and boosting email open rates.
Add seasonal emojis such as a Jack-O-Lantern, a turkey, a snowman, or a Christmas tree to grab some eye-balls.
7. Optimize for mobile
According to our study, over 53% of all emails are opened on mobile devices.
Moreover, people prefer shopping online majorly on their mobile phones.
That's why it is important to make your holiday emails mobile-friendly.
Use responsive email template designs and optimized images to render important information properly across various devices and screen sizes.
8. Use social media to drive traffic
People search on multiple platforms for good deals and products while shopping or planning to shop for the holidays.
So, if you are running special sales or showcasing new products for the holiday season, promote them on your social media accounts also, and inter-link them to drive traffic from one platform to another.
This way, you can keep your customers hooked to your brand.
9. Test your emails well
In order to figure out which campaigns, products or services will work the best and drive the most conversions, you can run a test campaign for Christmas in July.
This will give you a rough idea about what your subscribers are looking for and which products have great selling potential.
Also, perform split testing or A/B testing to track possible glitches before you shoot the emails.
Based on the test campaign, get analytics and reports to find out what works best and make the necessary changes when you launch the campaigns during the main holidays.
10. Most important – plan in advance
Prepare your holiday email campaigns at least a couple of months before with proper planning to execute it well. Most business owners and email marketers start at the eleventh hour and often lose a lot of traction.
Remember, there is a huge competition out there, and to be seen in the clutter, you need to have a well-planned campaign. Hire email template developers to get started.
Get the Best Out of Holiday Email Marketing
To run successful holiday email campaigns, you need to know your customers and subscribers well and take your time out to create appealing offers that they are looking for.
When done right, holiday emails can boost your conversions and sales to a great extent.
To get started, you can either customize free HTML email templates yourself or hire the right email template developers.
Also read:
---
About author
Kevin George is Head of Marketing at Email Uplers, one of the fastest growing custom email design and coding companies, and specializes in crafting professional email templates, PSD to HTML email conversion and free HTML email templates.
He loves gadgets, bikes, jazz and eats and breathes email marketing. He enjoys sharing his insights and thoughts on email marketing best practices on his blog.