Like what you read?
Apply it in practice with Sender.net - the most cost-effective email marketing solution in the market.
Try Sender for free
Everyone markets their business, hoping that their message will reach the right audience and attract the right leads. But surprisingly, very few marketing campaigns leave such an impact. Why is that?
Sometimes, it's because your marketing strategy wasn't good enough (go back to the drawing board and rethink your messaging), and other times, because you couldn't get your message to the right people at the right time—or in some cases—at all.
In this article, we'll focus on helping you tackle the other—getting your messages across at the right time—using a double opt-in marketing strategy and subscription emails. So buckle in; it's a roller coaster ride ahead.
Single Opt-in vs Double Opt-in
The difference between single opt-in and double opt-in subscriptions is subtle.
A single opt-in marketing strategy allows users to subscribe to emails or join your mailing list with a single step. Subscribers just have to type their email in your website's sign-up form and use the subscribe button to appear on your list.
And as you already know, subscribers have to go a step further for double opt-in emails. In this case, after using the sign-up form, a follow-up confirmation email with a link is sent to them. So you wouldn't find them on your list until they click on the link to confirm.
What is Double Opt-in Email Marketing?
Double opt-in email marketing, also known as confirmed opt-in, is a marketing tactic used by SMEs and fortune 500 companies to confirm a customer's subscription to their marketing campaign.
Most marketers use this tactic to reduce the chances of spamming their user's inboxes. Also, it is an effective marketing strategy because it helps the brand weed out robots or users who are uninterested in their emailing list.
If users confirm their subscription, they are more likely to engage in your emails, newsletters, and your brand's content. As a result, this method helps businesses maintain high-quality leads and lead to better sales.
5 Subscription Confirmation Email Examples
While it is true that a subscription confirmation email is simple, it requires a basic understanding of its intricacies to make your marketing campaign leave a lasting impact. The following are examples to learn from:
Use The Largest Call To Action (CTA)
It is necessary to focus the user's attention on the most important thing: the confirmation button. So it is crucial to make the CTA button or text more prominent or more visible.
A phrase like "Confirm Your Subscription" can be highlighted to immediately catch the user's attention. Also, it is advisable not to overdo it so that you won't come across like you are forcing the user.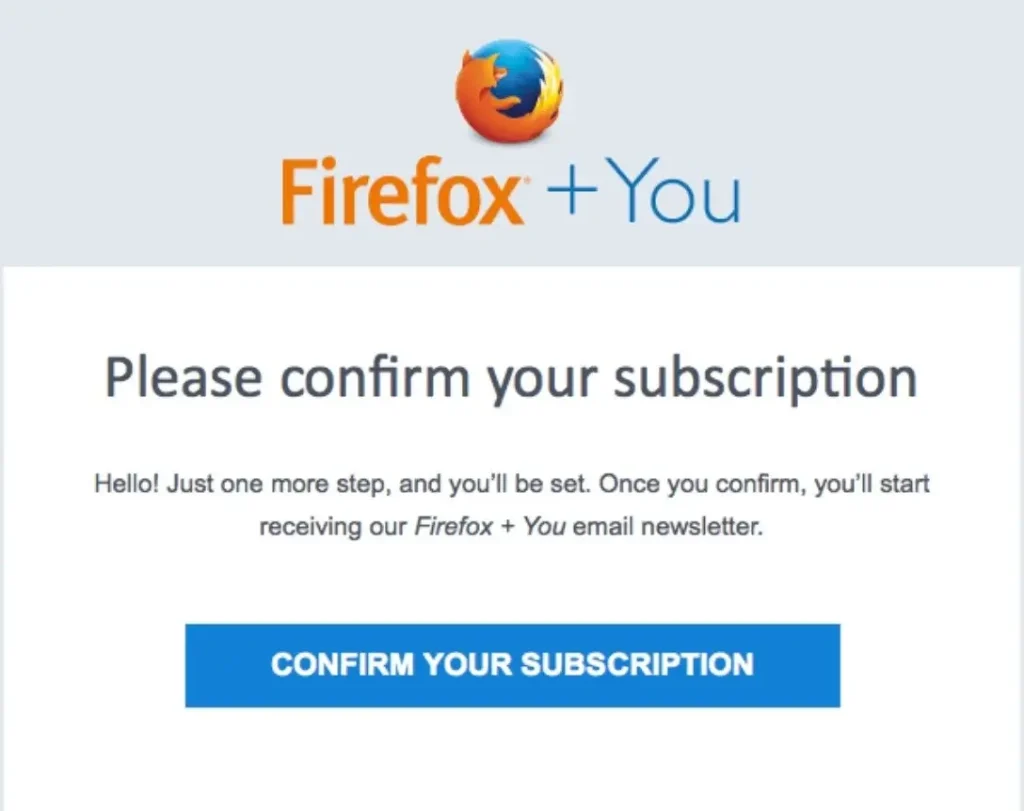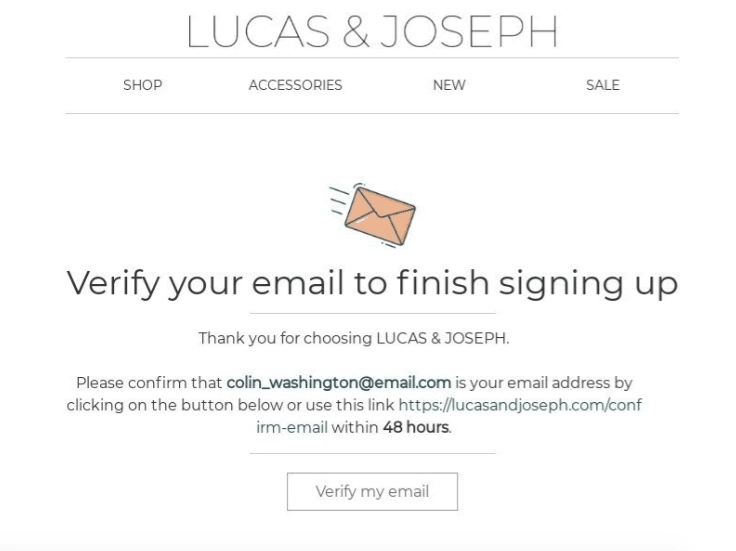 Add Your Social Media Channels To The Subscription Confirmation Email
With the increased use of social media, you need to find a way to make your social media channels visible to clients. This is important because most of your subscribers are on these platforms.
You can incorporate your social media channels into the design of the subscription confirmation emails.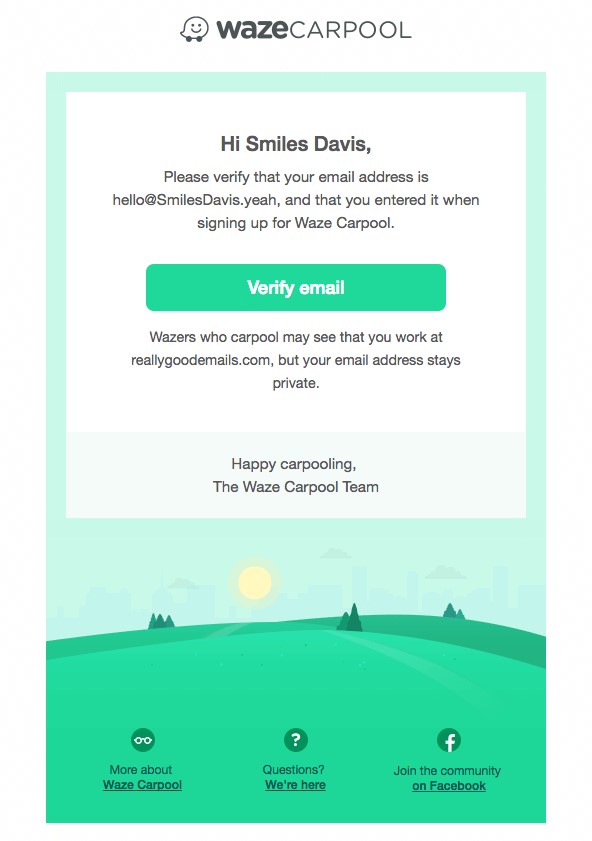 Expose Your Brand's Features
First impressions matter a lot for your business, so your subscription confirmation email might be the first interaction a client has with your business.
To make it easier for the user to understand better what you do, you can add some of your brand's features to the subscription confirmation email.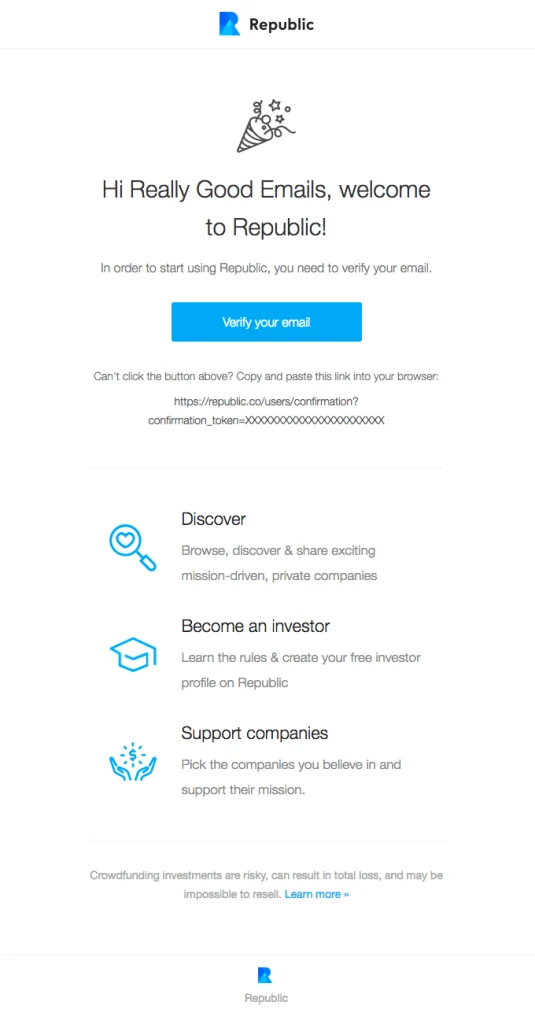 Response-Based Confirmation Emails
This response-based subscription confirmation email is unique and slightly different from the rest. This confirmation email requires users to reply with a "Yes" if they hope to subscribe.
This is a good step because it helps the brand be sure that it is real people responding to the emails, and they are willing to go the extra mile to make sure they subscribe. This method can help increase your email deliverability and response rate.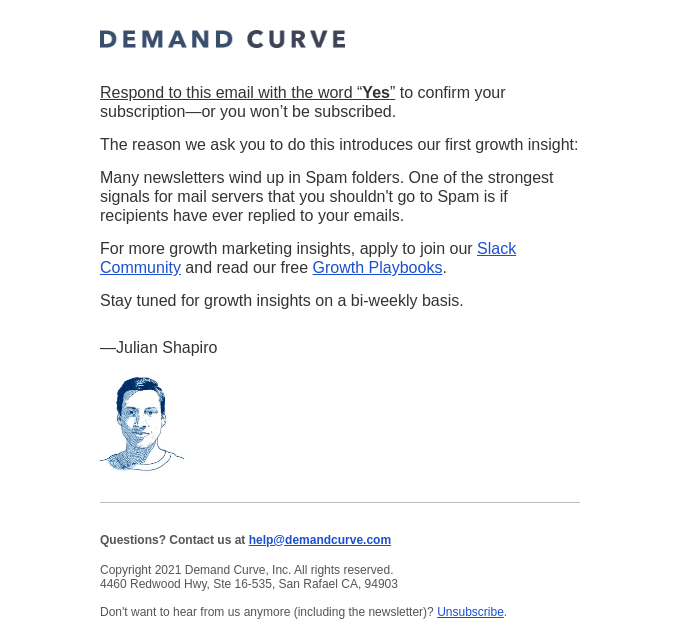 Double Opt-in & Confirmation Benefits
Every marketer hopes to get serious and potential leads during every marketing campaign; the double opt-in and confirmation method helps the brand get users interested in your business. The two points below highlight the importance of this marketing method:
Decreased SPAM Complaints
There's one thing that haunts the dreams of even the most experienced email marketers, and that is when the recipient of the emails unsubscribes and spam complaints. Honestly, come to think of it, this is an integral part of email marketing.
People just hate unwanted or irrelevant emails, and why shouldn't they – it clutters their inbox, fills their space, and takes time for them to find an email that actually mattered to them.
So, even if you're telling your receivers how they can unsubscribe to your newsletter, they'll still hit that complaint link to get rid of you.
By using the double-opt-in method, you'll attract only the audience interested in your email; this will significantly reduce the chance of your email getting spammed.
My recommendation would be to never opt for the single opt-in method because although you'll get more emails, those emails may result in more spam complaints. The worst-case scenario? This spamming could cause potential banning of your domain name by major ISPs, and trust me, once you're on an email blacklist, it's super-hard to get yourself off.
In Search of an Effective Email List?
The whole idea of a double opt-in email is to get the emails of the people who are really interested in your offerings. You can get these emails by offering some type of valuable content like a webinar, checklist, online course, or any other content upgrade.
And this can only be justified if the users whose email you've acquired have opted for the double opt-in method to prove their loyalty. This method signifies that your email list is elite.
The double opt-in email method helps you retain quality emails in the fewest possible words.
Furthermore, consider that you're selling ad space in your newsletter. You could tell the advertiser that you've got 15,000 email addresses, and they're all single opt-in.
These contacts you've got would probably be the people who either never signed up for your email, pseudo emails, or invalid emails.
Therefore, even if the advertiser buys space in your email, they would never buy again because of poor results.
In contrast, imagine a list containing not more than 1000 double opt-in emails. Now, these are some elite emails. But, since they opted for the double confirmation method, they're the audience who's really interested in what you're offering.
Therefore, the advertiser that buys space in your blog or newsletter would get fantastic marketing results. This is because your elite email addresses responded to the ad in the email, which made the advertiser's day. So by the end of the journey, you have a happy advertiser who will buy from you again and again.
Email Subscription Confirmation Message Templates
Your brand can utilize so many templates for your subscription confirmation emails. There are different varieties, and you can edit these templates by replacing the logos or written messages and using the one that best suits your brand.
Sign-up Confirmation Email
This is a registration confirmation email; it's simple and highlights the user's action. You don't need to add many elements; it's more about guiding the user to your website.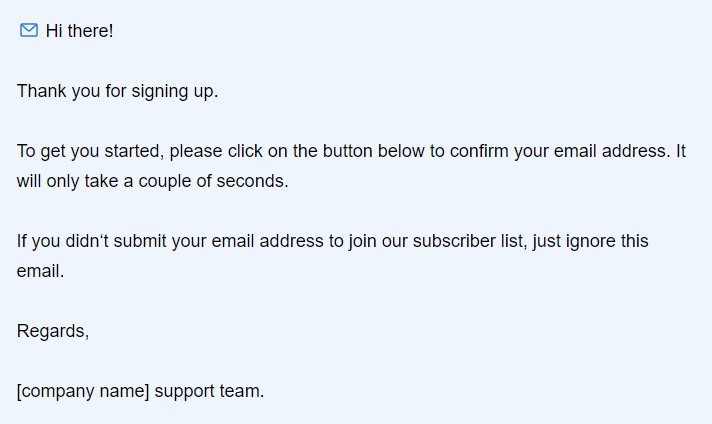 Double Opt-In Confirmation Email
This template is a minimalist example, and the blue colour resonates with comfort and loyalty within the user.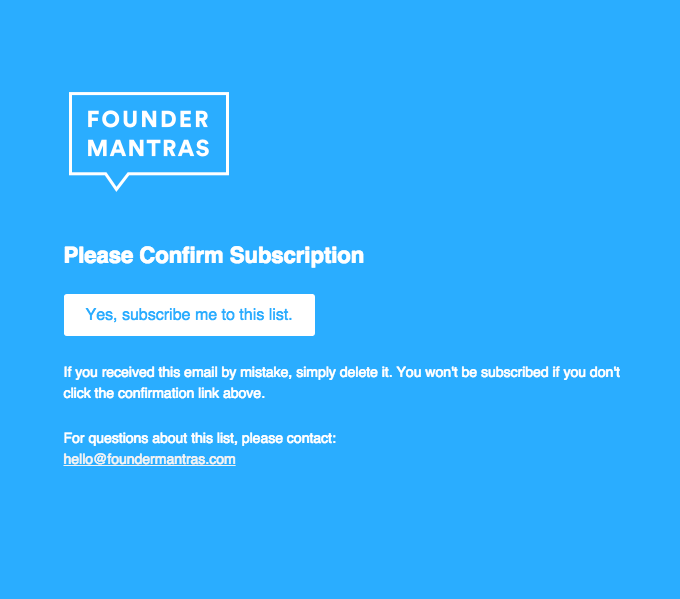 Thank You for Subscribing Email
This template tries to connect with the user by welcoming them and making them feel comfortable. And then, it proceeds to invite them to verify their subscription. This is a lovely way to lay the foundation for a working relationship between the brand and the user.
Subject Line
Thank you for signing up for [company name]
Message Body: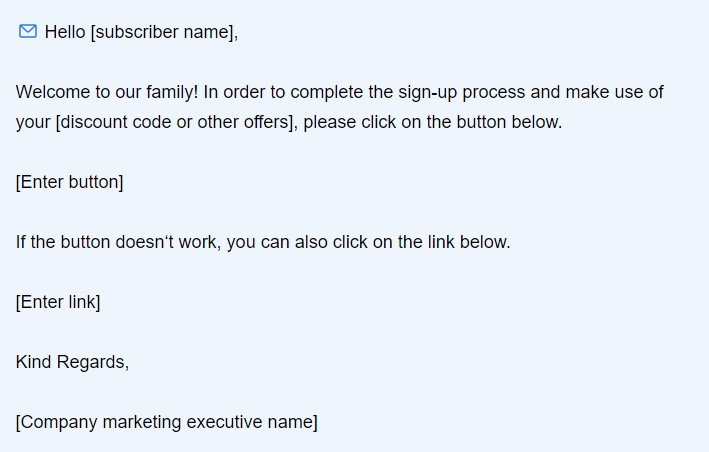 Customize the Design According to Your Brand Logo
Since confirmation emails might give the user a picture of your brand and business, it's good to develop a custom design that speaks volumes about your brand's identity.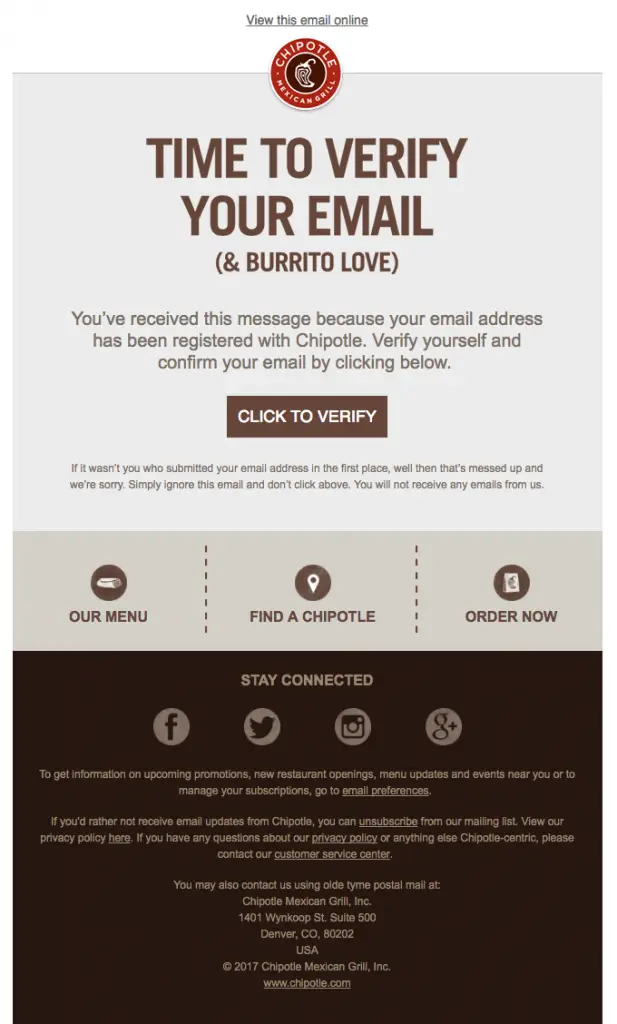 Official Subscription Confirmation Email
If your company or organization is an official one, you can keep things simple, official and straight to the point. This sample gives a very helpful example: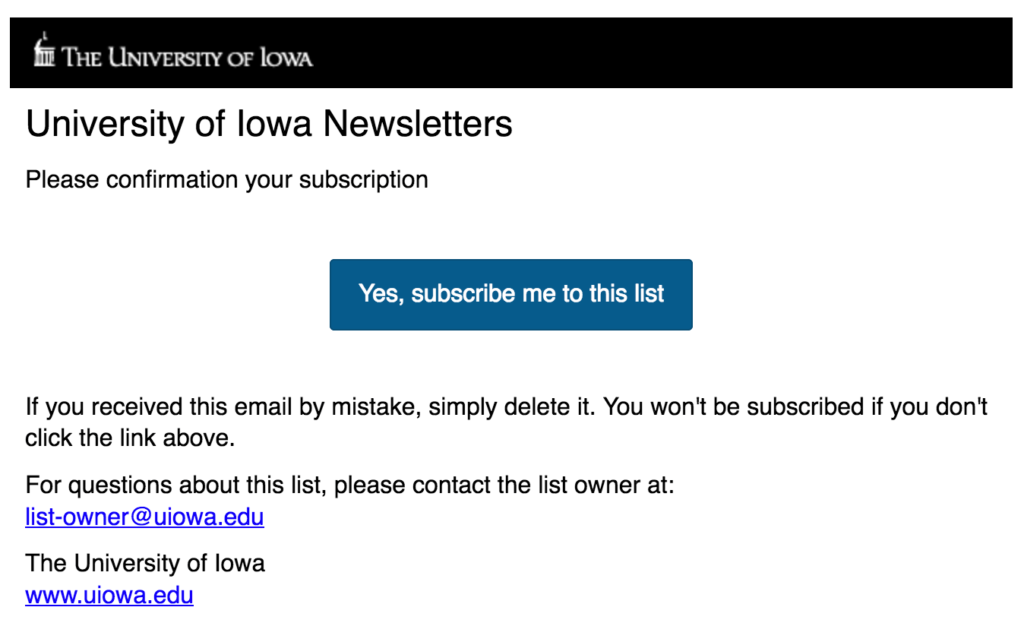 How to Set up Subscription Confirmation Email Funnel
For your brand to set up automated confirmation emails, you must register with email marketing automation software.
This registration is necessary because those subscription confirmation emails are autoresponders that enable your brand to easily and quickly confirm the registration from a user and add them to your emailing list.
Below is a step-by-step process that enables you to set up subscription autoresponders using Sender
1. Connecting Your Emailing List
Many brands organize their email list in different ways, you can have a different opt-in list for all your new users, or you can create one list where you keep all contacts.
A subscription confirmation email is sent to all those who have added their emails to a completed form. This form usually appears in
your checkout form on your website,
landing page,
subscription form on your website,
or social media platforms.
Once you have synced all the emails on your list, you can move to the vital part of creating the message.
2. Create an Email
Your subscription confirmation email design will depend on what you want. First, it needs to have either one or more fields for the users to fill in their information.
It could be just one field for the user's email address, or you can have additional fields for their names and home addresses, telephone numbers, etc.
Secondly, it is necessary to have relevant and valuable content in your subscription emails; this can attract more users to your emailing list or push them away.
Your message must be relevant, brief, and captivating to the user.
3. Setup Sequence
Sending overwhelming emails to users who have signed up can make your marketing campaign irrelevant and annoying to users. In addition, overwhelming emails can make it difficult for your message to resonate with the users.
So setting up a sequence for your emailing list is essential and takes away the problem of overwhelming users with too much information.
Setting up a sequence allows your brand to send confirmation messages effectively and efficiently. Most importantly, when you set up a sequence, you can enable new users or subscribers to move smoothly through the confirmation and subscription process.
You can easily do all this with Sender. Firstly, create your email list. Then, make a desired email with Sender's powerful builder (or choose from a wide library of existing designs). And lastly, build an email sequence by using efficient Sender's automation feature.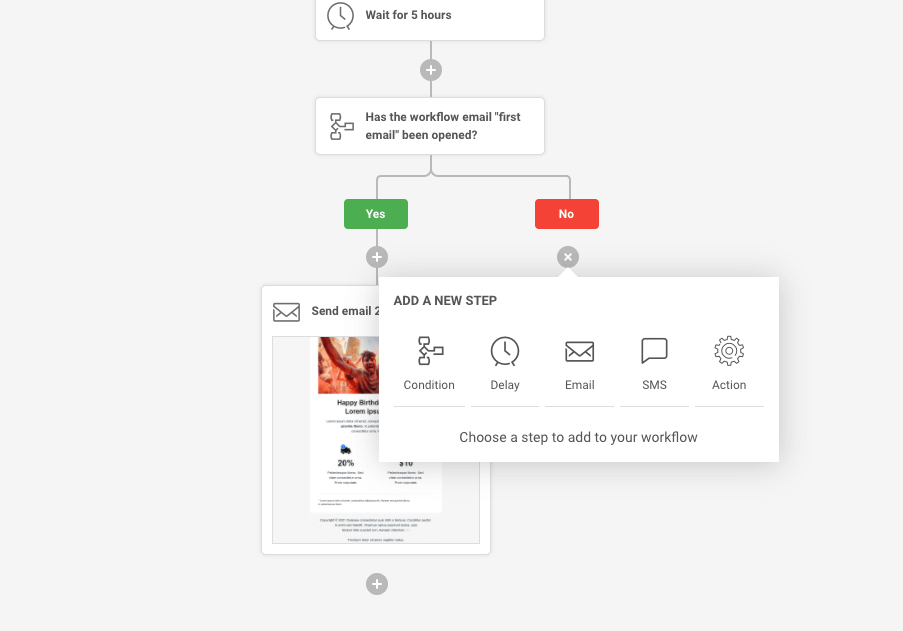 Not ready to jump in yet? Try out the FREE Forever plan that allows you to send out a maximum of 15,000 emails to a maximum of 2,500 contacts every month! For a lifetime, yes!
What's Holding You Back?
Email marketing can have a positive and significant impact on your business when it is effective and efficient. Most success arises when your email subscribers lead to a high conversion rate.
Double opt-in email marketing is overtaking the email marketing space, and your brand is missing out if it is not already tapping into this success.
Content Contributor – Tobi Cyprain