Identifying the correct strategy for your fitness business is knowing what approach works and what doesn't.
Whether you run a small gym or large, marketing your business most finely is what attracts the audience and potential customers. A full-proof marketing plan helps build a strong brand and spots new opportunities coming your way. 
Promoting through word of mouth is not enough, especially in today's world where everything goes digital. Digital marketing has a crucial role to play in every business. During the pandemic and after, even the world of health and wellness has earned prominence as people are more conscious about their health than ever. Even organizations are concerned about their employees' well-being as they make the most valuable assets for the company. Times are changing, thus, as your business grows, innovations must be put to use according to customer behavior.
If you plan to host wellness programs or other campaigns to promote your company, you should have a full engagement strategy. This article will discuss the various health and fitness marketing strategies you can and should implement to boost your business.
What is Health and Fitness Marketing?
Health and fitness is a huge trend today. People these days are very motivated in terms of their health and wellness. As a result, almost everyone tries to follow a healthy lifestyle. This brings us to the emergence of gyms and fitness centers. When it comes to fitness motivation, gyms or wellness centers are a way to go. And with more and more people opting for gyms, the demand for the same has increased. Therefore, a large number of gyms and fitness centers have opened up creating heavy competition in this field.
In such a case, keeping up with the competition requires well-designed strategies.
The calorie-burning season is on. So is the peak season for fitness marketers. Now before going further, let us see what type of organizations fall under the "fitness marketing" category:
Gyms;
Digital Wellness platforms;
Fitness wearables;
Healthy food and supplements companies.
Marketing can be done in several ways and on various platforms. At the end of the day, delivering the right message to the right audience is the main goal.
10 Health and Fitness Marketing Strategies to Promote Your Business
When you have a business but do not have the right strategy to market it, it is just a matter of time before it all collapses down. And these days, with the increasing competition, having the right marketing strategy is what you need to up your business. Now, marketing strategies come in various ways. Let us take a look at the different types of marketing strategies, there are:
Influencer Marketing
One of the most trending marketing strategies today is influencer marketing. Those days are gone when you would think of getting an athlete to endorse your products and services. Social media has completely transformed that scenario and created its own celebrities. They are known as influencers for a reason, as they can engage a potential audience with their updates. Influencers might not be on TV or in movies, but they have dedicated followers keeping track of their posts daily and getting inspired or, should I say, influenced by them. Not to mention how the quality of followers matters more than the quantity. The more engaged their followers are, the more reach they have.
High-level brands even do paid partnerships with them to promote their products. They have the power to influence the purchasing decisions of people through posting their videos, reels, and other content on online platforms like Instagram, Facebook, Twitter, etc. The influencer game is going too strong, with its market growing from $1.7 billion in 2016 to $9.7 billion in 2020. It reached $13.8 billion in 2021, showing a steady growth.
So, influencer marketing involves hiring an influencer with an engaging audience to mention your fitness business, maybe your gym or a wellness organization.
Video Marketing
With each day, there has been a constant rush in everything. We no longer have time and patience for written content. People are more into live streaming, interactive videos, and more. Thus, the demand for video-based content is at an all-time high. Video marketing strategy is not new in the picture; it is the most effective way to attract customers.
Videos are the best way to tell your brand's story to the audience. It grabs and holds people's attention easily and builds trust with viewers. Video marketing lets you discuss your business in detail and connect with the viewers from the front and not be anonymous or through the pen name. It brings transparency.
For instance, a video showcasing your fitness studio will have more impact than a blog talking about it. As they say, "Believe what you see, not what you hear" or read, maybe.
Social Media Marketing
Admit it or not, social media covers the majority of the time in our lives. Whether it's Facebook or Instagram, we are occupied with these platforms almost every day. Social media platforms play a significant role even in brand promotion and advertising. Most of the time, social media campaigns turn out to be fruitful in terms of awareness and popularity.
The first requirement is to keep your social media handles up-to-date with trending posts to market your fitness business. In the wellness business, you can creatively post about health and well-being practices. These posts can include facts, tips, benefits of maintaining a healthy lifestyle, and the drawbacks of leading sedentary lifestyles.
So, suppose you have a proper wellness plan. In that case, all you need is to promote the same through social media advertising like Facebook ads, organic posts, using hashtags, and going with the trending graphics and video content. Do the research first, know the algorithms, and take a big shot at them. Although there are many options to choose from, sticking to the platform your target audience uses the most is what you should do.
User-Generated Content
Got some cool shades that you cannot wait to click a picture of? And maybe upload it to your profile. When a customer uses a brand product and publishes a photo or a video on their social media platforms showcasing it, that content is referred to as user-generated content (UGC). This type of content is considered authentic and unique as consumers create it.
Moreover, UGC helps build a trustworthy relationship between consumers and brands. It comes in all forms, ranging from photos and videos to reviews or even podcasts. If you own a fitness wearable brand and customers use your product and share a positive review on Instagram, tagging your page will give it a good reach and bring organic traffic. Also, it adds more credibility as the review or the post comes from a person who has used your products and shared their actual experience.
UGC mostly comes from customers, brand loyalists, and employees. For instance, if you have a gym, a new customer joins and likes the experience- they might share a photo while working out, another person who already is a regular-goer shares another video of several exercises, or the staff present in the gym might create posts during their time at the gym. The crowd might be different, but their activities are going to bring the same outcome, which is marketing your gym in the form of traffic, conversion rates, and real content. All the instances mentioned above are user-generated content capable of bringing more customers.
Also, it gives you a chance to know your customers as well.
Email Marketing
Email marketing is considered the most effective way to advertise when you want to sell your products and services. Email marketing is a channel that uses emails to promote your products and services. There are billions of email users worldwide, so if you have an upcoming fitness program or training, emails can help you reach potential customers.
Emails might seem less reliable and closed-ended, considering the fact that you can have access to only the prevailing customers' email addresses. But that's not true. If you assign some resources to collect email databases, there's a high chance of transforming those into leads.
Besides being cost-effective, email marketing is also time-saving. Every person enquiring at your desk, visiting your website, enrolling for free trials, reading your blogs, or contacting you for more information must be added to the email list. The email marketing software lets you categorize addresses based on their location, age, and probabilities of converting, among other variables.
Gary Theurk, marketing manager at Digital Equipment Corp in 1978, used this method to send out the first email to inform people about his new product. His email list had only 400 addresses, but those emails earned his business about $13 million in sales.
Email automation can do more than just bring new consumers to your business, and it can even build customer loyalty and strengthen long-term relationships with your existing customers. Frequent communication over emails helps as well. Instead of just talking about your upcoming services, send some extra stuff like free dietary plans, workout advice, and reviews from time to time to keep your existing customers in the loop.
Still on the fence? Get started with Sender's FREE FOREVER plan where you can test the tool or even grow your business without paying a cent. There is no limitation in feature access for small users.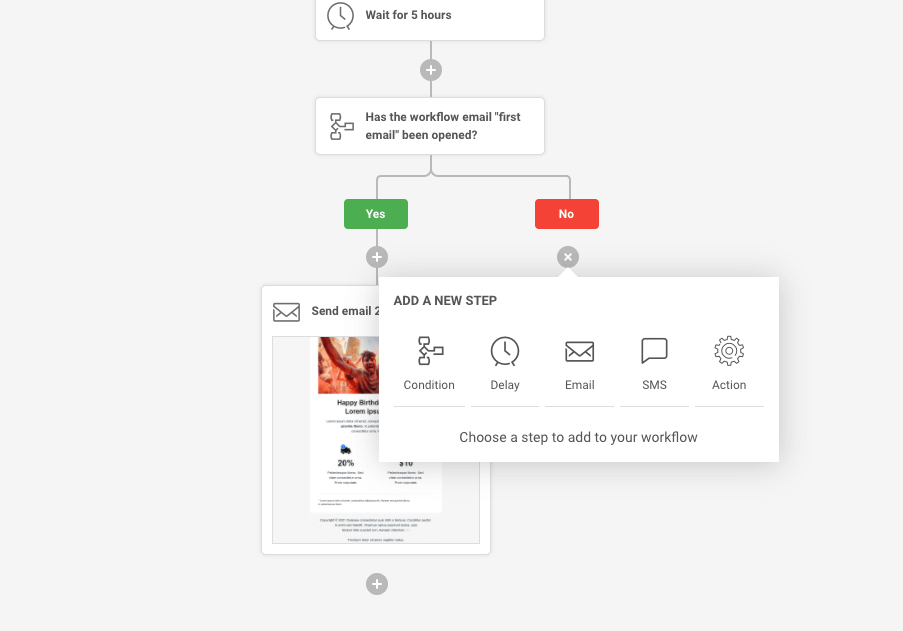 Content Marketing (SEO)
Content marketing strategy is the easiest to understand yet the most tricky to execute. This strategy engages the audience through creating articles, videos, podcasts, etc. The audience is retained through a well-optimized website and content. To do that, SEO gets in the picture.
People these days cannot do without Google, and they resort to it every time there is a need to know anything. Therefore, if you have a fitness product or service, your presence must be felt in those search engines. And Search Engine Optimization (SEO) exactly does that. It will help those search engines crawl your website and make a place for your content. This approach is capable of improving your search rankings for target keywords, further making your website outperform your competitors.
So, if you own a gym, the first thing you should do is create a website and start the blog section and publish relevant articles. However, writing random blogs will not do; they have to match your niche. They must serve the customer's needs and queries. If a customer wants to know about a certain type of exercise in detail, articles must be written on the required topic. Thus, research is necessary, and you must craft a proper strategy— from figuring out the search intent to looking for appropriate keywords and writing informative and original content on them. In other words, a customer should be convinced that these people know what they are doing.
A well-crafted blog has a lasting impact on the company's reputation and performance online. SEO has a technical side that includes page load speed, meta titles and descriptions, and a creative side consisting of great content able to bring coverage and backlinks. The one thing about content marketing strategy is that the impact cannot be seen overnight but with time. Sometimes, it takes more than six months for a blog to rank. Thus, follow the ultimate SEO guidelines before publishing your content to build your brand reputation in your niche and deliver a good experience to your customers.
Conversational Marketing
As the name suggests, conversational marketing refers to real-time one-on-one interactions throughout various channels. This strategy is mostly used to smoothen the online customer experience in a personalized manner. Tools like chatbots, live chat, and texting apps are used for conversational marketing.
Conversations with chatbots are sometimes so informal that it resembles a real conversation through customizing interactions online. The conversational marketing approach better the customer experience and intends to move probable buyers to confirmed customers.
Two-way communication of any form is a part of conversational marketing strategy. Messages are the most convenient way to reach customers. So when selling your business, try to assess your customer's preferred communication channels and adjust the tone accordingly. It is a pure customer-centric approach. Here, the customers are given the power to decide when, how, and where to communicate.
Thus, while marketing your fitness business, do some research and find out the channels your target audience is most comfortable using. Personalize the conversations concerning customer behavior, thereby delivering the right answers and information at the right time. Take feedback from the people to know about the shortcomings, for it will help with improving the conversational marketing strategy. Also, try to keep the interactions simpler.
Furthermore, to make the strategy successful, enhance the quality of those marketing conversations through testing, and analyzing the data of the discussions.

Also read: Behavioral Segmentation Definition & Examples
Event Marketing
Event marketing is a marketing strategy revolving around events held for business promotions. The events can vary as per the target customers' interests, and they can be offline seminars or online webinars. This strategy is about having direct interaction with the customers on a personal level.
Effective events can turn out to be the most valuable marketing channels. Event marketing strategies establish brand awareness, raise customer engagement and generate leads and educate people. You can host virtual or onsite wellness events or seminars to garner an audience looking for health and fitness information. These seminars can make people aware and engage new customers while retaining old ones. Moreover, while choosing the events, you ought to do the homework regarding the kind of events your current and new customers are likely to attend because that is where you need to keep your attention.
By holding an interactive event and providing a good experience to the attendees, you are more likely to convince them to use your services. Direct interaction helps establish healthy relationships and heightens client retention and brand loyalty. Thus, event marketing is one of the best ways for promotional purposes, as it is engaging and gives you the exact stats of budding customers by analyzing the attendance database, queries, and time durations. In addition to this, creating content relating to the event and noting down minutes can be helpful further in promoting the event on social media and other platforms.
Fitness PPC Marketing
You own a gym and a website for the same. Also, you have optimized content. Now, what else can you do to increase your reach? Pay-per-click or PPC is a marketing strategy that includes businesses paying a fee every time their ads get clicks. The most common form of PPC marketing is the search engine. This enables companies to pay for the placement of ads on a particular search engine's sponsored pages.
For example, when you search for "gyms nearby," you will notice a set of advertisements for certain gyms on top, followed by a list of organic results below. The ones occupying the top space have taken a bid on the keyword you were looking for (in this case, "gyms nearby"). Also known as Search Engine Marketing (SEM), the goal is similar to SEO aiming to appear in the high search results; however, the process is different.
PPC is a pretty easy strategy, considering all you have to do is pay for advertising when your ad gets clicked. This technique of buying visits has a good capacity to drive traffic to your site, even organically. Google Ads is the most popular PPC marketing network. If you want to promote your gym, run campaigns online with Google ads and advertise them. These campaigns will further be showcased on all Google services.
All you ought to do is select the ad format and keywords wisely, as Google Ads focuses on ad quality, relevancy, size, and bid price. Ensure that you do your research while choosing keywords and go for popular and relevant ones. The landing page should be of high quality and appealing. Once you are done with these, Google Ads can offer you the most impressions. So, when someone searches for that keyword you bid your money on, your website will appear on top of the search results page.
The PPC marketing strategy is perfect for small firms. You can easily choose the amount you are willing to pay for each keyword, thereby keeping a record and managing the expense when your advertisements are displayed. You can even include a "call us now" button with some campaigns, which gives you an insight into the campaign's performance. Moreover, PPC is the easiest to track, enabling you to see where to invest in future campaigns.
Referral Marketing
When we seek to purchase a product or service we have no clue about, we always rely on people who have some kind of experience with that product or service. This is the power of recommendations and referrals. Referral marketing is nothing but word-of-mouth marketing. There are hundreds of gyms in a city, but if you are a first-timer, you would want to go for the one that can offer you quality service. Sure, there are online reviews and whatnot. But when a person shares their experience through a one-on-one review of a gym, you are likely to believe and go for that instead of those with 3-4 star online ratings.
Referral marketing is a cost-friendly and trustworthy marketing strategy, and it relies on recommendations to increase a company's customer base via networks of current customers. Even when we use a product and are happily satisfied with it, we tend to share our experiences with others, and this has the potential to persuade family and friends to try the product. Because at the end of the day, we trust the words of our friends and family more than advertisements.
On a journey to publicize your gym services, referral marketing turns your existing customers into brand advocates. A gym referral program is a process of motivating members to refer their close ones. Also, there can be fitness rewards for them in that. They get incentives for every customer they bring in in the form of gift cards or sponsored holiday trips.
Isn't that a win-win situation for all?
You can market your gym through reviews, recommendations, social chatter, and, most significantly, referrals. And this gym referral program can be known through emails, blogs, social media, and websites.
How to Market Gym Business?
There is a huge level of competition in the fitness industry, with so many gyms and fitness centers around. In order to stand out in the crowd, you got to have some smart strategies and tips for your gym or fitness business.
Gym Advertising Campaigns
Hosting events to promote your gym is a great way, to begin with, but there is another important task to do before that–Advertising. Generating leads and brand awareness is mainly done through advertising campaigns, and it has the power to boost membership sales. Not to mention how lead generation is the most important yet difficult task and is impossible without marketing your product through well-crafted ads.
The ads can be on any platform; they can be through social media marketing or offline posters, or any other place. Every ad campaign has endless possibilities, and they just need that one thing — a good strategy.
Make an Effective Plan: There are four crucial elements to consider while planning your ads. First, create awareness in digital or onsite platforms and gather attention to your product. Then comes the interesting part, where you need to create content talking about the benefits of your product or services so that it creates curiosity in people's minds. Try to establish an emotional connection with the audience and portray your products in a way that they need. The last step is to persuade them to download the brochure or newsletters or join the live streaming sessions on social media platforms.
Set Reasonable Goals: You have to be very particular about your goals before starting with the ad. Whether you want to generate leads or promote your brand, decide first and note your objective. That way your content can be created keeping in mind the goals and objectives of the campaign.
Choose your Target Audience: You must create your campaign as per your audience's needs. And to do that, you must first figure out your target audience. Once your strategy and campaign goals are set, it will be easier to identify the possible audience you should cater to.
Create Catchy Content: Visuals and graphics are the most effective elements for brand promotions. People these days are more inclined towards graphics and images rather than text. You will often see that the best ads let their graphics do the talking. The ads should be simple with less text, as people will not spend time on your ad if there's too much information written on it. The pictures should not look too cluttered. Explore your creativity while making the ad easy for your audience to absorb.
Secure Google Listing to Generate Leads from Google
What is a Google listing, and why do you need one? Being listed on Google is one of the most important marketing steps for a successful business. Google My Business listing is free, but if you want to hire a digital marketing agency to secure your listing, you will have to buy a service called Local SEO.
Google listing is a hub where all your contact information is stored and appears when potential customers look for your business or service. It allows people to find all your contact in one place on google's search page. Having your website listed on google will help you rank better.
The Google listing appears under the ads section in the Local Pack section to show local businesses. After you list your gym information on Google, all the details will appear in the Listing sections below the paid ads and above the organic search results. Without listing, you would be losing out on various customers because then, if they search for your business or the service you offer, they would not know and thus will not be able to locate your business.
Google listing must have your:
Gym name;
Address;
Contact number;
Website;
Business hours;
Images;
Reviews;
Posts;
Description.
Some even say that ranking your business on Google Local Listing is more effective than pay-per-click ads.
Use Google Reviews
Google reviews offer valuable information to the audience about products and services.These reviews are considered authentic, as they are based on real experiences. You can ask your customers to share their thoughts by sending them the review link.
Verify your company profile;
Ask your customers to leave reviews;
Respond to the reviews, building customer trust;
Take consideration of all reviews–good and bad.
The elements mentioned earlier will increase your chances of coming on the radar of your target audience.
Fitness Marketing Examples
In the fitness apparel industry, one of the biggest names at present is Gymshark, and it is currently one of the main players in the fitness business. Initially starting as an e-commerce business selling supplements, they later completely shifted their focus to the fitness clothing division. Since then, they have been growing tremendously, making Gymshark what it is today.
From doing printing operations from a garage, Gymshark has come a long way, now being one of the most recognizable brands in the fitness world.
Gymshark Marketing Strategy
The primary reason behind the fastest growth of Gymshark is the way the founders knew how to grow their businesses. They have attempted clever things to drive customers into using their products. While having the goal of being innovative and producing quality products, they wanted to expand their digital presence too. Another factor was that the company knows its target market inside out, pays close attention to their reviews and feedback, and offers them all they are looking for.
Starting as a brand targeting men's apparel, Gymshark realized the market of the women's division soon enough. In fact, as of 2020, over two-thirds of the sales come from women customers.
Gymshark Influencer Marketing
Gymshark has attempted several things to make its brand known worldwide. Looking to enhance their presence on digital platforms with a small number of items for sale online, they resorted to social media to target potential customers and raise awareness among them.
In their quest to promote the brand, Gymshark chose Instagram as their prime platform and opted for influencer marketing to market their business. They collaborated with fitness influencers by sending them free products, which they further endorsed on their personal profiles.
At first, they collaborated with instagrammers and bloggers who are fitness enthusiasts and have a good reach. Later, they started reaching out to the big names in the influencers' game.
Gymshark has taken Influencer Marketing as its primary marketing strategy. And that has been a game-changer for them. Gymshark founder Ben Francis sent clothing to YouTubers in 2013, and since then, they have gained popularity on YouTube too.
The Influencer Marketing strategy involving influencers had a big positive impact on their sales. And from this, they chose to sponsor 18 influencers with a following of over 20million to up their business. Through this strategy, the influencers became brand ambassadors for Gymshark, turning into natural advocates for the brand.
Health and Fitness Marketing in a Nutshell
If you want to boost your brand like Gymshark, you ought to have a well-planned marketing strategy. Thus, resorting to any of the mentioned health and fitness marketing techniques will be fruitful for attracting a potential audience to your gym or fitness centers, or services. Make sure to adapt at least a few strategies listed above and go forward with your marketing plan.
Like what you read?
Apply it in practice with Sender.net - the most cost-effective email marketing solution in the market.
Try Sender for free