Online advertising has grown to become a significant driving force of modern economic trends over the years.
Despite the economic impact of the 2020 pandemic, digital advertising spending increased in 2020 and 2021, rather than decreasing compared to the 2019 figure. And it's predicted to continue rising.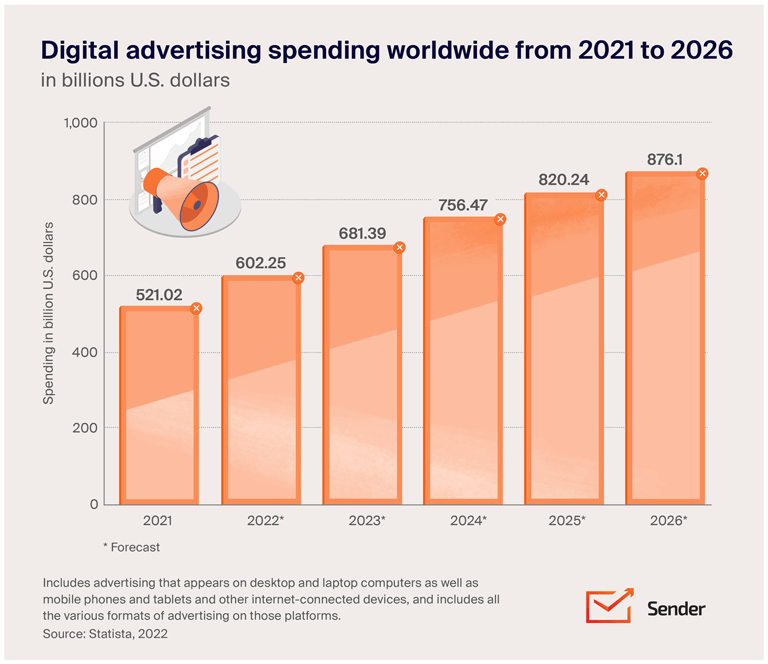 As ad spending grows, the online marketing landscape will be more competitive than ever in 2022. You need to personalize customer experiences to cut through the noise.
While internet advertising is an effective way to attract customers to your website, the abundance of options can be overwhelming. That's why we created this guide to offer you tips on how to advertise online.
What is Online Advertising?
In its simplest definition, online advertising refers to ads that appear in emails or websites. It's a marketing strategy that uses the internet to generate website traffic and deliver specific marketing messages to the right customers.
Digital advertising helps persuade targeted customers to take specific actions like making a purchase.
Unlike traditional ad strategies, advertising products online enables you to target a specific demographic, such as gender, generation, or geographic region. Online ads are interactive, meaning that users can respond through actions like clicking and visiting your website.
Types of Online Advertising
You can integrate many forms of digital ads into your digital marketing strategy. We've listed the six most influential types of internet advertising on the market:
1. Email and SMS Marketing
A comprehensive email and SMS marketing strategy transforms your one-to-many communication into a more personalized experience for your subscribers.
Email and SMS marketing campaigns yield high conversions — thanks to email and SMS automation tools like Sender. As a result, you can send remarketing emails to visitors who abandon their cart and encourage them to finish the transaction.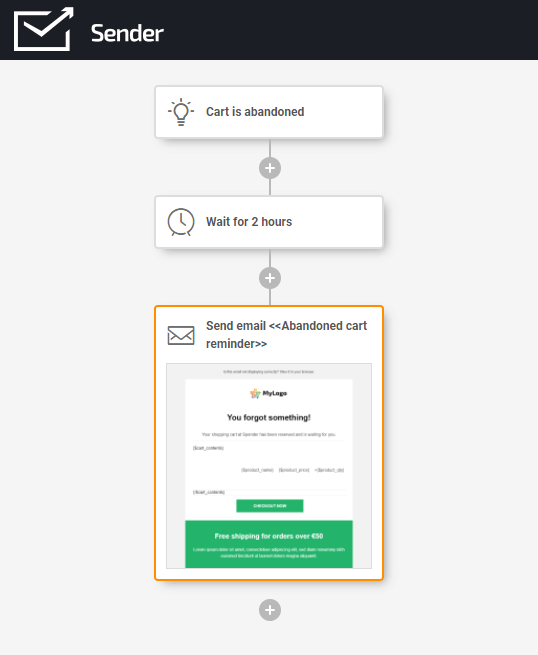 2. Display Advertising
These are visual ads found on third-party websites (usually related to your content). They're called 'display ads' since they typically contain images or videos published in specific website areas such as blogs.
They can be purchased directly or via platforms such as Google Adwords. The cost is estimated by cost per click (CPC) or cost per thousand views (CPM).
3. Search Engine Marketing (SEM)
The goal of these ad campaigns is to raise brand awareness in a short period. It's a simple advertisement with a title, description, and call to action.
The advertisement will be displayed when users enter your pre-selected keywords into a search engine, depending on the website quality and established CPC.
4. Native Advertising
Native ads are a less conventional type of internet advertising. They use a strategy that avoids sponsored content or online banners to gain visitors' trust by providing solutions to their problems.
The simplest way to implement native ads is by creating a blog, where you talk about topics related to your niche and include helpful and interesting info for your users.
5. Social Media Advertising
Creating ad campaigns on social media platforms is superb for generating brand awareness and acquiring potential new customers.
Due to the extensive segmentation capabilities social networks provide, they can be ideal places to launch new products or services aimed at specific audiences.
6. Video Advertising
Users find video content extremely entertaining, which makes using video ads a brilliant idea.
You can collaborate with YouTubers who'll feature and discuss your products or services on their channels. You can also produce original video content to help you achieve a better, more organic SEO position.
Online Advertising Examples
Targeted Online Advertising
Targeted advertising is one of the most effective online advertising strategies.
It's a form of digital display advertising where marketers deliver promotional messages to customers based on their specific traits, interests, and preferences. Advertisers get this info by tracking consumer profiles and online activity.
Examples include: online behavioral targeting, contextual targeting, geographic targeting, and time targeting.
Targeted ads have many advantages, including:
It helps you interact with audiences that are most interested in your products;
It offers advanced personalization that enables you to provide the most suitable products or services to consumers;
You get improved sales and higher conversion rates since you'll show relevant offers to your target audience.
Depending on your budget, prices are based on the limit you set on an advertising platform. As soon as you reach the limit, the advertising platform stops showing your ads.
That said, here are five ways to up-sell and cross-sell your previous customers using targeted advertising:
Analyze past buyer metrics to help you understand the true motivation behind their purchases;
Organize your customers into segmented lists to target them with the right offer;
Create remarketing campaigns in Google and preferred social networks to target specific buyers with the correct messaging;
Remind customers why they choose you over your competitors to instill a new sense of brand loyalty in them;
Incentivize loyal customers with personalized offers such as free gifts or discounts if they purchase an item again.
Paid Online Advertising
In online paid advertising, you have to buy ad spots in real time to attract internet traffic. The featured ads appear on specific websites, and marketers or businesses compete for keywords related to their products and services.
The best-paid search advertising strategies are PPC, influencer marketing, social media ads, retargeting, and banner ads.
You can work with any budget when you execute these strategies correctly. They also work well on their own and when combined.
Paid ads have various benefits, including:
They're very affordable and measurable
You can test them and gain valuable audience insights
You can broadcast your messages across multiple, but selected channels
Google Ads Online Advertising
Google Ads is a paid advertising platform under PPC, where you pay per click or per impression on an ad. Ads from the platform can also be seen on YouTube, Blogger, and the Google Display Network.
The benefits of Google search ads include:
It enables you to target people with specific interests in your products.
It helps you control your costs since you only pay when someone clicks your ad.
You can measure your success since you'll know when a person clicks your ad.
It offers you tools to manage and monitor your accounts.
Facebook Online Advertising
Facebook ads work on a PPC model where you pay the network each time a user clicks an ad.
It enables you to build brand awareness, increase visibility for your ads, and measure clearly defined metrics to create better, more optimized ad campaigns.
The cost of Facebook advertising is determined by a daily or lifetime budget. Daily budget is where your ads run continuously throughout the day, while lifetime budget is where your ads run for a specified period.
The advantages of Facebook advertising include:
Facebook has over two billion users worldwide, so Facebook Ads can help you reach a wider audience;
Both B2B and B2C companies can use Facebook Ads to reach their target audiences;
Facebook Ads allow you to drive referral traffic to your business's website.
Video Advertising
Video advertising refers to promotional content that plays before, during, or after streaming content. Some marketing professionals expand video advertising to include display ads with video content, such as videos that start playing when you put a mouse cursor over them.
Examples include in-stream video ads, out-stream video ads, and bumper ads.
The benefits of video advertising include:
You can communicate the necessary information quickly to your target audience.
You'll gain more social shares and attain a wider customer reach.
You can educate customers about your offers interestingly and interactively.
YouTube video advertising costs depend on audience targeting, watch time, and campaign objective. On average, YouTube ads cost $0.10 to $0.30 per view.
Local Advertising
Local advertising promotes your small business to audiences close to your business location with messages reflecting the local market.
The main benefit of local ads is attracting more local clients. You'll also be charged less to advertise in a local publication than in a national one.
These lower costs can help you fine-tune your local advertising strategy. If one approach isn't working, you won't have spent a lot of cash discovering why.
Amazon Online Advertising
Amazon advertising works in a similar way to Google's PPC. Sellers only pay when buyers click on ads (regardless of whether or not the item sells).
Amazon sellers have many ad formats and placements to choose from when creating advertising campaigns. They include Amazon-sponsored products, sponsored brands, and product display ads.
Benefits of Amazon advertising include:
It has the brand-safe, high-quality environment that advertisers want;
It shortens the sales cycle;
It improves product visibility and sales history;
It boosts brand awareness;
You can get valuable insights into changing consumer habits and optimize advertising campaigns to reach a more targeted audience.
Ecommerce Online Advertising
Ecommerce advertising is any form of online advertisement that raises awareness and drives traffic to online stores.
Online ecommerce advertising includes content marketing, influencer marketing, and search engine or social media ads.
An ad campaign that works well for one ecommerce business may not be effective for another. It's important to test and measure your return on investment (ROI) on each online and offline channel.
Build Your Online Advertising Strategies Today
You'll need careful planning when designing your online advertising strategy. Do an analysis, integrating various advertising channels to increase audience reach and improve results. Also, calculate your total revenue using a revenue calculator to learn how your products are selling and plan accordingly.
Part of your online advertising strategies should include email marketing. It's a cheap and effective form of digital advertising and a superb way to boost sales and build customer loyalty.
Try Sender for free if you want a reliable email marketing platform to boost your online advertising campaigns.
Like what you read?
Apply it in practice with Sender.net - the most cost-effective email marketing solution in the market.
Try Sender for free