Like what you read?
Apply it in practice with Sender.net - the most cost-effective email marketing solution in the market.
Try Sender for free
Email marketing is a powerful tactic to communicate with customers and prospects regularly. You can easily convert visitors into leads and paying customers with the right strategies.
In addition to the fact that email marketing is an excellent lead generation technique, it's also an effective customer engagement technique that helps you build relationships with your existing customers.

In this blog, let's look at how businesses use email to grow their business. We'll also share relevant email marketing templates and tips to help you get started.
What Makes Great Email Marketing Campaigns?
According to the Content Marketing Institute, 76% of B2C marketers use email for organic distribution marketing. Even in the B2B industry, 81% of marketers use email newsletter campaigns to maximize customer engagement.
With almost all marketers turning to email to engage their customers, here are some things that make a successful email marketing campaign:
Clear and Compelling Message
Your email content must be concise and compelling. The email should have a clear message that resonates with your email subscribers and a compelling call to action that encourages them to take action. Avoid jargon or overly technical language, and focus on the benefits and value your product or service can offer.
Personalization
Email personalization is key to building solid customer relationships. Using their name, segmenting your audience, and tailoring your message to their interests and preferences can increase engagement and conversions. Personalization can also help you stand out from other generic emails in their inboxes.
Mobile Optimization
With most emails being opened on mobile devices, ensuring your email is optimized for mobile is essential. Ensure your email is easy to read and navigate on smaller screens, use concise subject lines, and keep the email design simple and visually appealing.
Measurable Results
A great email campaign should be measurable, with clear objectives and key performance indicators (KPIs) that allow you to track and measure the success of your campaign. Use analytics tools to track open rates, click-through rates, conversion rates, and other essential business metrics. Use these metrics to improve and refine your email campaigns continually.
16 Best Email Marketing Examples
Email campaigns are a great way to build trust and develop long-term relationships with your target audience. They can be a powerful tool for building a loyal customer base and making sales.
But if you're a newbie in the email marketing industry and need help figuring out where to start, we've curated the best email marketing examples for inspiration. They're so good that they'll leave you wondering what took you so long to create one.
Newsletter by Bloomscape
Newsletters offer ongoing value while highlighting critical niche or industry-related topics.
Email newsletters can include case studies about your services or products, a weekly round-up of blog posts, information about upcoming webinars and company events, or even a behind-the-scenes look at your business.
Here's an example from Bloomscape:
Subject line: New Twists on Classic Favorites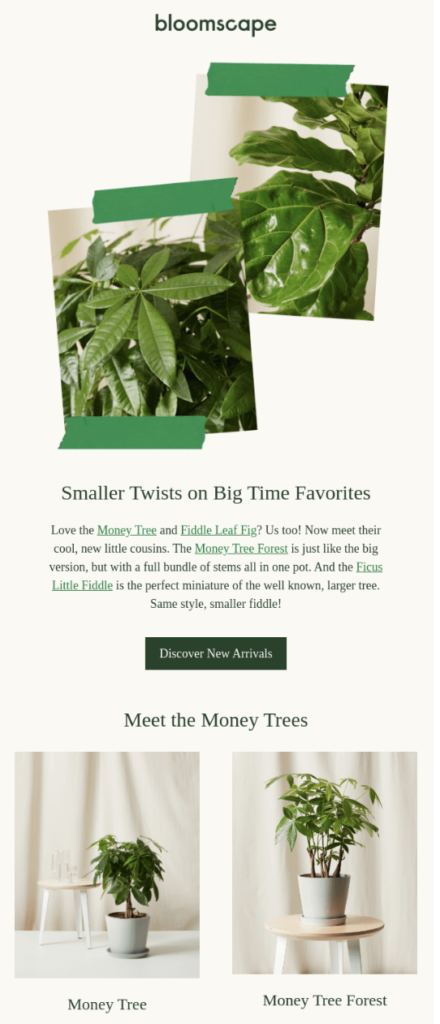 Bloomscape includes many beautiful plant images and descriptions of plants you may like (Smaller Twists on Big Time Favorites), provides a valuable "Plant Mom" tip, and displays new arrivals.
The email is simple but contains thoughtful touches. Bloomscape's email is effective because it helps customers plan their next purchase.
Key Takeaways
Keep your emails educational and entertaining;
Thoroughly research what your target audience prefers and what your brand is well-suited to offer;
Send simple but value-packed newsletters.
Promotional Email by Headspace
Promotional emails are exactly what they sound like — marketing emails you send to your target audience informing them about a current promotion. You can create promotional emails for just about any offer you're running, including limited-time offers, exclusive deals, and seasonal or holiday promotions.
Here's an example from Headspace:
Subject line: 👋Just until tomorrow: 20% off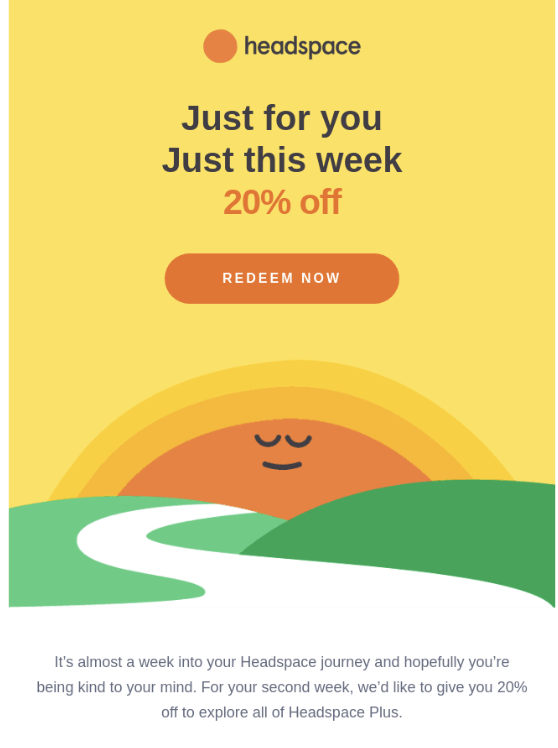 The image conveys a positive, friendly vibe that reinforces the benefit you'll get from Headspace. It's a subtle and engaging mix. The email is also simple to follow.
Headspace also adds an offer end date to create scarcity and encourage readers to act fast.
Key Takeaways
Use a positive, friendly tone to convey your message;
Offer a clear incentive in the subject line and a bold CTA to prompt action from the recipient;
Use a simple design to help readers follow along easily.
Upsell/Cross-Sell Email by Evernote
Upselling is convincing customers to buy a better version of the product they were already going to buy. In contrast, cross-selling involves selling a complementary or related item alongside the product customers intend to purchase.
Here's a marketing email example from Evernote:
Subject line: Year-end offer: Buy 1 year, get 6 extra months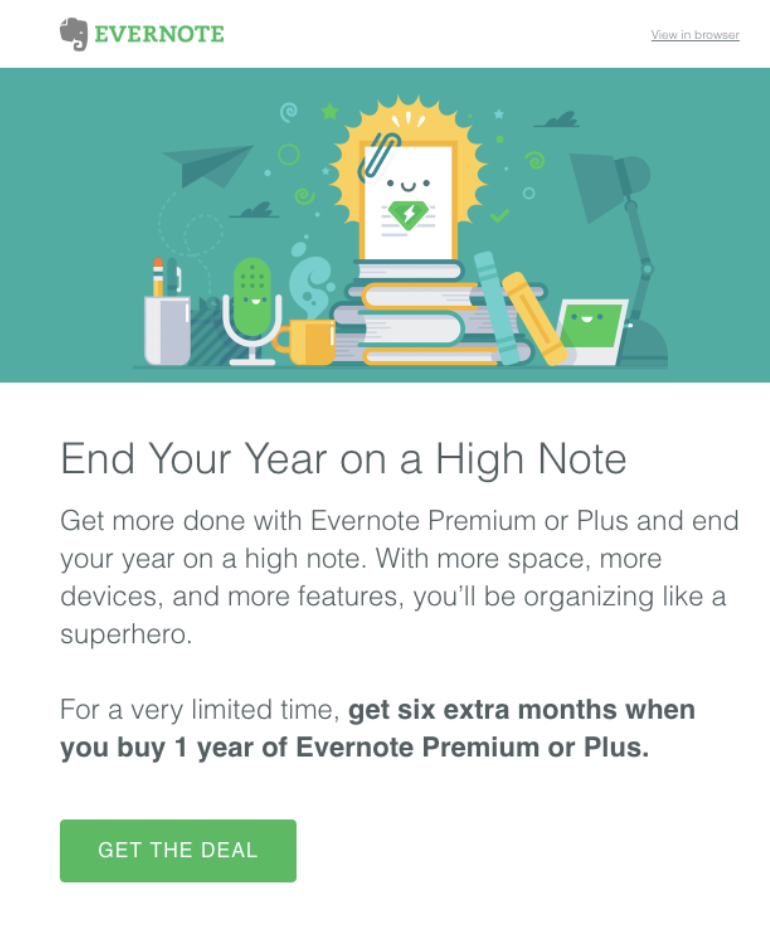 The email encourages customers to upgrade to a premium plan by showing them the benefits of doing so. The email also adds a generous offer—an additional six months when you purchase a one-year premium plan.
Key Takeaways
Entice customers by giving them a discount offer;
Use your product's benefits to tell people what they want to hear;
Keep your message and tone positive.
Welcome Email Template by Food52
Welcome emails are one of the oldest marketing tactics, but they still perform exceptionally well. They allow you to show your appreciation for the user when they sign up for your service or newsletter.
In addition to making a great first impression, welcome emails encourage users to check out your offerings. Here is an example of a great welcome email campaign by Food 52:
Look at the fine details of the email — particularly the pre-header. Notice the "We brought snacks" at the top of the email.
Now, look at the subject line:
A clever hack, isn't it? It sure does grab attention instantly. So simple yet so good!
Key Takeaways
Keep your welcome email short and simple;
Pay attention to the pre-header;
Give instant value in the form of a discount code or special offer.
Fun fact: did you know that 74.4% of consumers expect a welcome email?
Nurturing Email Template by Framebridge
You're dead wrong if you think that nurturing your subscribers is all about sending just promotional content most of the time. Avoid the mistake of sounding too pushy or cheesy.
Sincerely help your customers; they will trust you much more than if you'd choose to go down the sales road.
Just look at that email newsletter.
It's funny, aesthetic, and promises to give some real value to the subscriber! If that does not improve the brand's overall image, nothing does. The thing you should take note of is how the CTA is placed strategically to attract clicks.
Key Takeaways
Add a strategic CTA to invite users to check out more about you or your product;
Personalize the content based on the stage in the buyer's journey;
Educate your users and show them how you simplify their lives.
Abandoned Cart Email Template by ASOS
Customers often abandon their carts without meaning to do so, for example, because the website crashed, because the process was complicated, or because the site timed out: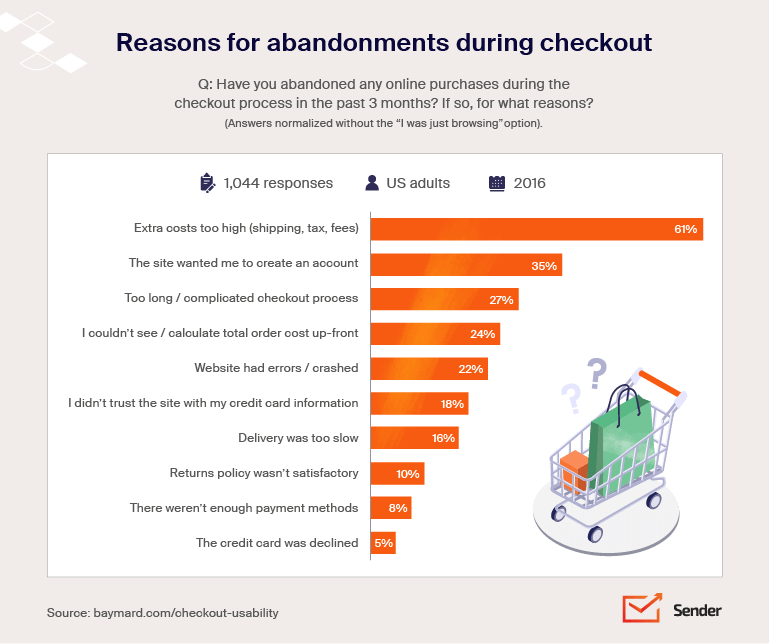 The statistics above are pretty eye-opening. Abandoned cart recovery emails really could earn you some extra cash. Just look at the following abandoned cart email:
The email campaign is symmetrical and aesthetic and has a clear call-to-action (CTA). The most important thing is that the background is white, and the text is black, so the item preview will always stand out!
A well-crafted abandoned cart email can do. Did you know that according to the Baymard Institute, 69.23% of carts are abandoned? The number can reach an unbelievable 78% in some industries.
That's just too much possible revenue to justify companies that need to take advantage of the abandoned cart workflows. It's remarkably effective as a sales recovery tactic. According to Getelastic:
44.1% of all abandoned cart emails are opened
13.3% of them are clicked.
A whopping 35.3% lead to purchases back on site.
On average, each abandoned cart email is worth $5 in revenue!
Our suggestion is to recover your sales using the abandoned cart method and include in the email a voucher with offers like free shipping, 10% off the whole cart, or a free item. If the email exploits the scarcity principle – it says the stock is limited or the time to use the voucher is running out, the chances of making a sale are even higher.
The best part of this – it could be automated. Once you set it up, the emails will be sent automatically – you can relish the results.
Check how the cart recovery automation workflow looks: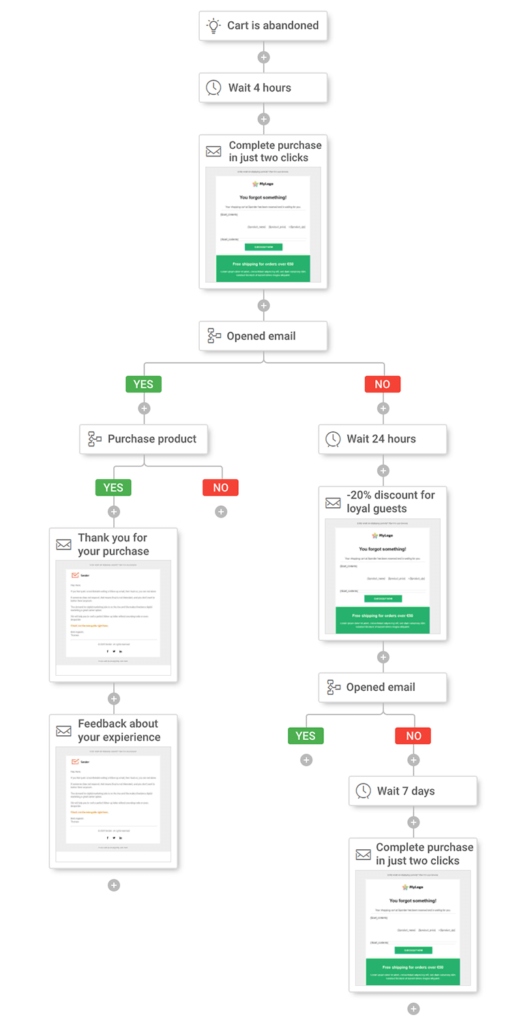 Key Takeaways
Have a minimalist design and play cleverly with the copy in your abandoned cart email;
Appeal to the FOMO and remind them about what they're missing out on;
Add an additional incentive like a discount voucher, free shipping or something else.
Survey Email Template by Sender
Survey emails are a standard method of getting customer feedback and insights. They allow you to gain valuable insights into the behavior of your customers, which you can use to improve your product, create an advertising campaign, or refine your offer.
There are many types of surveys you can send via email. One of the most common survey email types is asking your customers if they would recommend you to their friends or family, known as the Net Promotor Score survey.
The net Promoter Score (NPS) survey template asks this question to give you a quick look at what your customers think.
By using this template, you'll be able to understand how happy your customers are and keep track of your company's performance over time. Here's an example: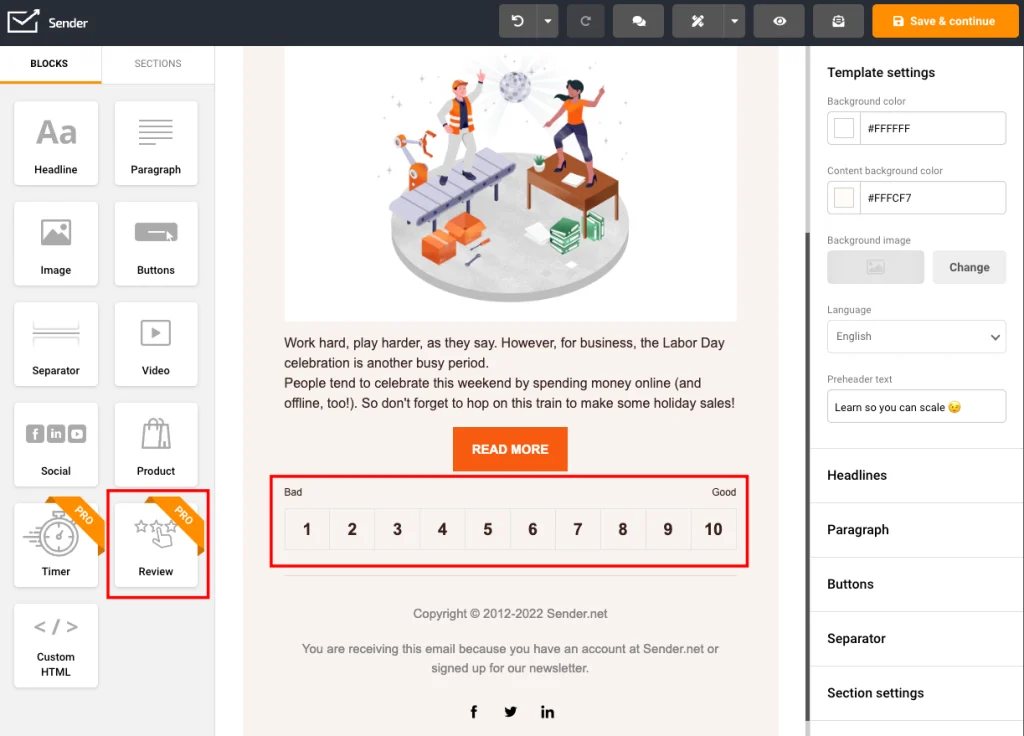 If you were to include a link to a survey in an email, this would greatly benefit your business.
It's always more expensive to acquire new customers than to keep your ones. You may be losing a portion of potential sales because you need to be made aware of the things irritating some people.
Feedback is essential in avoiding precisely this situation. If you were to send a thank you email to people that rated you 8-10 and a feedback form for those that rated it lower than 7, you would surely gain loads of new information. Use this information wisely – it's essential in creating a word-to-mouth effect over time.
Event Reminder Template by General Assembly
Forgetting in the age of short attention spans is common. Instead, it's a widely known internet phenomenon – tons of people signup for a webinar or event, yet a fraction of them attend it.
Help forgetful people out by sending them event reminders by email. This will help you increase the turn-around ratio and push potential leads further into the buyer's journey.
Here's a great reminder template from the Email Design Workshop:
The email design is eye-catchy and straightforward. You should also create something like that. If it's too much work, customize a template and use email automation to your advantage.
Key Takeaways
Create an eye-catchy and appealing design. Use a drag-and-drop builder to create the email design easily;
Add details about the event, including date, time, and location (in case of an offline event);
Schedule the reminders as automated drips at least a week before the event date.
Thank You Email Template by Austrian
Your customers want to feel appreciated and appreciated. If you do so, they will keep coming back. So, to increase your chances of retaining your customers, you should always send a 'Thank You' email.
These emails are used after a sale or purchase to ensure that the customer knows they are important to you and the company. You can send an email thanking the customer for their purchase and/or completing a task on the website, like signing up for a newsletter.
Here's an example of a Thank you email by Austrian Airlines:
This Thank You email thanks the flyers for their patience and loyalty and provides a 25% off coupon on their next flying experience with the airline. Notice how the email has space for personalization and makes the subscriber feel special through a heartfelt note.
Key Takeaways
Keep the text short, focused, and warm in tone;
Add images that show care, compassion, and gratitude;
Provide a special offer or incentive when you're thanking your subscribers.
Company Announcement Email Template by Clay
Announcements allow you to contact people and keep them informed about your company. Announcements are a great way to drive engagement, get more signups, and build rapport with current customers.
You can share news about the latest happenings, upcoming promotions, media features, or any other information you want to communicate to your subscribers. You can also use an announcement email to tell them about a new product, release a new app, send a promo code, and more.
Look at this company email from Clay: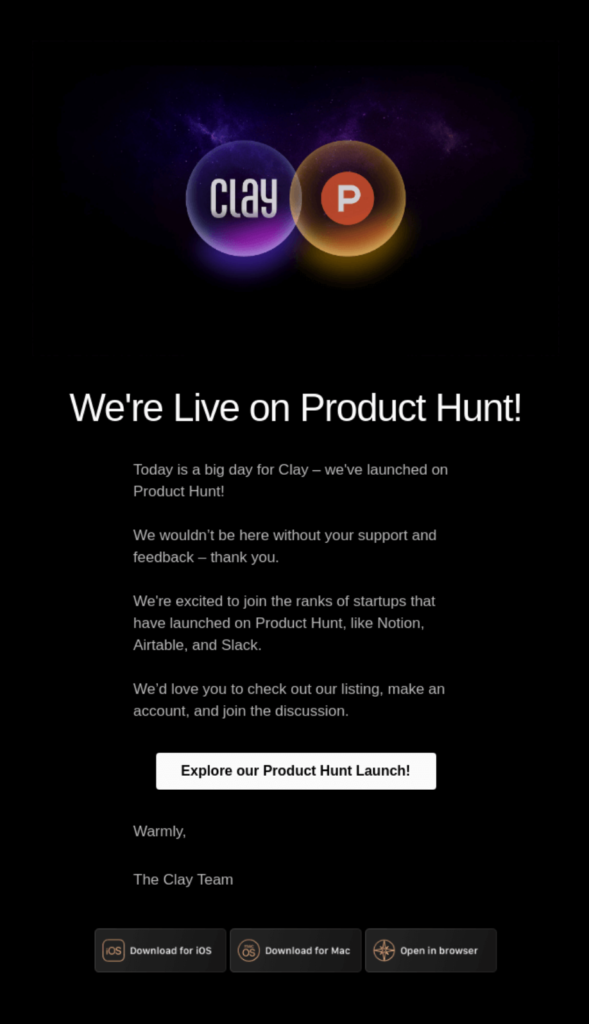 The email shares about their Product Hunt launch with subscribers, urging them to support them by checking out their Product Hunt listing.
The simple email copy with a big, clear CTA button clears out the intention of the email with just a glance. Something your announcements should do. They could've told them more about what to expect through the launch and made it more about the reader, though.
Key Takeaways
Be straightforward and clear about what you bring for the reader;
Write shorter paragraphs. Instead, encourage the subscriber to find out more by clicking your CTA;
Try to make it about the subscriber instead of yourself.
New Article Email Template by DocuSign
New article emails inform subscribers about your website's latest blog or article. Such emails are used to generate traffic and boost online engagement. Email content should focus on highlighting the latest blog post and what it means for them as a reader.
New article emails can be automated using a marketing automation suite and triggered every time you publish a new blog post. You can even start a curated newsletter containing all the blog links you published last month.
Look at this new article email example by DocuSign: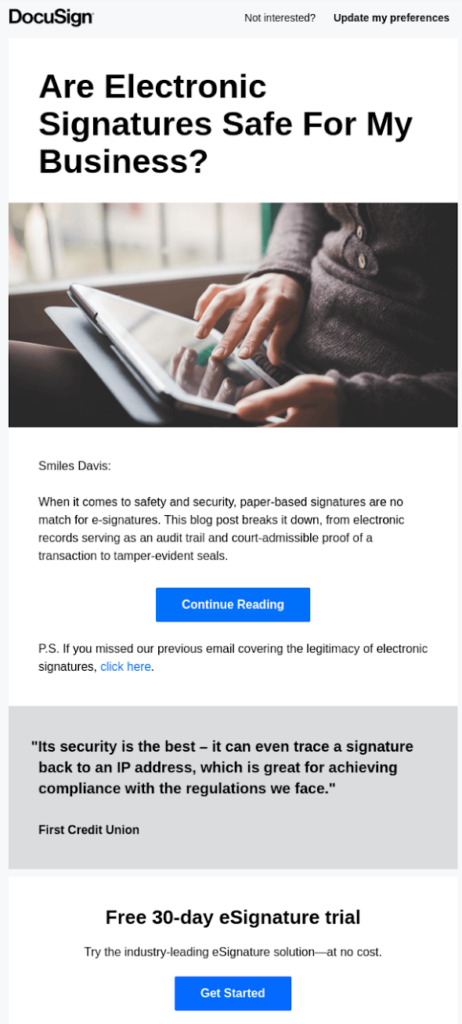 The email has a bold header announcing the new post's topic and a clear CTA — Continue Reading to take the recipient to the website. The post-script message also makes the reader curious about the previous post.
New article email campaigns help maintain an ongoing relationship with your readership and keep your email lists engaged.
Key Takeaways
Automate your new blog announcements through a marketing automation solution;
Give the reader a glimpse into the new post that makes them want to read more;
Add social links to the footer of your email;
Always try to send contextual blogs to segmented email lists.
Video Email Template by Niice
Videos are an excellent tool for driving engagement from your email list. They can be used to explain your product or service or promote a contest or event relevant to your business.
A video email can get better engagement than a simple text-only email. You can send product review videos if you run an eCommerce business or a walkthrough video of your restaurant to your subscribers. The following email from Nice has a video header welcoming the new subscriber and sharing a few useful tips: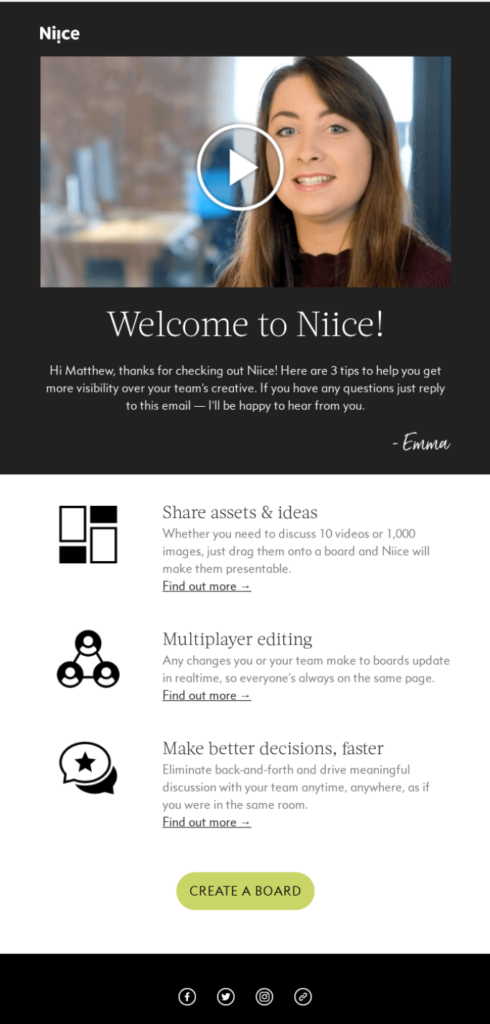 The email is a personal note from the product team to tell the new user how they can use their product. The different blocks summarizing the video content make the email more accessible for people who don't want to see a video immediately.
Key Takeaways
Choose a mobile-responsive and professional email template;
Add a complementing copy to the body of an email;
Don't set the video to autoplay or overburden the reader to play the video.
Product Promotion Email Template by Fast Times Skateboarding
Product promotion emails are a great product marketing tactic used to acquire new customers. They invite users to try out your product or service, help generate additional sales and increase conversion rates.
A promotional email generally contains the following:
A compelling subject line.
A call to action to opt-in.
A preview of the message.
The text of the email itself.
They typically include a call-to-action (CTA) to convert visitors into customers. They can be sent out weekly or monthly, depending on how frequently you want to promote your product.

The email has a central theme right from the beginning — the product and its features. The cool infographic with the product in the middle is definitely an attention-grabbing feature of the email.
Key Takeaways
Make your product the hero of your email — Add infographics, utility, benefits, and more;
Add a CTA to check out or shop the product on your website;
Don't stretch the email. Make sure to wind it up within 5-7 lines.
Follow-Up Email Template by Revue
Follow-ups are effective for getting more out of your email marketing campaigns. An email follow-up sends a reminder or other promotional message to a lead after interacting with the brand. The goal of a follow-up email is to create a sense of urgency and encourage your leads to take action.
Follow-up emails allow you to continue engaging with your leads and nurturing them through their buying process. They typically feature a call to action, such as requesting a callback, providing a special promotion, or requesting the buyer to complete a survey.
Look at this follow-up email by Revue: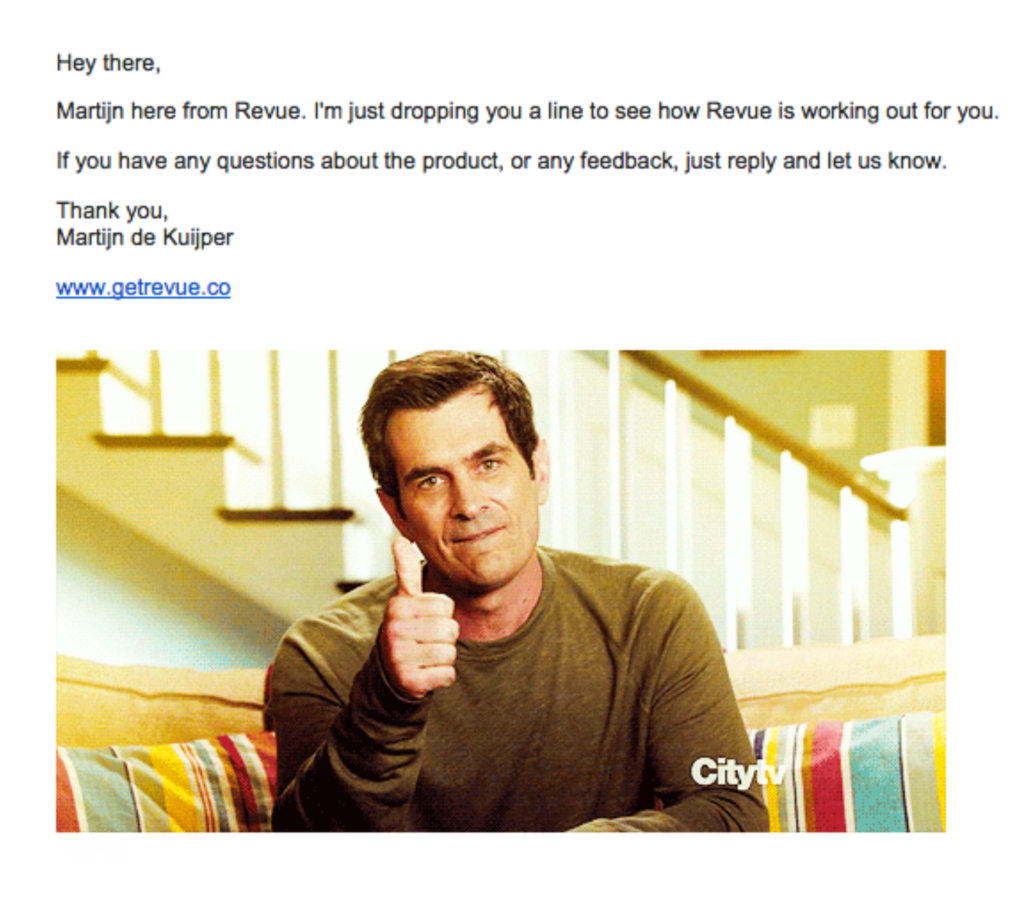 Notice how the email has a plain and simple format and has been sent by a human. This makes it look like a personalized follow-up effort. The contextual image adds another level of fun to the whole follow-up game.
Follow-up emails are generally sent 2-4 days after signup or first interaction and can include an offer to your audience as a reward for their interest. You should ideally use a marketing automation solution to schedule follow-up emails for subscribers and prospects.
Key Takeaways
Always personalize the follow-up email and send it as a personal note;
Don't add too much information in a follow-up email;
Keep it simple and straightforward.
Getting Started Email Template by Grammarly
A 'getting started' or onboarding email is sent when a visitor first signs up for a service, joins a community, or makes a purchase.
These emails help users familiarize themselves with your brand, introduce them to your services, and provide a welcoming experience. You can increase user satisfaction, retention, and revenue by providing helpful information to users during the onboarding process.
Such emails are a great way to start nurturing subscribers who've signed up but still haven't purchased anything from you. You can use an onboarding email to educate users, introduce them to new features, get them to complete the signup process, or provide additional offers.
Here's an email to get started by Grammarly: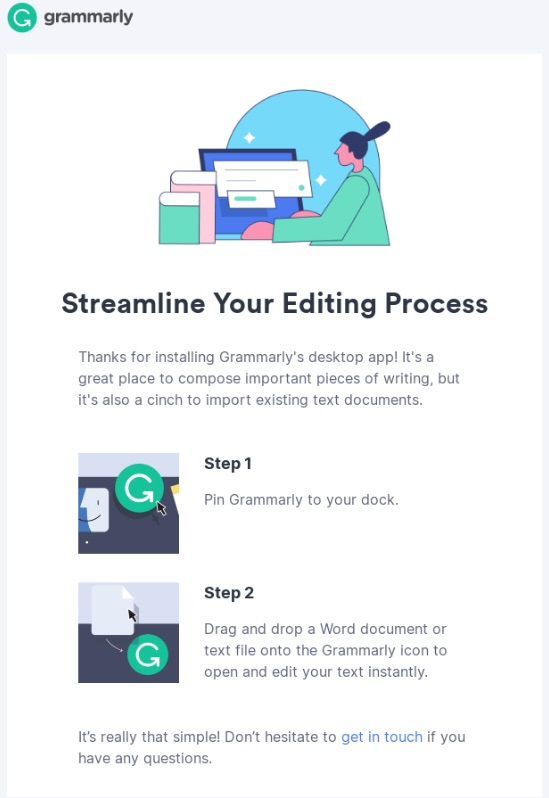 The email does a great job of sharing the next steps in the user's journey and making them aware of what else they can use the product for. A clever upsell tactic embedded within the onboarding email.
Key Takeaways
Break down the email as digestible blocks and make it appear like a tutorial;
Add an incentive to complete the onboarding steps or share the benefits;
Add a support or contact button/link within the email.
New Arrivals Email Template by Forever 21
New arrivals email is all about emailing your current email list about a product or service that has just arrived at your store. New arrivals email is a great tactic to boost your sales. It can build excitement around upcoming promotions and highlight the best features of your product.
You can use contextual CTAs linking to the product pages on your site to attract leads and close sales using such an email. Here's an example by Forever 21: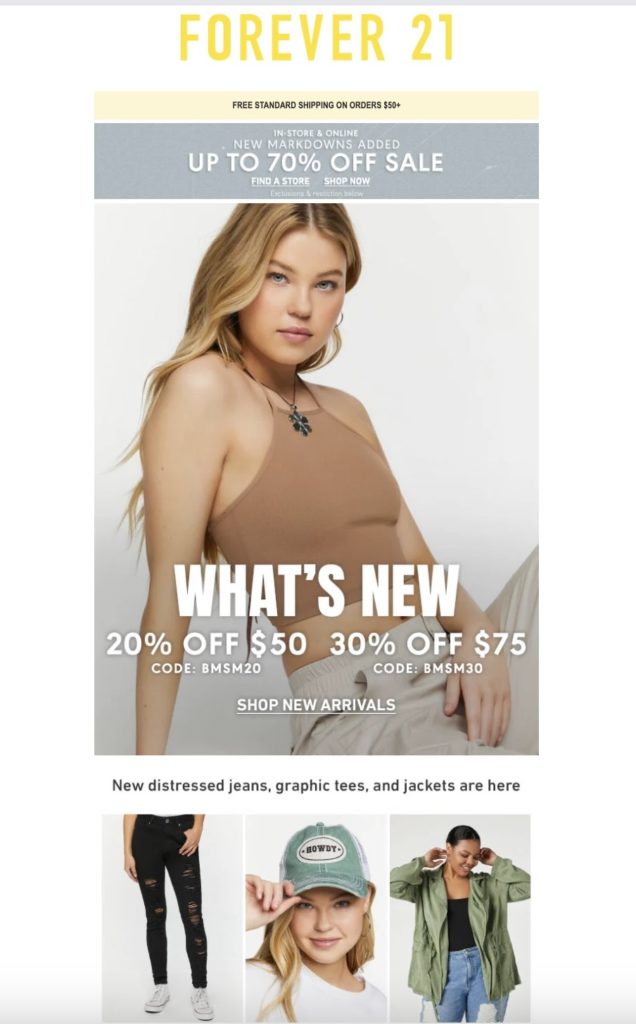 The email has personalized recommendations for all the new things at their online store. The star ratings tell the users that though the products are new, they are equally loved by shoppers with similar tastes. You can mix and match different ideas, like adding a timer to create FOMO or including a discount code to encourage your users to buy immediately.
Key Takeaways
Choose a fun, creative, and aesthetically pleasing email template;
Add links to your product pages in the email;
Use some social proof or incentive to encourage users to check out the product on your website.
Educational Email by Treehouse
Every business needs to educate its customers, and educational emails can help you deliver consistent value to them and enhance the lead-nurturing process.
Here's an email marketing campaign example from Treehouse:
Subject line: Featured Product Email Design from Treehouse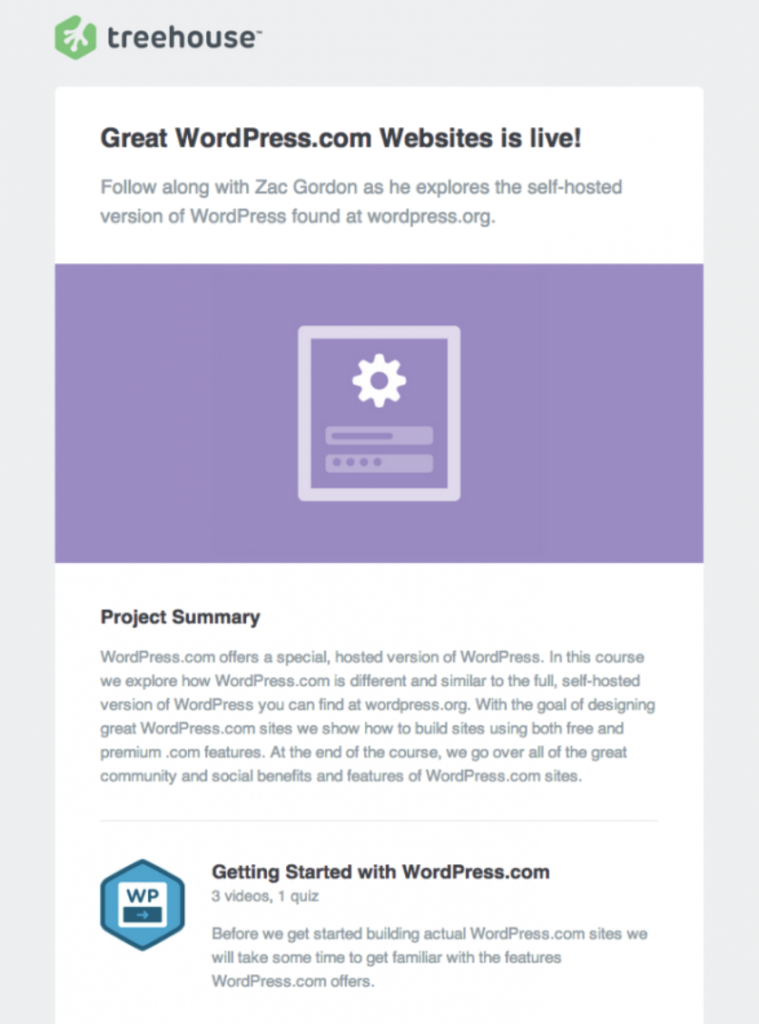 This email is excellent since it comprehensively explains the course's value and helps customers understand how it will benefit them. The design is visually appealing and gives a superb educational overview of the course. It's brief and gives potential customers a taste of what Treehouse provides.
Key Takeaways
Identify what your customers want to learn about and when they want to learn about it;
Offer valuable insights to help customers understand your products or services better;
Use a visually-appealing design to attract and engage readers.
Re-Engagement Email by Animoto
You typically send re-engagement emails to customers who aren't engaged with your emails. When done well, these emails can reduce churn rates and increase customer engagement.
Here's an example from Animoto:
Subject line: Did you still want to hear from us?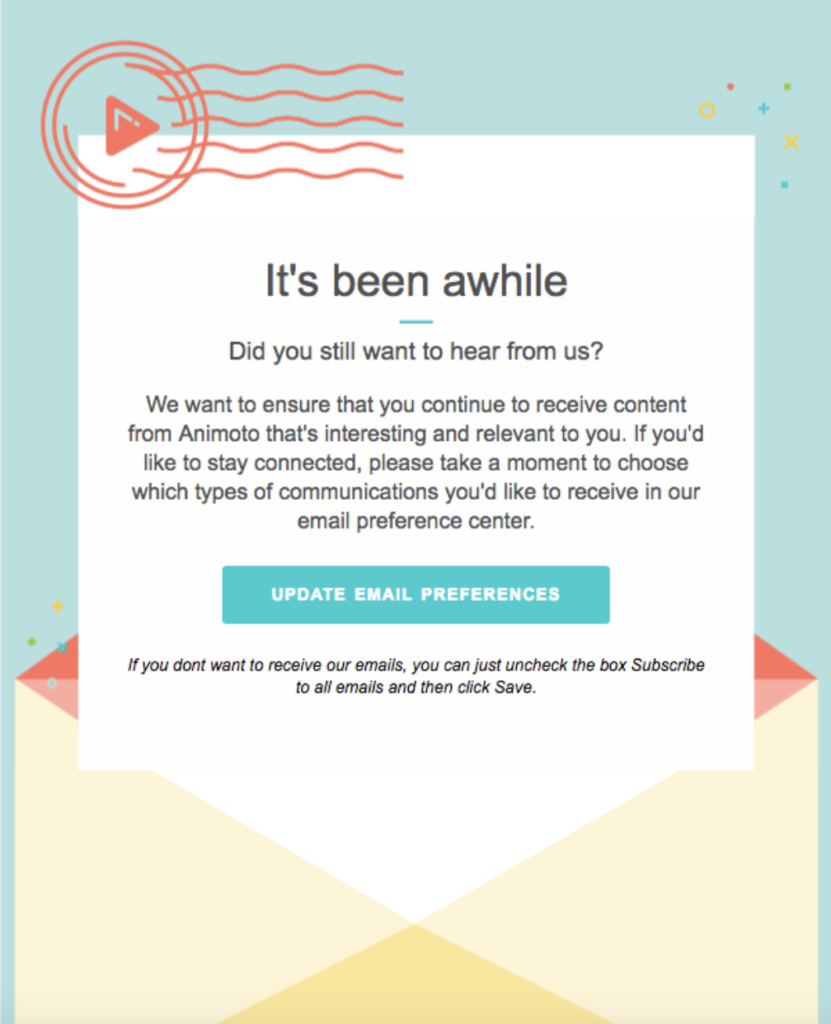 Animoto asks a straightforward question: Did you still want to hear from us? Their primary goal is to allow recipients to update their email preferences through a CTA button that stands out and takes them to the preference center.
Key Takeaways
Ask inactive subscribers questions to help them remember why they signed up for your newsletters;
Give customers a reason to stay engaged by showing them how they'll benefit from your emails;
Show subscribers how much you'll miss them if they unsubscribe.
How to Make an Effective Email Marketing Campaign?
The art of crafting a winning email campaign is a challenging task. You need to plan a million things — from your follow-up sequence to the subject line and writing a compelling email copy. So, if you're serious about how to create an email marketing campaign, you should be mentally prepared to plan well in advance.
The most successful email campaigns are tailored to a specific audience, include a clear call to action, and use automation to deliver emails strategically at the right time. Here are seven things you must keep in mind during the creation of an effective email campaign:
1. Build A Targeted Email List
A well-curated email list can boost the effectiveness of your email marketing. If your email list isn't segmented correctly, your efforts will likely fail.
You should always strive to have the right tools that help you create and maintain a clean, segmented, and targeted email list.
You can use an email marketing tool like Sender to segment your email lists into custom groups like the one below to personalize campaigns and increase email marketing effectiveness. This will help you manage your email list, segment subscribers, create retargeting campaigns, and analyze metrics on the same dashboard.
Remember to always create campaigns after gathering a solid understanding of your customer personas and their needs. Then use email automation to create personalized emails relevant to each subscriber for better results.
Also read: Email List Building: 13 Email List Building Strategies for 2022
2. Plan Your Email Follow-ups
Following up with an engaged audience can open up new revenue streams for your business. Always follow up with those who opened your initial campaign but haven't interacted with you since.
You can follow up by either sending regular emails or scheduling automated campaigns for interested prospects. You can create a single, one-time follow-up email or go full out on an elaborate drip sequence.
Plan your email follow-ups based on the ticket size of your product or service and the time you want to invest in each. The more affordable a product, the simpler should be your follow-up sequence. The more high-ticket item, the more the need for multiple follow-ups in your email nurture sequence.
3. Use A Catchy Subject Line
An email campaign is successful when people open it and click on the link to view the message. Subject lines are the only part of the email that gets read without even opening.
Subject lines are an important part of an email campaign. They direct readers to click on the email and make the content easier to read. A good subject line helps grab attention, so always use a simple, catchy, and attention-grabbing subject line.
You can even A/B test your subject lines before finalizing a subject line for your email marketing campaign.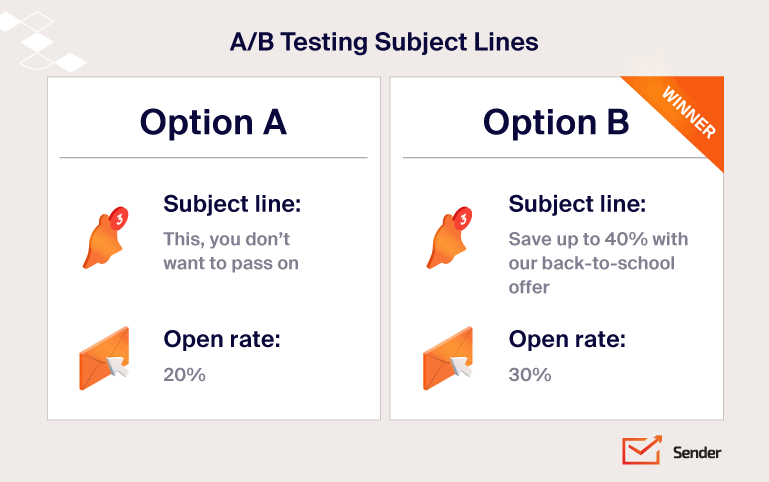 A marketing automation tool like Sender helps you automate A/B testing of subject lines, leading to better results and more conversions.
4. Write an Effective Email Copy
If you've ever searched online about how to send business emails to your audience, you would have read paragraph after paragraph on the importance of email copy.
Copy is everything you write inside your email — right from the subject line to the header and the body text. Your copy should make an instant connection and grab attention. It should also clear out the value your subscribers will get upfront.
Always keep your copy simple, compelling, informative, and valuable to create engaging emails. Avoid using clichés or boring text. Wherever possible, personalize your copy with things your customers care most about.
5. Add a Clear Call to Action
Call-to-action or CTAs are important in your email campaigns. See them as the portals that will move your prospects further into the buyer's journey. CTAs give subscribers a clear reason to engage. So, you should always spend enough time creating a contextual CTA.
Ideally, add only one CTA per email so that your subscribers understand what they've to do after reading your email. CTAs should always be clear and concise, directing users to the next step in the funnel.
6. Always Personalize
Personalizing your email marketing messages can give you a huge competitive advantage. It will help you stand out.
Personalizing your emails with your prospects' names can be a great way to get the subscriber's attention and build trust.
Use automation and dynamic content to personalize your email campaigns. Dynamic content increases engagement by being more personalized and relevant.
Dynamic content includes headlines, images, and copywriting that change to match a subscriber's stage in the buyer's journey. It helps you increase your conversion rate by grabbing attention and engaging your audience.
Key Takeaways
Email marketing campaigns are the best tool for boosting customer engagement;
Use marketing automation tools to plan and execute your email marketing campaigns;
Different types of email campaigns help move customers further into the buyer's journey and increase conversions;
Personalization and dynamic content help increase the relevance and effectiveness of any email marketing campaign.