Like what you read?
Apply it in practice with Sender.net - the most cost-effective email marketing solution in the market.
Try Sender for free
And why if you don't have one already, you should start building one out immediately!
Customer acquisition continues to be among a business's most significant challenges! To a great extent, Businesses know this and even acknowledge it; yet email lists and email list building continue to take a back seat in marketing campaigns.
However, for every $1 you put into your email campaigns, the returns are an outstanding $41.
Why these results are typical, email marketing remains among the most performing of marketing channels.
With over half the world's population (close to 4.3 Billion) expected to use emails regularly by 2023, you cannot underestimate email marketing any longer.
Most significantly, not everyone who visits your website or landing page is ready to buy from you this instant. Email marketing helps nurture these prospects over a period to generate substantial revenue for your business.
The best method for marketing your product, service, or business over the internet? The jury is still out on that.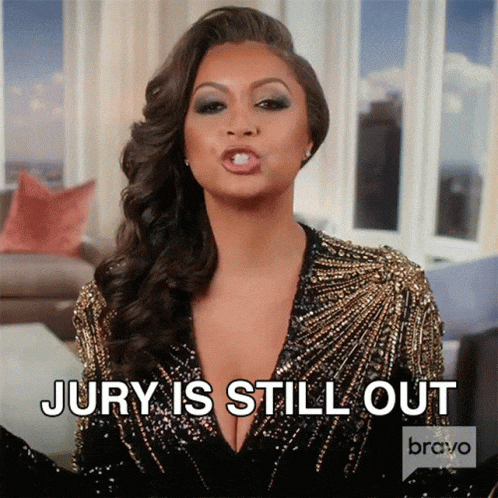 Email marketing is right up there with the best, though.
But, don't just take our word for it.
Approximately 81% of SMBs still rely on email as their primary customer acquisition channel, and over 80% for retention.

Emarsys
49% of consumers want promotional emails from their favorite brands.
Dream of being that favorite brand? Let's get you there!
What is an Email List?
An email list is a collection of individual email addresses (and sometimes supplementary information such as Name, Location, Gender, etc.) of prospects who permit you to send them information, updates, and sales communication about your business in the form of email campaigns.
By allowing you access to their personal inbox space, prospects have expressed a keen interest in hearing more from you about your business and what you can offer to make their life easier.
Email list building strategies are used to persuade and convince prospects to sign up or subscribe to our email communication. This is done by projecting and offering value that aims to educate or entertain the prospect.
Building email lists requires several software and SaaS tools, including:
Website pages (made using WordPress, Wix, Shopify, or similar)
Landing pages
Signup forms or dynamic popups
Email marketing tools such as Sender.
13 Email List Building Strategies for Marketing
Growing an email list is simple if you do it right. There's always more than just one way to skin the cat. No best way. But following the best practices below will help you stay on track.
1. Use Exit Intent Pop-up
Exit-intent pop-ups appear when a visitor wants to leave your website.
When visitors move their mouse outside your website boundaries on their screen, they're shown a pop-up with a more valuable offer than anything else on the page — such as a subscription form, coupon code, or product demo.
Pop-ups aren't always gimmicky; if used correctly, they can provide your visitors with quality content when needed.
For example, when a customer browses your website, checks out your products, and decides to leave, an exit-intent popup can display a survey asking what stopped them from purchasing. The exit popup can then offer an incentive or discount to convince the customer to complete the purchase.
2. Create a Landing Page on Your Website
According to a HubSpot research, increasing the number of landing pages from 10 to 15 results in a 55% increase in leads.
It makes sense since personalized landing pages let you reach out to a broader demographic. Everyone who visits your website requires something different, so the more landing pages you can create to address each person's specific concerns, the more sign-ups you'll receive.
3. Have a Related Call to Action
If you write an article on the same topic as your opt-in incentive, you can include a link to the opt-in form in the post.
This also works well if you're guest posting. But make sure you include the value in the Call to action (CTA).
4. Use Quiz
Quizzes are an effective way to generate leads for your business.
There are various types of quizzes; one is the personalization quiz that categorizes people based on their responses. For example, if your business focuses on product sales, a personalization quiz will help you better understand customers' needs and leverage the data for scaling.
Using the product discovery quiz, you can also help your customers buy the most suitable product. The user is supposed to choose their preferences, and the final recommendation will combine all the options they've chosen.
For example: "Which Sports Watch is Best Suited To Your Needs?"
The other quiz type is consultation quizzes that analyze users' status and provide straightforward solutions. They provide automated consultation that you can access anytime and anywhere, making it easy to sell tailored products.
Consultation quizzes can be useful in various industries, particularly for products or services that require significant amounts of data to be valuable in the eyes of the customer.
Finally, you can select the knowledge test that challenges anyone's knowledge on a given subject. You could ask your target audience how much they know about your brand and its products.
The additional insights you gain from a willing audience will help you segment them better and tailor your content to their needs.
5. Carry out Surveys
Surveys emails are excellent for gathering feedback information from new subscribers. You can keep a two-way communication going by sending out customer feedback surveys to your readers.
This can help with:
Improving your understanding of what you're doing well and where you can make improvements with your emails.
Getting suggestions for new topics to cover.
Gathering general customer feedback and satisfaction levels.
Strengthening your relationship with your subscribers.
6. Offer Free Trial
A free trial can benefit both your business and potential customers. You can show what your product can do, and the customers have the opportunity to try it before they buy with no risk.
7. Always Send Valuable Communication to Your Subscribers
This is the golden rule of email marketing. You will always have your recipients' attention if your emails are entertaining, informative, and valuable.
8. Do Not Buy Email Lists
Email lists work on trust.
If your subscribers are not aware of your business or product, or worst-case scenario, have not even signed up themselves, they will not help your business grow.
On the contrary, they may unsubscribe or report your approach as spam, affecting your inbox deliverability to other genuine subscribers.
Lastly and more importantly, you may be violating critical regulations relating to email communication such as GDPR and CAN-SPAM Act, and more. These could eventually result in hefty penalties to your business that can hurt you real bad.
So, once and for all, never buy an email list; keep reading to understand how to build one!
9. Offer a Lead Magnet of High and Immediate Value
Your lead magnet should have life-changing value for the prospect. Ideally, something that they can use immediately, easily, and benefit from instantly. Else they won't signup. Period.
10. Clean Your List Regularly Because Your Email List Database Decays
More than 30% of subscribers change their email every year, even genuine subscribers will be lost. Also, any inactive subscribers will refuse to open and engage with your email hurting your marketing efforts.

From time to time, clean up your list and remove those who do not open or engage with your emails. Trust us; they were never helping your business anyways – email engagement is an essential metric.

Also, before even considering sending that first welcome sequence, ensure that the email verification has taken place, so you are only sending emails to valid and correct email addresses.
11. Personalize Your Emails to the 'T'
Emails with personalized subject lines generate 50% higher open rates.
The more personalized your communication is, the more connected your prospects will feel with your brand.
People want to be seen as individuals, not figures. So, personalizing emails and following up on previous messages can:
Help you stand out in your recipients' inboxes with highly targeted content.
Make your emails more likely to be opened and clicked on, increasing customer engagement and sales.
Improve your brand's customer experience by sending the right content to the right people at the right time.
Develop trust, especially if you're selling a high-priced product or service.

Also read: 7+ Email Personalization Practices with Real Examples
12. Segment Your Prospects Based on Their Buyer Personas and Behavior
This helps you personalize offers to those that are most likely to respond positively to them!
Using segmented campaigns helped marketers gain up to a 760% increase in revenue (DMA).

Example of segmentation: Prospects who engage more often with your email (opens, clicks, replies) should be segmented differently as compared to those who do not as much.

13. Always Offer an Option to Your Reader To Opt-Out
Have you ever tried to remove your number from a solicitor's phone list? That can be a frustrating experience for a customer. But that doesn't have to be the case for email marketing.
The best companies understand that customers come and go, and while it may seem counterintuitive, making it easy for subscribers to say goodbye is good for your business.
So, make it easy for customers to be removed from your contact lists or unsubscribe from emails. Make it as simple as possible, so anyone interested in receiving further communication from your desk is not forced to.
Email lists are a goldmine, and it's about time you applied your Midas touch to it!
Why are Email List-Building Strategies Important?
Email list building can help you achieve the crucial marketing objectives below:
Powerful branding campaigns through storytelling and nurturing.
More clicks & website traffic.
Increase blog readership by using this as a cost-effective content distribution mechanism.
Direct sales and conversion campaigns.
Resilient "owned" media that is immune to social media algorithms and search engine penalties.
Stupid-simple performance tracking KPIs (Open rate, Click through rate).
Among the simplest and cheapest of marketing channels to operate.
The average cost per email subscriber is low, especially when you consider the mid to long-term.
An email list is built primarily to increase potential leads for your business. Eventually, that lazy prospect can be eventually converted into a loyal consumer with the right nurturing.
Email list building gives you loyal and targeted audiences eager to hear what you say and do what you ask!
Best Practices for Building Email List
Sometimes called a subscribers list, email lists can be built using simple yet effective email list building strategies. And mind you, it's never too late. You can start today and still make the most of email marketing.
More importantly, you don't need many ways to grow your email list. All you need is a few that work for your business and your subscribers that you can optimize over time.
An effective email list management software can help you achieve crucial marketing objectives:
Powerful branding campaigns through storytelling and nurturing.
More clicks & website traffic.
Increase blog readership by using this as a cost-effective content distribution mechanism.
Direct sales and conversion campaigns.
Resilient "owned" media that is immune to social media algorithms and search engine penalties.
Stupid-simple performance tracking KPIs (Open rate, Click through rate).
Among the simplest and cheapest of marketing channels to operate.
The average cost per email subscriber is low, especially when you consider the mid to long term.
Email List Building for E-Commerce
Subscribers would usually opt-in to your e-commerce or online store's email list for one of many reasons:
To receive product in-stock notifications
To get relevant and exciting seasonal offers
To gain access to any promised "lead magnets" or exclusive resources
To receive updates about new and exclusive product launches
Here are some practical examples of e-commerce email list building in action.
Offering an Exclusive Discount Code to New Visitors – New visitors are often the least likely to buy on the first go. As a result, they are often the most difficult to convert into a purchase.
Woo them with a discount that will just compel them to take out their credit cards and go for the purchase. Ask for their email address in exchange. Simple.
Consider e-commerce giant Myntra's offer to visitors IF they place their first order.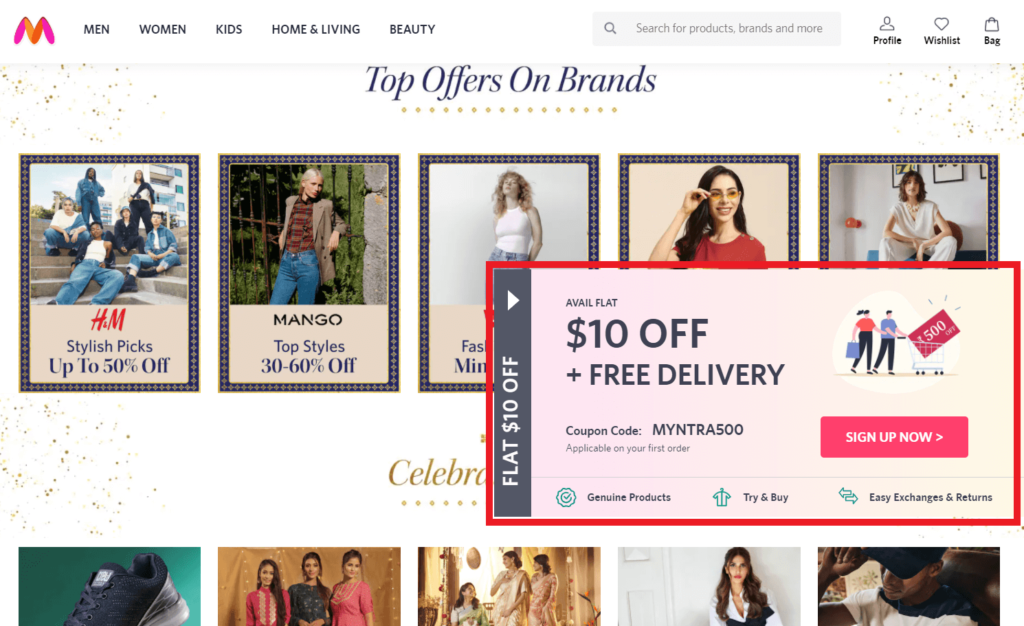 Mind you, discounts, much like pricing, are a sensitive matter, and if overdone, these can severely devalue their perception of your brand. So, a thin line to toe there.
Offer an Exclusive Seasonal Deal for List-Only Subscribers – E.g., Black Friday offers.
Black Fridays are not the busiest time of the year without reason. Did you know that the average male American spends close to $724.46 on Black Friday?
Go ahead and put out a paid post on social media inviting pre-opt-ins. Those opting in could be given an exclusive deal in the form of a discount coupon.
Email List Building For Real Estate – Real estate deals are often high-transaction and therefore come with a longer sales cycle.
All the more reason that you don't just focus on the immediate win (the prospect's contact number) but that you focus on staying in touch regularly using email. The adage "out of sight, out of mind" rings true in this case.
Some tips for real estate building:
Establish trust on your landing page or website. Keep it real and less hyped.
Offer an exclusive incentive.

E.g., a guide to investing in real estate or real estate pricing guide, a walk-through video of a particular neighborhood, or even a promise to notify them of future listings (for sale or purchase) in a particular set of zip codes, etc.
See below for how Robert Paul Properties directs prospects from a keyword-targeted google ad to their listings page. Just before you can browse the listings, a popup requests you to input your details so their team can help you better.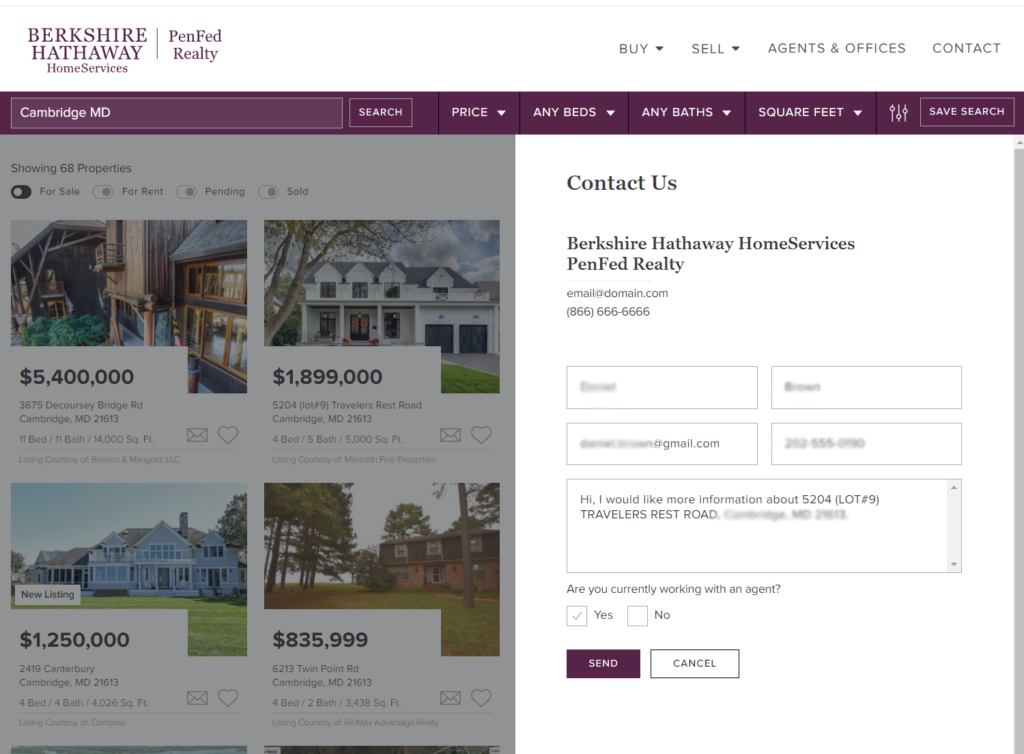 Email List Building for Doctors & Healthcare Sector
With over 91% of US adults checking their emails daily, something as crucial as the healthcare sector cannot afford to miss out. Not just from the opportunity cost point of view but, more importantly, from a responsibility point of view.
When it comes to healthcare marketing, how to get emails in a way that adds value?
Avoid hype at all costs. Healthcare marketing must be done responsibly, especially if it is quickly purported as coming from the doctor or physician's desk.
Personalize. Personalize. Personalize. And when you are done, do some more.
Try to be as educative as possible. Do not "hard sell." People appreciate being informed, advised, or inspired. Create a lasting relationship by providing value.
Maintain a mobile-responsive email design.
Obtaining email addresses through an online appointment system.
Landing page: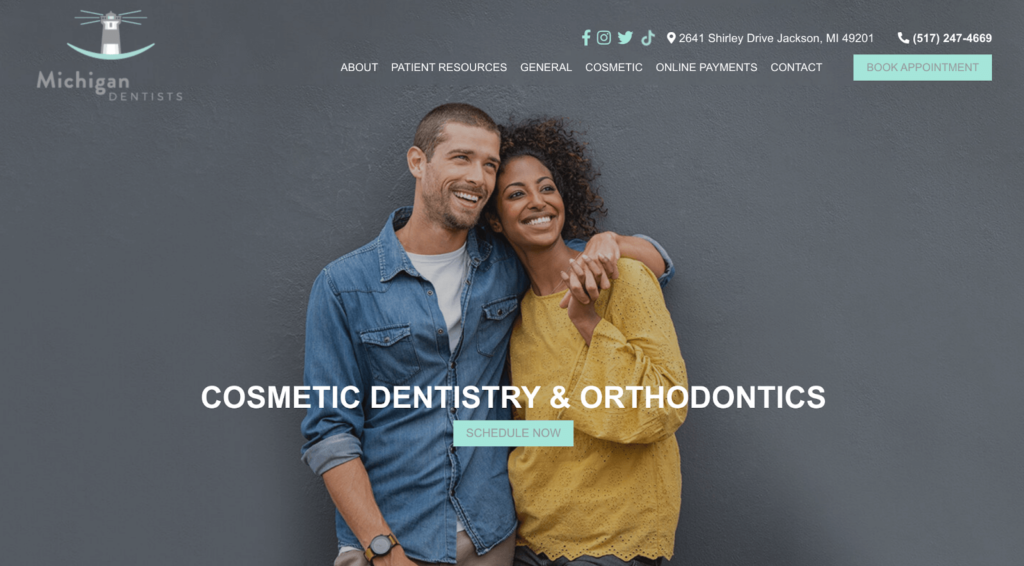 The appointment booking section is displayed below the top fold of the page.

Another great example from the healthcare clinic landing page: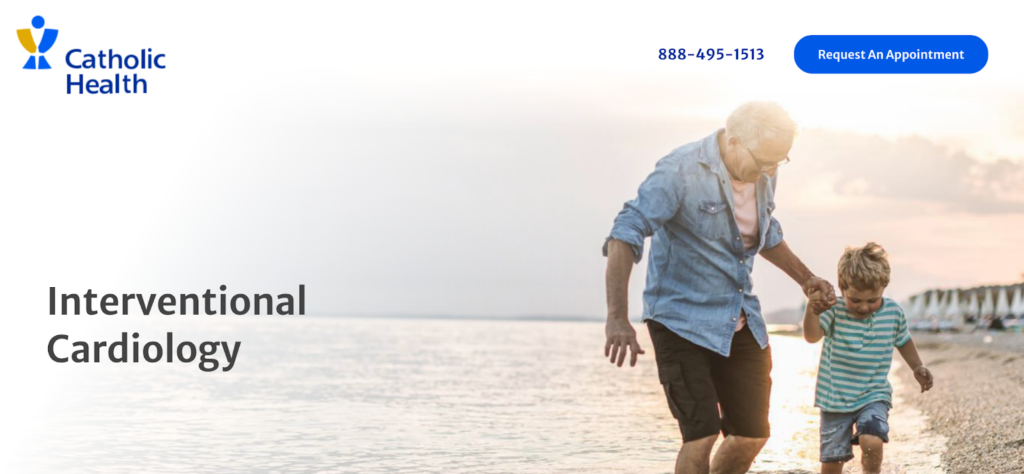 Upon clicking the "Request an Appointment" button, you get the Embedded form shown below.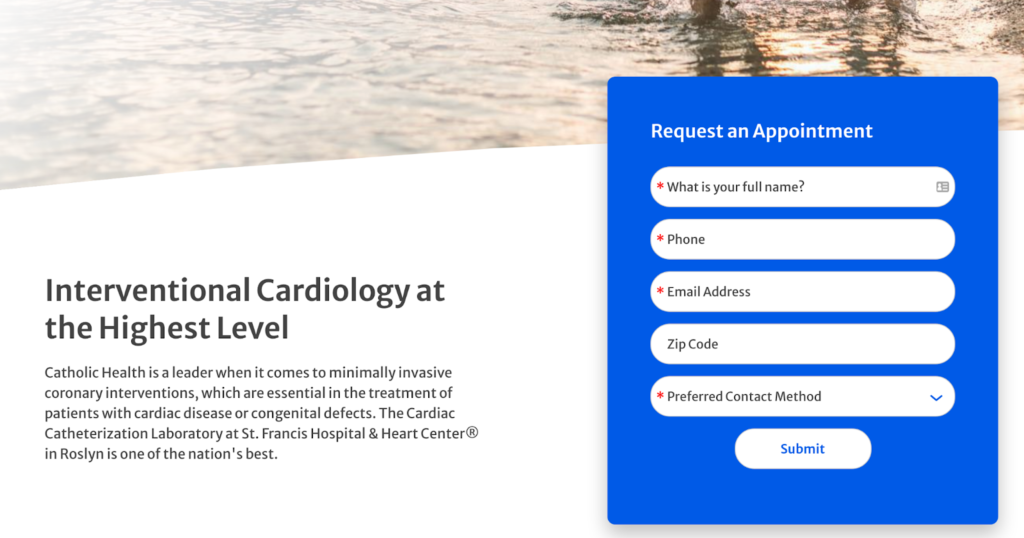 Health Newsletter Pop-up Signup Form
If your newsletter offers something of educative value, you will easily get loads of subscribers in what seems to be an information-hungry world!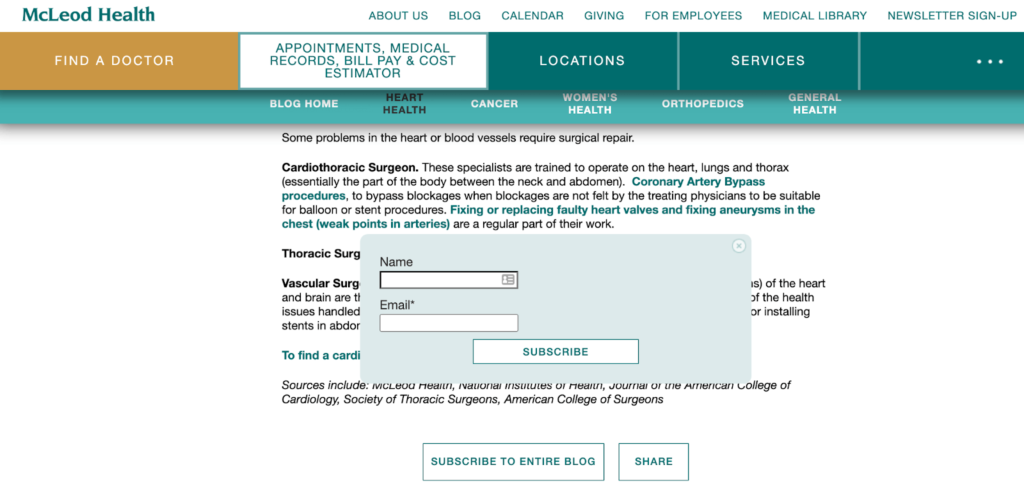 Also read:
To create a pop-up form or stationary sign-up form, use Sender's forms feature, which has all features you need: online form builder, behavior features such as exit intent popup, and few click integration.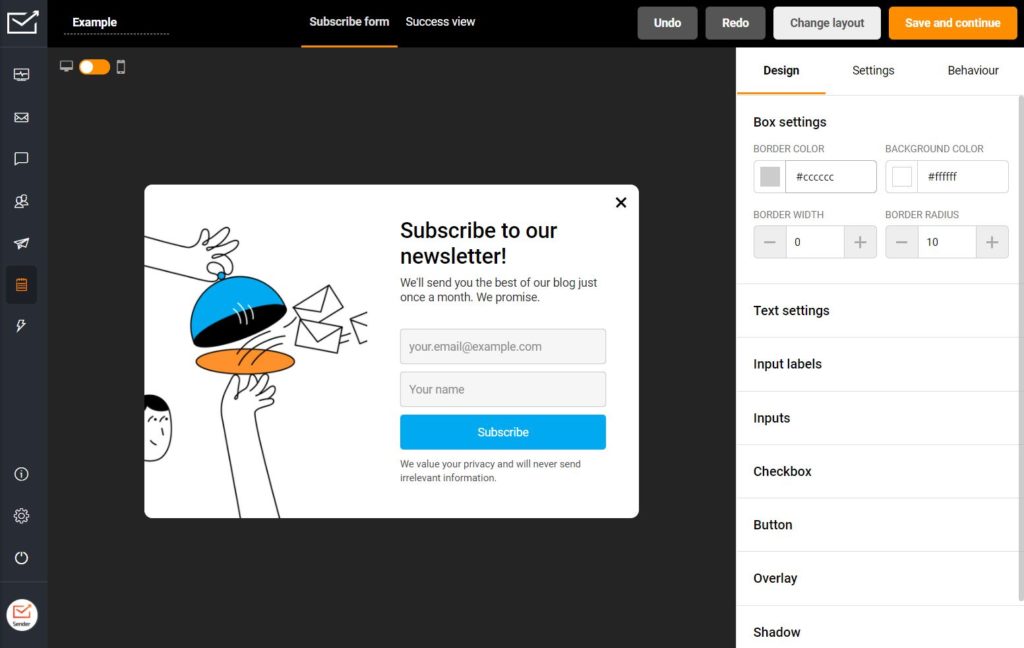 Email List Building for Restaurants
The food business needs emails too.
Consider the example below of a dine-in restaurant named Toro (based in Boston) that is happy to note down your email address and update you with offers and information moving forward.
The email subscription option could be better placed, in our opinion (it is all the way towards the bottom), we love this because but this is still way better than NOT being involved in email list building and email marketing at all in the first place!

Email List Building for B2B
Business to Business or B2B email list building works the same way as it does for B2C. The fundamentals of email marketing and the generation of leads remain the same.
Essentially you offer something of value in exchange for the permission to reach out to prospects inside their inbox. But here in the case of B2B mailing lists, the prospect has more weight.
They aren't just another row in your contact lists or email database but rather a key influencer or one of many decision-makers from a target business.
Consider the below example from neilpatel.com where a dynamic exit intent pop-up comes up when you try to exit the window.
What we love about this is that it clearly outlines the benefits and has a quiz-like step-by-step structure to it!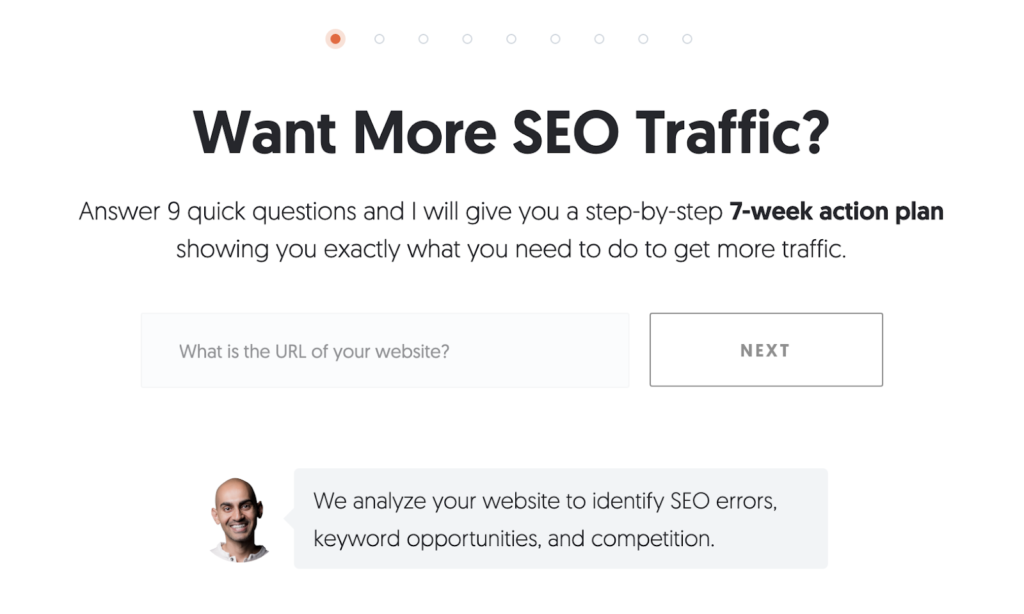 Also read: 25 B2B Lead Generation Strategies That Still Work
How To Build an Email List Using Social Media
Social media is a great way to attract a following, but you might risk losing your followers if your social media account is suspended or deleted unless you add them to your email list.
That said, here are three ways you can use social media to build your email list:
1. Lead Forms via Facebook Ads
Spending a little money on advertising is the quickest way to get email leads from your social media platforms.
With Facebook Ads, you can target your desired demographic. If your message is compelling, you'll see dramatic results in a lead generation almost immediately.
However, you'll have to optimize your ad, copy, and image carefully to convert email leads. Most lead generation campaigns provide something valuable for free in exchange for an email address.
2. Giveaways and Contests
Here's an example of how you can use a contest to get your social media followers to sign up for your email list:
First, create a hashtag that's unique to your contest. Use a catchy and descriptive hashtag for marketing your offer with a bit of personality and fun.
Then, take a high-quality photo of the item you're giving away.
Finally, share your contest on social media with a photo of the prize, the hashtag, and a link to the landing page where they must enter their email address to participate.
Encourage your participants to keep going by sharing the post or retweeting during the contest. Tell them how much you value their contribution, and your contest will have a greater chance of going viral.
3. Embedded Sign-up Buttons on Social Accounts
Add Sign Up buttons on your social accounts to add your fans to your email list.
You can also add an email sign-up app to your social accounts to reach out to those who are interested in your offers. When your followers click on the app, they'll be directed to an opt-in form where they can enter their email addresses.
Using the Right Tool for Email List Building
We never thought we'd actually say this, but sometimes you are only nearly as good as your tools let you be. Consider using a tool that:
Helps you capture an email address list using attractive and highly customizable embedded and dynamic popup forms.
Allows you to apply powerful segmentation based on subscribers' behavior
Permits you to simply set up powerful automation sequences that nurture and eventually convert resistance into compulsive buying behavior
Well, overall, something that allows you to focus on business instead of worrying about how-tos and mechanisms at the tactical level. Sender can help you do all of the above and more within an easy-to-use interface! The free plan is as generous as it gets — 2500 subscribers whom you can send a total of 15,000 emails monthly at ZERO COST!
The Final Word on Email List Building
Email list building is a must for businesses of all sizes. However, email marketing works the same way for small and massive businesses. It is far from being saturated; most businesses are nowhere close to even getting started with it; forget doing it right!
Your email marketing campaign performance will depend largely upon both the size and the quality of your mailing lists. Ensure that you add interested subscribers to your list daily and keep them engaged by emailing them highly relevant communications.
Also, we recommend reading:
---
Article contributor – Santosh Balakrishnan