Profit from your knowledge
Apply email and SMS marketing strategies you already know to see the best results with Sender. It's free. It's easy.
Get Started For Free
Customer acquisition is among a business's most significant challenges. To a great extent, enterprises know this and even acknowledge it. Yet, one of the most effective strategies – email lists and email list building – continues to take a back seat in marketing campaigns.
The harsh truth is – not everyone who visits your website or landing page is ready to buy from you immediately. And the best way to soften the blow is email marketing, which can help nurture these prospects to generate substantial revenue for your business.
Do you need more reasons to invest in your email marketing efforts anytime soon? Here are some numbers to put its benefits into perspective:
If you're convinced you need email marketing (and you surely do), let's dive deeper into one of its most essential components – email list building. Keep on reading!
What Makes a Great Email List?
An email list is a collection of individual email addresses (and sometimes supplementary information such as Name, Location, Gender, etc.) of prospects who permit you to send them information, updates, and sales communication about your business in the form of email campaigns. 
Several key elements characterize a great email list:
Quality. Remember — one engaged subscriber will be worth five unengaged when building your email list. In other words, ensure you send your email campaign to welcoming addresses rather than into tens of thousands of voids.
Relevance. Stay on your customers' minds by emailing them regularly. In another case, the email list may become irrelevant, and any attempts to reconnect might lead to high bounce rates and unsubscribes from more forgetful customers.
Quantity. Once you've checked off the first two points, consider growing your email list to reach more, better customers.
Once you've determined how your great email list should look, consider software and SaaS tools to build it:
Website pages (made using WordPress, Wix, Shopify, or similar)
Landing pages
Signup forms or dynamic popups
Email marketing tools such as Sender.
With Sender, you can do it all. Once you build your email list with our high-converting popups, you can execute and automate effective email campaigns for an enormous increase in conversions. That and much more — absolutely Free!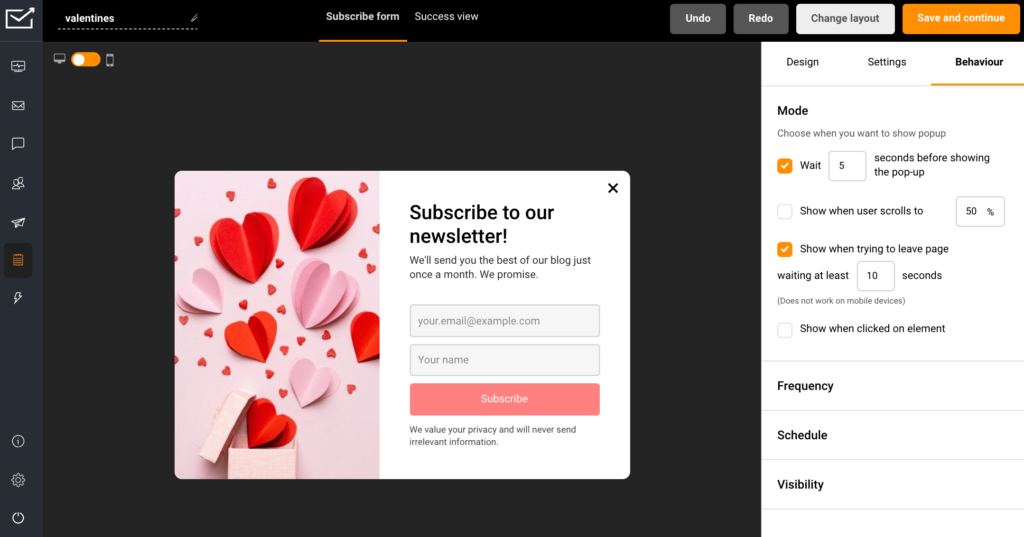 How to Build an Email List Easily?
No one wants to work hard, ever. Especially in the very first step in an email marketing journey, so let's ease your efforts with these tips.
1. Add a Popup on the Homepage
An email pop up form helps collect email addresses from website visitors. It "pops up" on the homepage inviting them to sign up in exchange for an incentive: a discount, special offer, newsletter subscription, etc.
Here's an example of a standard email popup with a creative twist: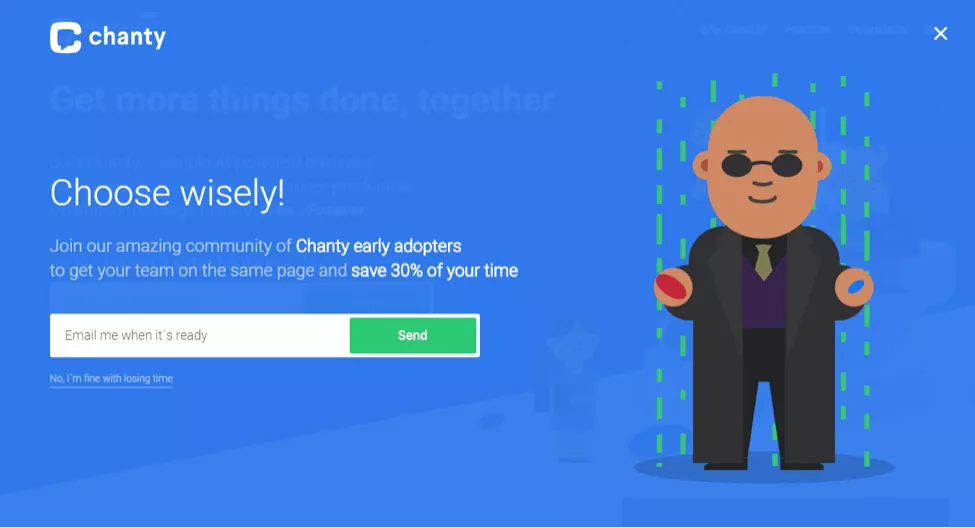 As much as everyone loves to hate popups, they are among the most effective ways to build your email list. In fact, on average, email popups convert 3.8% of website visitors.
Top this number and quickly build your email list by including the following in your popup:
A heading and subheading that promises and details an offer that's hard to refuse.
A call-to-action (CTA) button that urges to act.
An email input field where visitors can submit their addresses.
Visual branding to put your name next to the offer.
Also read: 10 Effective Newsletter Signup Examples & Popup Form
2. Put an Opt-In Form on Your Site's Navigation Bar or Footer
Most website platforms like WordPress allow you to place opt-in forms in navigation bars and footers where customers look for more details about your business.
Here's an example from Beardbrand: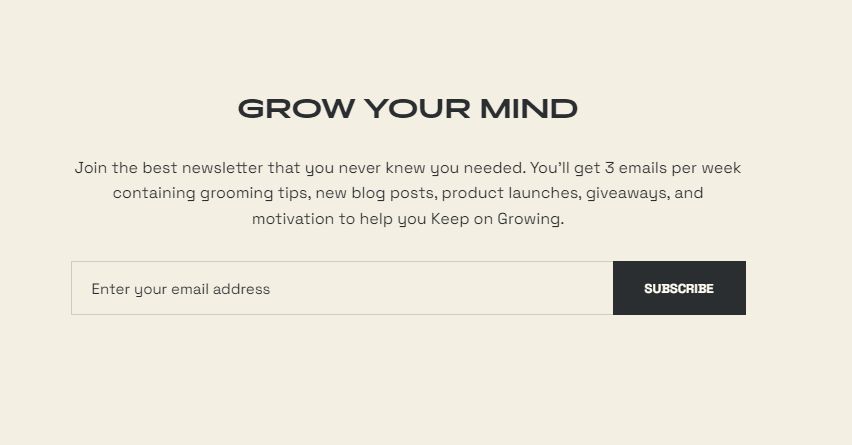 Although the conversion rates of these forms may be low overall, their contribution to building your email list adds up over time.
As a result, ensure you add a compelling CTA that shows the value of joining your email list to boost the conversion rate of the forms.
3. Collect Emails at Events
Here's an idea that stands out in this digital age – live interaction. Believe it or not, it's still a highly-effective tool for converting leads into customers. Do you have a physical store? A popup shop at an event? It doesn't matter as long as you meet your customers face-to-face and can add their addresses to your email list, eventually leading to more digital sales.
It's easy to bring email marketing and lead generation forms to life. All you need is some real-time connection and a tool like a clipboard of an iPad to which your customers can submit their email addresses.
And, of course, like with other online signup forms, a solid CTA to encourage subscription is necessary. Here are some ideas to help you think of yours:
Sign up for our newsletter to be among the first to know about our exclusive offers.
Subscribe to our mailing list and get free shipping on your first order.
Sign up today for a 30% discount on our most popular products.
After you collect an email address, don't hesitate to send a welcome email. This will help to remind the user about signing up at the event and avoid any spam issues.
Pro tip. As soon as you collect the email addresses live, segment the email list by location or event to ensure your audience receives emails tailored to their needs.  
4. Add a Signup Button on Your Social Media Account
Most users follow businesses on social media to stay updated on new products. So add an option on your Instagram, Facebook, and other social media channels for your customers to sign up for your regular email updates.
Here are some tips you can follow:
Add sign-up buttons on your social accounts to add your fans to your email list;
Add an email sign-up app to your social accounts to contact those interested in your offers. When your followers click on the app, they'll be directed to an opt-in form to enter their email addresses.
5. Drive Email Signups With Ad Campaigns
Landing pages can serve in driving email list signups as they're typically designed with a singular objective or conversion point in mind. Use landing pages for concrete marketing campaigns to:
Propose a direct offer on a focused page;
Evaluate your efforts more accurately;
Receive traffic from digital ad campaigns.
Building an email list with online ads has various proven ways, whether it's social media, search, or any other advertising channel you're looking at. 
For example, you can display banner ads on YouTube videos relevant to your industry or execute ads targeted after specific social media accounts to direct visitors toward an ebook related to their interest (e.g., a mindfulness guide for the online yogi community).
Target the right audience with usual third-party tools like Facebook Ads Manager and Google Ads and give them a tailored offer they can't resist.
6. Include a Newsletter Signup Option at Checkout
When was the last time you considered your business' checkout page to be… well, more than just a checkout page? Even if your customer is already secured, their buyer journey can continue beyond this transaction.
Ensure your new customer stays for life – encourage them to submit their email address on the purchase confirmation screen.
How do you do that? A good old checkbox under the field for an email address is enough. Just be sure to mention the benefits a subscription will bring to the customer – be it a newsletter with valuable tips, discounts for future orders, or exclusive content. A motivation to sign up? Check. Also, compliance with GDPR and other privacy regulations? Double check.
You can also collect email addresses on the checkout page with popups or banners. Use a compelling CTA and alluring design to catch your customers before it's too late, and add another address to your email list.
7. Include the Signup Option Upon Account Registration
Another almost effortless way to earn precious customers' email addresses is to ask for them when they are ready to give them to you – at the account registration step. Many marketers consider site registration an undefiable way to ensure subscribers' quantity and quality. You, too, can use it to your benefit by incorporating email sign-up into all account registration and eCommerce forms on your website.
Follow these practices to ensure maximum effectiveness:
Consider your target audience and what offer would motivate them to submit their email address.
Be clear about the reason why your customers should sign up.
Put the focus on the CTA by using enticing language and captivating design.
15 Additional Email List Building Strategies
Growing an email list is simple if you do it right. There's always more than just one way to skin the cat. No best way. But following the best practices below will help you stay on track.
1. Provide Incentives to Sign Up
Most visitors won't give their email addresses to anyone, so you need to clearly communicate what they'll receive when they give you their email. In other words, readers want to know they'll get value when they join your email list.
Here's a brilliant example from Grovemade: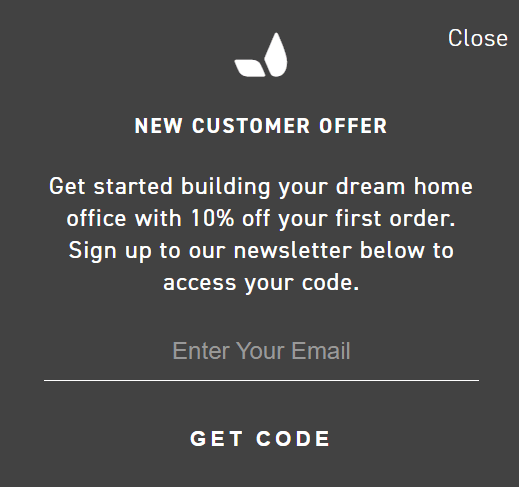 Some more examples of incentives you can use to build your email list include:
Time-saving cheat sheet, worksheet, or checklist (in visual format);
Free white paper or ebook (email required for download);
A video course, online webinar, contest, or giveaway.
2. Try Different Popup Forms (Exit-Intent, Spin-to-Win)
Every website visitor is unique, and depending on your audience, you can use different variations of pop up forms, such as exit intent or spin to win, to entice them to sign up for your regular emails.
Try to build your own Spin-to-Win popup with Sender: it's super easy yet very effective. Start capturing leads like a Pro!
A spin-to-win popup works simply. After users enter their contact details, they can spin the wheel for a chance to win a prize. This adds "gamification" to your website, making signing up for an email list fun.
Exit-intent popups appear when a visitor wants to leave your website. When they move their mouse onto another tab or intend to exit the website, they're shown a popup with a valuable offer, such as a subscription form, coupon code, or product demo.
Here are some best practices to make the most of your popup form:
The popup forms should appear at the right time — 15-30 seconds after website entry, when a user is about to leave, or based on the user's behavior;
Your forms should match your brand style;
Ensure your popup forms are responsive and can fit any device.
Also read: 20 Newsletter Popup Design Examples That Inspire
3. Have a Related CTA
Website visitors always visit your landing pages looking for something specific, so your call-to-action (CTA) needs to meet those needs.
For example, if you write a blog post on the same topic as your opt-in incentive, you can include a link to the opt-in form in the post. Add a simple CTA like: "Get Free Ecommerce Report."
So, create quality content so you can add personalized CTAs to entice visitors to join your email list.
4. Build Personalized Landing Pages
According to HubSpot research, increasing the number of landing pages from 10 to 15 results in a 55% increase in leads.
It makes sense since personalized landing pages let you reach a broader audience. Everyone who visits your website needs something different, so the more landing pages you create to address each person's specific needs, the more sign-ups you'll receive.
To create effective personalized landing pages, you should:
Understand where your website visitors are in the customer journey;
Target users based on their behavior, demographics, and interests;
Determine the specific type of content you want to deliver to each target audience.
5. Carry Out Surveys
Survey emails are excellent for gathering feedback information from new email subscribers. You can keep a two-way communication going by sending out customer feedback surveys to your readers.
Here's an example from Brooklinen: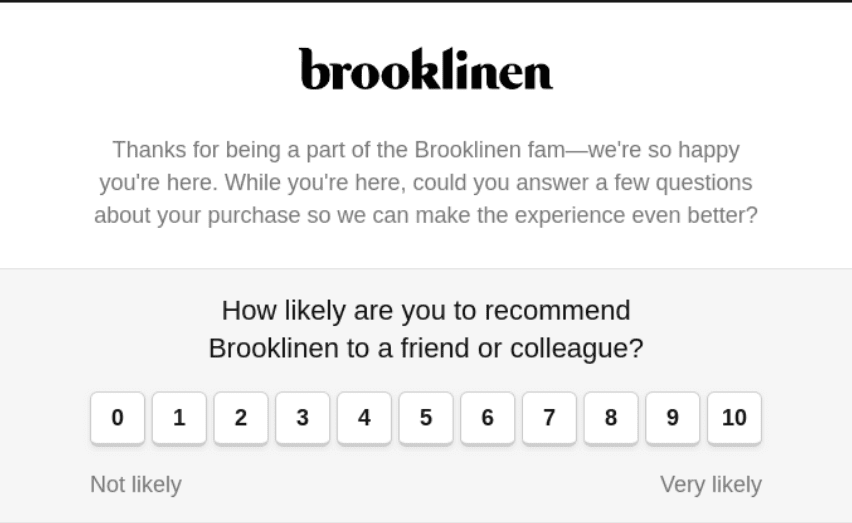 Survey emails can help with:
Improving your understanding of what you're doing well and where you can make improvements with your emails;
Getting suggestions for new topics to cover;
Gathering general customer feedback and satisfaction levels;
Strengthening your relationship with your email subscribers.
6. Offer a Free Trial
A free trial can benefit both your business and potential customers. You can show what your product can do, and the customers have the opportunity to try it before they buy with no risk.
Here's an example from Zapier: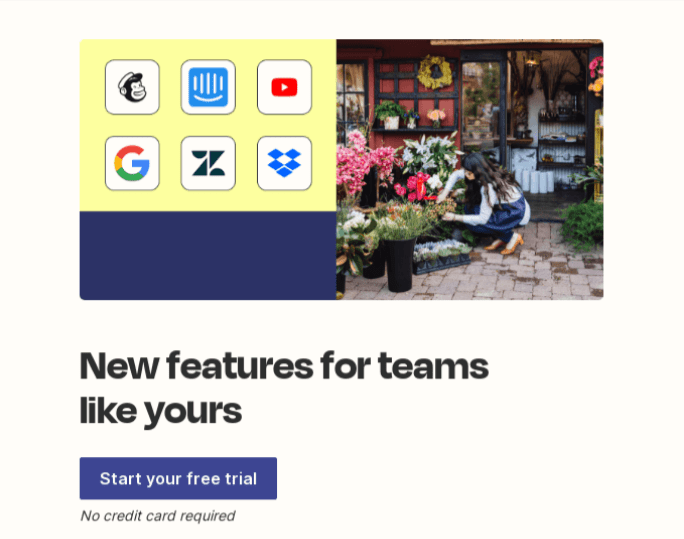 To increase your email signups using free trials:
Design and launch email marketing campaigns that excite prospects and make them want to sign up;
Target your ideal users with content designed to make them take action;
Keep sign-up forms short and only ask for important information (usually, it's email and name).
7. Always Send Valuable Communication to Your Subscribers 
This is the golden rule of email marketing. You will always have your recipients' attention if your emails are entertaining, informative, and valuable.
With that in mind, here are some ways to create effective email content for your recipients:
Use catchy and attention-grabbing subject lines;
Segment your audience and send personalized content tailored to their needs and priorities;
Craft short stories to keep your emails engaging.
8. Offer a Lead Magnet of High and Immediate Value
A lead magnet (or gated content) is a valuable incentive (ebooks, webinars, templates, you name it) or offer marketers provide to website visitors in exchange for their email addresses. Lead magnets are effective marketing assets due to their ability to generate leads.
Your lead magnet should have life-changing value for the prospect — ideally, something they can use immediately, easily, and benefit from instantly.
An excellent lead magnet should be:
Relevant to your target audience and provide them value;
Shareable so you can acquire more leads;
Trustworthy by backing it up with research and data whenever possible.
9. Clean Your List Regularly
Email marketing lists naturally degrade by more than 22% yearly, meaning even genuine subscribers will be lost. Additionally, there will always be inactive subscribers who refuse to open and engage with your email. To prevent it from hurting your marketing efforts, you should always keep your email list up to date. 
Here are the best ways to do it:
Remove inactive subscribers. Occasionally, check addresses that don't open or engage with your emails and delete them. Trust us; they were never helping your business anyways – email engagement is an essential metric.
Use confirmation emails. Before even considering sending that first welcome sequence, ensure that the email verification has taken place so you only send emails to valid and correct email addresses.
10. Segment Your Prospects Based on Their Buyer Personas and Behavior
Segmenting your prospects helps you personalize offers to those that are most likely to respond positively to them. For example, using segmented campaigns helped marketers gain up to a 760% increase in revenue.

An example of segmentation includes prospects who engage more often with your email (opens, clicks, replies) should be segmented differently as compared to those who do not as much.
11. Always Offer an Option to Your Reader To Opt-Out
Have you ever tried to remove your number from a solicitor's phone list? That can be a frustrating experience for a customer. But that doesn't have to be the case for email marketing.
The best companies understand that customers come and go, and while it may seem counterintuitive, making it easy for subscribers to say goodbye is good for your business.
So, make it easy for customers to be removed from your contact lists or unsubscribe from emails. Make it as simple as possible so anyone interested in receiving further communication from your desk is not forced to.
Email lists are a goldmine, and it's about time you applied your Midas touch to it!
12. Leverage Your Other Channels (Social Media etc.)
Social media is a great way to attract a following, but you might risk losing your followers if your social media accounts are suspended or deleted unless you add them to your email list. 
That said, here are two ways you can use social media to build your email list:
Use lead Forms with Facebook Ads.
With Facebook Ads, you can target your desired demographic. If your message is compelling, you'll see dramatic results in a lead generation almost immediately. However, you'll have to optimize your ad, copy, and image perfectly to convert quality leads. Most lead generation campaigns provide something valuable for free in exchange for an email address.
Giveaways and Contests.
You can create a catchy and descriptive hashtag unique to your contest and use it to promote your offer with a bit of personality and fun. Add a high-quality photo of the item you're giving away and share your contest on social media with a link to the landing page where they must enter their email address to participate. Voila!
13. Consider a Referral Program for New Sign-Ups
Referral programs are some of the most popular tools that ecommerce businesses use to build a solid and loyal customer base.
Here's an example from Ghia: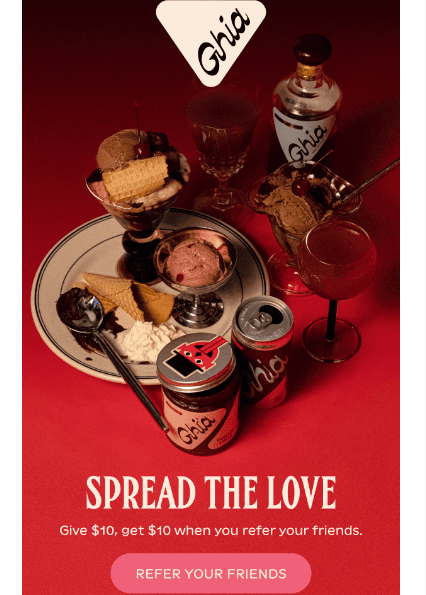 Create a referral program for new signups so they can spread the word about your brand to their friends and family. Some incentives you can use include discounts, redeemable store points, and special offers.
As a result, you'll boost your email list-building efforts and have more people joining your list.
14. Use a Live Chat or Chatbot
Live chat and chatbots can take even more work out of your hands – use them to earn email addresses for the list by engaging website visitors in real-time conversations.
How could you include live chat or chatbot in your lead generation strategy? The most natural way is to initiate proactive conversation or use chatbots to offer further updates, newsletters, or exclusive content in exchange for their email addresses.
Another potential approach is to program chatbots to automatically collect emails during interactions or guide users to landing pages dedicated to sign-ups. Just don't forget to get users' consent first!
Both direct and interactive ways enhance user experience, foster ongoing communication and engage even more potential customers.
15. Use Offline List-Building Tactics
Don't hurry to ignore this old-fashioned tactic for building email lists. With most business-to-customer (B2C) interactions happening online, the offline way can have its charm and advantages.
Of course, while some offline list-building can be done automatically, you may have to add these email subscribers manually to your email list builder (email marketing software).
Offline list-building can be partially automated. However, you should consider that, in some cases, you'll have to fill up your subscriber list manually.
Having that in mind, here are some email list-building ideas you can use "in real life":
If you have a brick-and-mortar or popup shop, consider placing a book or iPad with a sign up form near the checkout area for buyers to add their name and email address for exclusive offers, content, or news.
Add a line for an optional email address with a check box to confirm the subscription on customer satisfaction surveys, forms, or applications (e.g., a fill-in form for a store loyalty card).
Include a mailing list signup card in the packaging of products sold offline.
Initiate offline contests and include email list subscriptions as entry conditions.
As online like offline, so be aware of following proper legal guidelines when including users' email addresses in your list.
Best Practices for Building Email List
Sometimes called a subscribers list, email lists can be built using simple yet effective email list building strategies. And mind you, it's never too late. You can start today and still make the most of email marketing.
More importantly, you don't need many ways to grow your email list. All you need is a few that work for your business and your subscribers that you can optimize over time.
An effective email list management software can help you achieve crucial marketing objectives:
Powerful branding campaigns through storytelling and nurturing.
More clicks & website traffic.
Increase blog readership by using this as a cost-effective content distribution mechanism.
Direct sales and conversion campaigns.
Resilient "owned" media that is immune to social media algorithms and search engine penalties.
Stupid-simple performance tracking KPIs (Open rate, Click through rate).
Among the simplest and cheapest of marketing channels to operate.
The average cost per email subscriber is low, especially when you consider the mid to long term.
Email List Building FAQ
Here are some frequently asked questions about email list building.
How Do You Build an Email List From Scratch?
To build an email list from scratch, consider using email service providers that:
Help you capture an email address list using attractive and highly customizable embedded and dynamic popup forms;
Allow you to apply powerful segmentation based on subscribers' behavior;
Permit you to set up powerful automation sequences that nurture and eventually convert prospects into paying customers.
How Do I Make an Email List for Free?
To make an email list for free, use an email marketing software like Sender that allows you to focus on your business instead of worrying about how-tos and mechanisms at the tactical level.
The free plan is very generous as it gets — 2500 subscribers, to whom you can send a total of 15,000 emails monthly at zero cost.
Why You Should Not Buy an Email List
Email lists work on trust. If your new subscribers are unaware of your business or product, or worst-case scenario, have not even signed up themselves, they will not help your business grow.
On the contrary, they may unsubscribe or report your approach as spam, affecting your inbox deliverability to other genuine subscribers.
You may also be violating critical regulations relating to email communication, such as GDPR, CAN-SPAM Act, and more. These could eventually result in hefty penalties to your business that can hurt your bottom line.
Key Takeaways
Email list building is crucial for increasing potential leads and achieving marketing objectives such as branding campaigns, website traffic, and direct sales;
There are many list building strategies, so you should consider which ones suit your business best;
It's not recommended to buy an email list as it can harm your reputation, result in penalties, and violate regulations;
Email list building requires software that can ease your work and help you to capture quality leads.
Also read:
---
Author Bio
Billy Njogu is a content writer focused on helping B2B tech companies engage their audience by delivering content that solves their problems. His drive for excellence makes him exceed expectations to ensure his clients' success. In his free time, you'll find Billy reading about investing and real estate.