Old humble email, does it make sense to stir up the past? But did it really going into oblivion?
Do not rush to dissolve in the mainstream, hastily and ineptly burying emails: with skillful use, their ROI still exceeds 4100%, which is not the limit.
If your current email strategy is far from stellar and you are almost desperate to achieve figures like the one indicated above, we are ready to pave your way with five win-win strategies that will not leave you any chance to bring up the rear.
Content menu:
Segmentation Goes First
Carefully Design Subject Lines
Personalization Matters
Do Not Neglect Welcome Letters
Avoid Cliche and Spam Trigger Words
What is a good ROI for email marketing?
Forever Young, Forever Effective: Why Email Marketing Still Rocks
Before moving on to strategies, let's dispel the doubts of skeptics and social media marketing evangelists.
Do you have to work with social platforms? Of course.
Can they replace email advertising? In no case.
Why? Because the audience on social networks acts according to their rules. You are not entitled to dictate your terms to them. They can change the settings to throw you out of their information field in just a couple of clicks. Goodbye, promotional efforts. Hello, way back to square one.
"The email list is your asset. It belongs to you. Your users have given you their addresses voluntarily. And even if you change the email software, your base will remain with you," – the Head of Marketing at LinksManagement states,
– "It is something stable, unshakable, and, most importantly, controllable. It's a sin to give up such a powerful tool."
But that'll do with lyrical digressions. It's time for effective measures to grow your email ROI.
5 Best Email Marketing ROI Boosting Tactics
1. Segmentation Goes First
Sounds boring and trivial, yes. But for some reason, this concept is completely forgotten precisely because of its elementary nature and apparent obviousness. Do not do so. Remember about an almost eightfold increase in revenue if this tactic is applied correctly.
How exactly to target is your decision. You know that this can be done depending on gender, age, interests, and more. Focus on the type of your business and your desired goals. Dividing your database into specific categories will help send more relevant messages to people with certain expectations and inclinations.
Related content:
2. Carefully Design Subject Lines
To make potential and existing customers open your letter, you need a fascinating subject line that immediately demonstrates the benefits of the email contents to the reader. It sounds fantastic, but there is nothing supernatural.
Strong verbs, personal appeal, product name, the promise of a discount, a sense of urgency – "5 days to register for a discounted course!" – are some of the most common ways to draw attention. Do not write more than 5 words in the subject line and more than 10 words in the preheader. Otherwise, they will be cut off, and the stunning effect of your idea will go down the drain.
We recommend reading: Perfect Email Subject Line —Best Practices, Tips & Examples
3. Personalization Matters
It is not just important, now it is obligatory. Not having seen personalization in your letters, the user will find it from your competitors. Do not give them a chance to intercept your customers. Email etiquette does not stand still; you need to take this for granted.
The first step is "Say my name", as David Guetta accurately noted. Just make sure that you have not confused it. John will not be happy with the letter where you call him Mary, and Mary will receive the letter addressed to John.
A personal appeal to the recipient gives a feeling of care and selectivity, drives engagement, and easily increases conversion by 10%.
The main habitats of the name are the subject line and the text of the letter. Make sure that any graphic content does not contradict the specifics of the user.
A book lover is unlikely to be interested in video games, and a man will be very surprised at the letter with discounts on women's underwear.
Also read: 7+ Email Personalization Practices with Real Examples
4. Do Not Neglect Welcome Letters
Are you sure that no one needs such letters for a long time? This is a mistake that can cost you a lot. In fact, there is nothing special: the open rate of welcome emails exceeds 90%, and revenue generation with their help is more than tripled. Indeed, not impressive at all.
However, all joking aside, you will never lose when sending a welcome letter. You have already seen the performance indicators, so make sure that letters contain the call to action you need. Losing such an opportunity to realize the conversion is a real blasphemy.
What can you offer in the first letter? Of course, something unique, a discount, or a gift will be available only here and now. People do not miss advantageous offers, so arm yourself with a couple to instantly hook your potential customers. To ensure their timely delivery, harness automation capabilities. Of course, this is another obvious thing, but repeat actions make perfection, is not it?
5. Avoid Cliche and Spam Trigger Words
Here you kill two birds with one stone: deliverability and readability are in the spotlight.
First of all, it is important for your letter not to be buried in the spam folder. Otherwise, what kind of ROI can we talk about? To do this, you must bypass special words that filters mark as spam.
Be sure to give people the opportunity to unsubscribe from your email newsletter. Once trapped in the constant flow of letters without an unsubscribe button, people are very likely to get angry and ruthlessly mark your letters as spam.
The second stage is to impress the client with content. If the text prevails in your emails, be sure to use a simple conversational language. The too grandiloquent, complex, or official style will push the reader away and cause a negative attitude towards the whole narrative. People want to feel that they are communicating with people: give them that feeling, and they will pay you back with the engagement.
Improve your ROI with 3 main metrics
1. Open Rate
If you are an experienced marketer – good for you, nevertheless, here is the term explanation for the beginners: open rate is a type of measure of how many people on an email list open (or simply view) an email campaign.
So once again, how can you actually improve your ROI through open rate:
Always set your goals! In fact, there's this crazily awesome tool called Goalsetter. This program will let you set your email marketing goals in a very fast way. Just take a look at the video and find out by yourself.
Check your reputation! You can read more about it in our previous blog post here.
Be personable – always use your first name. You can actually make friends with your subscribers – just use your name instead of a company's name! You will see how they react – the open rate is about to be terrific!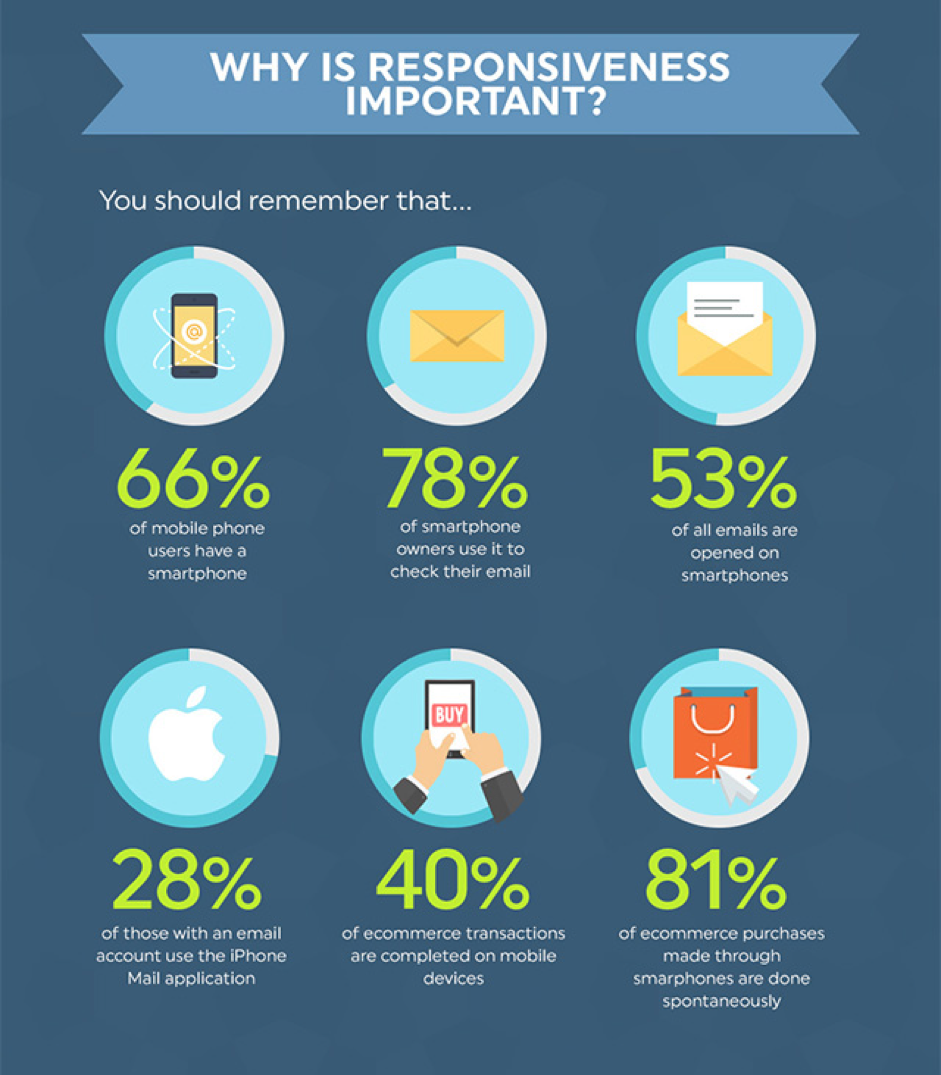 2. Click Rate
Long story short, click rate is a ratio, which shows how often people who see your ad end up clicking it. By definition, it sounds simple, but isn't so simple to accomplish!
Remove distractions from the email. Imagine yourself surrounded by tons of different fonts, icons, flashing and blinking banners. Wouldn't you just want to close the window ASAP?
Make your call-to-action CLEAR – Every email has to have one clear call-to-action button. After a subscriber reads your email, he must have a clear idea what is about to happen next. Don't leave your reader hanging – make your call to action clear: use short and clear words, try urgent language, make it standout.
Segment your list carefully. I guess you've heard people saying speak to an individual, not the crowd. This is the key to one's heart! Slice your database, because the audience is about to love it. There are loads of creative and innovative ways to segment your email list: from geography and age to topics or even content.
Email list segmentation results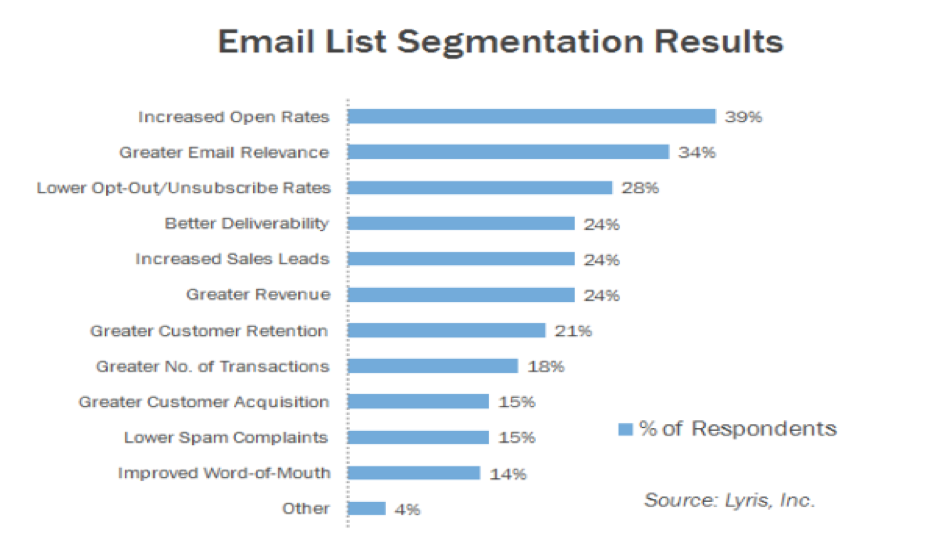 3. Conversion rate
Optimize emails for mobiles. It is not a secret that most of your subscribers use mobile phones or tablets to read your emails. That is why you have to process conversion rate optimization techniques within email marketing campaigns for the mobile versions! It is more than essential if you want to improve your ROI!
Do A/B testing! You have to remember – when it comes to email marketing, there is not perfect, and you always need to test test test! This is why A/B testing is truly necessary. Test people with headlines, test them with content – the only thing you have to do – never stop trying.
If you have an e-shop, use cart recovery! Yes, don't let them forget about things they almost ordered or simply dropped to their shopping cart! Customers gonna return and think about stuff that they want once again. Tricky, right? Cart recovery for the win!
Also read:
What is a good ROI for email marketing?
It is necessary to calculate your email marketing ROI, especially if you are willing to find out how are your email marketing campaigns are doing, as well as improving the results. Every marketer has to calculate ROI as often as possible. The question is how do you actually do it? You are more than lucky because there is this marketing ROI calculator created. You can find it here.
Don't Lose Time: Accelerate Your Email Marketing Now
It's hard to imagine a simpler and more traceable marketing channel that can produce amazing results. In the case of a reasonable approach, of course. Follow our recommendations, and don't be surprised when your ROI starts a fast way up.
Also read:
Like what you read?
Apply it in practice with Sender.net - the most cost-effective email marketing solution in the market.
Try Sender for free