Profit from your knowledge
Apply email and SMS marketing strategies you already know to see the best results with Sender. It's free. It's easy.
Get Started For Free
Every parent and their kids hustle for the perfect gear, school supplies and open up their pockets during the back-to-school season. This provides a unique window of opportunity for your business to launch dedicated back-to-school marketing campaigns.
According to NRF, parents with elementary and high school kids will spend approximately $864 on school supplies, bringing the overall expected spending to $37 billion.
But how do you grab a share of this back-to-school spending pie in a competitive market? That's where creative, targeted, and thoughtful back-to-school marketing campaigns come into play.
In this blog, we'll share innovative and effective back-to-school marketing ideas to help you capitalize on this bustling season. So, let's begin.
Should You Focus On Back To School Marketing?
Consumers, especially parents, shop a lot during the back-to-school season. There aren't just school supplies to take care of. Their kids need electronics, shoes, clothing and accessories, computer or related equipment, and more. Also, most parents are looking to buy online during this season.
So, this time is crucial for retailers, service providers, and brands looking for a revenue bump. Here's why we think so:
High Spending Season. Parents are expected to spend $864 on school supplies per kid and about $1200 if their kid's in college during this season. Everything from stationery to electronics, clothing, and beyond is a hot target;
Targeted Segment. You already know who you must target, specifically, and the clear and defined audience. So, you've got many growth opportunities by using retargeting, personalization, and segmentation;
Digital Spending. More parents and students shop online for convenience and safety. Approximately 62% of parents will shop using Prime Day deals on Amazon, and another 31% will shop using online deals. With the right strategies, segmentation, and personalization, you can be visible and increase your sales;
Competitive Edge. Back to school is a great season to create long-term loyalty. Parents appreciate an honest deal during this time. With the right planning, your campaigns can set your business apart from competitors and stand out in the crowded marketplace.
In short, the back-to-school season is a marketing goldmine waiting to be tapped. So, missing out on this growth wagon doesn't make sense for any growing brand or business.
When Does the Back-to-School Season Start?
Historically, the back-to-school season starts in mid-August and extends until early September, yet you probably should start preparing for it in July.
However, the back-to-school time isn't set in stone. It can vary based on different factors, including the geographic location of your target audience, school district/college schedules, and even cultural norms.
For example, if you're operating internationally, you must remember the back-to-school seasons for each country.
Here's a short list:
United States — From mid-July to mid-September, depending on the state;
Canada — Early September;
Mexico — End of August;
Spain — Mid-September;
Germany — Late July and early September;
France — Start of September;
Italy — Start of September;
Brazil — First week of February;
New Zealand & Australia — January and February;
Japan — April.
Though pandemic-induced shifts in buying behavior have made the dates flexible, today, many consumers start their back-to-school shopping earlier to avoid last-minute rushes, get early bird deals, and prevent out-of-stock disappointments.
Approximately 46% of parents plan to purchase back-to-school bundles ahead of time.
Being aware of your target audience's shopping habits and academic schedules in your area can help you fine-tune the timing of your back-to-school marketing campaign, ensuring you capture your audience when they're most likely to be in shopping mode.
Back To School Marketing Campaign Ideas
Thinking of making the most out of the 'Back-to-school' opportunity? We've got the fuel to fire your growth ambition. Use the following back-to-school marketing campaign ideas to attract and convert more parents and increase your sale.
Create a Back To School Category on the Website
One of the easiest, cheapest, and most powerful ways to promote back-to-school deals is to create a new category on your website.
By curating a special 'Back-to-School' section on your website, you're making it easier for your customers to find what they need and enhancing their shopping experience. This section should include everything related to school needs – textbooks, stationery, backpacks, electronics, lunch boxes, clothing, etc.
Break it down further into categories like 'Elementary School,' 'Middle School,' 'High School,' or 'College.' Personalize it based on needs, like 'Art Supplies,' 'Science Lab Equipment,' 'Sports Gear,' etc.
For example, Amazon creates a large 'Back-to-School' section during the season. This section features everything from basic school supplies to clothing and electronics, divided into various age groups and needs.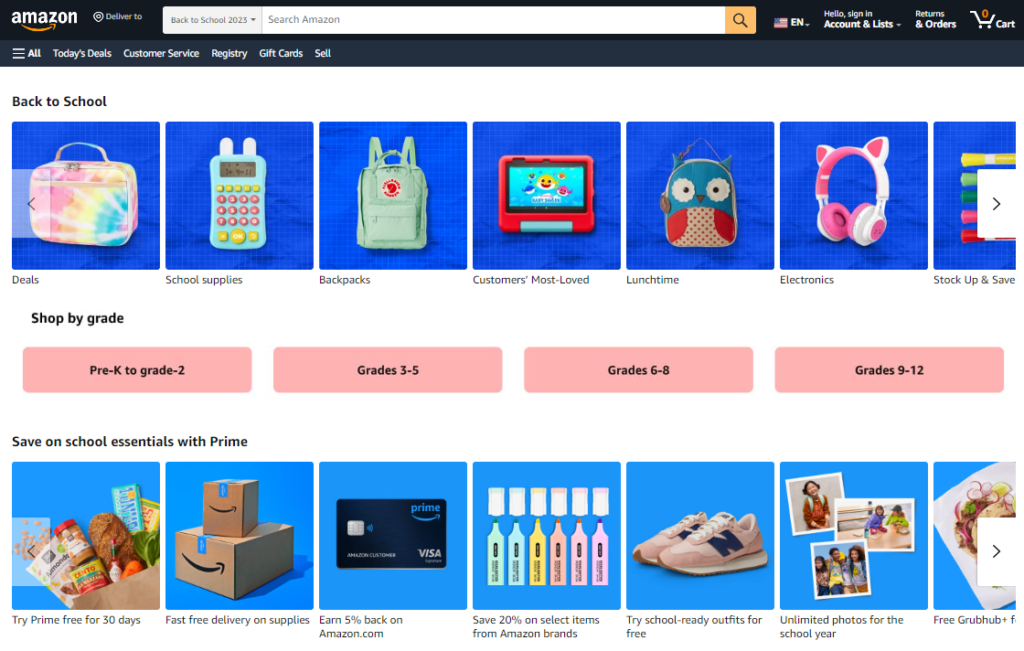 Your ecommerce store can take inspiration from this and create a tailor-made 'Back-to-School' section optimized with SEO-friendly keywords.
Launch a Flash Sale and Special Discounts
A classic way to attract customers is to announce special discounts and back-to-school sales. A time-bound flash sale or a discount on popular products can create a sense of urgency, driving customers to make quick purchase decisions.
Organize a series of flash sales throughout the back-to-school season on your e-commerce store. You can have hourly deals, daily deals, or even week-long discounts on certain product categories. The trick is to keep the offers exciting and the timing unpredictable to ensure customers keep coming back for more.
Target and Walmart often hold flash sales during the back-to-school season. They announce "Deal of the Day" on their e-commerce platforms, stirring interest and excitement among customers.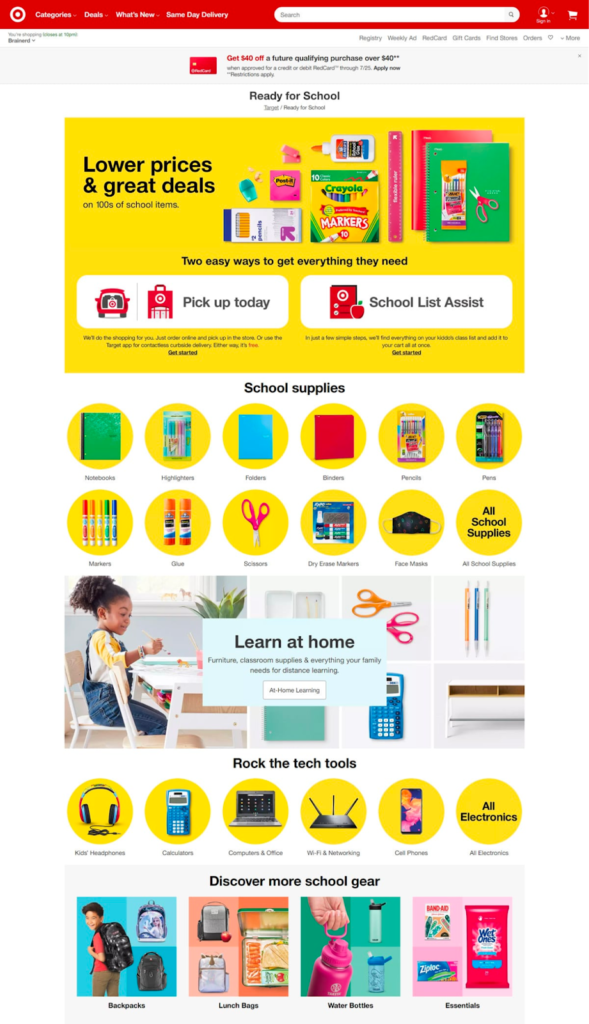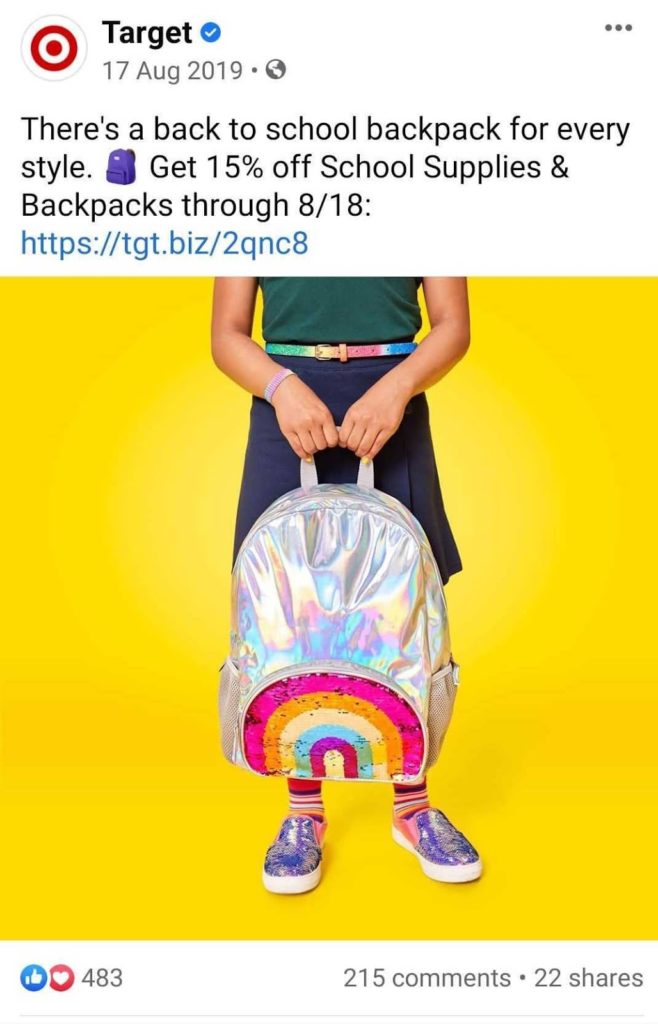 You can implement a similar strategy and schedule teaser emails to excite your subscribers.
Create a Seasonal Newsletter with Recommendations
Many people spend hours researching or deciding on which products to buy. A well-crafted newsletter with personalized product recommendations can be an excellent way to retain customer interest and drive traffic to your e-commerce store during the back-to-school season.
An email newsletter tailored for the back-to-school season can do wonders for your sales revenue. Personalize the recommendations based on the customer's past purchases or browsing history, if possible.
In addition to product recommendations, you can include tips for a successful school year, study hacks, or DIY projects. Make your newsletter a mix of fun, useful, and enticing content to get the reader to click through to your website. For example, look at the following newsletter by atoms:
Subject Line: Going back to school, or know someone who is?

This newsletter shares a coupon code and showcases the best from their store for back-to-school shopping. You can use Sender to create a newsletter and schedule and automate your back-to-school campaigns quickly.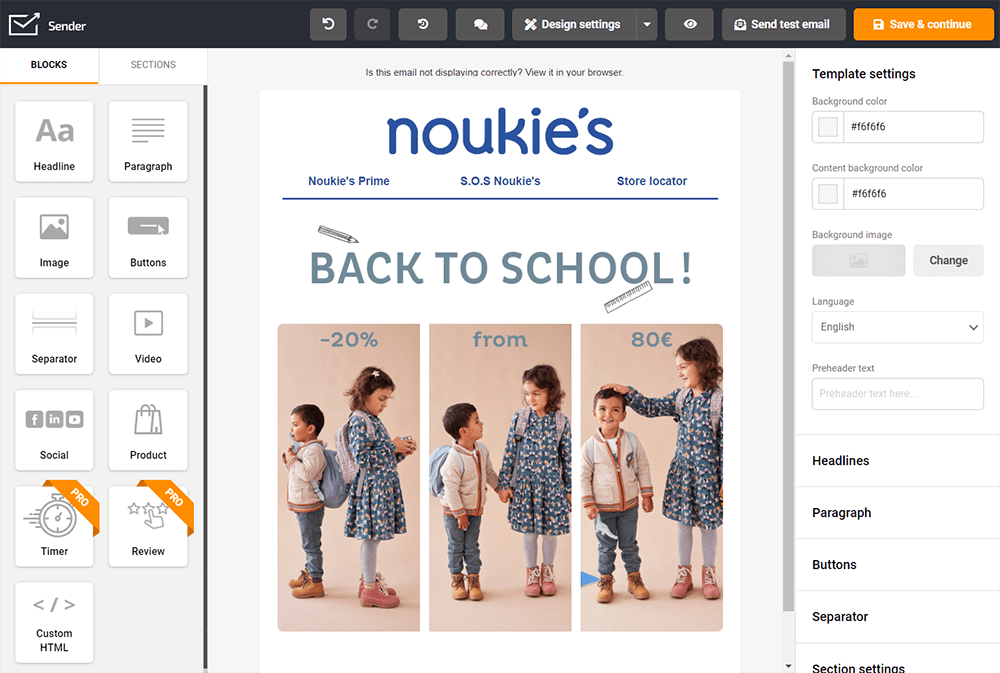 Additionally, since you can use Sender to set up automated emails, it's recommended to have a short follow-up and a reminder about the discount. Many people simply forget to use the discount code and skip shopping entirely.
Announce an Interactive Social Media Contest
Back-to-school time is a great way to get eyes on your brand. Since this is the shopping season for many, consumers spend much time on social media for research.
An interactive social media contest can be an engaging and exciting way to grab attention, increase brand visibility, and drive traffic to your e-commerce store during the back-to-school season. For example, you can announce something like the following: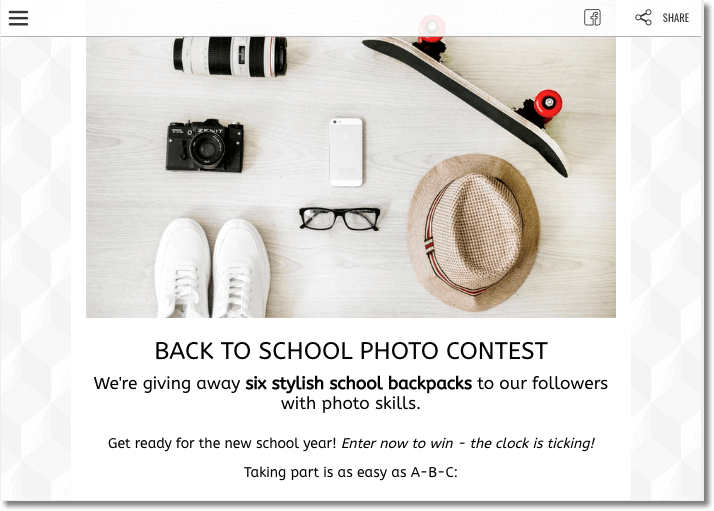 Start by planning a fun and interactive social media contest related to the back-to-school theme. The contest could involve sharing a creative back-to-school photo, sharing a DIY school supply idea, or even writing a short essay on their goals for the new school year. Ensure the contest rules are simple and the prize is attractive enough to encourage participation.
Encourage participants to share the contest with their friends to increase reach. This engages your existing followers and helps you gain new ones. Don't forget to cross-promote the contest on different social media platforms and your website.
Personalize Back-to-School Bundled Products
For most people, back-to-school shopping involves buying several products. There are shoes, apparel, accessories, stationery, and more. So, customers spend lots of time finding the best deals on back-to-school essentials, wasting time. Time spent on finding the perfect deal can be frustrating, leading to abandoned carts.
Offering personalized back-to-school bundles will attract school shoppers, increase average order value and add value to your customer's life by saving them time.
Bundle all essentials into personalized packages based on different needs and age groups. Create bundles like 'Elementary School Starter Kit,' 'High School Tech Pack,' 'College Dorm Essentials,' etc. For example, look at this product bundle available at Amazon.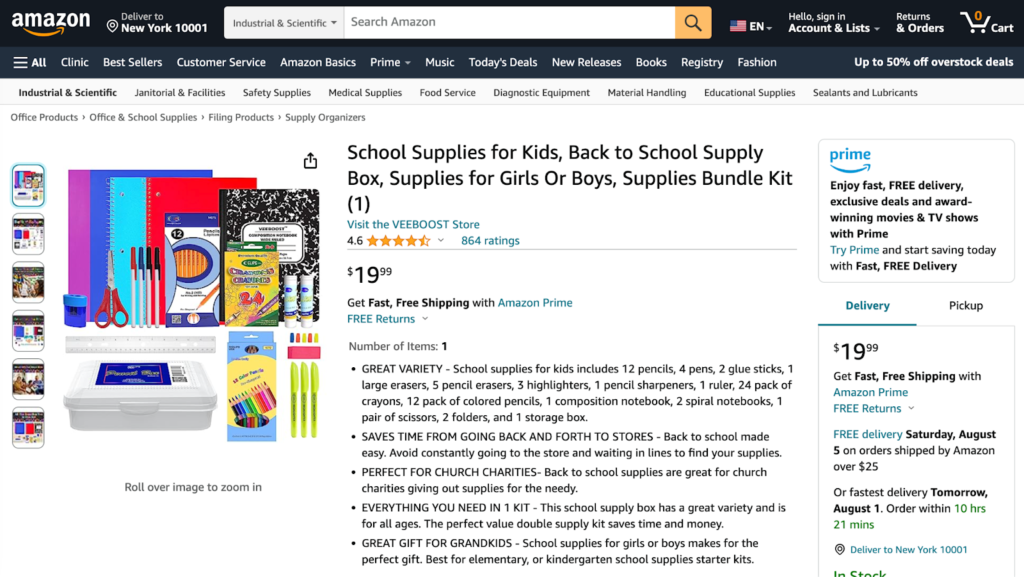 Ensure these bundles are customizable, allowing customers to add or remove items based on their needs. This personalization provides a unique shopping experience, helps you stand out in a competitive online environment, and increases the chances of checkout.
Promote these bundles through all your marketing channels – social media, newsletters, website banners, etc. You can also highlight the savings on buying the bundle compared to buying items individually.
Run a Back to School Giveaway
Who doesn't love a good giveaway? Running a back-to-school giveaway can be an excellent way to create excitement around your brand, engage with your audience, and increase traffic to your site during the back-to-school season.
Choose a desirable product or bundle from your store as the prize for the giveaway. The rules of the giveaway could involve liking and sharing a post, tagging friends, subscribing to your newsletter, or making a purchase from your store. For example, look at the following giveaway announced by Earth Bean Coffee: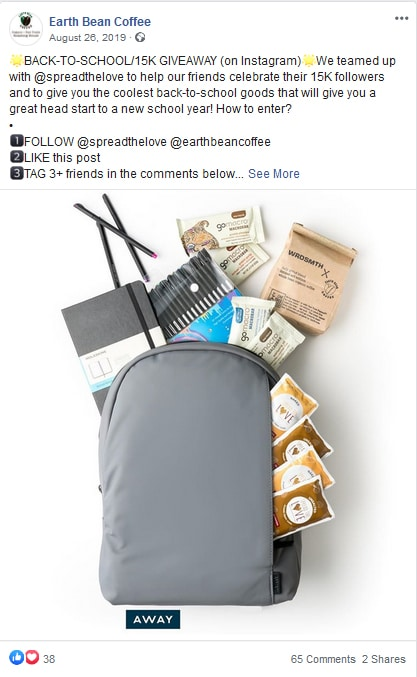 Promote your giveaway across all marketing channels – website, social media, newsletters, and SMS. The more people know about it, the more participation you'll likely get.
Announce the winner at the end of the back-to-school season and consider giving all participants a small discount code as a thank-you for participating.
This increases brand engagement and visibility and incentivizes potential customers to visit your e-commerce store and make a purchase.
Collaborate with Relevant Influencers
Influencers wield a considerable amount of power over consumer decisions. Collaborating with influencers during the back-to-school season can boost your brand visibility and increase traffic to your e-commerce store.
Start by identifying influencers who resonate with your brand and have a substantial following within your target demographic. Reach out to them for a potential collaboration. This could be sponsored posts, product reviews, unboxing videos, or even co-created merchandise. Here's an example of a sponsored post for BTS season by an influencer: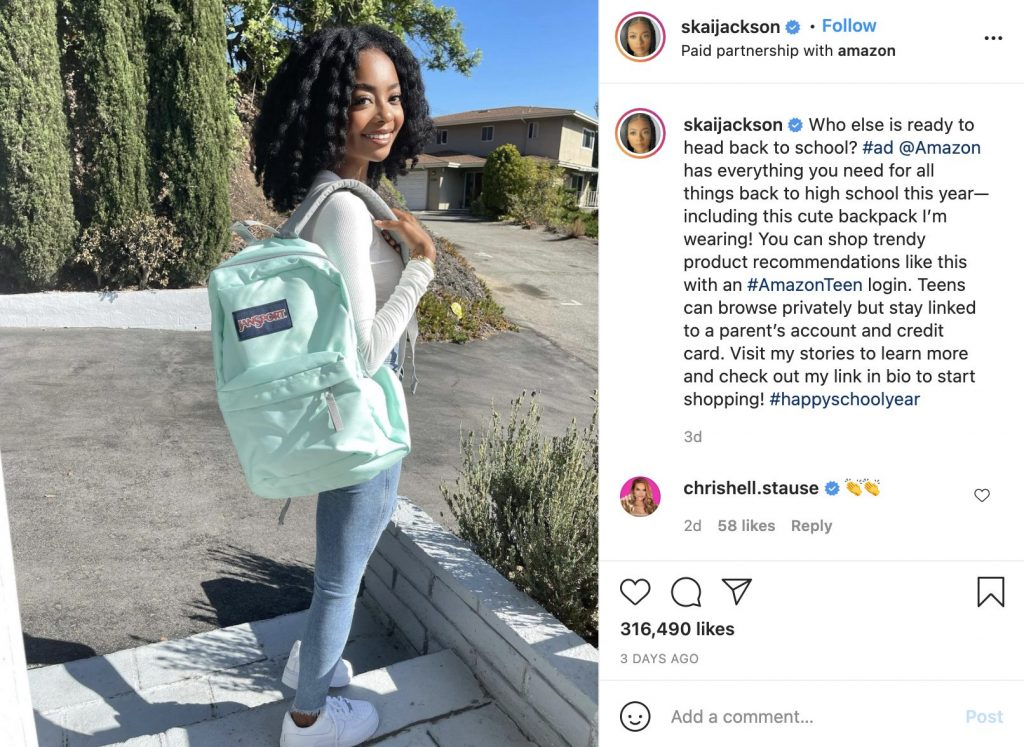 Ensure that the influencers you collaborate with align with your brand values and aesthetics. Also, communicate what you expect from the collaboration, whether promoting a specific product, highlighting a sale or increasing brand awareness.
Remember to provide them with a unique discount code that they can share with their followers. This not only encourages their followers to visit your e-commerce store but also allows you to track the effectiveness of the collaboration. You can also use this idea to target college students heading back to college.
Run a Challenge
Running a unique, back-to-school-themed challenge can greatly enhance your e-commerce brand's visibility and attract more traffic.
Conceptualize a challenge that is both entertaining and related to the back-to-school season. This could be a creative DIY challenge, a decluttering challenge, or even a study routine challenge. Make the challenge engaging but simple enough for your audience to participate. For example, look at the following challenge by Gatorade and student participation: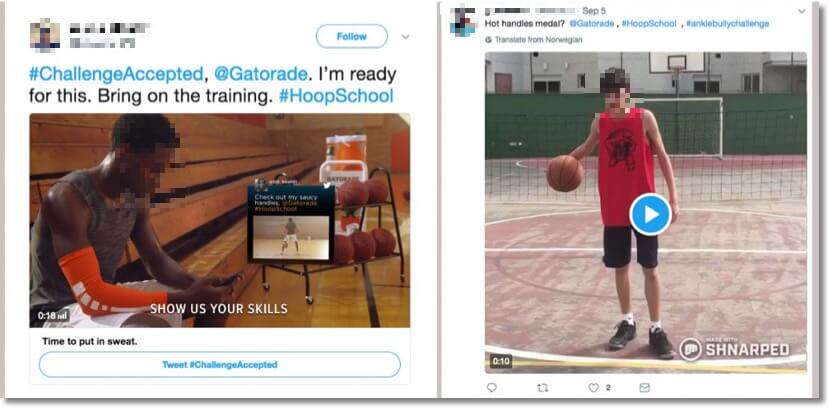 Remember to incentivize participation with attractive prizes such as discounts, gift cards, or even a feature on your social media pages. Encourage participants to share the challenge on their social media profiles for added reach. Use a unique hashtag for the challenge to track participation and create a buzz on social media.
For example, if your e-commerce store sells stationery and art supplies, you could run a 'DIY Desk Organizer Challenge.' Participants must create a desk organizer using supplies from your store and share photos or videos on their social media profiles with a unique hashtag like #XYZDeskChallenge. The winner could be chosen based on creativity and awarded a gift card for your e-commerce store.
Create a Back to School Fitness Program
As students get ready to dive back into the school routine, fitness will be a priority (both for students and parents). Many people will be heading out of outdoor workouts. Some will be looking to join gyms in schools or universities they might be attending.
Launching specially planned back-to-school promotions around fitness will help students maintain a healthy lifestyle while enhancing your brand's engagement and sales.
Develop a fitness program that caters to students' busy schedules during the school season. It could be a series of short workouts to get them moving in the morning, relaxing yoga sessions to help them de-stress after school, or nutrition guides to ensure they eat healthily.
Offer to join the fitness program as a social media challenge or as a value-added bonus with certain purchases.
Also read: 10 Fitness and Gym Newsletter Ideas + Examples.
Launch a Student Ambassador Program
A student ambassador program is a fantastic way to engage with your younger audience, boost brand awareness, and drive sales during the back-to-school season.
This would involve selecting students who love your brand to represent and promote your products in their schools and communities. They can create content for your social media platforms, host events, distribute samples, and spread positive word-of-mouth about your brand.
The program should be set up to provide mutual benefits; while the students help promote your brand, they should also gain something valuable. This could include exclusive discounts, early access to new products, career experience, or scholarships. For example, CoSpaces promote its student ambassador's program via a free YouTube playlist and an exclusive badge.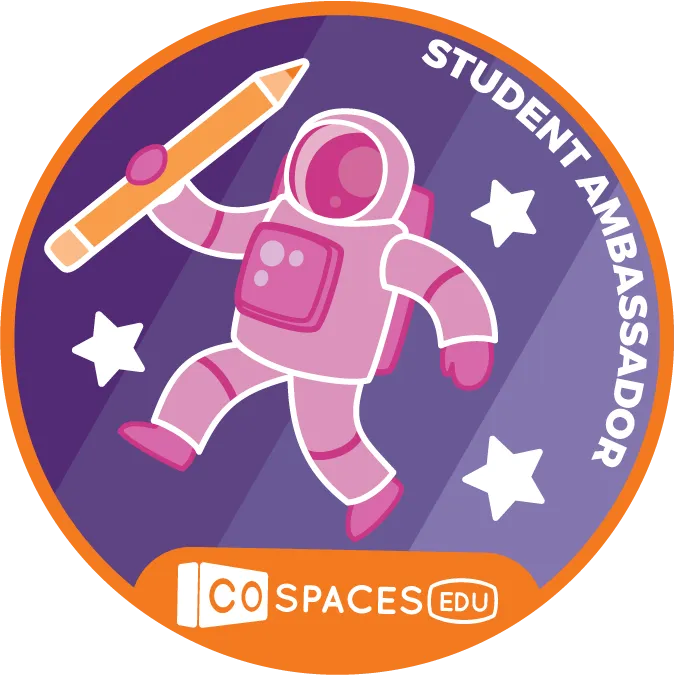 A well-executed Student Ambassador Program can effectively amplify your back-to-school marketing efforts by leveraging the power of peer recommendations, ultimately leading to increased brand loyalty and sales.
Collaborate with Schools
Like influencers, collaborations can be made with the community or schools to increase brand awareness.
Reach out to local schools with a partnership proposal that brings mutual benefits. You can offer schools bulk discounts on essential supplies, sponsor events, or create school-branded merchandise. This will promote your products directly to your target audience and position your brand as a supporter of local education.
If schools aren't keen, you can even collaborate with complementary brands to promote back-to-school offers. Look at how perfect bar created a new bento box product and giveaway by partnering with others.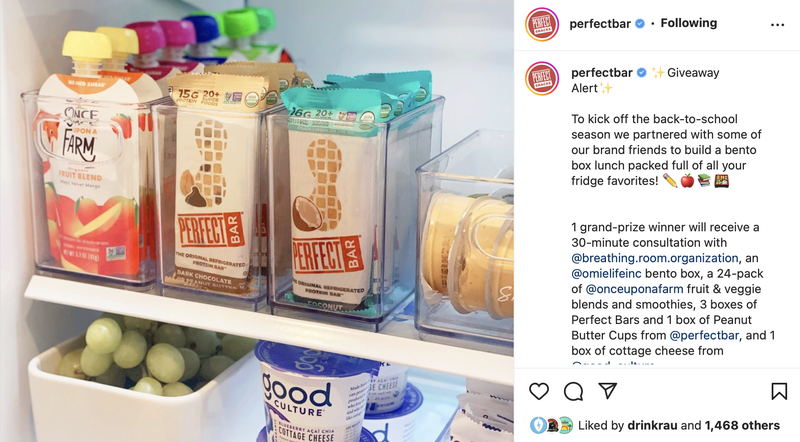 Remember to ask permission to use the school's logo or branding if you create merchandise or offer sponsorships. And always ensure the collaboration aligns with your brand values and business objectives.
Offer Student-only Discounts
Students will often look for brands and companies willing to give them discounts to help them save for the future. Thus, it's a great idea to consider implementing a student-only discount for some time during back-to-school season. Apple announces such discounts every back-to-school season.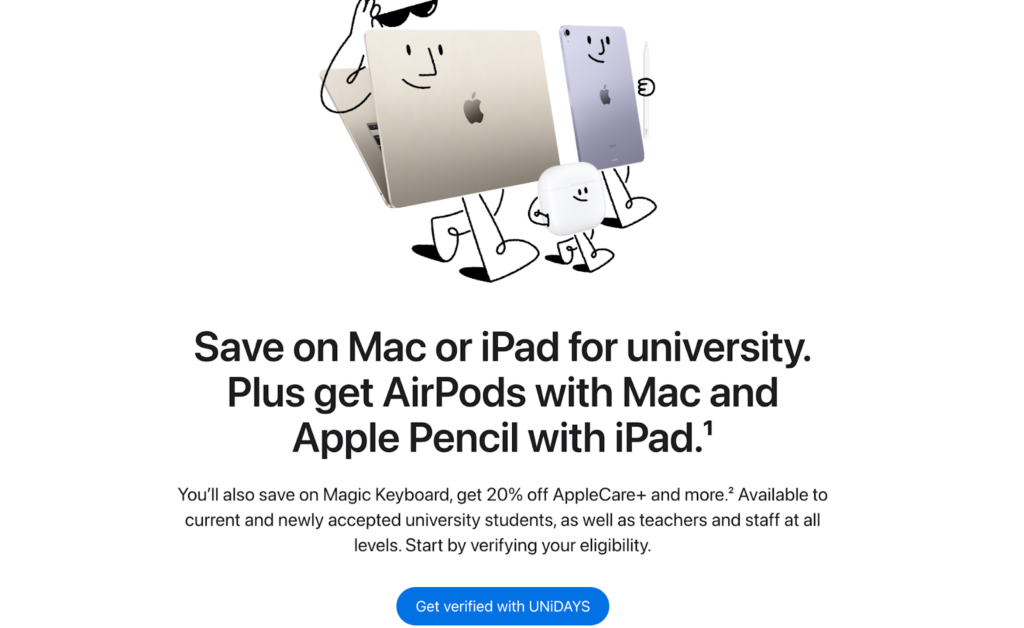 To claim the discount, you can ask students to verify their status using a valid student ID or school/university email address. Ensure these discounts are attractive enough to motivate them to shop and are easy to claim without unnecessary complications.
Promote these student-only discounts prominently on your website and all your marketing channels to ensure maximum reach. The more students know about these discounts, the higher the chances they'll shop from your store.
Use SMS Marketing to Boost Other Channels
You'll likely be targeting an audience that's at least in part on the younger side. Getting the millennial generation's attention through phones is a lot easier. They prefer texting over talking by a large margin. But SMS marketing is often overlooked by many brands.
With its high open rates and personal touch, SMS marketing can be a powerful tool to boost your back-to-school campaign and reinforce your messages on other channels.
Implement an SMS marketing strategy to supplement your back-to-school campaign. You can use text messages to alert customers to flash sales, remind them of items left in their shopping carts, or provide exclusive discounts. Ensure you've got the consent to reach out via SMS.
You can add a popup on your website to incentivize customers to share consent and phone numbers.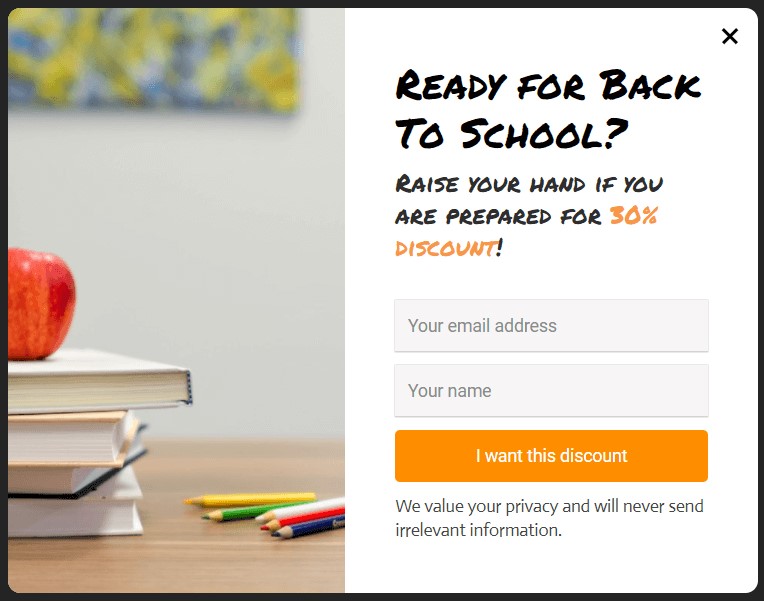 Also read: What are SMS Campaigns? Definition, Examples
Optimize your Website to Match the Back-to-School Vibe
Back-to-school season creates excitement for both students and parents. By aligning your e-commerce website's aesthetic and messaging with this sentiment, you can create a shopping experience that resonates with your customers and encourages them to make purchases.
You can leverage this idea by giving your website a thematic makeover. Use school-related visuals, banners, and graphics. Adjust your color scheme to be vibrant and energetic, echoing the excitement of a new academic year.
Update your website copy to reflect the back-to-school season. You can include a special section or landing page dedicated to back-to-school products, sales, and promotions. Personalize the shopping experience with product recommendations based on the customer's grade or field of study.
5 Back to School Email Campaigns
Times without numbers, email newsletters have proven to be one of the best ways to reach your audience in a personalized manner.
So, if you're on a quest to launch a back-to-school email marketing campaign, we've put together a few samples to inspire newsletter content to help create hype around your products this period.
Offer Discounts and Create Urgency
The back-to-school season attracts customers who are after the discount offers trends. But the availability of discount offers doesn't guarantee quick buy actions.
Why? Because they tend to feel that the offer stands forever.
Therefore, to encourage quick reactions to your newsletter, limit your offers' availability. It could be the time limit or the number of items available at that discount.
Bose creates a sense of urgency while offering their audience an enticing discount.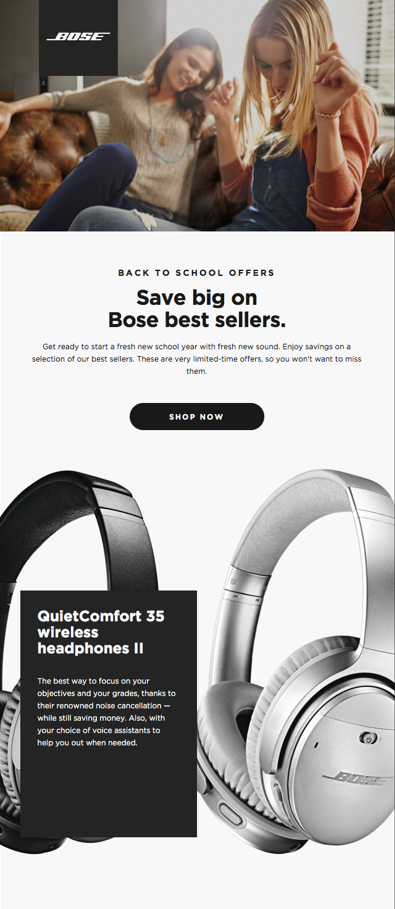 Sound Conversational in Your Newsletter
If your audience can relate to your stories, selling to them becomes more accessible. And sounding conversational is a good head start to convert them into customers.
A conversational tone also sounds friendly and personal.
Look at this example by Grammarly, and see how every reader/student can easily relate to this newsletter.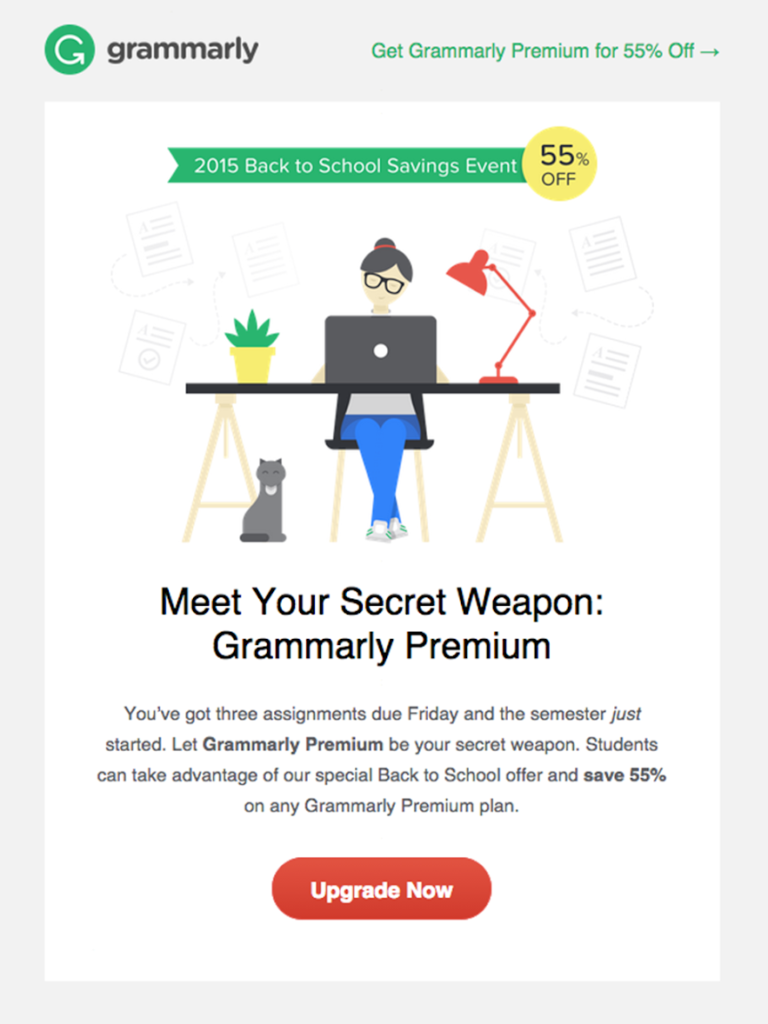 Use Attractive Colors in Your Newsletters
An attractive combination of colors and clear images give your audience a good newsletter reading experience.
Choose an easy-on-the-eyes color and font that makes your newsletter easily readable.
Subject line: Get 40% off Epic Unlimited Smiles Davis – just in time for Back to School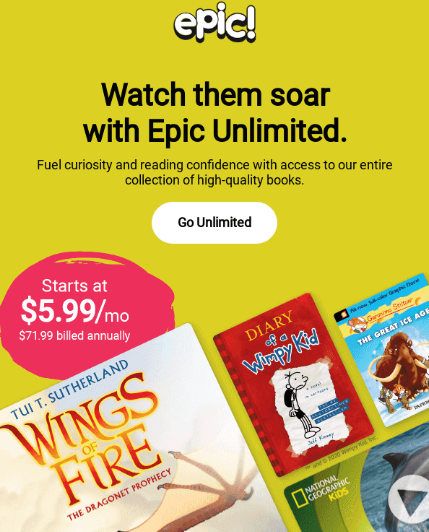 Keep it Short and Descriptive
We understand that back-to-school newsletters give you a chance to tell your brand story but try to keep it short and descriptive as much as possible.
Keeping your message short saves time on both ends.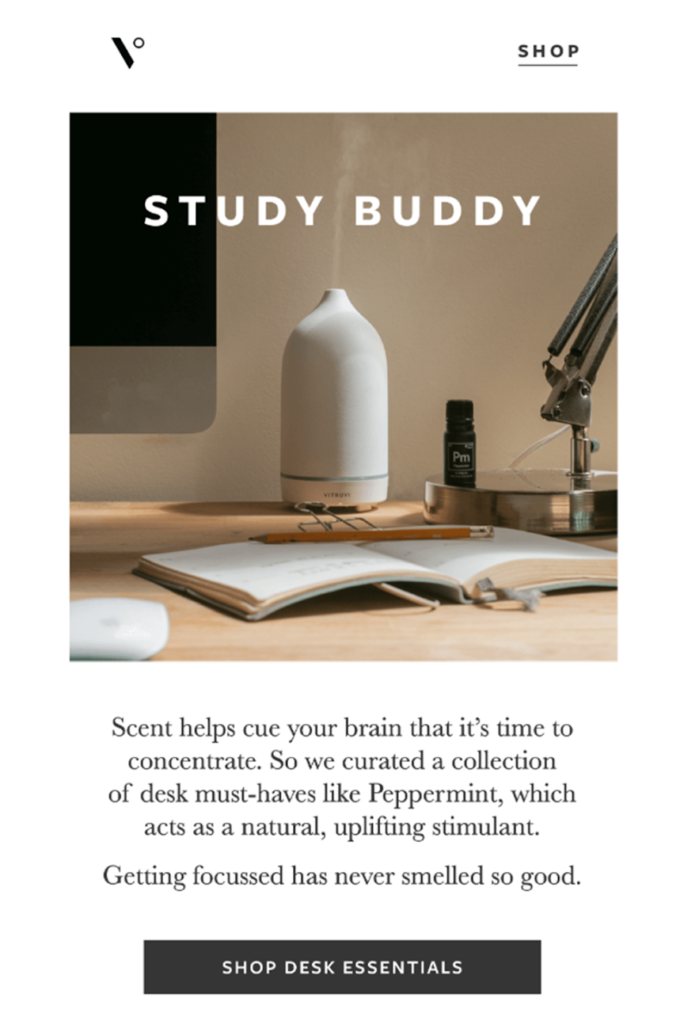 Recommend Products in Your Newsletters
Back-to-school shopping comes with many items for your customers to choose from. Narrow down their options by providing product recommendations with descriptive features. At least they have to be sure and confident enough to purchase a recommended product.
Subject line: Decorating Sale 💛 Fall Styles For The Home 🏠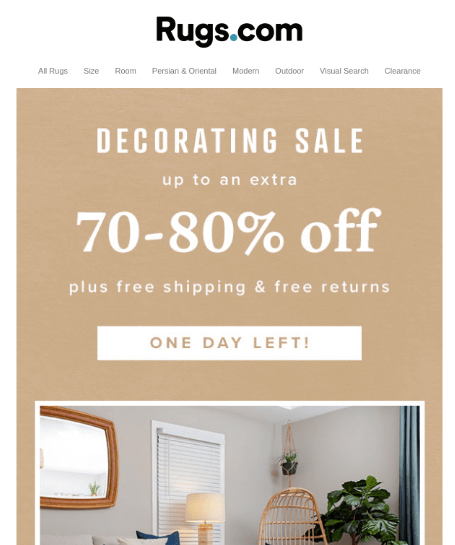 Key Takeaways: Back to School Marketing
Try to engage both parents and shoppers through your back-to-school marketing campaigns;
Use email marketing and SMS campaigns to announce back-to-school deals and engage subscribers and potential shoppers;
Never be pushy trying to promote your back-to-school marketing offers;
Use a marketing automation solution to schedule back-to-school marketing campaigns in advance.
Also read:
---
Author bio
Anmol Ratan Sachdeva is a content marketer and small business consultant who has a strong grip on topics like marketing automation, email marketing, and content marketing. He loves to write about starting, improving, and growing a business.