Turn strategy into action
Don't leave your perfect strategy untapped. Unlock its potential with Sender and see your sales explode.
Get Started For Free
There's a sea of reasons why an impressive 69% of marketers employ email marketing in their marketing efforts. Some drops are an effective way to share news, drive sales, and increase recognition.
So, if you have something important to say, whether it's a new product launch, exclusive sale, or long-waited updates, and want a vast audience to hear it, broadcast emails give you the best shot. This form of content marketing allows you to simultaneously send out a single announcement to a broad readership and update your customers on topical brand news they're expecting.
What exactly is a broadcast email? How to take advantage of it? What are good broadcast email examples? If any of the questions above are on your mind, this article is here to give you answers. Keep reading!
What is a Broadcast Email?
Broadcast emails (aka email broadcasts, mass emails, or email blasts) are emails simultaneously sent to a massive email list. Such email campaigns are usually used for announcing and promoting the brand's news.
When done right, these emails keep your customers in the loop about your company's products, services, or updates they care about. In return, this helps raise your brand's awareness, create a circle of constant customer excitement about your news, and boost sales in the long run
Let's compare broadcast emails to email marketing campaigns to catch on better.
Difference Between an Email Broadcast & Email Marketing Campaign
To have you saying, "duh!"… Yes, both 'email broadcast campaign' and 'email marketing campaign' are related to email marketing. Here's how one is different from the other:
| | |
| --- | --- |
| Email Broadcast | Email Marketing Campaign |
| One-time mass email sent out to many recipients | Series of planned and strategic emails sent over time |
| Used for quick updates, promotions, news, time-sensitive information | Used to nurture leads, build relationships, and guide subscribers through the sales funnel |
| Broad reach, not highly targeted | More personalized and segmented reach based on customer behavior, interests, demographics, etc. |
| Generally less personalized | More tailored to individual recipients |
| Designed for quick communication | Designed with a long-term goal in mind |
If you're looking for email broadcast software, look no further than Sender. Its' intuitive drag-and-drop email builder empowers you to create a high-converting email each time while smart automation and segmentation features ensure that it's received by the right people at the right time.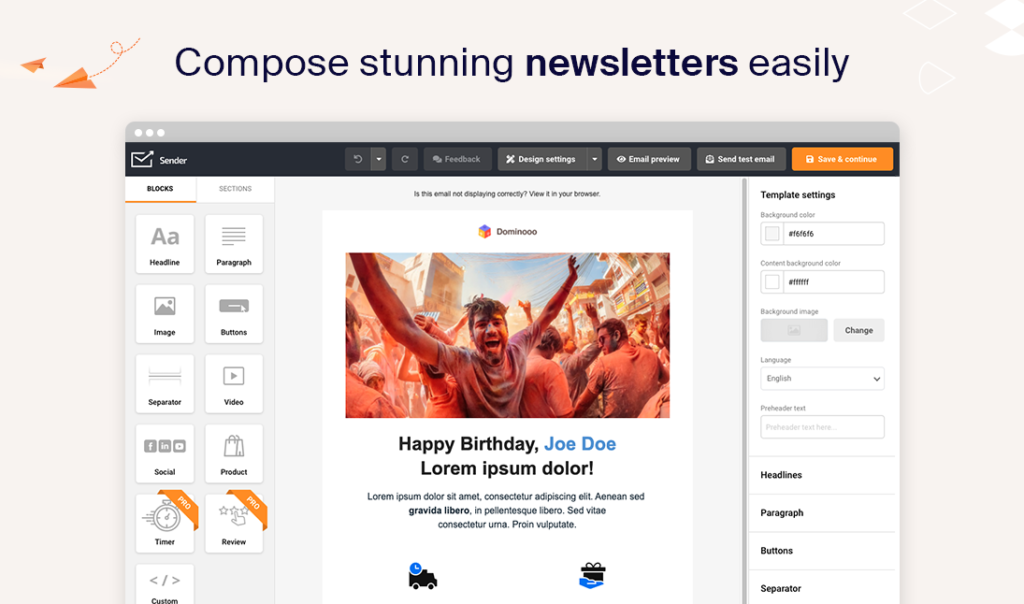 4 Types of Broadcast Emails
In the wild, you can encounter 4 types of broadcast emails. It doesn't really matter if you're a business-to-business (B2B) or a business-to-consumer (B2C) company. Each helps you to connect with your audience, yet choose wisely which your brand can benefit from the most.
1. Newsletters
We could bet you've received one type of broadcast email in your inbox today – the old, trusty newsletter. Its goal is to update interested subscribers with relevant brand news regularly (weekly, biweekly, or monthly).
It's no surprise newsletters are so popular – they help keep the brand on the top of subscribers' minds. When done right, they're also eagerly expected.
Newsletters are also versatile, falling under 10 possible content types (often depending on the industry):
Business newsletters;
Educational newsletters;
Nonprofit newsletters;
Industry newsletters;
Community newsletters;
E-commerce newsletters;
Health and wellness newsletters;
Travel newsletters;
Personal newsletters;
Curated content newsletters.
2. Important Updates
What idea should your subscribers take from your broadcast emails? No, it's not that your brand exists. But that it's up and running. So, if you have any significant news, it's your chance to be loud (and occasionally proud) about it. Here's what we mean by 'important updates':
Product launch announcement. Sometimes, as crucial as the new product itself, announcements create excitement and help boost engagement and sales;
Pricing update. If the prices are reduced, you don't need more suggestions on what to do. If the costs are increased? Well, you better tell your customers in a controlled manner before they find out themselves.
Change to terms of service or privacy policy. There's no more effective way to lose your customer's trust than to change your terms or policies without them knowing. If you have considerable updates coming up, you better start crafting a broadcast email.
3. Digests
The digest email is the least brand-centric of the bunch. Though it's still compiled by you and sent out with your brand name, it usually includes information from resources other than your company.
Digest emails help establish yourself as a niche-specific influencer, showing that you can research relevant topics and 'digest' them into one valuable email regularly.
Here's what kind of bits of other content might build your digest email:
News articles;
Quotes from industry professionals;
Videos;
Images;
Reviews, etc.
Everything goes as long as the content and topic are cohesive and relevant.
4. Sales and Promotions
Wait, what – broadcast emails can also contain sales and promotions? Yes, but no.
If you have an "everything is on sale" type of promotion, mass messaging to all your customers is a great way to spread the word and drive sales. This could also be free shipping, flash sales, and others.
Yet, if the promotion is about a specific group of products (womenswear only, for summer shoes, special senior discount, etc.), segmentation and personalization of emails are your closest chance at luck.
Another thing to consider before deciding to blast out those broadcast emails is the campaign's ROI (Return on Investment) if it fits your brand's image, and how it will affect your customers.
5 Email Broadcast Examples
Are broadcast emails already on your radar? Great! Here are some inspiring examples we wish we had created (but it doesn't mean you can't do even better):
1. Refinery29 – Newsletter
Refinery29, a digital media and entertainment website, has a well-curated newsletter called "Today on R29". It contains the top picks from the brand and is sent out daily: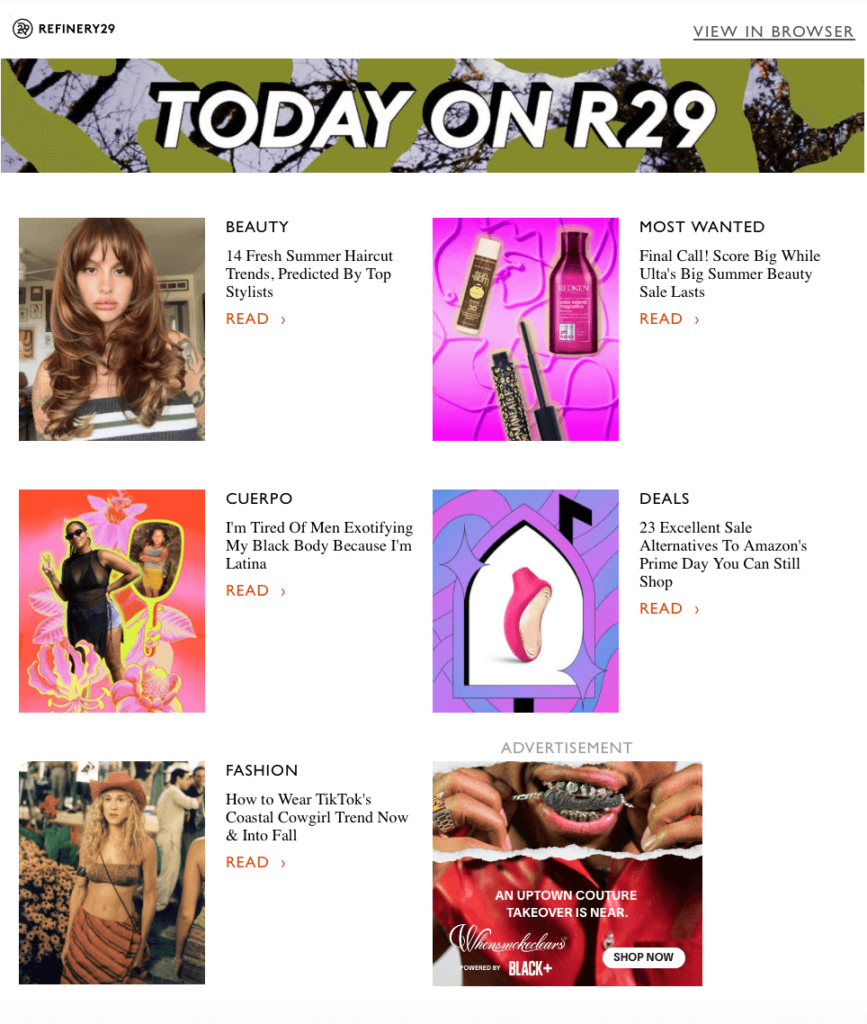 What we like:
The newsletter is highly visual, illustrating each topic with a captivating yet informative image;
A strict, two-column layout helps the readability;
Each topic falls under a specific theme (e.g., fashion or beauty), further increasing readability;
The advertisement from partners is highlighted as such.
The newsletter format works great for brands who run a blog. If you have one, use broadcast email to bring your subscribers to read the newsworthy pieces. To keep your readers updated and engaged, ensure the sent-outs are regular.
Occasionally, you may also mix in some company news (a new product launch, partnership, job openings, etc.). However, not to deceive your readers, you should mark them as such.
2. Hover – Important Update
You might remember hearing the huge fuss around GDPR (General Data Protection Regulation). All the companies registered in the EU had to update their data protection policies. Well, some did a better job than others in informing their subscribers about it. For example, domain service provider Hover: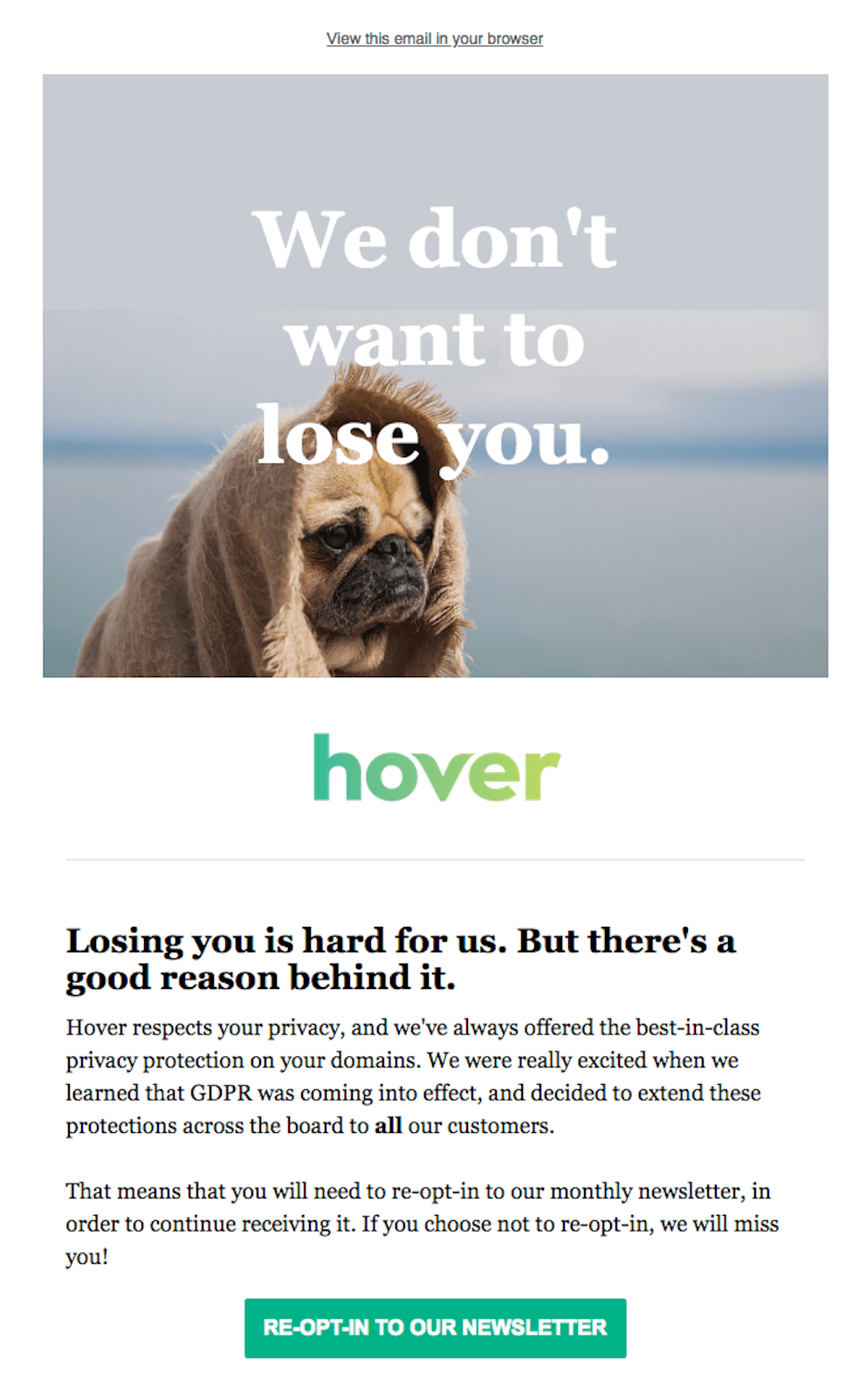 What we like:
The reason for the update is given in human language;
The brand put a creative spin on its policy update with a fun image and compelling copy;
The text explains well why the readers should re-subscribe.
Let's be honest here – updates in terms of service don't ring 'interesting.'' So how do you convince your subscribers to notice your broadcast email and also read it? Use the success formula from Hover's example above – humor. While it shouldn't leave your readers rolling on the ground laughing, it aims at grabbing their attention and putting your news in a positive light.
3. Pocket – Digest
Pocket App found the perfect medium for promoting their service – a digest broadcast email. Each day the brand's team collects the best articles from around the internet and puts them into one curated email.

What we like:
The digest has a simple layout giving the recipient only the essential details about the article;
Each article comes with a separate CTA (Call-to-Action), easing the user experience;
The sponsor's content visually stands out and has a clear theme.
Another thing to learn from Pocket's example is top-notch personalization. After creating an account, the new customers receive an email autoresponder asking them to choose the most exciting topics. The result? Each day they get a newsletter with specially curated articles. This, in return, makes the digest ever so awaited. However, if you decide to go this way, remember that people's preferences change. So, allow your subscribers to express their preferences regularly.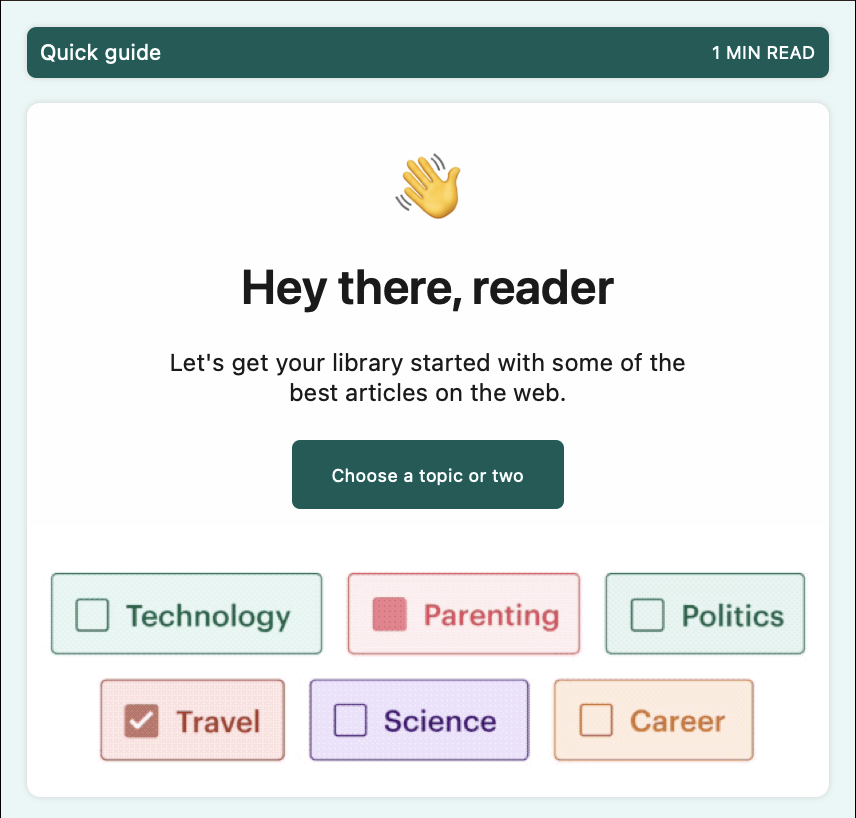 4. True Grit Texture Supply – Product Launch
Product launches are huge deals. Nobody spends an excruciating amount of time developing a new product just for the sake of it. You want it to make an impact. And the best point to start is exciting your subscribers through broadcast emails.

What we like:
The headline communicates the launch at once;
The product features are laid out at the beginning and visually illustrated;
A discount for the new product is an additional incentive to buy it;
The email design is unique, allowing it to stand out from regular communication.
If you're working with THE brands like Apple or Nike, whose product launches are eagerly awaited by the fans, it might be enough to say "It's here! Take it!". Yet, chances are your brand is on the humble side. If that's the case, your product launch email should be more elaborate, explaining the idea behind the new product or, like in the example above, even sharing how the customers can get their hands on the novelty or use it.
5. Casper – Exclusive Sale
Not all sales are created equal. While some can interest only a group of people (think 50% off all 'Peter' keychains), others can make big waves across your customer contact list. For example, a discount for everything: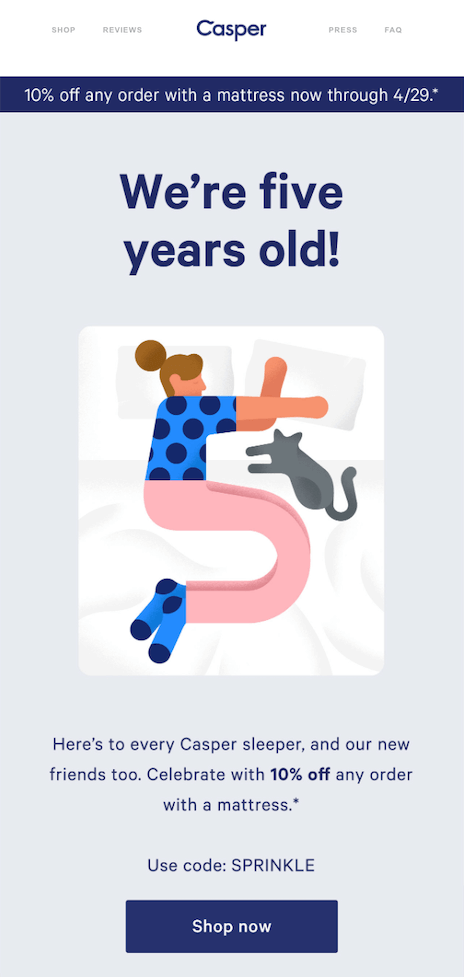 What we like:
The sale is topical – 5th company's birthday;
Even as a mass email, it gives a personal shoutout to both existing and new customers;
Minimal design puts the focus on the priority details: the sale and the CTA.
Using Casper's example, think about how to present the exclusive sale in your broadcast email. A related occasion like a company's anniversary or rebranding is an excellent way to get noticed and look more compelling. However, remember that shorter is always better, and a few-word reason behind the promotion is more than enough.
Improving Email Broadcasting Open Rate Overtime
Including only on-point information relevant to your target audience is the surest way to get your broadcast emails noticed. Yet, there are more things you can do to make those open rates rise without looking down. Here are four of them:
Audience Segmentation
Your customers come with unique personalities, preferences, and specific needs. So, it's unlikely that one size fits all will work for broadcast emails. You need segmentation to identify separate, unique subscriber bases and tailor your messaging accordingly.
Customer segmentation divides a large group of people into smaller groups based on specific characteristics or interests. It involves grouping individuals with similar beliefs, interests, or something else into a segment.
Segmentation is an effective marketing technique that helps you personalize your marketing campaigns. With strategic segmentation, you can reach your target audience with personalized communication, which is critical to most modern customers (71%, in fact).
If, let's say, you're sending a broadcast email about a company event at a particular place, it's best to leave out subscribers living farther away. Spreading irrelevant information might hurt more than you think (Unsubscribe? Ouch!).
Personalization
Unlike traditional broadcasts like television and radio, email broadcast gives you a significant advantage – personalization possibility. Even if you're sending the same email, remember that you're sending it to different people. People who appreciate being recognized as such.
The best you can do to boost those open rates is to make your broadcast email's content valuable and customized to the subscriber's interests. The most evident way to do it is by addressing the subscriber with their name – an immediate attention-grabber.
Next, you can consider how the content could speak to individual subscribers. Is the offer really for things they are interested in? Which images would generate more curiosity? Is written information really better than video? Personalization possibilities can be endless.
Also read: Email Personalization: Examples, Statistics & Best Practices
Direct Message and Concise CTA
By now, we've all heard the saying 'quality over quantity.' While it speaks the truth, some of us still forget to stand by it (yours truly might have written one or ten way too lengthy emails).
Before letting your finger hit the keyboard, think about what matters most and stick to it: no filler words or phrases, no lengthy introductions. Say only what's essential and wrap it in a friendly tone to create semi-dialogues, not monologues.
But don't forget that how you end your email is also important. Write a compelling CTA saying what the subscriber has to do with the information you've loaded on them, so ensure not to leave them hanging.
Do you want the recipient to buy your new product? 'Get Yours Now!'. To invite them to your blog post? 'Discover More On Our Blog!'. You get the gist.
Correct Time for Broadcasting Emails
Regarding email broadcasts, 'when' is as important as any other question. So, what's the best time to send mass emails?
The golden rule is to email when the CTR (Click-through Rate) is the highest. According to the latest data, the best time to send an email to get a response is at 10:00 am on a Tuesday.
Let's look at each weekday separately: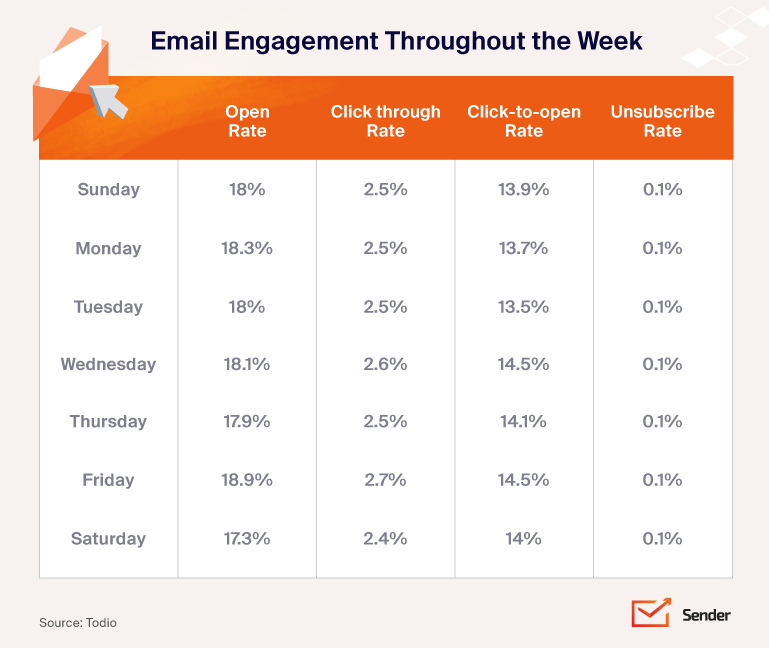 According to the data shared above, here are the best days of the week for scheduled email campaigns:
Friday: Friday registers the highest open, click-to-open, and click-through rates.
Wednesday: Wednesday is the second-best day to email if you consider all three metrics overall.
Monday: Monday registers the highest open rates after Friday but has slightly lower click-to-open rates than Wednesday, so it comes at a close third.
Also read: Best Time to Send Emails in 2023 (By Email Type)
Email Broadcasts: Wrap Up
Broadcast emails effectively reach a broad audience and share important updates, promotions, and news. From newsletters and important announcements to digest emails and sales promotions, this form of content marketing can boost brand awareness and customer engagement.
To have a successful email campaign, follow these broadcast email writing tips:
Employ personalization and audience segmentation to tailor messages to individual interests and optimize open rates;
Keep emails concise with a compelling CTA to increase readers' interest;
Consider the best timing for broadcasting emails to reach higher engagement rates.
Implementing these strategies allows you to effectively utilize broadcast emails to keep your audience informed, excited, and connected.
---
Author bio
Vesta Oldenburg is a content writer specializing in email marketing strategies. In her daily work, creativity intertwines with a strategic mindset to create content that captivates its readers.