Turn strategy into action
Don't leave your perfect strategy untapped. Unlock its potential with Sender and see your sales explode.
Get Started For Free
Email marketing remains key to the success of any business today. It results in good returns on investment (ROI) for every dollar spent.
So you've got an awesome website, blog, or online store selling some great products. If you're ready to expand your target audience and get more traffic to your site, you can use email marketing to connect with potential customers.
Email marketing is a proven way to reach out to people interested in what you have to offer. In fact, email marketing has the highest conversion rate compared to any other marketing method. It's cheap, it's easy, and it works!
Email marketing agencies can provide unique solutions to problems faced by businesses when sending emails. For example, they build, launch, and assist in managing email marketing strategy.
This article describes seven of the best email marketing agencies handling different aspects of digital marketing for differently-sized businesses.
Email Marketing Agencies: Comparison Overview
There are several email marketing agencies for full-service email marketing, email design, email automation, copywriting, lead generation, e-commerce, and B2B.
The following is a detailed description of each of the seven agencies:
QuaGrowth — Full Service Email Marketing Company
QuaGrowth is a full-service email marketing agency that helps e-commerce businesses increase store revenue, unlock hidden profits, and accelerate brand growth.
This full-service digital agency has advanced email marketing strategies, including predictive modeling and segmentation.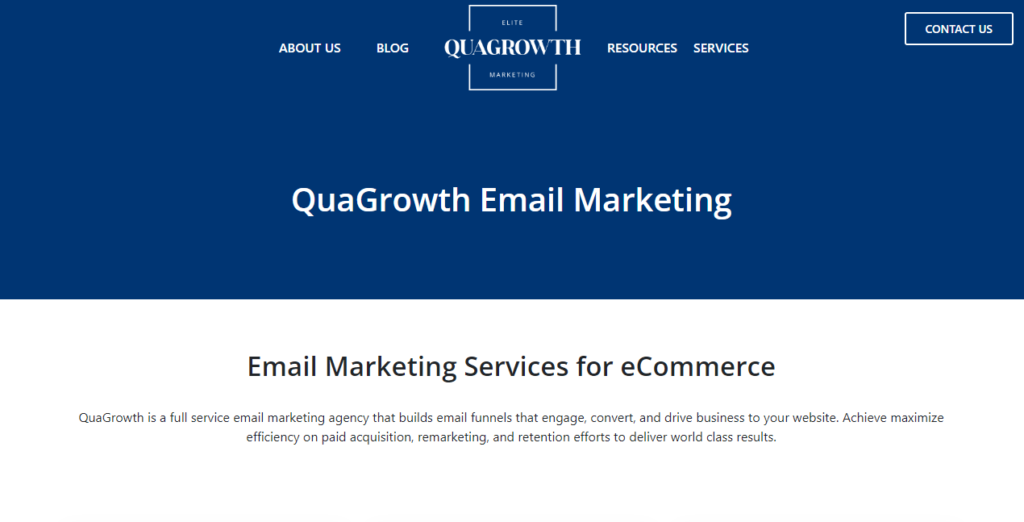 The while-label internet marketing agency offers the following email marketing services to its clients:
Email marketing automation;
Email template design;
Marketing campaign execution;
QA testing of various aspects;
Reporting on various metrics;
Integration with other tools.
---
Digital Response — Best Email Automation Service
Digital Response is one of the best email marketing agencies for email automation. It can help big and small businesses to automate their email marketing campaigns and get the best possible results.
The digital marketing agency has a team of email marketing specialists to help clients implement customer relationships and email marketing programs with its marketing automation services.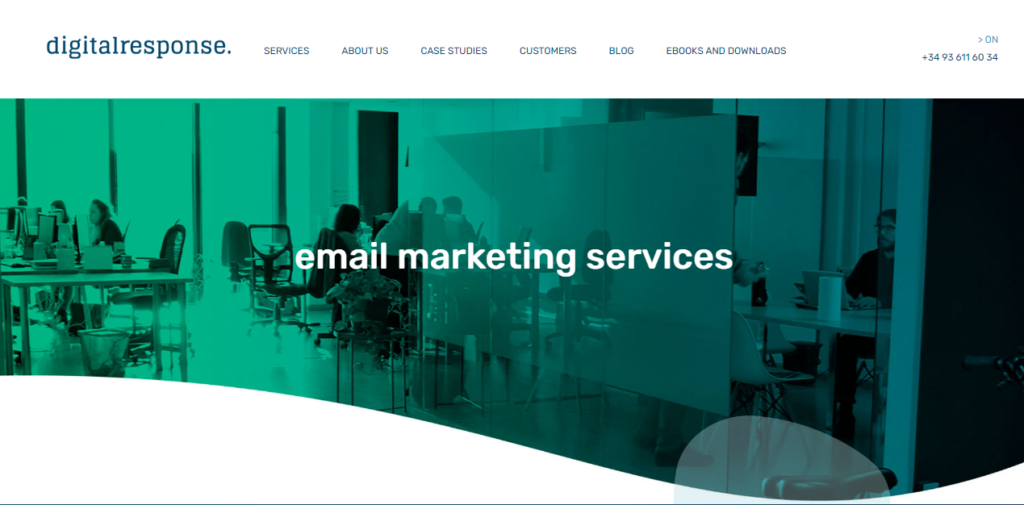 Digital Response Services
HTML development;
Email marketing automation;
Adobe campaign execution;
Email campaign management;
Oracle marketing cloud services;
Salesforce marketing cloud services.
---
Webfx — Email Copywriting Services
Webfx is one of the most prominent email copywriting agencies, serving over 500 clients worldwide.
In addition, it is a global leader in organic search engine optimization (SEO) since it helps businesses reach out to target customers through much more than just an email, especially with its outstanding copywriting services.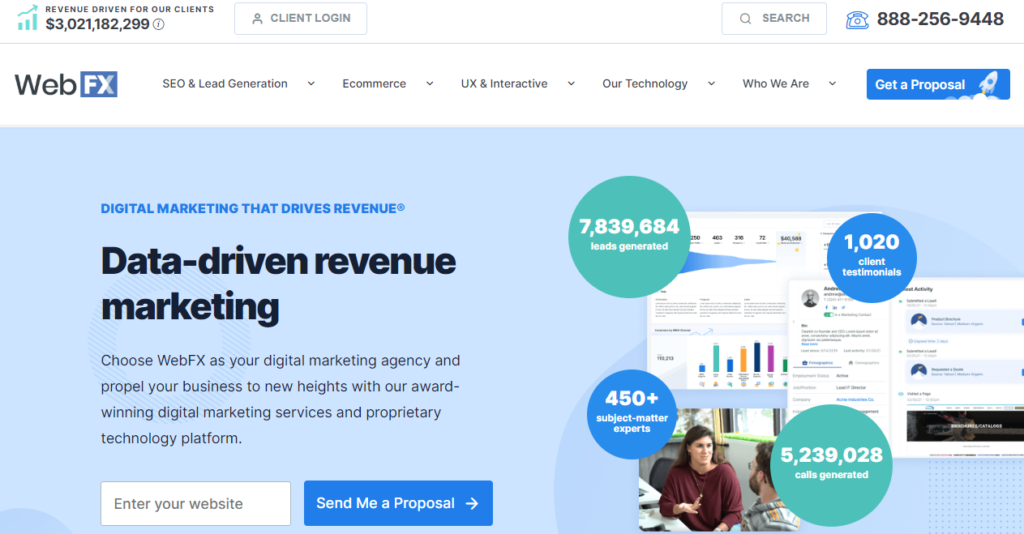 WebFx Services
Advertising;
Search engine marketing (SEM);
Search engine optimization (SEO);
Social media marketing;
Web design & Web development.
---
eFocus Marketing — Ecommerce Email Marketing Agency
As a significant Shopify email marketing agency, eFocus Marketing strives to bring greater returns to its clients worldwide. It actively manages client accounts to streamline marketing efforts and deliver consistent high ROI.
The email marketing team can design emails with clear subject lines, polls/surveys, navigation menus, and other elements. Besides, it trains clients to equip them with skills and best practices in email marketing that positively influence their business strategy.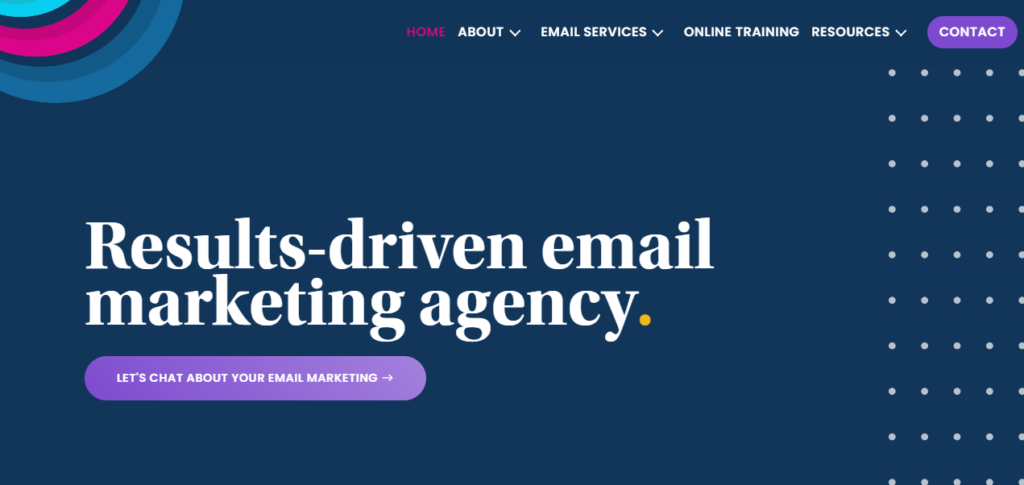 eFocus Marketing Services
Strategic email marketing strategy;
Marketing campaign management;
Email design;
Email marketing copywriting;
Email marketing training.
---
Epsilon Interactive — B2B Email Marketing Agency
Epsilon Interactive provides data-driven, multi-channel marketing solutions worldwide to small and large businesses. It is a digital marketing agency based in North America with over 3,000 associates working in 37 offices globally.
It is one of the biggest permission-based email marketing agencies with exceptional digital marketing strategies and the capacity to deliver more than 40 billion emails annually.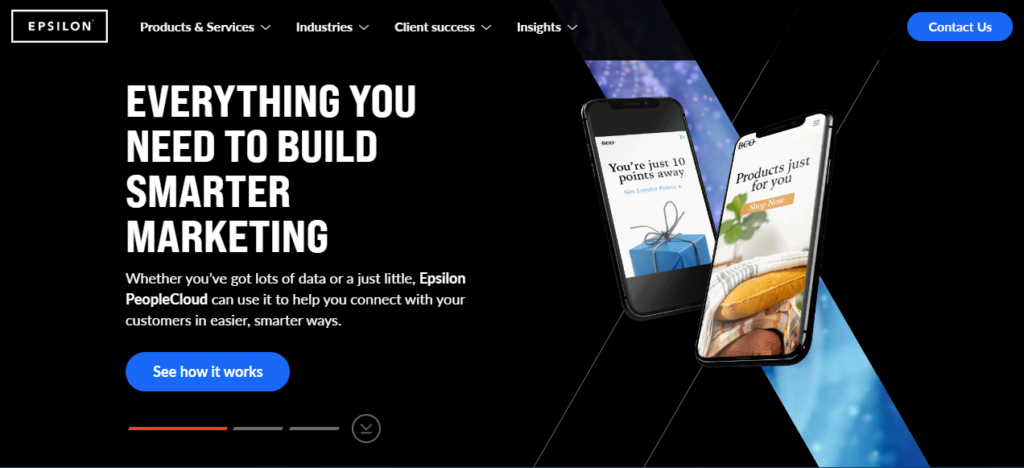 Epsilon Interactive Services
Email deployment;
Interactive web design;
Direct mail production;
Search Engine Optimization (SEO);
Customer loyalty management;
Strategic email consulting;
Acquisition and customer database management;
Proprietary data protection.
Why You Should Work with Top Email Marketing Companies
Top email marketing companies and digital agencies can help businesses reach more customers and a considerable segment of the many active email users worldwide.
However, with each email user receiving many emails daily, it can be hard to stand out from the crowd.
Choose an email marketing firm with beautiful templates for engaging emails, easy customization options, a high deliverability rate, and analytics & performance tracking. Besides customer support via email, the company should have a dedicated email.
Also read: