One of the oldest digital marketing tactics, email marketing, has one of the highest returns on investment to this day.
When you pause to think about the way people engage with email, it makes perfect sense.
Most people check their inboxes several times a day. They have the option of opening an email from a brand right away, or to save it for a later date.
They can access the message again and again, and it will remain in their minds if it remains undeleted, reasserting itself every time they glance at the inbox.
On the other hand, social media marketing, which also has a high potential ROI, can sometimes be disruptive. You don't always want to engage with an ad in your feed, and once you scroll past it, it's out of your mind. Not to mention YouTube ads, which most users skip after the obligatory five seconds, and mostly find annoying.
Email has the luxury of being desired. After all, the recipient had to provide their contact details to the brand at some point of contact. As such, it can be leveraged into the driving force behind your conversions and sales.
But in order to be able to do that, you first need to collect your lead's email address. Read on to learn how you can do that and what some of the most important steps in the process are.
Give Them a Compelling Reason to Leave Email Address
The first rule of email collection is rather simple: you need to have a compelling reason for someone to give you their personal contact information.
A lot of brands make the mistake of expecting someone to just sign up for their email list because the opportunity is there. But people don't want to be bombarded with emails they have no interest in.
Plus, they expect to get something in return if they really are going to let you into the privacy of their inbox.
The "thing" you give them is, most straightforwardly, value. We're talking about value in the form of:
Content they will find relevant, useful, and interesting.
News, such as notifications about discounts, items being back in stock, sales, new items arriving to the store, new services becoming available, and so on.
Personalized content, which can range from personalized recommendations to discounts and anything else you can think of.
To add a bit more fuel to the fire kindling your valuable content, you can utilize social proof on your website.
That includes reviews, testimonials, and all kinds of user-generated content that will help your new visitors grasp the value of your brand.
The fear of missing out is also a popular tactic. You can anchor it to a limited time offer, a limited number of items, or limited availability. The tactic can work wonders, but only if you, again, offer something your target audience actually wants to have.
Make Email Collection as Easy as Pie
The other fact you need to consider is how easy it is to sign up to your email list.
If it requires filling out dozens of forms and providing a whole lot of information upfront, your signup rates will be reduced, sometimes significantly. The easier it can be, the better.
When you think about it, all you really need is someone's name and email address. Granted, you will want to know more about them. Their age, location, interests, and how they found your brand are valuable information to you. You can, however, collect all this information later.
Try to make your initial emails to new members of your list general but incredibly valuable. The more value you provide, the more they will be happy with their decision to sign up to your list.
Once you have provided enough value, you can ask for something else in return. As you do that, you'll want to explain that you need the information to be able to tailor future emails to the interests of the person you are addressing.
Of course, there are other ways to collect information about your users, so take a look at what your Google Analytics dashboard has to say, for starters.
Track, Trace, and Analyze Your Email Collection Process
The final step of your email collection process is to track your success rates.
You'll need to:
Look at open and click rates for all the emails you send out.
Test different types of subjects and opening lines.
Test different kinds of visuals in your emails.
It will take some time to come up with different creative solutions for the emails, and you will need to send out a certain number of them to ensure the data you are working with is accurate. But given the fact that this practice will significantly improve your click-through rates, and thus conversions, it is well worth your time.
Now let's take a look at some of the best methods you can use for collecting email addresses.
Email Collection Best Practices
Here are 10 email collection strategies you should apply in 2021.
Signup Landing Pages – One of the Main Email Collector
One of the most straightforward ways to get someone's email address is to create a specific landing page for the purpose.
This can be a page that details what your newsletter is all about. Explain what kind of content you typically send your readers, how often they can expect to receive these emails, and what value they offer. Make an effort to provide a very real hook for your readers and write some compelling copy that can help them convert into email recipients.
Make sure you link to this page from all of your other pages and clearly denote what the page is. A "sign up to our newsletter" kind of copy should work best.
Pop-up Forms – May be Your Best Weapon to Capture New Leads
If you want to allow readers to sign up from the page they are currently on, without having to click somewhere else, you can choose to use the pop-up.
It can be triggered by different parameters, such as:
Time spent on the page.
Scrolling down to a certain portion of the page.
Showing exit intent, etc.
This is your chance to grab the visitor's attention and nudge them in the right direction.
However, do bear in mind that pop-ups can be annoying. Returning visitors will get bored of them incredibly quickly, so it's best to show them only to new ones.
Sender has a nice pop-up that is triggered by exit intent. It details the newsletter's frequency, and it's a chance to hook someone before they click off the page.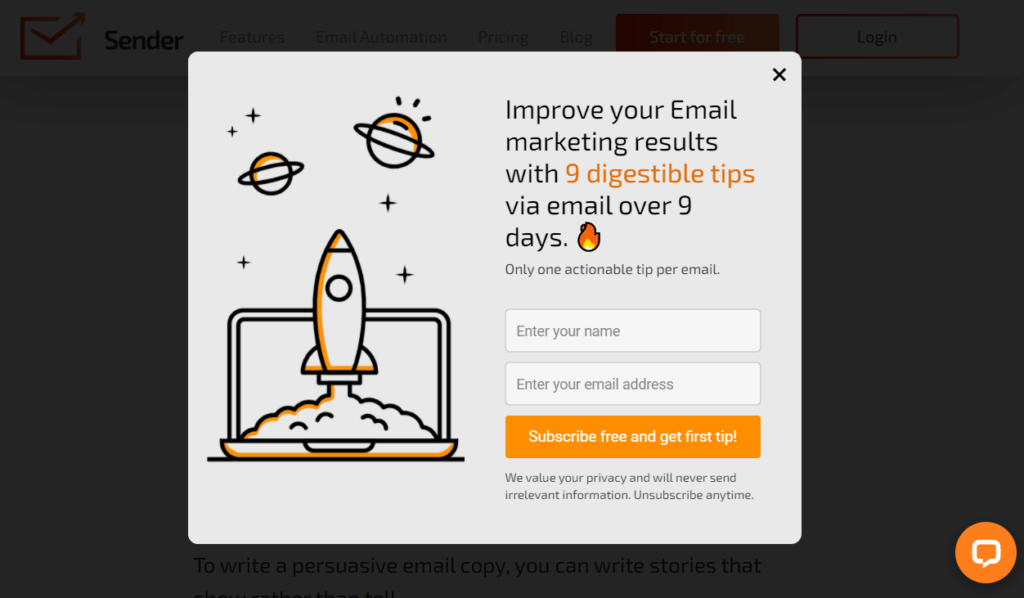 Comment Forms – Simple and Often Forgotten Thing
You can also use the comment forms on your blog posts for collecting email addresses legally.
When someone leaves a comment, you simply ask them to share their name and email, to verify they are a real person and not a bot. You can later use these same email addresses to send out newsletters and other valuable content.
Bear in mind that this method might result in a high number of unsubscribes, unless the content you are providing is incredibly valuable.
You can see a sample of this on the Savvy Sleeper blog. They offer the option of leaving a comment on their posts, which also gives them the option of collecting emails.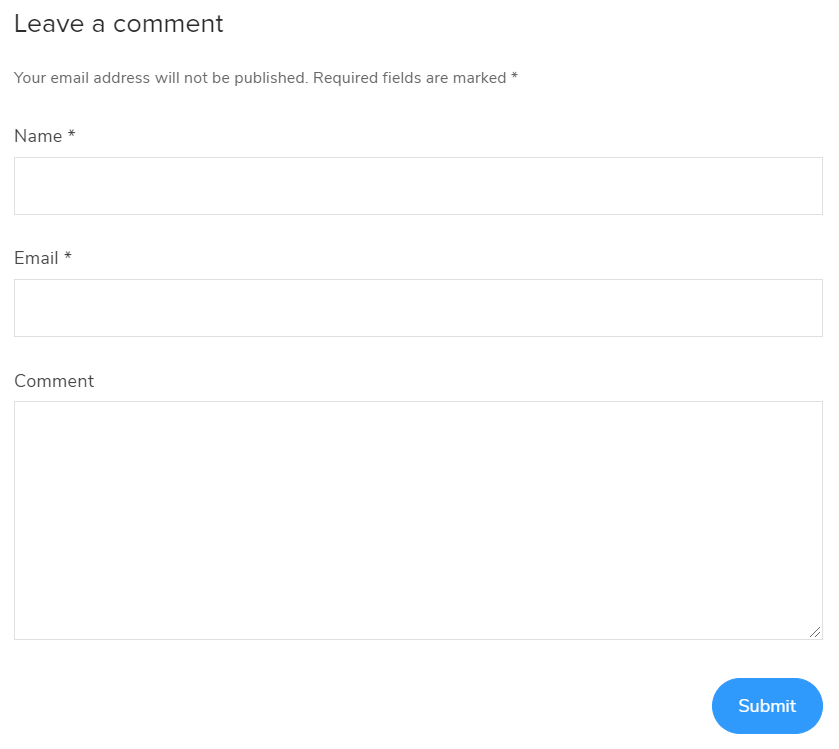 Image source: Savvysleeper.org
Sticky Bars on Top of the Page – Often Underestimated
Just like you stick your menu to the top of the page, you can add an email signup option to that same menu. Or you can just leave the signup form, and lose the menu.
This can work especially well on blog posts, where people will be in direct touch with your content and able to perceive its value. If they are also constantly reminded there is a chance to receive this kind of content on a regular basis, they will be tempted to sign up.
Gamified and Interactive Forms to Collect Visitors Emails
The signup forms you use can also be made quite interesting, in order to boost the likelihood of conversion. You can do quizzes and mini games, for example. You can also test someone's knowledge about a specific subject or offer tests that will pair them up with a certain item or service.
As long as you keep them fun and interesting and they don't take up more than a couple of minutes of someone's time, they can be a really good experience.
Social Media Platforms – One of the Most Popular Way For Email Acquisition
You can also use your social media presence for email acquisition. Being the vast online space that it is, social media offers plenty of ways to gather some contacts.
For instance, it's a great way to promote your gated content (which we'll get to in a moment). By generating more buzz about it, you can hope to convert more visitors into leads.
You can also use social media ads to promote a newsletter signup landing page, or any other piece of content that also allows visitors to remain in touch.
You can do lives and stories that end with a neat "sign up for our newsletter to get the resource I've been talking about" prompt.
You can of course also join all kinds of communities – Facebook and LinkedIn groups for example – where you can promote your content. If it's what would interest the members of the group of course.
Gated Content or Premium Content Only for Subscribers
Gated or premium content is often considered the norm when it comes to email collection.
It's when you offer subscriber a valuable piece of content (often an e-book or any other longer piece) in exchange for an email address. You can tease parts of the content on the blog or a landing page, but offer the true bulk of it only to those who sign up.
This is the tactic most brands use – and while some certainly use it well and offer incredible value, others slap together an e-book in a couple of hours just to be able to grow their list.
But as you've already read the first piece of advice we offer in this article, we know you won't be doing that.
Take a look at the content LFA Capsule Fillers offers. They have designed an e-book that will help their users immensely, and this is the kind of value and target audience match you should be aiming for.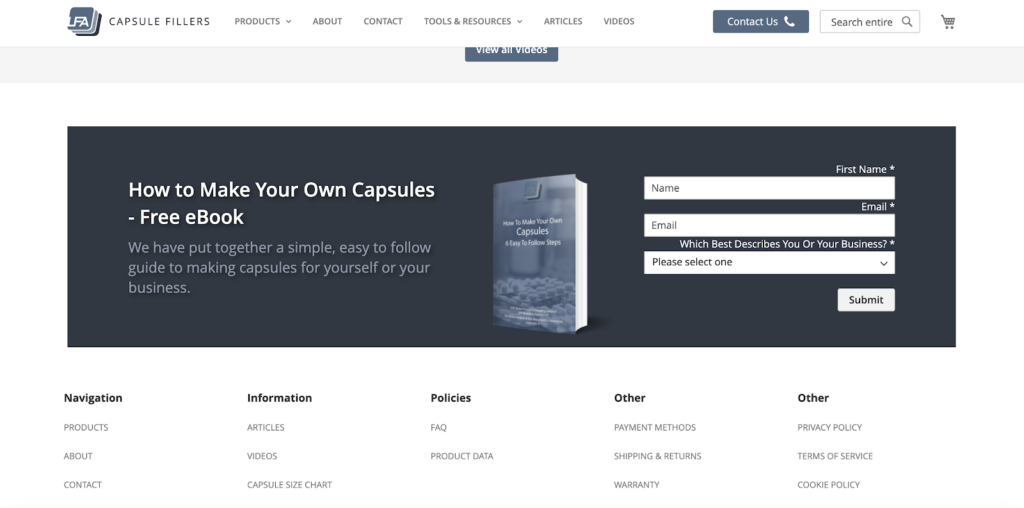 Image source: Lfacapsulefillers.com
Live Chat and Contact Forms
When someone gets in touch with your customer service, you can use the email they have provided to contact them further. That's especially if you can offer further assistance, help them solve another issue, offer similar products, etc.
Live chat or contact forms is a great way to gather these emails (and also to help your customers out at the time they need help the most), so you might want to consider it. A chatbot can be a great addition, too, in case you can offer a more general kind of support.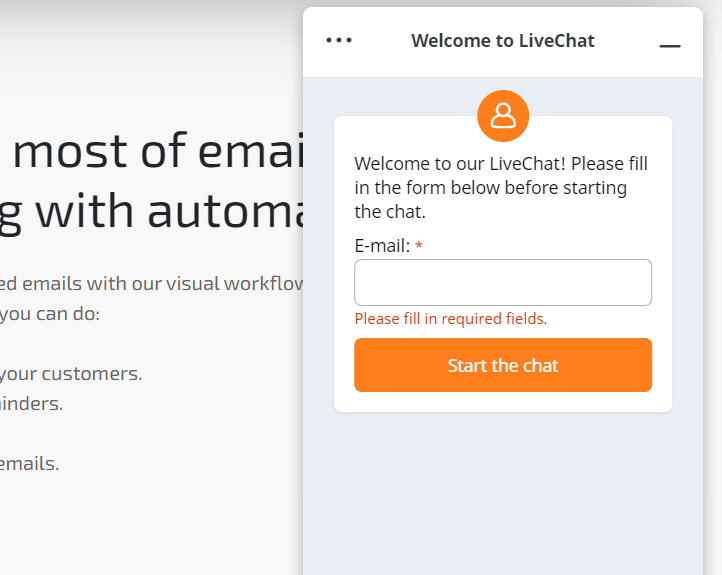 Contests and Giveaways – Greatly Attracts New Subscribers
Finally, another great way to gather emails and attract new subscribers is to do giveaways and host contests. You can use your social media presence to amp them up, and you can expect a lot of people to be signing up, even if it's not a particularly high-value item. People love freebies, so this tactic can work wonders.
Gili, for example, has a monthly giveaway on their website. You sign up for their newsletter and you get entered into that month's giveaway. It's a great opportunity for a customer to win some gear and a fantastic email address collector for the business.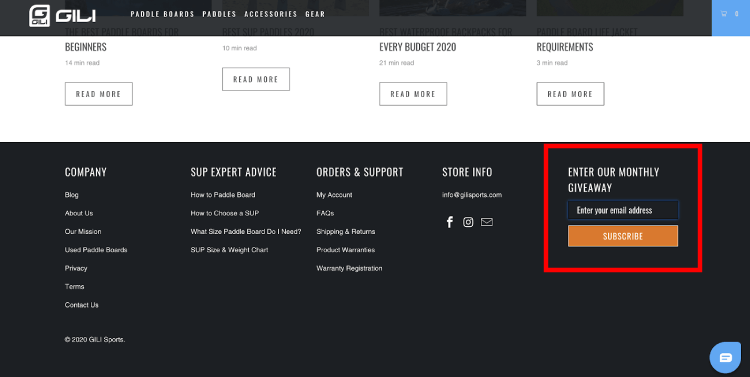 Final Thoughts
When considering the email collection forms you will be using on your website, make sure to take into account what your target audience will prefer. You'll want to offer them the options they are most likely to respond to.
Don't shove signup forms down their throats. Let them see the value in signing up, as opposed to feeling bullied into it. With this kind of approach and the best email collection practices utilized, you can expect worthy results.
---
Author bio
Travis is a founder turned investor and a search engine mega nerd. After a decade of experience in building and growing online businesses (with two sizable exits), he switched his focus towards investing. And created Investing.io for other entrepreneurs turned investors to learn, connect and collaborate.
Like what you read?
Apply it in practice with Sender.net - the most cost-effective email marketing solution in the market.
Try Sender for free