It's crucial as a business owner that you get with the times. If you want to get customers' attention and drive traffic to your app or online business, you'll need to market where your customers are.
We live in 2022, and it has been proven over and over that Mobile Marketing is one of the most successful communication channels for marketing campaigns out there. In this article, we want to share some of the key insights about Mobile Marketing.
We will explain what mobile marketing is, how you can implement these strategies and the different types of Mobile Marketing that exist. So read on to become a master in marketing your newly developed app with these mobile marketing insights!
What is Mobile Marketing?
We get this question a lot today; people talk about mobile marketing as if it's an obvious term. Well, the reality is that not many people know what it means. So, to explain mobile marketing in an easy sentence, it's a new marketing form that uses a marketing strategy to reach your target audience on their mobile phone or tablets.
The fact is, most people use mobiles these days, so many companies have started to shift their attention to mobile. As technology becomes more fragmented, so does marketing, and to stay relevant and be successful, you need to be innovative. To earn and maintain the attention of potential buyers, your strategies must be highly personalized.
Mobile marketing is used to reach an audience through strategies such as mobile-optimized ads, push notifications, mobile applications, and other mobile strategies.
There are Multiple Benefits when Using Mobile Marketing
There are many benefits to using mobile marketing as a marketing format.
First, you should use mobile marketing as a core component of an overall advertising strategy for your business.
It doesn't even matter what type of business you have because you want to reach possible clients when it comes to marketing. Mobile marketing allows you to open the door to new audiences, which essentially helps you reach a bigger audience.
Mobile Marketing is Accessible and Immediate
So many people these days use mobile phones to scroll through social media apps, play games, browse the internet, or check their emails. This makes mobile marketing immediate and easy. People don't go anywhere without their phones.
You can Reach a Worldwide Audience
The world is big, and billions of people use mobile phones. With mobile marketing, you can reach an unlimited amount of potential clients and customers.
The best part is that you can choose exactly who you want to reach. You can use social media marketing strategies, for instance, and target your audience according to their location, gender, and interests.
This way, you can ensure that your marketing efforts will help you reach your ideal customer no matter where they are located.
Also read: STP Marketing: Segmentation, Targeting, Positioning
Mobile Marketing is Cheaper
When we compare mobile marketing with traditional marketing, you will save tons of money by optimizing your website for mobile.
Sending text messages will also take a lot less money out of your pocket than many traditional marketing techniques. This is a big benefit if you are a small business owner, especially if you don't have a big marketing budget.
Mobile Marketing Techniques has the Potential to go Viral
As we mentioned earlier, there are billions of people browsing the internet on their mobile phones. Hours are spent on mobile apps like TikTok, Youtube, or Snapchat, and all of these platforms allow you to go viral because people can easily share your content.
When users come across great content, they will often share it with their followers.
You Can Make Mobile Marketing More Personalized
Mobile personalization is the process of employing user data such as demographics, interests, behaviors, life stage, location, and time zone for customizing mobile marketing.
Targeting relevant, specific audiences and delivering individualized experiences will make your marketing campaigns more effective.
You can use this to your advantage as a business owner by creating more personalized marketing campaigns.
How to Build a Superior Mobile Marketing Strategy
Understand Your Audience
Before starting your mobile advertising campaigns, you need to assess your consumer behavior aside from just their demographic. First, you need to have a very clear understanding of your target audience.
Things like their likes, dislikes, how they like to consume content online, what makes them tick, and what can retain them as customers. These are the factors that will tell you how to implement your mobile marketing strategy.
Define Your Marketing Goals
Another thing you need to do before you start your mobile marketing campaign is to define your marketing goals. Having your marketing goal set out will help you present your mobile marketing campaign in a more nuanced and effective way to your audience.
Build KPIs for Your Marketing Team
KPIs, or Key Performance Indicators, are metrics that you can use to assess how well your marketing campaigns are performing.
If you know what your KPIs are, you will be able to be more realistic and measurable with your mobile marketing strategy and its success. KPIs can include engagement, customer experience, acquisition, and conversions.
Monitor Your Results and Analytics Constantly
To build a successful mobile marketing campaign, you need to monitor your results daily to ensure you are on the right track. There are a lot of great tools like Google Analytics that are an effective way to monitor your website on mobile devices.
You should track things such as your audience conversion and user experience. This will tell you if it's necessary to optimize your landing pages.
Types of Mobile Marketing Strategies
Mobile marketing may sound like one basic marketing strategy. Something like social media or mobile apps usually goes into your thoughts first, but the truth is, there are multiple great mobile marketing strategies out there.
Some of the most important mobile marketing strategies include SMS, social media, and in-app marketing. To properly create your mobile marketing strategy, you need to create an online presence for PC/Laptops and smartphones.
If you spend time researching your customers' media habits, you will understand your customers better, which will help you to find them more often, using relevant marketing strategies.
Mobile Apps
It's not a secret that mobile apps are used daily. Mobile apps provide a great marketing opportunity. If you still don't have an app, you can easily create an app, for example, with AppsGeyser app creator, and target an audience in a marketing campaign.
This way, you can be sure to reach a bigger audience. If you own a shop, your own app can also make shopping more convenient for your customers. It will also help you engage with your customers and boost brand awareness.
In-Game Mobile Marketing
People play games on their mobile devices all the time, and ads that show up within these games are a very effective way to reach people; mobile games instantly create another opportunity to reach massive audiences with your mobile marketing campaigns.
If your mobile ads provide eye-catching graphics focused on your target audiences' interest, they will be compelled to click on the ad. Some people are drawn to flashy video content; other people are drawn to the right clickable words.
QR Codes
QR codes are also trendy these days. They are prevalent when it comes to restaurants and marketing their specials. You can create QR codes that take your customers to a specific web page with more information about specials or a set menu.
Location-Based Marketing
You can target your customers based on their location with mobile marketing, also known as targeted marketing. For example, you can send out location-specific advertisements more relevant to a certain user. You can also make use of something called geo-fencing.
Geo-fencing is a strategy that triggers notifications, alerts, coupons, or other offers when a device enters a specific location.
Mobile Search Ads
Mobile search ads are probably the simplest form of advertising on mobile devices. You can target people based on their mobile searches and history. Mobile search ads mostly come with built-in extensions that offer features like "click to call/contact" or Google Maps for location.
Mobile Image Ads
Mobile image ads are creative visuals that you create for a specific goal, using a combination of graphics and text. They are ads that engage the users and encourage them to take action and convert into a possible customer.
For example, you can use mobile image ads to capture people's attention as they use your app.
When the target audience clicks anywhere within the image ad, they are directed to your website to take further action. You can create image ads in various sizes. The size and format requirements depend on where you plan to show your ad.
SMS Marketing
SMS marketing has enormous potential, especially when it comes to online shops. This is because text messages have a higher response rate than email or Facebook.
In addition, people receive text messages instantly, so they are read within minutes. This alone should be a clear sign that an SMS strategy is needed for your business.
Push Notifications
Push notifications can be used to promote a mobile app right on their users' devices using push notifications. It's a handy marketing tool that can incentivize and intrigue a customer's attention and increase an app's engagement rate.
Email Marketing
There are thousands of apps out there these days, and marketers realize that they should use email marketing to reach more people and stand out. Email marketing will also help build your brand and keep users engaged. Compared to social media channels, email marketing is also more direct.
SMS and Email Marketing with Sender
If you are wondering what the perfect platform is to use for your SMS and Email marketing services, we can help you out! Sender.net is an amazing marketing tool that uses email and SMS marketing solutions to help you connect with future clients. Sender is between your email lists and revenue.
The Swiss army knife analogy fits nicely with Sender as well. In-built marketing tools make it a breeze to quickly and efficiently build emails and nourish marketing campaigns with a complete arsenal of powerful features.
Multichannel automation, which combines email + SMS channels, is a great way to create compelling customer journeys and effective campaigns.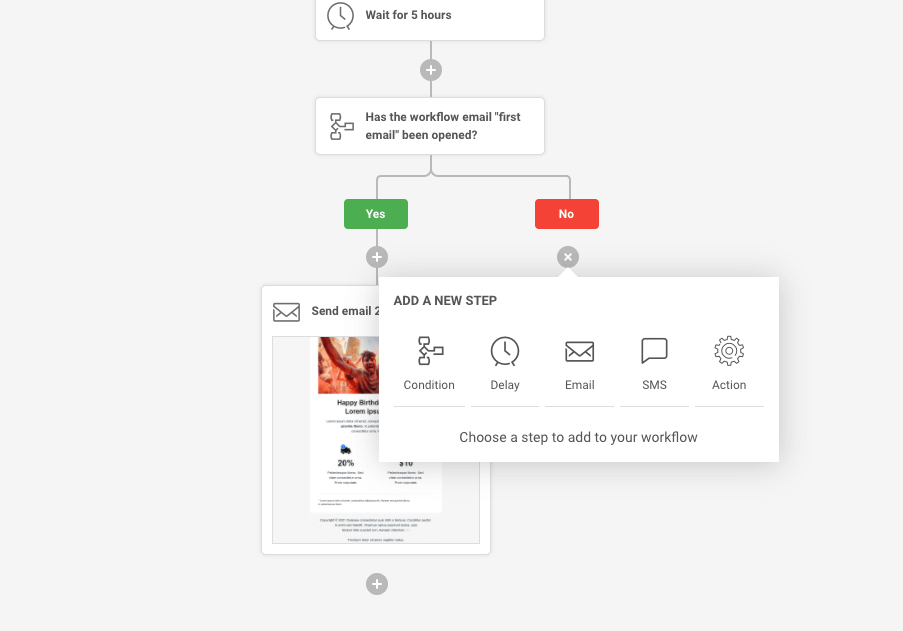 Not ready to jump in yet? Try out the FREE Forever plan that allows you to send out a maximum of 15,000 emails to a maximum of 2,500 contacts every month! For a lifetime, yes!
Mobile Marketing Automation Solutions
Marketing automation means using software to make it easier to communicate with your customers and prospects on autopilot. The thing is, traditional marketing automation platforms don't work for mobile devices, so what to do? Well, we have an answer for you, Sender.net!
SMS and Email Automation – Sender.net
Mobile marketing automation platforms such as Sender.net include the capabilities that regular desktop marketing automation platforms have but apply them to mobile. Sender.net gives you functionality like:
Managing many mobile channels at once.
Segmentation and personalized communication.
Real-time messaging.
Analytics and A/B testing.
Deeper integration with installed apps.
Also read:
Mobile Marketing Best Practices
Test, Measure, and Learn Constantly
Every business has a different customer, so it's essential to test, measure, and learn from your results, as we mentioned before. You need to test out new content, test your timing, and see how your audience reacts to it. Measure the success of your campaign by paying attention to your customer conversion rates.
Make Sure You use Keywords
Keywords are essential in marketing; this is a fact. If your customers receive messages that draw attention with keywords like OFFER, DEALS, SALE, or DISCOUNTS, they will take action. People are wired to be drawn to words like that because we all love a sale or a discount, right?
So when we look at marketing psychology, this is the easiest way to get people to convert into customers or clients.
Be Clear About the Journey You Want Your Audience to Take
Clarity is essential at all stages of your campaign. Your audience needs to see what you want them to act on upfront. Inform them of the purpose of the campaign, the type of messages you will send, and their frequency. Make sure you include how to opt out of every message.
Offer Incentives
The best and easiest way to drive conversion to a mobile marketing campaign is to offer your audience incentives. You can offer coupons, deals, sales, and more.
People are just wired to react to free offerings. You can use this and that people spend so much time on their mobile devices to your advantage.
Key Takeaway
People started to spend even more time on their mobile devices despite the pandemic. In addition, ecommerce purchases skyrocketed, so it's clear that customers are still responsive to relevant, targeted promotions on mobile devices.
The mobile marketing strategies we mentioned above in this article will help you build a great mobile marketing campaign for your business. If you haven't used mobile marketing strategies, now is the time to start!
Like what you read?
Apply it in practice with Sender.net - the most cost-effective email marketing solution in the market.
Try Sender for free