Profit from your knowledge
Apply email and SMS marketing strategies you already know to see the best results with Sender. It's free. It's easy.
Get Started For Free
Everything you need to execute B2B sales the right way!
The global B2B eCommerce market was valued at $12.2 trillion in 2019 (now this is over six times that of the B2C market!). It would be far too easy for us to say that B2B sales is what makes the world go round.
In fact, getting to know B2B sales better could just save your life someday.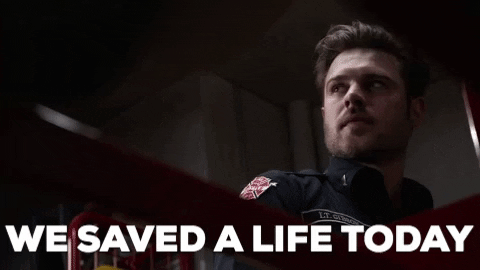 Nah! We were just kidding! But what it could do is help you get your B2B marketing strategies on point and get more ROI from your B2B sales efforts.
What is B2B Sales?
A B2B sale is any transaction between two businesses.
This could involve the promotion and sale of any raw materials, finished goods and services, including but not limited to software, hardware, and professional services.
Some B2B sales examples include:
A software company that builds cloud-based accounting applications now offers it to businesses that want to stay on top of their accounting and taxation compliance.
Their SaaS sales strategy and process may be different from say a model where businesses buy daily office consumables such as printer cartridges and A4 paper reams from online or local small businesses.
But essentially both are examples of B2B sales.
B2B Sales vs. B2C Sales: What's the Difference?
While B2B sales (short for Business to Business sales) involves an exchange of value between two businesses, B2C (short for Business to Consumer), on the other hand, deals with companies selling their products or services to consumers.
B2B and B2C differ vastly with respect to the way they are marketed and sold.
Some of the key differences are:
Price Point
B2C products are often priced at the lower end, while B2B products and services are more complex in structure, incorporate more features, and are vastly more expensive.
Daily Impact
If a B2B product fails to deliver for some reason, the overall impact on a business will be far more than a B2C product's failure in a consumer's life.
Complexity
B2B products are often complex in nature as compared to B2C. B2C products, on the other hand, often solve simpler problems at scale.
Number of Decision Makers
According to Gartner, the buying group for a complex B2B solution typically involves 6 to 10 decision-makers. For B2C, there may be no consulting across multiple levels and in most cases as little as one person may approve the purchase in most cases.
Buyer Awareness Levels
According to Gartner again, the buying group of 6 to 10 B2B decision makers mentioned above each come armed with four or five pieces of information they've gathered independently.
While your B2B buyer persona is research-driven and rational, B2C prospects are generally more straightforward. They love to be fed information and are more likely to respond emotionally than rationally.
Sales Cycle Length
Generally speaking, Sales Cycle Length refers to the average length of time it takes to close a deal, either in days or months.
While a B2C direct sales deal can close itself in as little as 5 minutes, given all the above factors, including their cost and complexity, B2B sales cycles often take weeks (at best) and months to close.
Surveys show that close to three-quarters (74.6%) of B2B sales to new customers take at least four months to close, with almost half (46.4%) taking seven months or more. (See the chart below.)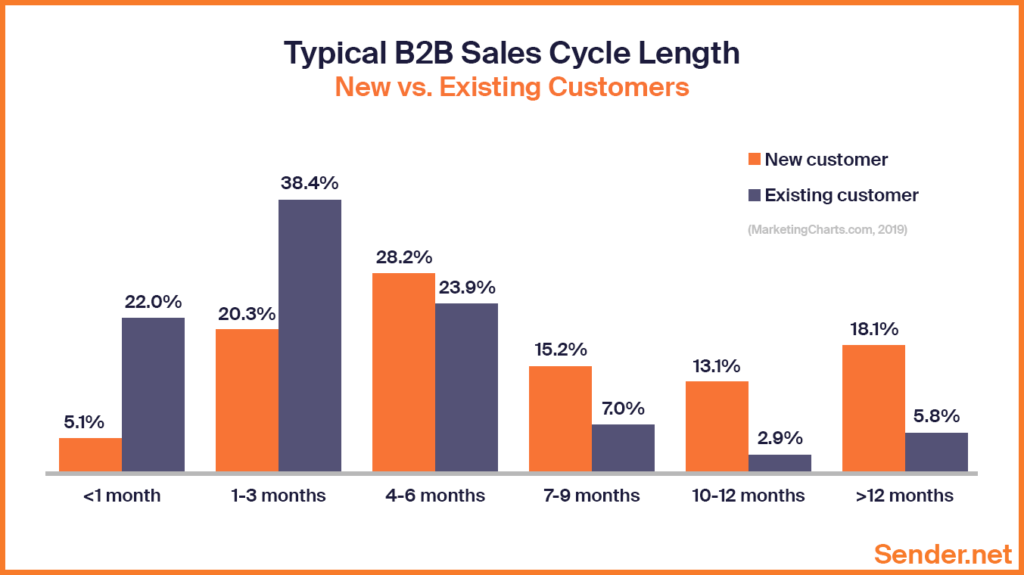 What is the B2B Sales Process?
A lot of people often confuse a B2B sales process with a B2B sales funnel. We understand why this happens – both essentially talk about the same thing, i.e., B2B sales. But the difference is from who's perspective!
Unlike the B2B sales process, which focuses on the context of the seller (business selling the product), the B2B sales funnel maps out the buyer's journey.
The below infographic attempts to lay this down visually.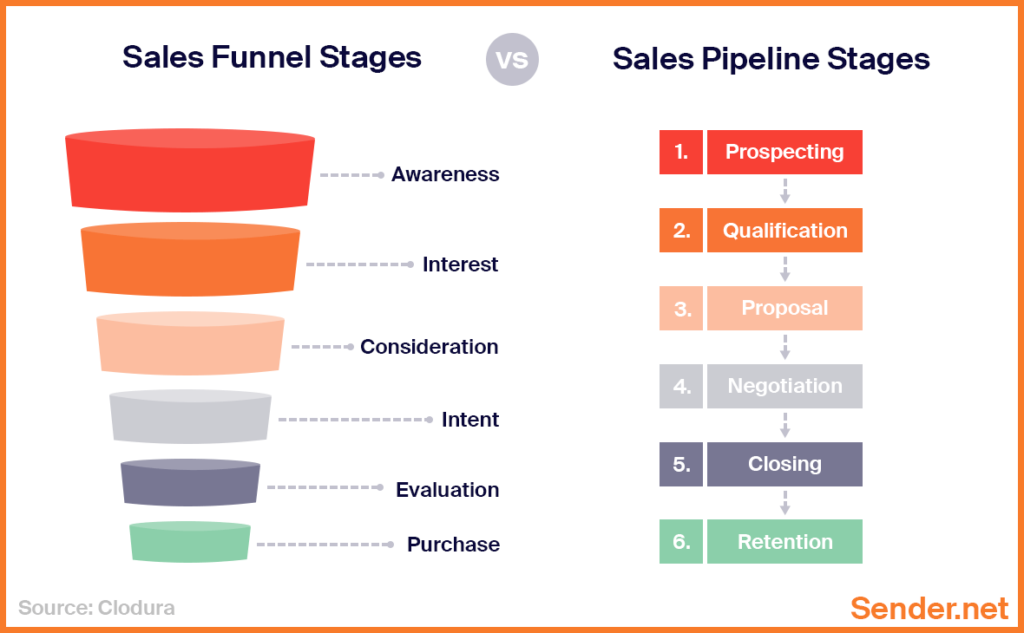 The six stages of a B2B sales funnel – Buyer's perspective:
Awareness – "We need to do something about this problem/ requirement!"
Interest – "It seems there are solutions out there that can help."
Demo/ Evaluation – "Let's check this product out and see if it actually does what it says."
Engagement – "Hey support team, Can you clarify this feature?", "Hey, any discounts for X number of users?"
Purchase – "We just wired the money to your account. Get us onboarded ASAP."
The six stages of a B2B sales pipeline process – Seller's perspective:
Prospecting – "Hey, who's likely to take their wallets out to buy this?"
Qualification – "Do they have a need? The budget?"
Proposal – "Let's send then a nicely drafted proposal, with emojis thrown in for good measure."
Negotiation – "Going below this price will not cut it for us!"
Closing – "Yay, Steve! We got the account. Pizzas for everyone!"
Customer Success – "Let's immplement these two special feature requests for their Enterprise account. It is crucial for them, and besides, it won't cost us more than two developer weeks to bring out!"
Always remember that the B2B sales process never ends with closing the sale. It is important that a customer success team works actively with the purchasing business and helps them become successful at using the product or service paid for.
Also read: Building Winning Lead Generation Funnel
B2B Outside Sales vs. B2B Inside Sales
All B2B sales activities are generally classified into "Inside" and "Outside."
B2B inside sales involves an in-house sales team selling remotely, using techniques such as warm or cold emails, warm or cold calls, social media selling, advertising etc.
B2B outside sales involves an ultra-mobile sales team that sells through offline events, conferences, trade shows, information booths, visiting customer offices, etc.
While B2B outside sales starts by spreading more awareness and branding, B2B inside sales deals with prospects who already know about their own requirement and possible solutions and simply want more information or clarification to engage further.
The thin line between B2B inside and outside sales is often blurry in today's dynamic technology and business landscape.
What are B2B Sales KPIs?
B2B sales typically involve higher stakes, and closing a deal can take longer and be more challenging. Whether they belong to B2B startups or well established B2N brands, high-performing B2B sales teams know that the magic of growth lies in measuring key metrics regularly.
You must define and track the right metrics. These metrics are often referred to as KPIs or Key Performance Indicators. KPIs help you position your B2B sales team for better performance and productivity.
Some of the more common B2B KPIs are as follows:
Sales eligible lead delivery OR ​​Marketing Qualified Leads (MQLs)

This is the total number of inbound leads across all channels, passed from the marketing team to sales based on some predefined criteria. Most commonly, this cutoff is defined based on a lead scoring system.
First response time

First response time is the time it takes for Sales Development Representatives (SDR or Salesperson) to provide a first contact response to an inbound lead. This could be as low as seconds or minutes for Live chat or 1-2 business days for emails.
Number of Accounts Prospected

The total number of businesses that you have outreached.

Number of Accounts Engaged

The total number of businesses who have replied or contacted back in some way, indicating some interest.

New Logos Acquired

The total number of new customers acquired.

Dollar KPIs:

Expansion dollars – Increase in revenue from existing customers.

Contraction dollars – Revenue lost as a result of existing customers cutting back on spending.

Churn dollars – Revenue lost because existing customers have stopped spending.

Average revenue per account (ARPA).

ARPA is the average revenue per business upon close. This KPI is also referred to as Average Sales Price (ASP) or Average Transaction Size (ATS).

Revenue sold per representative.

The actual sales that a rep has closed.
High-performance B2B sales teams actively monitor their B2B KPIs to ensure they are always on track.
Also read: Email marketing metrics and KPIs (with Benchmark)
Prominent B2B Sales Strategies
Keeping your B2B sales pipeline healthy will ultimately boil down to having the right strategy. The major B2B sales strategies include:
Strategic Selling uses an insights-driven approach to identify different contact points at the company you're B2B prospecting, based on their influence on your sales process.

For example, when selling a marketing automation solution, it might be a good idea to have their CIO on the same page, so your solution fits perfectly with their technology stack!
Solution Selling focuses on understanding the prospect's specific pain points, needs, goals, and challenges, so we only recommend products or services that will actually help them overcome these challenges.
Account-Based Selling (ABS) involves identifying specific accounts in advance, using various data points to determine which businesses would be the best fit.

Then sales and marketing work together to generate demand and arrange meetings with key prospects (i.e., senior buyers) in the target companies.

Often, ABS is used for businesses whose majority of revenue comes from closing a small number of high-value accounts.
Social Selling needs you to build strong one-to-one relationships with prospects here. By leveraging social networks, such as LinkedIn, Twitter, and others, marketers can engage potential buyers and nurture existing ones.
According to Forrester, 68% of B2B buyers rely on search engines and social media to find solutions. In B2B social selling, the focus is on the latter.

Often, before your team is able to reach out using content marketing or cold calling, leads are very close to a buying decision. Hence, the plan here is to get on the buyer's radar earlier, so you become an automatic choice for them.
Also read: 25 B2B Lead Generation Strategies That Still Work
B2B Leads Nurturing Strategies
Regardless of whether inbound or outbound, all B2B leads need to be managed as digital records. Depending upon the niche of what is being sold and other factors, some level of nurturing is required to improve conversion.
The easiest way to do something like this would be to use a smart email marketing tool like Sender. It not only manages all inbound the outbound leads within a highly simplified interface but also helps with B2B sales lead generation and lead capture using high-quality popups and sign-up forms!
Are you looking to send out automated email newsletters to existing subscribers or trying to nurture segmented leads using custom email sequences?
Look no further than the smart automation features provided by Sender.
Here's how a powerful yet simple-to-setup email automation sequence of "Onboarding" looks.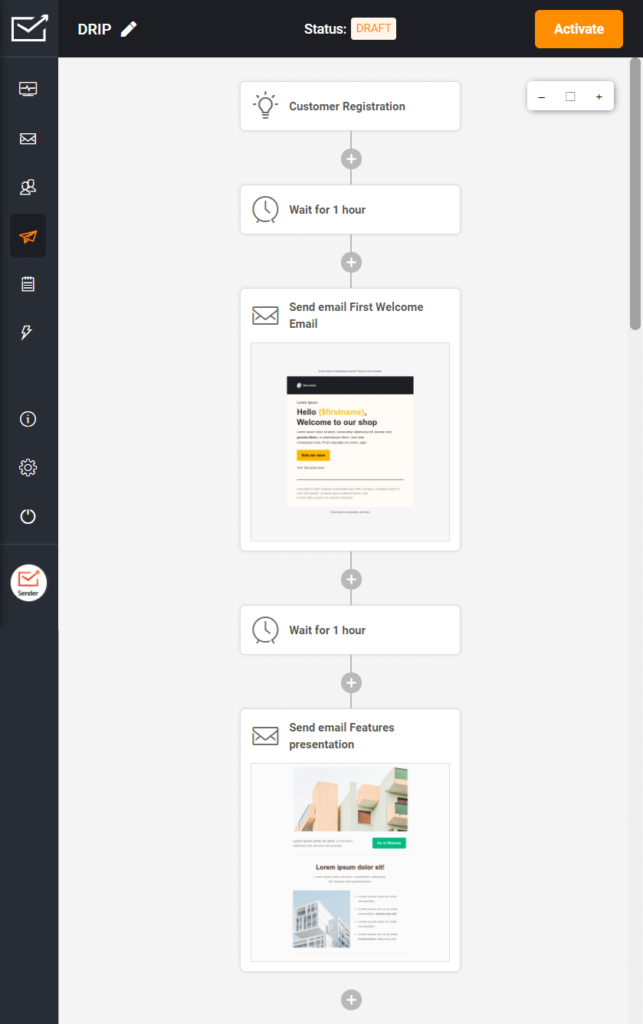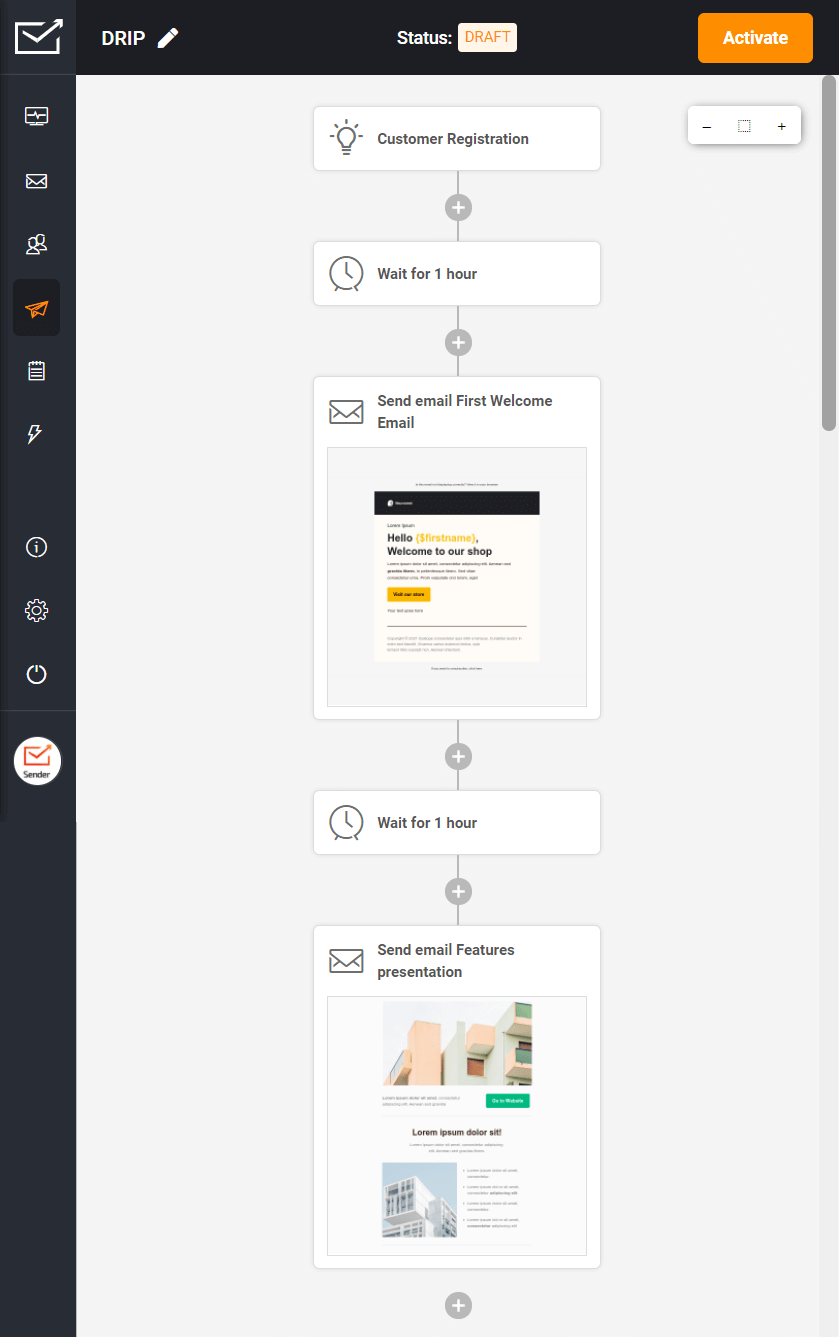 The automation feature mirrors a drag & drop principle in terms of simplicity – You simple pick the required steps and build your demanded automated sequence.
Here's another great example with the condition and different pathways of subscriber journey.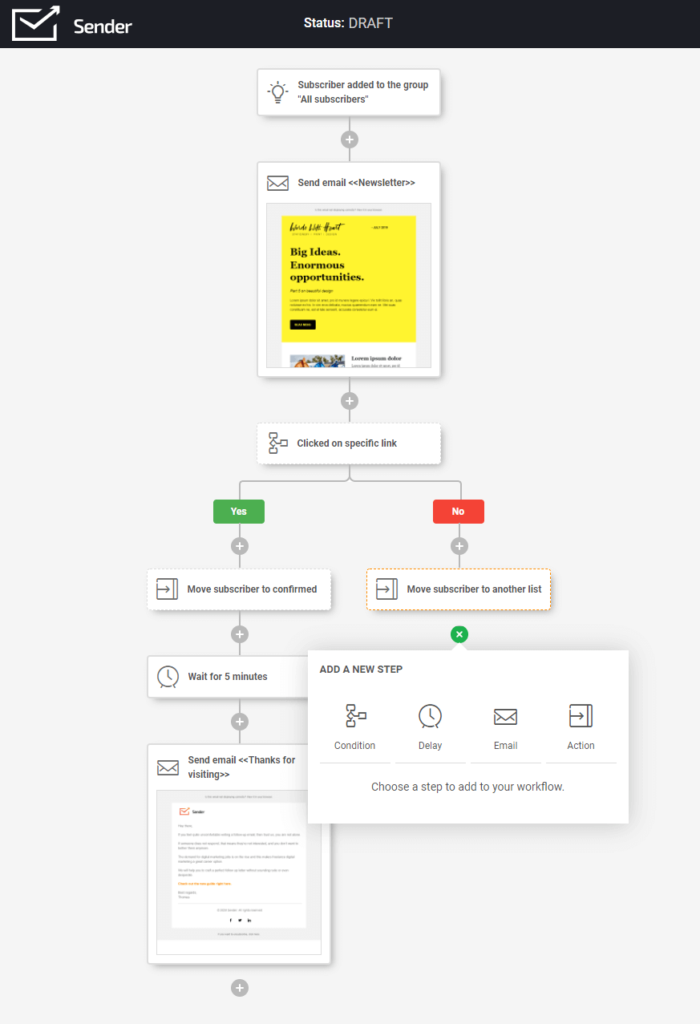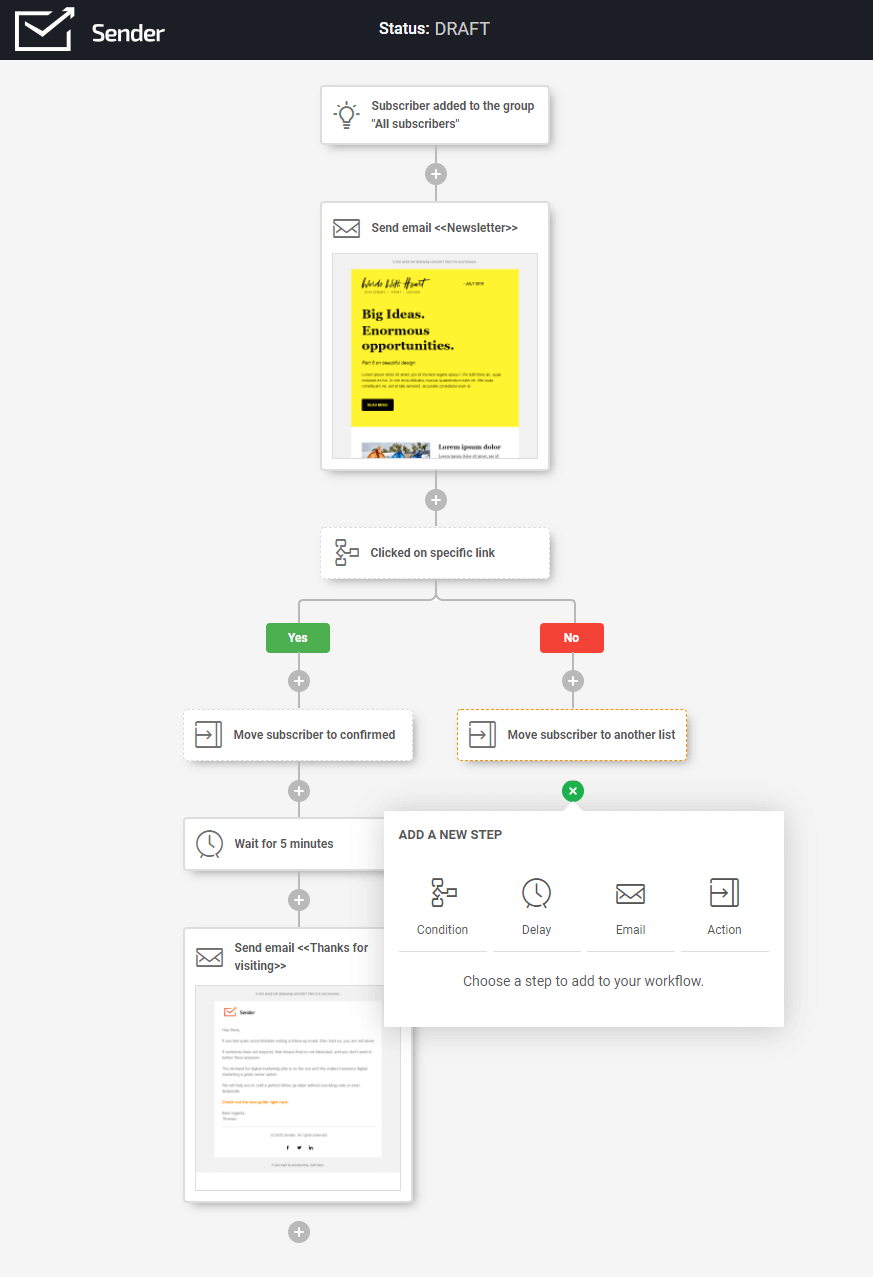 Using the right B2B sales enablement tools can make a huge difference to the overall conversion rate.
Also read: MUST-DO Lead Scoring Practices with Examples
Top B2B Sales Tips
While strategies form the overarching framework, it is important to enter with the right mindset and tactical approaches to make B2B selling a success.
Research long, research hard – the more you can make your prospect feel that you understand their specific set of challenges and needs better, the better the chances of success.

Place highly trained SDRs as frontline soldiers – Your B2B sales rep or SDRs are the first touchpoint for B2B prospects. It is an entry level responsibility but a key one at that!

Get your best men and women who've got plenty of B2B sales experience, on the job. Let them put on a grand show to your prospects!

Allow the prospect to take the stage – Ask questions and wait patiently while they answer it their way, even if you think you know all the answers. Quite often, what you hear will end up surprising you.

Focus on everything long-term – When you are more concerned about answering their questions right and providing unbiased guidance, trust grows. Guess who's getting the call when they finally dismantle their old SaaS stack and want someone to do it for them again?
Regardless of the tools and techniques you use – whether you are using an agency to perform telemarketing or using your own internal teams to cater to telesales, it is important to have a sound structure and process in place.
What's the Future of B2B Sales
Gartner's Future of Sales 2025 report predicts that by 2025, 80% of B2B sales interactions between suppliers and buyers will occur in digital channels.
Additionally, McKinsey & Company reports that top sales innovators are embedding data and technology throughout their organizations to reimagine sales.
B2B online sales are likely to be digital-first, technology-heavy, and collaborative over the next decade. Businesses that embrace this new reality are likely to grow more and faster, crushing those around them who continue to be oblivious to it!
---
Author contributor – Santosh Balakrishnan