Turn strategy into action
Don't leave your perfect strategy untapped. Unlock its potential with Sender and see your sales explode.
Get Started For Free
If you're a business owner who's hands-on with their marketing and likes to stay on top of the latest marketing trends, you've probably Googled 'what is email drip campaign' already.
You must've even read a little about drip marketing and wondered — what exactly is drip marketing, and why's everyone talking about it? Do drip campaigns work? And if they do, how to measure drip campaign results for my business?
From the meaning of drip marketing all the way to real-world examples of drip marketing campaigns done right, this blog will guide you on everything you need to know about increasing sales revenue using drip marketing.
Let's get started!
What is Drip Marketing?
Drip marketing is sending an automated sequence of emails to your subscribers in small, incremental portions. These campaigns are designed to nurture potential customers and increase conversions over time.
The goal of drip marketing is to build an email list, then slowly roll out content and marketing messages over time to engage prospects in an ongoing conversation. Think of drip campaigns as a way to communicate with your customers regularly over time.
It's the perfect solution to engage with your leads and prospects through several channels. Drip marketing involves planning to automatically deliver messages by managing:
Drip frequency;
Scheduling times;
List segmentation;
Content customization;
Triggers;
Marketing automation flows, etc.
Mostly, drip marketing is done for lead nurturing using marketing automation tools. These automation tools help businesses deliver automated emails to subscribers and prospects regularly. Drip marketing emails may include newsletters, personalized content, custom offers, sales announcements, etc.
Why are Drip Marketing Campaigns Important?
Drip feed marketing is sharing contextual information with your audience at the right time to maximize the chances of them choosing your product or service. It works great because it's highly personalized and super relevant.
To illustrate the importance, let's take an example. Imagine someone signs up for your Free newsletter from your blog page. You may be tempted to introduce your paid offer in your first email, but it makes sense to nurture the prospect via a 3 or 5-part welcome sequence before showing them the offer. It increases the likelihood of them finding value in your offer and converting into a paid subscriber (or customer).
Not everyone is ready to buy immediately. Moreover, prospects interested in your business are at different stages in their buying journey. So you need to talk to these prospects in a highly personalized manner. Drip feed marketing enables you to nurture all these prospects most logically.
When done well, drip marketing campaigns help you:
Leverage the power of email automation to save time and money spent in managing human resources;
Deeply nurture and engage prospects, moving them systematically through your email marketing funnel;
Stay on top of the minds of your prospects over time;
Build rock-solid brand credibility and authority, resulting in higher conversions, sales, and revenue;
Identity, engage and convert high-value prospects and avoid losing them to leakage.
Configure a low-cost, high-ROI marketing strategy that works on a 'set and forget' model;
Prevent revenue leakage by running renewals, abandoned cart automation campaigns
Key Elements of a Drip Marketing Campaign
Automated drip campaigns sound awesome, but most people making their first automation sequences often need help. So let's address the fundamental question — what should a drip campaign include?
Even the most successful drip marketing campaigns have only three main components. Master your understanding of these, and you can design your next winning automation sequence.
Triggers
A trigger is an indicator that kickstarts your automation workflow and represents the first step of your automation design. Fundamentally, triggers are the actions that act as the basis of your drip campaign. The triggers include a time limit, a date, or a particular condition that needs to be met.
Conditions
The conditions include the type of trigger you want to apply. Some of the most common conditions include a user's activity, location, and a user's email activity or moving to a different email list. Conditions make your automation smart as it checks for a given situation and responds appropriately.
Actions
Actions are what must happen when the specified conditions are met. You can move a subscriber to another email list, remove subscribers from a group, update a custom field, notify yourself (or your team), trigger an autoresponder, or do several actions based on triggers and conditions.
Building automation that works is simple with Sender when you nail down the above elements are have clarity on what needs to get done, i.e., the overall objective and what needs to happen at each step for that to happen.
How to Set Up a Drip Marketing Campaign?
Setting up an automated email campaign is more about strategy, planning, and addressing pain points than choosing an email marketing service with marketing automation. Here is how you can set up your first drip marketing campaign to get the best results:
1. Identify Your Target Audience
Your first order of business when planning to start drip marketing is getting a solid understanding of your target audience.
Find answers to these questions:
Who are you selling to?
What do they know about the problem you will ultimately help them solve?
What do they know about your business and brand?
Do you have a special offer or information to help them solve their problem?
What entices them to take action?
Once you know the answers, segment your target audience based on their motivation to convert, or any other metric you feel is valuable to capture, like online activity, engagement, etc. This will help you understand their feelings and desires and create the perfect email copy that attracts them to your brand or business.
2. Create Email Content for the Drip Campaign
Once you know your audience, their motivations, desires, and pain points, start planning your email content. In this step, basically, write down the layout, structure, frequency, and actual content that will be part of your email sequence.
You must understand and target your audience's pain points in your subject lines, email copy, offers, and CTA copy and drive action. Use the email copywriting best practices to start creating content for your email.
If you're stuck with creating content for email campaigns, check out our guide on email content to get inspiration, examples, best practices, and more.
3. Plan Out Your Campaign
The most important aspect of your automated email campaign is to plan it well. This involves outlining your campaign goals, finalizing triggers, and drip campaign frequency. You need to be really careful in planning every aspect of your campaign, as this can define your campaign's success or break your entire marketing funnel.
For example, clear out what you want your audience to do during and after the campaign — do you want more signups, purchase a course, or buy an item on your eCommerce store?
Next, use your knowledge of your target audience to use a contextual trigger and action. For example, define when the sequence is triggered — on a particular date (like a birthday, anniversary, or renewal date, user activity like purchase, abandoning the cart, or anything else.

Finally, define what you want your automation tool to do once the situation arises. Say, do you want the users to receive an email, SMS, or series of emails over the next few weeks?
These elements, as mentioned in the first part of this blog, are crucial to your drip marketing campaign success.
4. Start Your Campaign
The final step towards a drip marketing campaign is to start your campaign. This involves setting everything in the workflow or automation builder (like triggers, conditions, and actions), selecting an email list (or audience), and letting the automation tool do its job. At this step, you don't need to do anything, just set the automation sequence for success and let it do the rest.
5. Test and Measure Results
The final and most important step is to Measure & analyze the performance of your drip sequence. Ideally, you should monitor open rates, click-through rates, and click-to-open rates.
You can use the reporting dashboard to get all the insights related to your campaign. Then start updating and optimizing your sequence based on the reports. You can experiment and A/B test your send times, CTA, copy, design, etc., to check what works best for your drip marketing campaign.
Sender lets you set up and run elaborate drip campaign sequences using a drag-and-drop workflow automation builder that makes all the above steps way easier.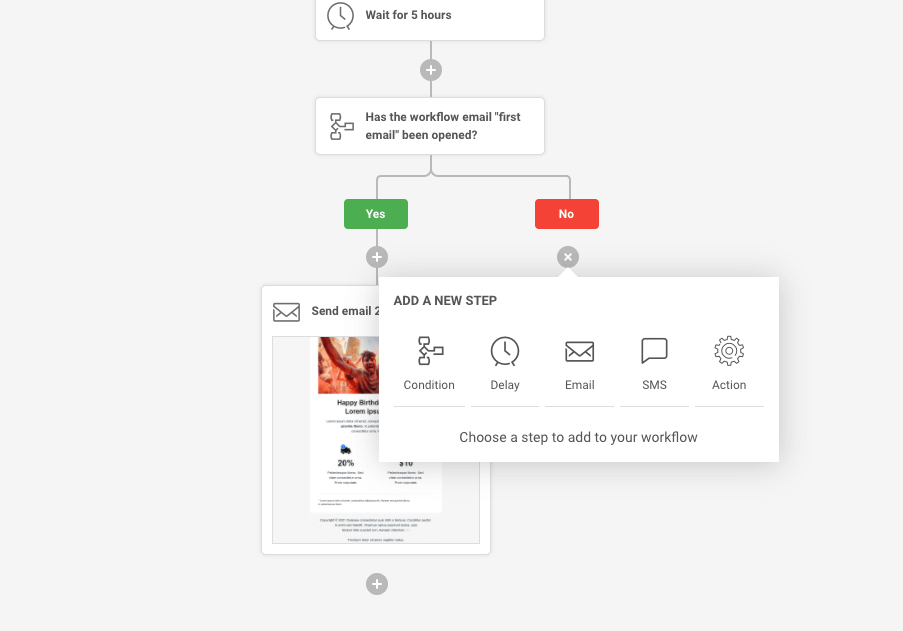 The best part — Sender is free to use for up to 2500 subscribers. So, you don't need to pay a penny before being happy with the results.
When Should You Use a Drip Campaign?
Your drip marketing strategy is critical to the success of your business. Knowing when and where to launch drip marketing campaigns is as important as knowing which drip templates to use and what content to send.
To understand where drip marketing can be used in your business, you must determine which areas could benefit from an automated yet relevant and highly personalized email nurturing sequence. There are several types of drip campaigns you can use to achieve your business goals.
While automation may appear overwhelming for starters, you can research and explore real-world drip email examples to understand how everything works.
Here are some real-life use cases to help you get started:
Nurturing Leads. Build relationships and trust with potential customers by providing valuable content over time, increasing the likelihood of conversion. Drip campaigns can be created to move prospects into paying customers by nurturing them at each step based on their activity or behavior.
Welcoming New Subscribers. Use automated drip campaigns to send a personalized welcome email to new subscribers. Make a positive first impression by sending emails introducing new subscribers to your brand and setting expectations for future communication.
Onboarding New Users. You can guide new users through the initial steps of using your product or service, ensuring a smooth and successful onboarding experience using automated drips. Create sequential emails and schedule them based on the pace you want users to adopt the platform.
Sending Post-Purchase Emails. Follow up with customers after a purchase, express gratitude, offer additional assistance, and encourage repeat purchases to foster customer loyalty. Post-purchase emails can be an upsell, cross-sell, or a request for feedback. You can create a complex drip that includes all these use cases too.
Converting Abandoned Shopping Carts into Sales. Recover potential lost sales by sending targeted emails to customers who abandoned their shopping carts, reminding them of the items, and offering incentives to complete the purchase.
Sending Promotional Emails. Drive sales and engagement by sending targeted emails highlighting special offers, discounts, or new product launches to generate interest and prompt immediate action.
Types of Email Drip Campaigns
Now that you've read about some use cases and applications of drip campaigns, it's time to check out some examples. Here are the different types of email drip campaigns you can plan, along with some interesting examples from popular brands:
Nurturing Leads
Once someone signs up to your mailing list, they cease being a casual website visitor and are now interested prospects.
Drip email campaigns help you convert these leads into customers over time by sending highly personalized and relevant content that resonates with this audience and gently nudging them to take the next logical step toward an ultimate buying decision.
The below email from Dropbox is a perfect example of how to nurture trial users and customers on a lower plan through a series of educational emails: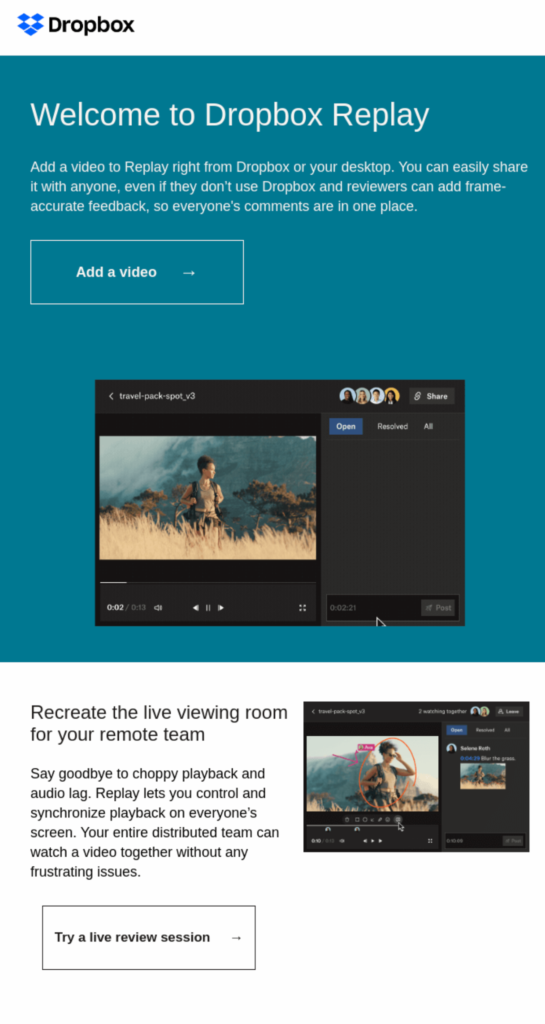 The above lead nurturing drip campaign is designed for users who signed up for the Dropbox Replay service. The email gives users a glimpse of what can happen when they use the service. The CTA about trying a live review session is the perfect action point that takes a user further into the buyer's journey.
Key Takeaways
Use educational content in your lead-nurturing drip emails;
Add a contextual CTA that moves the user further into the buyer's journey;
Add a special offer or limited-time deal to invoke FOMO.
Welcoming New Subscribers
A welcome email drip campaign is used to welcome a new user or subscriber and initiate a positive relationship with the prospect. A welcome email must be warm and thank the potential customer for signing up for the email list. The welcome email should also deliver the promised 'resource' in case you mentioned it during the signup process or tell them more about your product or services.
Todd Snyder's welcome email sequence does a good job of conveying the genuine warmth of a hearty welcome. Have a look: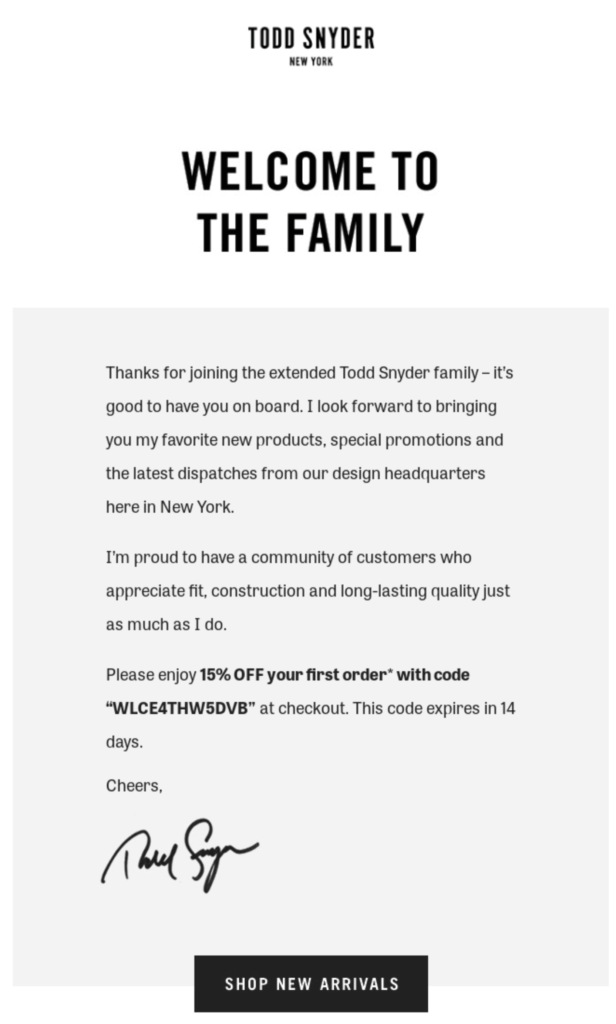 The email above is the first in a sequence of emails and sounds like a personal note as if written by a friend. The personal signature adds a personalized touch to the welcome message. If the message doesn't melt a reader's heart, the 15% off coupon definitely will.
Key Takeaways
Write your welcome email as a personalized note;
Add a special offer, deal, or 'value-add' to your welcome email to tempt potential customers to buy;
Keep the email design simple and minimalistic.
Onboarding Email Drip Campaign
For certain niches and types of businesses, for instance, software or even online courses, the offer is a monthly recurring product or service that the user will initially need hand-holding.
Onboarding emails help move new users through a maze, helping them make the most of their investment in a new product and showing them that you care about their experience. Look at the following onboarding email from Domestika: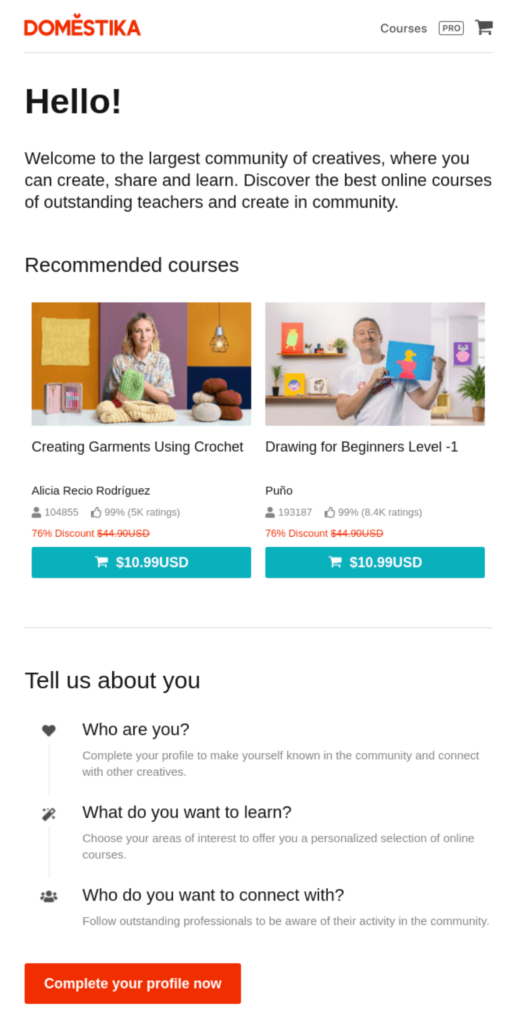 Their onboarding email welcomes newly (and apparently "free") signed-up users and provides them an option to directly shop the top courses while urging the user also to fill up their profile. Major course categories are also displayed below if the user simply wants to browse around.
Also, the main CTA urges the user to complete their profile, which is the next step in the user journey, as the more Domestika knows about them, the better it'll help to personalize the recommendations.
Key Takeaways
Create the onboarding email as a how-to or tutorial consisting of the next steps;
Add relevant suggestions about content to review, things to remember, or products to buy;
Use a contextual CTA that appears like a natural 'next step' in the onboarding process.
Sending Post-Purchase Emails
A post-purchase email is sent to a customer after they complete a purchase. A great post-purchase email thanks the customer for the purchase gracefully, shares the invoice, receipt, shipping info, etc., asks the customers to leave a review, or shares a no-brainer deal to upgrade, upsell, or cross-sell a product. Have a look at the following post-purchase email from Nike.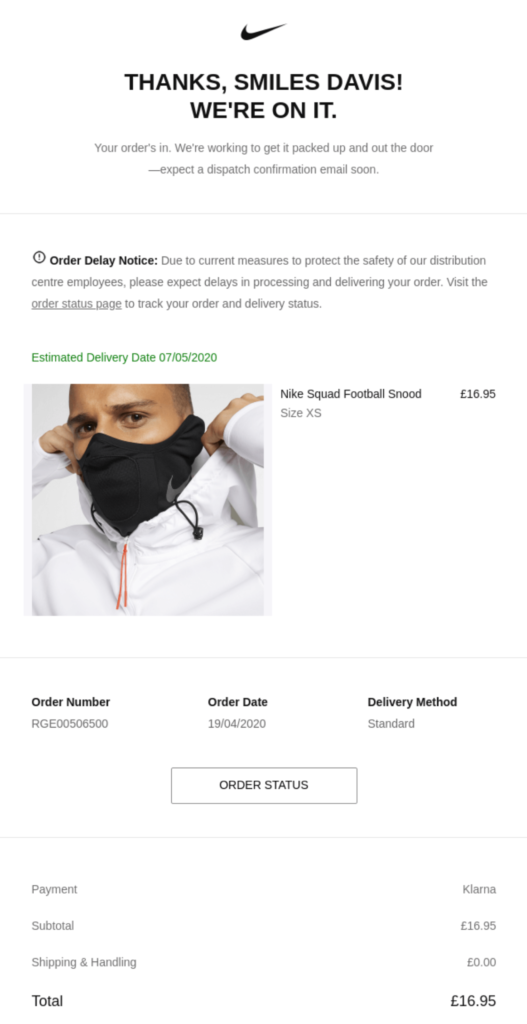 The email design looks great, and the messaging is on-brand. It has everything a customer needs after he buys something. Some recommendations for complementary products, such as jerseys or matching socks, would have worked wonders for boosting the customer lifetime value (CLV), though.
Key Takeaways
Always add useful information about the order to your first post-purchase drip sequence emailer;
Leverage the opportunity to cross-sell or upsell complementing products or services;
Personalize your post-purchase emailer based on the user's purchase behavior and online activity.
Converting Abandoned Shopping Carts into Sales
If you are an eCommerce business, you will agree with hand-on-heart that cart abandonment is a significant worry. Users put an item in their cart with the full intention of paying for it, and then all of a sudden, life happens, and they move on without ever checking out.
With an automated drip campaign, you can remind these customers and gently goad them back to the checkout like Pulp & Press. Have a look at their abandoned cart drip email campaign:

The simple and minimalist cart abandonment email has an amazing header, one-liner, and a personal note. The special offer of 30% off makes the deal sweeter for a potential customer and tempts many users to check out instantly. The CTA copy is an extension of the idea of checking out soon, too.
Key Takeaways
Schedule your abandoned cart email campaign automatically after a few hours;
Create a series of abandoned cart email drips for best results;
Add a special checkout offer to sweeten the deal for a potential shopper.
Sending Promotional Emails
Drip marketing isn't just for lead nurturing. You can also set up a drip email sequence for promoting your offers and driving bigger sales.
Promotional drip marketing sequences are usually multi-part campaigns that drive awareness in the initial emails, handle objections midway through the campaign, invoke curiosity and urgency, and tempt users to take action at the end.
Mumzworld, one of the largest online shopping sites in the Middle East, does a fantastic job of promoting their sale in the drip marketing email below: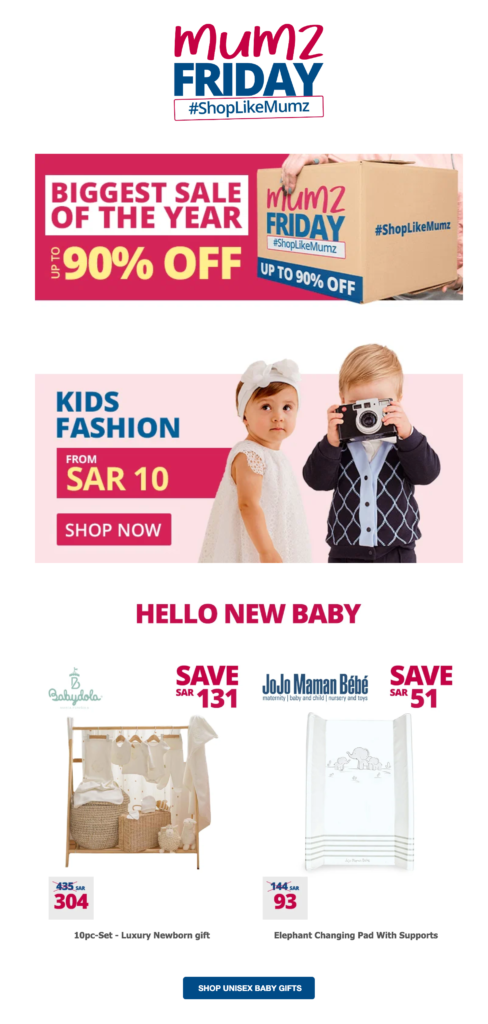 The clean whitespace-oriented design with cute visuals and clear call-to-action elements looks attractive. The clear banner at the top of the email announcing the sale with an offer announcement does the job of influencing the recipient's decision to buy from them.
Key Takeaways
Plan your email drip marketing promotional campaign in advance;
Tease your customers with special offers (and limited-time deals);
Break down your drip emails into sections and sequences for maximum interest, engagement, and conversions.
Retargeting Drip Campaign
Retargeting is common among email marketers to follow up with a potential customer based on past activity or behavior.
Retargeting campaigns are designed to be triggered after someone takes action on your website, such as adding a product to a cart but not checking out. Retargeting campaigns are also sent to prospects who interacted with your ad campaign (or any marketing asset) but didn't convert yet.
The email targets people who added items to the cart but didn't check out. The headline compliments the reader and would definitely make them smile. The contextual CTA with an action-inducing copy is equally compelling. The witty tone makes the reader want to scroll further and check why the brand emailed them.
Key Takeaways
Use marketing automation to trigger retargeting emails based on behavior;
Create witty (or personality-driven) email copy to engage better;
Add a contextual CTA to your retargeting email.
Key Takeaways
Add automated email drip campaigns to your email marketing software to ease your marketing efforts;
Strategic triggers, conditions, and relevant actions are crucial for building successful drip campaign emails;
Deep mastery of marketing automation tools is essential to understand how drip marketing works;
Always choose a drip campaign software that offers generous free plan limits (to test the capabilities) and options to create different drip email campaign types.
---
Author Bio
Anmol Ratan Sachdeva is a content marketer and small business consultant who has a strong grip on topics like marketing automation, email marketing, and content marketing. He loves to write about starting, improving, and growing a business.