Like what you read?
Apply it in practice with Sender.net - the most cost-effective email marketing solution in the market.
Try Sender for free
If you're a business owner who is hands-on with their own marketing and likes to stay on top of the latest marketing trends, you've probably already googled "what is email drip campaign" and even read a little about drip marketing.
You likely wondered — what exactly is drip marketing, and why's everyone talking about it? Do drip campaigns work? And if they do, how to measure drip campaign results for my business?
From the basic meaning, all the way to detailed real-world examples of drip marketing campaigns done right, this guide on drip marketing is all you need to increase sales and enhance revenue while improving retention and subscriber engagement.
Without further ado, let's get started!
What is Drip Marketing?
Marketing, by basic definition, is communication.
Both with prospects interested in your business and customers who've shown trust by buying your product or service.
Drip marketing is when you carry out ongoing communication with such interested parties in the form of automated emails that are either timed (going out at a specific date and time) or triggered (by user behavior or action).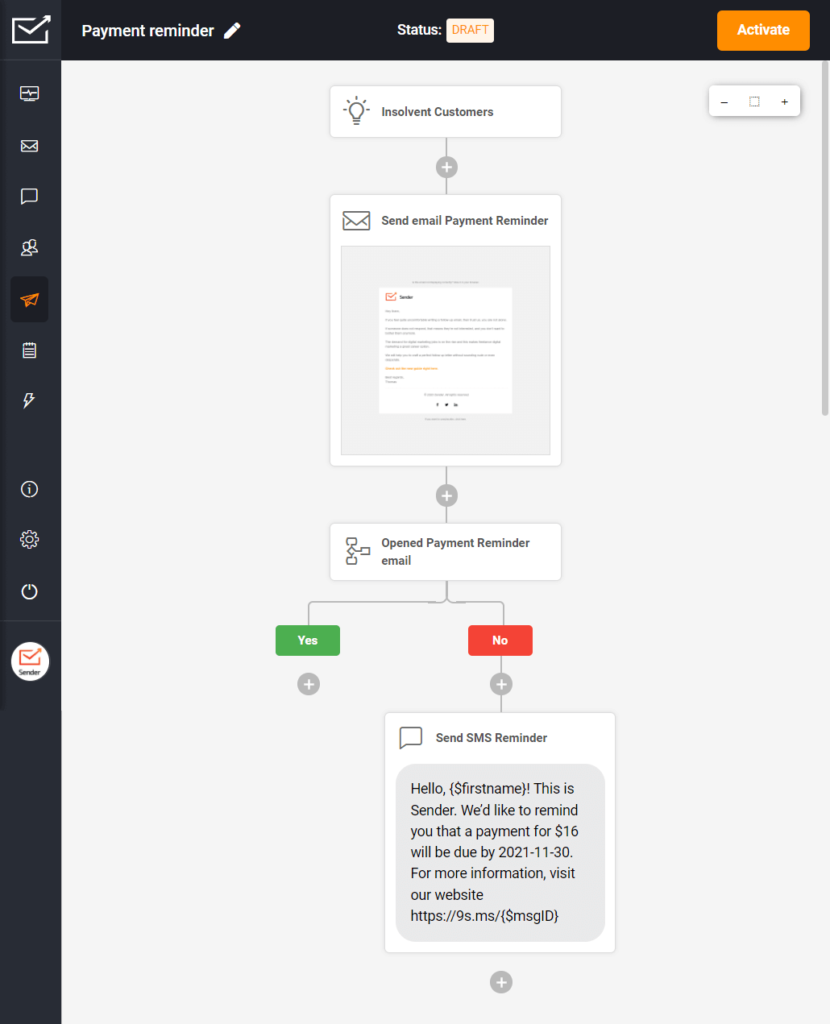 Why Drip Marketing is Important?
Sometimes also called an autoresponder or automated sequence, drip email marketing has several benefits needed to be mentioned.
Leverages the power of email automation to save time and money, besides avoiding the cost of dedicated human resources.
It helps deeply nurture and highly engage prospects moving them ever-so-gently inside your marketing funnel from touchpoint to touchpoint.
It helps your brand stay top-of-mind in the prospect's head.
Builds rock-solid brand credibility and authority, resulting in higher conversions, sales, and revenue.
Identity, engage and convert high-value prospects and avoid losing them to leakage.
Low-cost, high ROI marketing strategy
Prevent revenue leakage running renewals, abandoned cart automation campaigns, etc.
Reduces marketer's manual input
Drip marketing is simply sharing the right information with the prospect at the right time to maximize the chances of them choosing your product or service.
And it works because it's highly personalized and super relevant.
E.g., you may want someone who has just signed up for your FREE newsletter from your blog page to go through a 3 or 5 part welcome sequence before showing them an offer.
While on the other, someone sharing their email address on a popup form on your website's Pricing page may be ready to buy, so maybe you want to show them your best discount yet!
Not everyone is ready to buy immediately. Moreover, prospects interested in your business are at different stages in their buying journey. So you will end up talking to these prospects in different and often very personalized ways.
When Should You Use a Drip Campaign?
Your drip marketing strategy is paramount. Knowing when and where to launch drip marketing campaigns is as important as knowing which drip templates to use and what content to send.
In order to understand where drip marketing can be used in your business, you need to determine which areas could benefit from an automated yet relevant and highly personalized email nurturing sequence.
While there are several types of drip campaigns for marketing requirements ranging from advertising ideas and promotion campaigns all the way to messaging, email best practices indicate that most businesses will use one or more of the below drip marketing workflow types:
Lead nurturing;
Welcoming new signups;
Onboarding new customers;
Post-purchase;
Abandoned shopping carts;
Promotions;
Recommendations;
Renewals;
Confirmations;
Engagement;
Information/ Educational;
Onboarding campaigns;
Feedback & survey.
While all of this may look overwhelming for starters, looking at real-world drip marketing campaign examples will make this crystal clear to understand and implement.
Email Drip Campaign Examples
Unlike a manual broadcast (also referred to as an email blast), a drip campaign is fully automated.
Below are a few practical examples showing the proper application of drip email marketing to specific business workflow requirements.
Nurturing Leads
Once someone signs up to your mailing list, they cease being a casual website visitor and are now interested prospects.
Drip email campaigns help you convert these leads into customers over time by sending highly personalized and relevant content that resonates with this audience and gently nudging them to take the next logical step toward an ultimate buying decision.
The below email from cloud storage giant Dropbox is a perfect example of how a SaaS company ensures that its free and lower-tier paying users are kept engaged through educational content that makes them feel included and likely gets them to use the product more.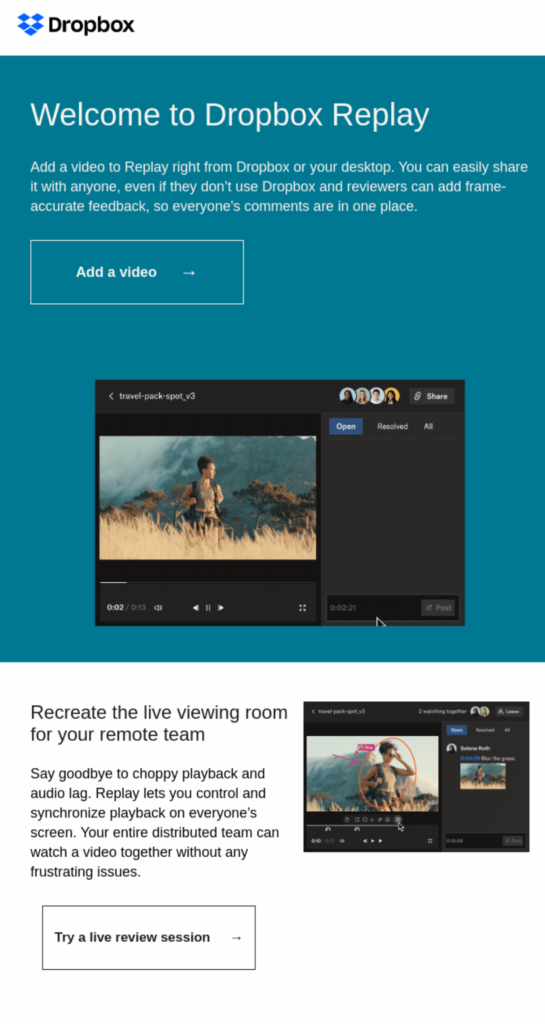 Also read: MUST-DO Lead Scoring Practices with Examples
Welcoming
A welcome drip sequence is most commonly used to acknowledge & initiate a newly established business relationship.
Your welcome sequence must:
Acknowledge the prospects with warmth & thank them for choosing you;
Inculcate them by entertaining them about your brand;
Guide them towards any resources that were promised as part of the signup;
Initiate them into adopting your product or service by showing them benefits, your competitive edge, etc.
Men's clothing, footwear, and accessories brand, John Snyder's mailer below does an almost perfect job of conveying the genuine warmth of a hearty welcome. If the supporting social proof and testimonials do not wow you, their 15% off coupon definitely will.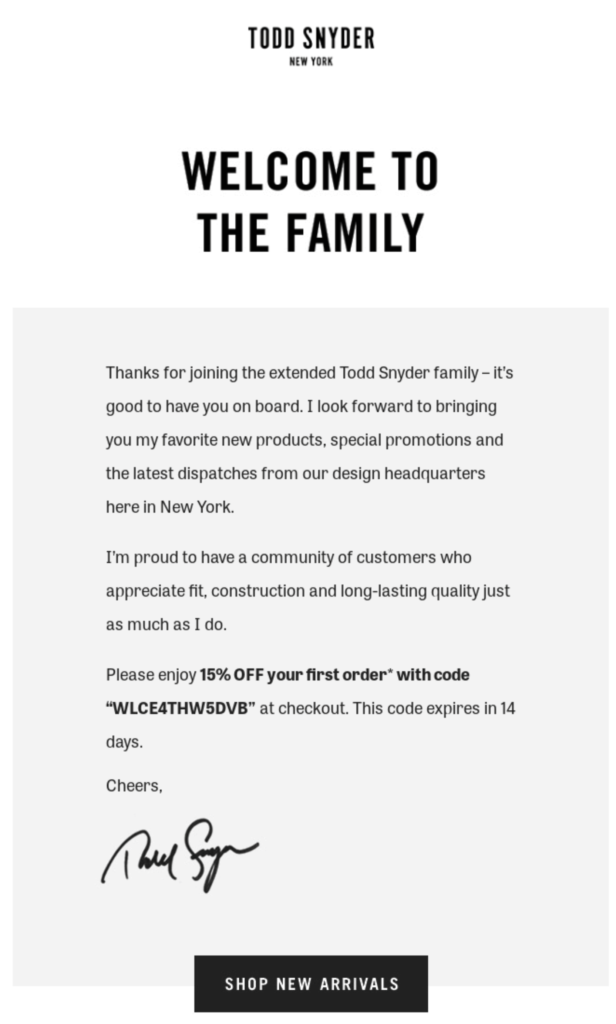 Also read: 5+ Welcome Email Template to New Customer (Examples)
Onboarding
For certain niches and types of businesses, for instance, software or even online courses, the offer is a monthly recurring product or service that the user will initially need handholding.
Your onboarding email must:
Thank the user for giving you a chance to serve them;
Acclimatize the user by walking them through their new online/ digital environment;
Provide them the resources such as video guides, blog posts, etc., to help them get started with using the product or platform;
Mention the most used features or top benefits to expect;
Share support channel info n case they need help;
Look at the email from the online courses platform Domestika.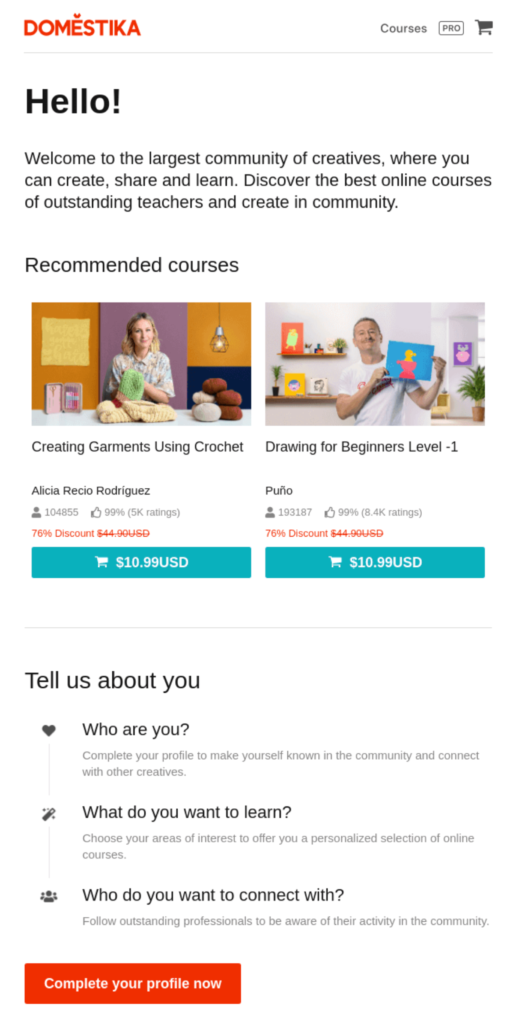 Their onboarding email welcomes newly (and apparently "free") signed-up users and provides them an option to directly shop the top courses while urging the user also to fill up their profile. Major course categories are also displayed below if the user simply wants to browse around. All said and done a simple yet elegant onboarding email.
Post Purchase
Usually, businesses rest easy after a sale, but that is exactly where your relationship with a customer begins.
Your post-purchase email goes out to every customer who makes a purchase. However, most businesses don't realize that it is also one of the most opened and read emails, so making it so much more than just the payment invoice or a thank you message can add almost 'free money' to your business kitty.
A great post-purchase email can:
Thank the customer for the purchase gracefully, welcoming them to your fold;
Share invoice, receipt, or even shipping info;
Present an unbelievable upgrade, upsell, downsell, or even cross-sell offer;
Ask the customers to leave their valuable reviews regarding their online purchase experience;
Take a glance at the below post-purchase email from Nike.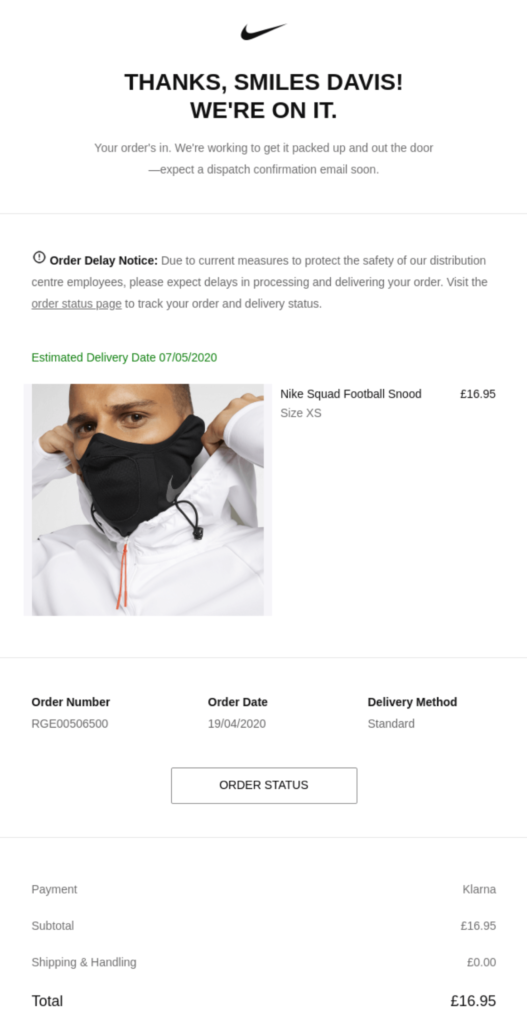 The email design looks perfect, and the messaging is so on-brand. But we can't help but think if it performed better had Nike included some buy recommendations for complementary products such as jerseys or matching socks.
Abandoned Shopping Carts
If you are an eCommerce business, you will agree with hand-on-heart that cart abandonment is a significant worry. Users put an item in their cart with the full intention of paying for it, and then all of a sudden, life happens, and they move on without ever checking out.
With an automated drip campaign, you can remind these customers and gently goad them back to the checkout. Like Pulp & Press, an online cold-pressed juices retailer does in their abandoned cart email below.

The copy is minimal yet makes its point. A cart abandonment email can be as simple as this and yet convert well.
Your abandoned cart email must:
Remind your site visitor to complete their purchase;
Offer an enticing discount or FREE shipping to make it happen sooner than not;
Be a sequence of at least 2-3 emails sent out at 12, 24, and 48hr intervals from the time of abandonment;
Promotional
It is not just nurturing sequences that demand drip marketing. You can also push for sales and buys using a drip email sequence.
Your promotional drip marketing sequence will be a multi-part email automation sequence that'll:
Raise awareness in the initial emails;
Handle prospect objections and fill up information gaps in the middle part; and
Invoke genuine urgency and scarcity with clear CTAs (call to action) as we near the deadline.
Mumzworld, one of the largest online shopping sites in the Middle East for kids and their doting moms, does a fantastic job promoting their sale in the email below.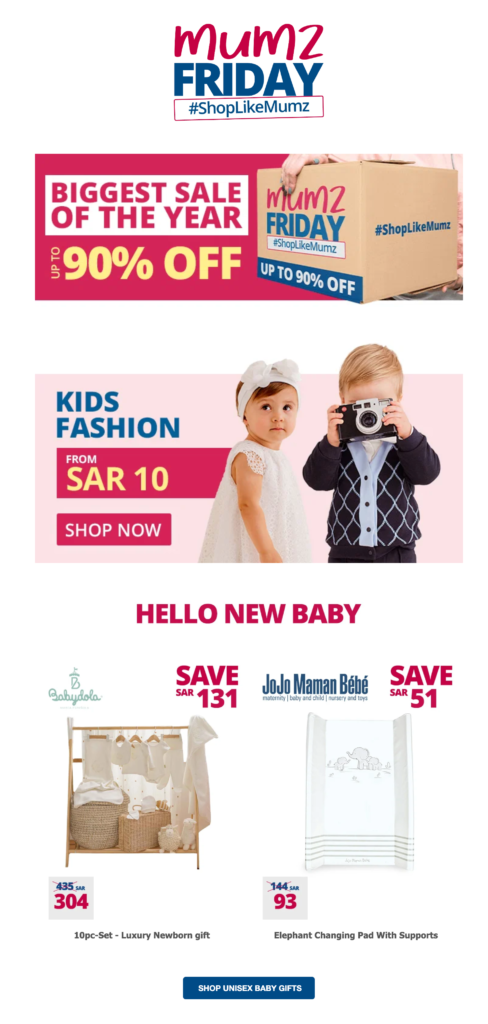 Mumzworld's clean whitespace-oriented design with cute visuals and clear call-to-action elements also showcases a clear banner at the top of the email announcing the sale. Simple and effective, we say!
Recommendations
Recommendation drip sequences provide relevant and timely "next steps" to your users so they can continue their usage of your product or service in a way that adds value to both of your lives.
Your recommendation sequences should be:
Personalized to the user and what they want from you;
Relevant to user taste trends;
As segued as possible to the original product or service they bought, without being salesy or aggressive.
Blinkist, one of the biggest professional book summary services, uses this type of recommendation drips to constantly encourage existing customers towards their subsequent reads.

Simple messaging and relevant recommendations ensure that the user is hooked to the app, thus ensuring continuing membership renewals and inflow of funds.
Renewals
Customer acquisition is one thing, but many businesses depend upon monthly subscriptions by existing customers to keep the lights on—for instance, offline businesses such as gyms and online businesses such as SaaS software.
A renewal email could be a great way to wake up your customers and goad them to pay their dues. These renewal emails will be:
Friendly and non-aggressive;
Ideally, a spaced-out reminder email sequence because some of your readers will miss your only email;
Benefit-oriented, both educating and reminding the user about what they stand to lose when they lose their membership.
FontBase, a fast and effective font manager preferred by designers, sends the following renewal email to its paying customers to remind them to continue being associated.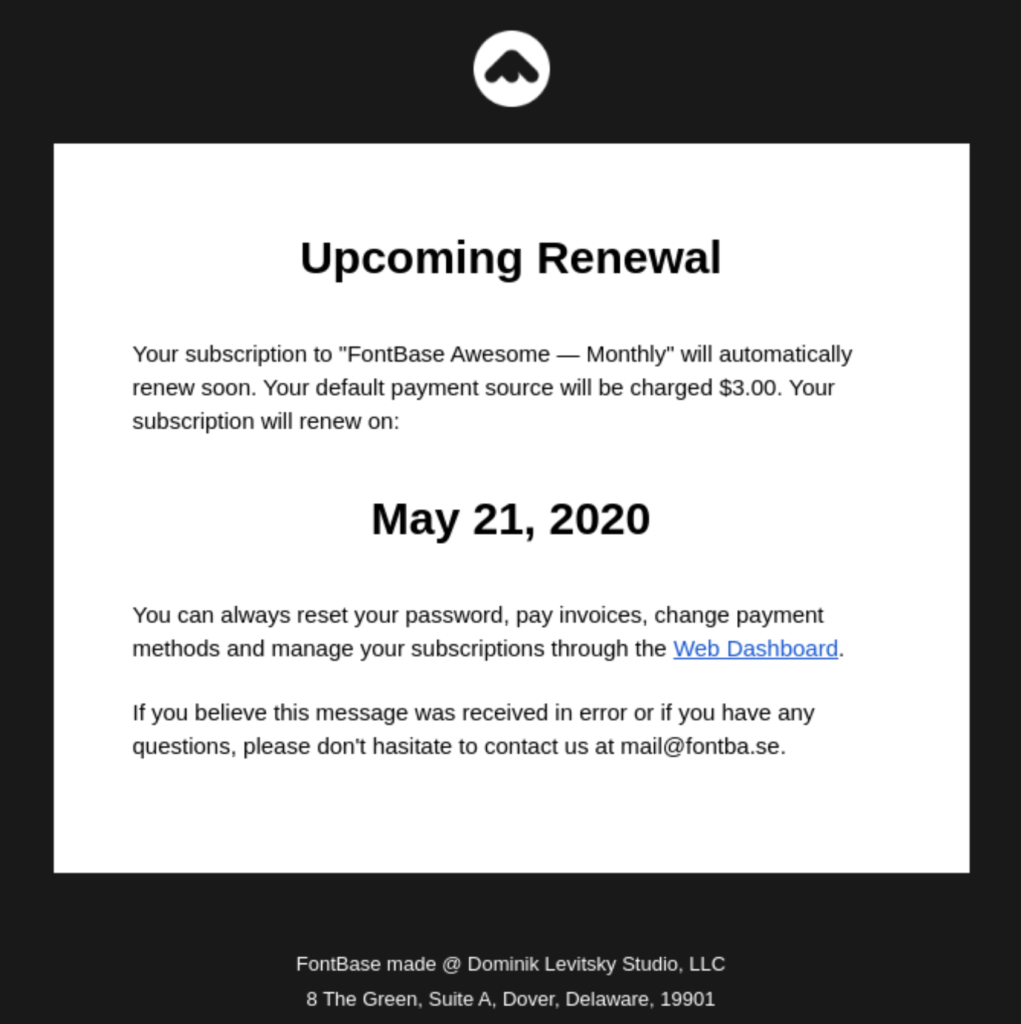 While this email is more of an email notification intimating to the reader that the payment will be automatically charged, this can also be edited to ask the reader to remit the payment before a particular date.
Confirmation
Confirmation emails are usually a single transactional mail sent to verify a user's email address. They are seldom a drip sequence, although they could be if you wanted them to be.
For instance, during double opt-in, visitors signing up for your email newsletter need to confirm their email address by clicking on a button or link inside their inboxes before they can start receiving your email stream.
Confirmation emails must be:
Simple & concise;
Self-explanatory in terms of what's going on and why the user is looking at this email;
As warm as a handshake, this is your prospect's first impression of your business and brand.
Pitch, a collaborative presentation software platform, sends this beautiful-looking email to any new users signing up.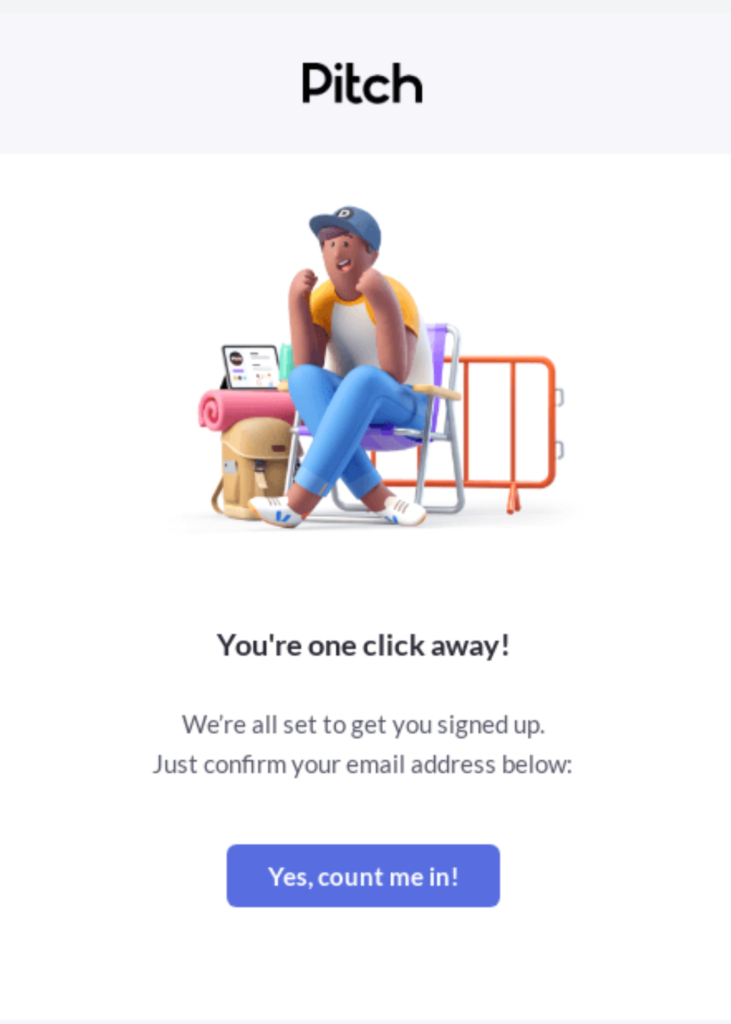 A line explaining why this email made its way to the reader's inbox and a simple-looking CTA confirmation button is all you need. Safe to say, confirmation emails are about the simplest of automation emails you are ever likely to compose inside your email marketing software.
Engagement
As the name suggests, engagement emails are those that are sent with the only purpose of raising specific actions from the users. Although these aren't direct sale emails, the micro-commitment shown by loyal subscribers is very important in the long run.
Engagement drip sequences can help:
Improve inbox deliverability by getting users to interact with your emails;
Drive engagement, brand loyalty, and actions that bring them closer to checkout, one step at a time;
Keep your conversations with both prospects and customers fun and entertaining.
Brooks Running, a US-based athletic shoes and apparel company, sent this rather exciting email to its subscribers.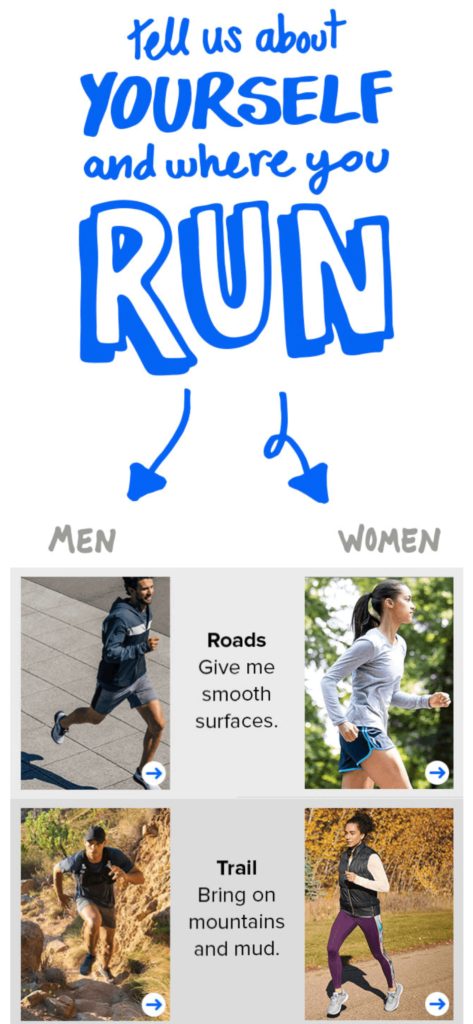 This particular email is a smart engagement email aimed at directing customers to their online store. The messaging and design lowers the readers' defenses, making them perceive it as a non-sales email. Well done, we say!
Information/ Educational
Information drip marketing aims to help educate and entertain prospects all the way from understanding their problems better on one side to being able to appreciate why your product or service is the one that can help them out.
Information drip sequences must:
Share resources to guide users through blocks and help them become unstuck;
Improve the understanding of their own problems & possible solutions;
Help readers grow by avoiding the most common pitfalls while simultaneously achieving maximum gains and results;
Establish your business or brand as one that understands them and has a solution when they are ready to dive.
As laid out in its educative email below, the hydration and wellness brand Buoy understands this well.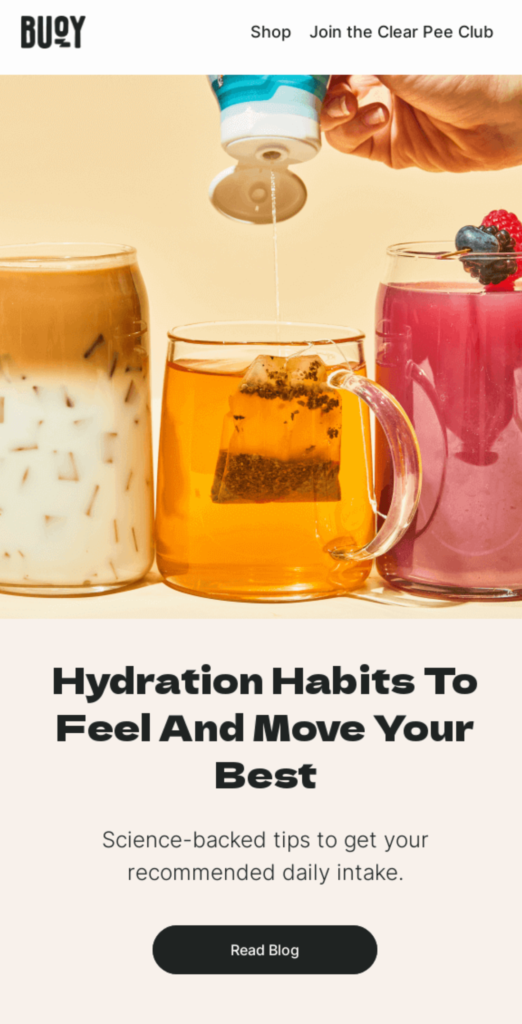 First up, if the offer to "Join the Clear Pee Club" doesn't get you, their aesthetically designed email containing their eye-catching product visual most definitely will. In addition, the infographic-like layout containing easily digestible tips makes this email a winner!
Drip Campaigns Examples By Industry
Drip marketing campaigns can be universally adapted to businesses worldwide, no matter the niche or industry. Here are some examples by industry to further inspire your creativity.
Drip Marketing for Real Estate
With real estate and home buying becoming increasingly digital with every passing year, it is crucial for realtors, real estate agents, and their agencies to adapt to this change.
Some examples of emails you could send your real estate subscribers:
Weekly, fortnightly, or monthly newsletter with local housing insights and updates;
Sharing information blog posts and how-to guides for buying and renting properties;
Sharing video content that educates buyers and sellers on their most prominent pain points;
Spotlighting local events, deals, and happenings;
Look at the email below from the American real estate brokerage firm, Compass.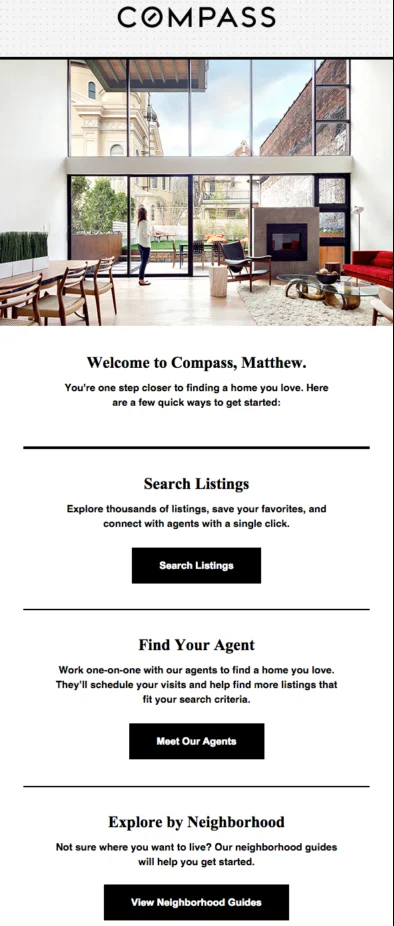 An introductory welcome email, it acknowledges the new user and shares links to search listings, closest agents, and more in an easy-to-read email.
Reading something like this for a high-stress purchase like real estate will definitely give readers the feeling that help is at hand and the comfort that they aren't alone in this.
Drip Marketing for E-Commerce
Nearly 70% of digital shopping carts were abandoned in 2021.
A well-strategized cart abandonment email can help you arrest this leak and add extra revenue to your coffers without spending additional dollars on ads or new customer acquisition.
The below email from American clothing retailer Everlane does the job subtly.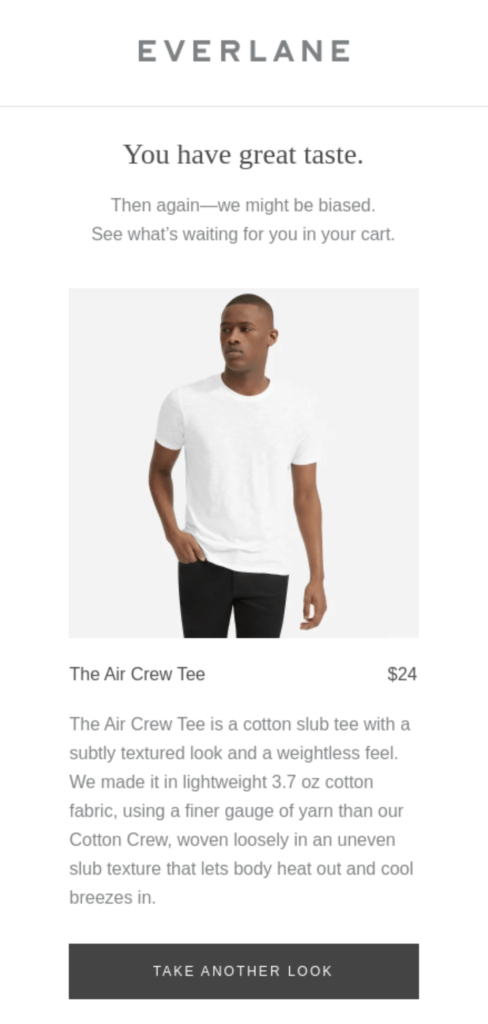 When you send out an abandoned cart email, the key is not to look and sound the same as every other ecommerce brand's abandonment email out there.
Do it like Everlane.
The copy is cleverly humorous, keeps it real by complimenting the prospect, and the call to action is extremely friendly without being salesy. As a result, we are positive that this one got a lot of clicks and checkouts, and deservedly so.
Drip Marketing for Fashion Industry
From a strategic viewpoint, nothing changes radically for drip marketing when it comes to the fashion industry. Given the dynamic nature of the profession, it likely means more emails and even more automation.
Types of drip sequences you can send for fashion businesses:
Welcome emails;
Content emails – fashion & style guides, etc;
New collection launch;
Seasonal sales promotions;
Recommendations;
Back-in-stock notifications;
Abandoned carts, and more.
Public Rec is a leisurewear brand for men that believes in selling online and selling well. So what better medium than emails to do it affordably and in style?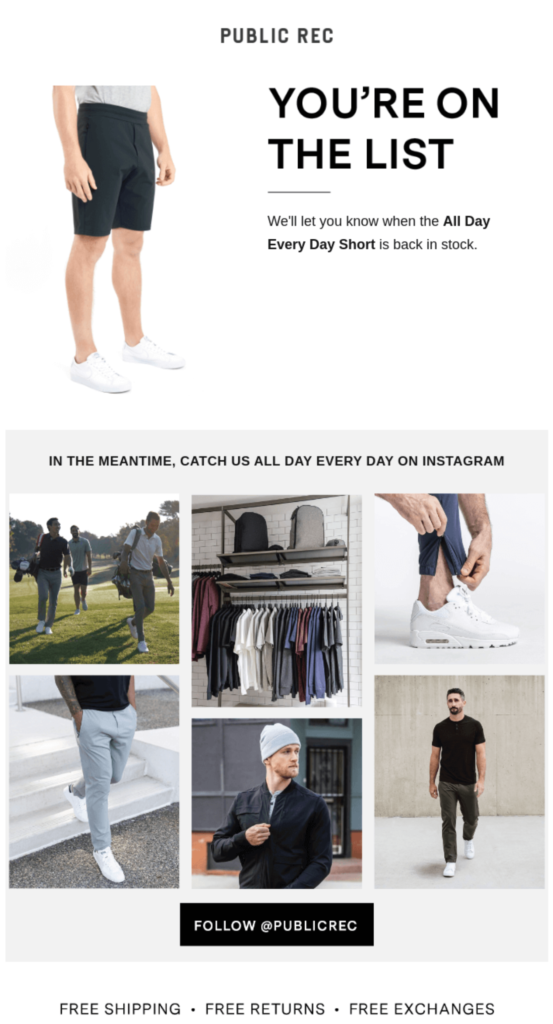 The above email is an automated acknowledgment cum back-in-stock notification email for new signups.
It is simple and effective and informs the prospect that the product they're looking for is not in stock but that they will receive a notification once it is back. It also offers you an option to check them out on Instagram, which again is a smart decision as it is a strongly visual social media, perfectly suited for fashion.
How Do I Set Up a Drip Campaign?
Setting up a drip campaign is more about strategy than just the perfect email marketing tool.
Generally accepted best practices follow below seven steps to set up automated drip campaigns that deliver value to your subscribers and conversions to your business.
Step 1: Layout your Target audience. Whom are you selling to? What do they know about the problem you will ultimately help them solve? What do they know about your business and brand?
Step 2: Segment your Target audience based on their motivation to convert. (Conversion, of course, would be based on the campaign's goal in step 3 below). While there will likely be some degree of overlap in how you communicate with all of your audiences, getting as tailored and specific as possible with each audience you're talking to give you the highest ROI.
Step 3: Figure out your campaign goals. For example, do you want the prospects to sign up for a FREE trial of your SaaS software, or would you like to get them to purchase a full-blown version?
Step 4: Choose your Trigger. Will the sequence be triggered by a date (birthday, anniversary, renewal, etc.) or self-user action (upsell, recommendations, abandoned cart, abandoned checkout, etc.)?

Step 5: Create your drip sequence for email or SMS messages. These should be consistent with set expectations and should be a series of emails that lead the customer through the promised experience. Ideally closer to checkout. Again, the messaging should be kept simple, while the content can be educational, entertaining, or both.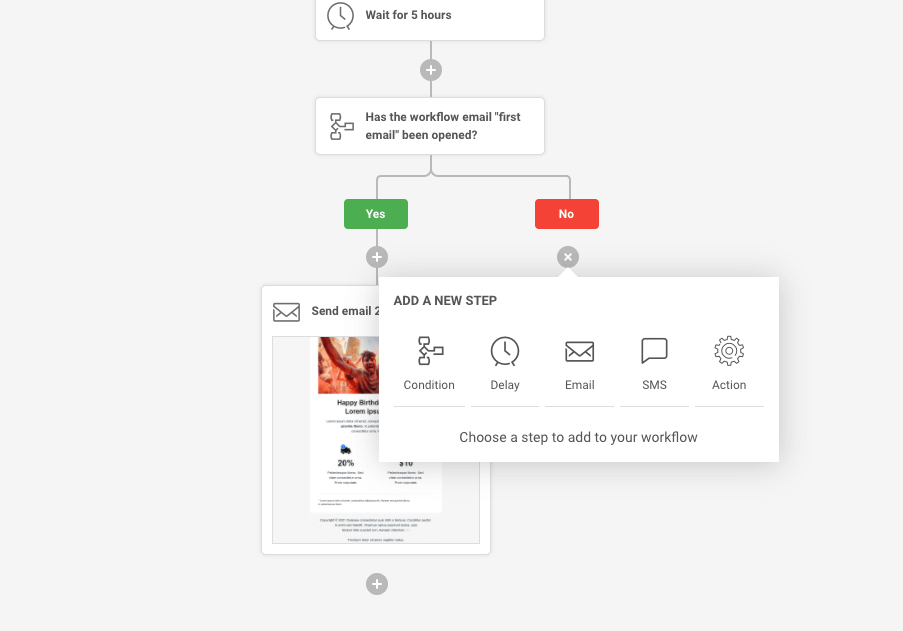 Step 6: Measure & analyze the performance of your drip sequence in terms of open rates, click-through rates, and click-to-open rates. Reporting can be such an eye-opener.
Step 7: Update your drip sequence based on A/B testing of send times, CTA, copy, design, and just the overall performance.
After learning how to set up a drip campaign, let's look at some popular drip marketing platforms that can make your life easier.
Drip Marketing Platforms
Whether you're setting up a simple email sequence or a multi-part SMS drip campaign, choosing the best SaaS platform for your drip automation requirements is crucial. However, so many software tools at your disposal can get overwhelming.
Here are some of the drip marketing platforms we think you should check out:
Sender
Sender is an ecommerce specialized, all-in-one, powerful marketing automation suite with popups, forms, emails, and SMS marketing capabilities. In addition, it features an easy-to-use interface, which, when combined with a low learning curve, means that you can start delivering your winning email campaigns in no time.
Sender's prominent features include:
Drag and drop email editor;
Eye-catching popups and forms;
Step-by-step automation builder;
Pre-built ecommerce optimized playbook, including welcome series, abandoned cart, and post-purchase emails.
Smart segmentation for targeted messaging;
Intelligent personalization for high-conversion messaging at a mass level;
One-click integration with top stores & CMS platforms.
Pricing:
FREE plan

Up to 2,500 subscribers
15,000 emails monthly
Unlimited email automation
Unlimited popups & forms
Sender branding
Paid plans start at $8/mo.
Whether you are a solopreneur offering a specific niche service online or a booming courses and info product platform, Sender is a high-performance, high-deliverability, yet cost-effective solution to help you grow and scale.
Hubspot
Hubspot is an integrated platform that helps businesses with their marketing, sales, service, and operations needs.
Its marketing module popularly referred to as "Marketing Hub" is a premium product that helps you nurture and convert more visitors into customers using features such as email marketing, forms, landing pages, paid advertisements & more.
A few of Hubspot's most notable features are:
Email marketing & automation;
Forms for lead capture;
Landing pages to absorb & convert traffic;
SEO support & hosting for bloggers;
Paid ads tracking & management for Facebook, LinkedIn & Google ads
Social media feed postings & management;
Live chat, chatbots & more!
Pricing:
FREE plan

Up to 2,000 email sends/mo;
No automation;
Limited segmentation (max of 5 active lists);
Hubspot branding
Paid plans start at $45/mo

Includes everything in the FREE plan
Marketing automation features
Drip
Drip is a marketing automation platform focused on growing ecommerce businesses. It features popups, forms, emails, text messaging, automation, and easy-to-understand reporting under one convenient dashboard.
Deliver personalized messaging to extremely targeted subscriber groups, achieving better sales, higher revenue, and exponential growth for your business.
People who choose Drip generally love its top features below:
Forms & popups;
Email marketing;
Drip CRM for contacts management;
Email & SMS automation workflows;
Segmentation & personalization;
Support for popular integrations.
Pricing:
FREE plan – Drip doesn't offer one;
Paid plan – Starts $39/mo.

2,500 contacts;
Unlimited email sends;
Email support only.
Constant Contact
Constant Contact, another marketing software suite, helps you generate more sales, grow your customer base, and engage your audience while simplifying your digital marketing. From text and email marketing all the way to social media, Constant Contact helps you drive more engagement and results for your business the easy way.
A few of its features stand out:
Email & SMS marketing;
List building tools such as popups and forms;
Social media marketing;
Marketing automation;
A/B testing;
Landing pages.
Pricing:
FREE plan – Like Drip, Constant Contact doesn't offer one either;
Paid plans – Start $9.99/mo.

Email marketing for up to 500 contacts;
No automation capabilities (Automation plans & packages start at $45/mo);
Mailchimp
Mailchimp is a marketing suite that provides a variety of AI-powered, user-friendly tools to help businesses of all sizes grow faster, the smart way.
With one place to manage all your email, social media, landing pages, ads, websites, and more, you can send marketing emails and automated messages, create targeted ad campaigns, build landing pages and more efficiently.
Mailchimp's top features worth a mention include:
Email marketing & automation;
AI-driven Predictive segmentation;
A/B email testing;
Social media management;
Built-in CRM for contacts management;
Website builder;
Manage everything from a mobile app;
250+ integrations across major platforms;
Pricing
FREE Plan

Up to 500 contacts;
2,500 emails/mo;
No access to segmentation and automation features.
Paid Plans start at $9.37/mo.

Up to 500 contacts;
5,000 emails/mo;
Basic automation capabilities
Limited segmentation support.
Next, look at the main elements of a drip marketing campaign that make it tick!
Key Elements of a Drip Marketing Campaign
Automated drip campaigns sound awesome, but most people making their first automation sequences often need help. So let's address the fundamental question — what should a drip campaign include?
Even the most successful drip marketing campaigns have only three main components. Master your understanding of these, and you are good to design your next winning automation sequence.
Triggers
A trigger is what kickstarts your automation workflow and, as such, represents the first step of your automation design.
Sender offers you a variety of trigger options ranging from link clicks inside emails to API calls made from other third-party applications to allow your automation to fire.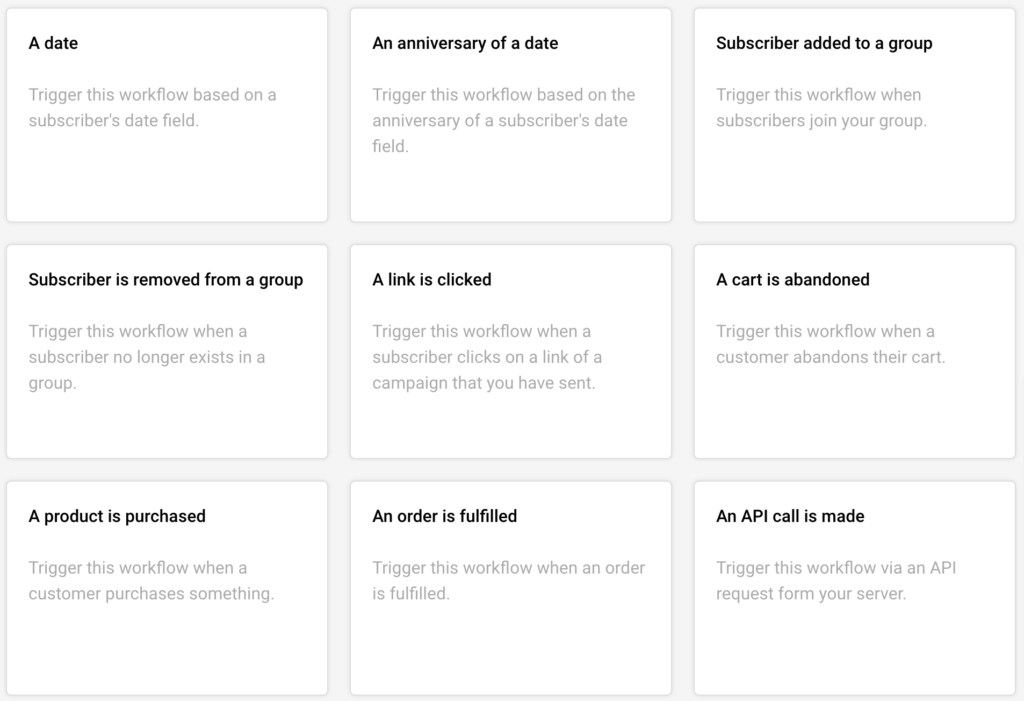 Once you choose your trigger type, you are brought to the main dashboard, where you can simply click and select your automation steps.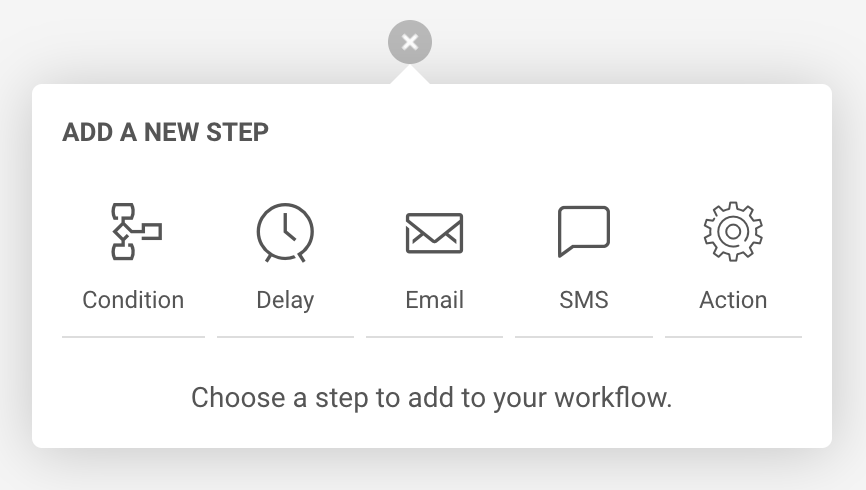 Also read: What are Triggered Emails: Complete Guide and Tips
Conditions
A conditional step in your automation is one in which a specific value or condition is checked, and the subscriber is routed accordingly. This makes your automation smart as now it checks for a given condition and responds appropriately.
Specifically, the following parameters can be checked:
Subscriber fields—Email, Names, Custom fields;
Subscriber status—Active, Unsubscribed, Spam Report, Bounced;
Workflow email activity;
Campaign activity;
Group membership (e.g., moving to a different group).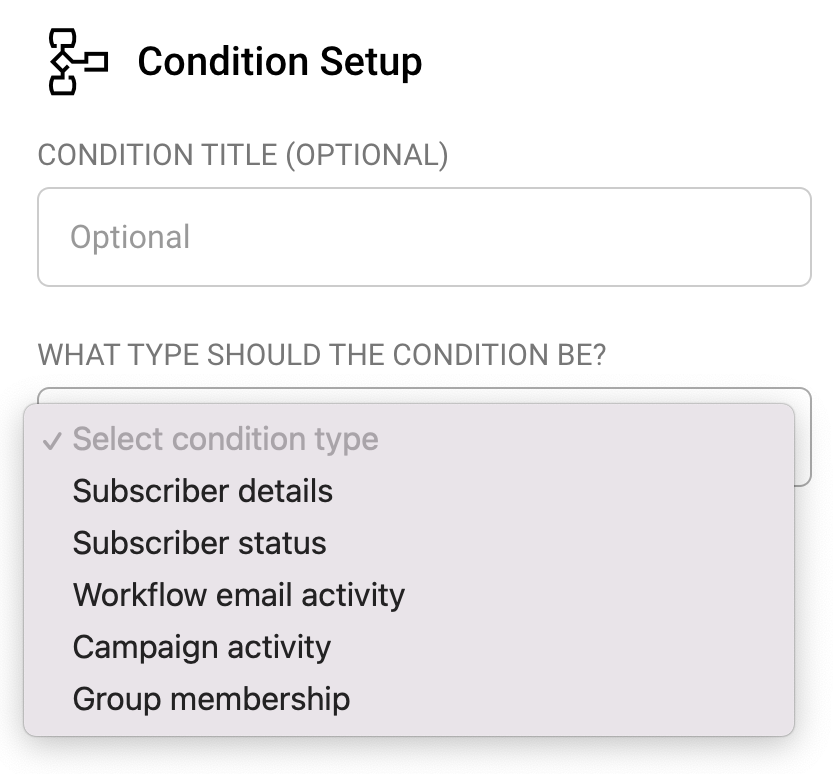 Actions
Actions are what must happen when the specified conditions are met. Sender allows one of the following actions to be selected for a step:
Move subscriber to another group
Copy subscriber to another group
Remove subscriber from a group
Mark subscriber as unsubscribed
Update subscriber's custom field
Remove subscriber's custom field
Notify me
Send webhook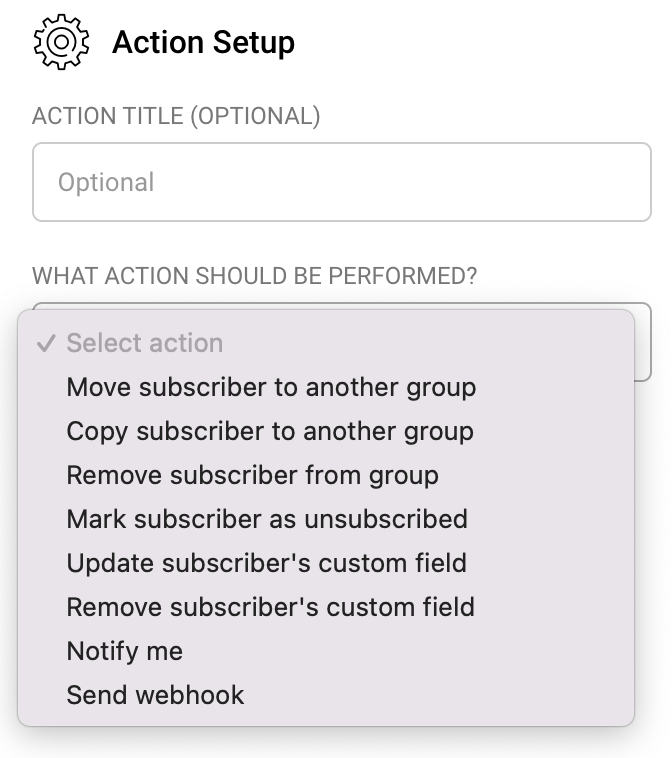 Building an automation that works is simple with Sender when you nail down the above elements are have clarity on what needs to get done, i.e., the overall objective and what needs to happen at each step for that to happen.
Drive Drip Marketing to Another Level
Drip marketing sequences are a great way to ensure you leverage the power of automation to free up your business's time on attending to repetitive and automatable communication.
Moreover, they are proven to convert better than standalone one-off or broadcast mailing. As such, they apply as much to a realtor and real estate as they do to a professional from the fashion industry. And as such, a drip email marketing campaign should be an essential part of a successful email marketing strategy.
Also read: Email Sequence Examples with 8 Real Cases