What is drip marketing? Why do we need drip marketing? What are some great examples of businesses that have used drip marketing effectively? You'll get answers to these questions and more in this write-up!
Sticking to its simplest definition, marketing is basically communication. Sometimes with interested prospects and at other times with paying customers.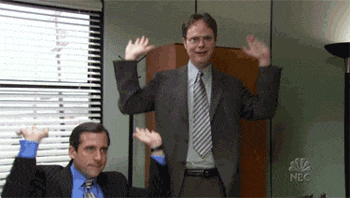 Drip marketing is a form of marketing where communication is sent to prospects via automated emails over predefined time intervals.
For example, when someone subscribes to your email newsletter, you should send them an automated welcome email immediately upon signing up. Then one more email after a couple of days that could showcase your blog's top-rated content.
While drip marketing could also involve a combination of emails, social media, and paid advertising tactics (LinkedIn & Facebook ads as part of the sequence), generally, it is synonymous with email marketing.
What is Drip Marketing?
The term "drip" comes from a form of irrigation called drip irrigation, where crops are nurtured by feeding them the right amount of water over pre-determined intervals using 100% automation.
Similarly, prospects are fed "relevant drips" of information based on where they are right now and what they are actually looking for.
The idea is that over some time, this steady "drip" of information will allow the prospects to gentle slide inside your marketing funnel. Later on, move from one touchpoint to another, and eventually end up becoming paying customers.
Why is Drip Marketing Important? Benefits of Drip Campaign Marketing
Sometimes also called an autoresponder or automated sequence, drip email marketing has several benefits needed to be mentioned. 
Leverages the power of email automation to save time and money, besides avoiding the cost of dedicated human resources.
It helps deeply nurture and highly engage prospects moving them ever-so-gently inside your marketing funnel from touchpoint to touchpoint.
It helps your brand stay top-of-mind in the prospect's head.
Builds rock-solid brand credibility and authority, resulting in higher conversions, sales, and revenue.
Identity, engage and convert high-value prospects and avoid losing them to leakage.
Low-cost, high ROI marketing strategy
Prevent revenue leakage running renewals, abandoned cart automation campaigns, etc.
Reduces marketer's manual input
Drip marketing is simply sharing the right information with the prospect at the right time to maximize the chances of them choosing your product or service.
And it works because it is highly personalized and super relevant.
E.g., you may want someone who has just signed up for your FREE newsletter from your blog page to go through a 3 or 5 part welcome sequence before showing them an offer.
While on the other, someone sharing their email address on a popup form on your website's Pricing page may be ready to buy, so maybe you want to show them your best discount yet!
Not everyone is ready to buy immediately. Moreover, prospects interested in your business are at different stages in their buying journey. So you will end up talking to these prospects in different and often very personalized ways.
Email Drip Campaign Examples
Different types of drip campaigns are possible based on how the automation sequence is triggered. Let's review two of them, shall we?
1. Date-based Email Drip Campaign Automations
Date-based automation lets you reach out to your audience on the important days to them. For example, a particular date triggers sending the email (or sequence). A couple of examples you can find below.
Birthday Based Trigger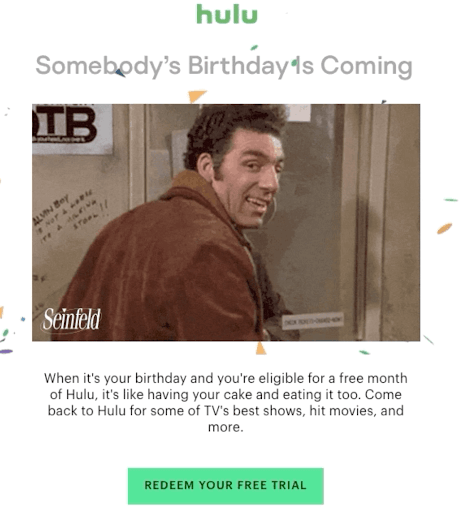 Consider this fantastic birthday wishes email from the online streaming service provider, Hulu. The inclusion of a Seinfeld meme keeps things light and fun, while the Call to Action (CTA) holds itself prominent and clickable.
Works equally well for anniversaries and festive greetings.
Subscription Renewal Trigger
A drip campaign is a great way to let your audience know when their subscriptions are about to expire if your business offers subscription-based products. It would be best if you reminded them how they've benefited from your services and the value you provide.
In other words, this is an automation that will fire when the chosen user nears his subscription or membership expiry date.
Check out the below example of YouTube getting it right with a strong FOMO approach (Fear Of Missing Out). Here the user is being painfully reminded that everything he's enjoyed so far will be taken away if he doesn't renew the subscription.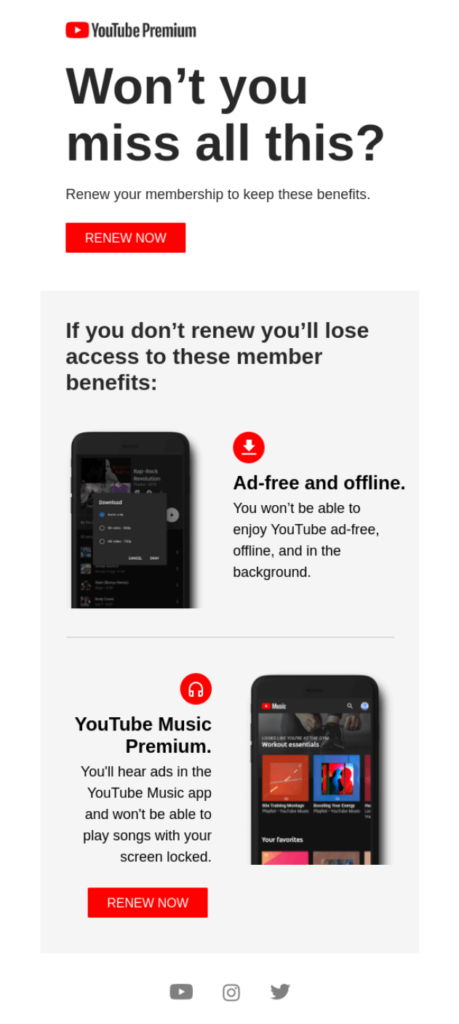 This email exploits the classical cognitive bias of loss aversion, where for individuals, the pain of losing something is psychologically twice as powerful as the pleasure of gaining.
In other words, it is better not to lose $100 than to find $100. And we think it's a highly effective use of that principle here in this case.
2. User Behavior-Based Email Drip Automations
This type of drip automation fires based upon user actions. Check out some live examples below.
Welcome Email Nurture Campaign
Let's look at how Truebill, a finance app that helps you track subscriptions and manage your spending overall, gets it right.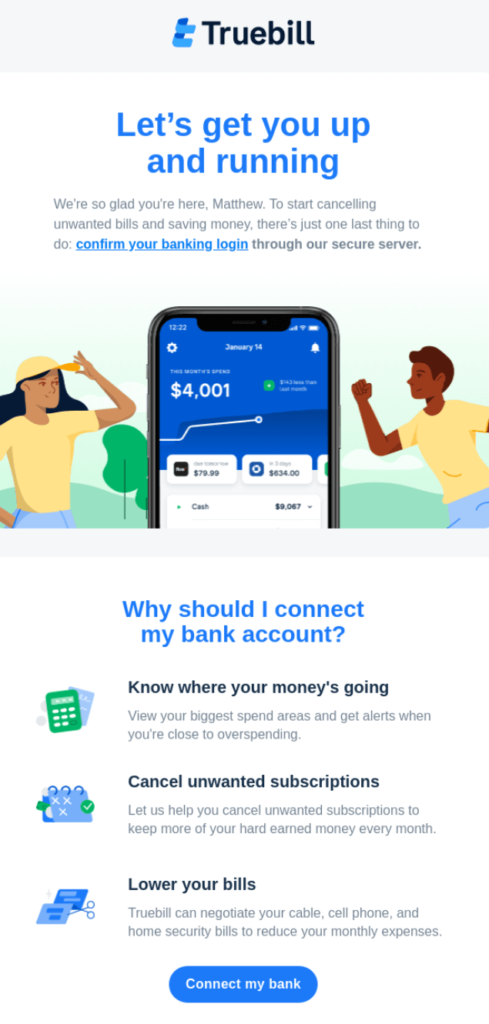 As you can see, the email design is based on their brand color palette, which enhances the brand impression. Blue is also a color of trust, which again works in their favor.
The personalization by the first name stands out. So does the hyperlink indicate the next course of action? Yes! In other words, this welcome email is everything a welcome email should be.
Also read: Behavioral Segmentation Definition & Examples
Product Upsell Email Automation
An upsell involves getting a customer to spend more by offering an upgraded or premium version of what's being purchased.
But it could equally be a definition of gently nudging a newly registered FREE user towards paying for the product. Like a writing tool, Grammarly does here.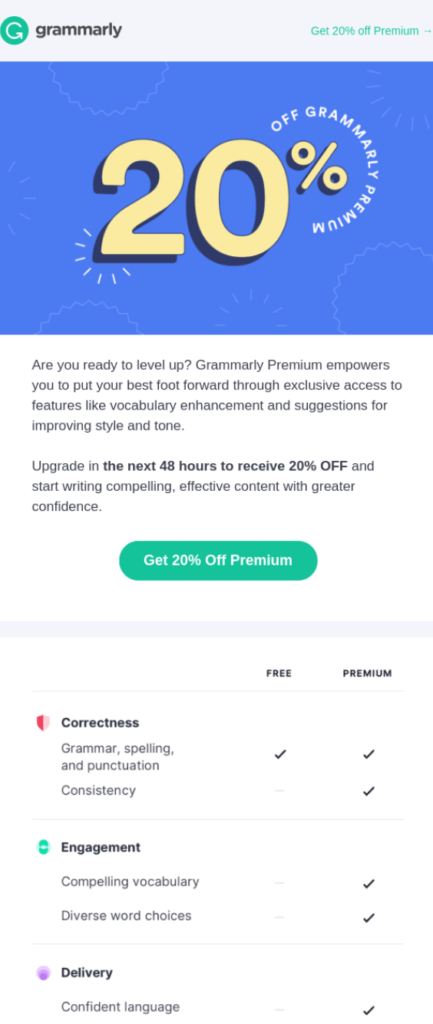 The FREE version of Grammarly is pretty much sufficient for light to medium users. So Grammarly probably needs to assert itself through a great offer.
So, we love the copy that outlines what Premium users can expect to get while maintaining urgency with a cut-off period of 48 hours to avail of this exclusive offer.
Also read: Best Upselling Techniques (6 Tips with Examples)
Drip eCommerce Abandoned Cart Email
If you are an eCommerce business, you will agree hand-on-heart that cart abandonment is a significant worry. Users put an item in their cart with the full intention of paying for it, and then all of a sudden, life happens.
With an automated drip campaign, you can remind these customers and gentle goad them back to the checkout.

Pulp & Press, an online cold-pressed juices retailer, gets it spot-on with excellent product photography that makes you desire it even more.
The copy is minimal yet makes its point. It shows that a cart abandonment email can really be as simple as this and yet convert well.
Also read: 17 Abandoned Cart Emails To Get Shoppers Back
Drip Campaign for Real Estate
To get people to buy from you, you need to give them reasons to value you. Therefore, helping potential buyers during their examination phase is crucial for getting a hot lead.
Deliver them periodic emails about the latest trends in the industry, etc.

How to Set up a Drip SMS & Email Campaign Automation
Setting up a drip campaign is more about strategy than just the perfect email marketing tool.
Generally accepted best practices follow below seven steps to set up automated drip campaigns that deliver value to your subscribers and conversions to your business.
Step 1: Layout your Target audience. Whom are you selling to? What do they know about the problem you will ultimately help them solve? What do they know about your business and brand?
Step 2: Segment your Target audience based on their motivation to convert. (Conversion, of course, would be based on the campaign's goal in step 3 below). While there will likely be some degree of overlap in how you communicate with all of your audiences, getting as tailored and specific as possible with each audience you're talking to give you the highest ROI.
Step 3: Figure out your campaign goals. For example, do you want the prospects to sign up for a FREE trial of your SaaS software, or would you like to get them to purchase a full-blown version?
Step 4: Choose your Trigger. Will the sequence be triggered by a date (birthday, anniversary, renewal, etc.) or self-user action (upsell, recommendations, abandoned cart, abandoned checkout, etc.)?

Step 5: Create your drip sequence for email or SMS messages. These should be consistent with set expectations and should be a series of emails that lead the customer through the promised experience. Ideally closer to checkout. Again, the messaging should be kept simple, while the content can be educational, entertaining, or both.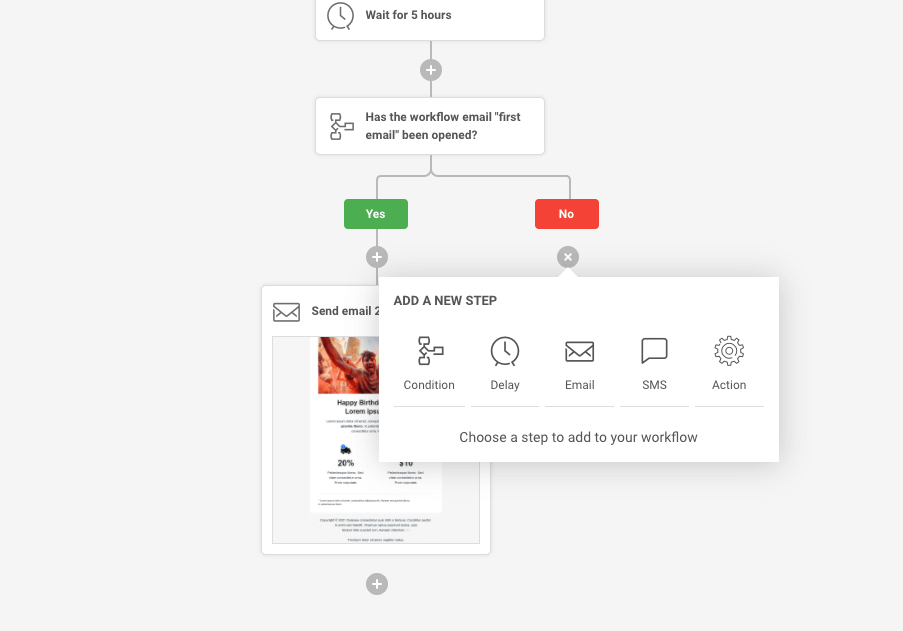 Step 6: Measure & analyze the performance of your drip sequence in terms of open rates, click-through rates, and click-to-open rates. Reporting can be such an eye-opener.
Step 7: Update your drip sequence based on A/B testing of send times, CTA, copy, design, and just the overall performance.
Drip Campaign Flowchart Example
Drip campaigns are usually created using specific scenarios in mind. This is because emails can vary depending on an individual's recent actions – or inaction, as the case may be. For example, if the recipient did not open the newsletter, you can continue sending a modified version or continue with an SMS message.
That's a great example of the possibility and what to expect when starting to work on a particular scenario.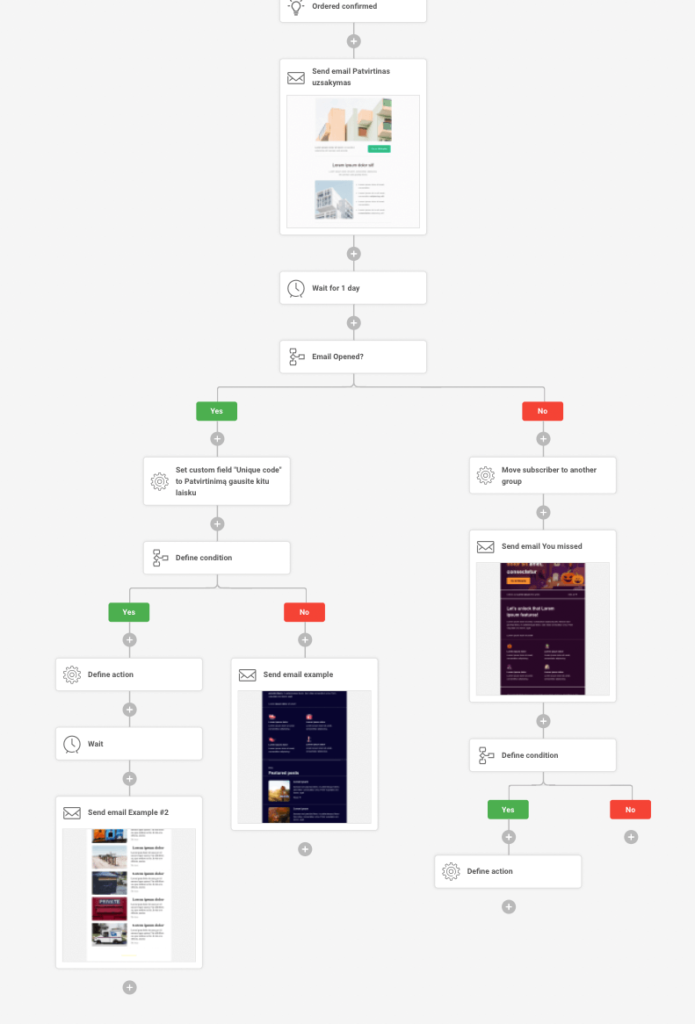 Most Refined Drip Marketing Software
Where most are forever on the lookout for the best email marketing tool to help them craft winning drip marketing campaigns. You should be looking at what's the best for you and your business.
Some of the factors that users generally find non-negotiable when choosing an email marketing tool include:
Ease of setup and simplicity of regular use.
Ability to support complex workflows and automation for higher conversions.
Support for high-converting popups so they can grow their lists.
High-quality deliverability of emails—so their emails see more inbox heaven.
Great real-time support when they need it, where they need it (often when stuck inside the dashboard while configuring something that has now gone belly up)
Automation accessibility – some providers keep automation tools inaccessible for cheaper subscription users. 
Complete synergy of email + SMS marketing channels
What if you have a tool that finally does all of the above and also gives you the superpowers to compose and send SMS marketing campaigns inside the same interface, and that too at highly affordable pricing?
Try out Sender's FREE FOREVER plan that allows you to send up to 15,000 emails a month to up to 2,500 contacts. Sender equips you with the best possible starter pack, granting access to every top-tier feature, including marketing automation. Free registration, no strings attached.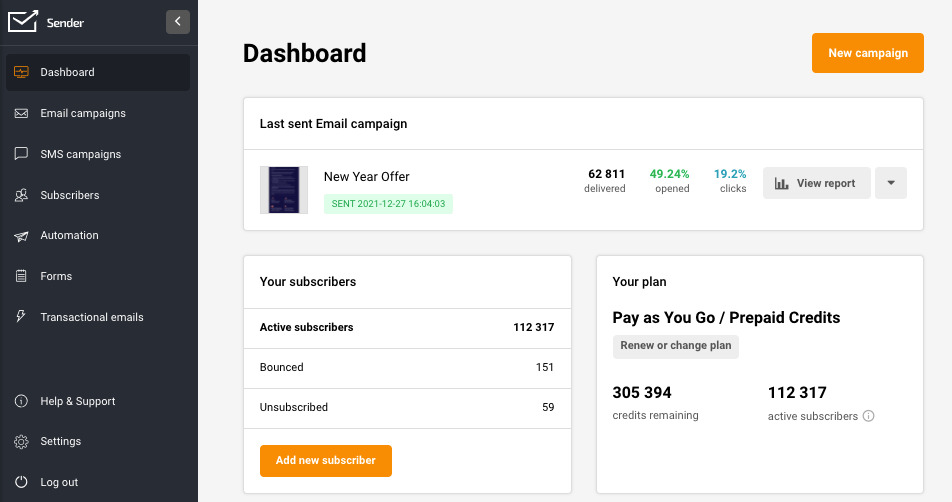 Drive Drip Marketing to the Another Level
Drip marketing sequences are a great way to ensure you leverage the power of automation to free up your business's time on attending to repetitive and automatable communication.
Moreover, they are proven to convert better than standalone one-off or broadcast mailing. As such, they apply as much to a realtor and real estate as they do to a professional from the fashion industry. And as such, a drip email marketing campaign should be an essential part of a successful email marketing strategy.
Also read: Email Sequence Examples with 8 Real Cases
---
Content contributor – Santosh Balakrishnan
Like what you read?
Apply it in practice with Sender.net - the most cost-effective email marketing solution in the market.
Try Sender for free