Employ your powerful emails
Increase sales and engagement by sending your well-designed emails with Sender.
Get Started For Free
Customer onboarding plays a vital role in building strong customer relationships. Welcome emails are a vital part of the onboarding process.
A welcome email is the first impression you make. You must strike a good chord with your new customers. Hence welcome emails must be carefully crafted with your goals in mind.
This post will help you explore interesting ways to engage and delight your audience with your welcome email. You'll also find examples of successful businesses that have mastered the art of sending engaging welcome emails. So, let's get started.
What is a Welcome Email?
A welcome email is the first email you send to new subscribers, customers, employees, or anyone after they've signed up for your email list. The purpose of a welcome email is to make the recipient feel welcomed and valued and to provide them with information and resources to help them get started or share the next steps.
Welcome emails are a vital part of any customer or user onboarding process. It helps sow the seeds of a long-term relationship, establish a personal connection with the recipient, and set the stage for future communication and engagement.
Welcome emails are typically sent automatically and are often triggered by a specific event, like signing up for a newsletter or making a purchase.
5 Reasons to Send Welcome Emails
Welcome emails are like a cheerful reception greeting you receive without expecting. Naturally, they make anyone smile and feel special. Don't you want to start a relationship with your prospects on a happy note? Here are five reasons to send welcome emails to your subscribers:
Make subscribers feel important. Welcome emails make your subscribers feel comfortable, valued, and important. They're likely to remember you for the sweet gesture of sending a personal welcome note, thanking them for their time, or sharing a special offer;
Great way to introduce your brand. Everyone has a preconceived notion about your brand or business. A welcome email helps set the right tone and expectation by introducing your brand in your own words;
Nurture & guide leads. Guide your leads and potential customers by telling them what to do next. It can be an action like checking out the latest offers, claiming a free offer, or asking them to refer the brand to their friend. This gives you a chance to move them further into the buyer's funnel;
Build long-term relationships. Welcome emails create a solid first impression and boost brand recall. This helps to start a relationship on the right foot, an essential element to building a long-term relationship;
Boost sales revenue and conversions. Adding special offers and deals to your welcome emails can boost conversion rates and turn new subscribers into paid customers.
For a successful and efficient welcome email to reach your target audience, you must use email and/or SMS marketing automation so you can set up action-triggered sequences. Look how easy it is: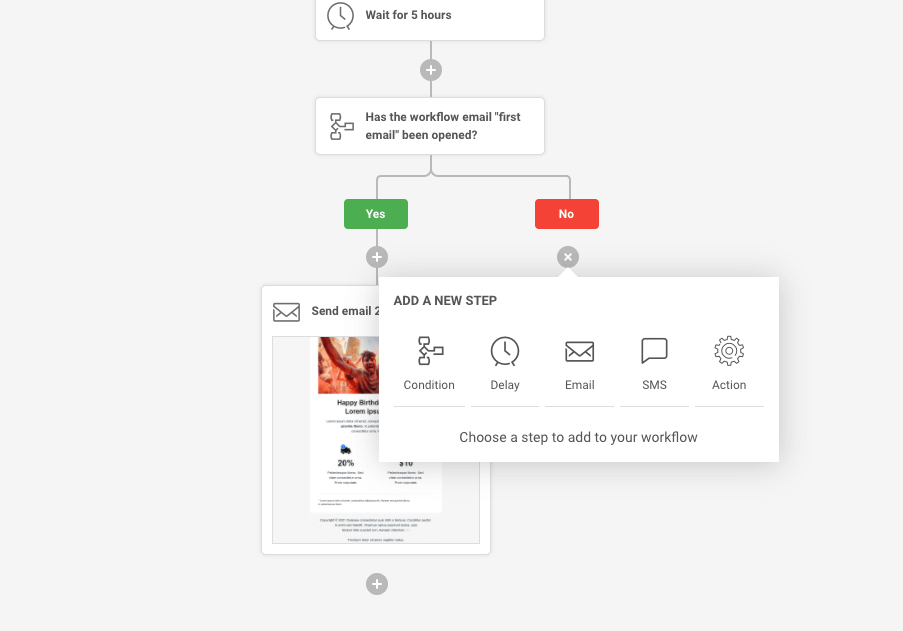 Types of Welcome Emails
Welcome emails come in all forms. You can send a welcome email to greet your new subscribers, thank them, send them an offer, or share the next steps. Here are the four most popular types of welcome emails you can start using:
Hello emails: These are simple welcome messages that introduce the sender and the company to the recipient. These emails are typically used to establish a personal connection with the recipient and set the tone for future communication.
Get-started emails: Get-started emails are welcome messages that provide recipients with information and resources to help them get started with a product or service. These emails are designed to onboard a new user and typically include steps to take, links to helpful resources, and contact information for support.
Offer emails: They include a special offer or promotion for the recipient. These emails are often used to share the promised resource, offer, or incentivize the recipient to take a specific action on the website — such as making a purchase, signing up for the newsletter, etc.
Thank you emails: Thank you emails express gratitude for choosing a product or service. These emails often thank the recipient and encourage them to continue exploring or using the product or service.
Components of Welcome Emails
Welcome emails are designed to delight, surprise, and amaze a new subscriber. You must consider designing the perfect welcome email for all your subscribers and every email campaign you plan. Here, take a look at a welcome email example with unique components: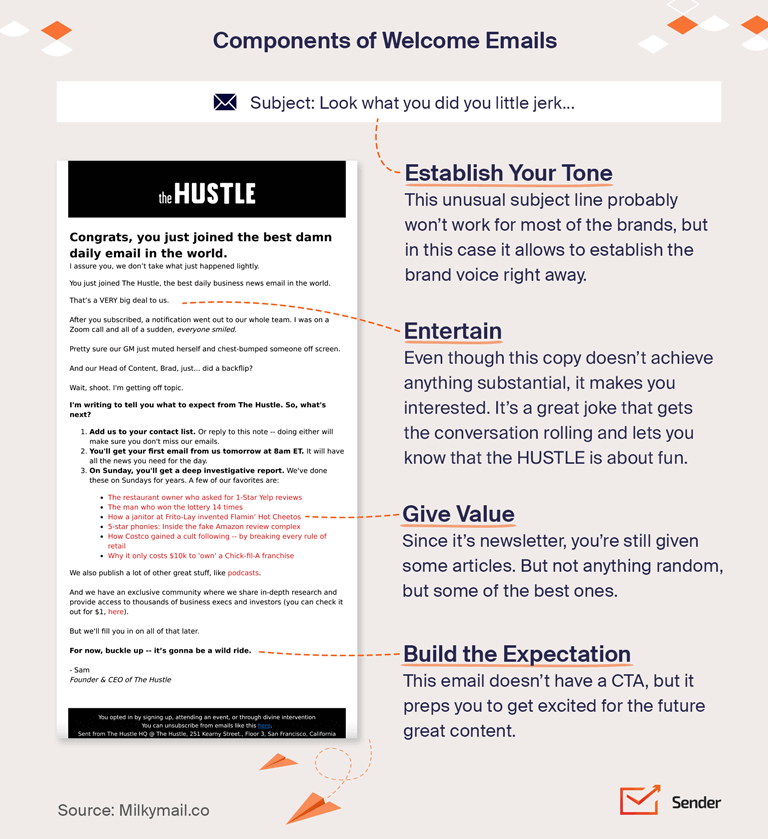 If you look carefully, you'll find the following components within a welcome email:
Subject line: Make it enticing and click-worthy, which grabs attention immediately.
Email preheader: Make it informative because it's the first line of text in your email, displayed in the preview snippet before the message is open
Opening paragraph: Thank, appreciate, and congratulate the subscriber. Remember to make it short and sweet.
Body of the email: Keep it to the point. Your body should include information about you, benefits to the reader, any offer/deal, and what they should expect.
That's not it. You should take care of many different aspects around the core elements. Here are a few best practices for building the perfect welcome email:
Always add a personalized greeting: Email personalization helps to establish a personal connection with the recipient and makes the email more relevant and engaging.
Craft a clear subject line: A clear, descriptive subject line helps to grab the recipient's attention and give them an idea of what the email is about.
Write with a clear purpose: An excellent welcome email should have a clear purpose, such as introducing the sender or the company, providing information or resources to help the recipient get started, or offering a special promotion or incentive.
A single call to action: A call to action (CTA) is a specific action you want the recipient to take after reading the email. A good welcome email should include a clear and compelling CTA to encourage the recipient to take the next step.
Sense of gratitude: Expressing gratitude to the recipient for choosing your product or service helps to build rapport and foster a positive relationship.
17 Examples of Standout Welcome Emails
If you're excited to create your first welcome email and are looking for welcome email design inspiration, here are a few great welcome email examples from different industries, including B2B, ecommerce, logistics, SaaS, and more.
Take a peek around and start taking notes on how you want to create your first welcome email:
1. Lyft – How it Works Email to New Customers
Type of Welcome Email: Get Started Welcome Email
The following email by Lyft perfectly aligns with its product design and is an excellent welcome email example.
Subject line: Welcome to Lyft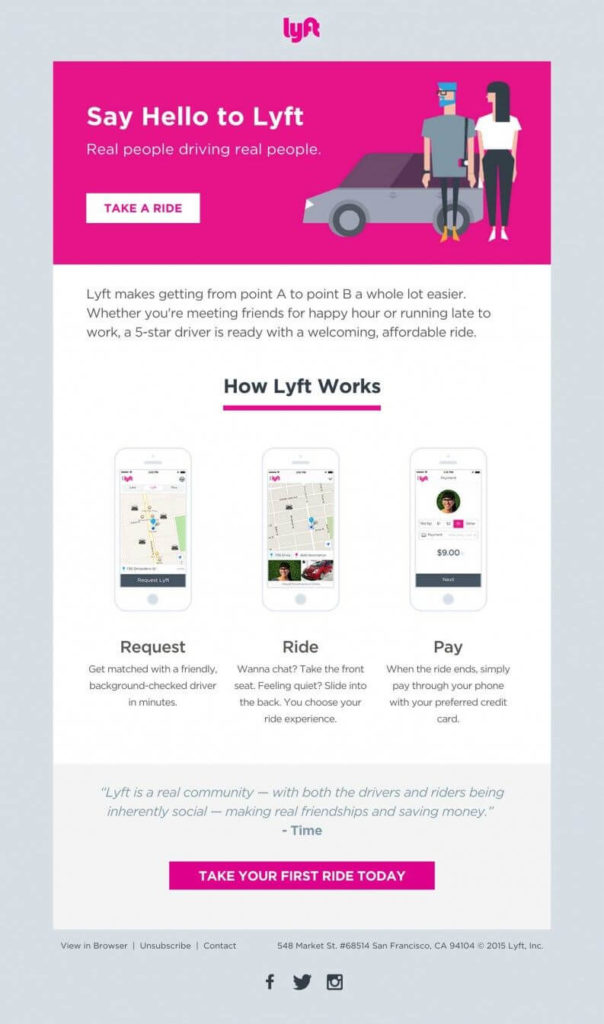 The email starts with a clearly stated benefit that scores high on relatability with its target audience. "Request", "Ride", and "Pay" are short and clear headlines that help the customer understand how Lyft works and how easy it is to use Lyft.
Next comes social proof. Social proof can impact the minds of your customers in a way that builds trust with them. Finally comes the prominent CTA in a bright color. The CTA contrasts the whole layout and catches your attention instantly.
Key Takeaways
State the key benefits of your product. Use a crisp and clear copy that directs the customer on how to start using your products or services;
Include social proof to build trust through your welcome email to new clients;
Make your CTA button prominent and catchy.
2. Welcome to Airbnb Email – Before Starting
Type of Welcome email: Onboarding/Get Started Email
Airbnb's email is a perfect welcome email example that's both catchy and effective. The first line instantly catches your attention with the phrase "from houses and apartments to tree houses and igloos".
Subject line: Welcome to Airbnb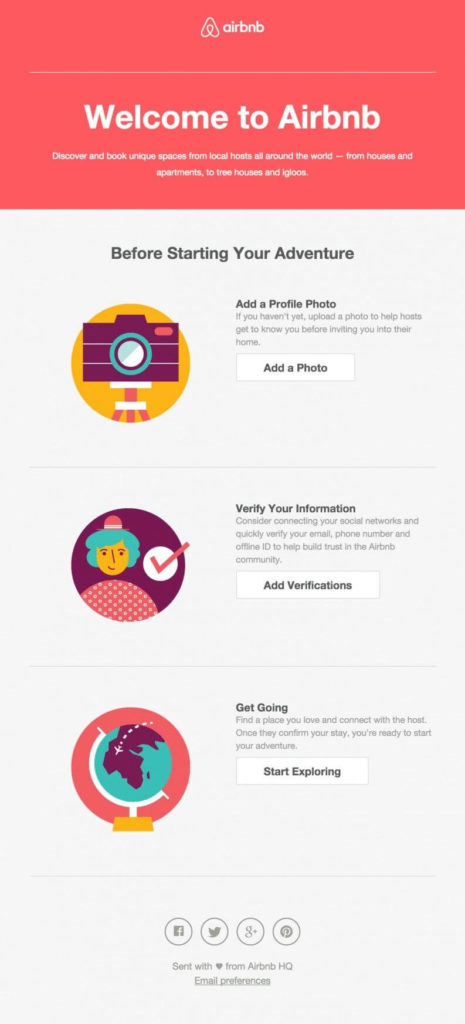 Airbnb mainly comprises audiences who are travel enthusiasts. Hence, this line perfectly speaks to their taste. Following this, the email lists a series of steps to take "Before Starting Your Adventure". Each step assists you in completing a task using a clear call to action button.
The last step catches your attention with a CTA that asks you to "Start Exploring". This is something that will urge Airbnb's new customers to complete all the steps and get started with the journey.
Key Takeaways
Start your email with a warm and friendly welcome message;
Thoroughly analyze what resonates with your ideal customer persona and use this in your email copy. This way, your email will instantly catch your customers' attention;.
State all the steps users need to follow quickly and precisely. Imagine if Airbnb's welcome email consisted of a tedious and long list of tasks to follow. Or consisted of huge walls of text! Most people will likely skip going through the email.
3. Welcome Email After Order Spotify Premium
Type of Welcome email: Thank You Email
Spotify's welcome email is the perfect example of something that makes customers proud. The email starts with a welcome message and a call to action button in a contrasting color to the email layout.
Subject line: Welcome to Spotify Premium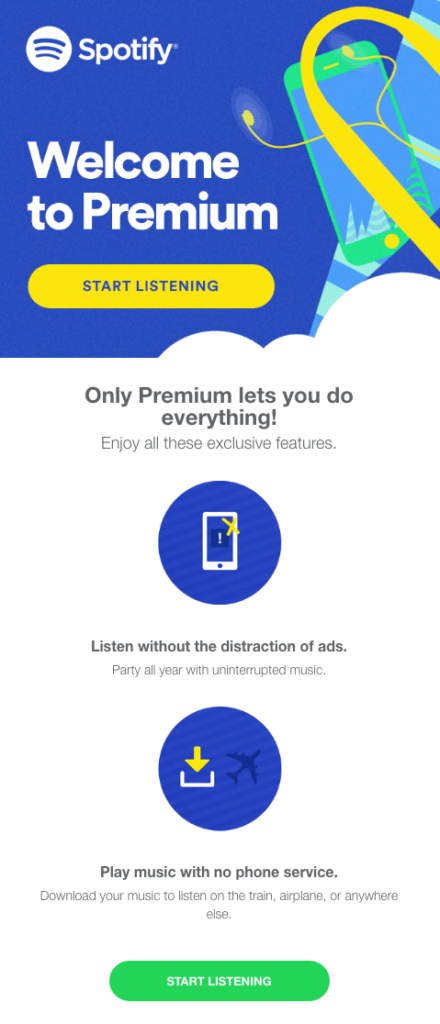 After this, Spotify lists all the excellent benefits customers get after becoming premium subscribers. It includes listening without distracting ads, playing music on the airplane, and enjoying HD sound – all super-appealing benefits for their target audience.
Such an email copy would work great for increasing your trial-to-paid conversions. Customers who have opted for the Spotify trial would still be half-minded about paying for their membership. But, by designing such a welcome email series, customers would understand the product's value and be pushed more towards paying for the Spotify subscription.
Key Takeaways
Always list down benefits rather than your features. For instance, instead of saying, "ads removed", Spotify says ", Listen without the distraction of ads". This messaging adds a lot of appeal and desirability to your product;
Convey the value you add to your customers through the welcome email. This should especially be effective when you offer a free trial for your product.
4. Dribble – Email Introduction to New Customer
Type of Welcome Email: Onboarding/ Get Started Email
The Dribble's welcome email is a super-fun and creative one. This makes sense because this welcome email is directed to all the creative designers who want to showcase their work on the platform.
Subject line: Start Brushing Up Your Portfolio Now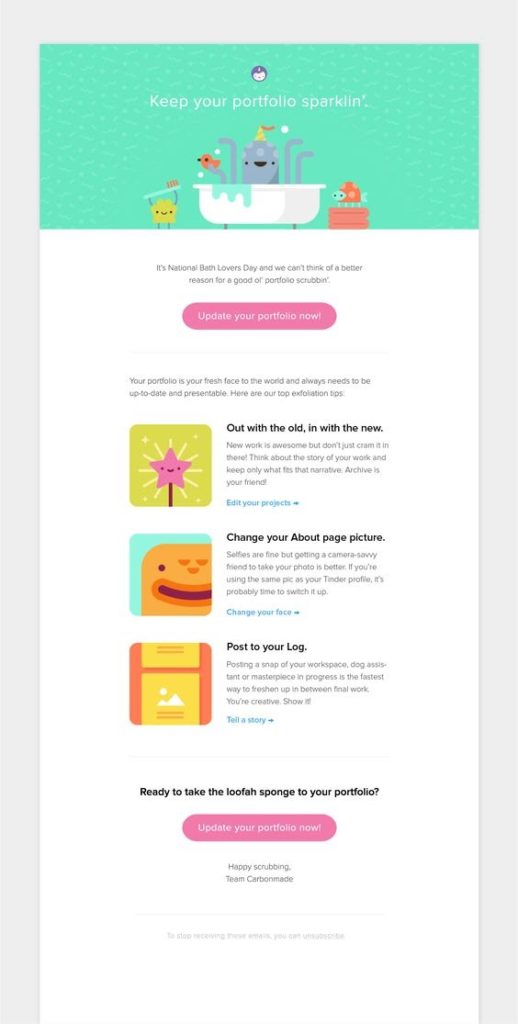 The email starts with a humorous message about "Bath lovers' day" and "portfolio scrubbing". Such messaging would intrigue any readers' interest. The whole email is based on this familiar theme, making it even more eye-catching.
Next comes the steps that users need to take to update their portfolios. The email copy directs its users to take action even while sounding interesting. Each step also consists of a call to action button.
The email ends with a bright pink CTA button which I'm sure users wouldn't dare to miss. The quirky graphics and illustrations are the best and stand out in a crowd of generic imagery.
Key Takeaways
Think about a quirky and creative hook for your welcome email, and stick to the hook throughout your email. You can add humor if it resonates with your brand voice, just like Dribble has done in this case.
Complement your welcome email with colorful and quirky illustrations that are hard to miss. Ensure that your illustrations or graphics match your hook or theme.
Use wordplay to sound way more interesting than you would otherwise do.
Lastly, try to resonate with your target audience. For example, in Dribble's welcome email, you can find millennial lingo relatable to their audience. You can see them talk about "Tinder profile" and "posting a snap", which are relevant to their younger audience.
5. Baboon – Welcome Email After First Purchase
Type of Welcome email: Hello Email
Baboon sells adventure and travel bags to young audiences and has a witty brand tone, evident from their tagline — "Baboon to the Moon".
Subject line: Hello & Welcome, Fellow Baboon!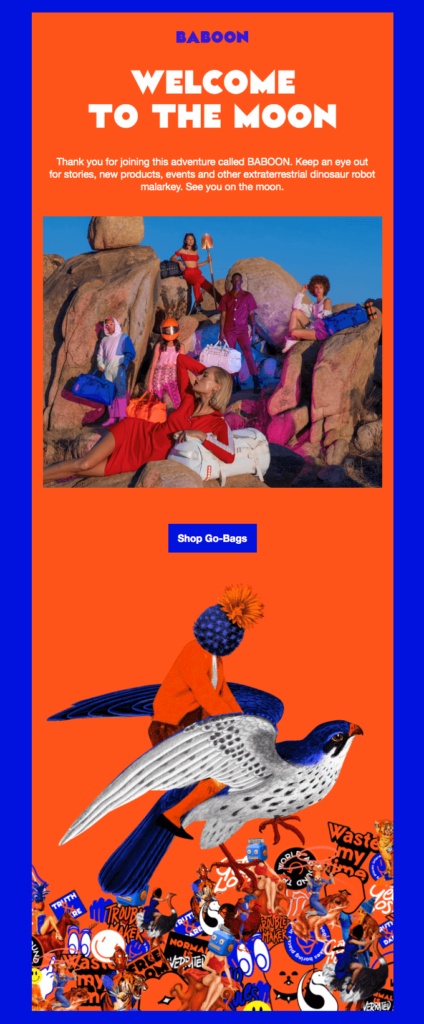 If you see their email content, they stick to the same communication by saying, "Welcome to the Moon". This excellent branding consistency and cohesive messaging display ultimately increase brand affinity. In the first few lines of the welcome email, Baboon talks about what customers should expect from them. They say "stories", "new products", etc. This will excite their customers, and they will look forward to receiving more emails from Baboon.
Next comes a cool picture that looks apt to their messaging. It shows adventurous people sitting on something that looks like the moon with Baboon's bags.
They end the welcome email with a catchy illustration followed by an attractive call to action button.
Key Takeaways
Have consistent brand messaging across all your marketing platforms, website, and emails. This will increase brand awareness, and customers will instantly recognize your brand's colors and messaging whenever they come across your brand;
Images speak louder than words. Hence, if you have a killer idea for an attention-grabbing image, use it to get your users' attention right from the first email;
Create hype about your next few emails by getting your readers excited about what fun content they can expect in your future emails.
6. Thank You for Subscribing Email by Climate Candy
Type of Welcome email: Thank You Email
Climate Candy sells plant-based assorted candy chews under the Faves brand. They are known for their quirky branding and copywriting.
Subject line: Thank You for Subscribing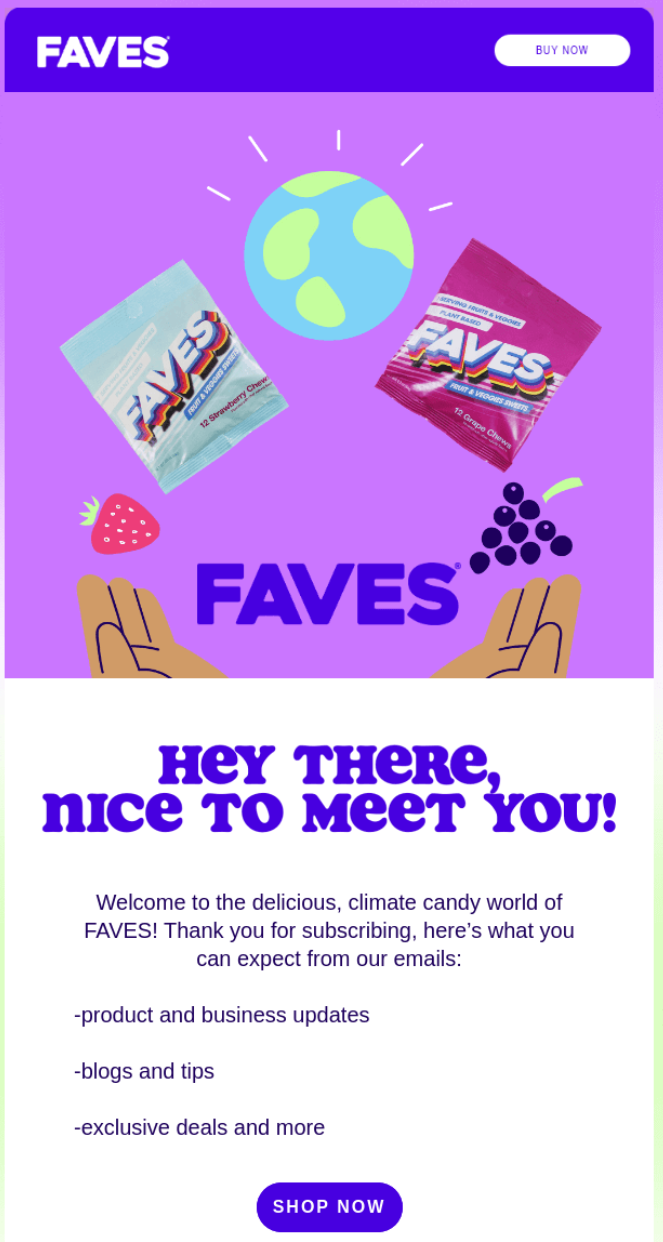 Their welcome email shouts out their brand tone loud. The simple intro text with what to expect and a clear CTA is an excellent way to show subscribers that they mean business. Plus, the banner liners below the CTA showcase the benefits, alluring someone to buy the product.
Key Takeaways
Stay on point with your brand tone, color, and guidelines;
Always showcase benefits in some fun and quirky way;
Remember to share what to expect after registration or signup for an email list or newsletter.
7. Welcome Email to New Employee by LiveAgent
Type of Welcome email: Employee onboarding/welcome email.
LiveAgent is a helpdesk software with a growing team that celebrates each employee by sending a personal note on day one. Have a look:
Subject line: Welcome to Live Agent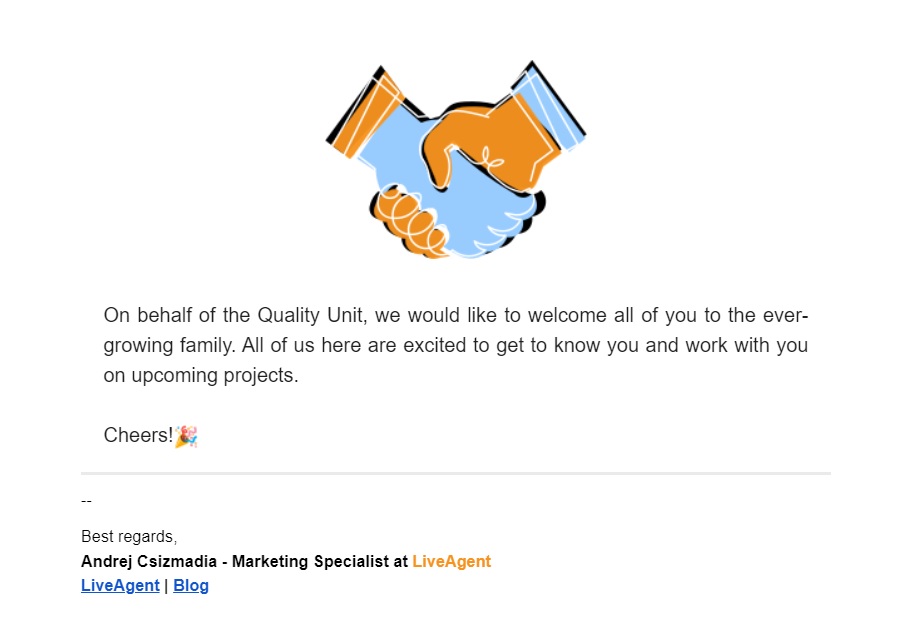 The simple email format feels like a personal note from the team lead/manager. The cute illustration plus the cheerful copy offers a great first impression for anyone joining the LiveAgent team. The company could have added a bit of personalization to this email, though.
Key Takeaways
Keep it short and crisp;
Never forget to personalize your onboarding email;
Share the email as a personal note from a human — from the team lead, manager, or HR.
8. Onboarding Welcome Email by Slack
Type of Welcome email: Hello & Get Started Email
You're probably here on an 'off-time' from Slack. While the tool is already popular in the world of remote work, they've not forgotten to welcome and onboard new users.
Subject line: Welcome to Slack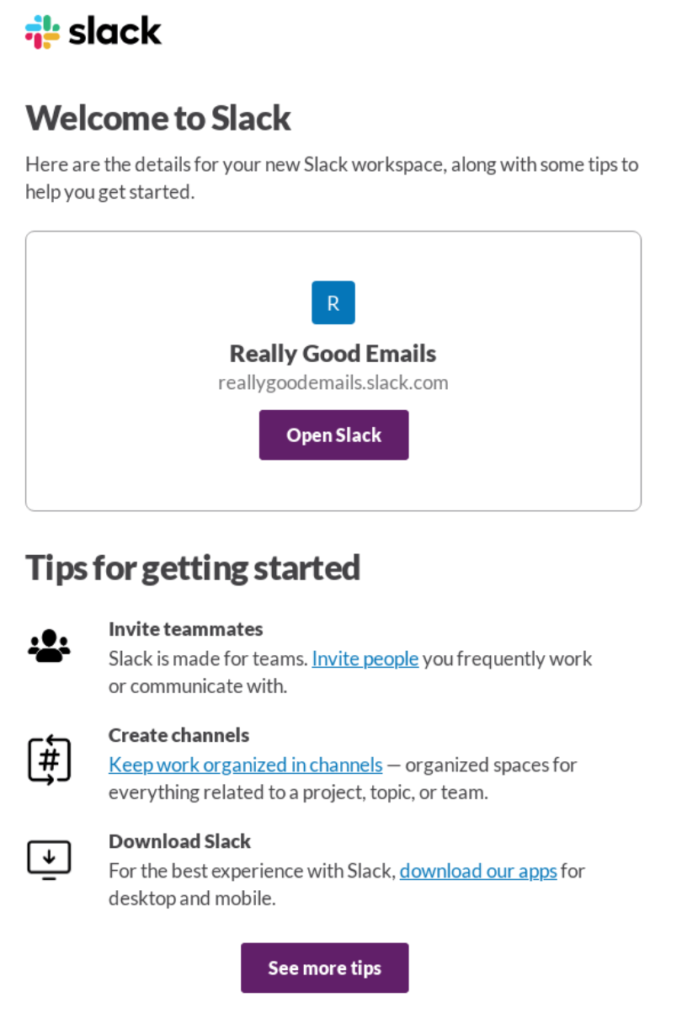 An email is a form of onboarding email with the next steps to get started. The clear layout, with lots of white space, highlighted tips, and a CTA button to find more information, is undoubtedly an engagement booster. They didn't forget to reassure and provide additional assistance by sharing a support email.
Key Takeaways
Never forget your new subscriber and share relevant tips as soon as possible;
Don't clutter the welcome email with lots of tips or steps. Instead, redirect them to a blog, help section, or landing page for more information;
Provide a way for them to reach out in case of more questions.
9. SaaS Welcome Email By Recurly
Type of Welcome email: Get Started Email
Recurly is a subscription billing platform with a solid welcome email template that any SaaS platform can replicate.
Subject line: Here's How to Get Started!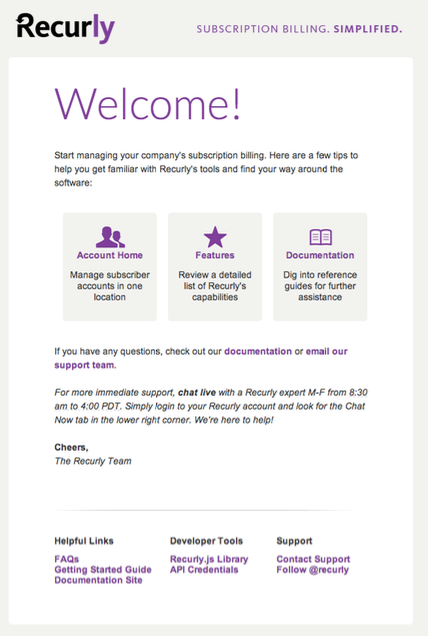 The email has every important link a new user needs neatly arranged in square design blocks. Plus, the additional support offered as documentation link + email/live chat info guarantees that the SaaS tool is always there to help. The email footer, too, is a helpful add-on for a new user.
Key Takeaways
Arrange important information in neatly designed layouts or design blocks;
Always add helpful links and resources to an onboarding welcome email;
Use the footer space wisely to provide additional support/useful links.
10. Ecommerce Welcome Email by Fulton
Type of Welcome email: Offer Welcome Email
Fulton is a D2C ecommerce brand with a really cool welcome email that would push many prospects directly into the sales funnel.
Subject line: Embrace the New Way. Details Inside!

The welcome email delivers a coupon code straightaway for new users to buy the product. The clever copy telling users about free shipping and returns (so their purchases are risk-free) is undoubtedly a conversion booster. The next section highlights the product's benefits and features and ends with a CTA (and a referral deal) that will surely hook the recipient.
Key Takeaways
Provide the promised deal, offer, or giveaway details in the first half of the welcome email (above the fold);
Use clever copy and contextual CTAs to improve conversion rates;
Always make your product the desirable hero in your eCommerce welcome email.
11. Welcome Newsletter by Newsette
Type of Email: Hello Welcome Email
Newsette is a new-get media company that delivers relevant news to its newsletter subscribers every morning.
Subject line: Congratulations & Welcome to The Newsette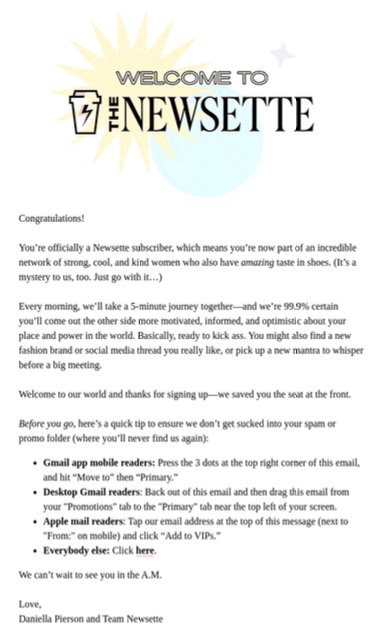 Their welcome email is an excellent example of how to introduce yourself in the first email. The plain text format feels like a personal note from the editor. Plus, the useful tip to ensure the reader doesn't miss any email is super important in a world of 'promotional' filters and GDPR.
All in all, the perfect welcome email for anyone running a newsletter.
Key Takeaways:
Never keep the reader wondering about what to expect next;
Always make your recipient feel special and loved;
Add useful tips or tricks to improve engagement (and ensure that you bypass inbox filters) by asking a favor directly from users. No need to move them around in circles.
12. Conversational Welcome Email by The Honest Company
Type of Email: Conversational email
The Honest Company sends a friendly welcome email that makes a subscriber feel at home.
Subject line: Welcome to the Honest Life 🦋

They've played well with the subject line and the email copy, as it really gives a sense of belonging and community. The first-person tone in the welcome email appears as if it's sent by a human to another. The subtle color tone, along with the product photo, is a cherry on top. The exclusive discount code in the welcome email would surely move the receiver further into the buyer's funnel.
Key Takeaways
Write a relatable and conversational copy in welcome emails;
Play with your subject line and make it intriguing (or aspirational);
Add contextual product placement photos;
Include an exclusive welcome offer or coupon code.
13. Minimalist Welcome Email by Moonpig
Type of Email: Greeting email
Moonpig has a simple welcome email that appears automated once anyone creates an account on their website. Still, it has a brand vibe to it.
Subject line: Welcome to Moonpig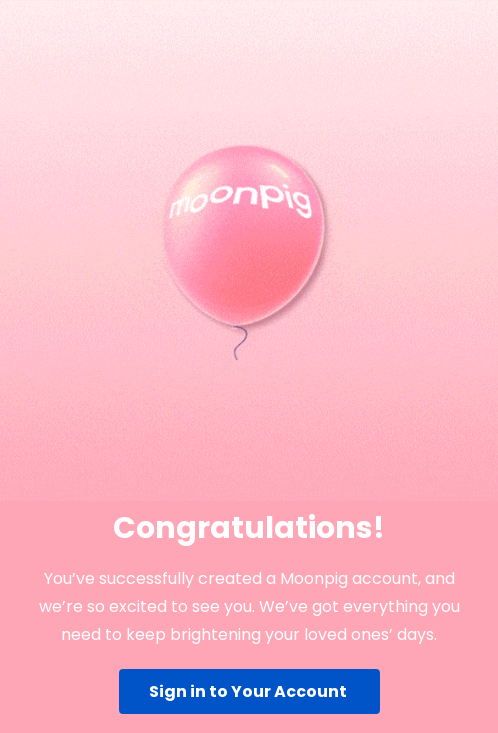 While the welcome email might appear generic to many, they've done one good thing — used the brand's color tone and kept it minimal. There's a simple welcome message along with the balloon as if they're celebrating, and don't forget the CTA button that prompts a user to sign in to their newly created account. Feels like a nudge in the right direction.
Key Takeaways
Play with your welcome email template and try multiple formats;
Add a contextual CTA that prompts a user to go to your website;
Keep the email copy simple and conversational;
Add design elements that suit your brand style and color tone to create a passive recall.
14. Simple Welcome Email by Micheal Kors
Type of Email: Hello welcome email
Micheal Kors keeps their welcome email simple, just like their design philosophy.
Subject line: Welcome to the World of Micheal Kors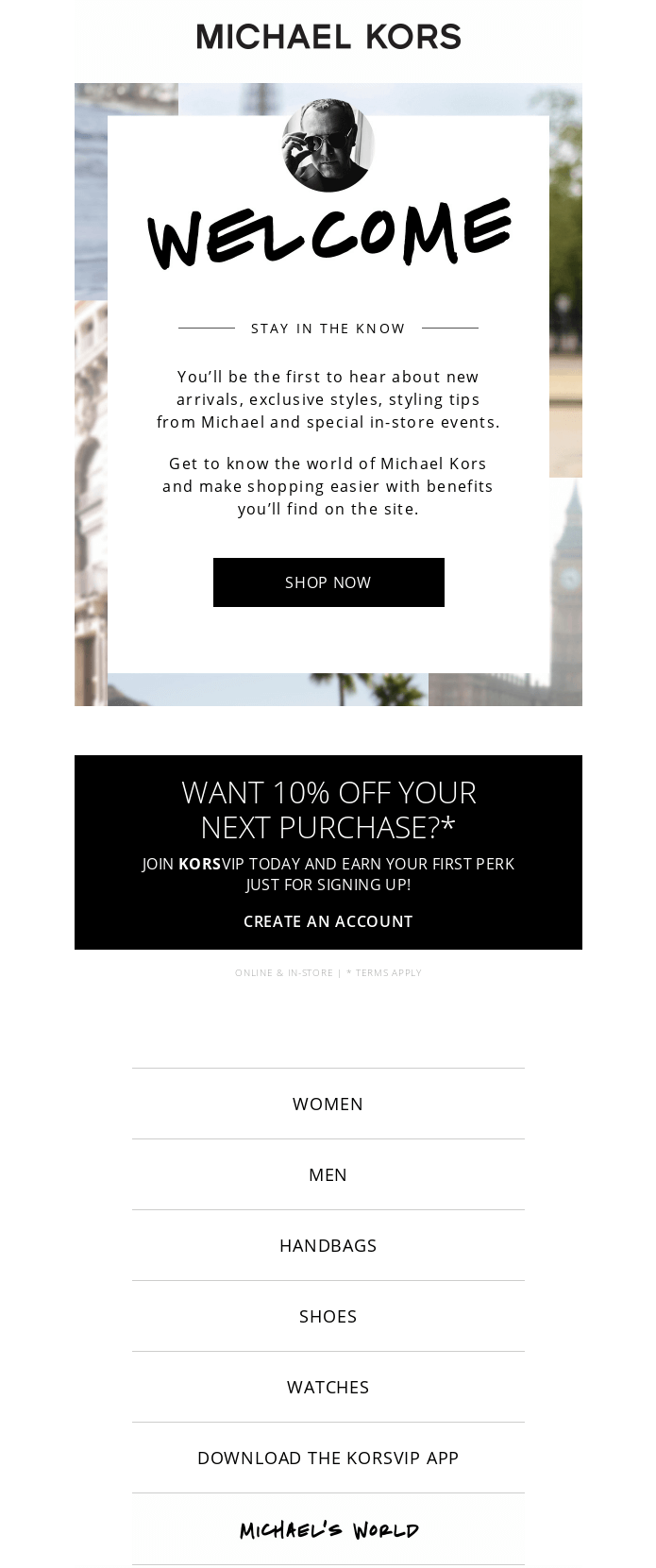 You'll be greeted with a welcome message. The profile picture at the top makes the email appear as if it comes from the founder's personal profile. The tone of the email copy has the right amount of 'excitement' without appearing too pushy. The final CTA promotes the VIP program and is an attention-grabbing tactic.
Key Takeaways
Don't overcomplicate the design or give too many elements in the welcome email;
Make the recipient feel like a VIP already by giving an exciting offer;
Appear helpful, friendly, and guiding in your welcome email copy;
Add a touch of personalization to your welcome email, which the email here missed.
15. Friendly Welcome Email by Aloha
Type of Email: Offer email
Aloha offers healthy snacks and uses its welcome email smartly to push new subscriber into trying their products.
Subject line: Welcome to Aloha!

The header section gives a personal coupon code straight away. The product images and 'Shop Now' button appear like an invitation to try the products. The next section is a letter to the reader that hooks them further into the brand's ethos.
The best part — the pitch doesn't end there. The final section has a logical social proof, something every new subscriber wants — an assurance that the product is good.
Overall, this great welcome email example creates organic interest in trying out the product.
Key Takeaways
Tease the new subscribers with relevant and contextual information about the product;
Add useful social proof like testimonials to reassure subscribers;
Add social proof if you're into an industry that works on trust factor.
16. Personal Story Welcome Email by Arhaus
Type of Email: Get-started welcome email
Storytelling and personal connection always work with online audiences. Arhaus has used its brand story quite well in the form of a personal letter for its welcome email.
Subject line: Make Yourself at Home

The email starts on a personal note by the co-founder, who shares how the company was started. The launch story instantly connects with a new subscriber who's just joined the company's list. Following the letter are the perks of being an 'insider'. The contextual CTAs in a contrasting color are eye-catchy.
Key Takeaways
Add a personal note to your welcome emails;
Keep CTAs in a contrasting shade;
Add information about the exclusive perks the subscriber will enjoy.
17. Peppy Welcome Email by Go-To Skin Care
Type of Email: Benefit-oriented welcome email
Go-To Gang has turned a static welcome email into a loud and peppy (yet aesthetic) banner that makes users want to know more and try the products.
Subject Line: Welcome to the Go-To Gang

Starting from the scrolling banner on the top, the email ropes in the recipient early on. A simple but colorful message with a welcoming and warm copy makes subscribers feel part of something special.
The hero element — a GIF based on brand colors, products, name, and the uses steals the show. Further, the brand explains the inner workings of the 'Gang', the perks and rewards of being a member, and also asks the subscribers to check out their website.
Key Takeaways
Add dynamic and moving elements to grab attention;
Be funky if your audience is young;
Keep your email copy's tone friendly and witty.
Best Welcome Series Email Examples
Got your fix of welcome email inspiration? If the above examples were not enough, let's look at some of the best onboarding email examples and welcome journey sequences. These welcome email examples are automatically triggered using a marketing automation tool based on a pre-decided scenario or flow.
Take the following example:
A user comes to your website, checks your product page, adds the product to the cart, and signs up for your newsletter but leaves without completing his purchase. In such a case, you can set up an automated cart abandonment scenario that gets triggered and sends an automatic email to such users.
You can send a multi-edition welcome series email that nurtures the user over a few days or weeks. But you might be thinking — how many emails will be used in a welcome series?
Well, the answer is — it depends. You can set up a 3-email series for a simple, one-time buy product and even plan an elaborate series spanning months after the person first visited your website if you're selling a high-ticket item.
Take the example of HeadSpace, a wellness company that promotes meditation as a way to reduce stress and live a happy life. The brand has designed a carefully thought welcome email series consisting of the following three individual messages:
1. Personalized Welcome Message to All Users
Every user who signs up on the app gets the following personalized welcome message: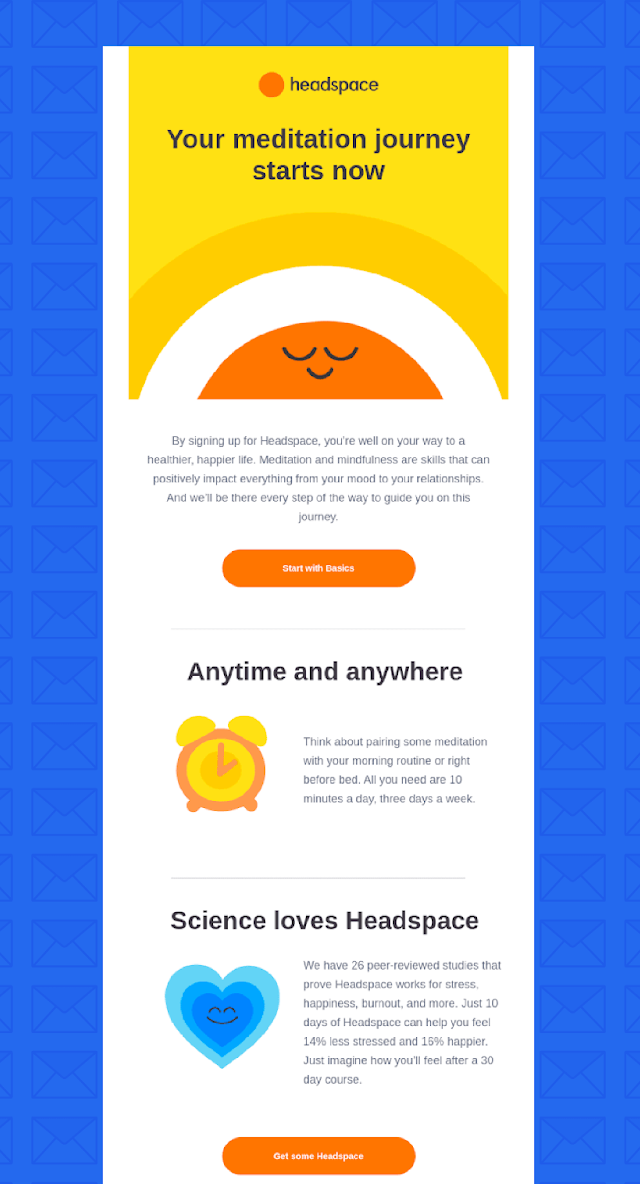 If you notice, the message has separate sections and CTA buttons. Headspace uses user action (time spent within the app, engagement with the emails, etc.) to categorize users into active users or inactive users. They use different email journeys and welcome series for the segmented user base.
2. Nurturing Active Users
Headspace's email sequence for active users is a great example on how to further engage the users. The welcome flow sequence shows users the next steps and shares how to build meditation as a daily habit (so that they keep on using the app).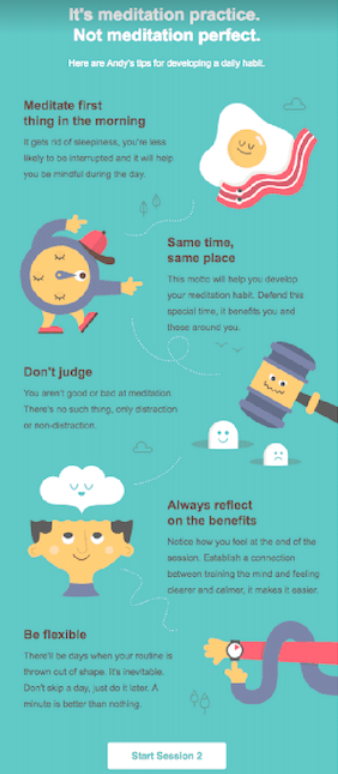 Further, the next email in the series is like a reward email that appreciates the users for trying the meditation app for 3 days in a row.
This email series is the perfect example of how you can nurture your users to engage them for a long time.
How to Send Welcome Emails?
When you use marketing automation software like Sender, creating and sending welcome emails is a breeze. Use the automation builder to send welcome emails on autopilot. Here's how:
Step 1: Sign up for Sender's Forever Free account .
Step 2: Open the Automation Section and Click on 'Create a New Workflow'.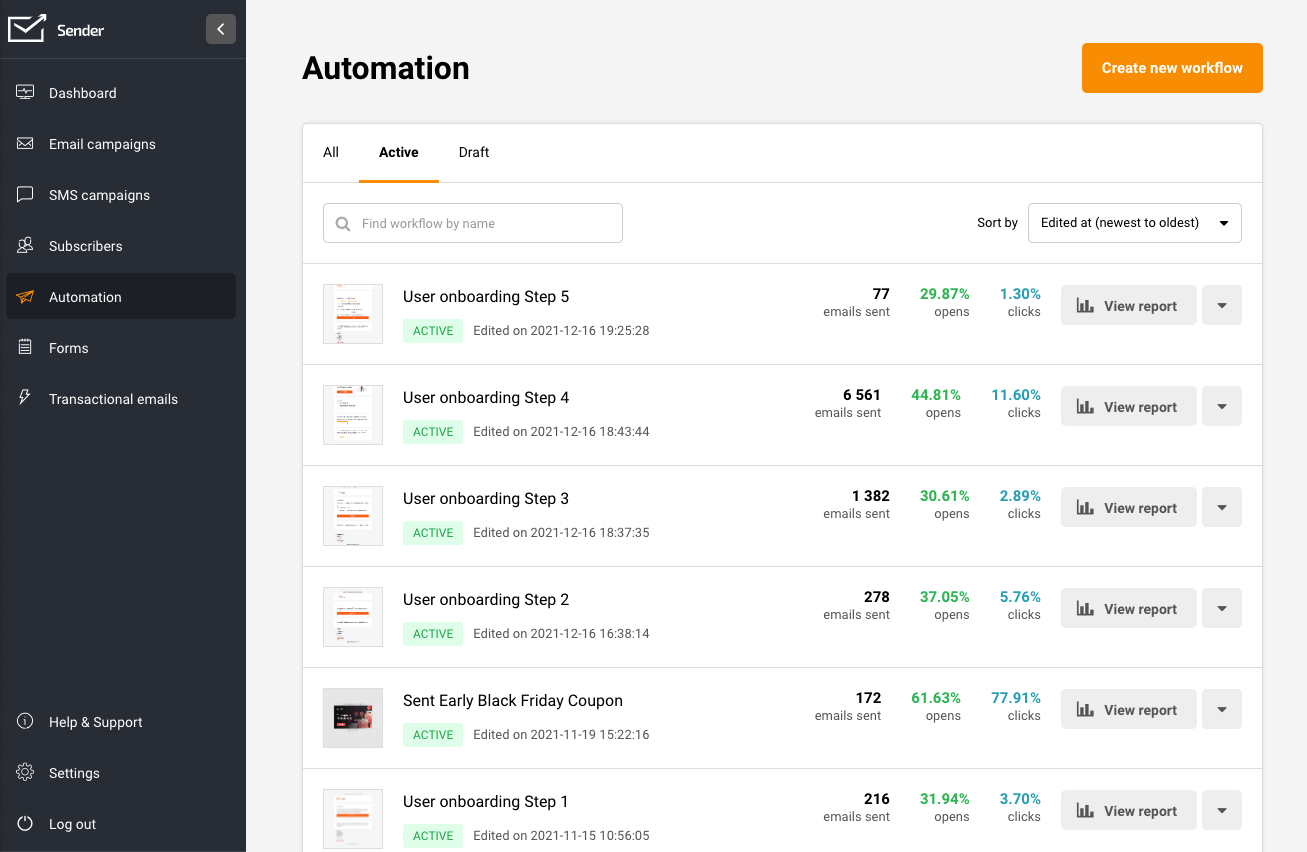 Step 3: Pick a trigger, which is a new 'Subscriber added to a group', in this case.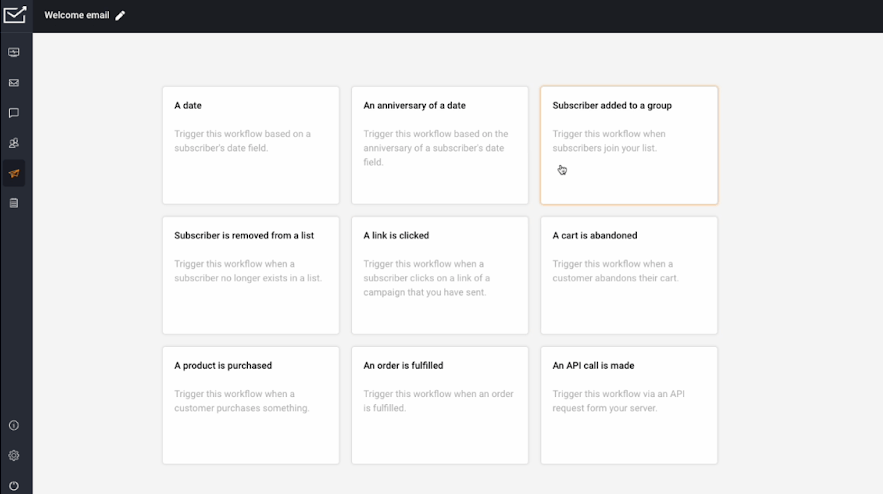 Step 4: Add a new email step to the automation builder.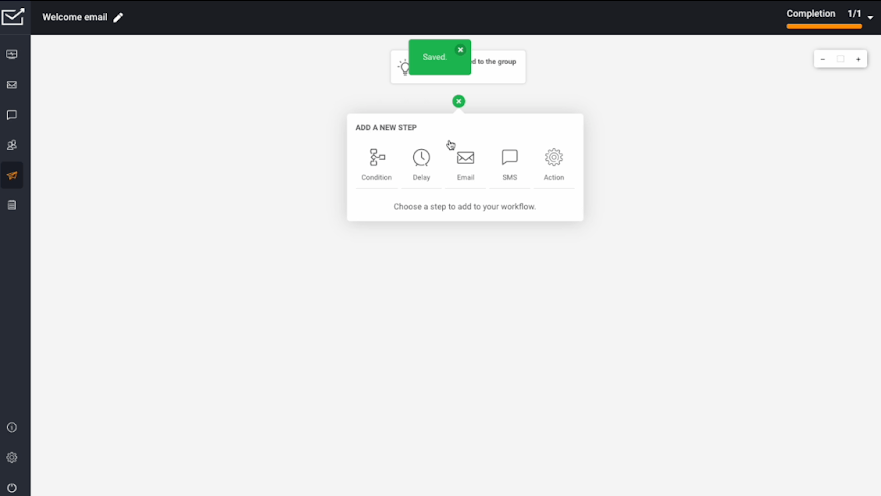 Step 5: Create and customize your welcome email copy and design.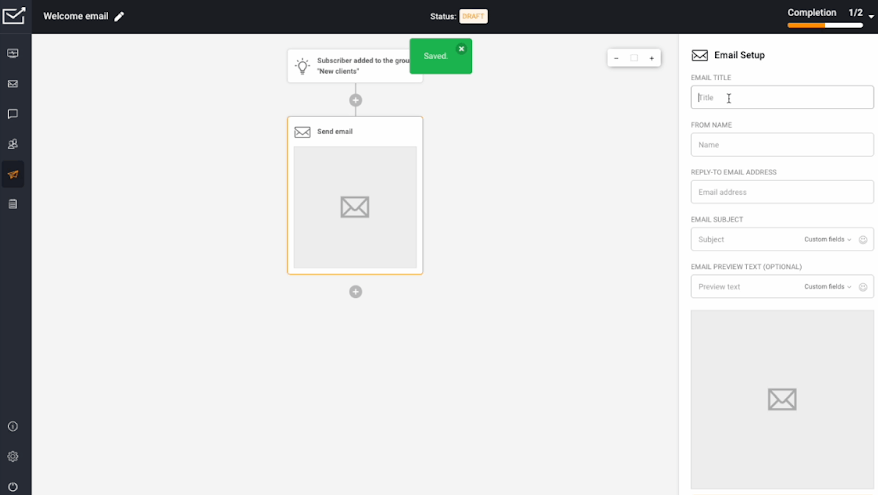 Step 5: Add smart automation to engage subscribers further, such as a follow-up email after your first welcome email.
Here's a quick walkthrough video of setting up a welcome email campaign using Sender:
5 Welcome Email Templates to Get Things Going
No worries if you're all charged up to approach your users, clients, or customers with welcome emails but need clarification about what to include in a welcome email.
We've got some great email templates, including welcome email text examples, that you can use immediately. Here are five readymade text templates to help you get started.
Hello Email Template
Subject: Hello from [company]!
Hi [name],

We are reaching out to say hello! We're [company], and we're excited to welcome you to our community.

If you have any questions or need assistance, don't hesitate to reach out. We're here to help.

Best regards,
[Your name]
Get Started Template
Subject: Get started with [product/service]
Hi [name],

Welcome to [product/service]! We're excited to have you on board and can't wait to help you get started.

To get the most out of [product/service], we recommend the following steps:

1. [Step 1]
2. [Step 2]
3. [Step 3]

If you have any questions or need assistance, don't hesitate to reach out. We're here to help you succeed with [product/service].

Best regards,
[Your Name]
Offer Email Template
Subject: [Product/service] special offer for new customers
Hi [name],

Welcome to [product/service]! As a special offer for new customers, we'd like to offer you [discount/promotion].

To take advantage of this offer, use the code [code] at checkout. This offer is only valid for a limited time, so don't miss out!

If you have any questions or need assistance, don't hesitate to reach out. We're here to help you get the most out of [product/service].

Best regards,
[Your name]
Thank You Email Template
Subject: Thank you for choosing [product/service]
Hi [name],

Thank you for choosing [product/service]! We're excited to have you on board and can't wait to help you get the most out of our platform.

If you have any questions or need assistance, don't hesitate to reach out. Our customer success team is here to help you succeed with [product/service].

Again, thank you for choosing us. We look forward to working with you.

Best regards,
[Your name]
Welcome Client Email Template
Subject: Welcome to [company]!
Hi [name],

Welcome to [company]! We're thrilled to have you as a client and can't wait to work with you.

To get started, we recommend [steps to get started]. If you have any questions or need assistance, don't hesitate to reach out. Our team is here to help you succeed.

Again, welcome aboard! We look forward to building a solid partnership with you.

Best regards,
[Your name]
Welcome Email: Key Takeaways
Welcome emails are crucial for the success of your email marketing strategy. While you're planning to create and send welcome emails to your new subscribers, remember to follow the best practices and make the most out of the early opportunity.
Write a welcome email in a warm and friendly tone and use intriguing email subject lines;
Don't forget to engage, surprise, and delight with a solid first impression;
Use marketing automation tools and customer segmentation to welcome a new prospect more efficiently;
Always schedule welcome emails for new subscribers, customers, signups, and onboarding users.
If you want to learn more about email marketing or get inspired by professional and creative email examples, take a look at these articles:
---
Author bio
Anmol Ratan Sachdeva is a content marketer and small business consultant who has a strong grip on topics like marketing automation, email marketing, and content marketing. He loves to write about building, improving, and growing a business.