Turn strategy into action
Don't leave your perfect strategy untapped. Unlock its potential with Sender and see your sales explode.
Get Started For Free
Email drip campaigns are a great way to engage with your audience. They allow marketers to automate processes and, therefore, achieve results quickly and effortlessly.
But what makes a good drip campaign? Are all of them made the same way? Not necessarily. For your drips to be successful, you should know when, how, and to whom to send them. 
Hungry for inspiration? Stay tuned, we'll provide 15 drip campaign examples for different occasions. Let's get started!
What is a Drip Campaign? 
A drip campaign is a sequence of automated emails triggered after the user completes a specific action. 
For example, when a user signs up for your marketing communication or product, you can send them a welcome drip campaign. Thank them and introduce the basic features of the product/service with the first email. With the second email, concentrate on distinguishing aspects of the product. And in the third email – wrap things up and motivate the user to act.
A drip campaign is like a robot assistant that works day and night. It responds to the trigger immediately and successfully executes the whole campaign within a pre-set time frame. So, drip campaigns help leverage the advantages of email marketing without requiring too much effort or resources.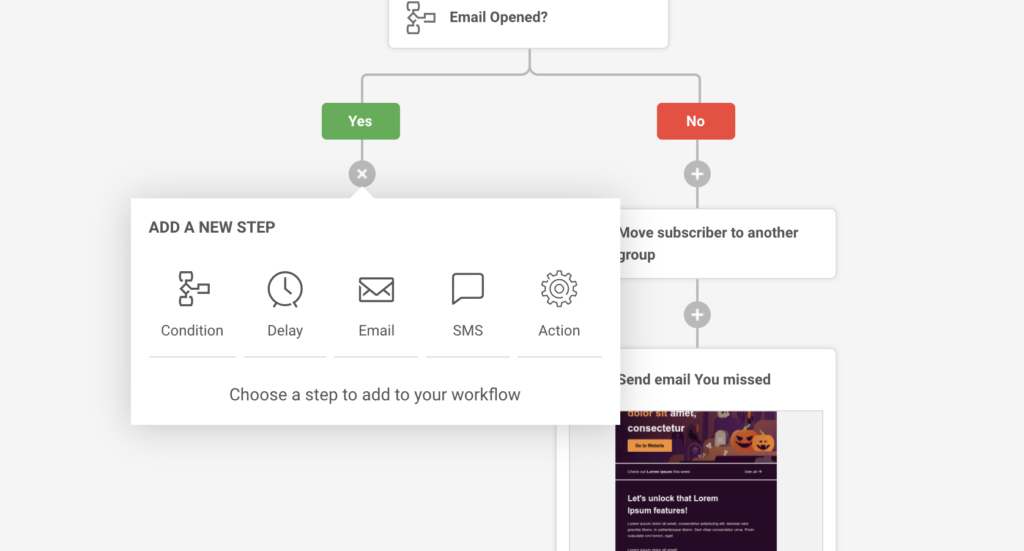 What Makes a Good Drip Campaign?
For an email drip campaign to be successful, it should have the following characteristics and components:
Carefully planned, moderate schedule. Sending dozens of emails the second a person signs up will tempt them to unsubscribe from your marketing communications. So, it's necessary to come up with a moderate schedule and set reasonable intervals between each sequence.
Email sequences tailored to the customer journey stages. The customer journey is the path your audience goes through while interacting with your brand. Consequently, every campaign, including drip marketing campaigns, should correspond with different stages of the customer journey.
Templates for all possible triggers. Since drip campaigns are automated, it's necessary to set possible triggers (sign-up, purchase, abandoned cart, etc.) depending on the peculiarities of your product or service. And to speed up the processes, you should have prepared templates for each trigger.
Clear subject lines. While subject lines should be catchy to attract the reader's attention, they should also be self-explanatory. So, you should try to come up with simple subject lines that inform the users about the content of the email.
Segmented audiences. Typically, audiences consist of various segments with different interests, goals, demographics, and backgrounds. You'll get more engagement and conversions by personalizing drip campaigns based on audience interests and needs.
Data-driven character. Modern marketing heavily relies on data. You'll be able to improve customer retention, increase ROI, come up with viable predictions, and boost engagement by analyzing key performance metrics and users' past behaviors.
15 Excellent Drip Campaign Examples for Every Situation
Now that we have the theory out of the way, let's dive into the best drip campaign examples for different occasions and triggers. You can use them as an inspiration to come up with unique and effective campaign ideas.
Welcome Series Drip Campaign
A welcome series drip campaign is a great way to welcome your subscribers, thank them for joining your list, and introduce the features of your product/service. All of that will be dispersed across several emails instead of being jammed into a single one.
Welcome emails can generate up to 320% more revenue per email basis compared to other campaigns. So, you should definitely include them in your marketing plan. 
Subject line: Welcome to Canva. Let the creative fun begin!

Here's a great drip campaign example from Canva. The first welcome email provides some tips to help the user get started. The second email introduces specific tools to underline the diversity of the platform, while the third email focuses on available templates.
The subject line is simple but creative. It sets the right expectations and aligns with Canva's brand identity.
Key Takeaways:
Keep the logical link between the sequences of your welcome drip campaign;
Add visual snippets of the tools you're promoting for more clarity;
Use some creativity and humor in your email copies to drive engagement.
Also read: 12 Welcome Email Examples to Engage Customers
Onboarding Drips
An onboarding drip campaign can effectively educate your subscribers about your product or services. Think of it as an educational course where each email equals a specific lecture. With easy-to-follow steps, you can help subscribers navigate through your platform without facing any issues or blockers.
It's a common practice to combine onboarding and welcome drip campaigns to reduce the number of sent emails while still providing the necessary guidance.
Subject line: You're on your way to a shining resume!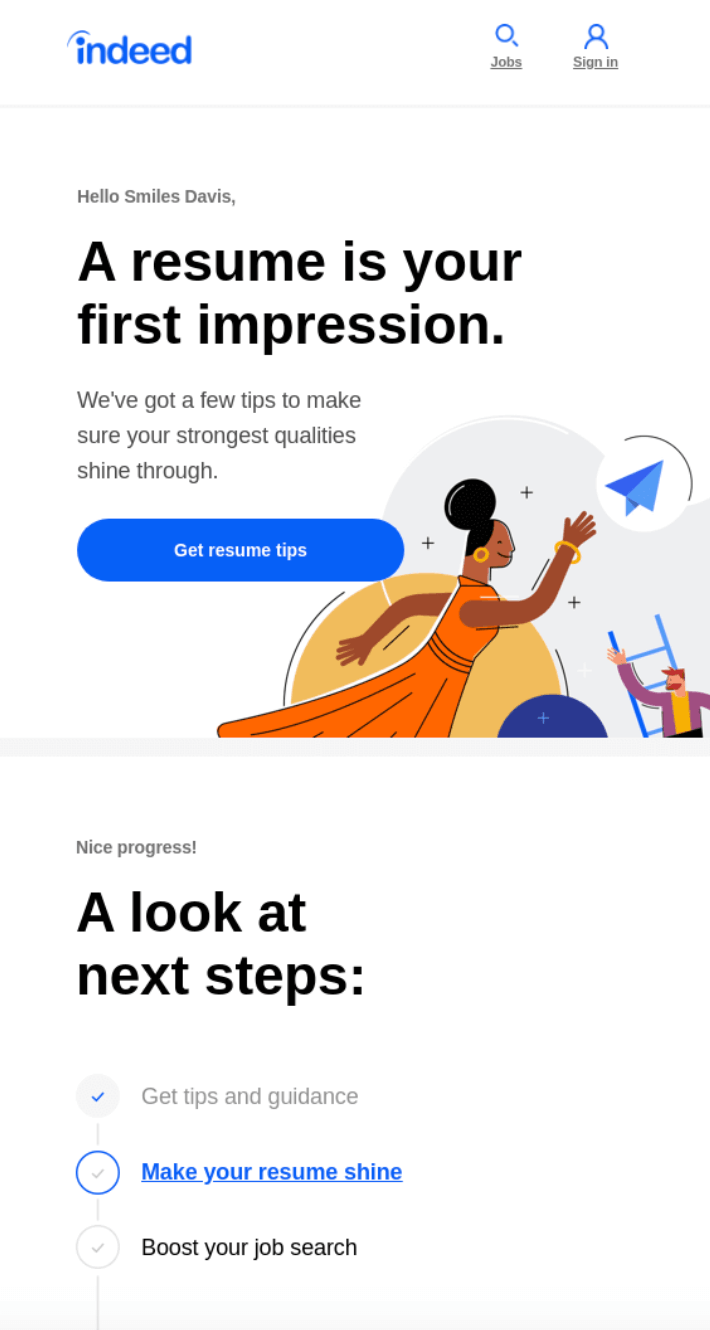 In the email sequence above, Indeed uses personalization and addresses the user by their name. The first CTA button is short and clear and fits the context perfectly. 
Next comes the checklist that creates the right expectations for the rest of the email (and drip campaign) and gives structure to the onboarding process.
Distinctive and consistent design is a cherry on top.
Key Takeaways:
Concentrate on providing informational content and bringing value to the user;
Create a clear structure not only for the first email but also for the whole drip;
Personalize your campaign by addressing the user by their name or customizing the campaign according to their interests (if you have that data, of course).
Upselling Drips
Upselling drip campaigns allow marketers to promote a more expensive version of the product, subscription, or service the customer is already using. This technique is highly effective, as existing customers are 60% to 70% more likely to buy from you. 
For example, if you're using a free trial of a photo editor app, you'll receive an upselling email sequence. It will highlight the benefits of the paid version to tempt you to make the purchase. The trigger could be a trial expiration or an attempt to use a pro feature.
Subject line: Get to the trails quicker with this AllTrails+ feature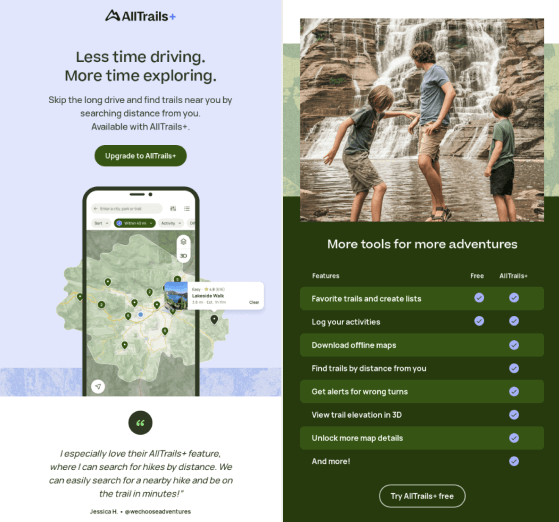 Let's take a look at the upselling drip from AllTrails. The email starts with a simple, straight-to-the-point copy. It's topped with a value proposition and a clear CTA button.
A strong addition to the email is the testimonial. Not only does it upsell the AllTrails+, but it also reinforces the benefits with a customer review.
At the bottom of the email, we see the comparison between the free and the paid version. The second CTA button invites the users to try the AllTrails+ for free to seal the deal.
Key Takeaways:
Highlight the value of the product you're upselling by including testimonials such as reviews and success stories;
Offer additional benefits (exclusive membership, free trial, early access, etc.);
Build up the trust and warm up the audience before sending the upselling drip campaign.
Customer Retention Drips
A customer retention drip campaign aims to keep the users coming back to your product. It could be an informational sequence offering tips, a small promotion, or a series of recommendations. You could design a weekly newsletter or a quick challenge to maintain a constant connection with your audience.
Subject line: Don't forget to finish Selling Sunset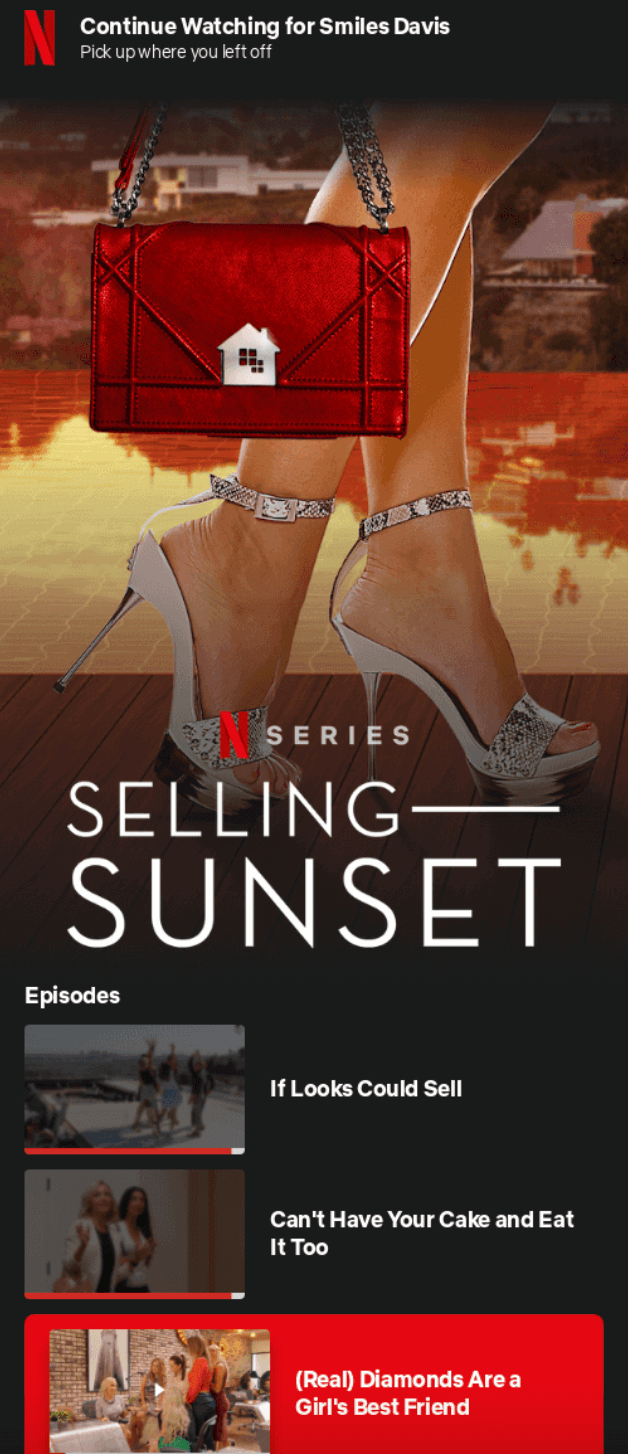 We don't want to seem like avid Netflix fans, but they do have one of the most well-planned and executed email marketing strategies. Their customer retention drip campaigns heavily rely on data-driven personalization. 
In this example, Netflix leverages the user's watching history and motivates them to come back by showing the episode they paused. The email also includes additional recommendations that improve the user experience and keep them engaged.
Key Takeaways:
Use data to optimize and personalize your customer retention drip marketing campaigns;
Design your emails with brand-specific colors to make them more memorable and recognizable;
Strike a balance between customer retention and overcrowding the inbox.
Action Completion Drips
An action completion drip marketing campaign is an automated campaign triggered after the user completes a specific action or a specific event occurs. These can be membership renewal, content download, event registration, etc.
Subject: Your agenda for Thursday, 10th October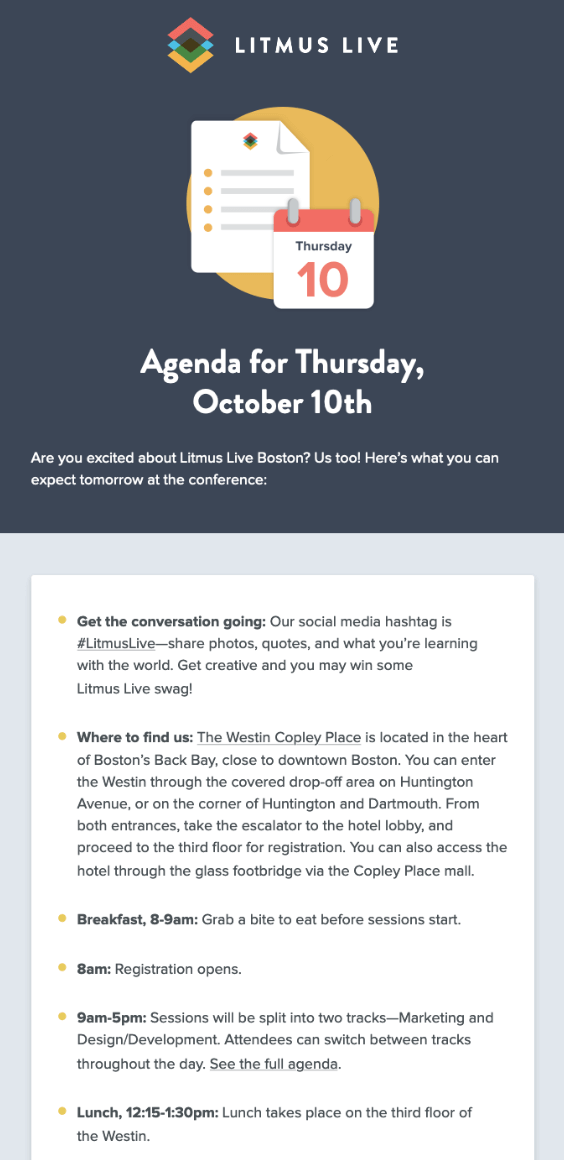 This action completion drip campaign from Litmus was triggered after the user registered for the Litmus Live event. It introduces the agenda of the meet-up and provides necessary instructions. The CTAs are quite subtle here as the email only intends to inform the user, not to promote any services or products.
The subsequent email may be a reminder on the day of the conference, or a thank you note after the event. 
Key Takeaways:
Focus on building relationships while creating action-completion drip campaigns;
Include all the necessary information in your emails or guide the users to it with clear CTAs;
Keep the subject line simple and state directly which completed action it relates to.
Lead Nurturing Drip Campaign
A lead nurturing drip campaign is probably the most important type of email campaign you'll send to your subscribers. It helps build a good relationship with your customers and move them to the different stages of the sales funnel. 
A lead nurturing campaign can be triggered after the user abandons the cart, searches for a specific product, or the moment they sign up. The main idea is to trigger users' actions with emotion-based email sequences.
Subject line: Shop and save 30%. It's on us.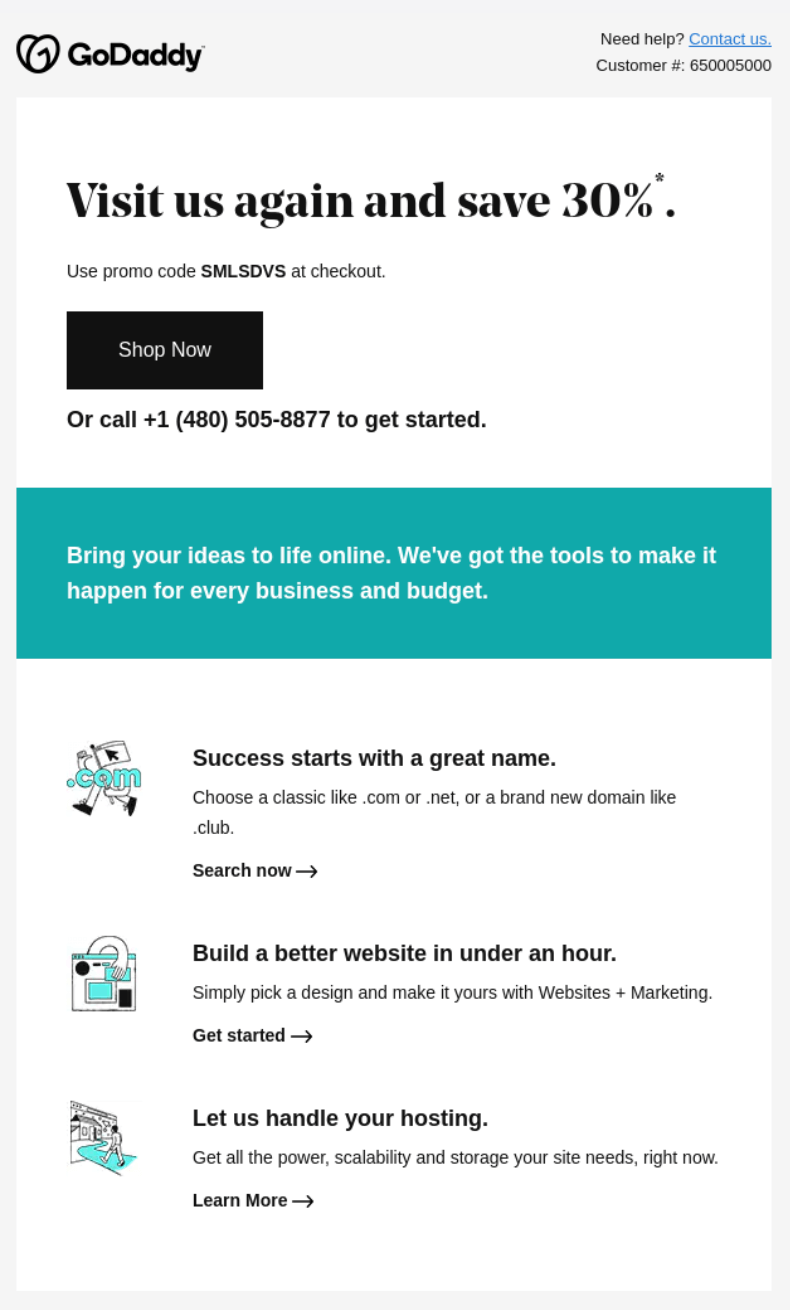 In the email drip campaign above, GoDaddy uses a 30% promotion to entice a second purchase. It highlights the value of the product and tops it off with straightforward CTA buttons.
Such an approach grabs the customer's attention and encourages them to stay loyal to the brand.
Key Takeaways:
Nurture the leads by offering a discount, exclusive deal, or VIP membership for their future purchases to make them feel special;
Address the user's pain points and underline the value of your product;
Personalize your email with a unique promo code or helpful insights specific to that particular subscriber.
Post-Purchase Drip Campaign
Post-purchase drip campaigns can supplement your marketing efforts significantly, especially if you want to increase customer lifetime value. These are automated email sequences triggered after the user purchases your product or service.
While the first email will mostly confirm the transaction, the follow-up emails will be a blend of delivery notifications and informative sequences. For example, before the product gets delivered, you could throw in a brief how-to guide to help customers make the most out of your product.
Subject line: Your BNA > TXL Trip Details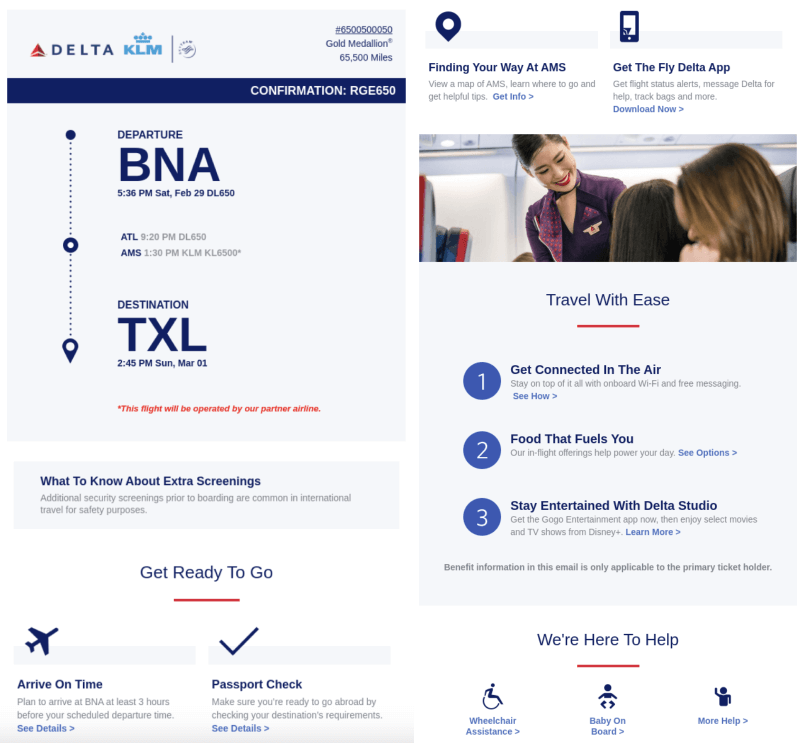 Here, you can see a post-purchase campaign from Delta Air Lines. Apart from confirming the flight, the email includes additional information with links to useful resources. Then the email highlights the services the passenger will benefit from on-board.
Finally, Delta Air Lines showcases its inclusivity with accessibility features.
Notice that the email doesn't include any aggressive CTAs. The purchase is already made, so the focus has shifted from selling specific services to showing superior customer care. So, instead of 'Get this deal now', Delta Air Lines uses CTAs such as 'See Details', 'Get Info', and 'Download Now'. 
Key Takeaways:
Design post-purchase drip campaigns with the goal of turning first-time buyers into loyal customers;
Diversify your sequences by topping off confirmations or reminders with guides, additional information, or links to useful resources;
Highlight attractive features and services to set the mood for future purchases.
Cart Abandonment Campaign
Cart abandonment is when users add items to their cart but don't actually place an order. It could be because they changed their mind, had trouble completing orders, or simply forgot to finish the purchase. Either way, a simple card abandonment drip campaign can act as a reminder that results in completed orders. It's a great way to retain customers for ecommerce stores and other businesses.
But the question is – how soon should you send the first cart abandonment email? Some sources recommend sending it after 30 to 60 minutes after the user abandoned their items. Others recommend sending them the next day. Typically, it's a good idea to send the first email within 24 hours and the follow-up email within 48 hours.
Subject line: Where'd you go?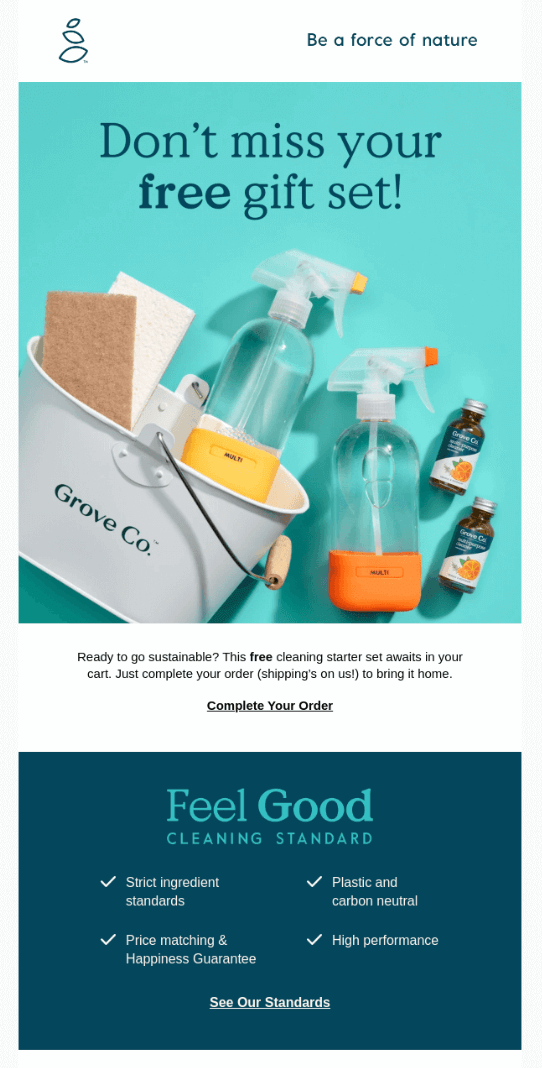 In this example of a cart abandonment drip campaign, Grove Collaborative motivates the user to complete the purchase by offering a free gift with their order. Such an approach makes it possible to avoid being too pushy while still achieving the goal. To seal the deal, Grove Collaborative throws in free shipping and highlights the brand's values.
Key Takeaways:
Don't try to push sales in the first email. Instead, analyze the reason behind cart abandonment and address the issue;
If possible, throw in some freebies;
Highlight the distinguishing characteristics of your product, brand, or business.
Also read: Abandoned Cart Email Templates: Engaging & Superb Examples 
Reactivation/Re-Engagement/Win-Back Drip
No matter how engaging your marketing campaigns are, you can't avoid inactive subscribers. At one point or another, a chunk of your users will stop interacting with your emails. And that's exactly when you'll need a reactivation (often called re-engagement or win-back) drip sequence.
This campaign attempts to grab the subscribers' attention with product/feature updates, flash sales, irresistible offers, or simple reminders.
Subject line: Framer Web is here—get it for free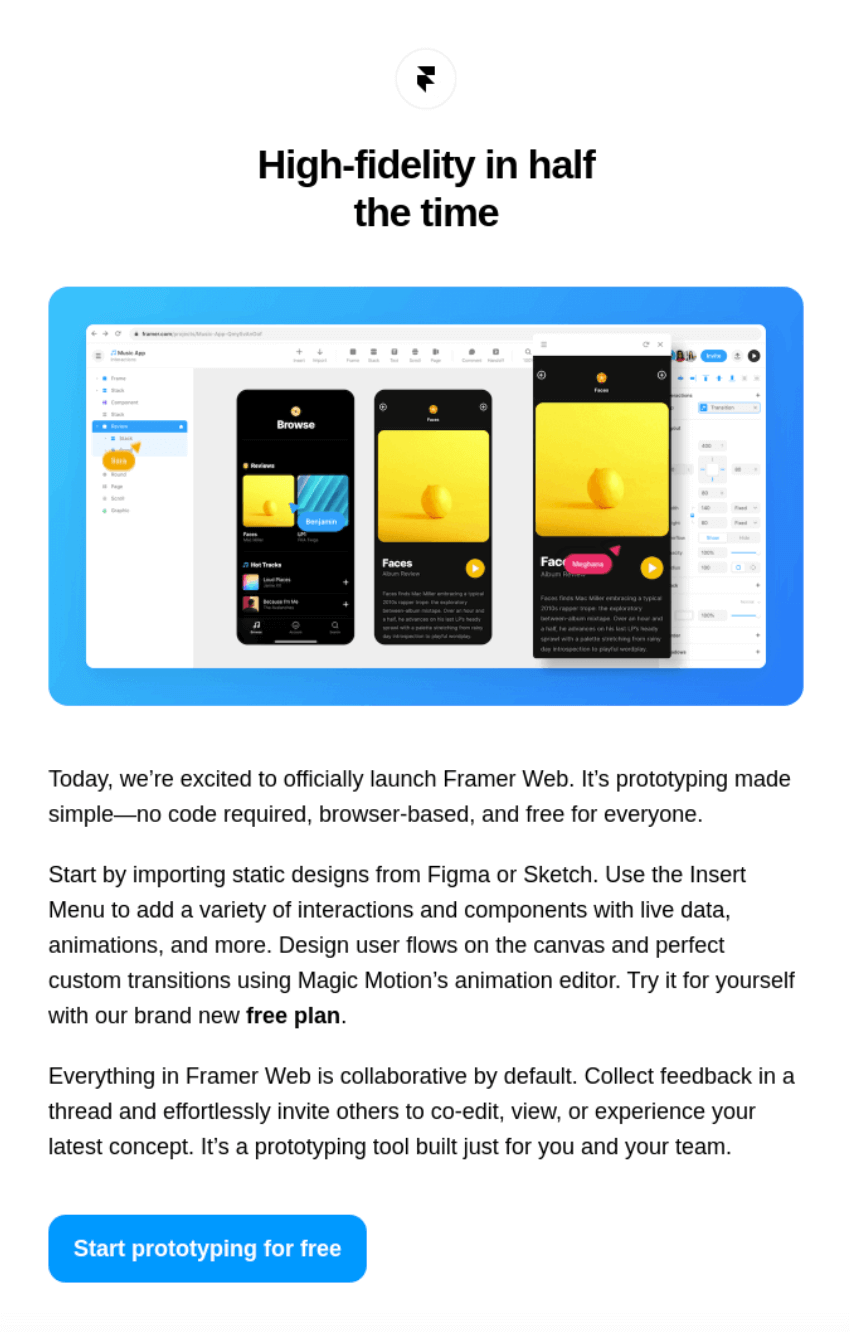 Above, you can see a great example of a reactivation drip campaign from Framer. They took a product/feature update route with a minimalistic approach. You won't see flashy designs or unique interactive elements here. The copy isn't promotional either – it simply describes the new feature. Yet it still offers a glimpse into the feature and attracts conversions with a free plan offer. 
The choice of minimalistic approach isn't accidental – Framer went with it considering the peculiarities of their target audience and buyer personas.
Key Takeaways:
Base your reactivation drip campaign on research and tailor it to the needs of your target audience;
Highlight the key features of the new product in a concise manner;
Don't forget to include a clear CTA button.
Engagement Drip
As the name suggests, engagement email drip campaigns are sent with the only purpose of raising specific actions from the users. Although these aren't direct sale emails, the micro-commitment shown by loyal subscribers is very important in the long run.
Engagement drip sequences help improve deliverability as user interaction is one of the key elements of making it to the inbox. They also increase brand loyalty and invoke actions that bring customers closer to checkout, one step at a time. Finally, engagement drip campaigns build two-way relationships between you and your customers.
Subject line: How do you run?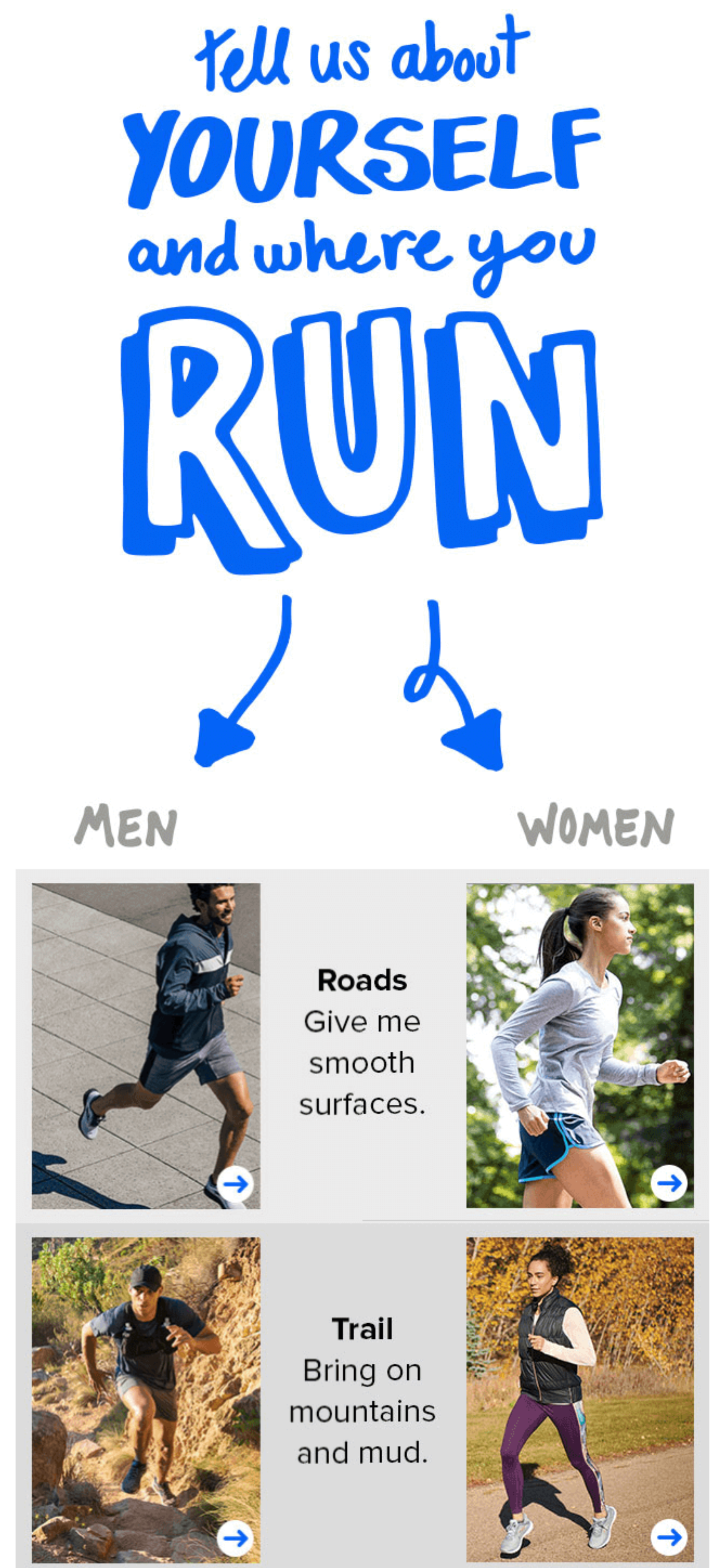 In the example above, Brooks Running, a US-based athletic shoes and apparel company, tried to amp up engagement with an exciting twist. They started the email by painting a picture of an enjoyable run to set the mood for the rest of the email. The copy places subscribers in the center of attention as it asks them to share information about their preferences.
With such an approach, Brooks Running collects more clicks and directs users right to their online store.
Key Takeaways:
When creating an engagement drip campaign, include elements that interact with the reader directly. This could be a question, quiz, creative video, or animation.
Steer away from 'salesy' CTAs – theme-matching CTA buttons will work better;
Use moderate humor or creative touches to grab the reader's attention from the beginning of the email.
Also read: What is Customer Engagement? Definition, Importance
Recommendations Drip
Recommendation drip sequences provide relevant and timely "next steps" to your users and extend the customer life cycle. By following the recommendations, they can continue using your product or service in a way that adds value to both of your lives.
An effective recommendation sequence should be personalized, cater to their needs, be relevant to their past behaviors and taste trends, and be as segued as possible to the original product or service they bought.
Subject line: Top 3 Blinkist titles that everyone's loving

Blinkist uses recommendation drip campaigns actively to bring existing customers toward their subsequent reads. They employ simple messaging and relevant recommendations to ensure the user is hooked to the app. This results in lasting relationships and continual membership renewals.
Blinkist also creates a sense of community by picking out the most popular books among other readers.
Key Takeaways:
Analyze the past purchasing habits of your subscribers to provide recommendations they will actually like;
Include links to the recommended products or services to make it easier for subscribers to take action;
Create a sense of community and belonging to build loyalty.
Renewals Drip
Customer acquisition is one thing, but many businesses depend upon monthly subscriptions from existing customers. A renewal email drip campaign can be a great way to wake your customers up and remind them of their monthly dues.
However, renewal emails shouldn't be aggressive; otherwise, you'll be slapped with cancellations. A drip campaign with meaningful spaces between sequences can act as a much-needed reminder – after all, some of the subscribers may miss the initial email. 
Subject line: Friendly Reminder: Your Subscription Will Renew in 60 Days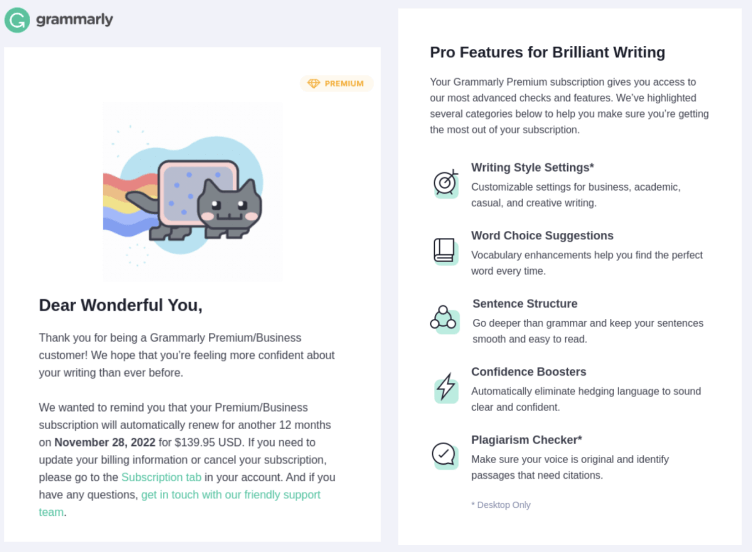 Grammarly is another company that always delivers well-crafted, on-point email campaigns. This time, they created a renewal drip sequence that checks all the boxes. From the very first sentences, the email sets a welcoming mood by thanking the subscriber for using their product. They follow it with a renewal reminder and provide options for updating billing information or canceling the membership.
Showing off their top-notch customer care, Grammarly also included a prompt to contact support in case of questions.
Finally, the email highlights the features worth paying for to convince the subscriber to keep the membership.
Key Takeaways:
Craft a renewal drip sequence that is benefit-oriented and educating;
Remind the user what they stand to lose if they lose their membership;
Show gratitude and appreciation for past commitment.
Confirmation Drip
A confirmation email is usually a single transactional email sent to verify a user's email address. They are rarely a drip sequence, although they could be if you wanted them to be.
For instance, during double opt-in, visitors signing up for your email newsletter must confirm their email address by clicking on a button or link inside their inboxes before they can start receiving your email stream. With a drip campaign, you could send follow-up emails in case they miss your first message. 
While confirmation campaigns are quite similar to action completion drips, they do have a different purpose and character. Action completion drip aims to educate, engage, and nurture the audience. Confirmation campaigns, on the other hand, mainly focus on verifying the action.
Subject line: Confirm your email address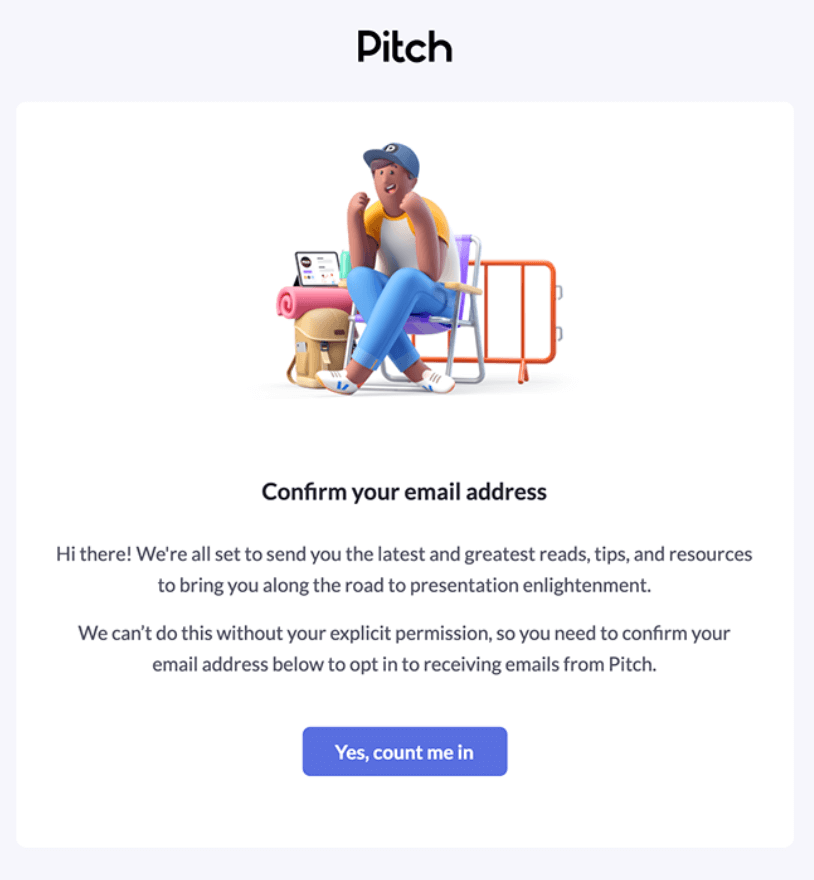 As highlighted by this email from Pitch, a line explaining why this email made its way to the reader's inbox and a simple-looking CTA confirmation button is all you need. Confirmation emails are the simplest automation emails you will likely compose as part of your marketing efforts.
There's nothing more to add – this drip is simple, and it works! 
Key takeaways:
As with all transactional-style automated emails, a clear subject line is the key to customers' trust;
Ensure the copy of the email is as simple as possible – the user should easily understand what's going on and what their next step should be;
Base your follow-ups on the user behaviors to avoid bothering subscribers who already completed the desired action.
Informational/Educational Drip
Information drip marketing aims to educate and entertain prospects. Such campaigns improve the understanding of the user's problems and provide possible solutions. They highlight why your product or service is the one that can help them out.
As a bonus, information drip campaigns keep the readers engaged and longing for the upcoming dose of helpful content.
Subject line: 5 habits you need for better hydration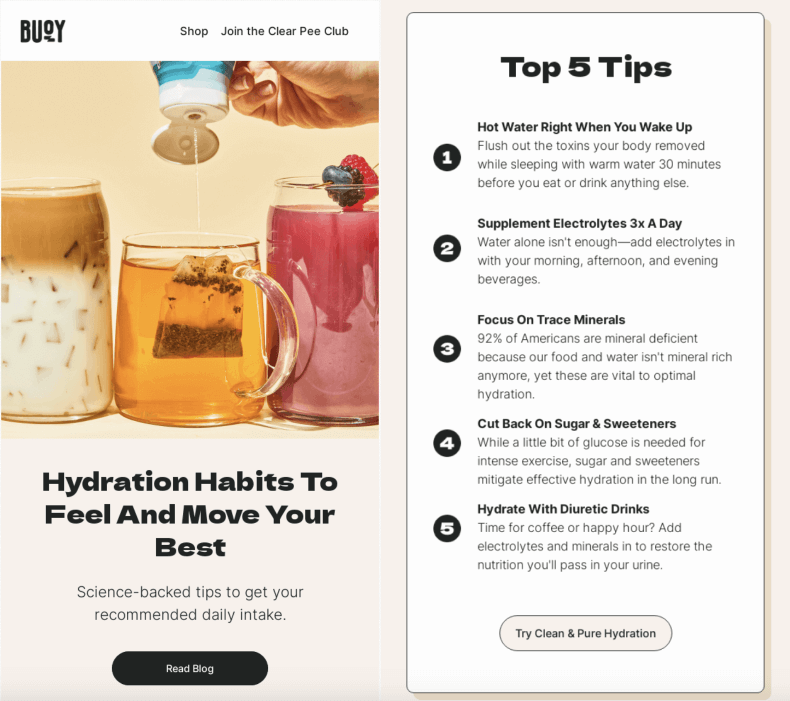 Hydration and wellness brand Buoy serves as a perfect example of an informational drip campaign.
First up, if the offer to "Join the Clear Pee Club" doesn't get you, their aesthetically designed email containing their eye-catching product visual most definitely will. In addition, the infographic-like layout is easy to digest both for the eyes and for the brain.
This is a great way of combining an educational drip campaign with content marketing efforts.
Key Takeaways:
Use formatting to separate chunks of text for better readability;
Include only the most vital information – subscribers can read the rest in your blog or on your website;
Design visually appealing and illustrative graphics that become part of the content themselves;
Craft content about common pitfalls and show users how your product can become a simple solution.
Personalized Drip Campaign
A personalized drip campaign can serve any purpose, be it re-engagement, cart abandonment, or retention. Such sequences leverage customer data to create content that makes the subscribers feel special. This could be a mail merge about monthly/yearly recap, achievement notification, personalized recommendation, promotion on items the user purchased previously, etc. 
Subject line: Really Good Emails, see your January updates: new ways to earn on YouTube and more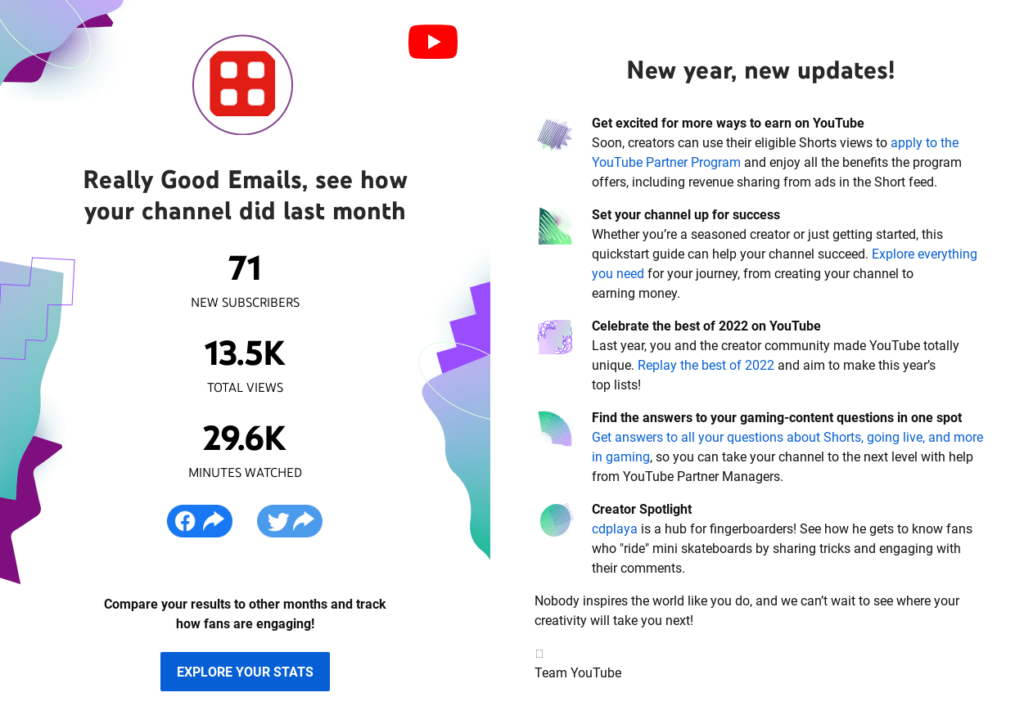 YouTube uses recaps to deliver personalized campaigns that highlight users' achievements. In this example, they provide stats for the previous month right in the email and include a link, making the analytics more accessible. These numbers aren't only entertaining, but they are also vital, particularly for content creators. 
But YouTube didn't stop there. They also recapped their updates to deliver more value.
Key Takeaways:
Create detailed recaps that summarize the achievements of each subscriber and include the numbers that are actually important;
Combine personal recaps with brand recaps for added value;
Make sure you use customer data following privacy and security laws.
5 Drip Campaign Examples by Industry
Drip marketing campaigns can be universally adapted to businesses worldwide, no matter the niche or industry. Here are some examples by industry to further inspire your creativity.
Drip Campaigns for B2B
Similar to the campaigns we discussed earlier, B2B drip campaigns also aim to automate the email-sending process and target customers at different stages of their journey. The key concepts remain the same, but the audience changes – the communication should be established between two businesses. 
This shift in audience equals to shift in email frequency, tone of voice, design elements, and messaging.
Here are some drip campaigns you could send if you're working in the B2B industry:
Value proposition drip campaign triggered after the lead shows interest in your product or goods;
Demo videos highlighting or explaining the features of your product or platform;
Highly personalized drip campaigns targeting the lead's main pain points.
Subject line: Get help creating your first ad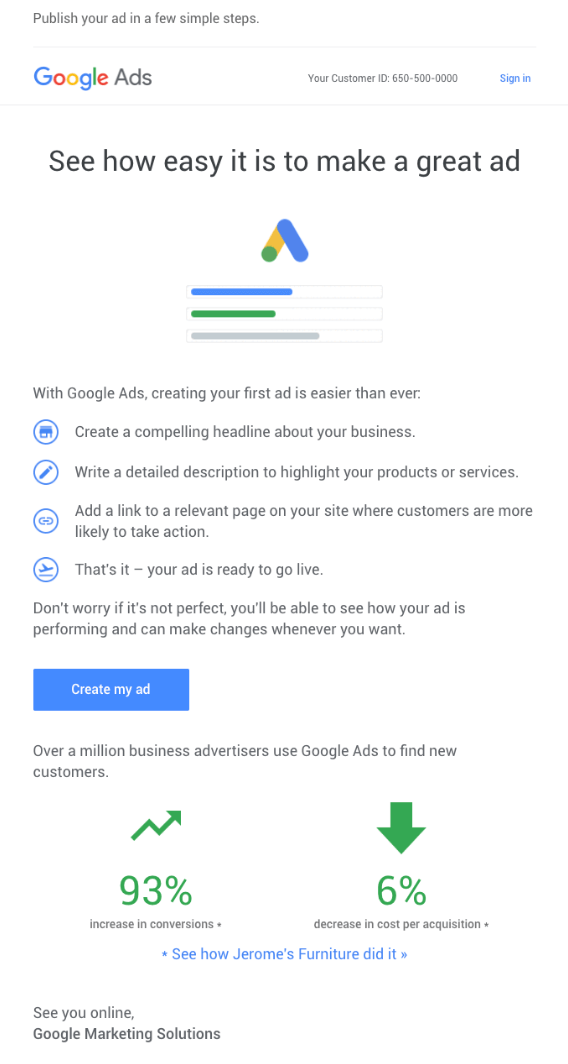 This drip campaign from Google Ads shows a great understanding of its target audience. The language is clear and concise, while the tone is professional and educational. The email is informative and lists down easy steps to get started. The campaign also includes testimonial from other business as proof of the proposed value.
Key Takeaways:
Understand your target audience and tailor your B2B drip campaigns to its peculiarities;
Highlight the benefits of your products with an educational approach rather than being overly promotional;
Use testimonials to back up your claims about the product.
Drip Campaigns for Real Estate
With real estate and home buying becoming increasingly digital with every passing year, it is crucial for realtors, real estate agents, and their agencies to adapt to this change.
Some examples of emails you could send to your real estate subscribers:
Weekly or monthly recaps with local housing insights and updates;
Sharing informative blog posts and how-to guides for buying and renting properties;
Sharing video content that educates buyers and sellers on their most prominent pain points;
Spotlighting local events, deals, and happenings.
Subject line: Welcome to Compass
The email above is from the American real-estate brokerage firm Compass. It's an introductory welcome email that acknowledges the new user and shares links to search listings, closest agents, and more in an easy-to-read email.
Such a structured campaign removes the stress from the overwhelming real-estate shopping process and reassures readers that they have a trusted company ready to help and guide them.
Key Takeaways:
Deliver valuable content in your real estate drip campaigns to educate first-time buyers and streamline their journey;
Express willingness to assist whenever needed;
Diversify your campaigns by sending trendy recommendations tailored to the user's budget and preferences.
Drip Campaigns for Bloggers and Publications
Drip campaigns are a great medium for bloggers and publications to promote their content with minimal effort. When a new user subscribes to the blog or clicks on a recent blog post, a series of automated emails can guide them through the huge library of your content.
A couple of drip campaign ideas for bloggers and publications:
A series of recommendations when the user reads a particular blog post;
Welcome drip campaigns introducing your content to new subscribers;
Confirmation drips when users sign up for a webinar, podcast, or e-book;
Personalized recaps highlighting the most recent blog posts or articles;
Re-engagement campaigns to recapture the attention of inactive subscribers.
Subject line: Welcome to The New Yorker

The example above is a drip campaign from The New Yorker sent after a user signed up for the daily newsletter. It tells the readers what will be included in the newsletters to set the right expectations. The email also promotes the website and app where users can read any stories they want.
Graphic elements match the content of the email perfectly, while the copies are as simple as they can get.
Key Takeaways:
Blogs and publications are among the few niches that are forgiving to the lengthier emails. Leverage that privilege and deliver the information your subscribers are looking for;
Repurpose your blog content to craft compelling drip campaigns;
Use recommendation drip campaigns to revitalize older content that is still relevant to your audience.
Drip Campaigns for the Fashion Industry
The fashion industry offers countless opportunities for creating interesting and engaging drip marketing campaigns, such as
Welcome emails;
Content emails – fashion & style guides, etc;
New collection launch;
Seasonal sales promotions;
Recommendations;
Back-in-stock notifications;
Abandoned carts, and more.
Subject line: Thanks for Signing up. We'll be in Touch.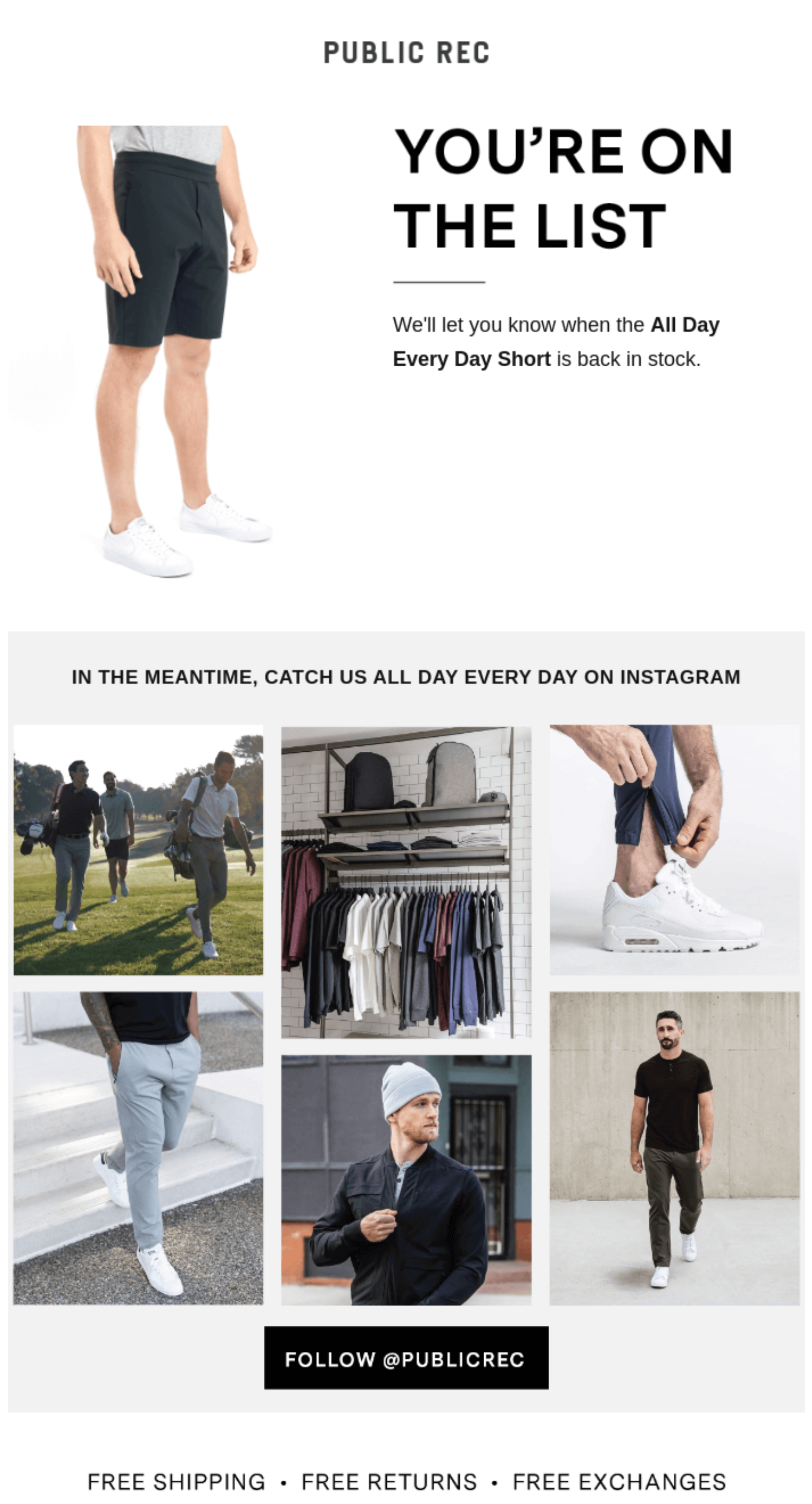 The email above from Public Rec is an automated acknowledgment and notification email for new signups.
It's simple, effective, and informs the prospect that the product they're looking for isn't in stock but that they'll receive a notification once it's back. It also offers an option to check them out on Instagram, which again is a smart decision as it's a platform where they can share real-life pictures from their customers to increase credibility.
Key Takeaways:
Notify users about sold-out/back-in-stock items through the drip campaigns;
Use recommendations to cross-sell products but keep them relevant to the user's taste, style, and interests;
Leverage social media to promote real-life testimonials and drive even more engagement.
Drip Campaigns for SaaS
The main problem most SaaS companies are trying to solve with email marketing is converting free plan users into paid customers. Through drip campaigns, these companies can reach out to leads in a timely manner and convert them while the interest and excitement are still high.
Here are some of the types of drip campaigns you can send as a SaaS company:
Welcome and onboarding drip campaigns to help new users understand how to use your platform or product;
Upselling drip campaigns to promote higher-paid subscription plans;
Renewal drip campaigns to remind users of the scheduled payment;
Retention sequences with promotions or new feature introductions.
Subject line: Never give up, Smiles Davis! 💪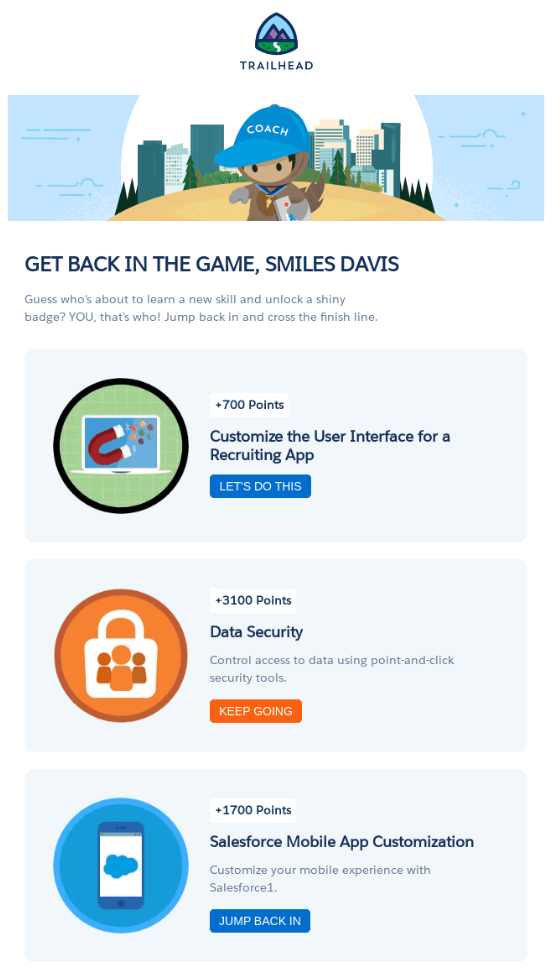 In the example above, you can see a reactivation drip campaign from Salesforce's Trailhead. It's targeted to a user who stopped using the product. As a learning platform, it uses a highly motivational tone of voice both in the copy and CTA buttons.
The email also highlights the gamification elements of learning on the platform, such as earning badges and points. 
Key Takeaways:
Use challenges, quizzes, prizes, and other gamification elements to drive more engagement;
Create multichannel experiences by maintaining consistent interactions across emails, social media, and the main platform. Use drip sequences to boost those interactions.
Highlight why customers should keep using your software and guide them through that process.
Drip your way to success
Whew! We made it to the end. We hope you enjoyed our overview of 15 drip campaign examples. These should be enough to convince you to try these automated emails.
Good luck, and drip away! 
Key Takeaways
Run experiments, and A/B test your drip campaigns to find winning subject lines, structures, tone of voice, CTA buttons, etc;
Time your drip sequences intelligently to strike a balance between targeting a warm lead and being overly pushy;
Pay attention to welcome and onboarding drip campaigns, as they can impact the user's further interaction with your platform. 
Pro Tip: Make sure to use a professional-looking business email address for drip campaigns – yourname@yourbrand.com is the perfect example.
Also read: