As Labor Day marks the end of the summer, this is the last chance for marketers to spark a little warmth and light before the autumn begins.
The holiday weekend gives an opportunity for the customers to do some shopping and for businesses to give some special offers and increase their sales. Labor Day seems to be one of the most significant single-day sales, as only in 2018 itself the customers have spent over $2 billion while shopping online on this day.
If you are struggling to design the Labor Day campaign or just looking for some inspiration, keep reading as we are about to present some examples of Labor Day email templates and give a few campaign ideas. 
Labor Day Email Campaigns
Many people will try to find the perfect item, and there will be many businesses trying to promote themselves during this Labor Day. But don't worry – we got you covered! Let's take a look at the top tips to ensure your campaigns are worth checking out.
Stick to 'Summery' emails
As Labor Day marks the end of the summer, not many people will be excited about getting into moody autumn.
With summer being the most exciting time of the year, warm weather, and holidays, keep the mood of your email fun, active, engaging, and use colorful patterns to keep the customers reading your email.
To stick to the summer vibes, you can add some imagery or create a fitting color pallet to bring the last few bits of sunshine to your clients.
Also read: 10+ Summer Newsletter Ideas
Tell about places to go during the Labor Day holiday weekend
This is the last chance to enjoy the summer, so everyone wants to make the most of it and spend some quality time with friends and families.
If you don't know what to add to your email newsletter or how to make your readers engaged, give them some guidance on the activities to do and places to go during the Labor Day celebrations.
Patriotism at its best
Labor Day is a traditional American holiday. You might want to fit the theme and highlight patriotism in your Labor Day email.
Create email designs that feature traditional colors such as white, blue, and red. Also, add some images or emojis related to the country (flag, monuments, famous places, etc.).
This will attract recipients' attention as they will know that the email is designed explicitly for Labor Day.
Here is an example from Sender design builder, how can look your Labor email:
Emphasize back-to-school
The end of summer also means the school will start soon, so why don't you use this opportunity and send a Labor Day-themed email with some great offers which contain school supplies, children's clothing, or anything else that might be needed for a successful school start. It will quickly grab the recipients' attention and help you to boost your sales during this holiday weekend.
Labor Day Email Templates
Labor Day Sale Email
Spread the word to your customers about the upcoming sale you will have this Labor Day. If you inform your recipients before the sale, they will be more ready and aware, so don't wait until the last minute.
People like to take their time to review the deals coming from different businesses, so by sending your Labor Day sales email early; you have a better chance of being chosen. Remember, if you won't do it, your competitors will.
Subject Line: Hurry… Our Labour Day Sale is on now!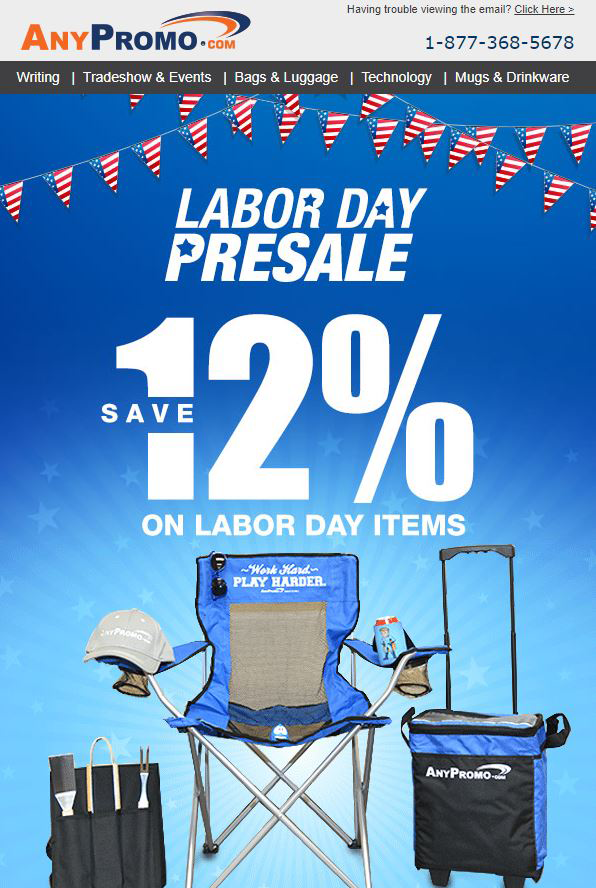 Labor Day Newsletter
If you decide to send a Labor Day newsletter, you can do it even earlier than your sales email. You can use some of the tips we have offered for campaign creation, like including things to do or places to go during Labor Day.
Besides, you can also use this opportunity to relate some of your product or service sales so people will be informed about your offers. After your newsletter is sent out, you can follow up with a few reminders of the upcoming promotion on this special holiday weekend.
Subject Line: Shop your way (name), on this Labor Day!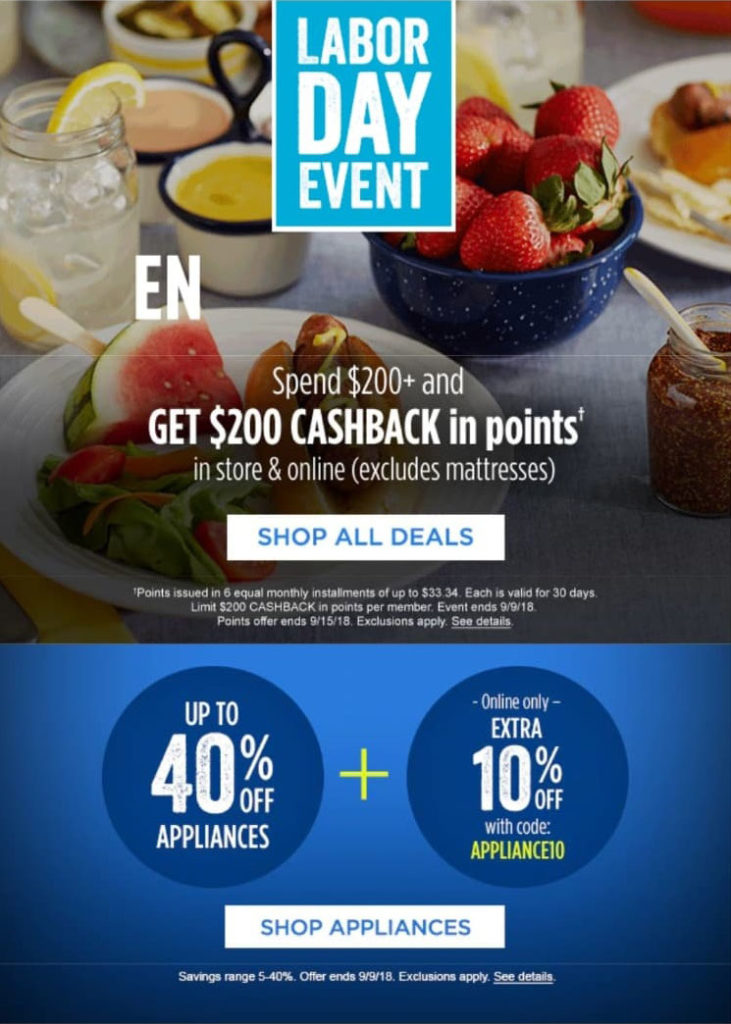 Happy Labor Day Email to Employees
Labor Day is about appreciating all the hard work your team has done for you. Celebrate it by sending a specially designed Labor Day email to congratulate your employees and staff members.
Send the wishes or personalize the message to each employee individually to show that you value their work. Make this Labor Day even more enjoyable by saying 'Thank you' and wish your team a happy and restful holiday weekend.
Subject Line: It's time to celebrate your work life!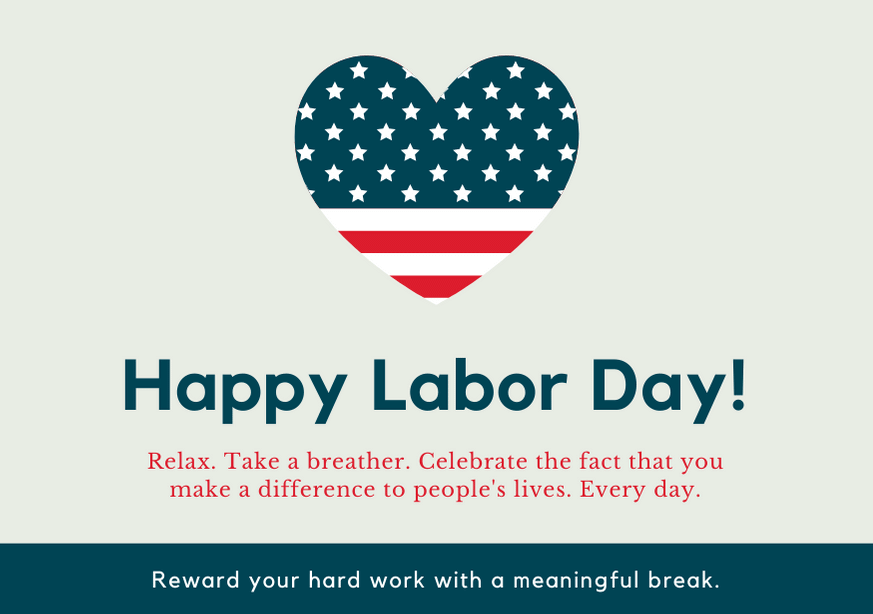 Labor Day Email to Staff
Subject Line: Today is about YOU!
The success of any company is a result of synchronization and coordination of the employer and the employees. On the occasion of Labor Day, I express my gratitude to all the hard working souls for their unmatched efforts.

Wishing you success and glory.

Happy Labor Day to you!!!

Regards,
Signature
Happy Labor Day Email to Clients
Clients are the most significant part of your business. Without them – you would not be succeeding. Send Labor Day wishes and messages to your clients, appreciate them for being with you throughout this journey.
This email might help you strengthen the relationships with your customers and make you stand out from the competition. It might even change the perception of some of the recipients – as the email can create interest, they might start buying from you.
Subject Line: No matter what kind of work you do, Labor day is for you!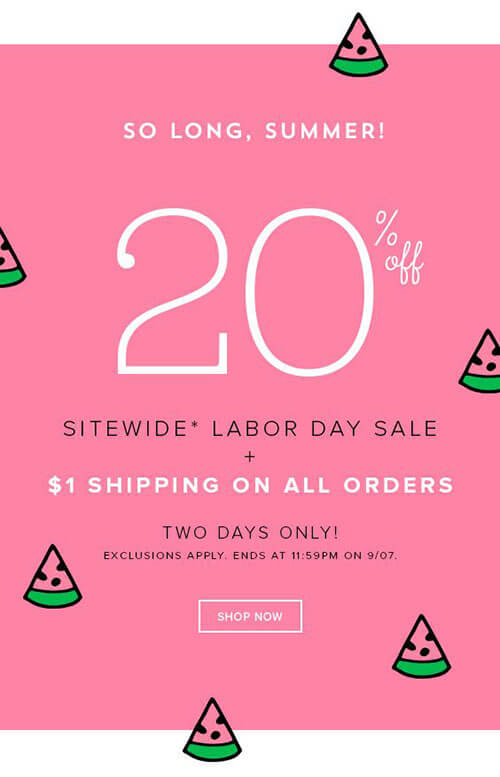 Labor Day 'Office Closed' Email
Inform your customers that you will be away during this Labor Day holiday weekend. Craft an email that you can send prior the day or as an automated message if someone decides to get in touch with you while you're gone.
Add some details about when you will be back, and if there are emergencies, make sure you add some information on how people can get in touch with you or a designated person during that period.
Show that you are trustworthy, reliable and clients matter to you.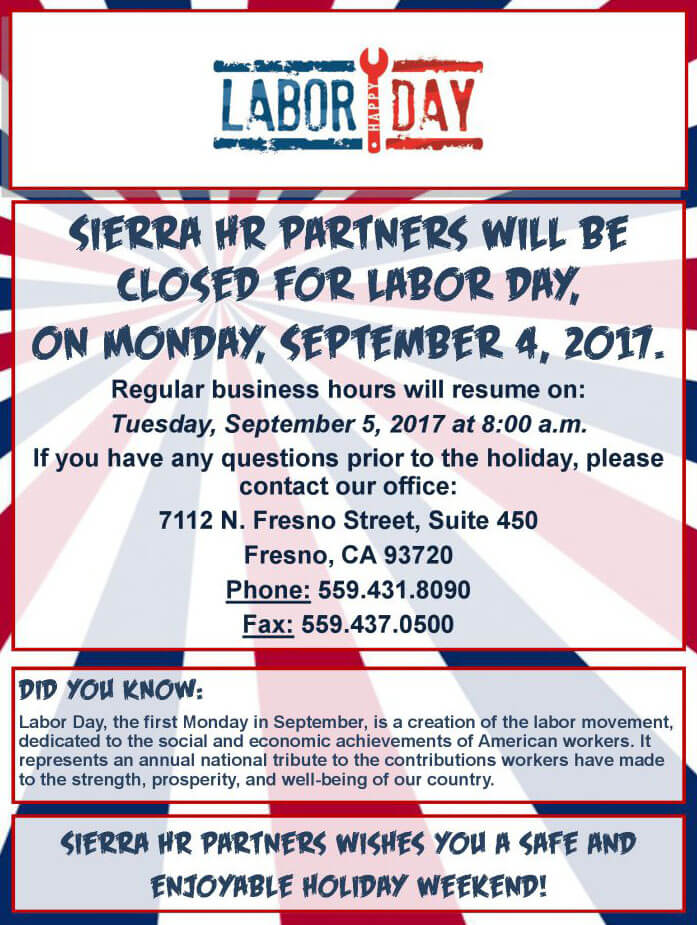 Closed for Labor Day Email
Subject Line: Happy Labor Day! Thank you for contacting me
Hi (Name),

I am currently out of the office and will be back to work on (date). If something urgent comes up, you can let me know by emailing me with the word "URGENT" in your email title and I'll get back to you as soon as I can.

Wishing you and your family a happy holiday!

Talk to you soon,
(Signature)
Conclusion: Your Labor Day Email
By now, you should be fully prepared and inspired to tackle your Labor Day email campaigns. Use this opportunity and increase your sales and revenue.
Design 'Summery' emails with back-to-school offers, places to visit during the holiday weekend, and don't forget to show patriotism!
We have also given you some examples of email designs for Labor Day.
Send your sales emails early, create informative and festive newsletters, appreciate your staff and clients by sending them wishes, and don't forget to inform your customers that you are closed for the holiday!
Also read:
---
Article contributor – Erika Klisonyte
Like what you read?
Apply it in practice with Sender.net - the most cost-effective email marketing solution in the market.
Try Sender for free