As SMS marketing regains popularity, the next obvious question is whether MMS would be just as effective. And the answer is a resounding yes.
MMS marketing follows much of the same steps as SMS. However, MMS are a lot more flexible as they allow for rich text, images, and much more. Instead of relying on text-only messages to engage customers, you can use multimedia to raise the bar of marketing effectiveness.
Fortunately, according to statistics, MMS marketing has all the benefits of its simpler cousin. Both SMS and MMS messages have a tremendous open and read rate and incredible overall engagement. Therefore, implementing a couple MMS marketing strategies into your omnichannel approach can be wildly beneficial.
Keep the Image Size Within Reason
Often, the first instinct is to think about what beautifully crafted image to put into the MMS message. However, there are some technical requirements to keep in mind if you want to do it correctly. Images that are too large (in both dimensions and file size) will be displayed incorrectly or not at all. Ones that are too small might confuse the reader.
For static images, the suitable file size is considered from 350 KB (the minimum) to 1.2 MB (maximum). Hovering somewhere around the 1MB zone and below is optimal.
These file sizes are considered optimal due to the way MMS messages are delivered. Smaller files may be of low quality. Larger files may fail to display completely (and potentially may add an additional charge).
For GIFs and other animated images, it's highly recommended to stick between 500-600kB (although the same requirement as for static images apply). GIFs frequently run into issues at larger file sizes. At smaller sizes they often have a low amount of frames, making the image either blurry or laggy, making it seem low quality.
Pay Attention to Dimensions in Your MMS Marketing
Static images
Most phones have a set aspect ratio of 9:16. Stepping away from the boring technical details, what it means is that images should follow a specific pattern of dimensions in order to be displayed correctly. Images of unusual dimensions outside of that pattern may not fit into the screen or have other rendering issues.
Therefore, the best dimensions for most phones are 640px X 1138px. For larger versions of images (with more information or charts, for example) 1080px X 1920px dimensions are another option.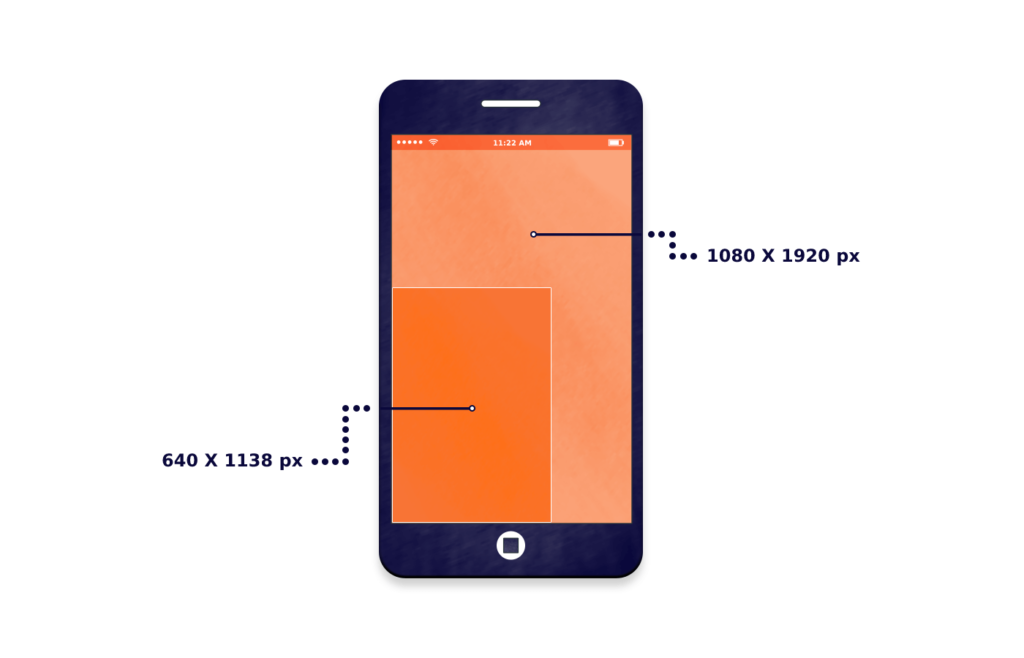 Additionally, many phones snip off parts of the image for other purposes (also called the preview area). Therefore, you should keep in mind that the image should be trimmed a bit to always stay in focus.
For the smaller images, 129px is cut from the top and 89px is cut from the bottom. For larger images, 219px on the top and 150px at the bottom.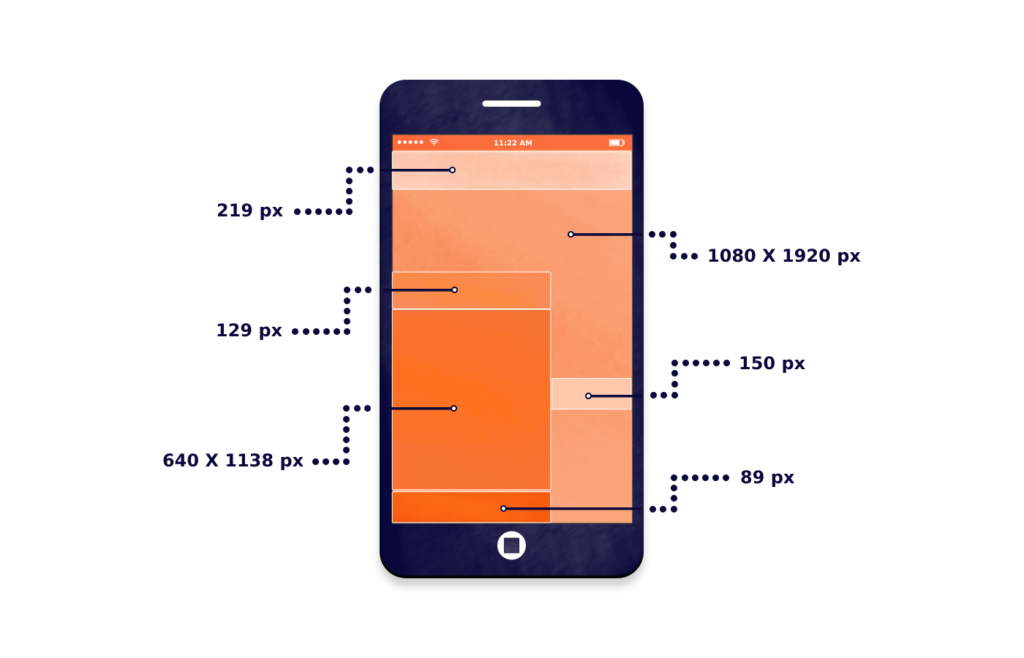 Animated images
GIFs and animated images follow much of the same rules for dimensions. However, since all animated image formats are data-heavy, the most common workaround is to reduce the dimensions. That way saving space and staying within the 500kB to 600kb range is much easier.
For square GIFs, 640px X 640px or 480px X 480px are preferred.
For rectangular GIFs, go with 480px X 720px or 480px X 640px.
Generally, as the amount of frames (or frames per second) increases the overall dimensions should decrease. Put simply, if the image size is larger, go with the smaller dimension options.
Additionally, just like with static images, animated ones are snipped in the preview area. Since there are more dimension variations in GIFs, there's a lot more to keep in mind:
480px by 720px: 39 px at the top, bottom, right side. On the left, 44px are taken off.
480px by 640px: 65px at the top and 58px at the bottom. On the other two sides, 39 px are cut off.
640px by 640px: The top, right, and the bottom are reduced by 52px while the left side is cut off by 58px.
480px by 480px: 39px at the top, right, and bottom. On the left side, 43px are trimmed off.
Use Proper Technical Parameters in Your MMS
Dimensions aren't the only thing to keep in mind. There are a lot of factors that impact file size, image quality, user experience and everything else.
For static images, JPG is the preferred file format. While there might be other options with better image quality, JPGs produce a great middle ground, especially at smaller dimensions.
For animated images, stick to GIFs and limit their frame rate to 3-4 frames per second (FPS). Higher FPS rates exponentially increase file size which can lead to images displaying incorrectly. Finally, avoid transparency in GIFs as a lot of devices may fail to display the transparent parts.
The Image Is The Hook in MMS Marketing
Since sending MMS online through a provider is somewhat costly when compared to SMS, there's a tendency to overuse the image format. If you're paying extra for the multimedia feature, you might as well make the most of it, right?
Unfortunately, that often leads to lower success rates for MMS marketing. Images that have a lot of complex information or animations in them can distract the customer from the primary goal – click-through. Additionally, complex images might take extra time to understand and process which might confuse people.
Therefore, the images and other multimedia devices should be used as a hook to get the person to continue reading the message. Pick a great image or GIF to send but focus on the copy as that's where you make the sale. After all, you can't click on an URL that's in an image.
MMS Messaging Use Cases
Finally, creating and sending MMS messages for marketing purposes should be just one tool in the entire omnichannel strategy. Thus, knowing how to use MMS properly will save you a lot of money and resources.
Just like SMS messages, MMS are amazing for limited-time offers. Additionally, it's even better for B2C businesses as they can often trigger a quicker response. Thus, spheres like ecommerce are absolutely tremendous for MMS marketing as the image and subsequent text could increase sales quickly.
In general, MMS messages can be used to great effect for a variety of ways:
Sale announcements;
Collection or product introductions;
Welcome messages;
Cart abandonment messages;
Birthday or anniversary messages;
Restock messages.
Select Your Favorites MMS Marketing Strategies
There are numerous ways to enhance marketing. MMS messaging is one that is often unfortunately forgotten. However, nearly any business can make use of MMS marketing to great effect and greatly increase their sales numbers nearly overnight./
Also read:
Like what you read?
Apply it in practice with Sender.net - the most cost-effective email marketing solution in the market.
Try Sender for free