Developing an app is just one small stage of the process.
Many of us expect that the things we create and develop will be picked up and loved by people without any marketing or promotion. However, in reality, that nearly never happens.
Instead of relying on luck, formulating and implementing mobile app promotion and marketing strategies is the preferred option.
Understanding how to properly implement a roadmap and getting eyes on your mobile application will immensely improve your chances at succeeding in taking over the app market.
Mobile App Market Growing
The mobile app market is huge. In 2018 it was valued at US $106 billion and by 2026 it's expected to reach a valuation of US $407.31 billion! Mobile apps have already beat out the entire movie industry and are on track to keep pace with the video game market.
Furthermore, there's reason to believe that mobile app use will continue increasing over time. People are getting more used to their phones which increases the efficiency of all things mobile related (such as SMS marketing).
Out of all the stores, the Apple store is expected to skyrocket in popularity fairly soon. While Google Play is currently keeping close, it's popularity might fall exponentially in the following 5 years.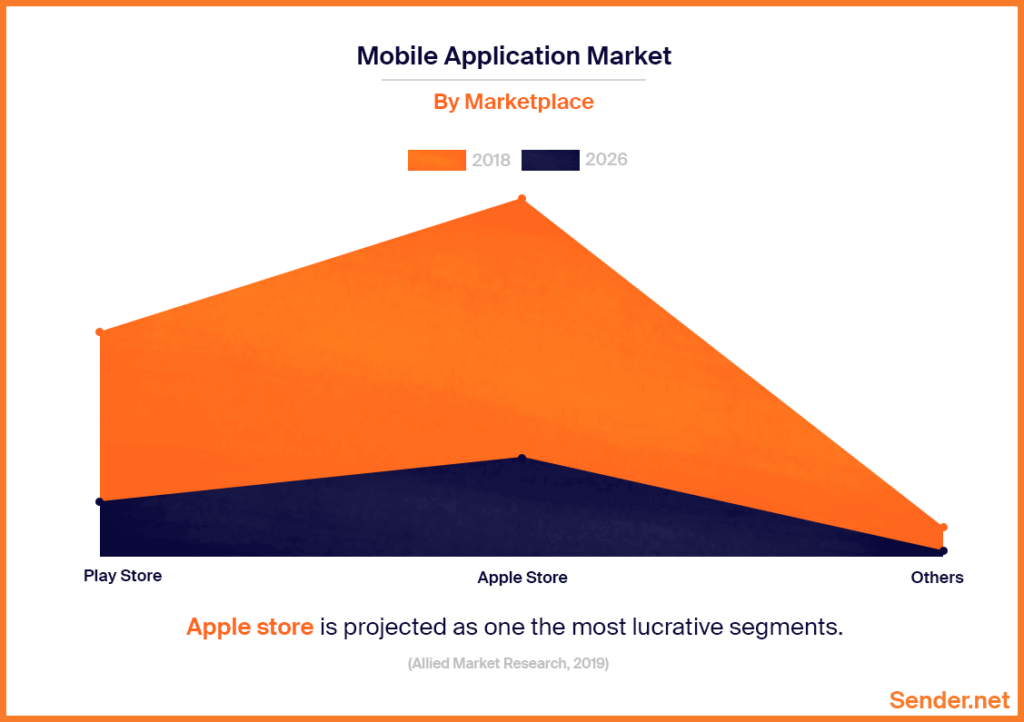 Getting Started with Mobile App Marketing
Here is a shortlist of things we will talk about:
Pre-launch plan.
Marketing during app launch.
App store optimization.
Users acquisition and retention.
Idea development.
Pre-launch App Marketing Plan
Every good plan starts before any action begins. Mobile app marketing is no different. Every application has to have a robust plan in place and certain actions taken before it even gets on the marketplace or completes development.
Determine a release date and leave extra time
Even if you plan on launching on one platform, both Google and Apple have review processes in place. Apple, though, has a very strict review process that might take a considerable amount of time to go through.
Planning a release date in advance also allows you to research the market more and see if any important competitors are launching at the same time. Additionally, it will give you time to solve problems and any contingencies.
Conduct thorough market research
A common misconception is that you will always find someone who will use your application. While that may be true, understanding how to pitch it and market it to the correct people will potentially skyrocket your success and reduce "downtime" where the profit might not be rolling in.
Getting a better understanding of the market and potential customers will also allow you to possibly add features or bug fixes that may be common in competitor applications.
Anticipate user personas
Finally, creating user personas can aid in the overall marketing process.
User (or buyer) personas are basically abstract conceptualizations and descriptions of your potential clients. Creating one is fairly easy, even if the market is completely new. If you have been in the same market for some time, simply taking all your buyers and averaging them out will provide a fairly exact picture.
If you haven't been in the market, taking stock of any public information about your future competitors' users will aid in the creation process. Such information may be reviews, comments, etc.
Applying other, usual marketing processes (social media promotion, blog posts, outreach, etc.) will be helpful as well. However, the brunt of the primary marketing force should start once you launch the application. Running PPC ads before you even have a product to offer is just burning money.
During App Launch Marketing
Once you are very close to the launch date, initiating content and influencer driven promotion strategies will be key. You need to build awareness around the product through channels that deliver quick results.
Another great strategy is to use email marketing as one promotional strategy. If you have collected some potential leads through capture forms, landing pages, or other means, sending out newsletters will keep the audience's attention on your mobile application.
Finally, you should prepare slightly different strategies for the two most popular platforms. First, an Apple Store marketing strategy should always include some additional time for the review process. It's simply extremely long, therefore toning down marketing dedicated to Apple users at the very start might be wiser.
Additionally, the Apple Store has a "featured" section. Getting in there is extremely effective as it's basically like getting on the front page of the news. The Apple Store has a ton of requirements, though.
However, you can always pitch your mobile app to the editors for a chance at getting featured. One important thing to keep in mind is that Apple prefers native apps. You can have a cross-platform one, however, they will prefer ones built specifically for iOS.
An Android app marketing strategy can be a little more lax as the review process isn't as strict. However, you should always keep in mind App Store specific strategies in mind to maximize the likelihood of your application being discovered.
Also read:
App Store Optimization (ASO)
ASO deserves its own section. Often people are willing to drop the application in and run numerous ads and promotional campaigns to drive in customers. However, 65% of all users discover apps in the Apple Store through search or ads within it. The same likely goes for the Google Play store.
Think about how you have discovered most of your applications. It's often through a direct search or a recommendation feature within the store itself.
App Store Optimization does exactly that – makes your application easier to find through search. It's a lot like Search Engine Optimization (SEO) for websites. Essentially, your application ranks for specific keywords in the App Store's search engine. Once it starts ranking, it will likely continue.
However, continued ranking depends on numerous factors such as reviews, downloads, descriptions, and overall user experience. Better results in all of these areas will increase overall position on the page (for specific keywords) which greatly raise the likelihood of a potential customer clicking on your application.
While putting out a full guide on ASO in this article is impossible, all you have to know is that it's incredibly important. Ranking in the 1st place in app stores will likely bring you greater results than nearly any other marketing avenue.
Also read: 10 New Product Launch Email Template Examples
App Users Acquisition and Retention
Mobile app marketing campaigns truly begin here. Once your app is in the store, there are many ways to go around marketing it to potential clients and customers. We've already mentioned digital marketing strategies for mobile apps like influencer, social media, and PPC marketing.
If your application is decently complex (e.g. not say a white noise generator), creating a content-driven marketing strategy will be wise. For example, applications that help with nutrition, sport, meditation, and other self-improvement strategies can gather around them large communities of people who are dedicated to the cause. If such a community exists, creating more applications for them or upselling other products becomes a breeze.
However, for a content-driven marketing strategy, a website and blog will be required. Thus, if you think your application might be able to draw in a large, dedicated audience that can also benefit from additional content, building a website beforehand would be wise.
In general, even if you don't go for a content-driven marketing strategy, establishing some other way to communicate with your audience (and let them communicate with you) is preferred. Your audience can provide invaluable insights into the pain points of customers, allowing you to fill in the gaps and create a better product.
A fairly common way to communicate with your audience is through push notifications and requests for reviews. Push notifications have been shown to increase retention (or, in other words, reduce churn) by up to 180%.
Keeping your clients around and checking in with your app is a great way to maximize your ROI. Additionally, if your app can support that, adding in-app incentives is another great way to achieve greater results.
Continued progress: Idea Development in Your Mobile App Marketing Strategy
Finally, an important idea in app development and marketing is continued progress. In many cases, an app can nearly always be improved, outside of extremely simplistic ones. That means that you have the opportunity to keep delivering better results, increase ROI, and create increasingly bigger audiences.
As we've mentioned previously, getting your audience to deliver feedback is critical. That's why so many apps nowadays request their users (in-app) to rate and write reviews about them. That has a double-benefit as it makes your app standout more and rank better, and it also gives you valuable insight.
One final way to completely turbocharge mobile app marketing is to establish affiliate programs. Affiliate programs are a tried-and-true way to maximize reach.
However, they might cut into your profit margins, especially if all app features are a one-time purchase. Therefore, if you plan on including an affiliate program, ensure more ways of monetization in order to tamper the reduced profits.
Conclusion: Apply These Promotional App Strategies
Developing an app is just one part of the entire process. In order to make the development cycle worth it, a smart marketing plan has to be in place before the application even lands on the first store. The promotional strategies outlined above will let you get the most bang for your buck on every application developed.
Want to find out more about marketing strategies? Read our Sender blog to find out how strategies like SMS marketing perform and whether it's worth doing it!
Also read: 6+ Mobile App Retention Strategies
Like what you read?
Apply it in practice with Sender.net - the most cost-effective email marketing solution in the market.
Try Sender for free