Like what you read?
Apply it in practice with Sender.net - the most cost-effective email marketing solution in the market.
Try Sender for free
We're already in the final quarter of 2022, if you want to wrap up the year in style, you must be in your customers' inboxes with witty, conversational text messages that excite and inspire.
Indeed, SMS marketing can put your business well ahead of the game at very little cost. You just need an SMS marketing agency that understands the subtleties—DOs and DON'Ts—of creating enchanting text messaging campaigns.
This blog post provides a detailed rundown of the best SMS agencies e-commerce marketers can outsource their text messaging activities to now and in 2023. Stay tuned!
Best SMS Marketing Agencies
Note: We segmented the agencies on our list into multiple categories, focusing on their sphere of influence on a sales funnel—you can save yourself some time by skimming through the taglines.
Leadorigin – Best SMS Advertising Agency
SMS advertising is growing at an exponential rate. However, with so many options available and the constant influx of new SMS marketing strategies, it's challenging for e-commerce businesses to know where to begin and what will work best for their campaign.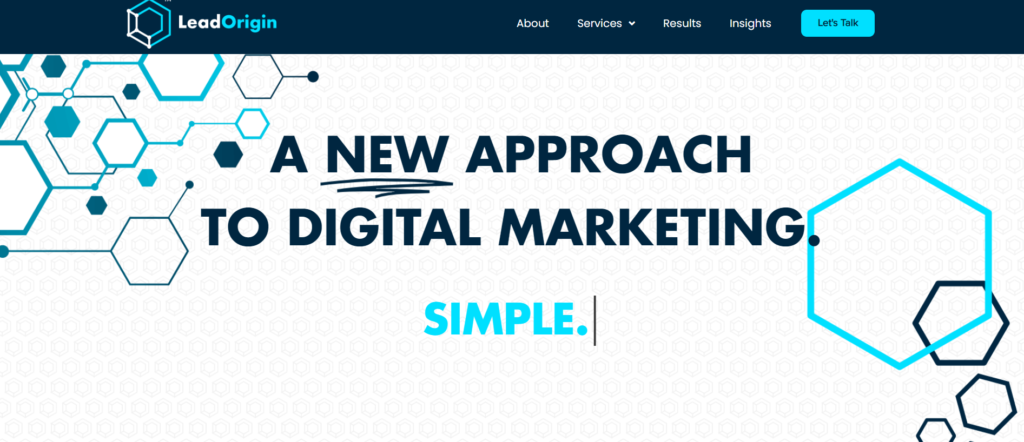 LeadOrigin is a Texas-based SMS ad agency that takes the guesswork out of marketing. They offer a step-by-step SMS campaign creation/advertising process and use data-centric solutions to drive home good ROI for clients.
LeadOrigin Services
SMS advertising;
Email marketing;
Paid advertising;
Social media management;
Graphic design;
SEO;
Website development;
AI Targeting.
---
The Snow Agency – Best SMS Lead Generation Agency
If you're looking to generate leads, move prospects up the sales funnel, or impress existing customers, an SMS lead generation agency might be what you need.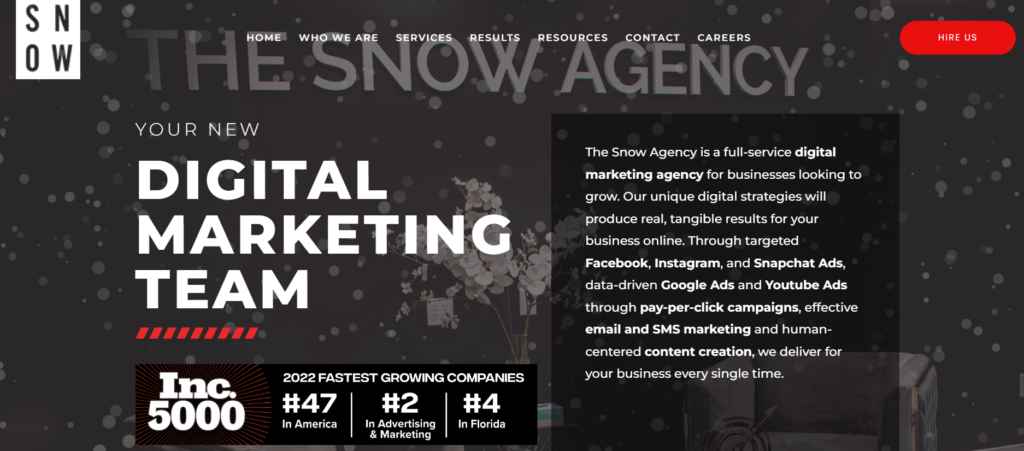 Snow Agency comprises a set of 'been there, done that' SMS lead generation experts operating from Edgewater, New Jersey. These e-commerce SMS marketers can help you move leads up the sales funnel while delivering witty SMS content that keeps consumers glued to your text.
The best part is – Snow agency professionals are quite responsive and exceptionally skilled in implementing game-changing SMS lead generation strategies.
Snow Agency Services
SMS lead generation;
Facebook advertising;
Instagram advertising;
Google AdWord advertising;
Snap chat advertising;
Email marketing;
Web development.
---
Click Refresh – Best Agency For SMS Collection/List Building
Every successful SMS campaign stands on the shoulder of an already existing list of prospects or consumers. But creating this list can be a drag. That's why top ecommerce marketers take pride in outsourcing the SMS collection process to text marketers.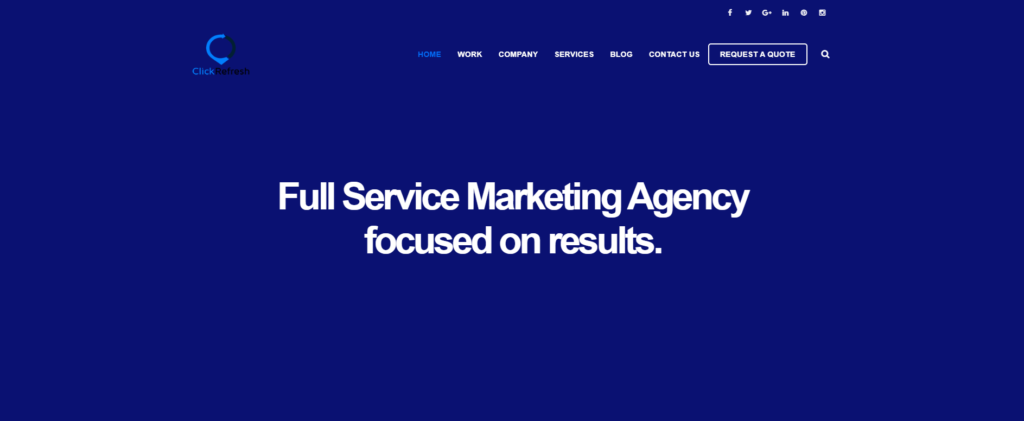 Click Refresh is amongst the few SMS marketing companies that can help you expand your reach and reel in sales. This California-based SMS agency works with multiple high-performance SMS automation software, ensuring clients enjoy an unlimited number of mobile subscribers.
Click Refresh made our list primarily because of their streamlined SMS signup strategy, SMS grouping process, and the dedicated marketing team they offer ecommerce marketers.
Click Refresh Services
Website design;
E-commerce development;
SEO optimization;
Social media marketing;
Pay per click;
Email marketing.
---
MuteSix – Best Agency for SMS Campaigns
Whether it's a new customer, a lapsed customer, or one who has just churned, re-engaging them is essential to any successful retention strategy. However, sending the same SMS to everyone is the same as sending it to no one — they need to be personal and relevant.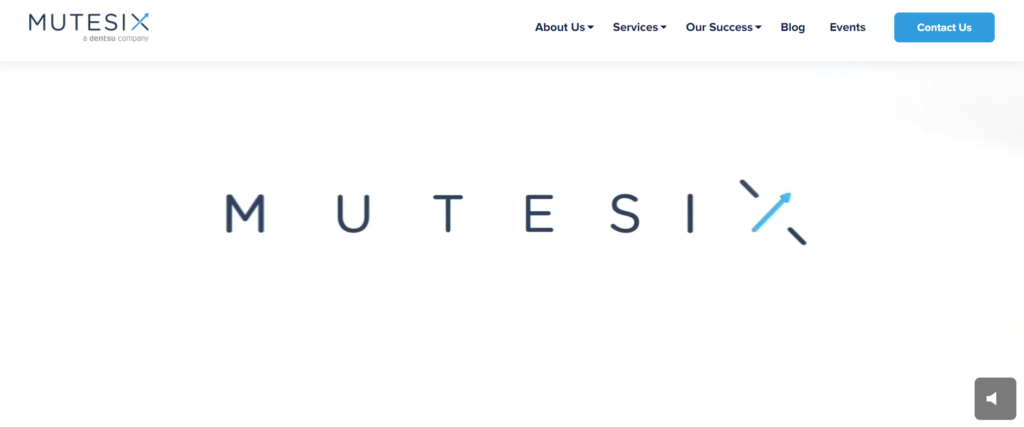 MuteSix is a Californian SMS modeling agency that exists to drive conversions and build customer loyalty. Their SMS marketing team can help you strategically plan and build campaigns with relevant messages to engage, convert, and retain consumers.
MuteSix Services
SMS marketing;
Content creation;
Bespoke production;
Social media marketing;
Copywriting;
Graphic design.
---
Sagareach – Best Bulk SMS Agency
Since e-commerce marketers cannot afford to sit on their laurels and wait for customers to come to them, they might as well reach out to prospects in style. And for that simple yet essential purpose, we found it fit to include Sagareach in our list.
Sagareach is an SMS marketing agency based in Santa Ana, California. Their SMS marketing experts are creative, innovative, and result-oriented, with a keen eye for detail. They can help you create or streamline a sustainable process for your bulk SMS marketing activities.
Sagareach Services
SMS marketing;
Lead generation;
Email marketing;
SEO;
Web design;
PPC;
Content marketing.
---
Matrix Global SMS – Best SMS Automation Agency
Leaving manual, repeatable, or generic tasks to the bot is a common phenomenon nowadays. And as you already know, sending multiple text messages at a scheduled time stands tall amidst a mountain of generic marketing activities.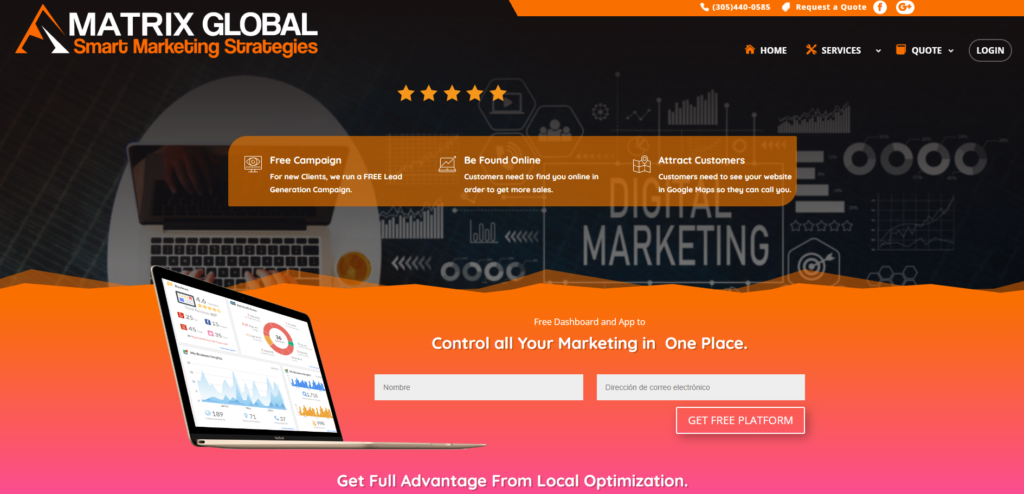 Thankfully, Matric Global SMS agency exists to lessen the hassle and put more time in your hands. With its headquarters in Florida, its team of SMS marketing experts can help you reach an entirely new audience without damaging your reputation or causing frustration.
Matric Global SMS marketing strategy revolves around a holistic process that supports the creation of actionable content with maximum impact—guaranteeing traffic and clients instead of excuses.
Matric Global SMS Services
SMS marketing;
Website design;
Mobile app design;
Graphic design;
Search marketing;
PPC retargeting;
Social media.
---
Thrive Agency – Best Full-Scale Text Messaging Agency
It's common knowledge that most e-commerce marketers value the service of a specialist over that of a generalist. However, if you're looking to hit multiple sales and marketing goals with your SMS activities, you might want to consider an agency that would allow you to go all out.

Thrive agency, just as the name implies, built its SMS marketing fort around the simple yet a highly-intuitive vision of helping its clients thrive. Their text marketers use only top-of-the-line SMS marketing software and tools to ensure fast message delivery and reliable tracking.
Thrive agency is a Texas-based text messaging agency that can help you manage full-scale SMS campaigns, increase customer awareness, and build stronger brand relationships.
Thrive Agency Services
SMS marketing;
Digital marketing;
Web design;
Email marketing;
Social media marketing.
How To Choose A Top SMS Marketing Agency
Choosing the right SMS marketing agency for your e-commerce business wouldn't be a tough row to hoe if you first highlight the reason or motive behind your campaign. That way, you've predetermined goals, targets, and milestones guiding and perfecting your decisions.  
Even so, factors like the SMS marketing software provider/s behind their text messaging activities and the agency's track record can also cause complications along the way.
Don't forget that you need a great tool for SMS marketing, too!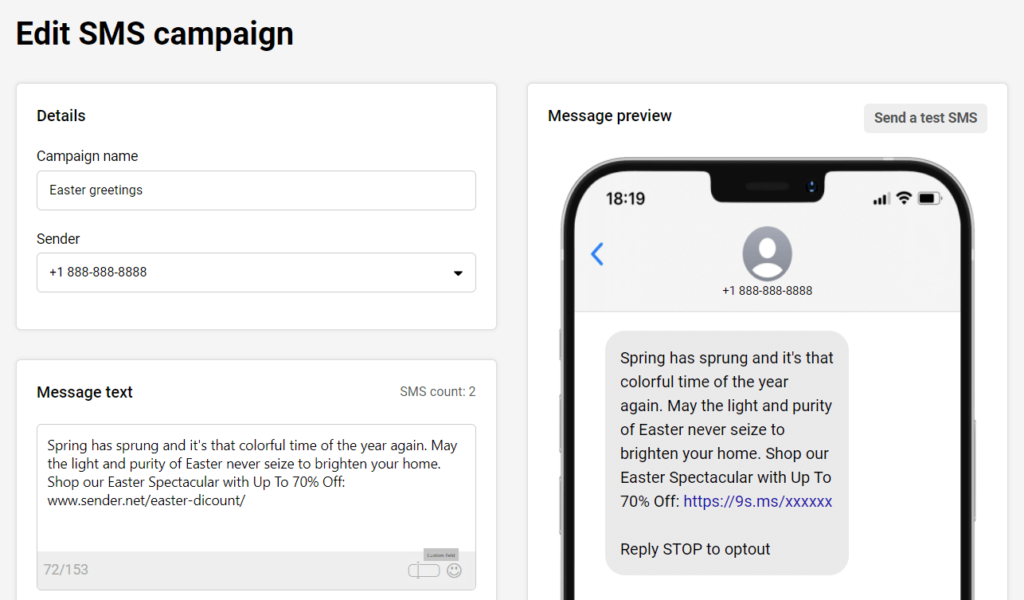 So hey, when seeking a top SMS marketing agency for specific needs, you can't sit on your laurels. You must keep your guard up and, if needed, take pride in being picky. Good luck!
Also read: