Email is the primary communication and marketing channel for most businesses.
Sending out offers, newsletters, and other client-facing communication is primarily done through email marketing platforms and tools. Ensuring that these service providers deliver a great product is just one piece of the puzzle.
Most email marketing services will keep a close eye on their premium IPs and delivery servers. However, significant differences will begin to appear once you start comparing them according to price, features, and user experience.
In this blog post, we will go over several email marketing service providers, their plans, features, benefits, and drawbacks, basically a general overview. Additionally, we will carefully consider the needs of both smaller and larger businesses as budget constraints and required features will differ greatly.
Content menu:
Best Email Marketing Services For Small Businesses Overall
TOP Free Tools for Email Marketing
Opt-in Email Marketing Services
Best Email Marketing Services for Small Businesses
Going through absolutely every email marketing platform and analyzing every small difference would take a considerable amount of time. Additionally, for over 90% of cases, such an in-depth overview wouldn't be as useful as most businesses go for the standard plans. Thus, we decided to pick 5 providers and go over their standard plans.
Sender – Best Email Marketing Service for Small Business and Ecommerce

Well, you know it's us. We're an email & SMS marketing platform that thinks everyone else is either too expensive or too complicated. Sender gives you everything you need to optimize email campaigns from start to finish, maintain high deliverability, automate workflows, and much more.
Our goal is to help our clients grow their audience and help them create long-lasting relationships by providing everything that is needed for great email marketing.
Top Email Marketing Service Features
Sender is one of the few marketing providers who successfully integrated SMS marketing channel into an already thriving email marketing platform. Sender's multifunctional platform integrates a wide variaty of marketing tools, starting from subscribers management systems to marketing automation.
Text messaging ( SMS Marketing )
Email + SMS marketing automation
Email Drag & Drop builder
Pre-built & customizable templates
Advanced subscribers segmentation & analytics
Popup & Sign up forms
Pricing – Unbeatable Features and Price Value
Based on the amount of subscribers, beginning from 5 000. Starts at $9 per month ($98 per annum). Goes up in 5 000 subscriber increments. Keep in mind, that we do not limit access to top-tier features, which means you're able to use a complete arsenal of marketing features.
Emails per month: Each increment provides 12 emails per month per subscriber. For additional emails, buying additional credits is a possibility.
Subscriber counts: Only unique subscribers are added to the calculations.
We don't discriminate and believe that even free users should have access to so-called "premium" features. We don't lock them under costly plans and authorise complete platform access for each user!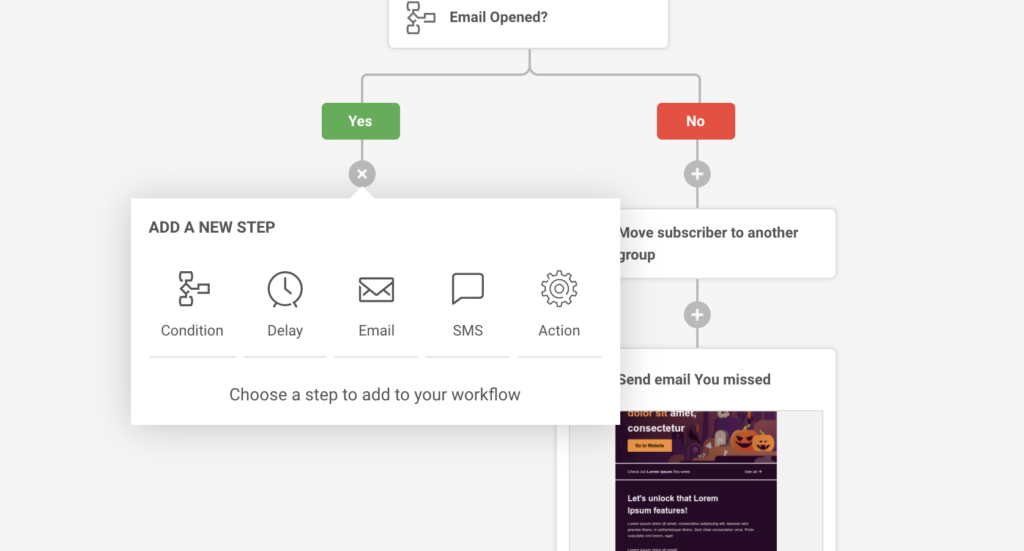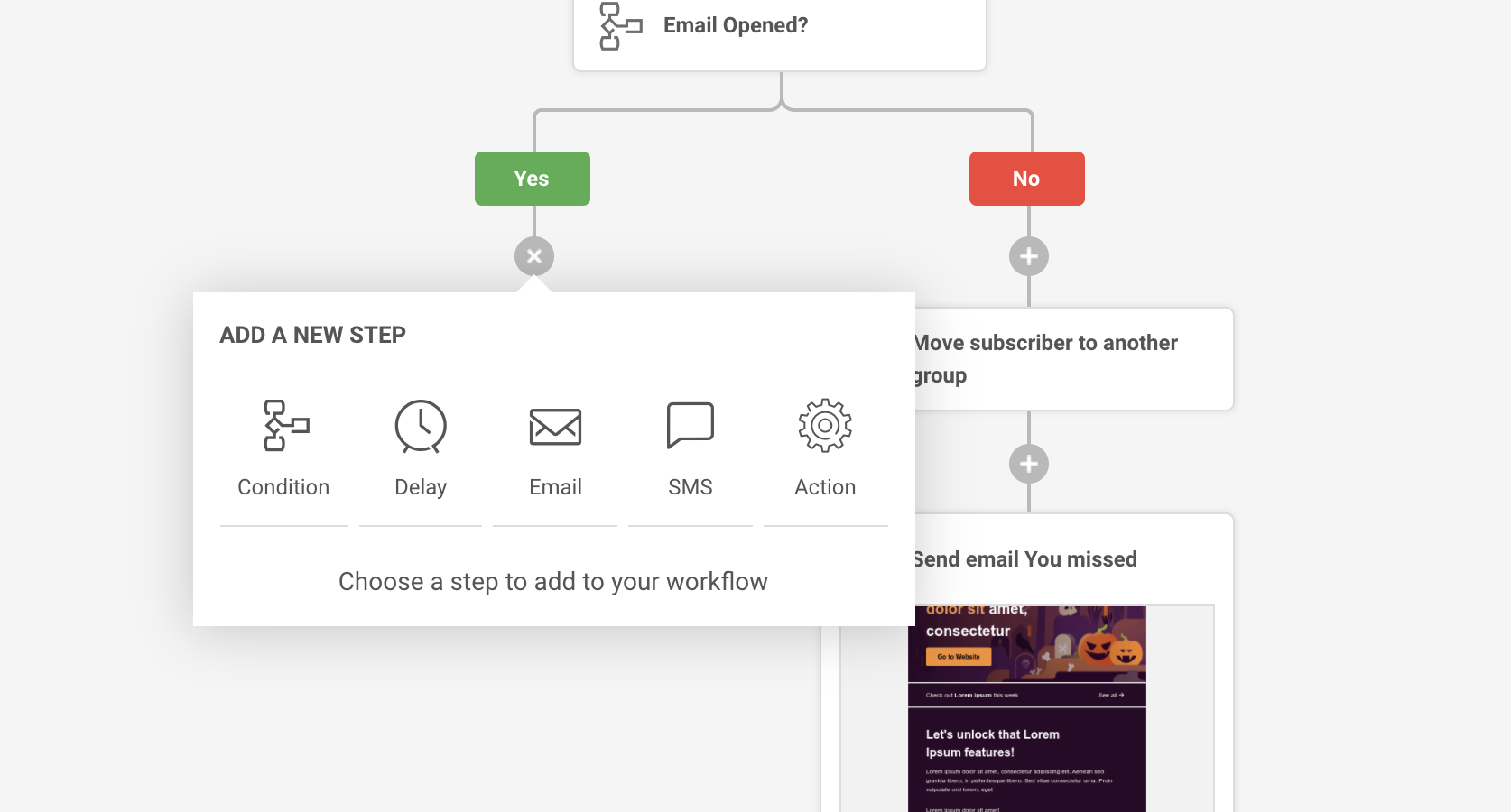 Take Sender for a spin with zero financial commitment. The FREE Forever plan provides 15 000 monthly emails to up to 2,500 contacts absolutely free of cost!
Benchmark Email – Best Email Marketing Platform for Responsive Emails

Benchmark Email is an email marketing, automation, and lead generation platform. Its mission is to help businesses around the globe grow and nurture their audiences by providing them with simple, easy-to-use marketing and sales tools.
One of the goals of Benchmark Email is to make it easy to take advantage of the wide feature set. The platform is tailored towards those who don't have the time and resources to go through dozens of pages of documentation just to start sending emails.
Best Email Marketing Platform Features
If you want a stunning email, you can design it from scratch using the software's WYSIWYG email builder. However, Benchmark may not be the best email marketing service option for email automation beginners. The lack of adaptability could be a letdown.
WYSIWYG email editor
Template management
Image library
Lead capturing tools
Auto-Responders
Pricing
Based on the amount of subscribers, starting from 500. The cheapest plan starts at $13 per month ($156 per annum). Goes up in 2 500 to 10 000 increments.
Pricing model – per feature, which means subscribers of less-expensive plans are restricted from top-tier features access.
Emails per month: Unlimited.
Omnisend – Best Email Marketing Solution for Ecommerce and Online Stores

Omnisend are an ecommerce focused email and SMS marketing platform. Instead of trying to create an all-in-one solution for all industries and markets, Omnisend purely focuses on ecommerce. They offer a wide variety of features, which include data analytics, email and SMS automation, and template builders.
Their goal is to help companies tap into omnichannel marketing by combining email and SMS into one huge campaign.
Best Email Marketing Solution Features
Omnisend offers multi-channel automated workflows plus is compatible with push notifications. These features may not be necessary for every user, though having them in one place is convenient for larger businesses.
Lead capturing tools

eCommerce integrations
Email builder
Marketing automation
Pricing
Based on the amount of subscribers, beginning from 500. Starts at $16 per month ($192 per annum). Goes up in 500 subscriber increments.
Pricing model – per feature, which means subscribers of less-expensive plans are restricted from top-tier features access.
Emails per month: Calculated based on the subscriber count: 12 * (subscriber count). Note that subscriber count automatically increases the price, therefore the emails per month granted are essentially static.
Converkit – Best Bulk Email Marketing Service for Newsletters

Convertkit is a unique multifunctional marketing platform that is tailored towards artists. They do provide website building, email marketing, and monetization methods. However, they are clearly only focused on those who do performance or have a fan base.
One of the standout features of Convertkit is the community-driven focus. Unlike many other marketing platforms, Convertkit is focused not on building an audience to send simple emails to, but on fostering long-lasting fanbases that interact with the platform frequently.
Best Bulk Email Marketing Service Features
ConvertKit's email marketing features give you all the basics of email campaigns. The tool will enable you to create your email designs or customize readily available templates to suit your brand and message. Plus, it has additional features such as email capture tools that let you build your opt-in list from your website.
Template Management
WYSIWYG Editor
Segmentation
Auto-Responders
Mobile Optimized Emails
Pricing
Based on subscriber count, starting from 1 000. Starts at $29 per month ($348 per annum). Goes up in 2 000, 5 000, and 10 0000 increments.
Emails per month: Unlimited.
GetResponse – Best Email Marketing Tool for Subscribers List Building

GetResponse is a multifunctional email marketing platform. They purportedly provide email marketing, website building, and webinar creating features all in one package. All of those features are rolled into one pricing package.
GetResponse is essentially a tool for small businesses to cover many marketing needs in one go instead of getting numerous subscriptions.
Best Email Marketing Tool Features
GetResponse is a user-friendly email marketing service. They offer an easy way to make and send email campaigns. You can create beautiful newsletters, autoresponders, and automated sequences. Additionally, Getresponse is suitable for list building and cart abandonment campaigns.
Easy-to-use email builder
Email automation
Variaty of opt-in forms
Great reporting
Pricing
Based on the amount of subscribers, beginning from 1 000. Starts at $49 per month ($588 per annum). Increments range from 1 500 to 50 000.
Emails per month: Unlimited.
Subscriber counts: Any entry into the list is counted as a subscriber, including duplicates.
SendX – Best Blast Email Marketing Provider with Automation

SendX is an Intuitive and affordable email marketing tool. With one of the simplest UIs in the industry. SendX provides unlimited email sends with every plan, powerful automation capabilities, best of breed email deliverability.
There are nearly 50 email templates inside SendX that can be used for various use cases like the holiday season, newsletter, product launch, promotions, eCommerce, online courses, etc.
SendX can make your marketing go into auto-pilot mode. Segment the customers on the basis of demography, subscriber behaviour and more than 25+ other parameters. You can increase revenue with transactional emails and reach the target customers at the appropriate time through scheduling.
Best Blast Email Marketing Provider Features
Unlike some other software, SendX is specific and clear about what it delivers. It defines itself as being inexpensive and intuitive email marketing software.
Reporting/Analytics
Dynamic Content
Drip Campaigns
A/B Testing
Pricing
Based on the number of subscribers starting from 1 000 the monthly pricing starts at $9.99 per month ($89.88 per annum). Goes up in 2 500, 5 000, 10 000 and 15 000.
Constant Contact – Best Mass Email Marketing Service for Nonprofits

Constant Contact is another platform that offers a wide variety of different features intended to reduce the number of subscriptions required. They offer to take care of your email marketing, ecommerce, websites, and social marketing all in one go.
Since Constant Contact tries to cover so much ground, it's hard to enumerate all of their features, however, they definitely provide a good starting package for the hustling entrepreneur.
Best Mass Email Marketing Services Features
The newsletter software got all the necessary features for email templates, a collection of basic and more complex templates to choose from. Yet, the software is known for its event invitation management feature, it helps event organizers get the most out of their webinars.
Automated publishing
CRM
Lead capture
Marketing Automation
Pricing
Based on the amount of subscribers, beginning from 500. Starts at $20 per month ($240 per annum). Increments range from 2 000 to 15 000.
Mailmodo – Best Email Broadcast Service

Mailmodo is a tool that businesses can use to create and send interactive emails that let users take action inside their emails. For example, users can fill out forms, book meetings on Calendly, and complete checkout inside their emails.
Simply put, you can provide a web browser experience within an email.
Best Mass Email Marketing Services Features
AMP for email technology powers Mailmodo's interactive emails. Interactive forms, NPS surveys, calendars, and abandoned carts, are some of the interactive elements you can include in your email.
AMP emails
Drag and drop email editor
Contacts management
Email analytics
Email automation
Pricing
Mailmodo has a free plan that lets you send 10,000 emails every month, making it a great choice for small businesses and start-ups.
Besides, they have paid plans depending on the number of emails sent, starting from 49$ per month for 50,000 emails.
Best Free Email Marketing Services
While most standard plans from email service providers don't cost a fortune, for some businesses any price is just a tad too high. Luckily, there are plenty of email marketing services that provide their platforms free of charge for a smaller amount of subscribers and, possibly, reduced features.
We decided to compare 3 of the most prominent email marketing platform provider free plans. For those looking for a free email marketing service for ecommerce or any other use case, one of these three will definitely be enough. Additionally, upgrading from free plans will be hassle-free as all of these providers have great standard plans.
| | | | |
| --- | --- | --- | --- |
| Features | Sender | Mailchimp | Sendinblue |
| Contacts | Up to 2 500 | Up to 2 000 | Unlimited |
| Emails | Up to 15 000 | Up to 10 000 | Up to 900 |
| Daily limits | Unlimited | Up to 2 000 | 300 |
| Support | 24/7 Live Chat + Email | Email only first 30 days | Email only |
| WordPress Integration | + | + | + |
| Email Automation | + | – | – |
| Email Templates Library | + | – | + |
| Advanced Segmentation | + | Basic | Basic |
| Email Scheduling | + | – | + |
| Advanced Reporting | + | – | – |
| Geography & Device Reporting | + | – | – |
| Heat Map Reporting | + | – | – |
| Advanced Open & Click Stats | + | – | – |
| Multi-User Access | Unlimited | 1 | 1 |
While the decision to pick one of these three service providers should be based on highly specific circumstances, businesses in nearly any sector or industry will be able to find the perfect fit-out of the ones outlined above.
Opt-in Email Marketing Services
Ever since GDPR was released, having consumers and customers opt-in to any marketing activity has become a necessity. Any business that works with European citizens is required to uphold GDPR requirements. In practice, every digital business has to have an opt-in feature.
Email marketing is no different. Customers have to be able to both opt-in and opt-out. Sending unsolicited marketing emails can cause a whole host of issues – primarily, legal ones. According to official sources, the fine for sending unsolicited emails or failing to uphold the GDPR laws can land a hefty fine – €20 million or 4% of yearly revenue, whichever is higher!
Clearly, failing to adhere to GDPR can cause significant harm to any company's financials and reputation. However, some non-EU-based email marketing platform and service providers have no opt-in features. If such a feature doesn't exist, any email, sent to an EU citizen, could potentially be breaking GDPR laws.
Thus, there are three email marketing service providers that we know for sure have opt-in features – Sender, Omnisend, and Mailerlite. These tools offer ways to collect visitor consent and opt-in contacts using embedded sign-up forms or popups. Thus, if any subscriber is (or potentially will be) from the EU, using the tools outlined above is a necessity.
Enterprise Email Marketing Service Providers
Finally, out of all businesses, the ones with the highest requirements will often be enterprises. Simply picking a provider based on price and basic features is no longer enough.
As change in enterprises, even agile ones is significantly slower than in smaller businesses, carefully weighing the options is necessary. Once a decision is made, changing the provider quickly is nearly impossible. Thus, we recommend to look out for several features for enterprise businesses:
Dedicated account managers. The needs of enterprise-level companies are significantly higher. Any disruption or any other issue needs to be taken care of as quickly as possible. Therefore, finding an email marketing service provider that will give a dedicated account manager should be one of the primary objectives.
Dedicated support for migration & onboarding. As movement will be slow and a large number of accounts will have to be migrated (and a lot of people trained), efficient onboarding and migration will be key.
Unlimited user seats. One thing that will quickly grind everyone's gears will be getting disconnected due to too many users. Limited user seats will greatly negatively impact efficiency and overall satisfaction.
Full API documentation. Enterprise-level businesses will implement a lot of automation and integrate email marketing platforms into other tools. In-depth documentation will be something that developers need.
Unlimited access to automation. Enterprises have no time to fiddle around with limited automation or failures to implement complex workflows.
These are the most important features for any enterprise-level business. Of course, the regular email marketing platform benefits are a nice added bonus. However, they will commonly have dedicated developers that can take care of any features that might be necessary for marketing departments.
Targeted Email Marketing Service for You
Finding the best email marketing service provider is not as easy as it used to be. Nowadays, there are dozens of providers with various features and plans. Therefore, making the right decision takes a lot more time. However, our overall review of these platforms should have made the entire research process significantly easier.
Want to find out how Sender can benefit your business even more? Get started with our service and get all the features right off the bat!
Like what you read?
Apply it in practice with Sender.net - the most cost-effective email marketing solution in the market.
Try Sender for free