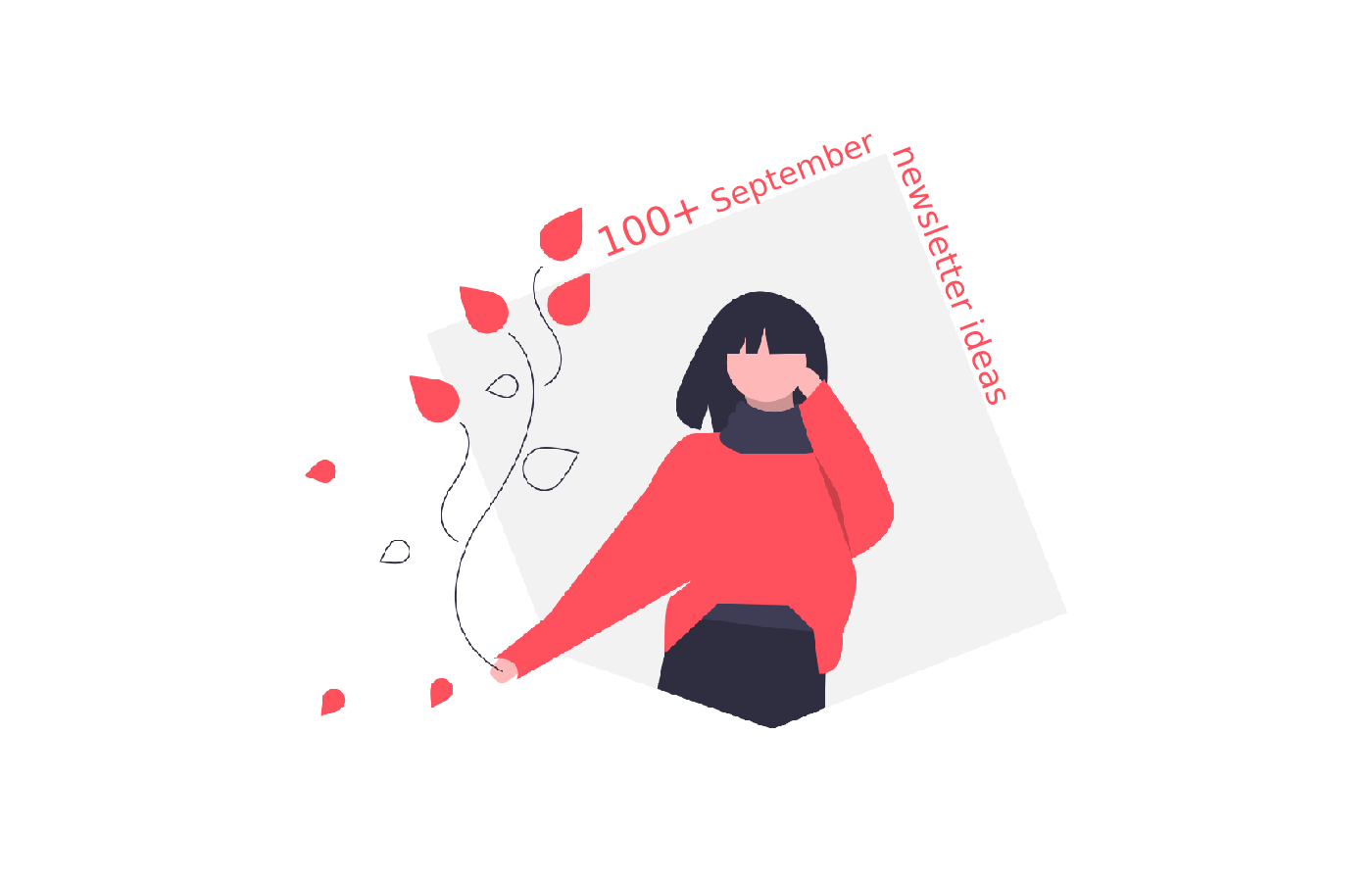 100+ September newsletter ideas
Summer and vacation time are finally over; many businesses are searching for new ways to communicate with clients this new season freshly and more inspiring.
Many people's life changes during September; they start school, college, new jobs, or even change their houses or cities, and you as a business have to prepare for it.
Your clients might start a new exciting chapter in their life, and your email marketing should follow the people's behavior. If you are one of those businesses that need some ideas and topics for their email marketing, you came to the right place.
Here you will find September newsletter ideas for any type of business and brand.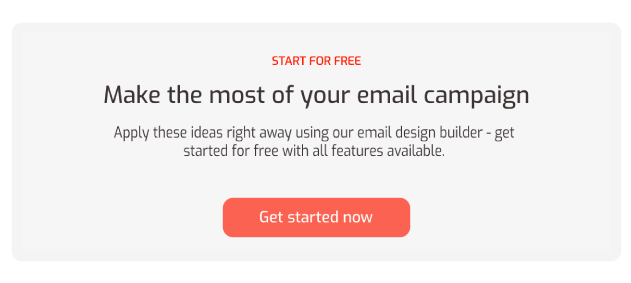 Content menu:
Newsletter topics for September
Firstly, you should know what type of articles consumers love to read and what you should add to any newsletter you send during September. Here are a few of the most popular types of content you should consider adding to your email marketing strategy.
How-to blog posts
Create content only if it is valuable to your target audience that helps them reach some kind of goal with your step-by-step instructions. For instance, a pet shop can offer a blog post about preparing for a new puppy.
How to take care of your product
Does your product require special maintenance? If yes, then provide some maintenance tips in your emails.
Top lists
This type of article is popular simply because they're easy to read. Craft a list of important tips, most popular articles on your website, or time-saving ideas that refer to your company.
Add an infographic
Infographics are visually pleasing, and it is a great way to present difficult information. Make sure to add some infographics to your content marketing strategy.
Roundup
Create an email that offers a roundup of your business's best publications or most popular posts. It's a great way to reuse content that you already exist.
Reminder about a poll or survey
Surveys can help companies find valuable information, although response rates can often be not so reasonable. Remind your clients about survey and importance for you in the newsletter and leave a link to it.
Clients reviews
Collect some customer reviews about a specific product and share it in your next newsletter. Start the newsletter by telling more about the product, add a picture of it, and show your subscribers what others are saying about it.
September newsletter template
September is an exciting time; this month has a more significant celebration and minor special days. Here are some events you can add to your newsletter plan.
SEP 1:
American Chess Day

SEP 2:
World Coconut Day

SEP 3:
National Skyscraper Day

SEP 4:
College Colors Day
National Lazy Mom's Day
National Wildlife Day

SEP 5:
Internationl Day of Charity
National Cheese Pizza Day

SEP 6:
National Read a Book Day

SEP 7:
Labor Day
Brazil Independence Day
National Beer Lovers Day
West Indian Day Parade
SEP 8:
Internationl Literacy Day

SEP 9:
International Sudoku Day
National Wiener Schnitzel Day

SEP 10:
Suicide Prevention Day

SEP 11:
Patriot Day
Ethiopian New Year
National 401(k) Day
Patriot Day (USA)
National Make Your Bed Day

SEP 12:
United Nations Day for South-South
German Language Day
National Chocolate Milkshake Day
National Video Games Day

SEP 13:
Grandparents Day
Day of the Homeland
European Heritage Days
National Blame Someone Else Day
National Celiac Disease Awareness Day
National Peanut Day

SEP 14:
National Coloring Day
Get Ready Day
SEP 15:
International Day of Democracy
Get Ready Day
Costa Rica Independence
El Salvador Independence
Guatemala Independence
Honduras Independence
Nicaragua Independence
National Online Learning Day
Shout of Dolores
National Linguine Day

SEP 16:
Internationl Day for the Preservation of the…
Mexico Independence Day
National Guacamole Day

SEP 17:
Constitution/Citizenship Day
International Patient Safety Day
SEP 18: Rosh Hashana (Start)
AIDS and Aging Awareness Day
Chile Independence Day
MIA Recognition Day
National Cheeseburger Day
National First Love Day

SEP 19:
Rosh Hashana (Cont.)
Talk like a Pirate Day
Oktoberfest (Start)
National Dance Day
National Gymnastics Day

SEP 20:
Rosh Hashana (End)
National Pepperoni Pizza Day
German World Children's Day
National Punch Day
National Queso Day

SEP 21:
Internationl Day of Peace
Batman Day
SEP 22:
Start of Fall (Autumnal Equinox)
National Elephant Appreciation Day
National Voter Registration Day
National Temperature Control Day
National Singles Day
National Ice Cream Cone Day
World Rhino Day
National White Chocolate Day

SEP 23:
Saint Padre Pio Day
Bi Visibility Day
Internationl Day of Sign Languages

SEP 24:
World Maritime Day
National Cherries Jubilee Day

SEP 25:
National Comic Book Day
National One Hit Wonder Day
German Sandwich Day
Heritage Day
National Cooking Day
National Daughters Day
National Lobster Day

SEP 26:
Better Breakfast Day
National Pancake Day
Family Health & Fitness Day (USA)
Johnny Appleseed Day
National Bunny Day
National Family Day
National Hunting and Fishing Day
National Pancake Day
National Public Lands Day

SEP 27:
Gold Star Mothers Day
National Chocolate Milk Day
World Tourism Day
National Crush Day
National No Excuses Day

SEP 28:
National Drink Beer Day
National Neighbor Day
National Sons Day
World Rabies Day
SEP 29:
National Coffee Day
World Heart Day

SEP 30:
Internationl Podcast Day
Internationl Translation Day
​National Love People Day
---
Animal Pain Awareness Month
Baby Safety Month
Better Breakfast Month
Intergeneration Month
National Chicken Month
National Cholesterol Education Month
National Honey Month
National Learning and Development Month
National Papaya Month
National Peripheral Artery Disease Awareness Month
National Suicide Prevention Month
Polycystic Ovarian Syndrome Awareness Month
Self Improvement Month
Sexual Health Month
World Alzheimer's Month
SEP 6-12 National Waffle Week
SEP 13-19 Balance Awareness Week
SEP 13-19 National Assisted Living Week
SEP 13-19 National Eczema Week
SEP 13-19 ​National Rehabilitation Awareness Week
SEP 13-19 Nephrology Nurses Week
SEP 19-OCT 4 Oktoberfest
SEP 20-26 Child Passenger Safety Awareness Week
SEP 20-26 ​Deaf Dog Awareness Week
SEP 20-26 National Surgical Technologists Week
September preschool newsletter
1. Select a channel
There is no correct or incorrect way to send a newsletter to parents. Some schools even hand out updates to parents when children are picked up.
Although parents are busy nowadays and email is the most popular and convenient way to spread the information.
It is a great way to reach working parents who are already regularly checking their inboxes.
2. Plan newsletter frequency
Make sure that you're sending newsletters often enough to give parents the information they want or need.
Don't commit to sending too often, or you'll struggle to fill all the space in your newsletter.
For older children, once a month is reasonably plenty to keep parents informed. You can always send an exclusive email "blast" with particularly timely information between regular updates.
When you decide how often you'll be sending your newsletter to parents, stick with it, and make it a routine.
3. Craft a newsletter template
Create a child care newsletter with an inspiring design template you can use every month. Design parts for items that will always be included, like events, plans, menus, lessons, etc.
4. Plan your must-have content
Write down a list of special occasions, holiday closings, events, and reminders that certainly must go into your newsletter.
You may want to keep a note on your desk between newsletters to write thoughts and ideas down throughout the month.
Fill in the blank sections of your template design with a few photos from the previous month.
5. Write and then proofread your email
Take a few hours and write out your complete newsletter in one sitting. Later, it will take less time to do it that way. Later, come back to it and proofread the newsletter.
Parents are trusting you to teach their kids, so make sure not to make any mistakes.
6. Send your newsletter persistently
No matter what interval you decide is best for your day care or preschool, stick to it.
Ask for feedback from parents and check your email metrics especially after your first few newsletters.
Take comments into consideration and improve quality every month.
Child Care Newsletter Ideas
Looking at an empty document or email can be sad and intimidating. Fill your newsletter for parents with relevant information as well as entertainment recaps from each month.
Here are a few ideas about what you can add to your emails.
1. Share Significant Details
Child care newsletters are firstly a way to share significant information with parents about what their children are up to.
Consider adding these items to your email template so they can be included each month:
A calendar of events.
Learning plans and lesson programs for the month.
A menu for lunch.
A quick review of the school's policies.
2. Build a Community
The parents at your daycare are a part of your broader community. They will continue to interact if their kids become friends and go to school together.
Help to improve this community with support in your newsletter.
Welcome new families to your school or child care center.
Share related community events.
Include links to social media profiles.
3. Connect Kids and Parents
As an educator, you may spend more time with your parents' children than the parents themselves.
That's why you should provide resources to keep kids and their parents connected.
Include pictures of children doing projects at preschool
Suggest some activities to do at home
Offer resources from experts
September is an exciting month when so many things start in your subscribers' life; make sure to consider it.
Parents can be stress from the final school shopping, and students may be anxious about a new school year.
Create relevant content for your audience this September and help them solve their problem with your product or service using email marketing.