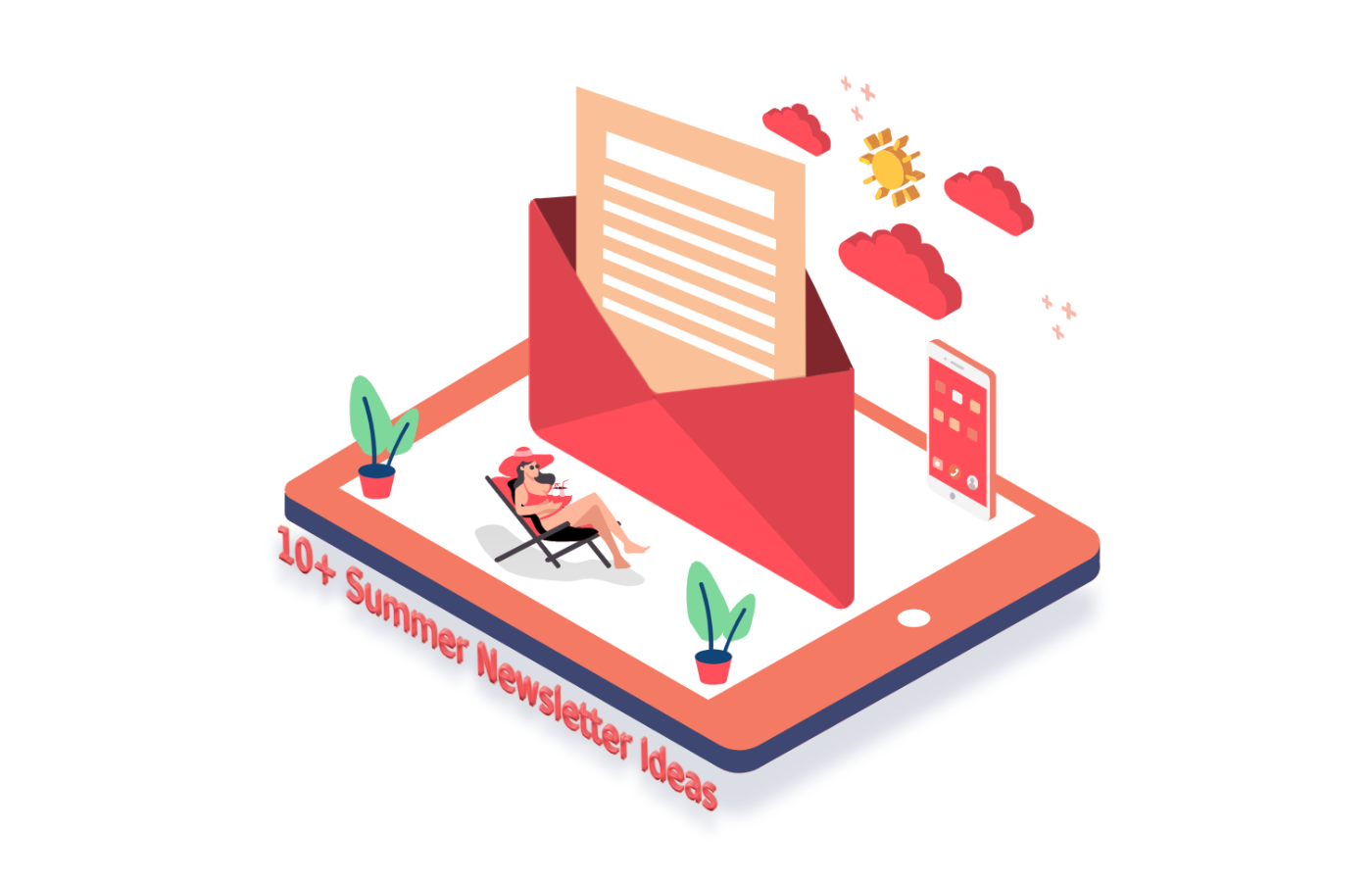 10+ Summer Newsletter Ideas
A newsletter is ideal for the company to interact with customers. It is not direct marketing.
Newsletters provide valuation and useful information to customers about the services.
A quality newsletter gives customers ownership and develops customer loyalty.
Summer is the best time to send newsletters to the target audience and generate newsletter ideas for summer.
We recommend to read our article about fall newsletter ideas.
Family Newsletter Ideas
In the summer season, people like to spend time with family. It is an ideal time to focus on family newsletter topics. It is essential to connect it with your business.
The real estate business can cover home features and the best family topic, like family reunion newsletters.
Identify the pain points of your audiences. It will help you to make a customer-centric newsletter.
Highlight the benefit, which the user can get with the purchase of a home.
If you need essay help on the summer newsletter topic, you can avail college essays for sale service. A top-quality writer will produce the best content for you.
It will help you to achieve high marks in coursework. It is always the best idea to seek help from an expert.
The professional writer is an expert in different subjects. You cannot produce a top-quality essay on your own.
Some external help or guidance is always required to meet the assignment's requirements.
It also allows you to focus on your studies and part-time work.
Home Improvement Ideas
Summer is a good time to talk about home improvement and holiday newsletters ideas. Projects like garages, patios, and decks are on people's hit-list in summer.
Look for a way to make your business relevant to people's needs, even if your company is not in the home improvement industry.
Your newsletter can cover the color palettes, which are in trend. Inform your customers about the best offers and deals available in the summers.
Besides, you can include tips, expert advice, and service features in the newsletter.
The information your share with your subscribers and customers can benefit your customers.
Keep your customer's information secure and safe. Ensure that you follow the ethical code and best practice in the newsletter to provide your subscribers' value.
Tips and Tricks for Summer newsletter
Publish advice, tips, and trips in the summer newsletter to give value to the end-user. You can make your tricks and tips relevant to the needs of your customers.
A company, which provides HVAC service, can mention cool house features.
You can also tell about the low costs of air conditioning, and discount offers to the customers in summers.
Make the design of your newsletter attractive and use the best color palettes. It will make the content easy to read.
Readers will grasp the essential information, which is present in the newsletter, nevertheless, don't forget email personalization – it helps to improve the relationship with customers.
Be concise and clear in the content.
Contests Emails
Arrange summer contest and highlight winners, details, and rules in summer newsletters. Add fun events in your contest and make it relevant to the interest of the users. A vacation photo or flowerbed contest is ideal for a travel agency. Contests engage the audiences with your brand's features and services.
Besides, a company can tell about the work culture and ethical codes to the viewers. An organization develops strong brand awareness across different market sectors. Contests will allow you to create strong and loyal customers, which is good for your business
Congratulations Emails
A business can take time to celebrate the achievements in the 4th of July newsletter. It develops a strong network and relationship with customers.
A company can use a congratulations newsletter to highlight business relations and top contributions. It shows the company values the efforts of everyone.
Besides, it develops a good reputation for the company. You can highlight the contributions of all the partners and congratulate all the key stakeholders. The customers trust the company, which celebrates the key achievements.
Holiday Emails
A vacation newsletter is the top trend of the summer. People use the holidays to visit family members. You can also tell the customers how to deal with plumbing issues when you are away from home.
You can connect your business with the vacations in the newsletter. Your company can provide necessary information about international vacation destinations.
Featured Customers
Focus on your top customers. You include a case study in your newsletter and tell the story of the best customers. Add genuine testimonials, photos, and ratings of happy customers to develop a strong brand image.
The audiences will relate to the featured customers to understand the company's products. Besides, it will help the audiences to make an informed decision to buy a product or service.
Backyard Fun
Customers like fun newsletters on entertaining topics.
You can cover details about patio furniture, lawn games, and swimming pool.
Find a way to link such topics with your business products. It will create a good image of your brand across different types of audiences.
Sales and Discounts Newsletters
Provide some rewards via sale newsletter to your loyal customers and special subscribers.
You can offer special discounts and sales deals to specific audiences in your summer newsletter ideas.
Your newsletter readers will appreciate your offers. It will also keep the engagement level of subscribers high, which will benefit your business.
Recipes Emails
Recipe newsletters dominate the summer season. If you have some special recipe to share, mention it in your newsletter.
The users will appreciate your company for the value you provide in your newsletter.
Use a title, which is relevant to your services and products. It will engage your audience and give your business a boost.
Besides, you will acquire new audiences, which will help you to generate high revenue and sales.
The summer is the time to send newsletters to all persons on your mailing list. It will help you to develop strong connections with your customers.
The college freshman can find it tough to complete an assignment on the recipe newsletter. In such a situation, the students hire a writer from a top service provider like PerfectEssay.
The students feel safe and secure as a qualified professional completes the assignment. It helps the student to maintain good academic performance.
Besides, the customer service personnel is available 24/7 for your support.
You can ask for multiple revisions if the assignment does not meet your expectations.
You can also conduct a one-to-one meeting with the writer to provide any additional details. Such interaction helps you to keep track of the assignment's progress.
Conclusion
Which topic is your favorite for the summer newsletter? You can get an idea from the above list. Before you decide to prepare a newsletter, you need to evaluate your business needs. You can alter content if required. Besides, you can also consider the topics, which interest your users the most.
Also we highly recommend to read: