Employ your powerful emails
Increase sales and engagement by sending your well-designed emails with Sender.
Get Started For Free
Everyone has to schedule an appointment sometimes.
While most people prefer to use their phones for appointments, emailing is another option. Sending an appointment email (or a reminder) is a slower but less intense and resource-intensive option.
Luckily, unlike with phone or video calls, sending an appointment email template is possible. All that needs to be done is a few simple edits.
However, knowing what goes into an effective appointment email is also necessary, as it will help edit the template and reduce the possibility of miscommunication.
Building Blocks of Appointment Emails
There are several important building blocks of an appointment email. Skipping out on these is likely to increase the likelihood that some miscommunication will happen.
Here are all of the steps:
Write a clear subject line. An email should have "glance-value". Simply taking a short glimpse of the subject line should provide a clear understanding of what the email is for. Therefore, putting in something like "Appointment scheduling for X" will allow the reader to grasp the idea quickly.
Use a salutation. Starting with a "Hi" or a more formal "Hello" is considered good manners and makes the email seem less spammy. Salutations always improve the success rate of whatever you are trying to achieve.
Introduce yourself (if necessary). If you are setting an appointment at an office or governmental institution, introducing yourself will help you get a response. Generally, as appointments in such places are limited to specific people, providing information about yourself will ensure that the relevant party will schedule the meeting.
Explain why you want to meet. Sometimes the meeting reason might be obvious (e.g. booking an appointment at a hair salon). However, if there are many options or numerous possibilities for appointments, be sure to state your intentions clearly.
Be flexible about time and place. Unless you ask for a reminder, be prepared to offer a time window. If you are setting an appointment that is not at a dedicated institution, offer a safe and public place to meet if needed.
Request a reply or confirmation. Going to an appointment and getting ghosted (intentionally or not!) is never a good feeling. Always request for confirmation to make sure that the recipient has received and read the email.
Send a reminder. Setting up a reminder the day prior (or at some other time) greatly increases appointment attendance.
If you follow the structure outlined above, building an appointment email will be a breeze, and miscommunication is unlikely. Even if you need to edit a template, it's often worth the trouble to keep most of these steps in mind to ensure proper email delivery. Going back and forth over several or a dozen emails annoy most people.
Writing an appointment email for each customer separately sounds nuts. Therefore, having a tool that lets you do that automatically is a must! With Sender, it's super easy to set up the automation, take a look: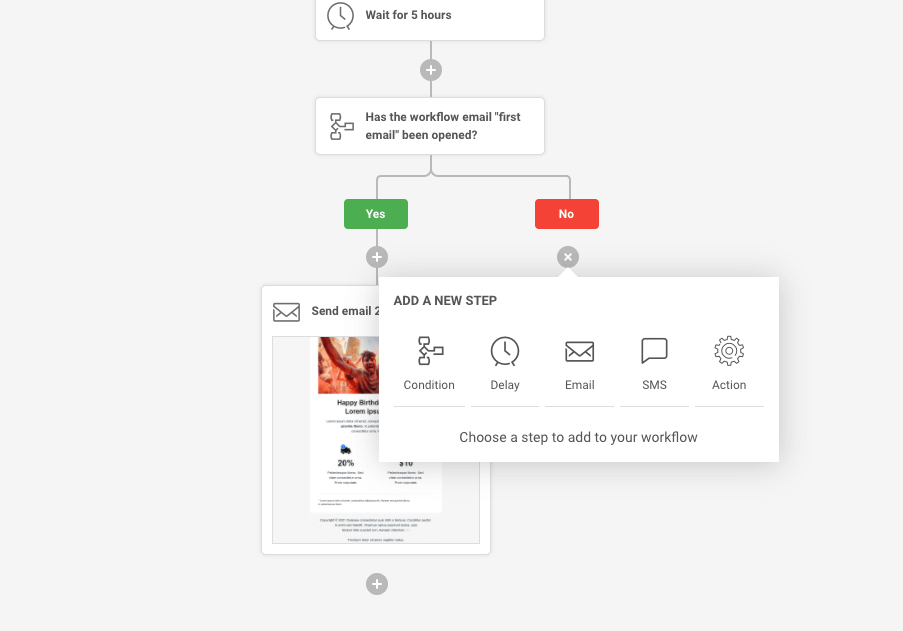 Appointment Email Templates
Need inspiration? Here are a few appointment email templates.
Setting Up an Appointment
There are two primary types of appointment email templates. Scheduling an appointment with someone you know is slightly different from scheduling an appointment with someone you don't know. For the former, using a slightly less formal tone will suffice. If you know the person well, you might as well just personalize the entire email.
Template for someone you know:
Subject line: Scheduling our meeting at 06/19/2021, 6:00 PM
Dear Mrs. Atkins,

I am writing to schedule a meeting to discuss a potential business opportunity. I would like to meet at 6:00 PM on 06/19/2021 at 207 Illinois Avenue. Tell me if that works for you.

If another time and place are better, I am open to suggestions. I look forward to our meeting.

Thank you,
Adam
Template for someone you don't know:
Subject: Inquiry for a meeting at 06/23/2021, 4:00 PM
Dear Mr. Barstow,

My name is Timothy Ellis, and I am writing to you because of your impressive work in an insurance policy. I have been referred to you by Stanley Hutchinson.

I would love to meet for a coffee at our office sometime next week. Tell me if that works for you.

However, I am open to suggestions if that makes you more comfortable. Please let me know when and where you would prefer to meet. I look forward to speaking to you in person.

Sincerely,
Timothy
Other templates:
Dear Stanley,

It was great speaking to you last week. It'd be great if we could schedule a meeting to continue our phone conversation in person. I would love to tell you more about how our field management software can reduce operating costs. How does 5:00 PM on 07/04/2021, sound?

Let me know if that works for you; I'll be in your area a few times next week for appointments so I'm flexible if something else works better. Hope to see you soon.

Warmly,
Leigh
---
Dear Ms. Maria Lucero,

My name is Nathan B. Watson with Coffee Punch. I'm writing to see if you'd want to meet to talk about how our innovative coffee processing equipment will increase your overall revenue.

If you're free for a coffee next week at The Big Apple Pancake House, I'm open any day.

In the meantime, I've attached a case study that might interest you. Please let me know when and where you would like to meet. I look forward to speaking with you.

Sincerely,
Nathan
---
Dear Gloria,

I hear Anthony will be presenting again at this year's conference. Will you be present on Tuesday after he speaks? There's an extended coffee break after his slot, and I would love to spend 20 minutes catching up on what you've been up to. We've got some great projects going on our side, too, that may interest you.

Let me know whether that time slot works for you. Looking forward to seeing you next month.

Best regards,
Evan
Canceling an Appointment
Writing a good appointment cancellation email isn't very difficult. Yet, it's often not very entertaining to write as it's marred with negative emotions.
However, copying and pasting a template and doing a few edits is much easier.
Hello Angela,

Our scheduled appointment was today, but due to a family emergency, I am sorry, but we will have to cancel our scheduled appointment. Without going too in-depth, there has been an accident involving a relative, and I have to prepare some arrangements. I am sorry for any inconvenience. I will make sure to reschedule our appointment as soon as I can and send you another email about my availability.

With sincere apologies and best wishes,
George
---
Dear Sheryl,

Last week, I called you to arrange my meeting at Sender.net. You set the appointment on 2021/07/11 at 5:00 PM.

Unfortunately, I will not be able to make it to the meeting. I have to undergo emergency surgery. I am sorry to inform you of this on such short notice. We will have to shift the appointment date. I will surely be available by 2021/07/18. I will be looking forward to your response.

Best regards,
Lori
---
Dear Mrs. Erica,

Due to some unforeseen circumstances, I am forced to cancel our appointment which was scheduled on 2021/05/20. I apologize for the short notice and any inconvenience this may cause.

I will be more than happy to schedule another appointment at another mutually agreeable time.

Best regards,
Ivan
Professional Appointment Confirmation Letter
Sending out appointment confirmations and reminders greatly increases attendance rates. Additionally, sending out a confirmation will make the recipient feel more secure and help you remember the date. There's barely any reason not to send a confirmation letter.
Dear Mr. Evan,

I would like to confirm your appointment with Thomas on Thursday, 2021/03/06, at 6:00 PM. If you have any questions or want to request changes, please contact me.

Regards,
Edward
---
Dear Ingrid,

This is a reminder to confirm your meeting with Mr. Jone. Your appointment is scheduled for Wednesday, 2021/06/30, at 9:00 AM.

Your meeting is scheduled to be held at the Executive Offices of New York in New York, 469 7th Ave. This is Mr. Jones' phone number, just in case, 330-461-4603.

Please feel free to contact me if you have any questions. I will respond to your question in-depth as soon as possible.

Thank you, and have a great meeting.

Best Regards,
Eve
---
Hey Thomas,

Our staff member has confirmed you for a hairstyling appointment on Monday, 2021/07/12 1:30 PM with Pete at 458 7th Ave. If you have questions before your appointment, use the contact details below to contact us.

To cancel or reschedule your appointment before the scheduled time, please click: [URL]

Thanks for scheduling with NY Barbers!
Aaron
Appointment Email Reminder Follow-Up
As mentioned above, sending out reminder emails is a great way to improve attendance rates. Essentially, it's a free way of making better use of everyone's time.
While these emails may seem unnecessary, some people, even in the best circumstances, forget where and when they need to be.
Subject line: Reminder-Your appointment on 2021/04/25, 3:00 PM
Dear Adam,

This is a friendly reminder confirming your appointment with Castle Rock Capacity Insurance for a consultation on 2021/04/25, 3:00 PM Please try to arrive 15 minutes early and bring your ID, driver's license, or passport.

If you have any questions or you need to reschedule, please call our office at 409-385-5890. Otherwise, we look forward to seeing you on 2021/04/25 at 3:00 PM. Have a wonderful day!

Warm regards,
Castle Rock Capacity Insurance
Subject line: We'll see you on 2021/08/20, 4:00 PM!
Hey there, Annie!

Just a quick reminder that you are scheduled to visit Rhonda's Hairdressing on 2021/08/20, 4:00 PM.

If you have any questions or you need to reschedule, you may use our business phone: 267-296-3697. We're here from 8:00 AM to 8:00 PM on Monday to Saturday. See you soon!

Best,
Rhonda's Hairdressing
---
Hi, Wanda!

This is a friendly reminder that we have you scheduled for the job interview on 2021/04/30 at 10:00 AM. You can find us at 59 Maiden Lane, New York.

Don't forget:
* Bring your ID.
* Try to get here 15 minutes early.
* For rescheduling, call us at 785-257-8564

We'll see you soon!

Best,
National General Insurance
Subject line: Andrew, your next appointment is on 2021/08/15
Dear Andrew,

We hope you're doing well. We wanted to remind you that your next appointment with Oxygen Medical Services is scheduled for 2021/08/15, 11:00 AM. We look forward to seeing you then.

Please remember to bring your ID, driver's license or passport and arrive on time.

We truly care about your well-being, please do not hesitate to call us for anything at 712-431-9677. One of our assistants will get back to you as soon as possible.

Warm regards,
Oxygen Medical Services
Subject: Martin, your consultation time is on 2021/07/16
Dear Martin,

We look forward to welcoming you for your consultation on 2021/07/16, 6:00 PM. Let us know if there is anything more we can do for you through 612-919-7585. Feel free to reach out with any questions or special requests.

Warm regards,
Heron Wealth
Appointment Email Templates for Meetings
If you've ever worked in a corporation or a large company, you've definitely had to join at least a couple of meetings. In corporations, most of these are, at least in part, booked through emails.
If you have an appointment email template for meetings at hand, that will save a ton of time. Instead of having to write a completely new letter each time, all you'd have to do are a couple of edits and be done with it.
Appointment emails for meetings can be created through the RAP model:
R – reason for writing
A – request for specific actions
P – professional ending
Following the basic model will help you tailor each email professionally and to the point. Additionally, you will be sure to avoid any possible communication or unnecessary back and forth through emails.
Dear Keith,

I'm Adam, and I work as a Director of Strategic Partnerships at Icreon. We're specialists in customer relationship management systems. Given that you're leading the Account Manager department within our niche, I believe a collaboration would benefit both sides.

I'd like to take this opportunity to invite you for a meeting at our office on 434 W 33rd St Suite 710, at 2021/03/23, 5:00 PM.

Feel free to suggest another time and location if that doesn't work for you.

Kind regards,
Marissa
---
Dear Gloria,

I'm Jim, and I work in the Sales Department at Dinder Mufflin Commercial Paper Company. Our companies work in the same niche, so I believe we could both benefit from cooperating with one another.

Our product suite is specifically tailored to assessing credit ratings for short-term deals and could really help with reducing potential losses over time. I have a feeling that would be beneficial for your business. Are you free to meet at 466 7th Ave on 2021/06/25 to talk this through?

I look forward to your response.

Have a great day,
Jim
---
Hi Allen,

I'm also Allen! I'm with Resource Optimizers, which specializes in improving employee output and reducing operating costs without losing quality. We've built a client base ranging from simple startups to Fortune 500 giants like Amazon, IBM, and others.

Unlike our competitors, we take a different approach to growing companies. We move fast – and if we don't think we're right for you, we'll tell you upfront.

Are you free for a chat sometime on 2021/07/26, 5:00 PM? We could discuss how our services might improve your business.

Kind regards,
Allen
---
Hey Shanna!

I'm Andrew. We met at CryptoCon on 2020/08/25.

Sounded like you were interested in some of the blockchain technology improvements we offer.

Want to book a quick meeting this week to see what we can do? I can adjust my schedule as necessary, so feel free to offer any date and time.

Sincerely,
Andrew
Appointment Reschedule Email
Everyone has to reschedule an appointment sometime. It's unavoidable. Sometimes we run into unexpected circumstances or problems that are more pressing than any meeting or appointment.
While it would be recommended to tailor each email to the case at hand, no one will know if you're using a template instead of a custom-crafted letter.
Dear Dr. Connor,

I was wondering if it is possible to reschedule tomorrow's appointment to another date and time due to an unexpected conflict in my schedule. Circumstances beyond my control have forced my hand.

Please confirm if 2021/09/02, 2:00 PM would be suitable for you.

Sorry for the inconvenience. Thank you for understanding.

Regards,
Arnold
---
Dear Richard,

I would like to reschedule tomorrow's appointment to 2021/09/23 due to a devastating loss in our family. I apologize for any inconvenience this may cause. If the date stated doesn't suit you, feel free to suggest something that would seem reasonable to you.

Thank you very much for understanding.

Best Regards
Ann
---
Dear Maria,

While I was looking forward to our meeting on 2021/07/16 at 6:00 PM, I regretfully will have to reschedule. Without going into too much detail, an unforeseen accident in the family requires that I be elsewhere for several days.

However, I am still very interested in discussing the potential business opportunity. I can see myself being available on 2021/08/01 and 2021/08/01 at the closest. However, if these dates or times do not work for you, please let me know when you might be able to meet.

I apologize for any inconvenience this may cause, and I look forward to meeting with you on a different date.

Sincerely,
William
Doctor Appointment Email Message
While nowadays, most doctor appointments can be made through automated and dedicated systems, some customers still prefer to schedule through email. Sending a doctor's appointment confirmation email will help them realize that everything went through and increase the chance of attendance.
On the other hand, sometimes you'll need to email the boss to inform them about a doctor's appointment. Having a template for these cases is handy as it's more likely to provide all the necessary details.
Doctor appointment confirmation templates:
Subject line: Your Appointment at Inner Medical Clinic is Confirmed
Dear Harold,

We are looking forward to welcoming you to Inner Medical Clinic on 2021/07/14, 1:00 PM

You've booked with Dr. Ziegler for an endocrine assessment.

If you cannot make the appointment, inform us by calling our phone number 541-542-5495. Rescheduling can also be done through our website.

Please take a moment to read our Cancellation Policy and our Important Information page if you are a new client.

Best regards
Cassandra
Subject line: Thank you for choosing Simple Anti-aging, your appointment is confirmed
Hello Mariann,

Thanks for choosing Simple Anti-aging. You've just taken an exciting step in your wellness journey, and we're so glad to be a part of it.

Your appointment is booked for 7:00 PM on July 25th.

All the information you need for your appointment is available here.

We're looking forward to seeing you.

Best Regards,
Cassiopeia
Also read: 10 Medical Newsletter Examples and Ideas
Doctor Appointment Email to Boss
Subject line: Anthony – Doctor's Appointment
Dear Melissa,

Please accept this letter as a notification that I cannot attend work on April 4th because of a previously scheduled doctor's appointment.

Please let me know if I can provide any further information or documentation.

Sincerely,
Anthony
Dear Tom,

I am writing to inform you of my appointment with my cardiologist. The appointment is on 2021/06/30, 2:45 PM.

I will remind you on June 20th and get someone to help cover my responsibilities.

I apologize for any inconvenience this may cause.

Thank you for your understanding.
Gerald
Take the Best Appointment Email Example
We have covered nearly every appointment-related email template in existence. Instead of writing a completely new email each time, follow the templates outlined above to save time, avoid miscommunication, and maximize the effectiveness of writing.
If you are someone who wants to take it for a spin before shifting over from your existing email tool or want to start with zero financial commitment with a multipurpose multichannel platform – Sender got you covered.
Enjoy top features such as email + SMS automation and popup builder completely free. The FREE Forever offers up to 15,000 emails a month to up to 2,500 contacts absolutely free of cost! No hidden fees.
Also read: