Like what you read?
Apply it in practice with Sender.net - the most cost-effective email marketing solution in the market.
Try Sender for free
No matter what type of business you are in, as long as you are involved in email marketing, reminders are something you need to consider and work on.
Sending a reminder email will help bring back the topic you want to follow, increase the interaction and engagement with customers and build relationships.
However, before you send the reminder, it has to be well thought about: the creation, writing, deadline, and all other details must be considered so your email would persuade your readers.
Follow up and find out more about best practices and techniques on how to write a reminder sentence, and discover some great reminder email samples which will inspire you to create your own!
Reminder Email Examples For Best Engagement
As you are fully prepared to strike with your reminder emails, it is time to look at some templates that would give you further guidance on tactics for creating reminders and reminder letter format.
Check them out and nail your reminder email game by receiving maximum response and engagement!
1. Friendly Payment Reminder Email to the Client
Subject Line: Sender: invoice (123456789) OVERDUE
Dear Grace,

I hope you are well.

We have yet to receive payment from you of $150 regarding our invoice (123456789), which was due for payment on 1st May 2021.

This invoice is now 16 days overdue and is becoming really problematic for us. Please could you let us know when payment will be made as a matter of urgency?

Best regards,
William
Too lazy and want someone else to send that reminder email instead, like email reminder services? You're lucky! Because with Sender, you can set up this reminder sequence to be 100% automated. You don't have to budge when you're waiting for the money your client owes you to arrive.
Our email sequence builder is as simple as it is powerful. Here's what it looks like from the inside.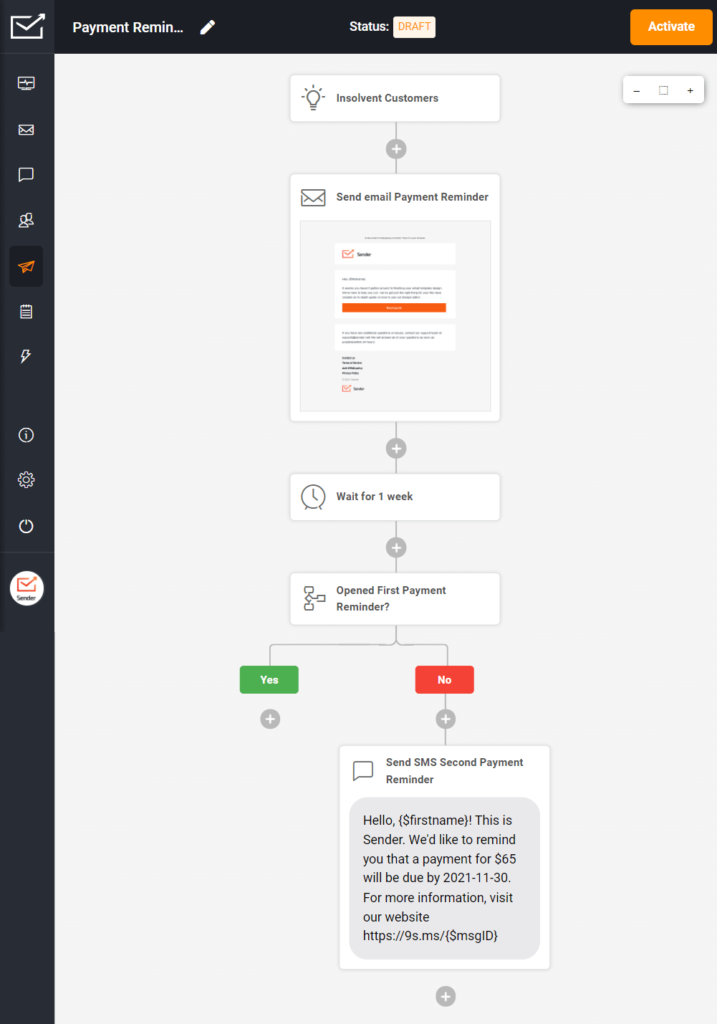 2. Polite Reminder Email Template to Boss
Subject Line: Leave Request for July
Hi John,

I recently sent you a leave request for the week of 1st July to 7th July 2021. I'm hoping to book a holiday with my family. Please can you confirm whether my leave request has been granted?

Once I have your approval, I'll be able to book the holiday. If you would like to discuss my request, please let me know as soon as possible.

Regards,
Anthony
3. Formal Reminder Letter After No Response
Subject Line: Kickstart meeting action points and next steps
Hi Lionel,

It was lovely to meet you and the team today and to learn more about Sender and your goals with this project. I've put together a list of action points based on our meeting.

For our team:
· ACTION POINT ONE
· ACTION POINT TWO

For Sender's team:
· ACTION POINT ONE
· ACTION POINT TWO

Can you please reply to confirm that this is correct (and that I haven't missed anything)?

I've got a follow-up meeting scheduled for 3 PM on Tuesday 25th. Let me know if this doesn't work for you, and we can try to reschedule for a more convenient time.

If you have any questions, please don't hesitate to get in touch.

Sincerely,
Harry
4. Just a Gentle Reminder Email
Subject Line: Headline Ideas for your Summer Camp Project: Follow-up
Hi Tasha,

I sent you some headline ideas last week. Have you had a chance to look at them?

I'm really excited to write for the Summer Camp Project, so I outlined the first post this morning.

See it here: www.summercamp.com/welcomepost
What do you think?

Let me know if you'd like me to add/remove something.

Best wishes,
Alex
5. Just a Kind Reminder Email for The Below Email
Subject Line: Follow-up on Avon's New Market Development
Hi Lucy,

I know you're super busy, and there's a chance my last email got buried. Regarding the case study I sent over, we have a new exclusive interview to go along with that.

Some interesting things discussed:
· POINT 1
· POINT 2
· POINT 3

Let me know if you'd like to feature it. I'll link the case study again here (www.avon.com/marketdevelopment)

Regards,
Matilda
6. Polite Reminder Email Sample
Subject Line: Better Alternative For Your Sales Engagement needs
Hey Scott,

Greetings from SalesHandy!

I am just following up to check if you got some time to have a look at my previous email.

We at SalesHandy have market expertise in lead nurturing and are well-known for helping many top players, including Oracle, Microsoft, and Amazon. If you are confused with the solution, I can help you with a customer success demo and also arrange a free trial for you.

Looking forward to hearing from you!

Cheers,
Rajendra
7. Reminder Email to Professor for PhD
Subject Line: Final Dissertation Review
Dear Professor Smith,

I just wanted to follow up on the final dissertation review we discussed last week. You mentioned getting in touch about potential next steps. Is there anything I can do to help speed the process along?

Sincerely,
Amelia Johnson
8. Webinar, Event Reminder Email
Subject Line: Reminder: International Confex 2021
Thank you for registering for International Confex 2021!

As a courtesy reminder, the event details are as follows:
EVENT NAME
EVENT DATE
EVENT TIME
LOCATION
ADDITIONAL RELEVANT DETAILS

Press here for directions and parking information.

Please visit the event website for more details about the event.

Thank you again. We look forward to seeing you soon!

International Confex Team
How to Setup Reminder Email
Here you can see how you can setup a reminder email (or any other automated email) on Sender: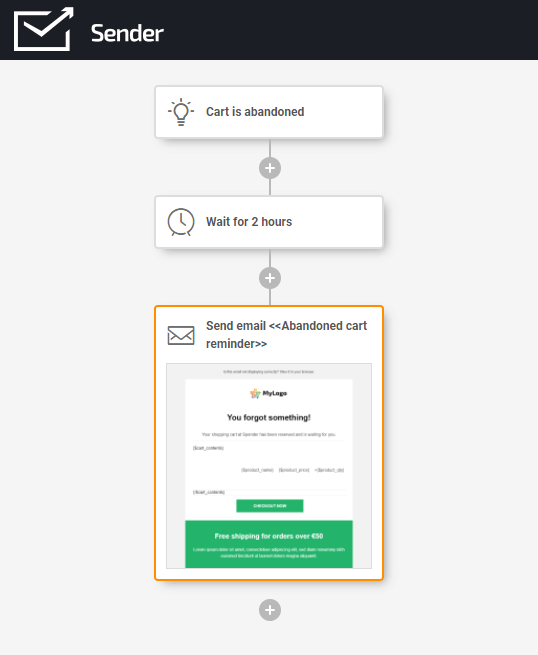 9. Final Humble Reminder Template Sample
Subject Line: Final Payment Reminder – IMPORTANT
Dear customer,

This is the last reminder of your overdue invoice, invoice attached.

Please pay the invoice immediately.

The next step in our process is to proceed with legal actions without any further communication, please pay immediately or contact us if you would like to make another financial arrangement with us.

*If payment has recently been made, please ignore this reminder!

Thank you for your cooperation.

Best regards,
Sender Team
10. Reminder Email for the Meeting
Subject Line: Weekly catch-up with a team: Meeting reminder
Hello, Kristina,

Just a friendly reminder about our upcoming meeting on 1st June, 4 PM.
I've attached a copy of all details regarding the meeting too.

I look forward to talking soon!

Regards,
Stephen
Also read: 75+ Reminder Email Subject Lines
11. Second Email Follow-up Reminder Email After No Response
Subject Line: Email Automation
Hi David,

I sent you an email last week to see if you need help with automating your cold emailing routine. If you do, I would love to chat with you and discuss this further.

Let me know!
Cheers, Martin
Also read:
12. Zoom Meeting Reminder Email to Participants
Subject Line: A reminder for our upcoming Zoom meeting
Dear all,

This is a friendly reminder that we have a Zoom meeting tomorrow at 1PM. If you can no longer attend, please let me know!

Looking forward to meeting you all!

Stacey
13. Email Appointment Reminder
Subject Line: Appointment Reminder at Jessica James Massage Therapist
Hi Simon,

Just a reminder from Jessica James, Massage Therapist, about your appointment on 20th May at 4.15 PM.

To reschedule, please respond to this email or call 777-777-777.

We look forward to welcoming you soon!

Jessica James Massage Therapist Team
14. Reminder Mail to HR for a Job Interview
Subject Line: Interview Confirmation Request
Hi Linda,

I'm just confirming my interview time at 2 PM and that you have my Skype ID. I will talk to you then!

Regards,
Sandeep Jones
Reminder Email: What is it?
Generally, reminders are used to get somebody to act. Typically, people send reminders for reasons such as attendance confirmation, upcoming meetings, highlighting a topic that has been forgotten, or following up on conversations. Reminder emails can also be categorized into two types:
A reminder email to recap on the call or meeting which just took place. A follow-up on the further actions to take.
A reminder email to catch up on something that has failed to happen. A follow-up on a missed deadline or no response after the initial email/call.
Best Timing to Send Reminder Emails
You are now probably wondering how much time to wait before sending a reminder email. Generally, two-three days is a reasonable amount of time before making a move. It allows enough time for the recipient to respond to your first email, but it is not too long to completely forget about everything.
If your first follow-up wasn't successful, there is no need to give up. Keep on creating reminders and get in touch with your required recipient more than once. It might take time for them to notice you.
Also read: Best Time to Send Emails in 2023: By Email Type
Structure of Reminder Email Template
Writing a reminder email might be a challenge. You must ensure that the balance between being professional, persuasive, and polite is on the spot. You don't want to sound pushy or unethical, so keeping a friendly tone should adhere to email etiquette's formal rules.
Reminder emails tend to be short, catchy, and to the point, ensuring that the recipient understands the message clearly and responds to it straight after.
Usually, the reminder letter format contains six sections when trying to reach maximum engagement and success:
Subject Line: Attractive and clear subject line is necessary for the recipient to understand what the email is about and take urgent action if required.
Email Greeting: Starting your reminder email on a high note is necessary. Be polite and make professional email reminder that takes the right approach depending on the situation.
Situation: Clearly identify the problem or any other purposes of the follow-up email: mention dates, references, deadlines, or anything else to be specific about your requests.
Solution: Provide recommendations or suggestions appropriate to the situation. Make sure you stay polite and professional in this section too, as there might be a specific reason why your previous email was ignored.
Action: Tell your recipient exactly what you want them to do; use call-to-action. If the situation involves missed deadlines, you might want to specify the dates and consequences if someone doesn't get back to you.
Email Sign-Off: Ending your email politely and formally is also essential. Consistency throughout the entire reminder email is a must.
Creating Reminders: Tips and Tricks
Now, once you know how to politely remind someone and structure your reminder email, there are some general tips and tricks you need to know to go further in your follow-up emails.
Writing a good reminder email is about continuously promoting the correct message rather than just reminding your recipient about your existence.
Your emails must provide value and context, prove and give further evidence on your product/service, and explain why it would be beneficial.
Let's look at some further tips for your reminder email writing:
Don't sound apologetic: Ensure your email doesn't contain passive verbiage like 'I hope this is a good time' or 'Just checking to see if you had a chance to look at my previous email'. When sending a reminder email, make sure you have a valuable message to share.
Clear call-to-action: Let your recipient know what exactly you would like them to do. Whatever your goal is, it must be clearly defined so the person knows what the next step is. If you are looking to schedule an appointment, it is advantageous to provide a link where it could be scheduled – an automated meeting confirmation email can follow once the booking is successful.
Stay Polite and Courteous: There can be a few reasons people don't reply to you. First, they are too busy, forget about it or miss it the first time. Second, they are not interested and ghosted you. No matter why, you still have to approach your recipients with a polite and helpful tone, trying to understand the reasons for no response. It might take time, so be patient.
---
Want to learn more?