Cross channel marketing strikes the middle ground between basic multichannel marketing and highly advanced omnichannel marketing.
Cross channel marketing, by definition, is the strategy of using and unifying multiple different marketing channels as one line of communication with the customer.
In essence, cross channel marketing is the next step up from multichannel marketing. Instead of using SEO, PPC, emails and other channels as completely independent, you start unifying the story and the data.
However, unlike in omnichannel marketing, there's no additional development such as personalized dashboards or such an extreme focus on customer experience.
How Does Cross Channel Advertising Work?
Cross channel marketing aims to improve the customer journey across different processes. Put simply, your goal is to gain a better understanding on how your customer interacts with different channels and combining them to improve the overall experience.
As a result, your marketing efforts should gain a significant amount of personalization. Since you will be unifying the experience, better customer profiling and segmenting will become available.
Additionally, unlike omnichannel marketing, you don't need to combine all of the channels into one. Many companies choose to go for an "online only cross channel marketing" approach. In fact, for small and medium sized businesses that's often the best approach as it's significantly easier and cheaper than attempting to add offline channels into the mix.
Cross Channel Marketing Examples
To give you a better understanding of how a cross channel marketing campaign works in practice, let's go through several examples. We won't have to look far and hard as most of us deal with cross channel marketing every day.
One example of cross channel marketing appears when we buy a particular product in an eshop or marketplace. Frequently, we may receive an email showing other products we may be interested in. Additionally, those who closely follow marketing strategies might notice that online advertisements change slightly, moving closer to the products we've purchased.
Another example is someone who receives an SMS about the latest promotion on some ecommerce store. After that person buys whatever products they like, they then receive a "Thank you" email with a suggestion to fill out a survey. After completing a survey, they receive a special discount code that works in both an online and offline store.
As you may notice, most businesses use some form of a cross channel strategy. Most of them combine email marketing with ad networks and some form of SMS marketing. The primary difference lies in the level of interaction between these channels.
Cross Channel Marketing Best Practices
Like any advertising strategy, it has been developed by many different companies. As a result, a lot of experience has been collected that allows us to find the best ways to get started with cross channel marketing.
Unify Data
Cross channel advertising will either fall apart or never get off the ground if you don't combine data from different channels. The entire strategy rests on the fact that information about customers and leads is being shared with several departments.
There are many CRMs and other powerful software nowadays that allow businesses to do in-depth data analytics on leads. Usually, these come with integrations with many other popular types of business software. You should be using these integrations to move data around and store it in one place.
In data management terms, you should be moving away from data silos (e.g. data stored in one particular department) to data warehouses (e.g. data from all departments stored in one place).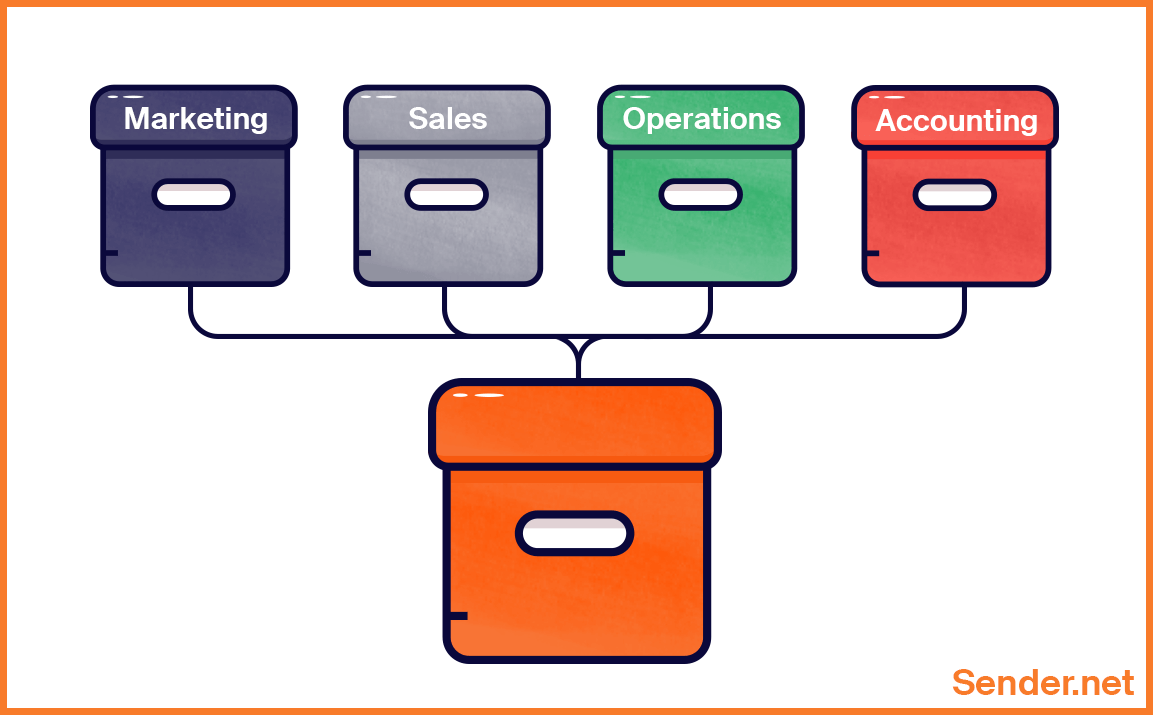 Also read: What is First, Second, and Third Party Data?
Create Buyer Personas
Once you unify data and collect it in one place, you should be able to get a better understanding of who the average customer is. Building a profile around them will provide you with an opportunity to adjust your marketing efforts to better match their tastes.
Buyer personas might be slightly more popular in B2B businesses where the purchasing process is highly complicated. However, B2C businesses would also benefit from understanding the average customer.
To make things easier, there are plenty of buyer persona templates available online. Yet, don't jump into it blindly as hard data is your best source of information. If the template doesn't match the data, you should be scrapping it.
Implement smart content
If applicable, smart content is an incredibly effective tactic that can be included in cross channel marketing. Essentially, smart content takes customer segments according to demographics, interests, and behavior, and slightly changes the website based on those criteria.
A simple and powerful example of smart content is the Amazon homepage. Different people will see completely different things (outside of the necessary elements such as "Your orders"). Amazon segments users and attempts to provide the most attractive content to each customer.
Of course, you would have to implement marketing automation for smart content to be possible. For those only considering cross channel marketing and initiatives, such automation might be outside of the project's scope or budget. However, smart content is always something to keep in mind when more optimization is required.
Combine KPIs and OKRs
As the goal of cross channel marketing is to create a better user journey, you should be assigning marketing-wide KPIs and OKRs that are closely related to channel-wide ones. Such a practice will allow you to see two important things: whether the approach is working and what changes impact overall ROI.
Essentially, you will be able to see how small changes in channel-wide marketing affect the entire strategy. You can then tinker and change KPIs, strategies, and tactics to keep optimizing your approach.
In fact, you should notice that changes in one channel will begin impacting the performance of other channels. That means cross channel marketing is working (and that it's becoming essential).
Take Advantage of Cross Channel Marketing
If you haven't already begun using cross channel marketing, the best time to start is right now. It will soon be completely indispensable for online businesses and with all the advancements in software it has become easier than ever.
Want to make cross channel marketing easier by taking off the burden from emails? Try out Sender's platform. Our solution will help you automate campaigns and make email and SMS campaigns an irreplaceable part of your cross channel marketing strategy!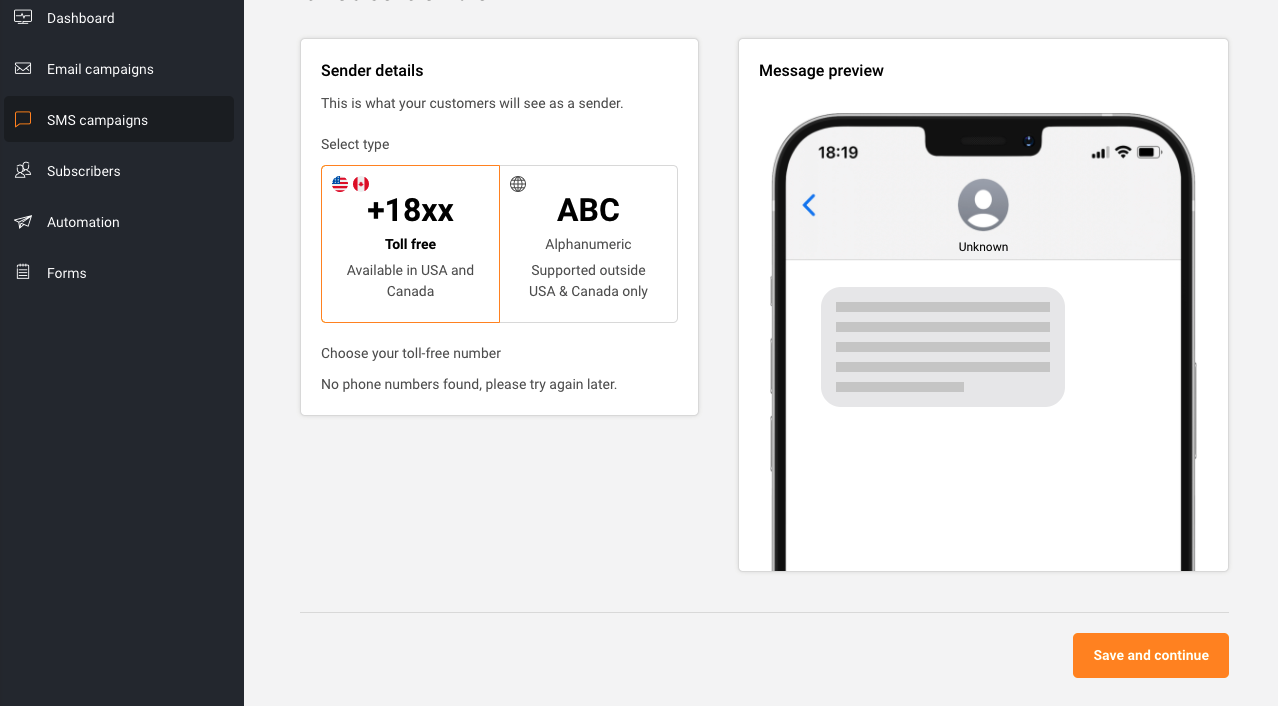 Also read:
Like what you read?
Apply it in practice with Sender.net - the most cost-effective email marketing solution in the market.
Try Sender for free