Rocket-fuel your sales with SMS
Supercharge conversions with this marketing duo — the best combo you've ever seen. It's easy with Sender.
Boost Your Sales Now
A singular small pop-up at the edge of the screen can decide whether the visitor will leave your page or stay on it.
A greeting message is just that powerful. They are all equally as powerful in every area of business – customer support, marketing, sales, etc.
It's devilishly easy to pay little attention to the short welcome messages for customers that are being drafted by someone on the team. Yet, as everyone knows, first impressions last a lifetime. They are also annoyingly hard to change.
Every business should send a greeting message at some point in the customer journey. Preferably several of these welcome greetings for customers. Knowing what are the best ones, however, is complicated. Therefore, we decided to sample some of the tried and tested messages to give you worthwhile examples.
What are Welcome Messages?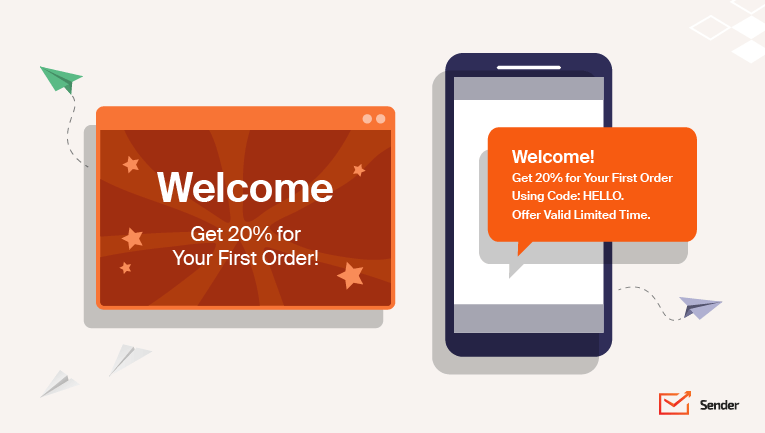 It's impossible not to see a greeting message if you have used the internet for at least a day. Business websites will often have small pop-ups at the bottom corner of the screen that greet any visitors. These usually come from dedicated support platforms.
Other websites will use large pop-ups that may have more utility than sending a simple welcome message for a new client. For example, businesses may opt to welcome a visitor and propose a discount if they input their email or SMS into the form.
Additionally, welcome messages are distributed throughout most contact points with the customer. While it may seem overkill when you think about it, each channel and arm of the business introduces themselves separately. So, there's always a welcome SMS for customers, another one for email, a third one for sales, a fourth one for support, etc.
It may seem like too much, but we have to remember that no one gets bombarded by them at once. As such, these warm greeting messages are always welcome as you can be sure that a great first impression is being made each time.
It's a child's play to execute perfect SMS marketing automation (including welcome messages and much more!) with a tool that has everything you need for that. For instance, this is how the automation looks within Sender tool: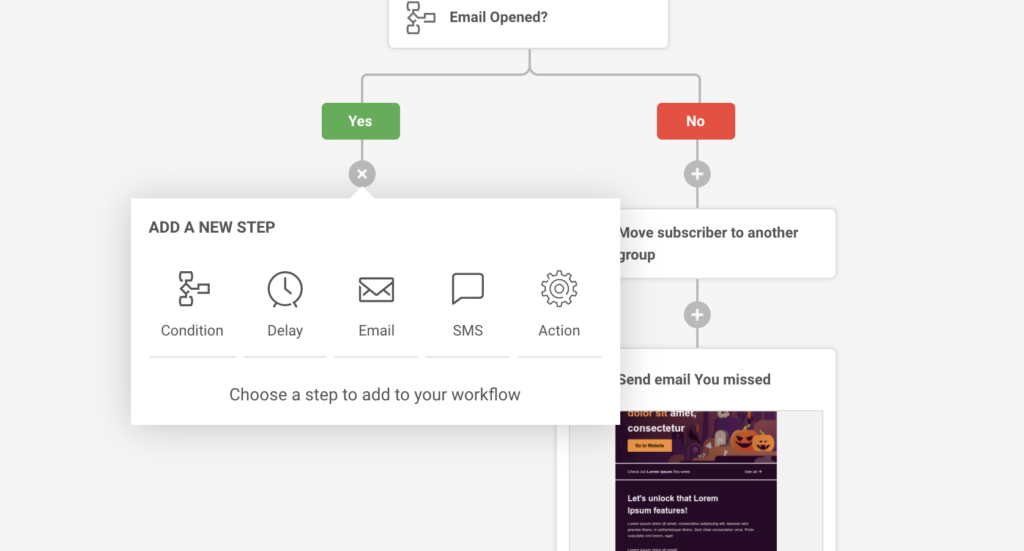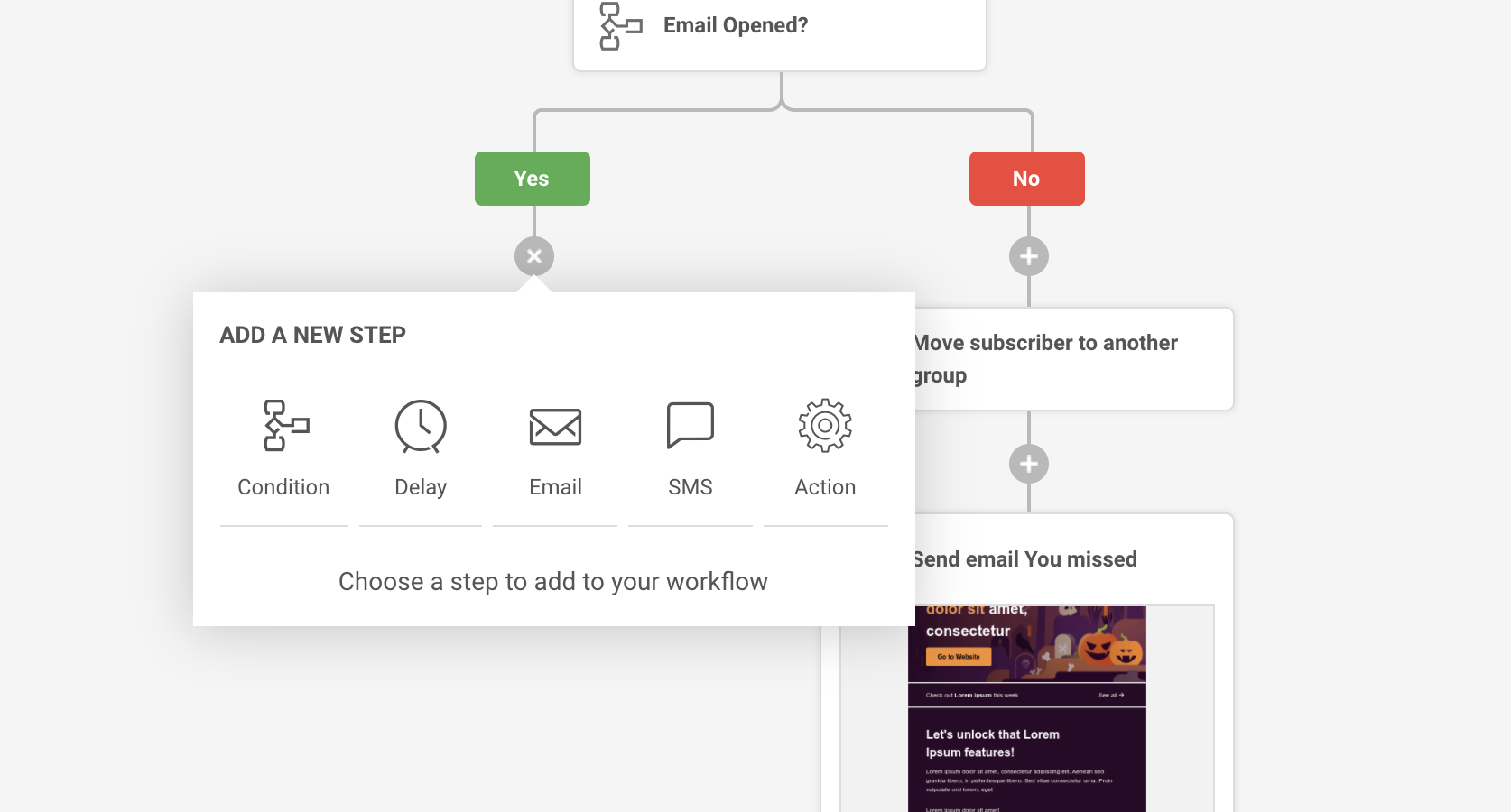 How to Create Welcome Messages?
First impressions can be ever-lasting. Think of it this way — the welcome message is the first branded experience you offer to prospective customers that will help them form a perception of your brand. It's like someone walking into a physical store or calling your office.
You don't want to mess that up. Right? So, you should create the perfect welcome message for new customers and newsletter subscribers.
Here are some best practices to help you create the perfect welcome email:
Don't use spammy words in your subject line.
Make them feel they've made the right choice by sharing their email address.
Introduce yourself as a human, make them feel appreciated, and reassure them that their personal information is safe.
Tell them what to expect from you as a brand in the future.
Strike a conversation by asking them a question in the email to ensure your future emails don't end up in spam.
Create a contextual CTA to prompt them to try your product or offering in case you're giving away a coupon, deal, or downloadable in your welcome email.
Never add more than one call to action in your welcome email. It can confuse the recipient, and no one likes a confusing stranger.
List of Welcoming Messages for Various Channels
A quick reminder: these are just examples. They can be adjusted fairly quickly to match every industry, business model, or angle. You can use them to welcome new patients, clients, employees, etc. Take these samples as a foundation and give them a slight twist.
1. Short Welcome Email Messages for Customers
Subject: Welcome to the [company name] family!
Hi, [name]

We're elated to have you onboard of our community. We will continue sending emails (unless you decide to unsubscribe!) to keep you updated on all the latest and greatest news.

You can also join our communities on other platforms! We have plenty of social media accounts that you can find here:

[Social media profiles]

See you soon!

You can find our privacy policy here. To unsubscribe from further marketing emails, click here.
---
Subject: Thank you for joining us! [Brand name]

THANK YOU

We have added you to our mailing list. You will be among the first people to get all of our special offers, newest updates, and announcements. We will do our best not to bore you with marketing emails!

As an added bonus, click on the button below or use code [CODE] to get a [%] discount off your next purchase.

[Shop now]

You can find our privacy policy here. To unsubscribe from further marketing emails, click here.
---
Subject: Welcome onboard!

We won't be boring you with long email sequences or essay-long texts.

Thanks for joining us! Here's how you can get started:

[Links]
[Links]
[Links]
[Links]

We also share a lot of valuable information on our social media profiles:

[Social media profiles]

Finally, you can always unsubscribe from further emails by clicking here.
Best of luck!

[Company name]
---
Subject: We're about to start something exciting!

Welcome to [company name]! We're glad you have decided to join us.

We want to make your onboarding experience free of worry. Feel free to send us an email if you have any questions at any point in time. We also recommend checking out these resources to get you off the ground:

[Link]
[Link]
[Link]

You can also reach out to us through our live chat here or by calling us at

[phone number].

We look forward to hearing from you!

[Company name]
Also read: 12 Welcome Email Examples to Engage Customers
2. Welcome SMS Messages for Customers
[Brand name]: Welcome aboard! We'll be sending you some of the latest updates and announcements here. Text STOP to unsubscribe.
---
Welcome to [company name]! As a welcome gift, use code [CODE] to get a [%] discount off any order! Text us STOP to unsubscribe.
---
Thank you for joining our community! [Company name] is so happy to have you onboard. If you want to unsubscribe, text STOP.
Also read: 13+ Brilliant SMS Templates for Customer Service
3. Welcome Messages for Customers on Facebook
Hello! Thanks for reaching out. We will get back to you as soon as possible! In the meantime, you could take a look at our help center.
---
Hi there! We're glad you decided to contact us. We answer all messages we receive on Facebook, so you can expect a message back within [number] hours. Talk to you soon!
---
Howdy! Thank you for contacting us! We respond to all messages on a regular basis. We will get back to you within several hours. Until then!
---
Hello, thank you for contacting [company name]. We will answer your inquiry within an hour. If you require additional support or help, contact our team at [link to support page].
4. Welcome Messages for Customers on WhatsApp Business
Thanks for contacting [company name]! We respond as quickly as possible during our business hours [business hours]. You can also send us your inquiry through email [email address].
---
Hi and welcome to [brand name]! Thank you for being a part of our community. We will get back to you as soon as we are able to!
---
Hello! Welcome to [business name]. We respond to all messages as quickly as possible. We will get back to you in a couple of hours.
5. Welcome Messages for Customers on LiveChat
Hello, [name]! Thank you for visiting our website. Can I help you in any way?
---
Hi! If you have any inquiries, questions, or suggestions, feel free to leave your email address in the message box. We will get back to you as soon as possible.
---
Welcome back to our website! We hope you enjoyed your previous stay. How can we help you today?
---
Welcome to [company name]! Good to have you here. Is there any way we could make your journey easier?
6. Welcome Messages for Potential Customers on Website
Welcome to [company name]! If you leave your email address and inquiry, we will respond to any question within 24 hours.
---
Welcome! Nice to see you. We have a special [%] discount for all new customers. Would you like to get yours now?
---
Hello, there! We're happy to see you. If you want to find out about all discounts, special products, and other promotions, enter your email address and we'll send all of it in seconds!
7. Welcome Messages from Customer Service
Welcome to [company name] customer service! I am [agent name]. How can I help you today?
---
Hello! My name is [agent name]. How may I be of service?
---
Good [morning/afternoon/evening]. You're speaking to [agent name]. How may I help you?
---
Hi! You've arrived at [brand name] customer support! How could we help you today?
Also read:
Perfect Short Welcome Messages for Customers
While we have outlined many use cases for welcome messages, don't resort to these only. Add them everywhere they may seem fitting. Some businesses include a welcome-back message if they have tracking capabilities. Others use channels we haven't outlined here to send their welcome message to new clients. The possibilities are limitless!
Want to make use of the messages above or send a beautiful welcome mail to every client? Get started with Sender. Our completely free email and SMS marketing platform will help you create engaging campaigns with ease!