Profit from your knowledge
Apply email and SMS marketing strategies you already know to see the best results with Sender. It's free. It's easy.
Get Started For Free
In this blog post, we'll discuss the difference between customer loyalty and retention, what influences it, how to measure customer retention, and how to increase client retention and loyalty.
As a business owner, you probably know that interaction with your customers does not end when they provide their credit card details.
Moreover, no businessman has ever said that losing customers is what they want.
If you're anything like these businessmen, keep on reading.
Every business dreams of selling products and services to the same customer more than twice. Keeping customers happy so they would return is hard work, but it certainly pays off.
What is customer retention?
Customer retention is the ability to keep your clients returning for more purchases.
A high customer retention rate means that your clients choose you over your competitors, but, unfortunately, it does not guarantee they won't in the future.
Customer loyalty is the icing on the cake — not only do loyal customers purchase more than once, but they also purchase ONLY from you. They are always enthusiastically praising your brand to their friends and family!
So, ideally, you not only want customers who buy from you more than once but also those that are your brand's influencers — a marketing channel with the highest ROI (return-on-investment).
A low customer retention rate means that your customers hardly ever purchase from you more than once, which can indicate a few things. First, your product is not good enough compared to your competition. Second, you're not investing enough in your customer retention and loyalty strategy.
Now, you don't want to focus solely on retaining existing customers. Attracting new customers is just as important as pushing repeat purchases. It's all about finding the right balance.
Before finding out how to measure client retention rate and ways to increase it, let's look at what influences customer retention.
What influences customer retention?
It's no secret that existing customer retention costs around 7x less than attracting new customers and increasing it by only 5%; you increase your profits by a whopping 25% to 95%, according to the statistics. No one wants to lose those potential sales; therefore, it is crucial that you figure out the reasons your clients are turning away from your business.
Here are some factors that might potentially influence the retention rate:
Your website's performance. Setting up a website is easy these days. You go to Shopify or Wix and within a few clicks – you've got yourself a store. But maintaining it and providing a great user experience is not as easy. Sloppy design, confusing navigation, buggy checkout process, and many other issues with your website can easily put off potential clients. Investing more into a web developer who can fix the issues above and increase website speed is a good start to increasing customer retention.

Your delivery and return policy. Delivery and return policy might not look like a big deal at first, but now, especially during these unusual times and with Christmas quickly approaching, you might want to pay more attention to it. Fast and free delivery, as well as flexible returns policy, might put you ahead of your competition.

Your product or service price. This is an obvious one. If you're selling the same items as your competition and for a bigger price — potential clients will definitely walk away from you and straight to your competition. Here you have two solutions. You can make your prices more competitive or offer something extra with the purchase: maybe free delivery, a discount for a second purchase, a tiny gift, etc.

Bad customer service. You might think that providing customer service is all that needs to be done. But more often than not, bad customer service will reduce customer retention. Ensure your customer service team is doing their best to solve all client issues, and if you're not in a place where you can have a customer service team just yet.
Now that we've uncovered potential customer retention issues, let's see how you can measure customer retention and increase it.
How to measure customer retention?
Measuring customer retention is a lengthy process and takes a lot of effort, but once you go through it, it pays off. First, look at the 3 most important customer retention metrics and the ways you can calculate them.
1. Repeat Purchase Ratio, aka RPR
RPR is a metric that defines the percentage of your customers who make repeat purchases.
It's a good indicator of customer loyalty too, and if you have loyalty programs in action, you can measure their success using this metric.
Another great way to use this metric is to see the demographics of your target audience that buys from you repeatedly and market to that audience more accurately.
For example, if most of your repeat customers are from Brazil, aged between 35 and 50, create marketing campaigns that speak to this particular audience and maybe in Portuguese.
How to calculate RPR
RRP equals the number of your total customers divided by the number of returning customers. The higher the percentage you get – the better your RPR is. You can calculate it weekly, monthly, or yearly.
2. Customer Churn
Customer churn rate, while not very pleasant to look at, is an extremely important indicator of customer satisfaction retention. It defines the rate at which your clients stop purchasing goods or services from you. It shows the percentage of customers your business has failed to retain.
On the bright side, all businesses, small or big, popular or not so, have a certain churn rate. That is because people's needs change, businesses change, new, better technologies or solutions emerge in the market, etc. However, the customer churn rate should not exceed 7%.
Luckily, if it is, there are things you can do to lower it. One thing you can do is to send a questionnaire to your customers asking why they are not happy with your product. This might show you flaws in your product, customer service, or business policies that you didn't know about.
How to calculate customer churn rate
To calculate the churn rate you first need to subtract the number of customers you have at the end of the year from the number of customers you had at the beginning of the year.
Then, divide the difference by the number of customers you had at the start of the year. Depending on the size and type of your business, you can calculate the churn rate monthly or yearly.

3. Customer Retention Rate aka CRR
The customer retention rate calculates the percentage of customers who were loyal to you over a certain period of time. This information is extremely valuable to the future of your business.
By knowing who your loyal customers are, not only can you find the most beneficial marketing techniques for your business, but also ask your loyal customers to say a few nice words about your business and products in reviews on your website or on social media.
How to calculate CRR
To calculate your CRR you'll need to know the number of total customers your business had in a given period of time (existing and new), the number of new customers who made multiple purchases during that given period of time, and the number of existing customers who made repeat purchases. Then, divide your total number of repeat customers by the number of total customers.

Now that we know how to measure and calculate customer retention and loyalty, let's find out how to increase the retention rate and the number of loyal customers.
How to increase customer retention?
There are a few ways to increase customer loyalty. If you've done the research above and realized your website needs updating or your customer service team is not performing well — focus your actions there.
But if you've done the research and you're still not sure why your retention rate is low — try some of these strategies:
Start building relationships with your customers
Send a questionnaire to your customers asking their opinion and evaluation of your product, service, or brand. Ask how they would want the product or service to be improved.
And pay attention to what they say. Maybe some improvements can be easily made, increasing customer retention. There are a few ways you can start a conversation with your customers: if you're collecting their emails — send out an email campaign with the questionnaire.
In exchange for answers, you can offer a small discount or free shipping. Also, you can engage with your customers through social media, messenger, and other online platforms your customers use.
Here is an example how you can take feedback from your customers or subscribers via email: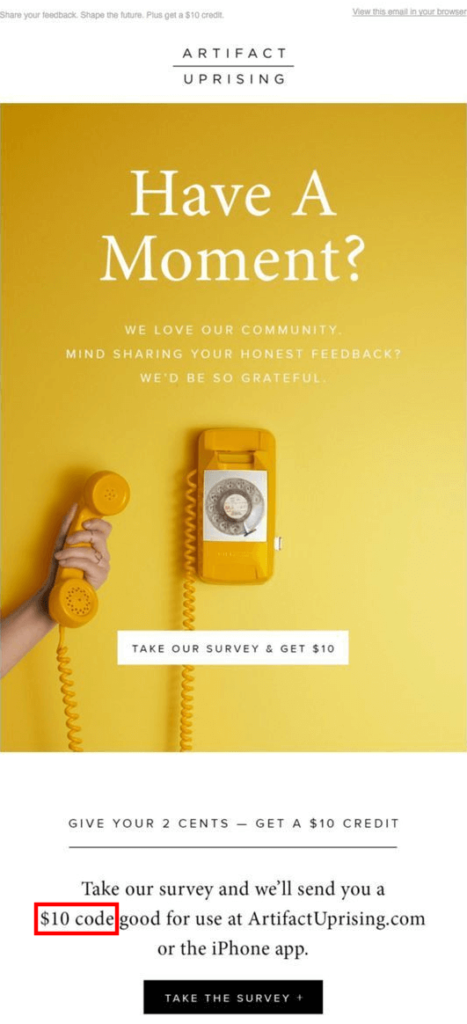 Source: Infigic
Boost your social media presence
Start using social media platforms to their fullest potential. Customers love engaging with brands on social media, they love sharing their opinions on products they've bought or services they acquired. Allow them to share their opinions and rave about your products too.
If your social media platforms are not engaging and you post infrequently, fix that. An active presence on social media not only increases brand awareness but also gives you credibility.
Automation tools, such as Hootsuite, can help you take the load of regular posting. In one sitting, you can schedule your posts for a month or more in advance.
Develop your loyalty program
If you don't have one, create a loyalty program, and celebrate your most valuable customers. Every big business has one: Starbucks, Amazon, The North Face, etc. You name it – they have it. It's time you do too.
There are tons of customer loyalty programs you can use in your business.
Remember, the goal here is to keep your existing customers happy and loyal so they come back and purchase from you and not your competitors.
Some of the most popular loyalty programs are the points program (the more you buy, the more points you get, and then you spend those points on more purchases), the branded loyalty card, the subscription program (you offer your products cheaper but as a subscription, not a one time purchase) and so on. Be creative and find what would best suit your business.
Customer Retention Measurement: Takeaway
Measuring your customer retention and loyalty is not a fun task. Actually, it's quite frightening and demotivating to see numbers that do not satisfy you.
You're not alone.
No one has created a business that was successful right off the bat. It's a learning curve for everyone and it's better to face the music now than 5 years later. Think of it this way: if you discover a low retention rate and fix it now, you'll avoid spending all your money on marketing strategies that might not pay off in the future.
Also read:
---
About author
Kristina Ziauke is a content manager at sixads. Want to know more ways to increase traffic and attract buyers to your online store? Connect with sixads on Twitter or LinkedIn!