Turn strategy into action
Don't leave your perfect strategy untapped. Unlock its potential with Sender and see your sales explode.
Get Started For Free
From generating leads to building a relationship with your customers, email marketing is the most effective marketing option.
Even 85% of the B2B organizations use email marketing software for generating leads.
And, in terms of ROI – for every $1 you spend on email, you'll get more than $41 in return.
Before sending out emails to your prospects, your newsletter should be so good that people not only read it, but they click it and share it.
We suggest you create the right flow of your email from your subject line to the email body.
Unlike other marketing platforms, email marketing allows you to give a personal touch to your customers.
Different types of promotions will need a unique email, so we have listed the best examples to make your campaigns better.
1. Welcome Email
Whether you are dealing with a product or service, welcoming your customers on their first purchase will create a good impression.
Make sure your welcome email introduces your brand. Additionally, mention your social media links, so they see your activities regularly.
For example, when you register for Zapier, you'll receive a welcome email with a prominent call to action.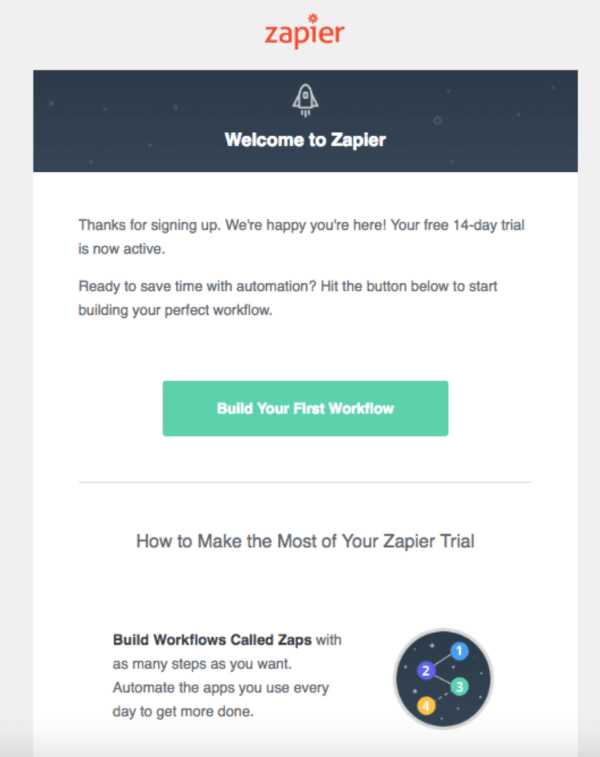 Source: Cloudinary
You can send welcome emails either manually or using auto-responders to engage with new prospects.
Welcome email uses cases
Onboard your newcomers.
Introduce your brand or company purposes, value.
Tell about your or your client success story.
Tell about your existing or upcoming discounts.
Give free resources.
Take feedback.
Welcome email subject lines
Hi [First name]! Welcome to [Company name]!
To add First name in subject line automatically for every individual subscriber, during the email campaign creation process select "Custom fields", as shown in the photo: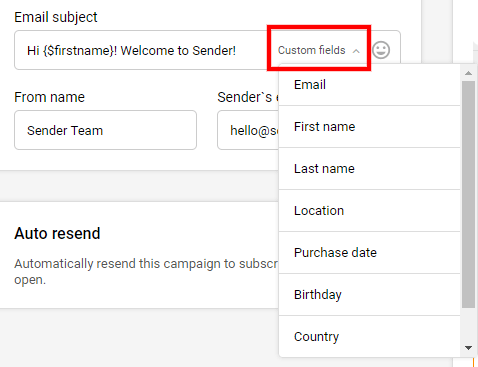 Welcome to [Company name]! 👋
You can add emoji on subject line by clicking on emoji icon, as shown in the photo: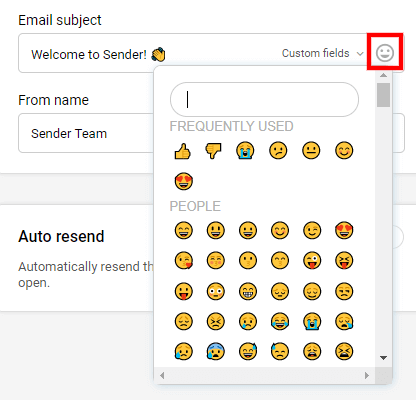 Welcome! Get $15 Discount Your 1st Order
Introduce to [Brandname] platform
Welcome to the [Brand name] – Your Free E-book is Here
Also read: 12 Welcome Email Examples to Engage Customers
2. Announcement Email
Companies practice announcement email marketing to keep their potential customer up to date about significant updates within the company.
These updates include releasing new products, recruiting a person at C-level, employer added to the board members, etc.
For example, Uber always send-outs emails whenever there is new news or leadership or features in their app.
It helps them keep trust with their followers without any criticism.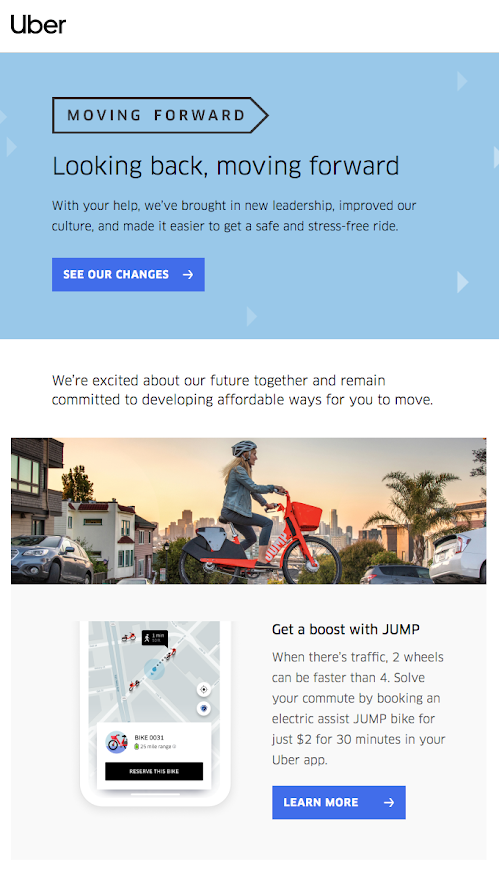 Announcement email uses cases
New employee announcement to your clients and co-workers.
To inform about your new or upcoming product or service.
To inform about your new tool, software, app.
To announce about your new features, new physical stores, advantages (for example, free shipping, cash settlement and etc.)
Announcement email subject lines
The Ultimate [Brand name] Platform Already Here 🚀
[Product name] is here. Orders available.
Get Free Shipping on all orders!
3. Upcoming Event Email
In case you're planning to host an event, you can notify your subscribers via email so they won't miss it.
To create more curiosity among your subscribers, you can embed event teasers within the email along with the date and time.
For example, Hubspot released an event, and they use an event email template to increase the number of registrations.
Here, they mentioned all the details like date, platform, and speakers, so their customers get full information about the event.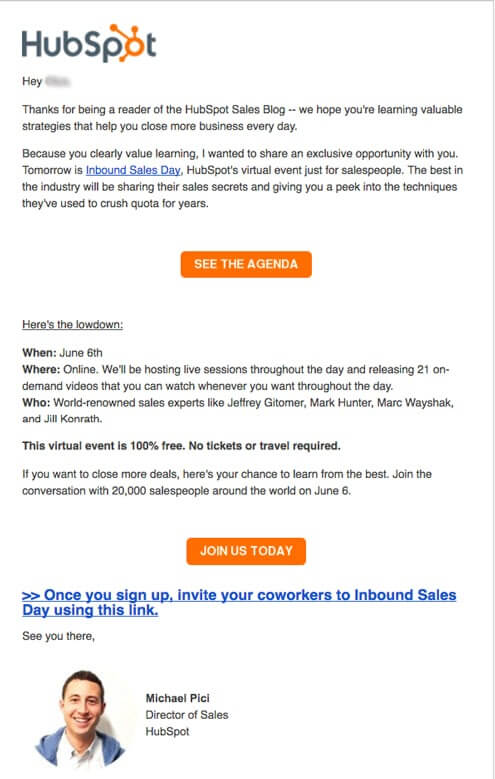 Source: Newoldstamp
Upcoming event email subject lines
Invest in Yourself. See You in [month]!
Mark Your Calendar on [event date]
Live Q&A will Starts Soon
[event name] Lineup is Ready
[event name] Tickets on Sale. Take Your 20% Discount
Add these details to your upcoming event email
time,
place,
pricing and money return policy,
participants,
CTA to the event registration page.
Pro-tip. Come up with a reason why people should sign up for your event.
Also read:
4. Webinar Email
Generating traffic on your website and allowing people to register for your webinar can be complicated.
That's why many big companies choose email marketing for the same.
Any business must remind subscribers about the event who have signed up for your webinar.
Generally, companies send four webinar email series, including:
an invite email, 
a reminder days before the event, and 
a final notification hours before the webinar goes live.
For example, Asana sends an email where users can directly register for their webinar.
The email contains information regarding what the webinar is all about, such as the webinar's speaker, date, and time.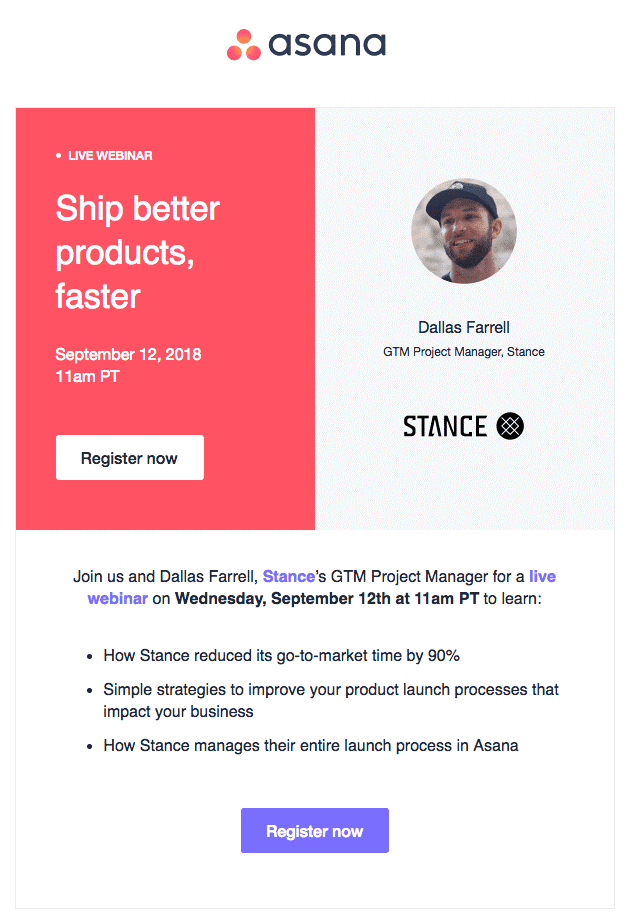 Webinar event email subject lines
Almost Sold Out
Or Ready to Meet with [influencer name]? 💣
⏰ Last Chance to Sign Up to [webinar name] webinar
Don't miss out this [webinar name]
🚨[number] days left until [webinar name] start
Add these details in your webinar event email
date,
line up,
it would be live webinar or not,
present webinar guests,
CTA to webinar registration/payment page.
5. Offers and Free Trials Email
Some people only open promotional emails if it contains some offers or free trials for that particular brand.
You can offer people a 14-day free trial of your product/service to build trust between you and your subscribers.
If you redirect your subscribers from email to your website landing page, then your content must be effective so it can generate leads.
For example, The Book People sent a discount voucher to their subscribers, valid for a limited time.
They launched a personalized email countdown timer, so whenever an individual opens the email, the countdown will start automatically.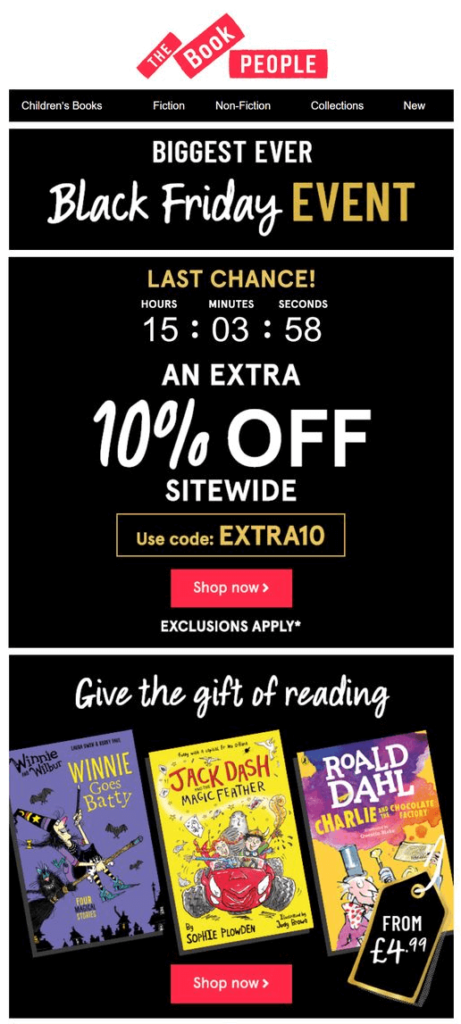 Promotional email subject lines
You're missing the last chance ⏰
Boom shakalak! Let's do this
Don't wear last year's styles
25% off your favorite cream 🍦
Learn Spanish with only 5 minutes a day 📅
We recommend adding these things in your promo email
Countdown or discount deadline.
Discount amount.
Coupon voucher.
CTA to product/category page.
Extra tips:
Advertise up to 5 products in the email.
Come up with a reason why you are giving a discount (for example, Black Friday).
Also read: 10 Holiday Email Marketing Tips & Email Campaign Examples
6. Curated Content Newsletter
When you send an email consisting of several contents from different sources, it's known as a content-curated email.
Whether you're providing a product or a service, you can create a list of blogs and email it to your subscribers.
You don't need to send a curated content email daily; instead, you can email it weekly or monthly.
Here's an example below, where in the first paragraph, the author creates a personal touch with her audience.
And then, she added curated content so her audience doesn't have to search on other websites about those topics.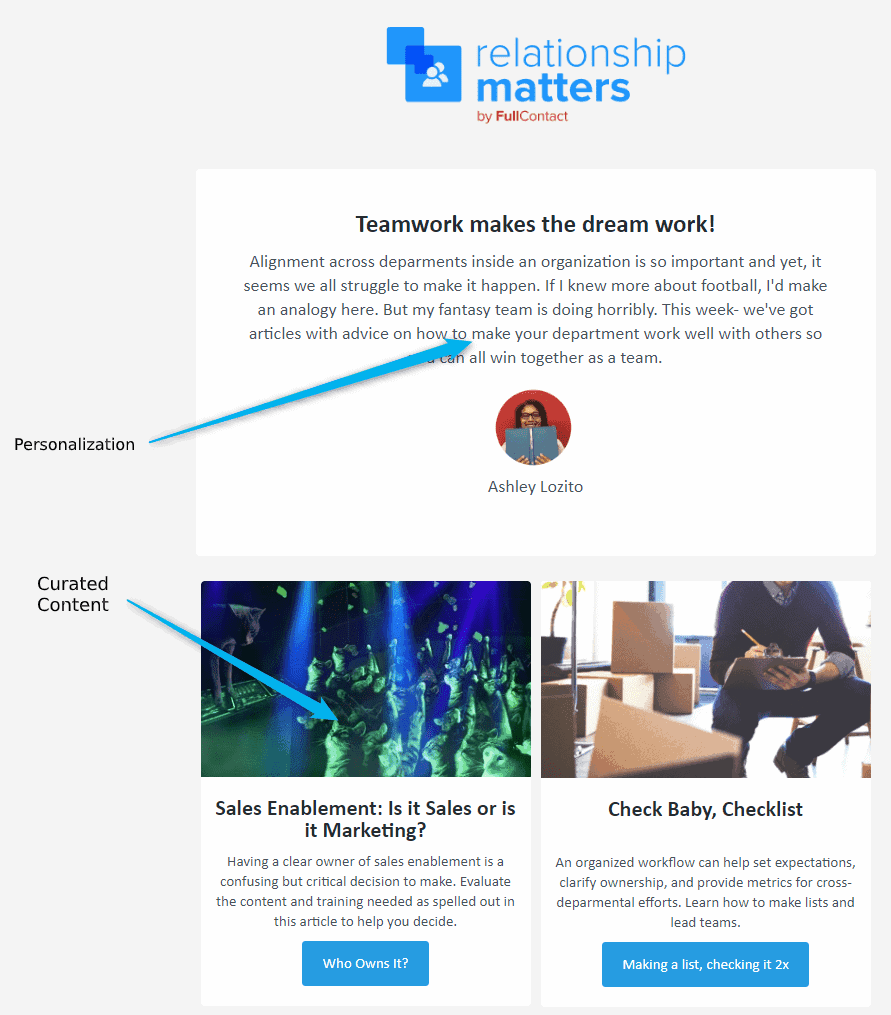 Source: Feedotter
Curated content newsletter ideas
Tips.
Round-up lists.
Latest news.
Add free resources (for example, e-books).
New updates or upcoming features.
Inform about your webinars and events.
8. Abandoned Shopping Cart Email
Have you ever added products to an online cart but didn't check them out, and then you saw the same products in promotional emails?
If yes, then the company is using abandoned cart emails.
By sending emails, there's a high chance that a customer completes the order, ultimately increasing your ROI on email marketing.
For example, Casper uses abandoned shopping cart emails and adds a customer review to build trust.
Even if customers have doubts about the product, the customer review will help them choose.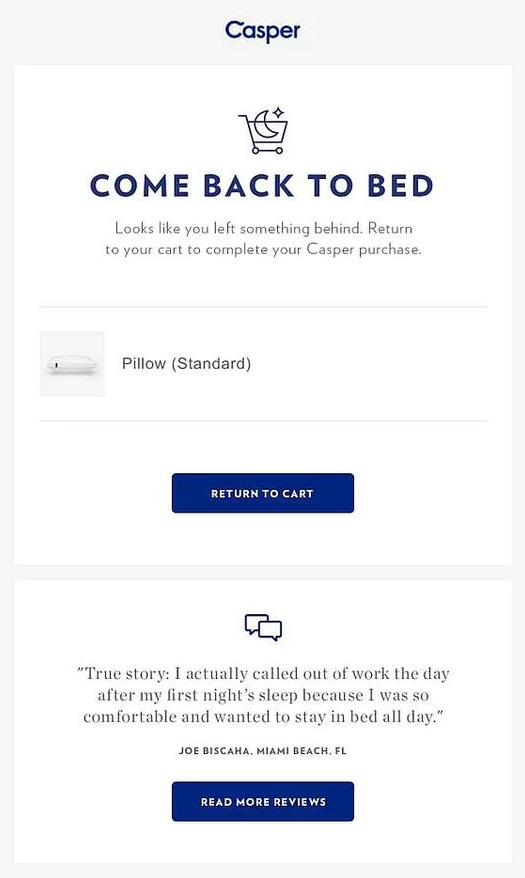 We recommend to add these things in your abandoned cart email
Catchy headline.
CTA to your shop abandoned cart.
Customers' success stories and reviews.
Additional special offers (for example, $5 discount voucher).
Key benefits. For example – free/fast shipping, and product return guarantees.
Contacts.
Abandoned cart email subject lines
Oops. Did something go wrong?
This product in your cart is going fast
Complete your purchase in just two clicks
Also read: 20 Abandoned Cart Emails Templates & Best Practices
8. Survey Email
Survey emails help you to understand the likes and dislikes of your customers regarding your product and service.
You should email the survey to a specific group of customers who have already invested in your brand. 
There will be a better chance of receiving a response from the customer who bought your product and service. 
In the below example, an online store emails the survey to their customer to collect feedback on the purchase and delivery experience.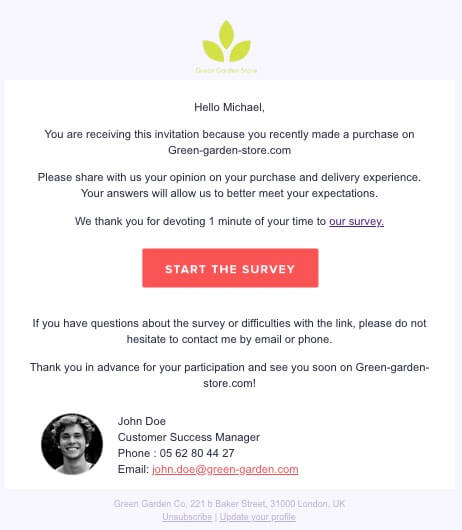 Source: MyFeelback
Survey email uses cases
Customer satisfaction feedback.
Post-purchase feedback.
Event, webinar or conference feedback.
Your product or service feedback.
Opinion for your market research.
Take information (age, gender, hobbies and etc.) about your customer, which could be used in your marketing. It will help you to segment your customer's email list and improve sales from different customer audiences.
Survey email subject lines
Be honest, what do you think of our new [product]?
How was your recent experience with [brand]?
Your opinion matters to us
We value your insight
Also read: 10 Best Survey Email Subject Lines
9. Upsell Email
In an upsell email, you offer an upgrade or premium services or add-ons to increase your service's functionality.
For example, many B2B organizations in the service industry offer two payment versions, i.e., monthly or annually.
You can send an email to offer them a discount if they opt to pay bills annually rather than monthly.
For example, SkillShare, an online education platform, uses the below email to upsell its premium courses.
And, the email is sent to only those people who are already using the SkillShare courses.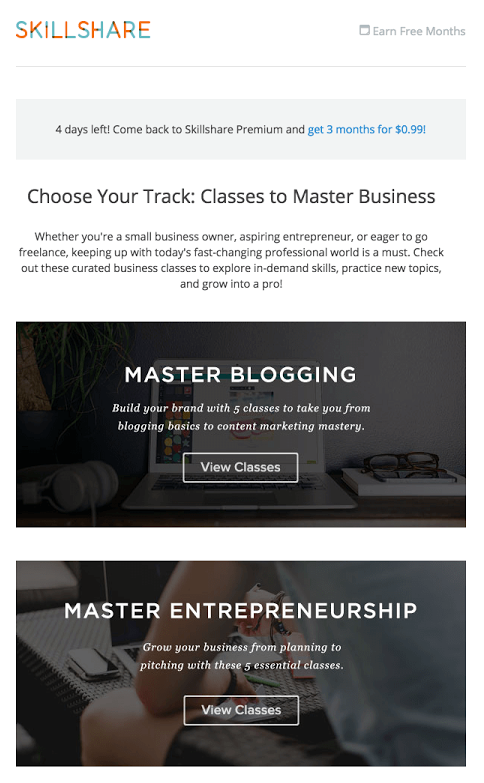 Also read: Best Upselling Techniques (6 Tips with Examples)
10. Case Study Email
With a case study email, you can showcase the results and expertise in your niche with real examples.
In such scenarios, your prospects can view the past results and decide whether it'll be helpful for them or not.
Depending on your product, you can explain to other businesses how you can improve their sales, conversion rate, or productivity.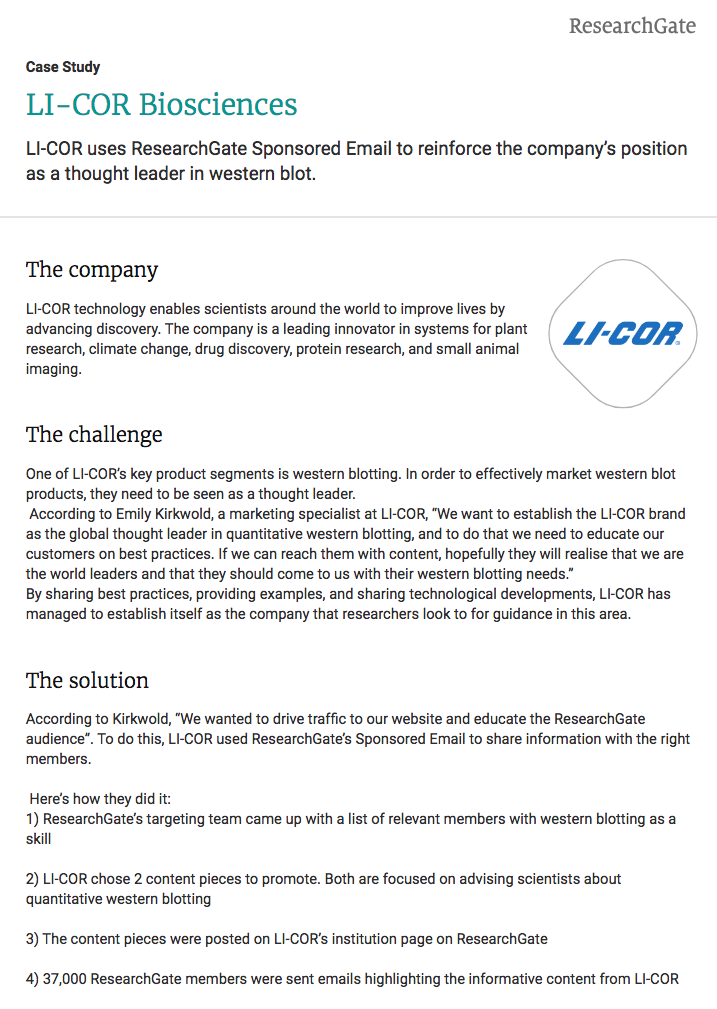 Source: ResearchGate
Most popular case studies, which you can include to email
Customer growth study.
Client or your product/service success study.
Market study.
Product or service trending case study.
Wrapping Up
You have seen how B2B brands use email marketing to nurture leads and upsell their premium products and services.
In B2B email marketing, no one size fits; you must choose the email template according to your business.
Furthermore, once you succeed in your email marketing campaigns, you can send automated personalized emails to your prospects.
Also read:
---
About author
Sumeet Anand is a B2B Marketing Expert skilled in SEO, Social Media, and Content Marketing. He helps brands and businesses generate leads with his top-notch content strategies and is featured in various major media publications across the globe.