Like what you read?
Apply it in practice with Sender.net - the most cost-effective email marketing solution in the market.
Try Sender for free
If you've ever worked with a legal professional, they probably wanted to include a disclaimer somewhere.
Email disclaimers are no exception. These short inclusions are supposed to protect the writer from legal repercussions.
While (email) disclaimers might not be effective in all legal situations, they do seem to protect against some potential issues. After all, you're not going to argue with a legal professional who might save you thousands of dollars.
However, drafting email disclaimers can be both an annoying and time-consuming task. In order to make things easier, we decided to draft up a number of email disclaimers that can be copied and pasted when needed.
External Email Disclaimer Examples
Privileged and Confidentiality Email Disclaimers
Nearly everyone has seen a confidentiality disclaimer nowadays. They range from innocuous statements that the conversation or content within the email is strictly the business of the people involved to disclaimers starting with capital letters. However, email confidentiality statements are nearly universally useful regardless of the type of content chosen.
The content of this email is confidential and intended for the recipient specified in message only. It is strictly forbidden to share any part of this message with any third party, without a written consent of the sender. If you received this message by mistake, please reply to this message and follow with its deletion, so that we can ensure such a mistake does not occur in the future.
CONFIDENTIAL: This email and any files transmitted with it are confidential and intended solely for the use of the individual or entity to whom they are addressed. If you have received this email in error please notify the system manager. This message contains confidential information and is intended only for the individual named. If you are not the named addressee you should not disseminate, distribute or copy this email. Please notify the sender immediately by email if you have received this email by mistake and delete this email from your system. If you are not the intended recipient you are notified that disclosing, copying, distributing or taking any action in reliance on the contents of this information is strictly prohibited.
This message has been sent as a part of discussion between [Sender's name] and the addressee whose name is specified above. Should you receive this message by mistake, we would be most grateful if you informed us that the message has been sent to you. In this case, we also ask that you delete this message from your mailbox, and do not forward it or any part of it to anyone else. Thank you for your cooperation and understanding.
GDPR Disclaimer with Privacy Policy Example
Ever since GDPR graced the internet with its presence, many things had to be changed. Including a GDPR compliance disclaimer, while not necessary, is often a good idea. Having such a disclaimer shows compliance and adherence to the law.
<COMPANY> is 100% compliant with the GDPR data protection regulation. Visit our privacy policy to learn how we collect, keep, and process your private information in accordance with these laws.
HIPAA Disclaimer for Email
These disclaimers are necessary because email by itself is an unsecured communication channel. As messages are not being encrypted on either end, there is a greater risk of information leaks. However, since HIPAA (Health Insurance Portability and Accountability Act) makes confidentiality a necessity, a disclaimer needs to be included.
HIPAA mandates that we encrypt our messaging correspondence to maintain confidentiality. Since email/text communication isn't inherently encrypted, it is our policy and duty as a healthcare entity to not use email/text when sharing confidential information. For more information, visit [TERMS OF SERVICE WEBPAGE LINK]. If you receive this message in error, please notify the sender immediately.
Liability Disclaimer Template
Disclaimers are all about avoiding liability for something. Therefore, it's no surprise that a liability disclaimer exists. While used rarely, they can be very useful in cases where there is a significant amount of external communication through email.
Any views or opinions presented in this email are solely those of the author and do not necessarily represent those of the organization. Employees of <COMPANY> are expressly required not to make defamatory statements and not to infringe or authorise any infringement of copyright or any other legal right by email communications. Any such communication is contrary to organizational policy and outside the scope of the employment of the individual concerned. The organization will not accept any liability in respect of such communication, and the employee responsible will be personally liable for any damages or other liability arising.
The views and opinions included in this email belong to their author and do not necessarily mirror the views and opinions of the company. Our employees are obliged not to make any defamatory clauses, infringe, or authorize infringement of any legal right. Therefore, the company will not take any liability for such statements included in emails. In case of any damages or other liabilities arising, employees are fully responsible for the content of their emails.
Negligent Misstatement
If your emails might involve a lot of interpretation and action according to the information provided, adding a negligent misstatement disclaimer might be helpful. However, it may not be enforceable. Taking extra care in these scenarios might be necessary.
Our company accepts no liability for the content of this email, or for the consequences of any actions taken on the basis of the information provided, unless that information is subsequently confirmed in writing. If you are not the intended recipient you are notified that disclosing, copying, distributing or taking any action in reliance on the contents of this information is strictly prohibited.
Disclaimer for Newsletter
There are several reasons to include disclaimers in email newsletters. First and foremost, it's a nice thing to do for the user experience. Informing the recipient that the communication received is part of a newsletter.
Second, industry-wide regulations are implemented to curb spam and give more power to the consumer. Email disclaimers for newsletters are a great place to include everything that is legally necessary for the regulations.
Finally, it's a great place to include the unsubscribe link. As part of the regulations mentioned above, all subscribers have to get the opportunity to remove themselves from the mailing list. The email disclaimer is the perfect spot for an unsubscribe link as it isn't as prominent and is less likely to be clicked.
You have received this mail because you have subscribed for a newsletter at [your website's address]. You can always unsubscribe from our mailing list, by clicking on Unsubscribe You can also reply to this message, including unsubscribe in the topic.
This message is sent to you because your email address is on our subscribers list. If you are not interested in receiving more emails like this one, just hit Unsubscribe.
Thank you for subscribing to our newsletter. [Your company name] team will work hard to deliver good quality information in the fields you have specified upon subscription. However, if you decide that you no longer want to receive such emails from us, feel free to click the link below. Click here to unsubscribe.
Additionally, you'll want to include a link to unsubscribe from the mailing list in the underlined text above. Doing so is simple. Use a regular hyperlink and set the URL to be mailto:example@example.com?subject=unsubscribe.
Environmental Disclaimer Notice
These email disclaimers are not necessary and do not attempt to absolve the sender of any legal troubles. However, they do show that the person or company in question cares about the environment. Adding these, if no other email disclaimers are necessary, might provide a nice positive boost to every message sent through the channel.
Please do not print this email unless it is necessary. Every unprinted email helps the environment.
Is it necessary to print this email? If you care about the environment like we do, please refrain from printing emails. It helps to keep the environment forested and litter-free.
Please consider the environment before printing this email.
Security disclaimer
While cybersecurity is mostly the responsibility of the recipient, informing the receiver that proper security measures have been taken might add trust. Even if most companies nowadays have phishing and virus detection implemented into their email processes, adding an email disclaimer may aid in breaking the ice or retaining a good reputation.
[Your company] puts the security of the client at a high priority. Therefore, we have put efforts into ensuring that the message is error and virus-free. Unfortunately, full security of the email cannot be ensured as, despite our efforts, the data included in emails could be infected, intercepted, or corrupted. Therefore, the recipient should check the email for threats with proper software, as the sender does not accept liability for any damage inflicted by viewing the content of this email.
Adding a disclaimer
There are tons of email disclaimers to choose from. Adding an email disclaimer to your communication over not having one at all will do more good than harm pretty much all the time. However, where to add a disclaimer is not always as obvious.
One of the most frequent and best recommendations is to add a disclaimer to the email signature. It's a harmless location that's often read only when already looking for professional or legal information. Thus, it naturally lends itself to being a good spot for email disclaimers.
However, there are some exceptions. Namely, newsletters are a bit unique in that regard. Since these emails are sent through (usually) a specific mailbox with highly tailored content, the signature is of little use. Yet, the disclaimers are still most often put at the very bottom of the primary content. Usually, the email disclaimer lands just below social media links or other buttons.
Additionally, when including an email disclaimer in a newsletter, using a slightly smaller font size and neutral color is a good idea. The message should still be visible without strain. However, it should never take center stage.
Confidential Email Disclaimer Never Hurts
There are uncountably many variations of email disclaimers. However, we have outlined the most popular ones above, even if making slight adjustments to fit your business case might be necessary. Remember that adding an email disclaimer never hurts, especially if it's well-placed.
Want to improve your email marketing strategy?
Take Sender for a spin before shifting over and starting with zero financial commitment. The FREE Forever plan can help you do just that. Send up to 15,000 emails a month to up to 2,500 contacts absolutely free of cost!
All features, including multichannel automation ( Email + SMS), are also included for free users.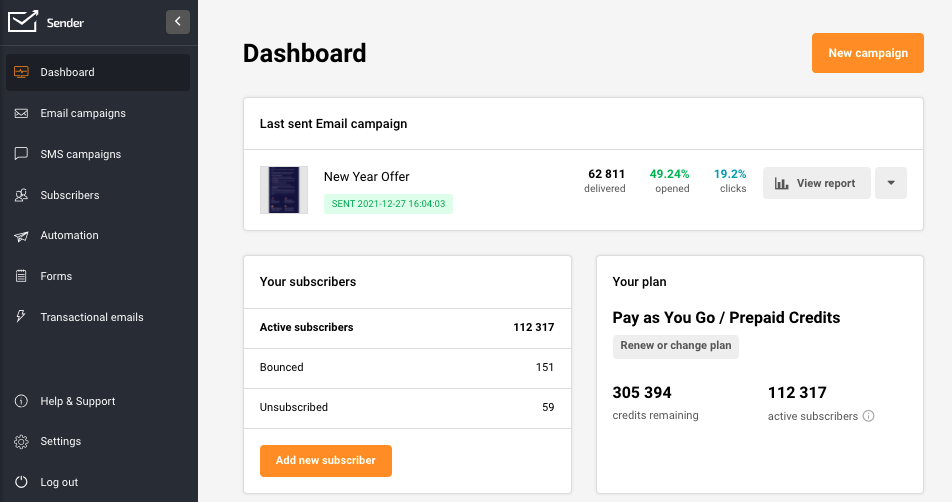 Also read: