An internal company's newsletter is not only a communications medium but also serves to unite diverse teams and departments.
Internal email newsletters from HR are useful tools for acknowledging individuals and groups for their contributions and boosting team spirit. Although writing a human resources newsletter requires a focused effort. Employees already spend too much time in their mailboxes. How can you make your employees read one more email sent from you?
It definitely takes careful planning and understanding of what your colleagues want to read.
Luckily, this guide will cover—a step-by-step model of how to write HR newsletters.
Why Does Your Company Need an Internal Newsletter?
If you are responsible for human resources, then you definitely know how important communication is, and email is perhaps the best channel you can find. However, there are hundreds of other benefits behind having a company's newsletter. Here are several reasons:
Keeping everybody informed on essential changes.
Building clarity between different teams. Showing what teams are achieving encourages understanding between groups that don't have to work together.
Encouraging social media support. Including things employees can share on their social media makes it easier for them to become your brand ambassadors.
Ensuring essential messages don't get lost.
Supports transparency – sharing information helps the company to share that you care about being open and honest.
It prevents colleagues from saying, "I didn't get the memo," If your newsletter becomes a habit.
Also read: 11 Best Company Newsletter Ideas to Develop Your Brand
How Can You Get to Know Your Employees Concerns?
Here are some thoughts to get insight into what info your employees want most:
First of all, HR should informally swing by directly to employees and ask a few questions.
Schedule meetings. Spend 30 minutes with coworkers from different teams to find out what kinds of questions they have and what they'd find useful.
Send a survey. Create a survey and share it via email campaign.
Some questions you can include:
What do you like about the current newsletter?
Which information is the most relevant to you?
Do you question what other departments are doing?
How often would you like to get updates?
Planning Your HR Newsletter Content
Now that you have an idea of what your employees want, it's time to craft a plan for the content of your email. It involves determining the topics, medium type, sections, and newsletter themes. Here's a list of content you should consider.
1. New Hire Announcements
Let employees know the new addition to the team. New employee announcement email should include:
Name and job title.
What they do.
Their hobbies.
2. Company's Achievements
Did your company just reach a sales goal? Participated in a major conference? Let everyone know the good news.
3. Policy Changes
Inform people about the company's policy change. For instance, a change to which doors staff should access your building.
4. Revenue Updates
Employees need to know when things aren't going so well. Include monthly or quarterly revenue so everyone knows where the company is.
5. Event Announcements
Let people know what events are coming up. That should include:
Event dates. Add it to the company's internal calendar,
Dress code. Include how people should dress during the event.
What to bring? Include what people should bring with them to the event.
Those details can help assure those events are attended.
Also read: How to Win at Event Marketing (Step-by-step).
6. Show What Teams Are Working On
People in your company are working on cool things they're passionate about.
These things don't certainly need to be extreme innovations.
7. Highlighting Accomplishments
This newsletter should include:
Promotions. Who's getting a new promotion?
Engagements. Did you have an employee speak at an event?
Let people know their hard work is recognized.
8. Interesting Related Articles
Segment your email list with employees' interests, build important news sources for your industry, and share the best material to help employees be more informed.
9. Your Blog Posts
If there's an article on your blog that'd be appealing to your coworkers, think about adding it to your newsletter.
10. New Feature or Product
Launching new products can likely have a broad influence on your company. The marketing team will need to know about the product coming up for them to sell. As well as, customer support teams need to prepare to answer questions.
11. Info From Your Leadership Team
Have your CEO include a note or show they want to be included in connecting with the company.
12. Future Holidays or Days Off
Let people know when not to show up at work.
13. Client Success Stories
How is your business helping clients? Find a client story and write about it to your employees. Your customer support or communication teams might be the right places to find quality applicants.
14. Company News Coverage
Did somebody write about you recently? Your coworkers probably would like to know about it. Although, you might want to stick to positive news for your purposes here.
15. How-To Posts
Find something exciting to help coworkers in your organization do their work better.
Common productivity tips.
Info on staying healthy.
Guides on performing specific responsibilities.
This information will get read as long as it's valuable to your coworkers.
16. Fun Moments from the Office
Be careful not to upset anyone against their wishes. But if something funny happens, take a photo and tell a short story about it.
17. Employee Questions-and-Answers
Leave a part asking employees to present any questions and select a few to answer in the next newsletter.
18. Community Event Announcements
Are there any exciting things happening around your office that might be an excellent team-building event? People might appreciate that you remind them about events. Otherwise, they have missed it.
If you wonder how to get this information, then check out local publications and magazines in your area.
Improve Human Resources Newsletter
Human resources are significant for your company. It connects people and makes it easier to inform everybody simultaneously. If you make it a habit, then your employees will check it and wait for the letter.
There are numerous things to include in your emails, but don't forget always to ask your coworkers what they are interested in and increase your readability.
When you use an email marketing tool like Sender, doing it is even easier than you think. Sender's in-built email design tool makes it a breeze to build emails quickly and efficiently using simple drag and drop editing.
Also included are responsive and high-converting pre-designed email newsletter templates that make it extremely easy for you to send emails.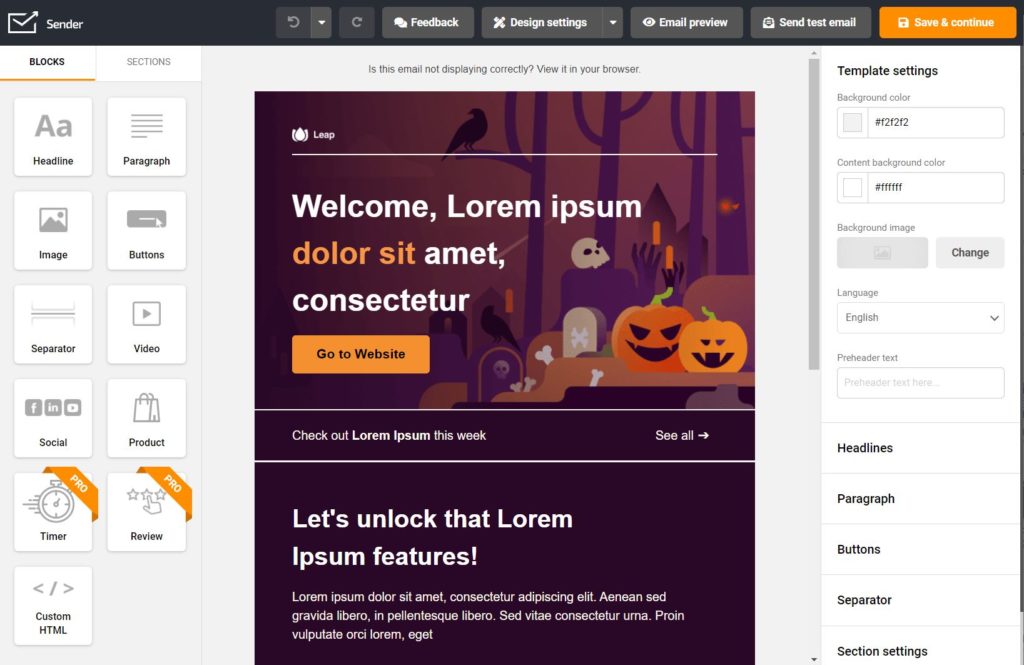 Start with zero financial commitment. The FREE Forever plan can help you do just that. Send up to 15,000 emails a month to up to 2,500 contacts absolutely free of cost!
Also read:
Like what you read?
Apply it in practice with Sender.net - the most cost-effective email marketing solution in the market.
Try Sender for free