Employ your powerful emails
Increase sales and engagement by sending your well-designed emails with Sender.
Get Started For Free
Most businesses understand the importance of sending regular emails to their target audience and subscribers, but only some know how to write engaging email content.
Before you plan a campaign, you must know what email content is.
This article provides a clear definition and good examples of email content to help you craft compelling email campaigns. Keep reading to learn more about email content and how it is the most important element of your email marketing strategy.
What is Email Content?
The email content is a communication sent to a customer, prospect, or subscriber's inbox using an automation platform, a dedicated email builder, or personally. Basically, it's the words, sentences, or paragraphs you write in your email. It may include new product announcements, promotions emails, or weekly or monthly newsletter write-ups.
It's an integral part of email marketing because it consists of any message relayed to a customer or prospect throughout the customer lifecycle. The length of the content varies based on whether it's an auto-reply or a fully-fledged newsletter.
The level of design included in crafting relevant content is also important. Generally, it should be 50 words for short-form emails, 100 words for standard emails, and 150+ words for long-form emails. But it totally depends on your goals and your audience's expectations. There's no rule of thumb here.
Email Content Meaning & Value for Business
The valuable and insightful email content is a powerful brand recall builder and a lead-gen engine for your business. It can engage your audience, drive traffic to your website and improve your marketing ROI.
Effective email marketing involves writing content that suits the audience's needs. Basically, it means stepping into the subscribers' mindsets, satisfying their pain points at every stage of the customer journey, paying attention to their cultural narrative, and crafting a message. Therefore, email content requires smart copywriting, always keeping relevance and context in mind.
If you have a product to push and customer relationships to nurture, you must create engaging content for your email campaign to succeed. Here's how effective marketing email content can help you drive your business forward:
Driving Leads and Sales: Promotional emails effectively push new products, content, and offerings. Combining professional creative design and astute marketing strategies makes it possible to convert leads into customers via email.
Customer Retention: You can maintain a friendly conversation with your customer and build confidence and trust through email content. Engaging subscribers in that manner reduce customer turnover and increases your business cross-sell/upsell potential.
Promoting Brand Values: What values does your business stand for? Email content's voice is an effective way of sharing your mission/vision with the audience.
Don't settle for boring email content. Take email marketing to another level with Sender's Free Forever plan, which includes access to our excessive library of high-converting templates and all the features you need to succeed.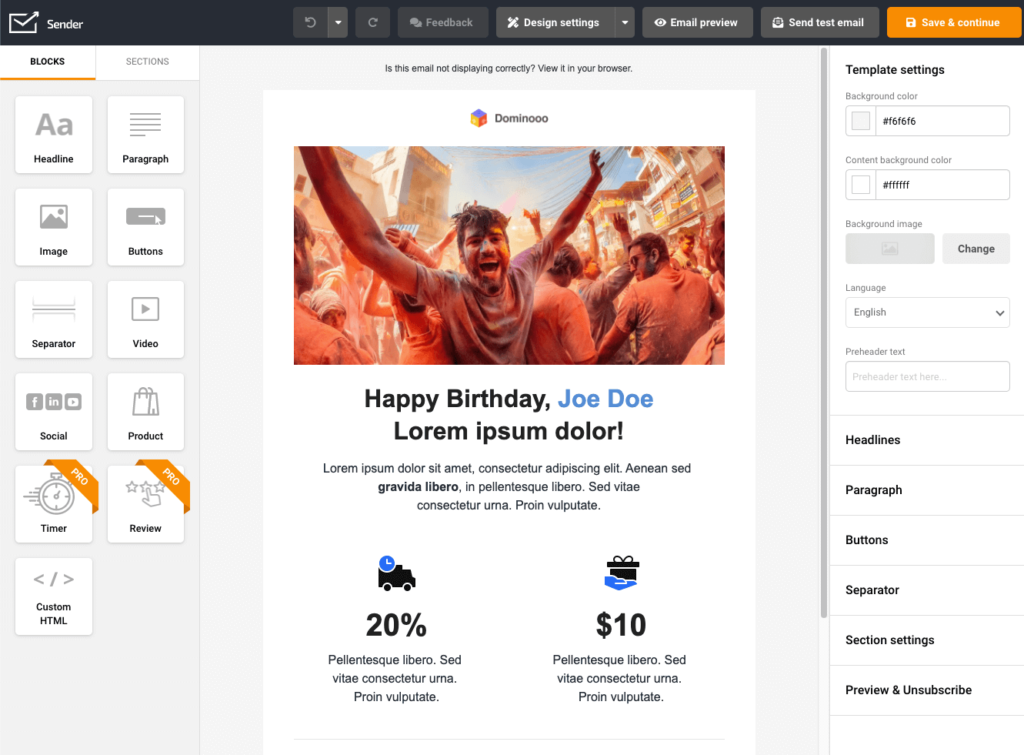 Different Types of Email Content Format Examples
You can plan your email content in many ways, depending on your business goals and the audience's expectations. Creating something that aligns your goals with expectations results in better engagement. Here are the different types of email content formats you can use if you plan an email campaign for your brand or business:
1. Newsletter Content
Newsletters are the most common forms of email content you will find brands sending to their clients and audience. Newsletter content is dynamic and generally focuses on a particular theme — value addition, announcing offers, product updates, etc.
Brands have been sending newsletters via email for a long time now. Here, look at the newsletter by SimpleBits: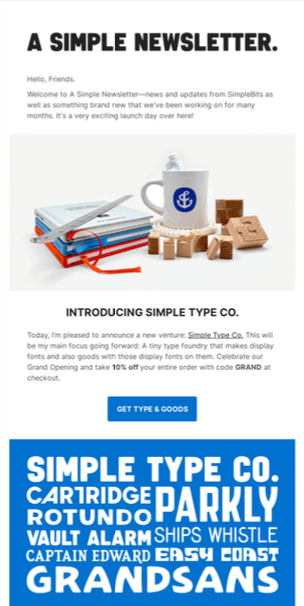 The newsletter content in this particular email is simple (the name justifies the simplicity) and announces their new venture. Basically, the brand is trying to introduce its new product line through the content in this newsletter. The smart use of easy-to-read copy accompanied by graphics appeals to the eyes.
Key Takeaways
Have a recurring theme or discussion in your newsletter;
Add value through periodic newsletter content delivered to your audience;
Experiment with layout and graphics; newsletters needn't always be boring.
2. Email Marketing Content
You can use email content for marketing a new product offering, service, or new feature. Email marketing is known to offer maximum ROI, so it makes sense to spend time crafting the perfect email marketing message. Even mammoths like Apple cannot ignore the benefits of email marketing. Take a look at their marketing emailer about Apple Podcasts: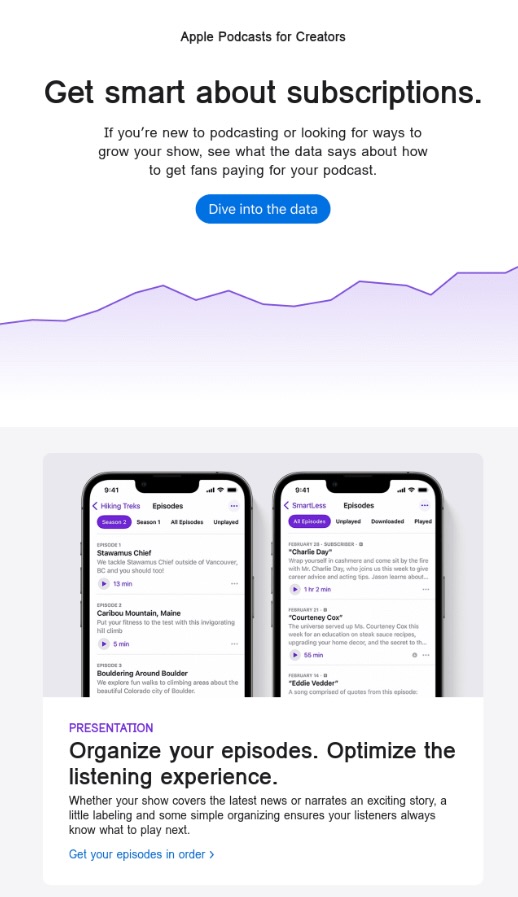 The interesting email layout with separate blocks about different features is definitely a scroll stopper. You can also see how they've written the email content from the perspective of the reader's lifestyle — showing how the product subscription will add value to their life. You should also plan something like this to maximize your email marketing campaigns.
Key Takeaways
Highlight the product/service benefits in marketing content;
Use contextual and clever CTAs in your marketing email;
Create different graphics and A/B test the performance to find winning campaigns.
3. Dynamic Email Content
Dynamic email content changes according to user behavior or any other user data. Such an email campaign segments the audience based on age, gender, location, and other characteristics and shows different variations of the same messaging for personalization.
A company can give its subscribers a more personalized experience through dynamic email content. It not only makes an email valuable but helps you stand out and beat the competition. Take a look at the following dynamic email by YouTube:
The top section of the emailer is all about the user — their channel insights on YouTube. This is dynamically generated based on their performance and definitely makes a user scroll further. Plus, the heartfelt messaging (about a purpose) will make readers relate to YouTube's goal. The contextual image (aligned with the purpose) is refreshing between so many numbers and a long paragraph. They could have personalized the salutation and subject line with the first name, though.
Key Takeaways
Always personalize the email content with the first name or personal attributes;
Pepper interesting graphics and images throughout the email;
Extract valuable data points (or personalized recommendations) to help the readers achieve their goals.
4. Interactive Email Content
An interactive email has specific moving elements (such as GIFs) in the email body that make them more interesting for the readers. The main goal of incorporating interactive elements is to boost email engagement since interactive content encourages people to continue communication.
When users click on the elements, they can be directed to add products to their shopping cart, complete a survey, or rate services. Take a look at the following email by Spirithoods: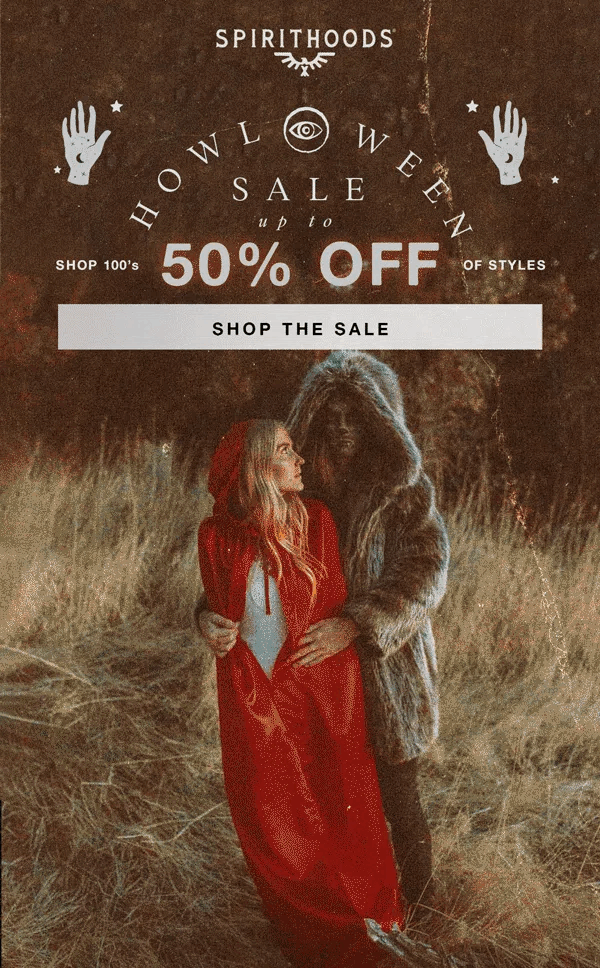 The email's background is interactive — changing graphics on load. It is definitely an attention-grabbing tactic. Also, it looks attractive and very contextual to the brand values and name. The Halloween sale announcement accompanied by such 'wizardry' interactive graphic is so on-point.
Key Takeaways
Stay subtle and elegant in embedding interactive graphics;
Keep the text less in interactive email content;
Use such content on special occasions and holiday emails like Halloween, Christmas, etc.
5. Automated Email Content
Automation helps you pull information from your database, website or feed directly into an email. That way, you don't have to manually copy-paste the plain text, check, format, and update the email content. This saves a lot of time, especially for large businesses that operate at scale.
Many brands curate automated email content based on their latest blogs, new product collections, or launches. Take the following email by AppSumo, for example: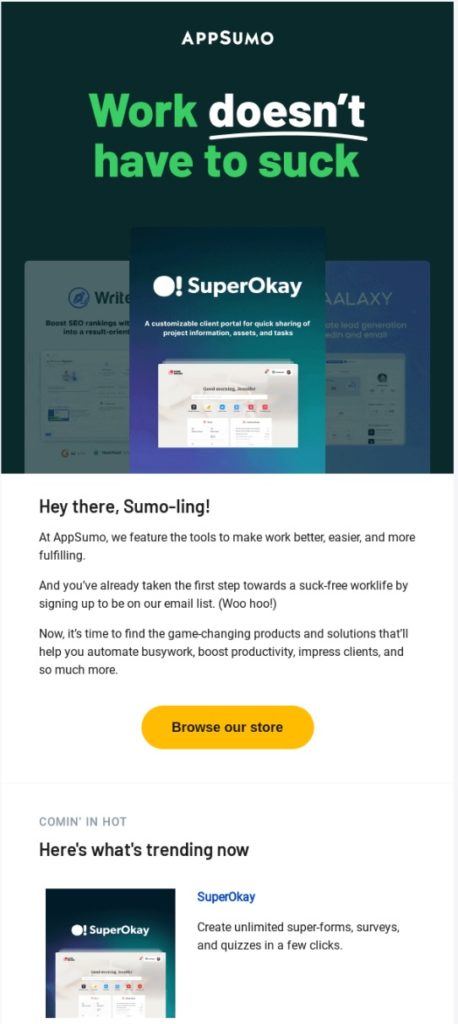 The email is sent to AppSumo's email list subscribers announcing the trending/hot products in the store. Here the products are pulled from their central database, and the emails are created and sent automatically using marketing automation flows.
You can also plan something like this using a tool like Sender, which allows you to automate email content and campaigns based on your growth goals.
Key Takeaways
Automate fresh content/product addition announcements on your website via email;
Always have a beautiful email template with appropriate product blocks;
Use marketing automation to compile automated email content.
6. Ecommerce Email Content
eCommerce brands and businesses keep sending different types of emails — promotional messages, transactional emails, etc. to their customers and audience. Promotional emails let consumers know about your latest offers, while transactional emails inform them about actions on the website — delivery notifications, order confirmations, and receipts of payment.
Brands keep on testing different types of content among audiences, and here's an example of a great email by Warby Parker that runs an online eCommerce store: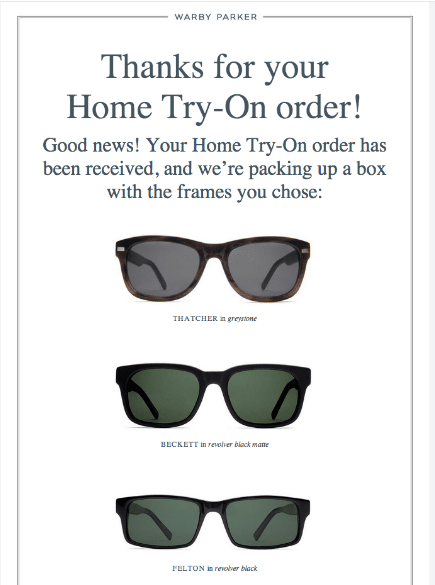 The transactional eCommerce email thanks the customer for their order and informs them of the products they picked. The product imagery and names are a great touch-up for an order confirmation email. They could have been more informative about order numbers, shipping information, and support details, though.
Key Takeaways
Keep your email content as simple as possible — write like a 5-year-old has to read your email;
Add relevant images and graphics to your email content;
Never forget to add critical and contextual information to your email.
7. Email Campaign Content
An email campaign can be any email you send to your email list. Generally, brands and businesses schedule promotional emails around special occasions, days, or sale events. Take the case of the following email campaign sent by McDonald's on Pancake Day: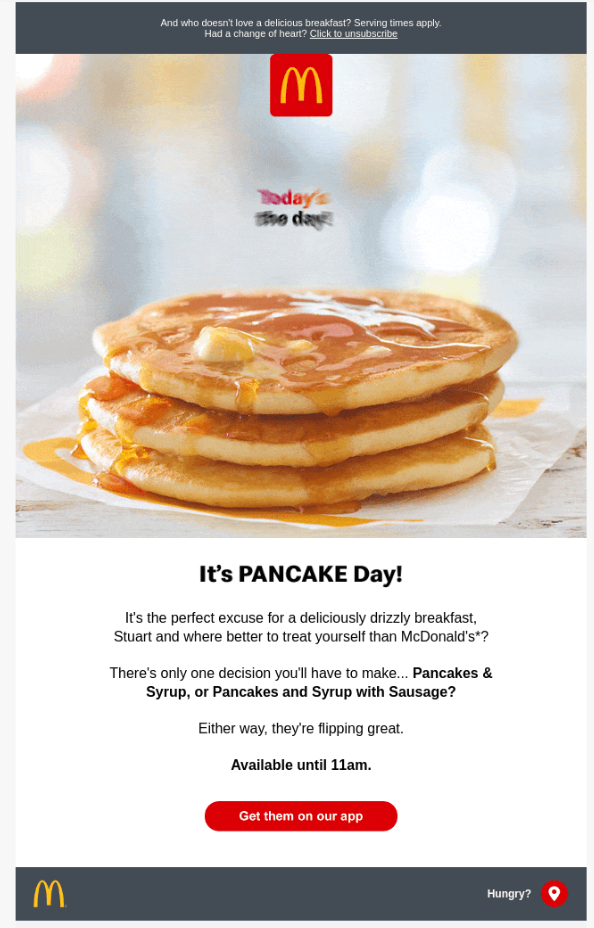 The subject line for this pancake was — It's flippin' Pancake Day! 🥞, which informed the reader of something new and piqued their curiosity. The email has a compelling tone, asking the reader to try out pancakes by the brand. The FOMO messaging — 'Available until 11 am' would have driven many readers to click on the prominent 'red' CTA button.
Key Takeaways
Plan your email campaigns around special days;
Keep the content simple, straightforward, and concise;
Add an element that piques curiosity and appeals to the FOMO.
Email Marketing Content Examples
Do you want to spice up email content for marketing your business and engaging your audience? If you are searching for some great content marketing emails to get inspired from, we've compiled a list of effective examples for your next marketing campaign.
Use these email examples to grab attention, engage your audience and influence them to buy from you.
Dynamic Email Content Example from Strava
Strava is a fitness tracking company that reaches out to its customers with personalized emails with monthly activity stats. It keeps its subscribers list on track to meet its fitness goals. Here is an email from Strava showing a customer's fitness achievements:

Email Content Example by Netflix
The video streaming uses email content to encourage its subscribers to watch more of its series. Email campaigns from Netflix are personalized and based on user preferences.
Here is an example of email content from Netflix: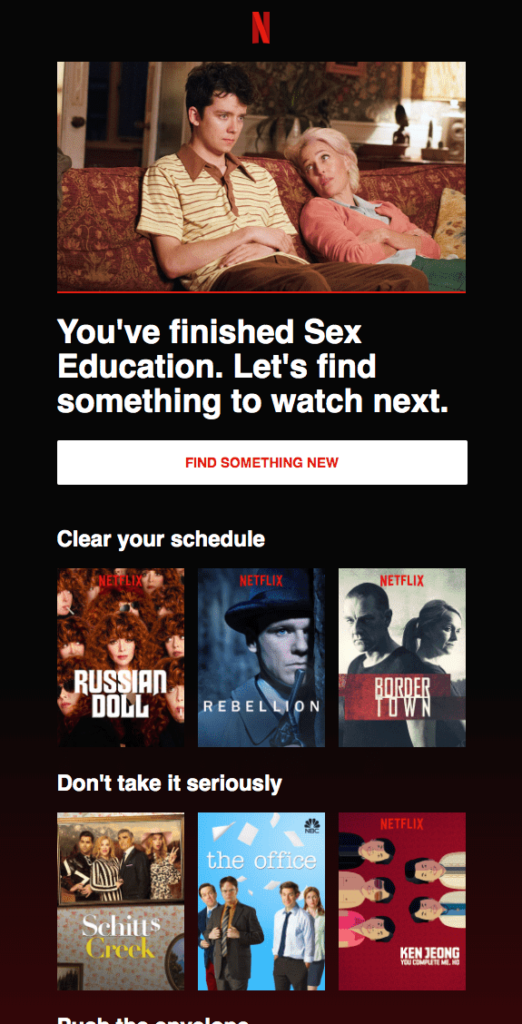 Email Content Example by Uber
In this example, Uber uses a straightforward but tasteful email marketing campaign. It has concise text that takes readers straight to the point with a clear CTA.
Subscribers can skim the message and still get the gist of the message.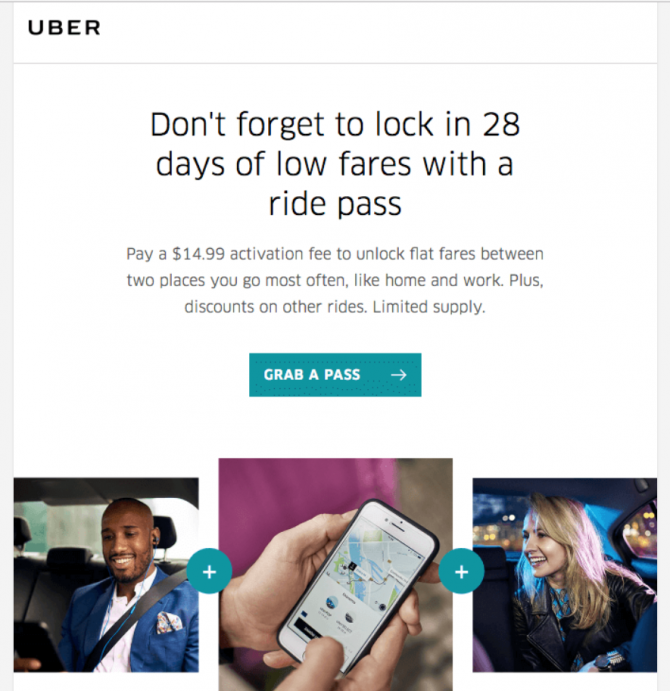 Email Marketing Copy Example by Headspace
Headspace provides guided meditation via an app. Content marketing emails have precise text and pictures that draw you toward performing the required action.
The minimal content is perfect for customers without time to read a loaded message.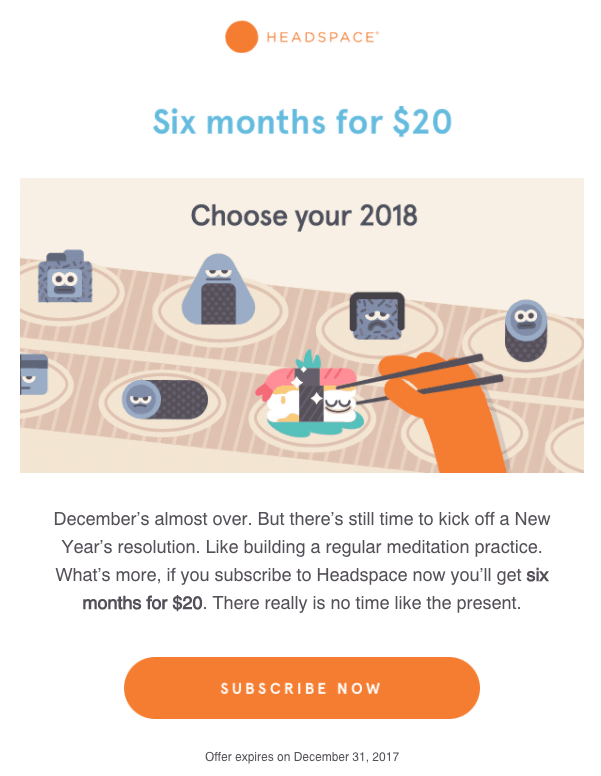 Email Marketing Copy Example by Starbucks
Starbucks always gives its readers reasons to engage with its content marketing emails. You can do the same with your customers. With Starbucks, you'll buy your half-off Frappuccino, no questions asked.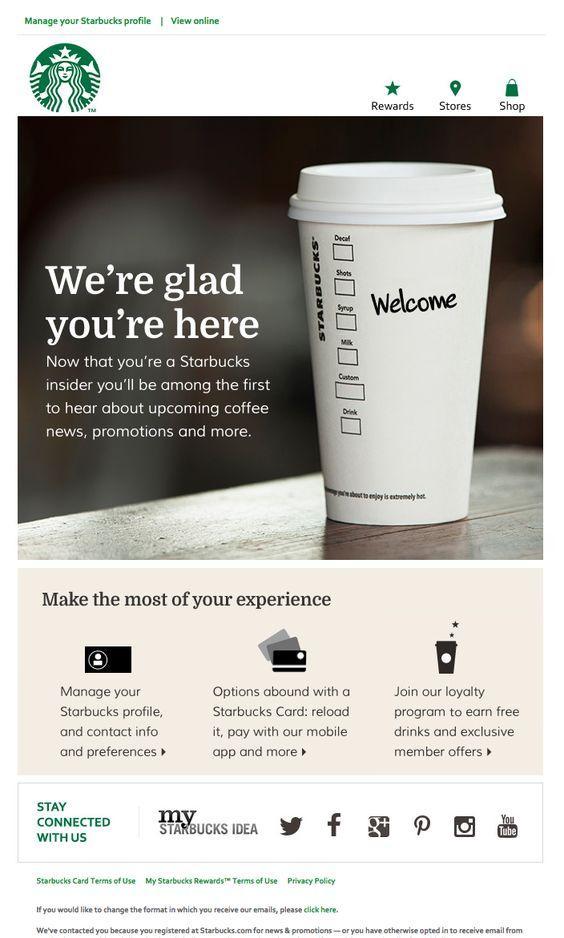 Email Newsletter Article by Buffer
Buffer does an excellent job of keeping its email newsletter concise, allowing readers to get the information they need with a quick skim. They recognize that readers want to keep up with the ever-changing social media landscape, so the brand discusses the latest news and trends.
Because of its simple and organized structure, the newsletter is jam-packed with information without feeling overwhelming.
Ecommerce Email Content by Rover
Rover, a dog-walking app, uses a playful holiday-related email to convey the Halloween spirit that inspires people to dress up in outrageous costumes and pull pranks.
In this email content, the brand encourages dog owners to treat their pets with themed toys on "the spookiest night of the year."
5 Elements of Effective Email Content
Writing effective email content has always been a tricky business — more if you have a million other things to take care of. If you have searched for how to write marketing email samples before, you must have encountered several best practices.
But do you know you just need to take care of 5 elements to get the best results? Here are the five elements to focus on in your emails:
Create Catchy Subject Lines
Subject lines are the most crucial aspects that determine whether or not a recipient will open your email. If they're boring, chances are your emails will go unread — even if you have an excellent deal.
Here's an example of a catchy subject line from the Uber email below:
Subject line: Enjoy 20% off, [Name], just for you.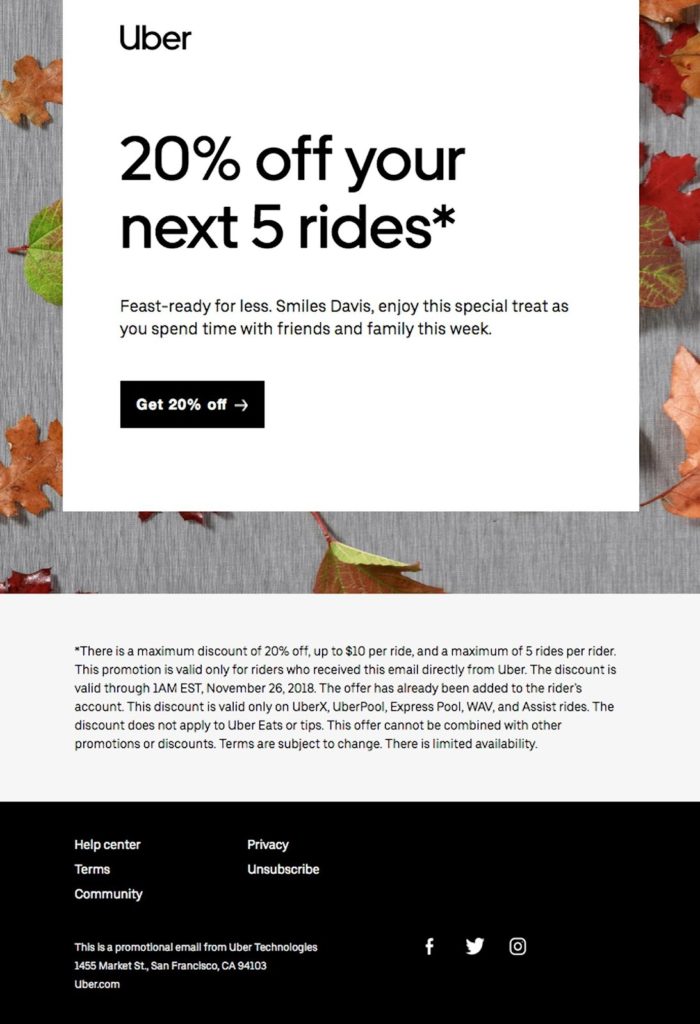 You can see that Uber has included the subscriber's name and a special offer to entice the recipient to open the email.
Focus on Your Email Preheaders
Email preheaders are the previewed text displayed under the subject line. Think of them as the subject line's sidekick.
The headers help you expand on your subject line and capture the reader's attention, further persuading them to read the whole email.
When writing your preheaders, stick to the standard character count of about 100 characters or less. Like subject lines, they should be short and sweet.
Always Follow Good Email Design Practices
A good, responsive design is critical to any effective email marketing campaign.
If you haven't designed any emails before, the interface can be pretty overwhelming initially. But that's okay because Sender's Drag & Drop editor is user-friendly and feature-rich.
You won't need any HTML knowledge to use the editor. Just choose a pre-made template with custom fields and personalize it with elements like tags, images, videos, and text. You can also add alt text to images in your emails and customize footers.
To design effective emails, implement the section blocks first, then add different elements. After adding the ecommerce blocks, insert the necessary content blocks and create a stunning newsletter.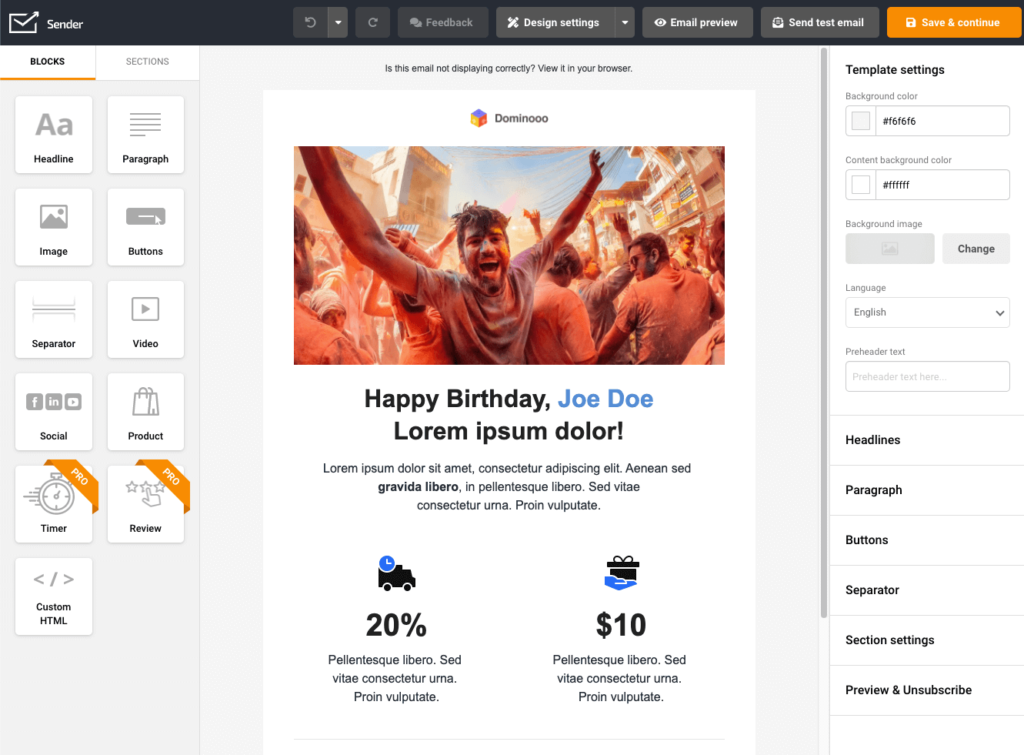 Leverage Scarcity and Fear of Missing Out (FOMO)
From limited-time offers to flash sales, the scarcity principle always triggers FOMO and attracts more consumers. FOMO is common among online users, and you can leverage it in your emails.
For example, you can show a countdown timer to let customers know that your deal is only available for a limited time. It'll encourage users to take action before it's too late.
Add GIFs or Images to Your Emails
Adding emojis, images, or GIFs in your emails is an excellent way to respond to your recipient's visual nature. One of the best ways to incorporate images is to highlight your service or product.
Check out the example below from Casper: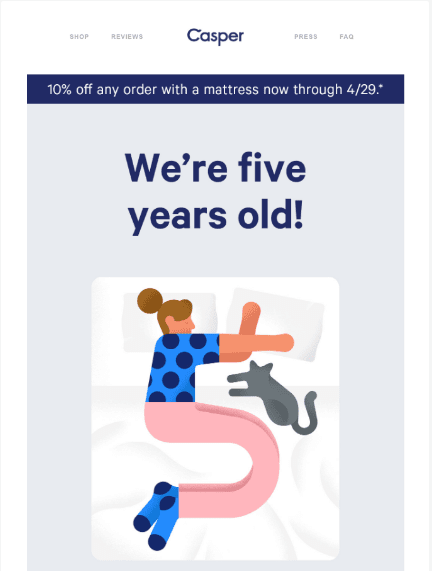 It features a custom image that reaffirms the occasion — the company's fifth anniversary — and reminds customers of the brand's main product (mattresses). Such a valuable image gives customers a reason to shop.
Use Personalization
Personalization is crucial to any successful email marketing campaign because readers want to feel like you're speaking directly to them. It makes your message more special than if it was addressed to everyone.
So, segment your email list to create a more personalized email based on your audience's interests.
Email Content Writing Examples to Send Your Audience
Email content can vary, depending on what marketers wish to accomplish. Understanding these email content marketing types can help improve your B2B brands by providing a better-targeted, well-written message.
Here are five types to send to your entire list:
1. Welcome Email
Most customers and new subscribers expect a welcome message soon after subscribing or purchasing. While welcome emails have the highest engagement and open rate, the content must be top-notch to mesmerize potential customers.
So, instead of blasting your customers with one message, observe the following guidelines when creating content:
Create emails with Customized content on whether the sign-up was via social media pages, website, or they bought something
Send announcements with relevant subject lines and content messages based on what the customer purchased
Provide subscribers with opportunities to learn and buy your products in your email content
Focus on what your company can do to help your customers achieve something
Also read: 25 Attractive Short Welcome Messages for Customers
2. Promotional Emails
Did you know that growing customer awareness of the pesky nature of promotional emails can drastically reduce their impact?
The best marketing content strategy engages them more with information or 'how-to' content and a few promotions.
Astute marketers know how to get the perfect mix between content and promotions. For example, while the focus can be on a special offer, they highlight the request with a clear CTA and not the content.
Once you have made the offer, you can follow it up with additional free content supplementary to the proposal. With that, you would push the customer closer to a conversion soon.
Also read: 5 Powerful Promotional Email Examples.
3. Onboarding Guides & Blogs
Do you have great content on your website? Why don't you make it known to your email list as part of your content marketing strategy? For example, you may send blog solos highlighting individual blog posts.
Your email content may consist of a brief overview of the highlights of a blog post. Below it, you may include a CTA to draw subscribers into the rest of the blog.
Besides, you can send weekly newsletters or monthly content highlights with blog ideas with which the email subscribers can interact.
It provides a beautiful chance to engage with the audience with onboarding guides and blogs and turn them into actual conversions in the reader's inbox.
4. Product Announcements
With promotional announcements, you can keep your business always on top of the minds of your target audience by reminding them of your brand's existence and informing them of the availability of new products.
With an eye-catching subject line, the content should be compelling enough to keep your readers interested in what you have to offer. If you can engage and drive a sales pitch from it, why not? Improving the content's ability to engage both old and new subscribers alike is a plus.
5. Surveys and Feedback
While asking customers to provide feedback on your business makes your company vulnerable, it can provide valuable information to help you improve.
For example, it can help you understand your performance, how your company culture impacts existing customers, and the best ways to handle issues in the future.
You may also use surveys to conduct market research and gain insights into your customers' needs.
That ensures that you no longer have to apply guesswork when dealing with your customers. So, don't hesitate to send a short survey in the mail.
Also read: 11 Customer Survey Email Template Examples
Email Content Writing Tips
When crafting email content, are certain best practices you shouldn't neglect to engage and inform your customers constantly.
Here are some suggestions:
1. Email Content Calendar Plan
It would help if you created a content calendar plan to guide your email marketing strategy. That will help you schedule emailing weekly, monthly, or as often as possible.
You can prepare a topic for the week, month, or period in question on your calendar. Once you have a plan in place, stick to it.
2. Utilize Consistent Branding
The excellent email content is one of the best ways to personalize communication with your audience. Therefore, it should project your brand voice more consistently.
Instead of focusing only on the content, always use a branded email template with similar typefaces, colors, and signatories.
3. Apply Standardized Dimensions
Prospective customers can get confused when they receive differently-sized templates each time they get an email from you. So, standardize your email templates to be visually appealing and give your customers satisfaction. The width should be 600 pixels to make your Email mobile responsive. While you can vary the length, could you not make it too long?
4. Avoid the Spam Folder
When you send an email, it's subjected to a condition of SPAM-filtering tests to determine whether it'll be delivered to the inbox. This may become a problem if you're reaching out to customers or prospects and your messages are mistaken for SPAM.
To avoid this:
Only send emails to your subscribers (those who opted-in)
Avoid subject lines with spam trigger words
Monitor your spam score and sender reputation
Ensure you send targeted and relevant content
Key Takeaways
Write relevant, personalized, and useful email content;
Always keep your audience's pain points in mind;
Mix and match different content formats and use analytics to track campaign performance;
Use an A/B testing tool and marketing automation to boost your marketing effectiveness.
Want to learn more?
---
Author Bio
Anmol Ratan Sachdeva is a content marketer and small business consultant who has a strong grip on topics like marketing automation, email marketing, and content marketing. He loves to write about starting, improving, and growing a business.