Capture leads without a hassle
Level up your lead generation with Sender's powerful popups and build your email list like a pro.
Get Started For Free
Become a real estate lead gen ninja, Stay one!
Lead generation for real estate is the simple process of attracting and converting prospects who are looking to buy, sell or rent a house or property.
You do this by generating buyer and seller leads, to ultimately aim for a real estate sale.
Realtors and real estate companies should look at both inbound (prospect comes asking) and outbound (you woo the prospect) techniques for lead generation.
In this post, we dive into some of the best strategies to boost lead generation for realtors.
Myth: Lead generation for Real Estate is Tough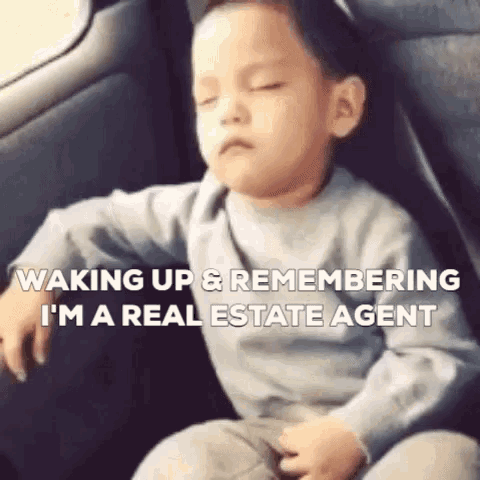 Real estate lead generation is easy but getting high-quality leads that are truly interested in your offering is not.
This is especially true for evergreen and competitive niches such as real estate.
In this digital era, a lot of realtors and real estate companies know that they need to level up. The best ways to do this lie in effectively leveraging the internet and modern-day technology!
21 Ideas to Crush Lead Generation for Real Estate
1. Facebook Lead Ads
Not all Facebook ads are created equal.
The next time you decide to budget some spending for FB ads, try out lead ads. These are relatively low-cost and easy to set up.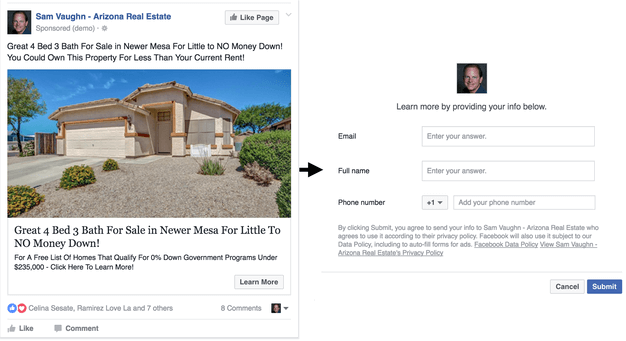 If you set up a lesser number of fields (questions), you may end up getting poor-quality leads. The trick to doing this right for real estate is to have a detailed questionnaire that asks the pertinent questions.
Sure you get lesser leads, but these are those with higher intent. We'd take 10 solid leads over 1000 tire kickers any day!
2. Facebook Carousel Ads with Professionally Clicked Photographs
People really want to see the property you are advertising in that Facebook ad of yours.
Consider investing in professional photography to end up with high-quality images that fit right inside your carousel to make your advertised property look like a buyer's dream come true!
Make it happen with high-quality visuals in the form of carousels and maybe even a video tour.
Looking for a tip to really kill it with video ads? Hire a drone and shoot some neat videos. Push it as a Facebook video ad and watch prospects come flocking over.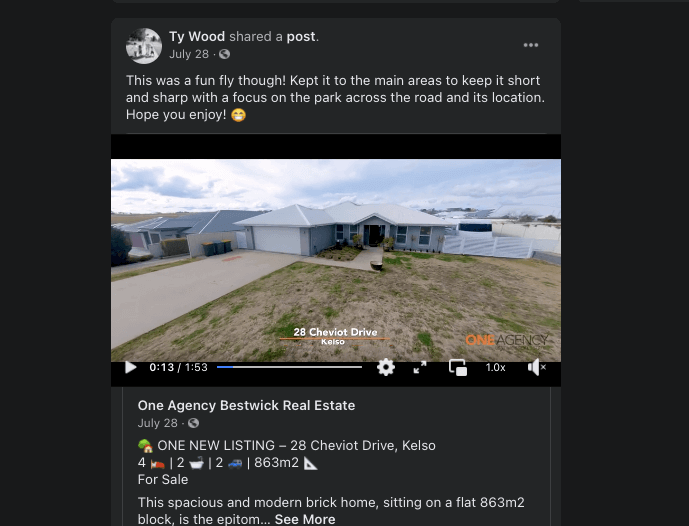 3. Leverage the One Platform No One's Focusing On Yet – LinkedIn
In a study of over 5,000 businesses, HubSpot found that traffic from LinkedIn generated the highest visitor-to-lead conversion rate at 2.74%, almost 3 times higher (277%) than both Twitter (.69%) and Facebook (.77%).
Here are some quick tips to optimize your LinkedIn profile:
If you are operating as an entity, get a company page set up. It should be complete with details about what the company does, its mission and vision statements, and finally, last but not least – a professional cover image.

Design attractive-looking cover images for personal profiles with clear headshots. Ensure that your personal LinkedIn profile is super-optimized with the "keywords" you want to be found for.

Outreach to your target audience through the power of LinkedIn groups. Although LinkedIn groups are pretty much dead these days, the leads inside them are not.

Spend time posting valuable content in the form of LinkedIn posts. Not just any content, but content that is relevant to your buyer persona.

Tag any locally significant business chapters or influencers who could help you get noticed.

Start friendly conversations with prospects who match your buyer persona. Engage with their posts and provide them with value in your answers and content.

Looking at the cost per lead real estate companies tend to avoid LinkedIn Ads. But then they forget that these are also best way to generate real estate leads.
Lead generation for real estate agents is a challenge but LinkedIn's powerful organic reach makes is worthwhile and easier.
4. Facebook Messenger Ads
Facebook messenger ads allow users who see your ads to initiate a text conversation with your business at the click of a button.
According to Theclose.com, response rates as high as 242%, you'd probably be kicking yourself for not running these more, and often.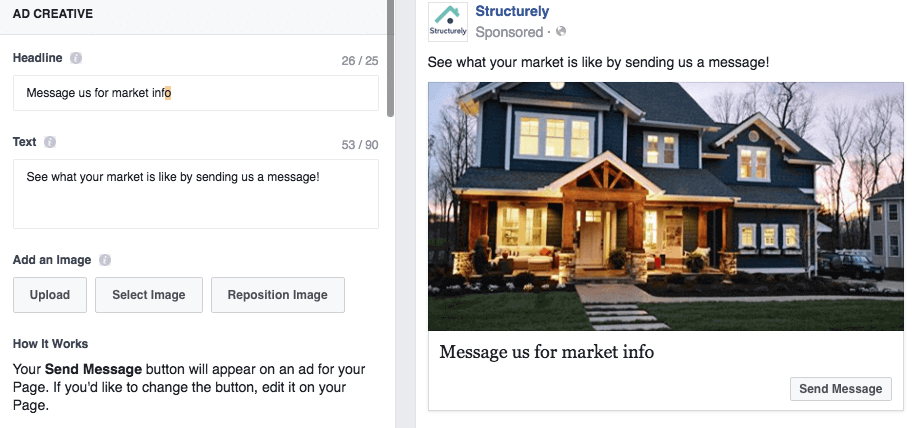 5. Arouse Customers with Automated Intelligent Conversations
Visitors to your landing page or website can be welcomed by a pre-programmed chatbot that has multiple levels of workflows pre-embedded within itself.
Not only do your customers get timely responses but these chatbots can make the conversation very entertaining for them.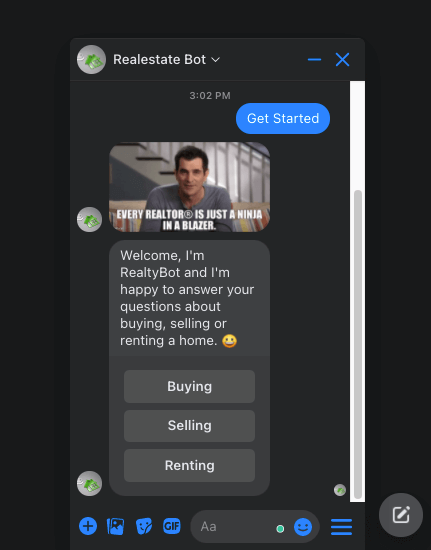 6. Optimize Your Facebook Presence
Just being on Facebook is never going to be enough. Make it worth your time.
Here are some sharp tips on optimizing your Facebook presence…
Create an official Facebook Page with a Professional-Looking Cover Image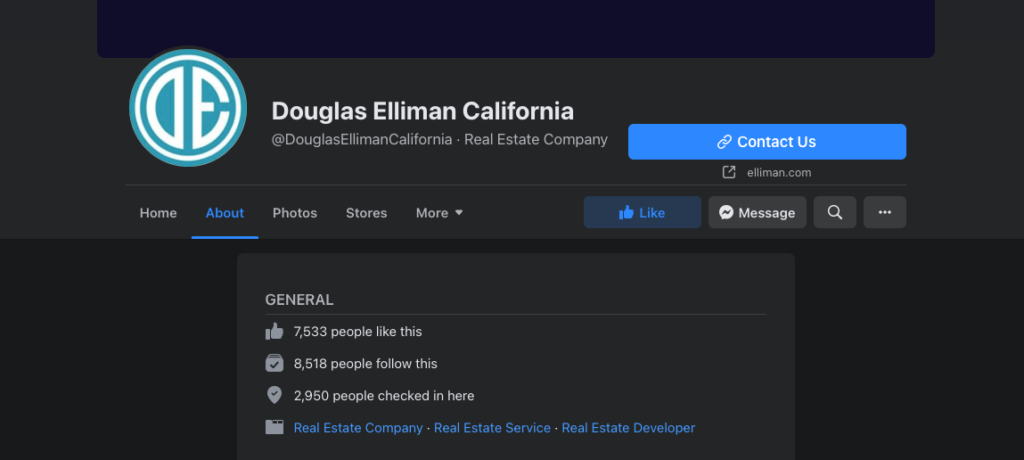 Completely fill out your contact details so prospects can reach out to you easily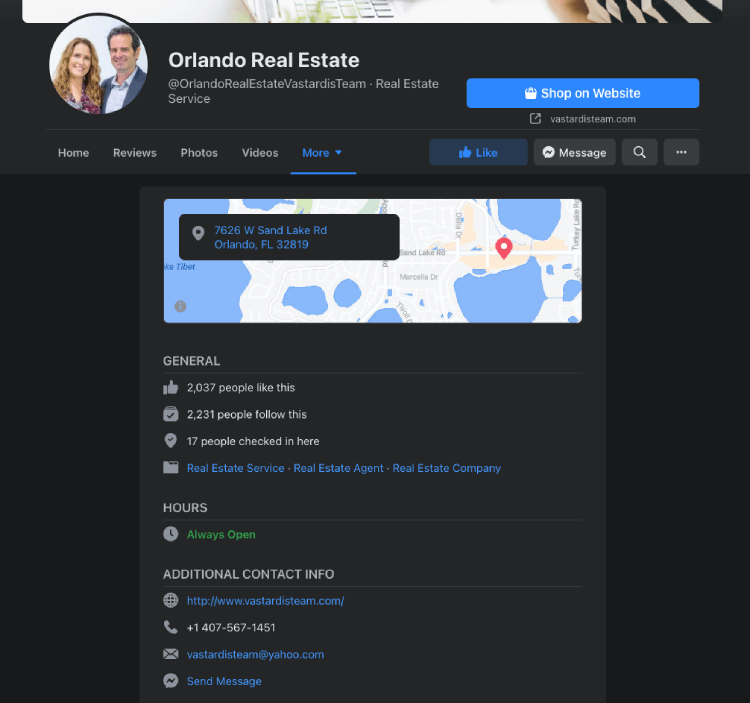 Upload high-quality pictures and engaging videos. Setup perfectly placed CTA (Call to Action) using elements such as Buttons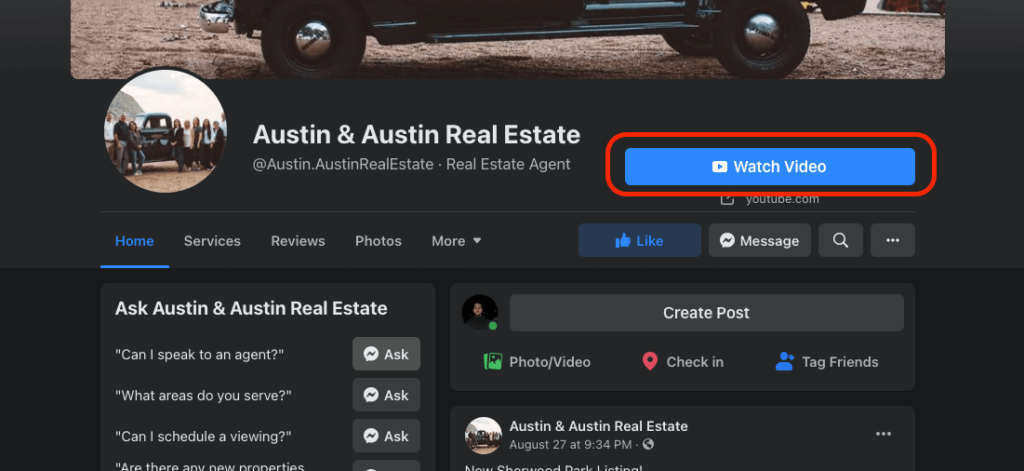 Be interactive on Facebook with your target audience by engaging with their content and replying to their comments
Also, great reviews never hurt.
When your existing clients feel encouraged enough to leave you some flattering reviews, ensure that these are specific. Ask them to mention the one thing that they loved about working with through this.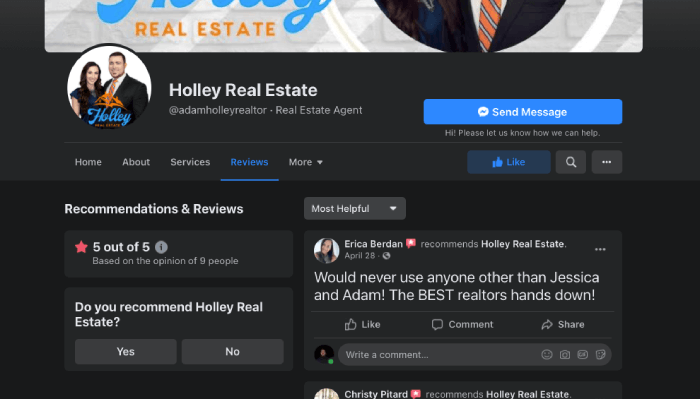 7. Convert Non-Believers to Die-hard Fans with Engaging Newsletters
Your prospect is more trusting of you over email than you would like to give them credit for. You have a great chance, to begin with, unless you choose to abuse it!
Hence, a few things to bear in mind though, before you start sending out that first email sequence.
Never be too eager to sell.
The idea is to 'help' and be 'top of mind' when the prospect actually needs you.

Look to add tons of value
Think tips, how-to blogs, and videos. Just when you feel like it's time to pitch, hold back and add some extra value. Especially for real estate.

Always have an optimized signature
– Your name in full (if mailing from your company's generic email ID, because people do forget names)
– Contact number and IM to make it easier for the reader to get in touch.
The basic idea is to create a multi-step email sequence that fires at pre-defined intervals. That can be easily done with the email marketing platform Sender.net – an email automation feature is an easy and convenient way to create automated sequences and nurture potential customers with weekly/daily newsletters.
Automation builder on Sender.net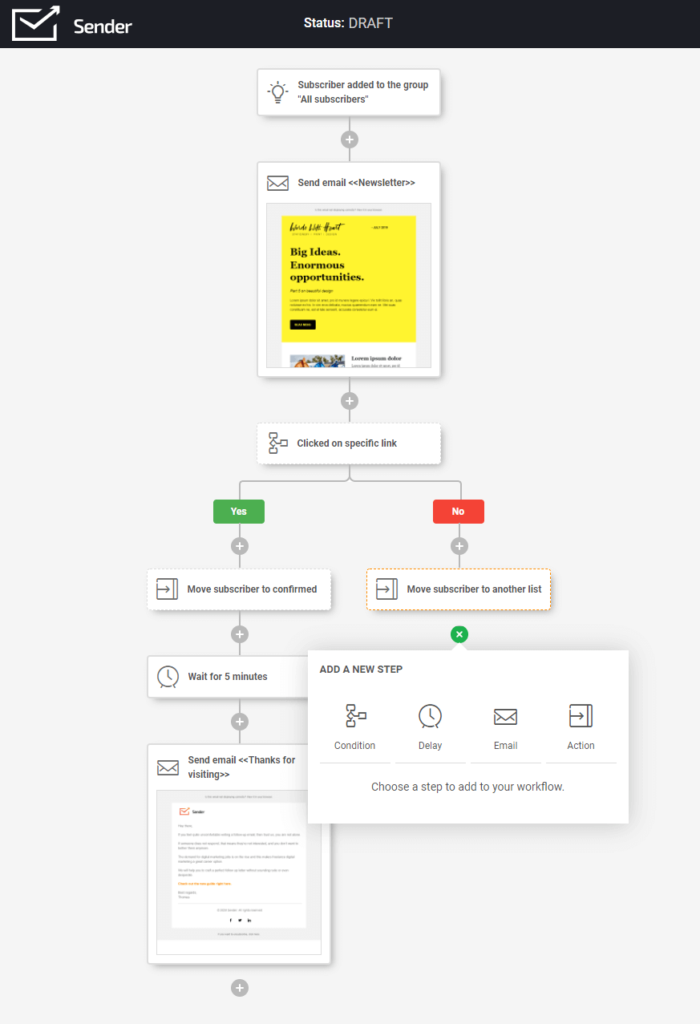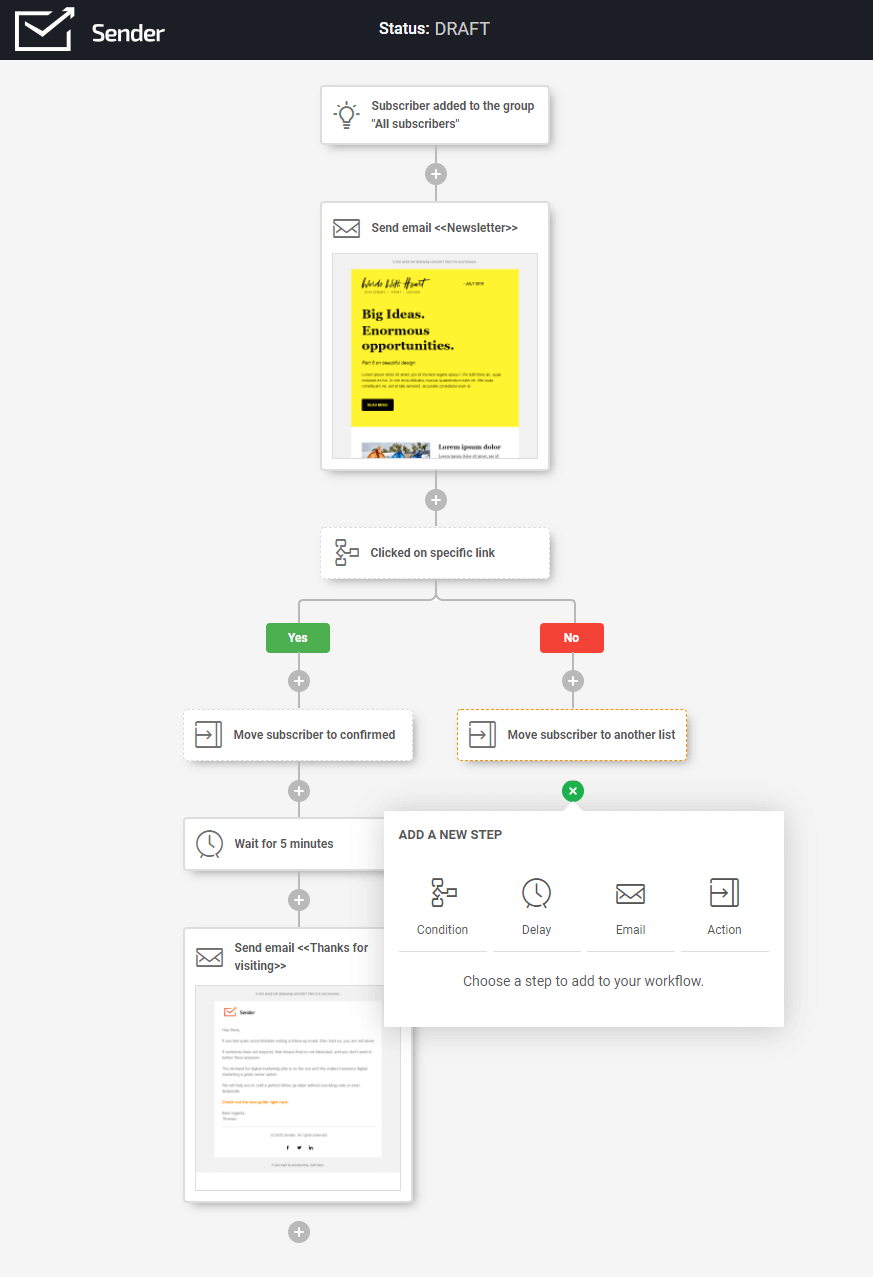 Sounds complicated and costly? It doesn't have to be.

Try an easy-to-use, all-in-one email marketing tool like Sender.net. Our FREE plan includes 2,500 subscribers and up to 15,000 emails (monthly) at zero cost.
Overall, just ensure that you are pumping in loads of value in every email. Stuff that people wouldn't mind paying for, and you are covered here.
8. Power Up your Facebook Personal Profile Funnel
Ensure your Facebook personal profile is complete with:
A clear headshot
A Professionally designed cover image
Clear and concise messaging on the cover image that describes what you do, whom you do it for, and the CTA (what the person reading it can do to avail your help)
Any link that you want your prospect to click on and visit. E.g. a Calendly link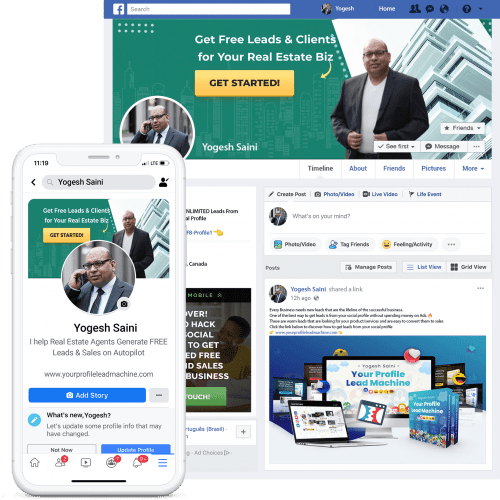 Join local and niche (realty) based Facebook groups where your prospects are likely to hang out. Become the go-to realty expert in these groups. Converse with a genuine intent to help.
Start friendly conversations and add prospects as Facebook friends. This will cause them to want to visit your profile and see what you are up to.
Engage them in DMs and take the relationship forward.
9. Highlight Your USPs (Unique Selling Points)
Never for a moment make the mistake of assuming that your prospect knows as much about your business as you think they do.
Some examples of great USPs in the real estate industry are as follows:
Exclusive tie-ups with prominent lenders.
We offer the best lending rates in town.
We have a combined experience of over 120 yrs.
Cheapest brokerage fees.
We are the go-to home improvement loan experts.
Get a mortgage quote on our website in 60 mins or less.
We guarantee we will approve your loan in 14 days or less.
Over 65% of our clients are first-time home buyers.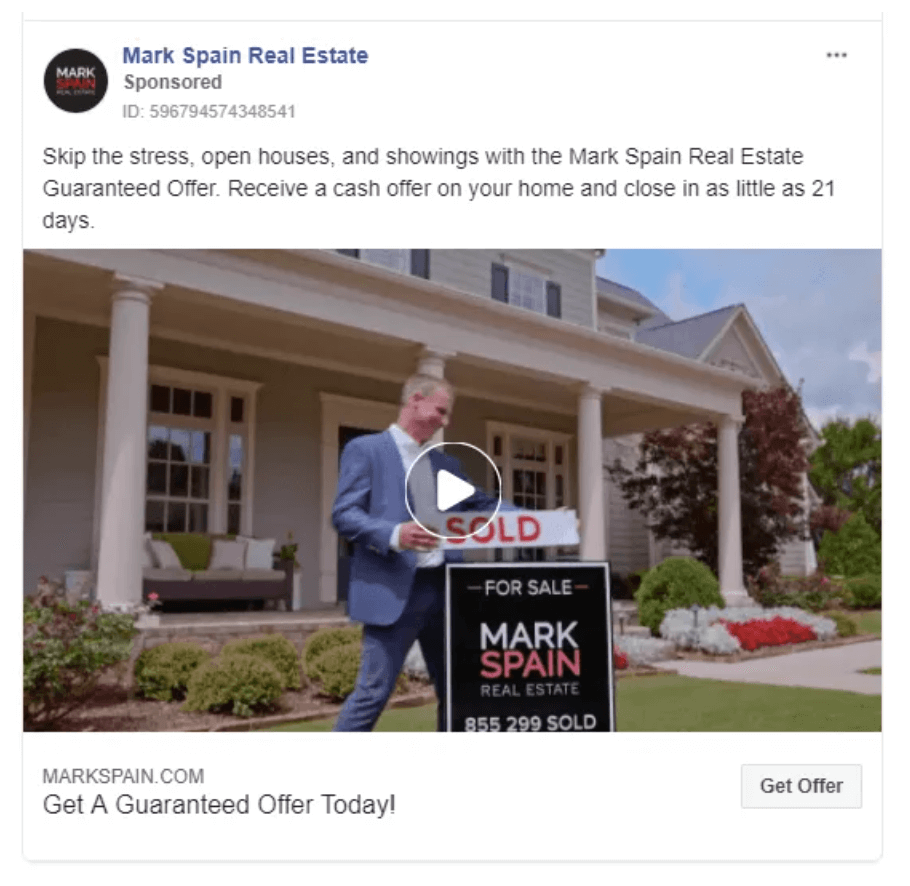 10. Cold Calling – a Blast from the Past!
Believe cold calling is dead? You are not alone.
Organizations that did not engage in cold calling experienced 42% less growth than businesses that did.
The writing is on the wall.
Pick up the phone and call your leads.
Cold calling has always been, and will continue to be a staple for the real estate industry.
Now, what types of prospects could you call for quick wins?
Expired listings – Home sellers with expired listings usually need a new realtor immediately. Reach out to them before they go out looking.

Geographic farming: Cold call all of your potential leads in a single neighborhood.

Landlords struggling to fill their vacant properties.

Homes under pre-foreclosure – helping someone who's undergoing a distress sale will always be welcomed.

Specific buyer personas that are a match for your offerings – E.g. C-level executives buying a second home resort, businessmen looking to invest, real estate investors etc.
Items you are likely to need before you make that first cold call:
CRM software to maintain a database of all leads and the progress of your conversations with them.
An automated dialer software to dial out those numbers. It will also automatically check numbers against the Do Not Call Registry before dialling out.
A great spiel (cold calling script) that focuses on the value you can add to the prospect's life. Ensure that it is a living document and is being constantly updated.
11. Build a System for Rock-Solid Referrals
A referral is when a former client or someone who knows you or your company recommends your real estate services to people looking to buy or sell a property.
Needless to say, the best source of new customers is often your existing ones.
Closing gifts: Make it a point to close any handover of a property with a closing gift. This not only highlights your appreciation for the client's business but also lays the foundation for a strong relationship moving forward.

Smart tip? DO NOT brand this gift. Everyone does it, so you don't. Customers don't like being treated like a branding exercise.

Generous rewards program – Incentivize referrals with monetary rewards if policy allows it.

Ensure that if you go down this route, that these payouts are as painless as possible.

Ask at the right time: Ask your current clients for referrals during their happiest moments.

For e.g. that moment when your seller gets a full-price offer.

It is important for you to remind your clients that referrals are important to your business and that you would love to help their family and, friends with their real estate needs as well.
12. Be Authentic – Put your Strongest Personal Brand Out There
Don't just be that guy or firm that helps you buy and sell properties.
Got some great advice on investment? Feel free to share them around with your prospects.
Wish them on their birthdays and be there for them during their toughest times.
Organize get-togethers and trips that involve fun, adventure, and experiences.
Adopt a selfless, community-first approach.
Sponsor local events such as park fairs or school concerts. Volunteer or help organize charity events. Print out or help contribute to local community magazines.
Try to be that friendly presence everyone loves talking to or talking about, just because of how you care, and how much you have to share.
13. Go Crazy with Your Video Marketing Game
Videos are a fantastic way for building trust, showcasing expertise, and getting your name out there as a strong personal or professional brand.
If you think you are doing enough, chances are you aren't yet!
In fact, video is so perfect for this niche, it's going to be hard for you to ignore it even if are the most camera-shy person on this planet.
There are so many different content ideas you could execute using video:
Weekly AMA (Ask Me Anything)
Tips & How-to's – E.g. finding a home that's right for you, choosing the right real estate agent (It's got to be you!)
Property listing videos
Client testimonial videos
Client interview videos
Real estate explainer videos
Post selfie videos about yourself and your life. This goes a long way towards getting people to know and trust you
"Just Sold" videos – Showcase your wins with videos showcasing the properties you've sold.
Real estate Virtual Tour videos
Videos highlighting local businesses
You could run these videos out of your exclusive YouTube channel or resort to Facebook Live or even post them organically on Facebook, Instagram, and Twitter.
A quick tip: Doing a walkthrough for a commercial property? Go LIVE on LinkedIn or make a post about it there.
14. Buy Quality Seller Leads From Market Leader
MarketLeader.com helps get real estate leads list from either of its two main packages.
Housevalues.com – Prospective sellers try to obtain the valuation of their property on the website. It provides them with a detailed comparative market analysis.

On other hand, Market Leader shares these seller leads exclusively to realtors and real estate companies that claim these zip codes through a paid program.

Moreover, these leads are not only hot, but they also come exclusive (not shared with anyone else), and guaranteed in number.

Leads Direct program – A PPC (Google ads) campaign to drive consumers who are searching for home listings on search engines such as Google and Bing directly to your personally branded IDX website.
Lead generating is a tedious task.
15. Knock Knock
When done right, door knocking does not have to be sleazy, awkward, or both.
Some quick tips on getting through this in one piece:
Do the "boring" research – It is crucial that you know the area like the back of your hand. Some items of conversation could include selling history of the neighborhood, home valuation, safety ratings (crime rate statistics), schools & fine dining, etc.

Have a compelling "Doorknock" script in place

No one's home? – Perfect opportunity to leave a gift, flier, or even a doorknob hanger with your contact information so they can get back to you.

In case they are neither looking to sell or buy, share your referral program & incentive details.

Always aim for rapport-building through short, friendly conversations.
And the unsaid, golden rule.
Always leave 5 seconds before it gets awkward and you will always be welcome again.
16. Magic of Organic Social Media
Social media is where people love to get to know each other and what's going on in each other's lives.
Make sure your social media posts leave behind a great impression. Some rocking social media post ideas include:
Sharer new listings
Giveaways or contests
Share helpful local news or updates
Provide information about local businesses and events
Provide valuable real estate tips
Present videos of home tours or neighborhood guides
Showcase "Home of the Week"
Post client testimonials
Create and share day-in-the-life videos
Conduct social Polls
Provide genuine, unbiased real-estate based investment advice
Share personal posts
Quick Tip? For every 3-4 content pieces that offer value, pitch once with your service.
17. Hail the Power of Local SEO!
At the beginning of the home buying process, 9 out of 10 home buyers search online.
Specifically, they're looking for help with buying or selling property. And SEO (Search Engine Optimization) plays a huge role in determining which realtors or real estate companies appear at the top of the search results.
Inbound leads where the prospect themselves look you up are way more powerful than outbound prospects you are trying to woo.
Follow the below steps to optimize your local presence on Google.
Setup your Google My Business (GMB) listing – Setting up or claiming your space on the google map is only the start.
Optimize your keywords inside your GMB listing and ensure that you post regularly.
Get Citations – Get listed on local and real-estate based online real-estate directories such as below


Zillow
Realtor.com
Trulia
LoopNet
HotPads
Homes.com
Movoto
LandWatch
Landflip
Homes and Land
Foursquare
Yellowpages
Bing Places for Business
Yahoo Homes
Redfin
HomeSnap
Neighborhood Scout
Zoocasa
Local.com
Yelp
You should list your business in as many places as possible, with your name, address, and phone number consistent across all of them.
Get genuine 5-star reviews on Google My Business, Yelp, and other directory listings.
18. Go "Guerilla" Unconventional
Do what the others won't.
See a long line of people waiting outside stores for the Black Friday sale to begin? Hand them out a bottle of water that has your brand sticker on it.
Ensure that each and every customer who enters your office leaves with a branded ballpoint pen or a coffee mug with a funny one-liner on it.
19. Hyperlocal Blogging
Blogging for real estate is an amazing way to attract inbound leads. Especially when done the 'hyperlocal' way!
Hyperlocal marketing is simply an approach that targets businesses, activities, shops, locations, local events, and other information focused on extremely local neighborhoods.
This provides useful data to visitors and builds tremendous credibility for your brand.
Some great ideas include:
Local "Best of" guides.
What's special about this area? Culture, history, what makes it stand out, what makes it tick for the locals?
Attractions such as recreation spots, coffee shops, fine dining restaurants, must-see places, and local getaways.
Famous landmarks, schools, colleges, and libraries within walking distance.
Upcoming community events and activities.
Feature local businesses, local events, fundraisers.
Neighborhood news.
20. Invest in State-of-the-Art Real Estate CRM Software
If you are looking to scale your real estate business, you definitely need to automate the mundane stuff and also have a rock-solid CRM to help you get important stuff done on auto-pilot.
Solutions like Zurple, BoomTown and RealGeeks do critical jobs such as lead management, custom IDX real estate websites and web design for real estate agents, Facebook real estate leads are welcome as well.
21. Use of High Conversion Optimized Landing Pages
This is so simple, it's surprising how many people get it wrong.
Real estate is not a transaction that happens at the get go. The idea of having digital assets such as landing pages is to ensure that your prospect takes a step inside your "nurturing" funnel.
A landing page has only one purpose – to persuade visitors to take a specific action and convert them into leads.
Apart from the usual elements such as Hero headline and image, Compelling benefits, Social Proof and Call to Action (CTA), you can optimize the landing page for higher conversions by using CRO (Conversion Rate Optimization) tools.

Conversion Rate Optimization (CRO) is taking what you already have on your website or landing page and improving it based on data, user behaviors and plain old marketing sense.
Some of the CRO elements you are likely to encounter are as under:
Sticky bars to alert visitors and notify them of any ongoing offers.
Heatmap software such as Hotjar allows you to capture screen recordings and user activity maps showing how your visitors are navigating through your website.
A/B Testing software such as CrazyEgg to test out your landing page conversions.
Beautiful looking, responsive Popup forms such as the ones from Sender.net capture visitor information by offering them some valuable resources for download. Sender.net also gives you highly flexible options to create contact capture forms that will ensure that no visitor's inquiry goes unattended.
22. Show Your Human Side More
Showing that you are not all about business all the time, helps.
Avoid being too aggressive asking for sales around such events. It defeats the purpose and context of the occasion.
The more you connect with the social causes that bind people, the more you will be top of mind as a brand that truly cares.
Building Out the Perfect Real Estate Lead Generation Funnel
Your lead generation funnel for real estate is a system that will guide visitors through their buying journey.
This will typically start with them visiting a digital asset (your website or landing page). It turns visitors into leads, helps you nurture them into legitimate prospects, and eventually results in them becoming your clients.
Stage 1 – Awareness
Create awareness of your brand or available listings through organic social media posts, hyperlocal blogs & paid ads

Stage 2 – Interest & Lead Capture
Interested people will land on your landing page or IDX website. A percentage of visitors will share their email ID or call you or even walk-in.

Those who don't convert, retarget them through Facebook and Gmail ads.

Stage 3 – Qualifying your Leads
The most important step is to qualify your leads. Discover if both of you are a snug fit for each other!

Stage 4 – Funnel Qualified Leads
Qualified real estate leads will be put through a call-back funnel and an Email Marketing sequence.

Stage 5 – Close the deal
Service your prospects with properties matching their requirements. Be it a home seller or a buyer, get in close alignment with their objections and pain points and seal the deal
Apply The Best Lead Generation Ideas Now
Lead generation for real estate is definitely a competitive space. But with the correct approach and the right use of digital marketing technology, you can ensure maximum ROI (Return on Investment) on your efforts.
Also read:
---
Author contributor – Santosh Balakrishnan