No one can deny that being a mother is the hardest job in the world.
With Mother's day approaching fast, people will soon be looking at opportunities on how to make their moms feel special. As with every celebration, businesses can use this day to their advantage by preparing some great deals and gifts to be bought online.
For this reason, creating a mother's day email campaign is a necessary tool in order to encourage purchases. The campaign will be needed not only for the online shop to work effectively, but also to design mother's day newsletters that will bring the customers to your business.
To help you out, we have prepared a guide with some content ideas to add to your email as well as some example templates to inspire your mother's day email marketing.
Mother's Day Email Ideas & Campaign Templates
People want to give meaningful gifts to their mothers to make them feel loved and important. That is why attracting your customer's attention is very important.
Here are some tips and ideas on what to add to make your newsletter stand out.
Send a Mother's Day Card
Get into a festive mood and celebrate Mother's Day by sending greetings via email card which would brighten the day of your subscribers.
Make them feel important and valuable.
You can also consider sending your customers a free mother's day card which could be personalised and adjusted.
Provide some meaningful and funny messages which can be added, leave the signature line open so the sender could write their name and send the card to the mom, sister or friend to honour and celebrate their motherhood.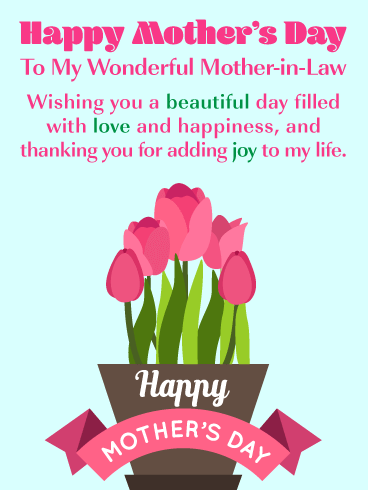 Mother's Day Email Reminders
In this fast-paced environment, people keep on forgetting things. For that reason, an email reminder might do the trick. Send an email newsletter that will not only remind your subscribers about the upcoming Mother's Day but also have some deals and offers present so they could purchase the gift straight after seeing your email.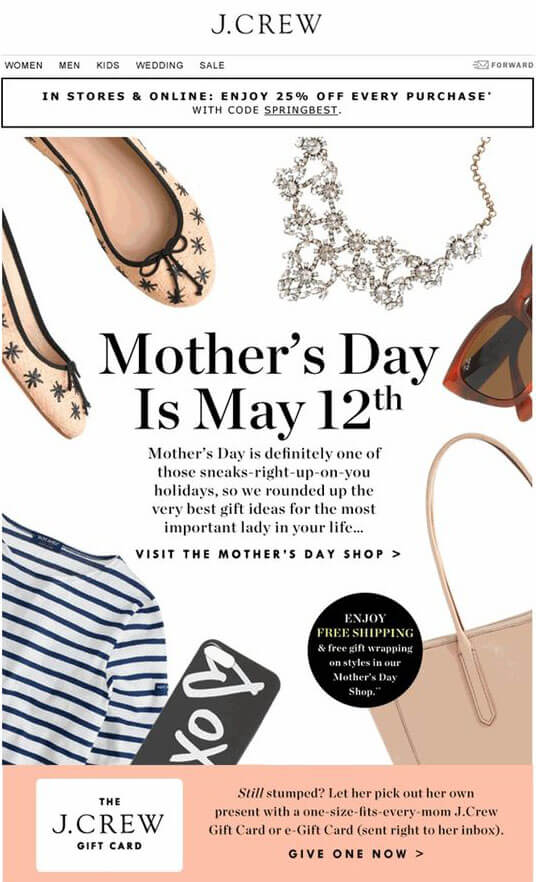 Countdown Timers to Encourage Urgency
Everyone starts to hurry once they see the deadline approaching. Consider adding a countdown timer into your email to create a sense of urgency so your customers would want to get the deals you are offering before it runs out.
With Mother's Day, no one wants to leave their mums without the present, so creating a sense of necessity might increase your revenue as the number of last-minute buyers will rise.
Mother's Day Sale Email Example
When sending email newsletters to your customers, make sure that your offers are inspiring and encouraging to buy. Since many of your competitors will be sending out their deals, you should also get some discounted products or services on board.
People are encouraged to purchase once they see exclusive offers. Go the extra mile and provide your subscribers with a deal they cannot resist!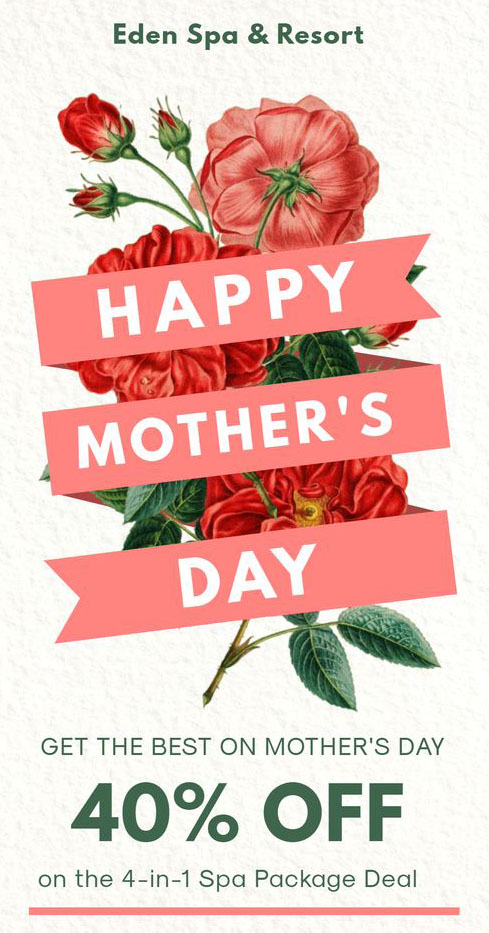 Recommend the Most Relevant Products
Besides adding 'Happy Mother's Day' wishes and reminders about the upcoming special day, give your subscribers some guidance to ease their headache when searching for gifts.
Your newsletter could contain special selections for Mother's Day to present your gift options and enable your customers to purchase presents based on the theme rather than go through your entire website to find out the right fit.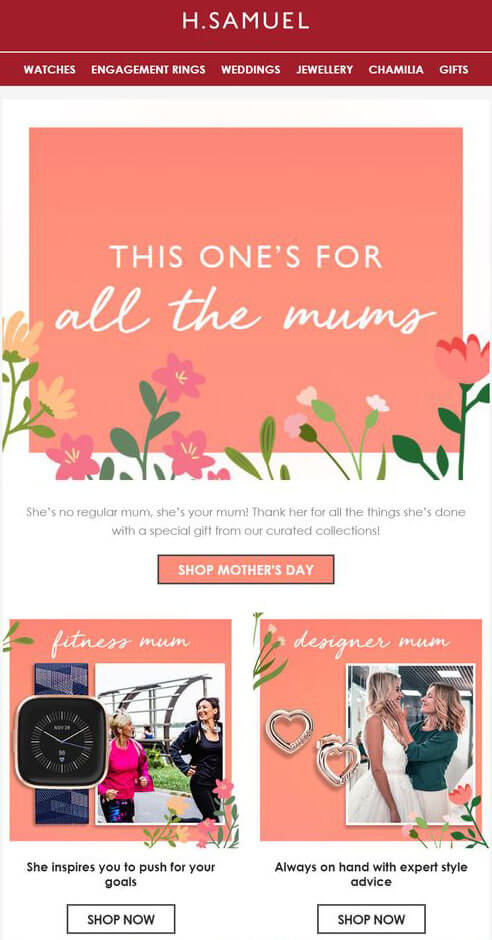 Send a Mother's Day Email to Your Employees
Motivate your employees by giving something to them too on this special day. Your team has been working hard in order to achieve success for your company.
Surprise them with special discounts, free gifts, or events to celebrate Mother's Day.
Your employees will be thankful, happy, and motivated to bring better results to your business and keep working for your company.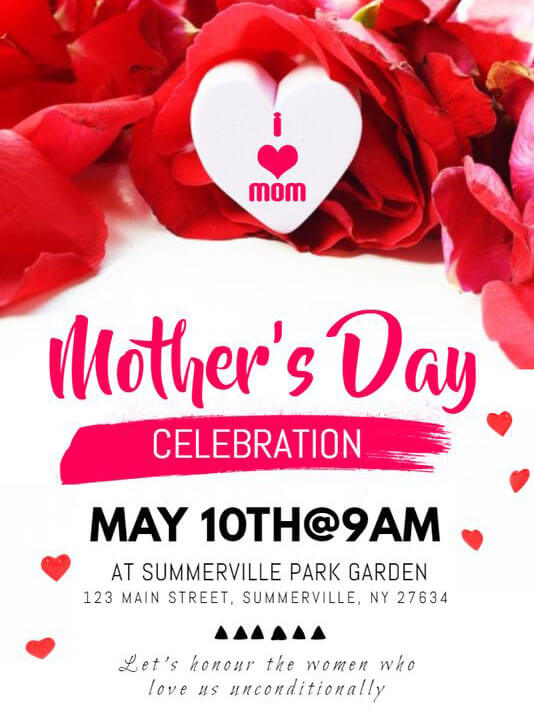 Happy Mother's Day Email to Employees
Every organization, brand, or enterprise has a long list of working mums. They work around the clock, both at your company and at home.
A lovely email message from management reminding them of their importance can go a long way. Likewise, inform your employees that you are grateful for them and are continually thankful for their relentless contributions. Here are a few messages you can use;
Today we celebrate a humble soul. A bold and courageous woman, a loving mother, and an inspiring co-worker.😊

Thanks for teaching us to be strong in the face of adversity.

We love you, ma.

Have a fantastic mother's day celebration.

(Company name)
Hi (name),

It's the second Sunday of May again!

Don't worry; your cake is on its way. But before it arrives, know that you are an amazing woman, and we believe having you as a colleague is a privilege.

Thanks for your gentle smile and unhurried voice.

Thanks for being a source of strength on our toughest days. You're special.

Happy Mother's Day.

(Company name)
Indeed, work has been really tough lately. From management's ridiculous demands to the late-night sacrifices, you've had to put up with.

Sometimes I wonder how you manage to keep up that brilliant smile.

Honestly, you're a mother at heart. And for that, we love you.

Relax, take the day off and spend some time with family; you deserve it.

Happy Mother's Day. ❤️
The laughter, the purpose, and the charisma with which you carry yourself are simply divine.

You're not just a source of strength but an inspiration and role model to all of you.

Thank you for always being you.🥰

Have an amazing Mother's Day celebration.
As a kid, I threw tantrums at the slightest inconvenience, and Ma always came to my aid.

As an adult, I still sometimes find myself doing the same thing, but this time, even as Ma is not here to caution me, you somehow understand and always have the right words to calm me down.

All your colleagues, co-workers, and friends at (company name) say thanks for the underlying patience and love – you're a rare gem.🥳

Happy Mother's Day!
At first glance, contentment to me meant having all my dreams come true. But since you became team leader, I've realized that contentment is all about enjoying the little you have while actively scouring for more.

Your sense of contentment and approach to work is admirable; I hope to be like you someday;

Cheers.🥂

Happy Mother's Day, Ma.
As much as I dread the notion of listening to your high-pitched voice scolding me all day, I still count myself lucky to be working in the same office as you.

Your passion and enthusiasm towards work make each day worth the hassle and every task worth doing well.

Thanks for being a great woman; you're loved and appreciated. 😊

Mother's Day, Ma.
We may not be blood-related and might disagree on many things.

But indeed, a great person – as a co-worker and mother figure.

I want to take this opportunity to thank you for all you do.🤗

Have a wonderful celebration.
If I am ever asked to paint a picture of what a fabulous co-worker and wonderful colleague looks like, you'll be the one in that frame.

Your tough yet gentle love, soothing voice, and brilliant approach inspire me to give my all.

You're an amazing woman and an extraordinary mother.😊

Have a fantastic mother's day celebration.
3 Mother's Day Email Marketing Campaign Examples
At this point, we believe you have all the information you need to send a mother's day work email to clients and employees. What's next? Time to launch a campaign.
To help you create a timeless mother's day email marketing campaign, let's look at a few templates and examples – highlighting the key takeaways.
The Nue Co
Most mothers dread the thought of wrinkled faces – no one wants to get old too soon. So, building on every mother's desire to remain young and beautiful, the Nue Co launched the skin edit campaign.
This skincare campaign highlights the benefits of their newly discovered skin edit product, plus a masterclass to help women nurture glowing skin.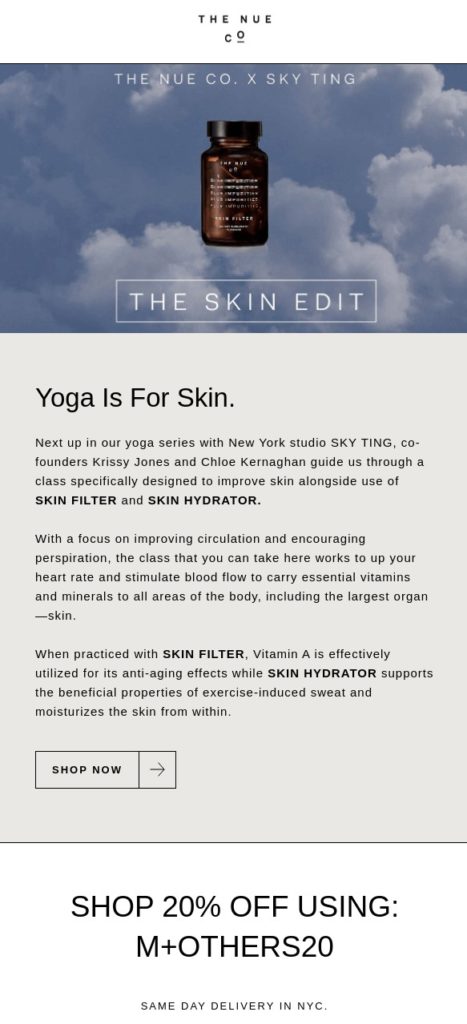 On the promotional side, this Nue campaign uses discount codes and same-day delivery to whet women's appetite for the product – an essential aspect of every campaign.
Bose Headphones
If you're a retailer or run an ecommerce business, you might want to take a second look at Bose's 'treat your mum to better sound' campaign.
Using sleek designs and an easy-to-scan template, Bose highlights the benefits of its QC35 headphone, emphasizing its noise cancellation abilities and unique packaging as a mother's day gift.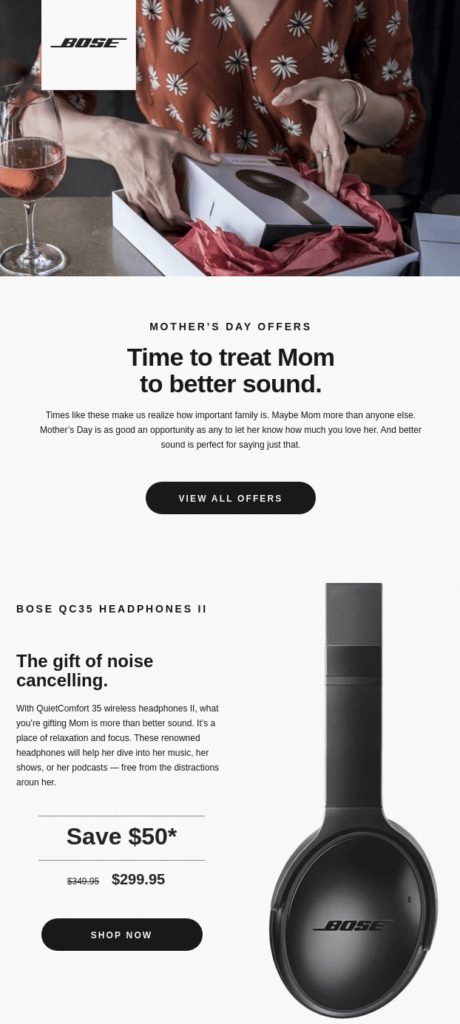 Ranging from the exquisite discount offer to the inspiring write-up, Bose did a great job bringing home its mother's day message. If you run a business or you are a co-worker or employee looking to grace a special woman with a mother's day gift, you can draw priceless insights from the template above.
Everlane
Sometimes, the smallest ideas inspire the brightest Mother's day email campaign. Everlane knew that the best incentive they could offer their customers for mother's day was free shipping. So without much ado, they simply stated their intentions.
The 'Today Only: Free 2-Day Shipping' header provided a gentle nudge to customers desirous of getting a mother's day present from their store to take action.

Everlane's mother's day email campaign is worth mentioning because of the intuitive design and simple yet foolproof strategy behind it. If you want to get customers to act on your campaign, you might want to try out the state of urgency formula Everlane thrived on.
5 Best Mother's Day Newsletter Examples
First things first, before we get stuck in on creative ideas and best marketing practices for B2C Mother's Day newsletters, let's set the flow by highlighting a few stand-out examples.
For Non-profit Organizations
Most non-profit organizations thrive on their ability to reach out to donors at the moments that matter. And yes, Mother's Day is one of such awe-inspiring moments.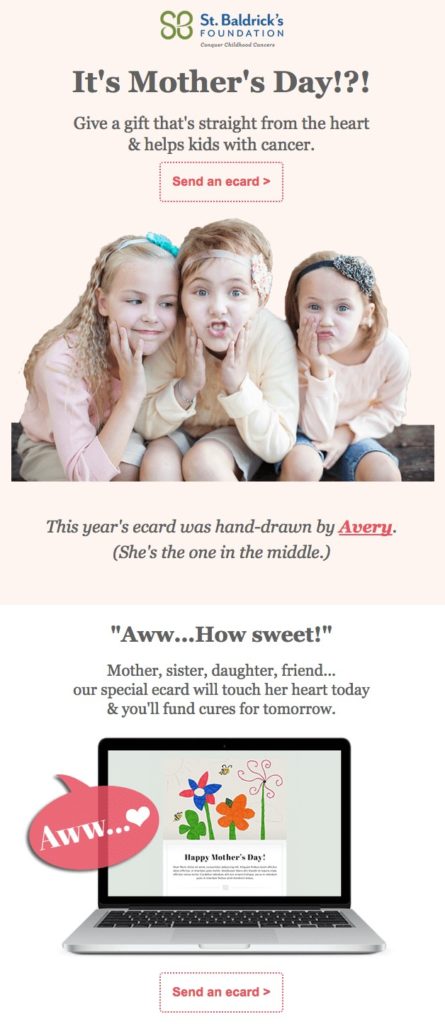 St. Baldrick's foundation's e-card newsletter creates a perfect setting for donors to kill two birds with one stone. Supporters of the charitable course can do what they love to do best – 'give'- while at the same time reaching out to mum in style.
For the Fondness of Mother's Day Celebration
Sometimes, the most memorable business Mother's Day wishes don't come with strings. No promotional content and no discount offers. Just simple, heartfelt messages.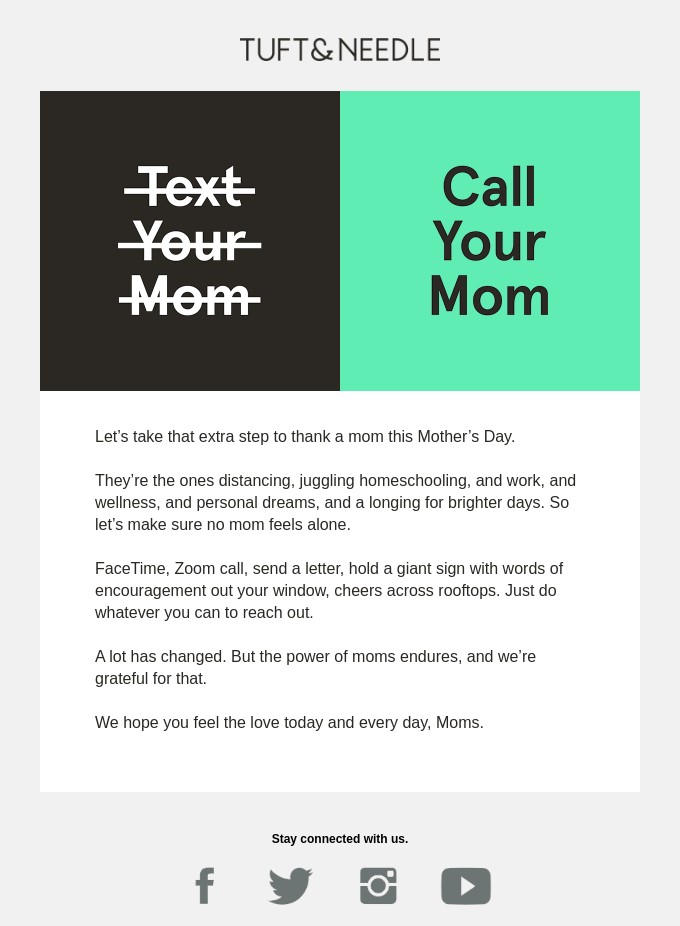 Turf and needle, a mattress and bedding brand, used the 'call you mum' newsletter as a humble appeal in the middle of a pandemic, urging subscribers to reach out to their mum simply for the fondness of the celebration.
For Free Gifts and Delivery
Mother's Day is a time to grace the wonderful women in our lives with warm hugs and pleasant gifts. Please don't allow the beautiful women on your mailing list to go through such an auspicious day without celebrating their efforts.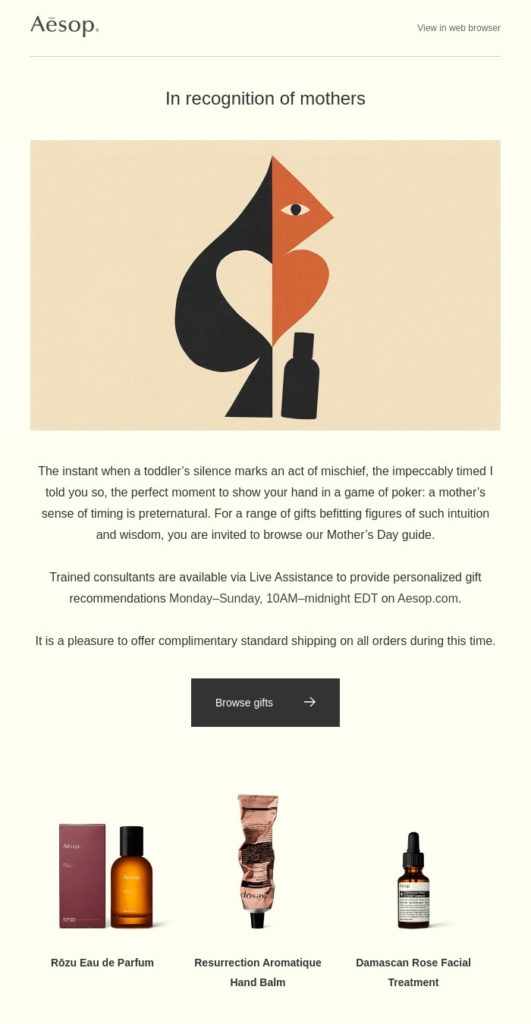 In the above Mother's Day newsletter, Aesop paints a picture of how tiring yet inspiring being a mother is. And in recognition of their effort, the cosmetic giant allowed mother's browse their catalog with a complimentary shipping fee.
For Ecommerce promotion and discount
Many business owners prefer to run a sales Mother's Day campaign instead of using newsletters for promotions and discount emails. So if you've got the budget for a sales email campaign, get on with it.
Otherwise, you can use this Resy's editorial digest template as a guide for creating promotional or discount Mother's Day newsletters.

As impressive or amazing as your Mother's Day email campaign might be, not everyone would be interested. You can increase engagement and reduce churn by running an opt-out newsletter beforehand.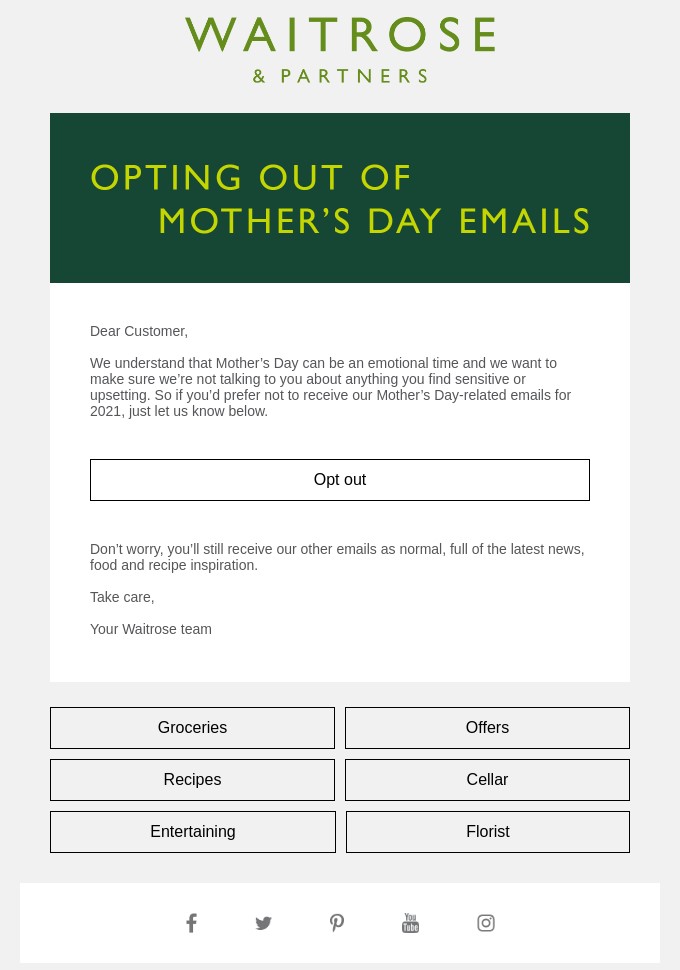 Waitrose and partners did a great job with this unique opt-out newsletter. You download, copy, edit, and twerk the template above if you lack original ideas.
How to Create an Effective Mother's Day Email Campaign
Below are steps to move the dial on your Mother's Day marketing strategy and get good returns on your investment.
Highlight Your Goals
Before you begin your campaign, think about the one achievement that would make the stress and hassle of creating a Mother's Day newsletter worth the investment.
Do you want to attract engagement? Compel fleeing customers to change their minds? Reach a jaded audience? Or make your product the talk of your industry?
Whatever your goal(s), highlight it before kick-starting your campaign.
Define Your Target Audience
In email marketing, there is what we call email blast. Email blast means sending the same email to hundreds or thousands of subscribers – a common practice in today's email marketing world.
However, while an email blast is cost-effective and time-saving, the success of such email campaigns depends mainly on how well you understand your target audience.
To ensure your Mother's Day newsletter reaches the right people at the right time, we recommend you define your target audience – the exact women, fathers, or children you'd like to reach with your marketing message – before engaging in the email creation process.
Choose a Campaign Type
It's time to choose your Mother's Day email campaign type. For example, do you want to run a sales/discount campaign, a thank-you campaign, free delivery or giveaway campaign, etc.? Now is the time to decide.
The type of campaign you intend to run will determine the template you'll need. Before deciding on a Mother's Day email campaign, consider the needs and desires of the mothers on your list.
Look for ways to solve their most pressing issues at low or discounted rates, or if possible, put a smile on their faces by tending to their needs at zero cost.
Set Timing
In every email marketing campaign, timing decides true north. If your emails don't get to their target audience at the right time, it's as good as useless.
For example, imagine sending your Mother's Day newsletter a day or two after the event. Mothers would already be exhausted from the long list of emails they've had to sort through the past week; no one would blink an eye.
If you want your Mother's Day email campaign to succeed, be sure to get your timing right.
Segment Your List
Identifying your audience entails making a broad list of all the mothers, fathers, or children in your network. Segmenting your list means highlighting individual pain points and proffering solutions based on a persona.
For example, let's say you sell fiction and non-fiction books to mothers. You're dealing with two categories of women – those who love fiction and those who don't. Your Mother's Day newsletter needs to address both categories of women.
Identifying your audience helps you create a concrete list of all the mothers you can reach with your newsletter. Segmenting your audience helps you create emails based on distinct needs, pain points, and desires.
Design Your Email
It's time to effectively design your email with detailed knowledge of the mothers at the receiving end of your email newsletter.
Choose a template in line with your email offer. For example, if you plan to send a Mother's Day newsletter filled with discount codes, look for an interactive discount code template with a design that suits. Don't forget to put plenty of blank space in your email.
But if you are lacking that precious time, use the ready-to-use template made by Sender.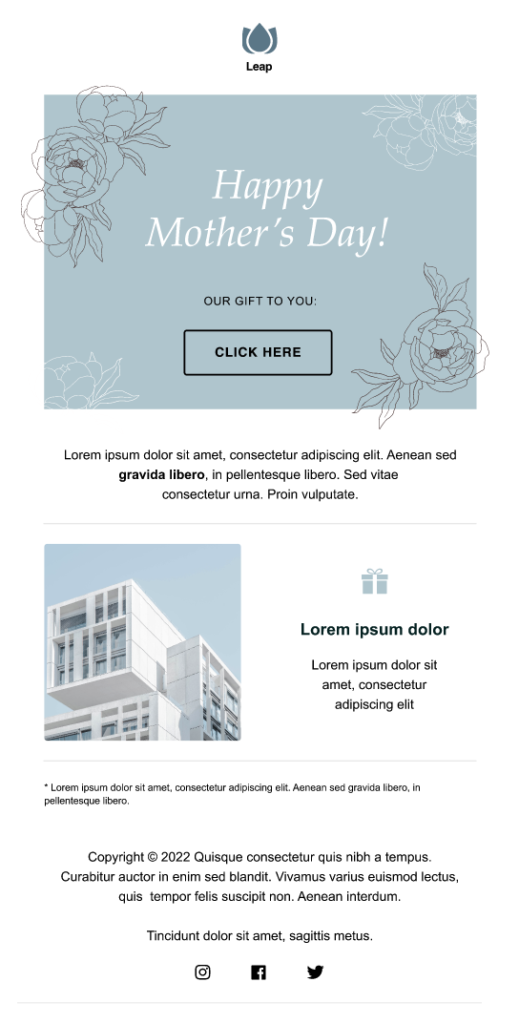 Use this simple email marketing service for your email campaigns to send out visually stunning newsletters that are not only easy to design using a smooth-as-butter drag and drop email editor-cum-builder, but also something that will not cost an arm and a leg to keep using, you are in the right place!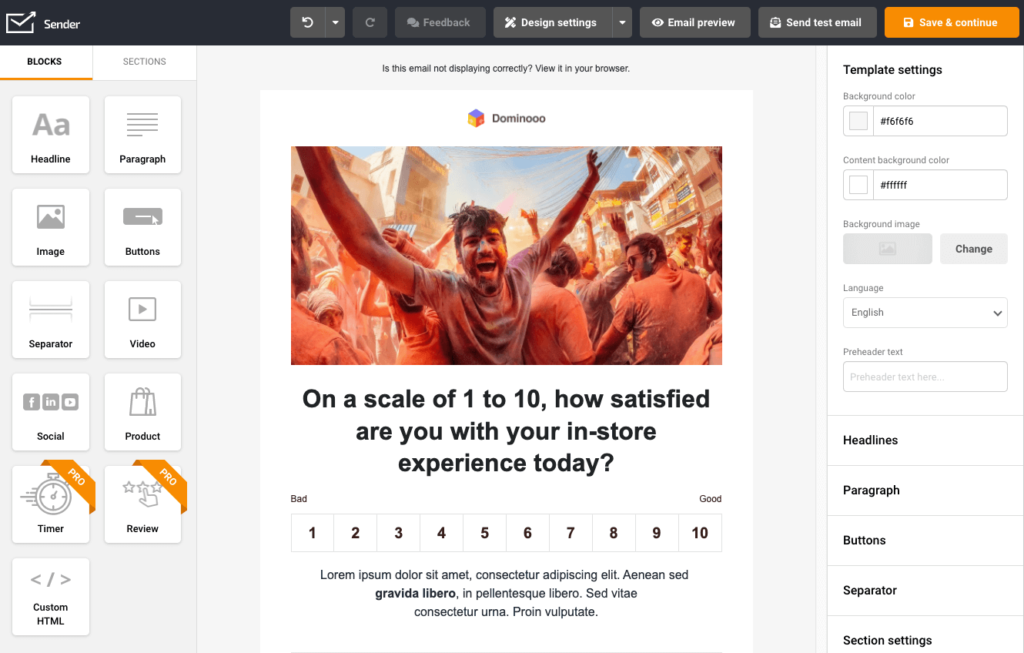 If you don't have a template for your newsletter or an ESP to simplify the sending process, kindly explore Sender. The catalog contains multiple email newsletter templates you can easily customize to a medley of styles.
When you use an email marketing tool like Sender, doing it is even easier than you think. Sender's in-built email design tool makes it a breeze to build emails quickly and efficiently using simple drag and drop editing. Also included are responsive and high-converting pre-designed email newsletter templates that make it extremely easy for you to send emails.
Mother's Day Email Subject Lines Examples
Without a catchy subject line, the chances of your email being opened are low. Check out some great mother's day subject lines to help you boost your email newsletter and make it stand out.
The gifts we love most for our own moms!
Because she deserves it…Find the perfect gift for mother's day
Looking for the Perfect Mother's Day Gift?
Pre-Order Your Mother's Day Gift!
The gifts she'll love this Mother's Day
This Mother's Day, give Mom a gift like no other
All for Mom: Shop gifts to brighten up her day
Bestsellers for the best Mom
Mother's Day Early Bird Coupon
Mother's Day is just around the corner
We Have a ♥ for Mom
Every day should be Mother's Day ❤
Free shipping on select Mother's Day gifts
Mother's Day Shopping? Shipping's On Us!
Extra 10% Off Gifts for Mom!
Also read: Best Email Subject Lines to Increase Sales (with Examples)
Perfect Mother's Day Templates with Refined Ideas
Mother's day is about treating your mom, spending time with her and strengthening your relationship, treasuring every moment together. That is why businesses have a great opportunity to develop excellent newsletters which will present their best deals and offers.
Do not miss the chance to increase your revenue this Mother's Day – create excellent email marketing campaigns and satisfy your customers with well-designed, engaging, and attractive emails by adding a catchy subject line and using suggested content ideas.
Also read:
Like what you read?
Apply it in practice with Sender.net - the most cost-effective email marketing solution in the market.
Try Sender for free